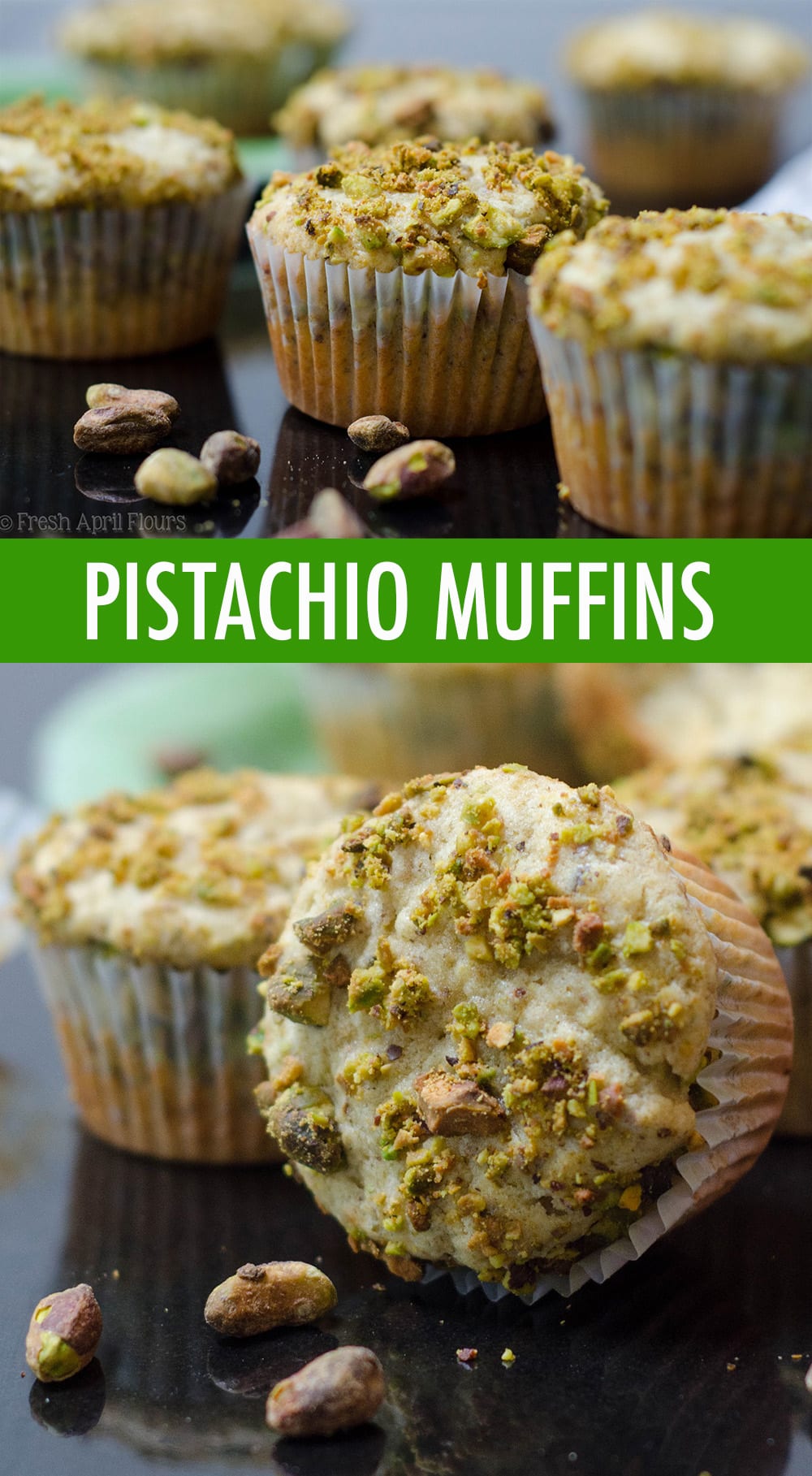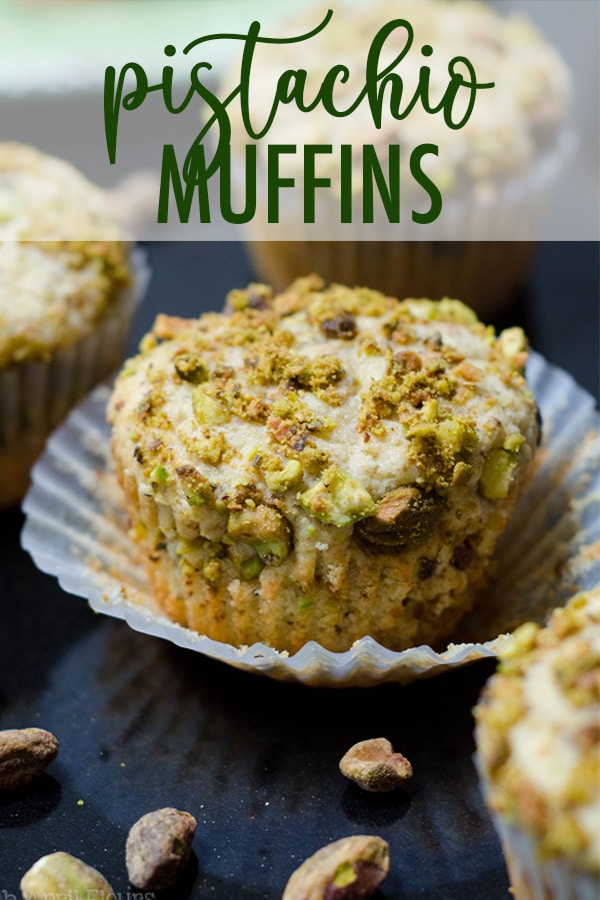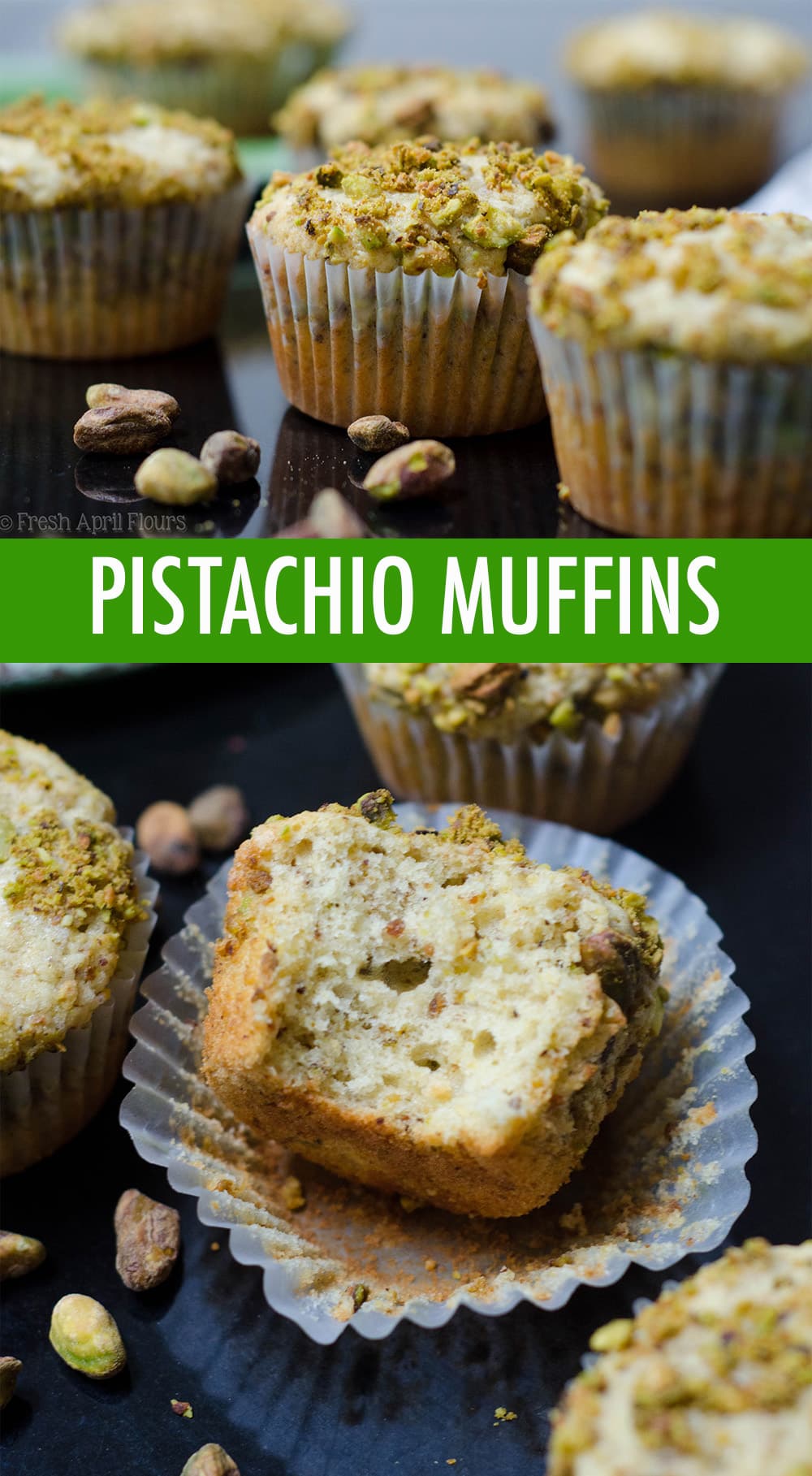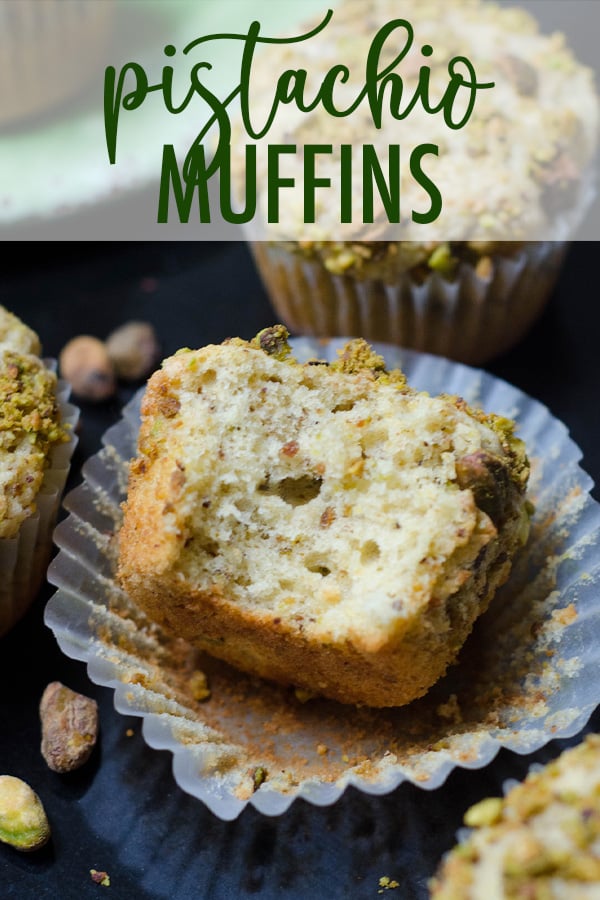 As an Amazon Associate, I earn from qualifying purchases. Read the full disclosure here.
Moist and tender muffins naturally flavored with finely ground pistachios.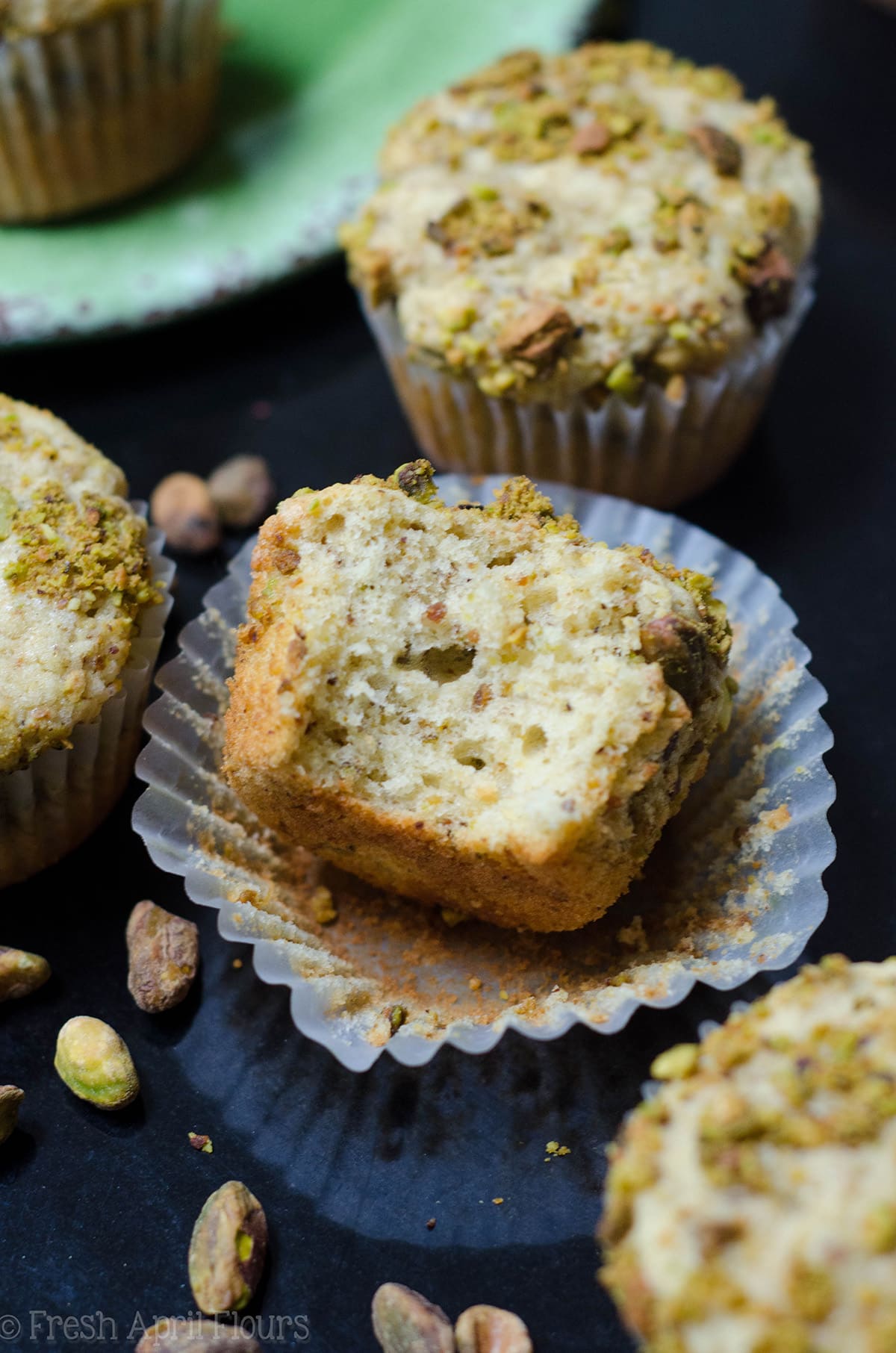 Nothing like waiting until the very last second to sneak something in, eh?
Here we are, the last day of the month, and here we are, discussing August's Muffin of The Month, because although I meant to post this at least a couple weeks ago, THIS IS MY LIFE NOW and I'm wondering if I will ever get back to normal and be able to bake and edit pictures and blog like I did in a former life.
In all reality, I know that I will get back into the swing of things eventually, just like I did after our first kiddo was born, but right now, this life of a 2 year old and an infant is insaneeeee.
I spoke about Real Life With Two Kids in last month's muffin post, but since then, I've gone back to work, Matt has gone back to being a stay-at-home dad, and that tiny little baby who was taking up all of my life is still doing so, but he's awake so much more (which is a great thing!!), which whittles away at my personal time for baking.
I did, however, get the chance to whip up these pistachio muffins a couple weekends ago, and thank goodness, because they were a gift from the muffin gods and we gobbled them up in no time flat and now my toddler loves pistachios, so YAY for new foods that have at least somewhat of a nutritional value.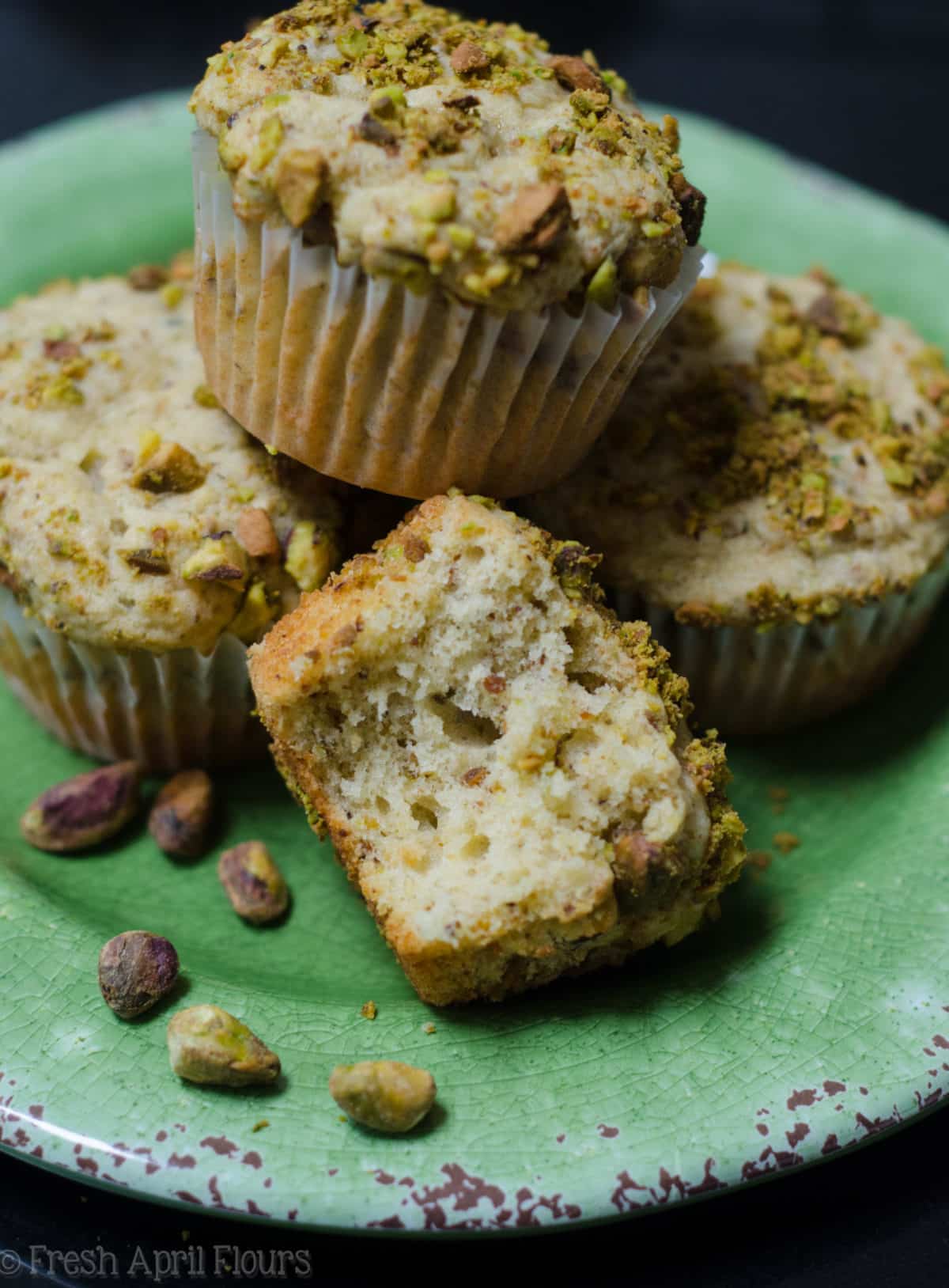 So what do you think of when you think of a pistachio muffin?
I have a pistachio muffin experience burned into my memory from a trip Matt and I took 4 years ago.
We did a road trip out west which included a stop at a family friend's home outside of Los Angeles, and on our way out to visit Utah, we stopped at a grocery store to stock up on snacks.
We got a pistachio muffin from the bakery that was tinted green and probably the most amazing pistachio muffin I had ever had, and ever since then, I've not had one quite as good as that one.
BUT, this pistachio muffin recipe that I created at home is pretty darn close, minus the green color.
What I loved about that muffin that I haven't exactly found in others I've tried is a natural, wholesome pistachio flavor instead of the artificial one that likely comes from an extract or oil.
Don't get me wrong, almond extract is one of my absolute favorite ingredients. But I use it as an accent flavor, not the star of the show.
I like to think of extracts and oils as enhancers, like in my peach almond streusel muffins, rather than the only way to get a flavor through a food.
Since we aren't using any extract in these muffins other than vanilla, I had to make sure these pistachio muffins packed a good pistachio punch without going too extreme or messing up the texture of the muffin with huge chunks.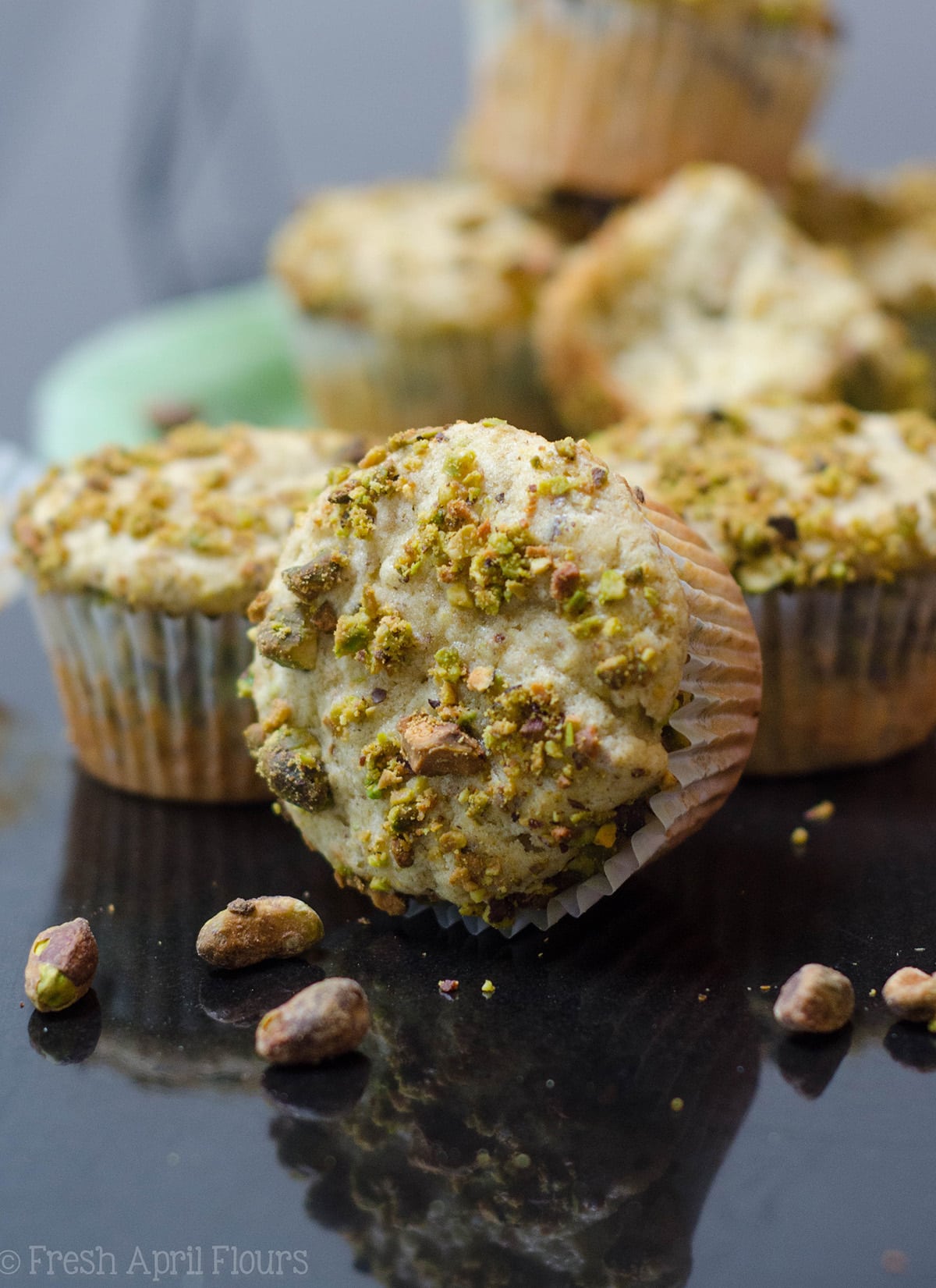 I decided the best way to go about this was to process pistachios in the food processor. And I mean really process them. Like almost a fine flour.
Since the finely chopped pistachios go right in with the flour and other dry ingredients, you want it a texture that is going to mesh well in that whole collection.
Plus, the finer the pistachios, the more flavor bits there are to get all up in the muffins and bring the pistachio goodness we're looking for in these naturally flavored baked goods.
And if you're really feeling it, go for a drop or two of green food coloring, though I thought these muffins turned a lovely hue of slightly green, thanks to all the natural green color of the pistachios.
Totally up to you.
But if you green them up, I definitely want to see them.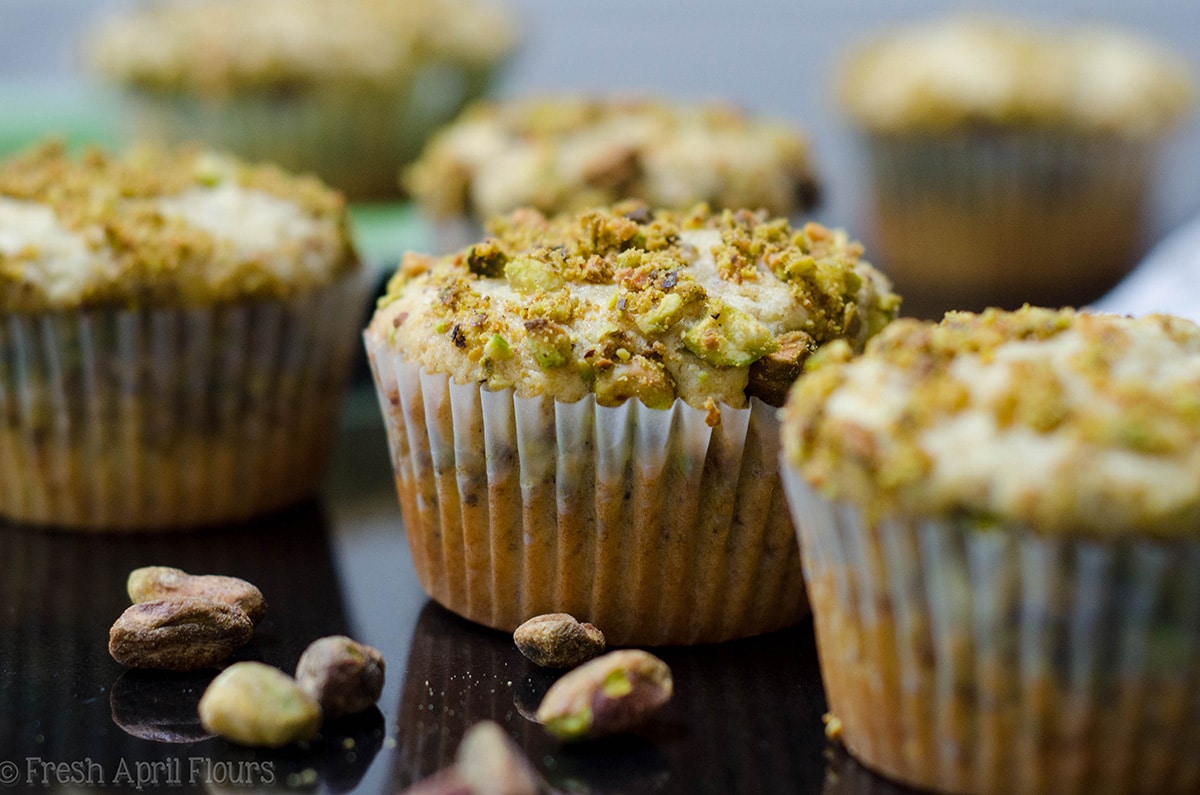 We enjoyed these muffins plain, toasted, with cream cheese, with butter… No way was a bad way. At all. And the toddler loved them, too, but he hasn't turned down a muffin, like, ever in his life, so take that with a grain of salt. Or a grain of pistachio.
Though nothing may ever be QUITE as good as that one muffin I had in southern Orange County, California that one time… It's pretty darn close.
And close enough for me to be sneaking into the freezer several times in the last 2 weeks to thaw frozen muffins.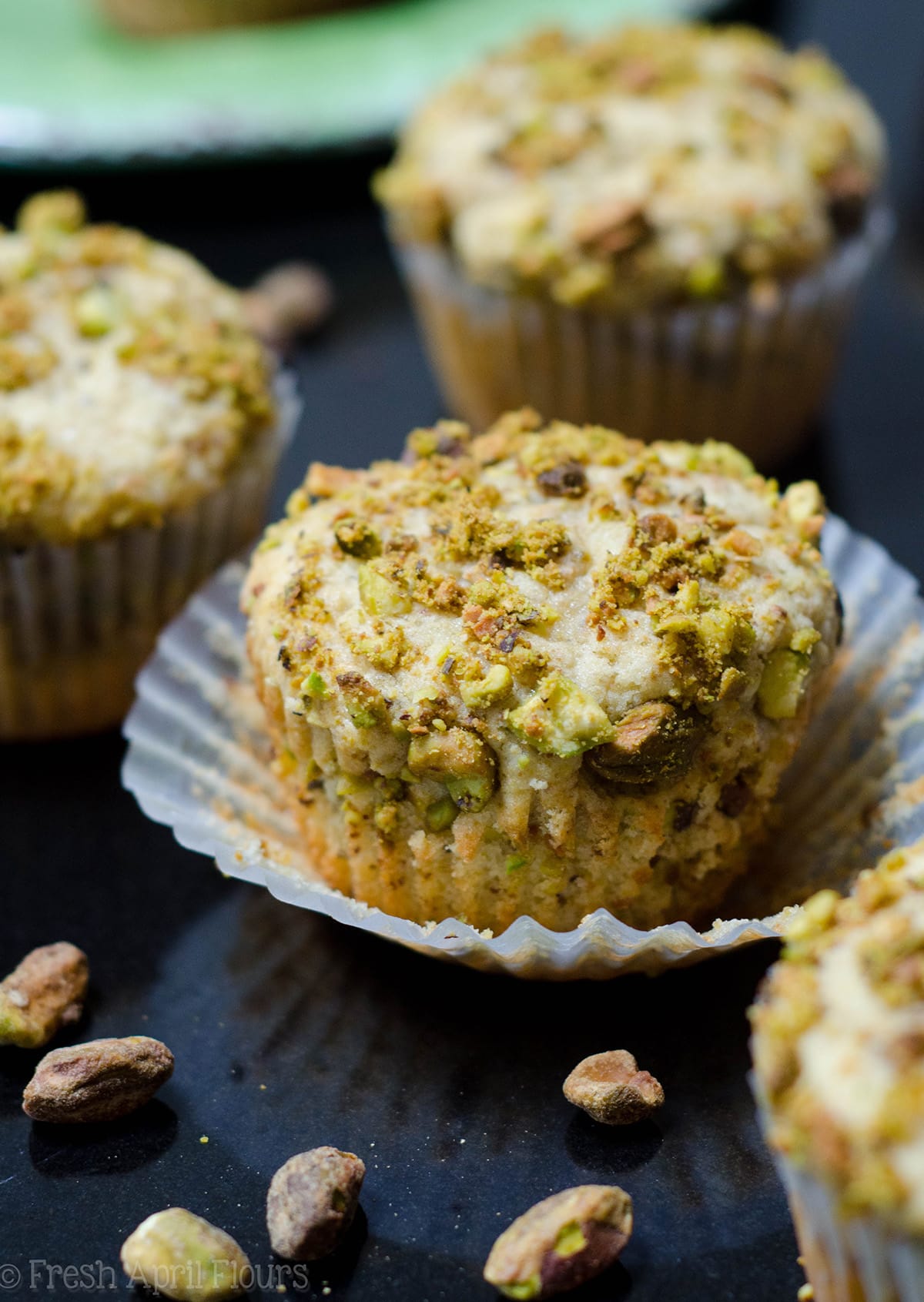 NO RAGERTS.
Pistachio Muffins
Moist and tender muffins naturally flavored with finely ground pistachios.
Ingredients
1 and ⅓

cups

(160g) all purpose flour be sure to measure properly

2

teaspoons

baking powder

½

teaspoon

salt

¾

cup

(84g) shelled pistachios

finely chopped (preferably in a food processor)

½

cup

(113g) unsalted butter

softened to room temperature

⅔

cup

(133g) granulated sugar

2

large eggs

½

cup

(123g) Greek yogurt

2

teaspoons

vanilla extract

½

cup

(56g) shelled pistachios

coarsely chopped
Instructions
Preheat the oven to 400ºF (204ºC). Spray the wells of a 12 count muffin tin with non-stick spray, or line with cupcake liners. Set aside.

In a medium size bowl, whisk together the flour, baking powder, salt, and finely chopped pistachios. Set aside.

In a large bowl with a handheld mixer or the bowl of a stand mixer fitted with the paddle attachment, cream the butter and sugar until light and fluffy, about 2-3 minutes. Add the eggs one at a time, beating until incorporated. Add the yogurt and the vanilla and beat again on medium-high speed until everything is combined. Scrape down the sides and bottom of the bowl as necessary.

Pour the wet ingredients into the dry ingredients and stir gently with a spatula until no flour pockets remain.

Spoon the batter evenly into the 12 prepared wells. Sprinkle the tops of the mounds of batter with the coarsely chopped pistachios.

Bake the muffins for 5 minutes, then reduce the oven temperature to 350ºF (177ºC) without opening the door, and bake for another 13-15 minutes. Muffins are done when a toothpick inserted into the center comes out mostly clean and the tops are golden brown. Remove from the oven and allow them to cool in the pan for about 10 minutes before removing from the pan to cool completely on a wire rack. Muffins stay fresh covered at room temperature up to 5 days or in the refrigerator up to 1 weeks. Keep in mind, as the muffins sit, the pistachios on top will collect moisture and lose their crunch. Muffins freeze well, up to 2 months. Thaw in refrigerator or heat in the microwave about 15 seconds before serving.