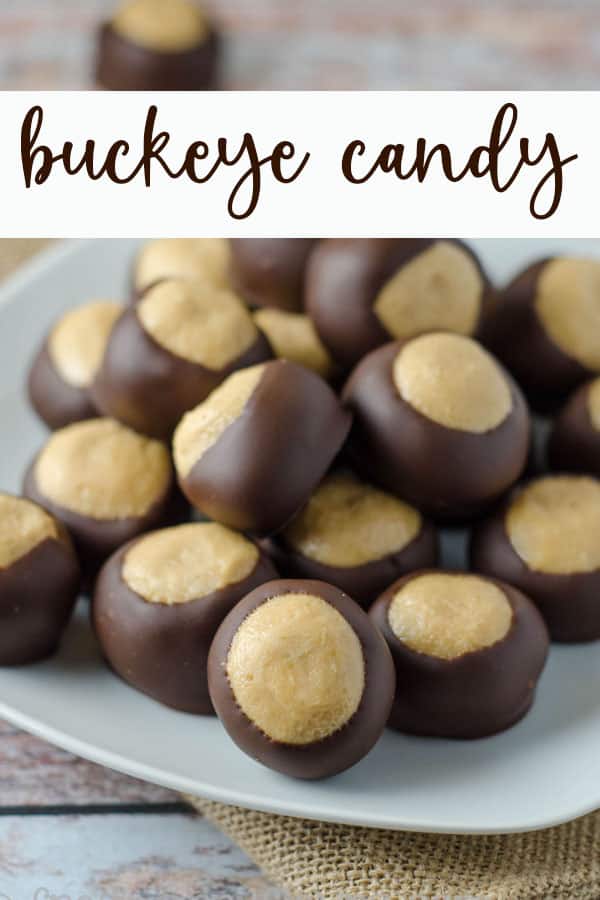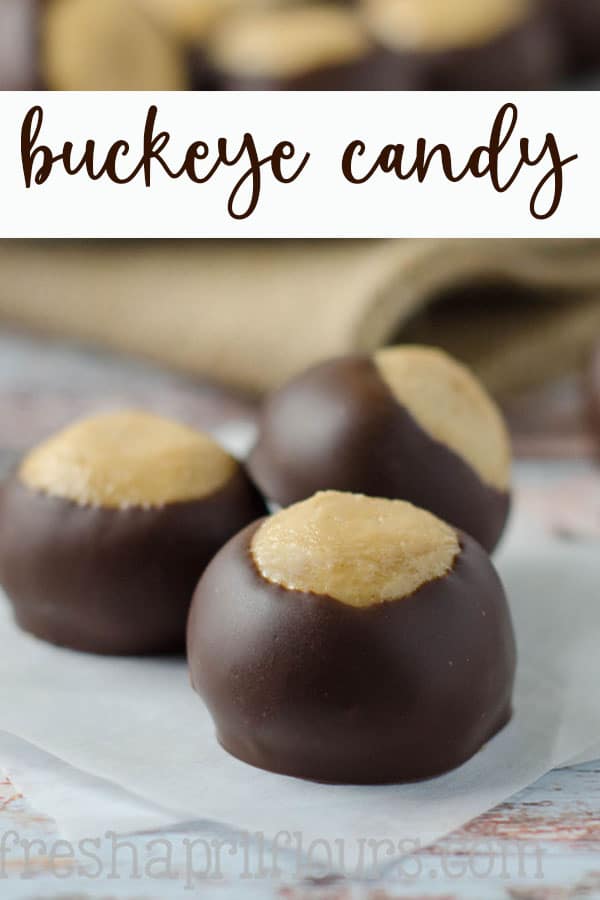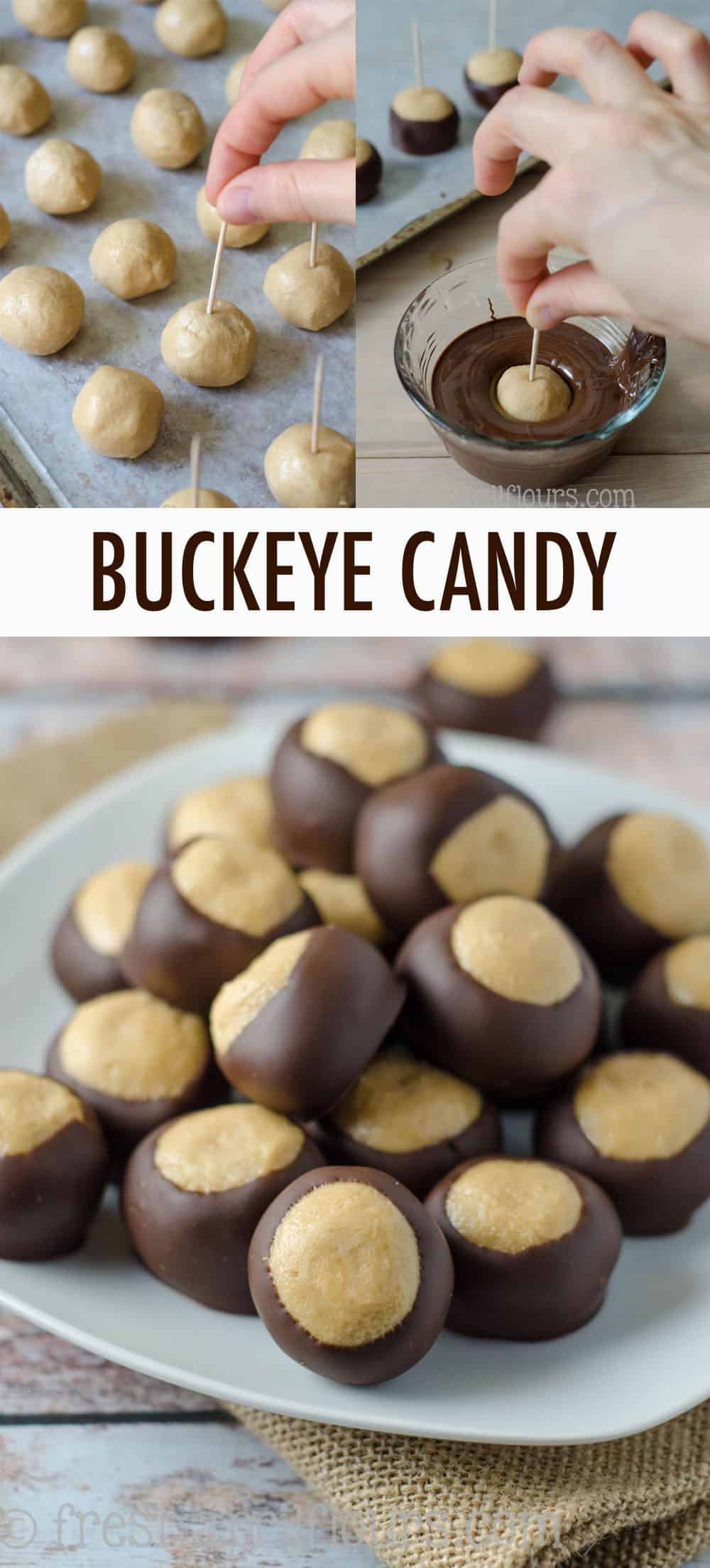 As an Amazon Associate, I earn from qualifying purchases. Read the full disclosure here.
Easy, melt-in-your-mouth peanut butter buckeye balls dipped in chocolate. A classic!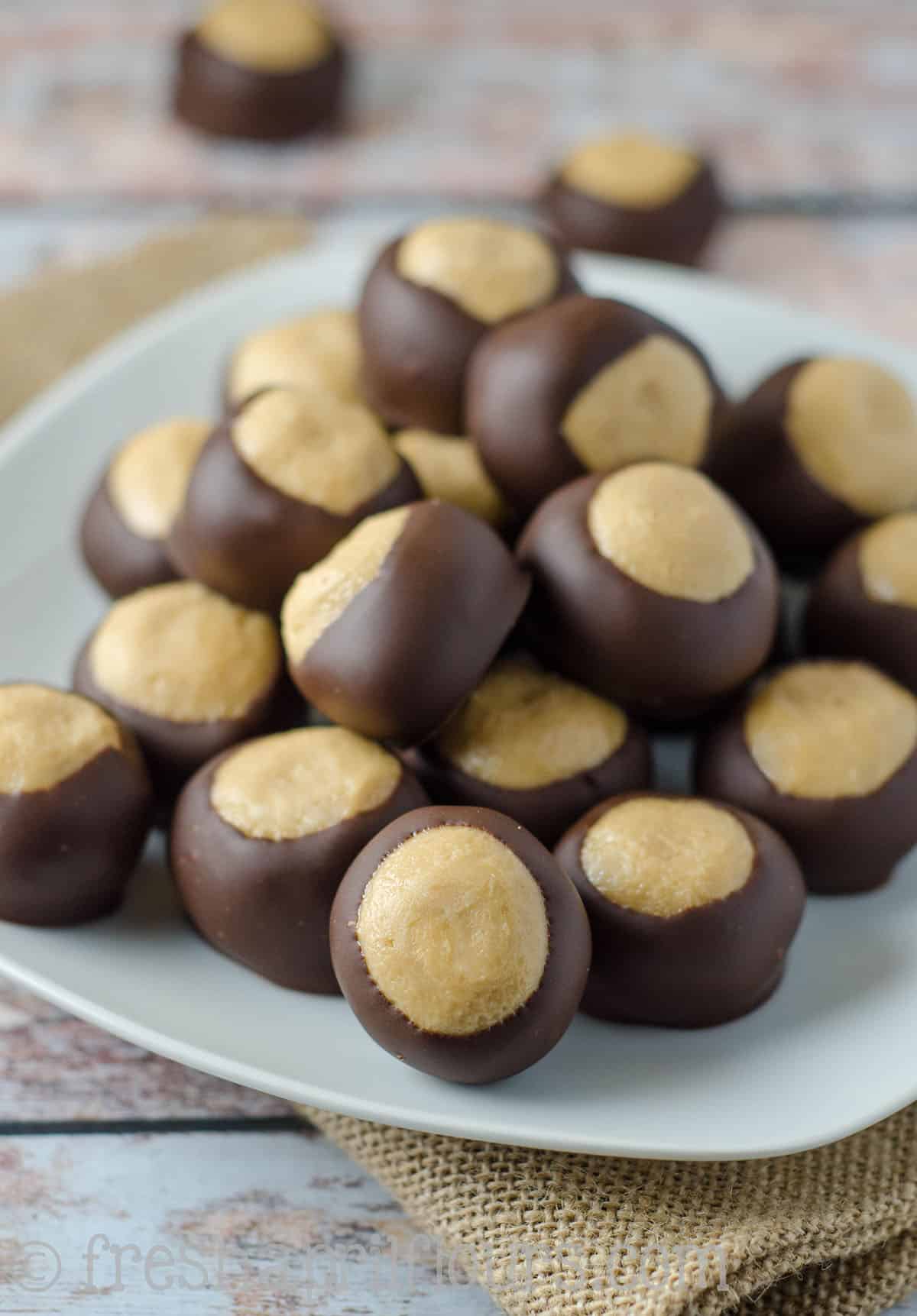 Fun fact: buckeye candies and I go wayyyy back. All the way back to 2011.
You may recall that I got my start in baking when I owned my own cake baking/decorating business, so I was always making cakes for different occasions.
I had a friend of mine ask me to make a groom's cake for her now husband who is an Ohio State alum. She told me what she wanted the cake to look like and explained to me the whole "buckeye" thing.
BUCKEYE CANDY ORIGIN
If you're not familiar with this information, let's have a little lesson!
Ohio's state tree is the buckeye tree, which produces nuts that resemble chestnuts. The nuts are referred to as buckeyes, as are the people of Ohio and Ohio State University (whose mascot is the buckeye).
Are you getting the picture?
Ohio loves their buckeyes so much, they make these amazing buckeye candies that looks like the buckeye nuts.
Naturally, there just had to be buckeyes on this groom's cake.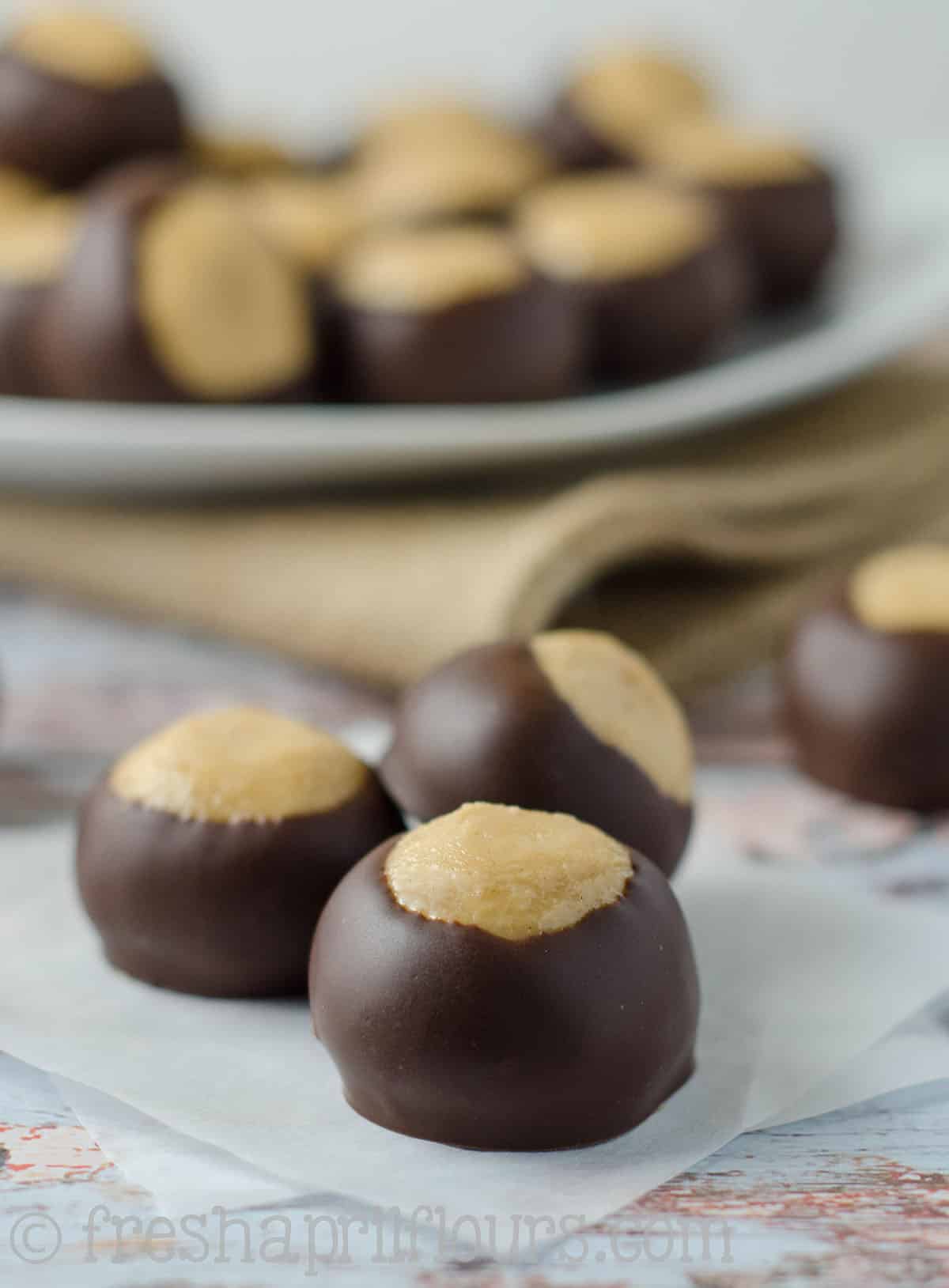 My original plan was to make real peanut butter buckeyes, but I decided to make them out of fondant instead. I'm glad that I did, because this wedding was in late August and it was HOT.
I was worried enough about the cake itself, let alone melt-in-your-mouth soft peanut butter buckeye balls.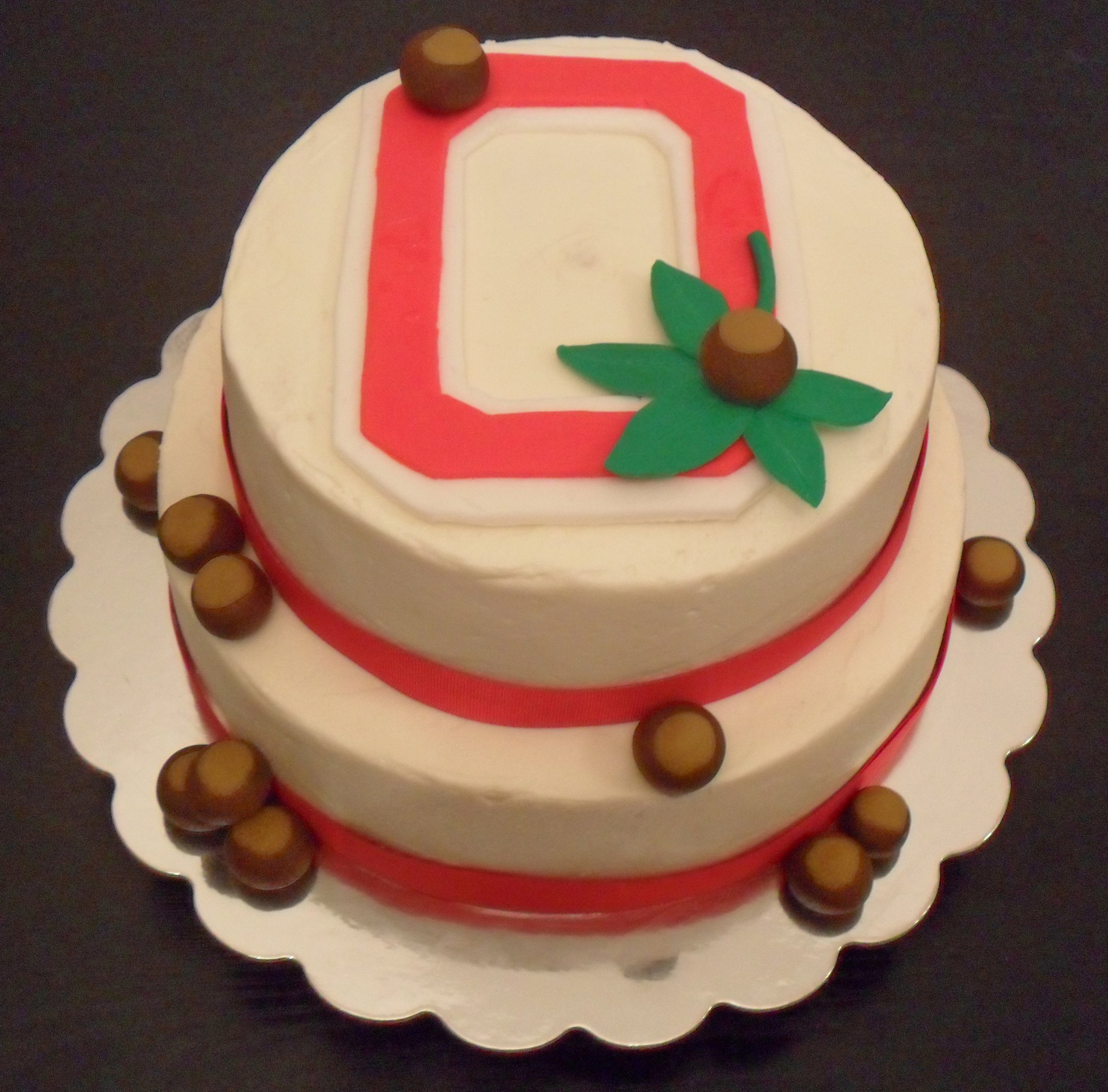 The cake was a hit, the groom was so surprised, and ever since then, I made it a mission to visit Ohio State at some point in my life and get an authentic buckeye. I had to know what the hype was about!
Fast forward to January 2015, I was asked by my employer at the time to go to a one day conference/meeting at some point that year.
When I saw that Ohio State was on the list of places I could go, I said "HECK YES! I NEED SOME BUCKEYES!" and booked a plane ticket and hotel room that very day.
I was way more excited about the opportunity to get an authentic buckeye than anything that was going on at this science conference, and believe me, I get really excited about that part, too.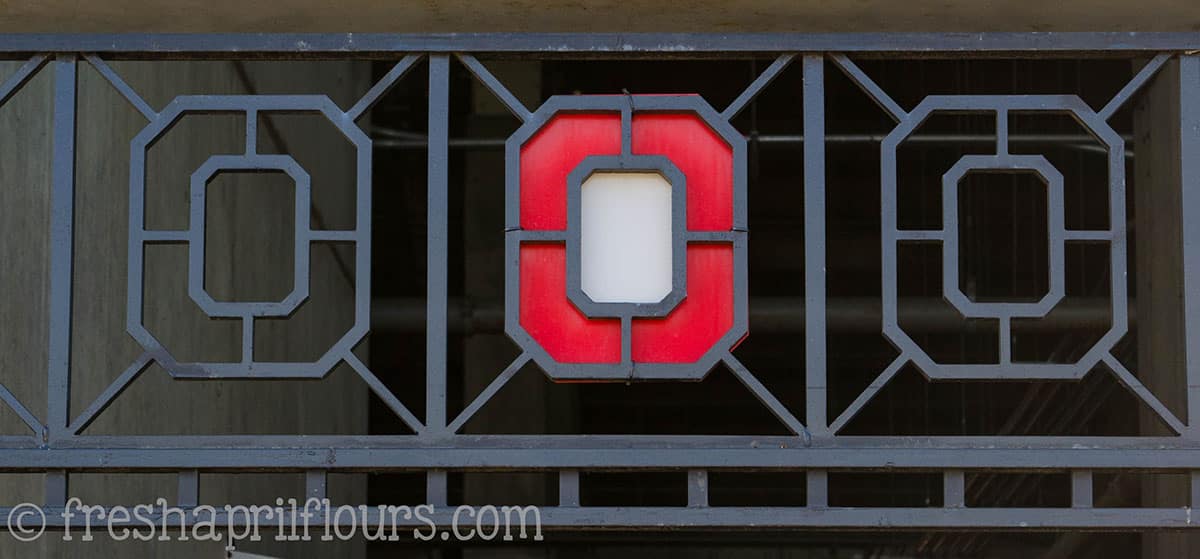 The hotel I was staying at is on Ohio State's campus, and I fell into conversation with the concierge about where to get the best buckeye.
After handing me a REAL buckeye nut, which sat proudly on my lab bench at work until I left and took it with me, I asked her about where I could find an authentic peanut butter buckeye ball.
WHERE TO FIND AUTHENTIC BUCKEYE CANDY
She directed me to Schmidt's Fudge Haus in downtown Columbus (after a little giggle at my serious excitement), which just so happened to be right next door to Schmidt's Sausage Haus.
I had amazing Bahama Mama spicy sausage, kraut, and German potato salad for dinner, a huge piece of German chocolate cake with vanilla ice cream for dessert, and then walked over to the candy store while I waited for my cab.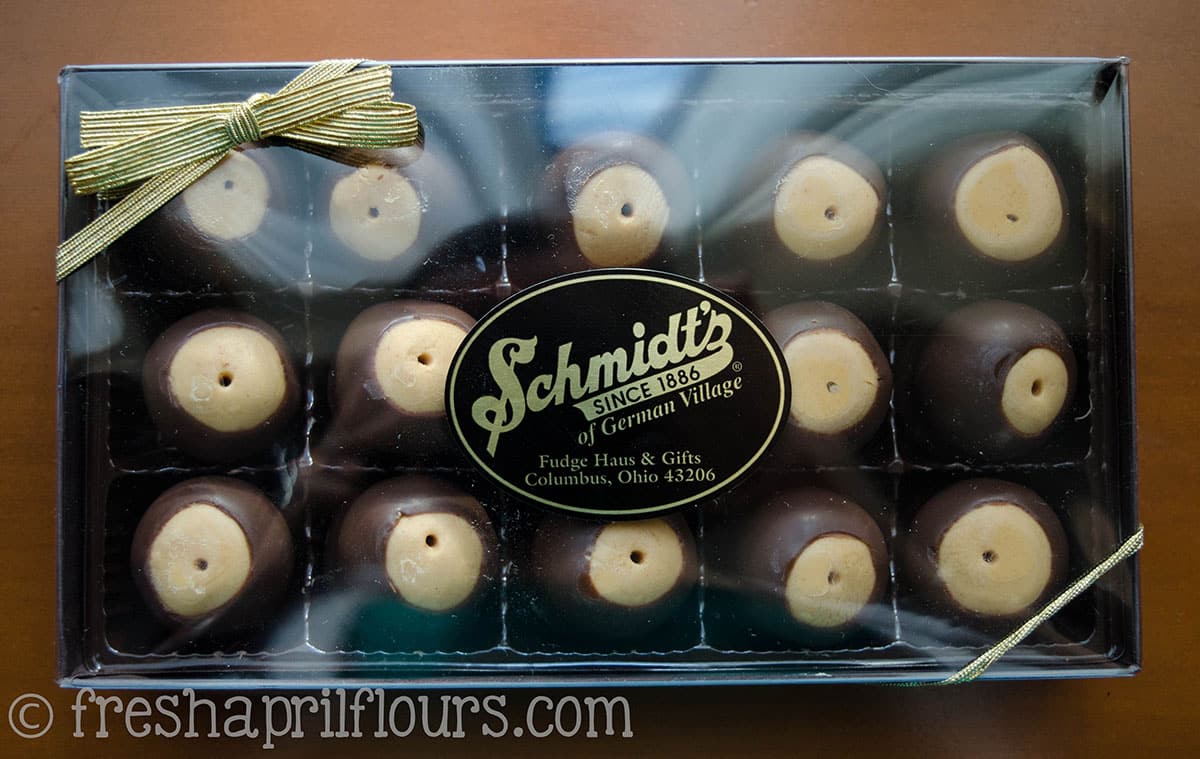 Umm, guys, this place… Was incredible. Chocolate everything you could ever imagine, and HUGE pieces of it. Some of the candies were as big as my palm!
I found the small display case of buckeyes and bought a box with the intention of taking some into work with me when I got home.
My coworkers knew how excited I was to get some authentic buckeyes, and I promised to bring some back.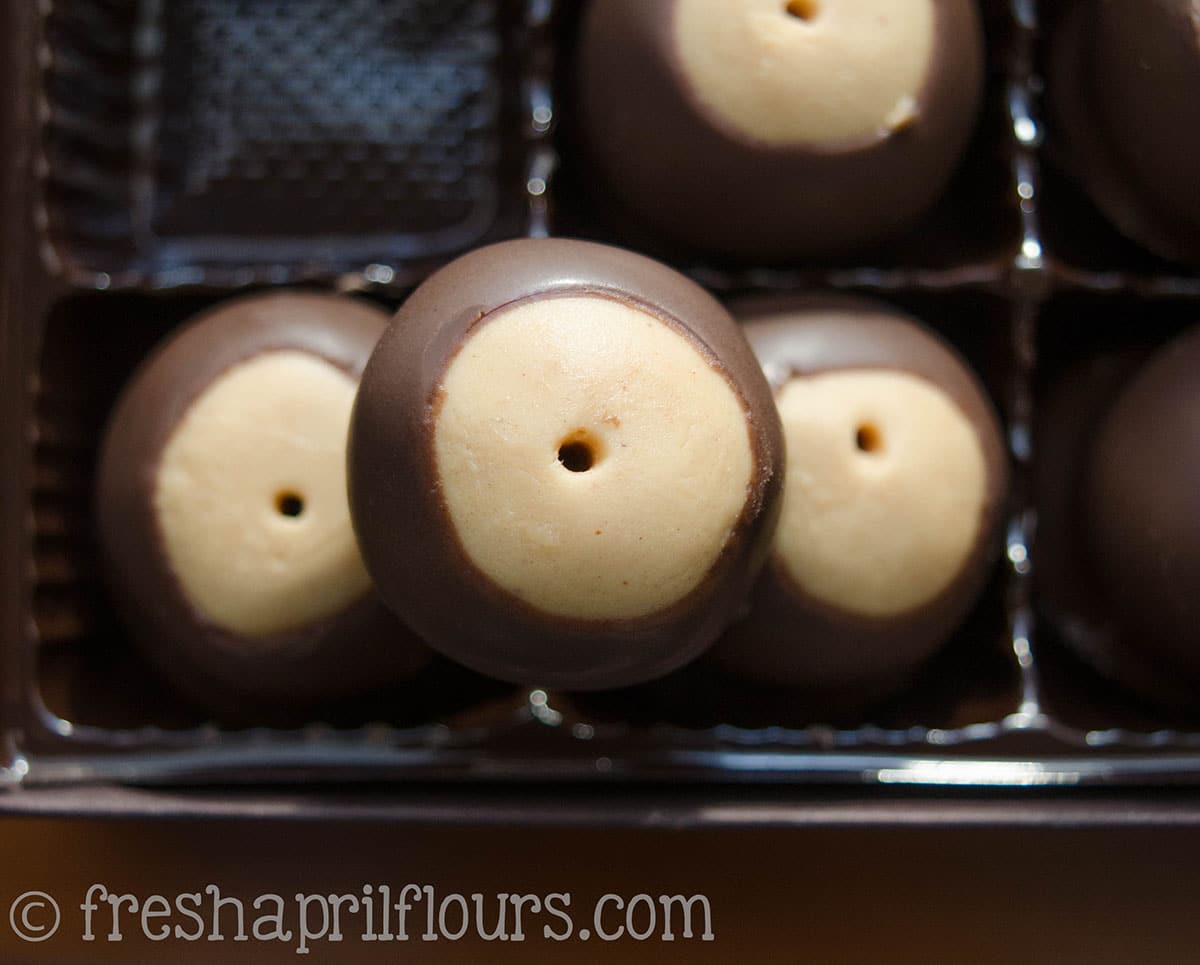 It took ALL of me not to eat that entire box.
I managed to eat ONE in my hotel room and a couple more when I got home to Pennsylvania.
The rest went to work, and they were GONE almost as fast as they came.
Their texture was unbeatable. I was expecting something like a Reese's peanut butter cup, but the inside was more confectionary and sweeter.
I vowed to recreate them in my kitchen, so here we are. The only thing I wanted to change was that I am 95% sure Schmidt's buckeyes were dipped in milk chocolate, and I much prefer semi-sweet and/or dark.
INGREDIENTS
The ingredient list for this buckeyes recipe is very short.
You'll need peanut butter (not natural!), butter, and powdered sugar for the base of the buckeye center.
You'll use just a touch of vanilla extract and salt to add some depth to the flavor.
As far as the coating, you'll just need your choice of chocolate. Milk, dark, semi-sweet… Totally up to you!
HOW TO MAKE BUCKEYES
Friends, these easy buckeye balls could not be easier. The hardest part is the time it takes to roll the dough into balls and all of the waiting for things to chill. The peanut butter dough is uncomplicated, easy, and fairly forgiving.
I've also created for you a buckeye ball recipe without shortening, because that's not my favorite thing to put into confections unless totally necessary.
MAKE AND CHILL THE FILLING
Once your peanut butter dough is all blended together, it gets a short chill in the freezer to firm up the butter, then it gets rolled into balls (don't worry if they're not perfectly round).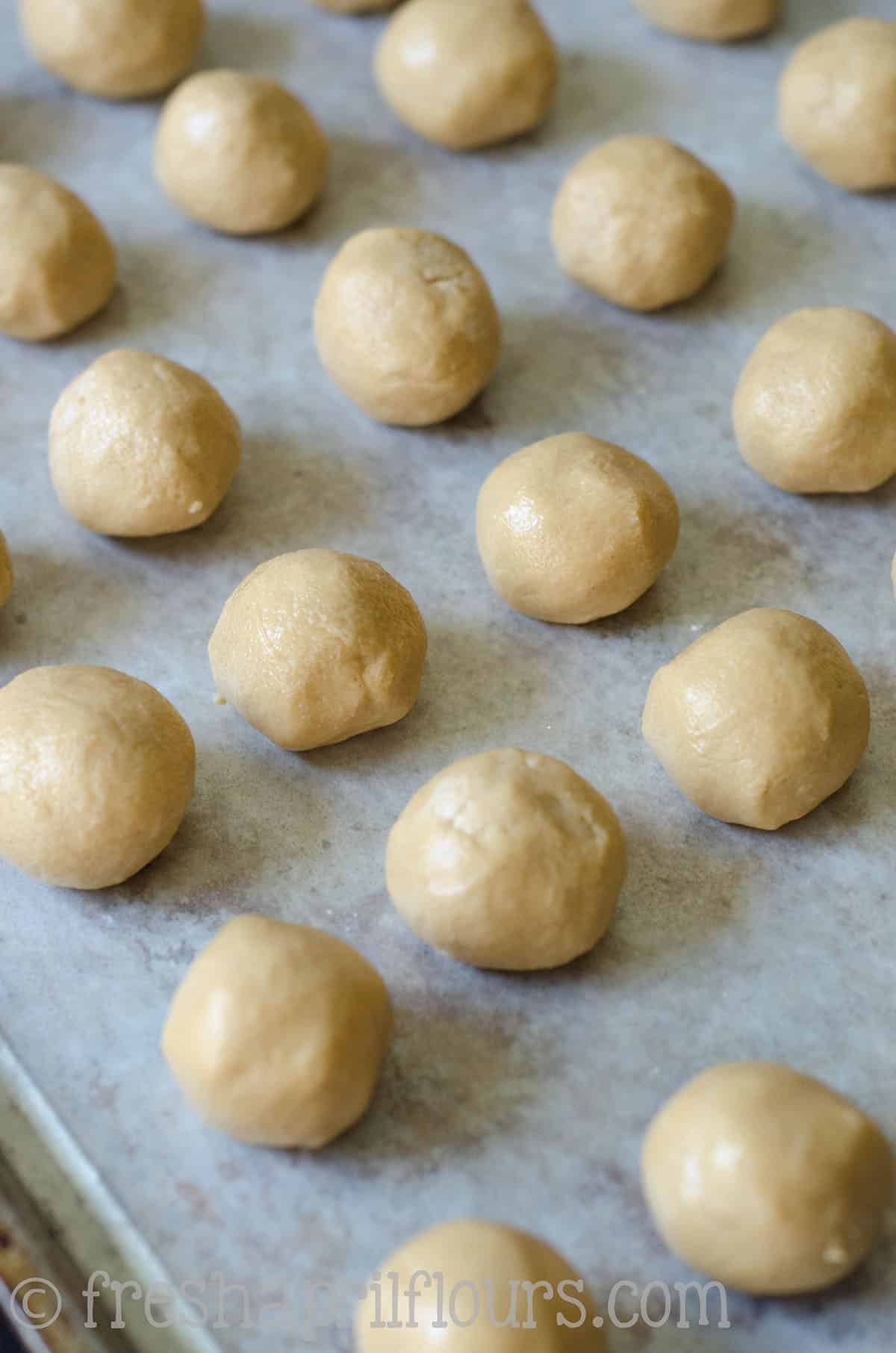 ADD A "HANDLE"
Each ball gets a toothpick that will be used as the "handle" for dipping it into chocolate.
After everyone has a handle, another pop in the freezer for just under an hour turns each peanut butter ball into the perfect medium for a coating of chocolate.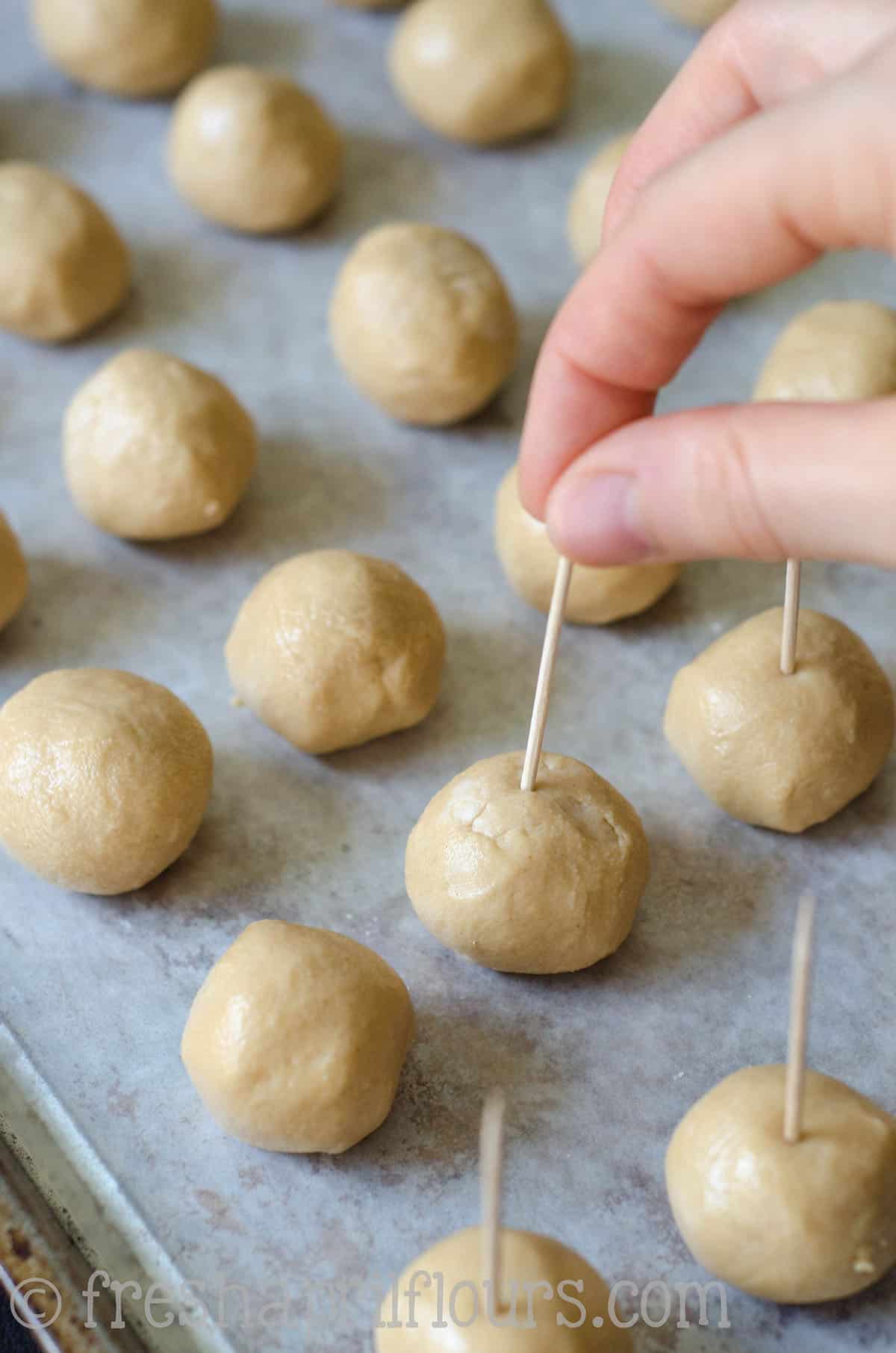 DUNK IN CHOCOLATE
Each peanut butter ball gets a generous dunk, almost the whole way in, leaving a small circle of peanut butter exposed on the top.
Voila! A peanut butter buckeye ball.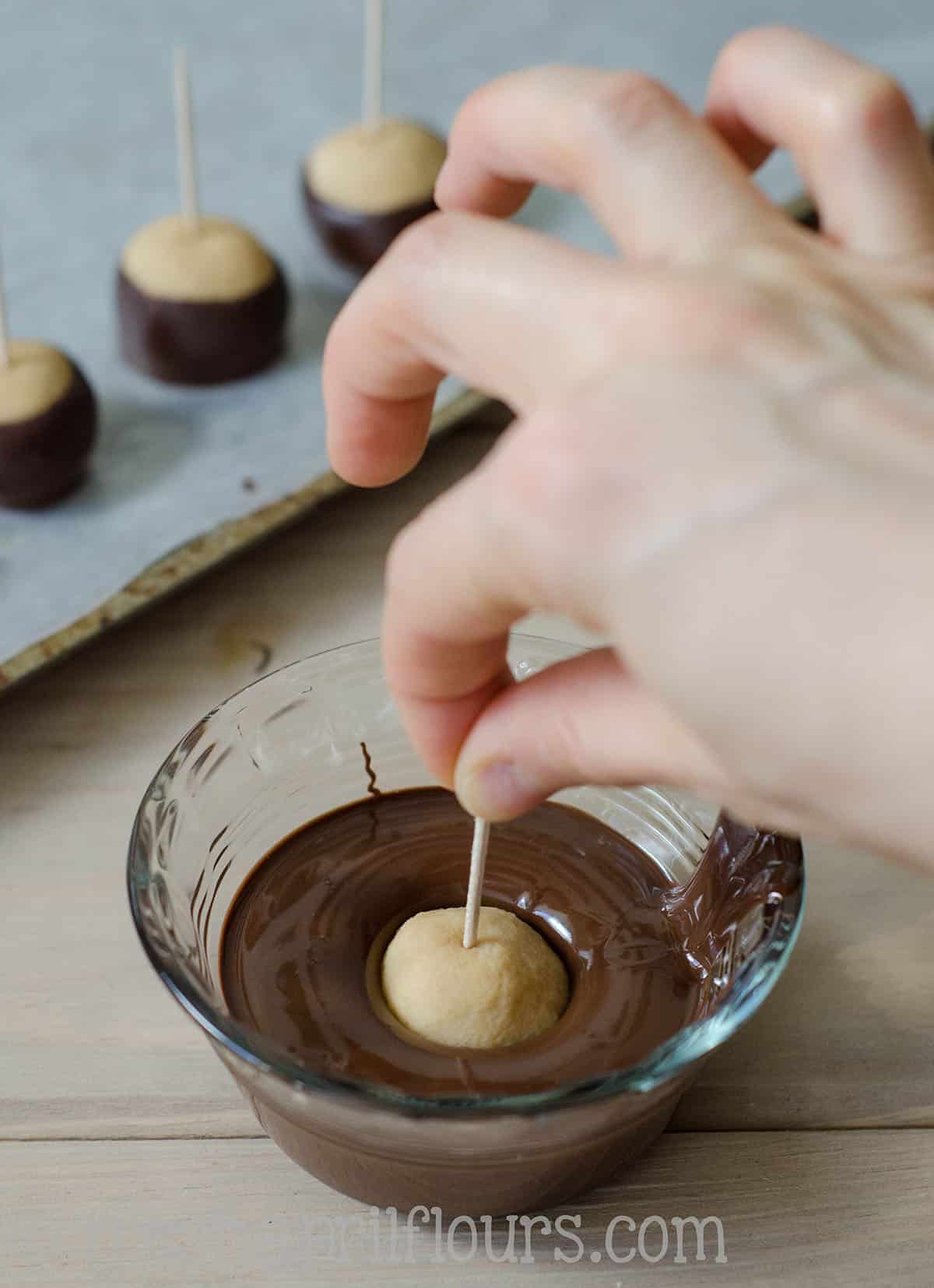 CHILL UNTIL SET
Once all of the peanut butter balls are happy in their chocolate jackets, they must chill in the fridge for at least 3 hours. I found my buckeyes to be the best after staying put in the fridge overnight.
They were still a bit soft after only a few hours, albeit just as delicious, but I recommend closer to 12 hours.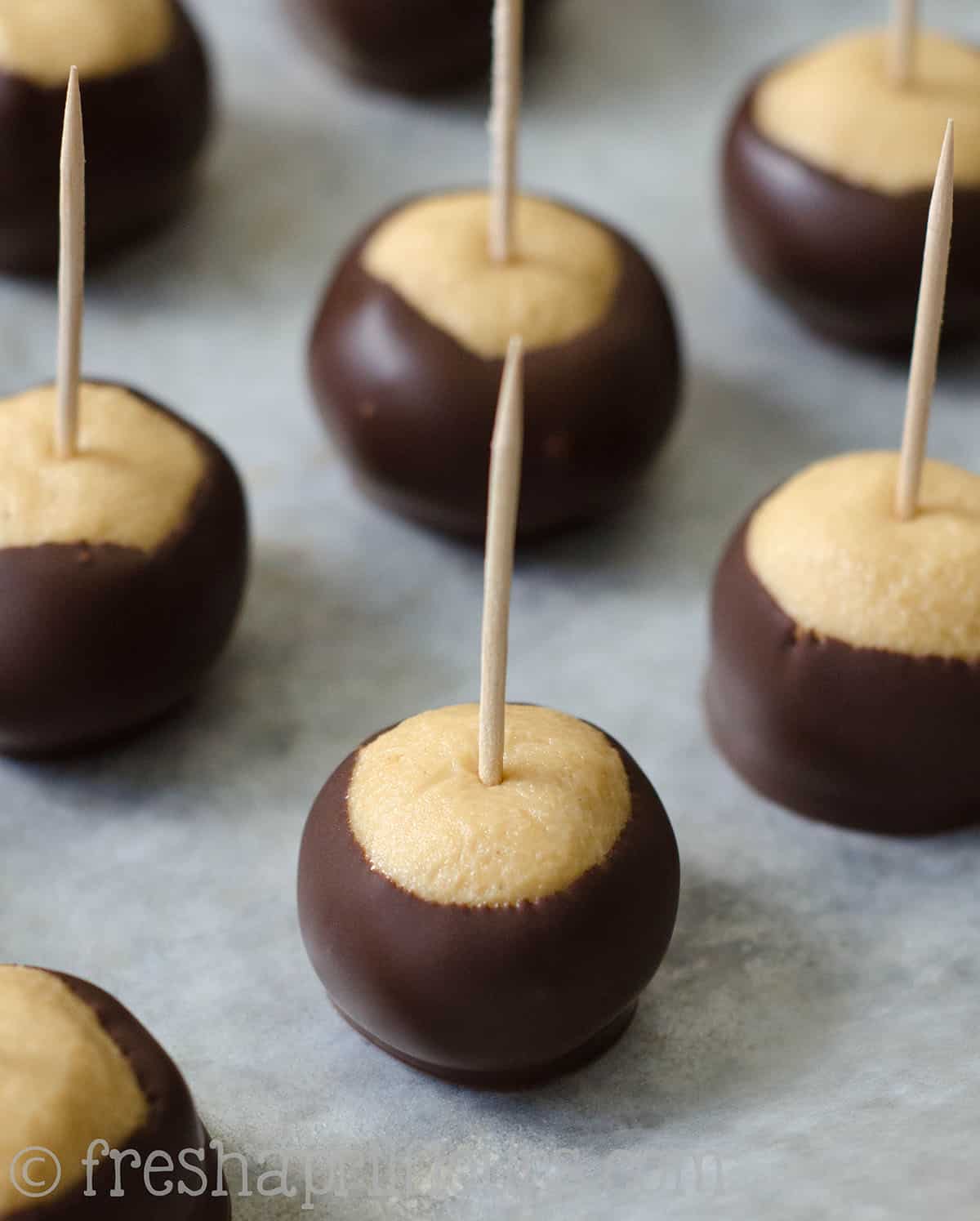 REMOVE TOOTHPICK AND ENJOY
When all of the buckeyes are set, remove the toothpick, and if you would like, smudge the hole with the toothpick or your (clean) finger.
As you can see in the photos above, the authentic ones leave the hole, so if you'd like to stick to that, be my guest!
These buckeyes are oh, so peanut buttery, with just a touch of saltiness to complement the smooth, creamy chocolate shell that encases them. The perfect bite-size snack for dessert, a cookie tray, or any chocolate peanut butter lover (like, everyone in the world, right?).
You might consider coating your buckeyes in milk or white chocolate for an extra fancy treat, but that's totally your preference.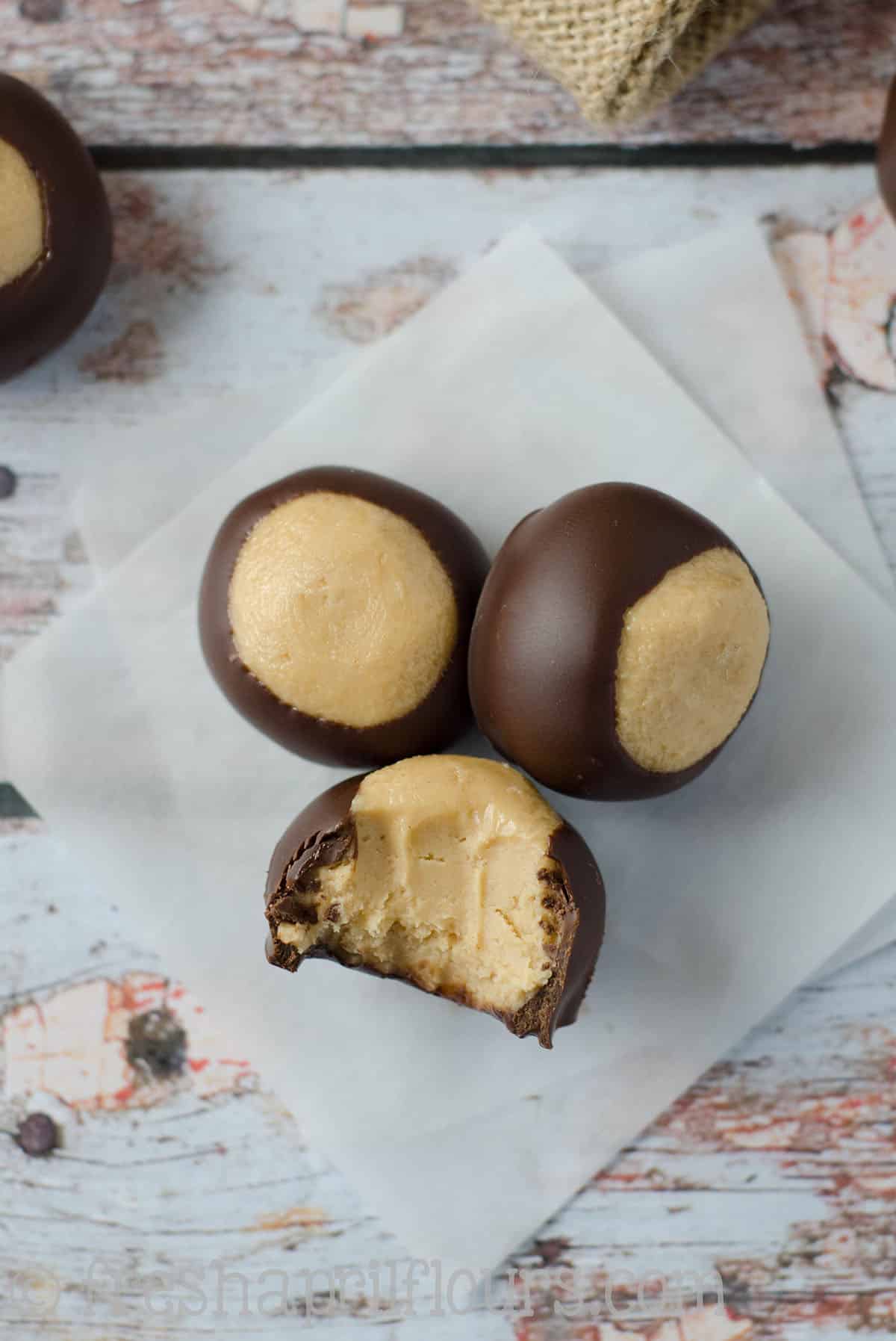 This buckeye recipe is easy, straight-forward, and the result is dangerously delicious. Don't tell any of my Penn State friends (which is just about all of them), but GO BUCKS!
Buckeye Candy
Easy, melt-in-your-mouth peanut butter buckeye balls dipped in chocolate. A classic!
Servings:
3
dozen buckeyes
Ingredients
1

cup

(264g) creamy peanut butter not natural

½

cup

(113g) unsalted butter

softened to room temperature

¼

teaspoon

vanilla extract

pinch

of salt

2 and ¼

cup

(270g) powdered sugar

10

ounces

(140g) semi-sweet chocolate

coarsely chopped*
Instructions
Line a large baking sheet with a silicone baking mat, foil, parchment, or wax paper. Set aside.

In a large bowl, combine the peanut butter, butter, vanilla, and salt. Stir together with a wooden spoon or sturdy plastic spatula until butter is completely blended. You may want to put your bowl in the microwave for 5-10 seconds if you find your butter is not blending well.

Add the powdered sugar ½ cup at a time, stirring after each addition. If mixture becomes too thick to stir, blend together with your hands. When you have added all of the powdered sugar, chill peanut butter mixture in the freezer for 20 minutes to firm up the butter.

Remove from freezer and roll peanut butter mixture into balls about 1" in diameter (I weighed mine and found that 0.6oz was the perfect size). Work quickly so the heat of your hand doesn't melt the peanut butter too much, and don't worry if they're not perfectly round.

When all of the peanut butter mixture is rolled into balls, insert a toothpick into the top of each ball, pushing the toothpick the whole way through to the baking sheet. Put the baking sheet in the freezer and allow peanut butter balls to harden for 45 minutes.

When there are a few minutes left for the peanut butter balls, prepare the chocolate. Place the chocolate in a small microwave safe bowl. Heat in microwave for 20 seconds on HIGH, stir, and heat again as necessary in 20-second increments until completely melted. Set aside.

Remove peanut butter balls from the freezer. Pour some of the melted chocolate into a small prep bowl (or a mug) so there is some depth for dipping the peanut butter balls. Working with one peanut butter ball at a time and using the toothpick as a "handle," dip each peanut butter ball into the melted chocolate, allowing a small circle to remain exposed at the top of each ball. Place back on baking sheet. When all of the peanut butter balls are dipped, place baking sheet in the refrigerator for at least 3 hours. I have the best results after 12 hours.

Once the buckeyes are completely set, remove the toothpicks. If desired, use your finger to smudge the peanut butter together on the top of the buckeye to cover the hole made by the toothpick. Store buckeyes in an airtight container with parchment or wax paper between layers in the refrigerator up to 1 month. They may be kept at room temperature up to 1 week, but know they fare better in the fridge. At room temperature, the peanut butter starts to separate from the chocolate after a few hours. Un-dipped peanut butter balls freeze well, up to 2 months.
Notes
*Chocolate: it is best to use bar chocolate or melting wafers. Feel free to use milk, dark, or even white chocolate.