Chocolate Chip Peanut Butter Quick Bread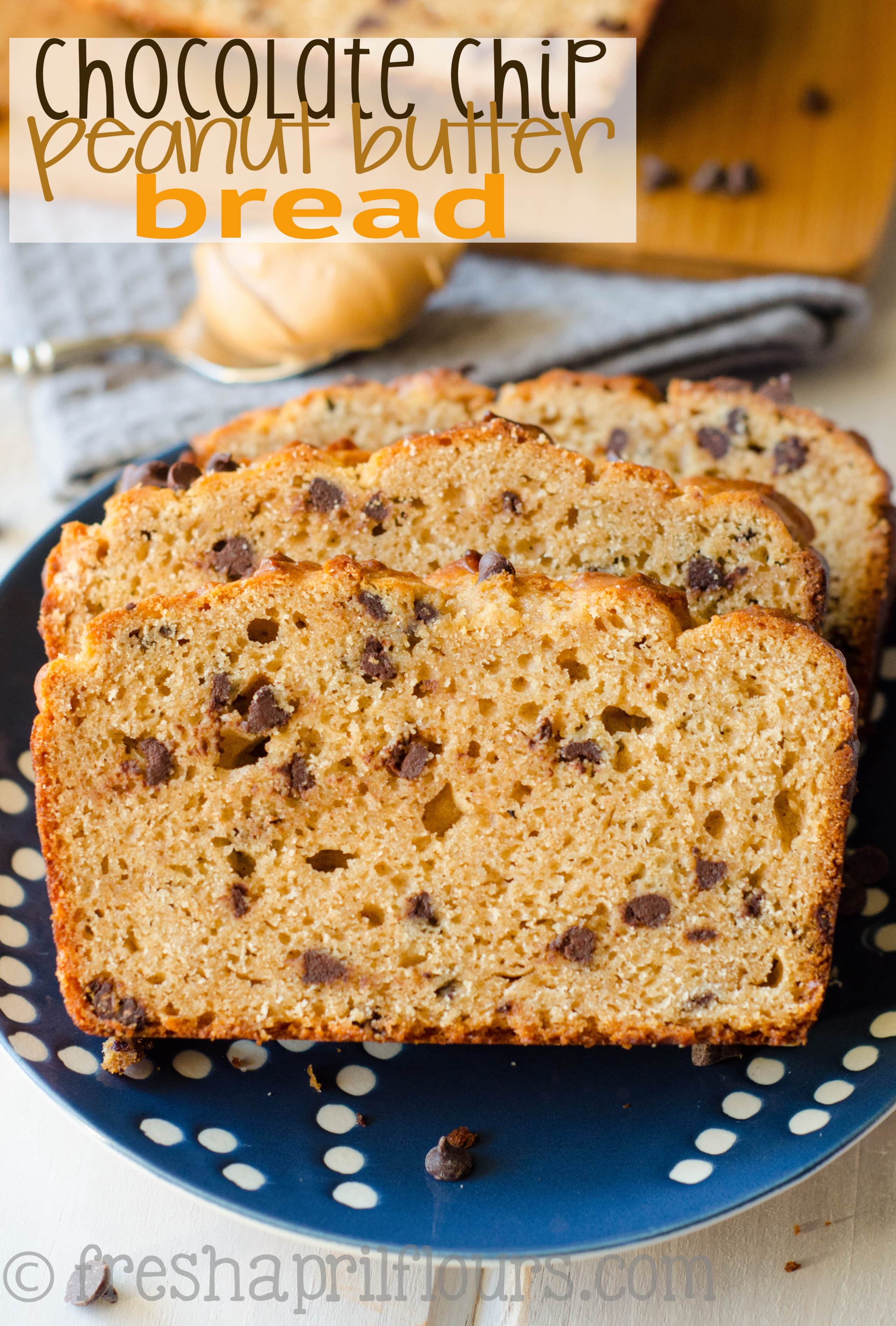 As an Amazon Associate, I earn from qualifying purchases. Read the full disclosure here.
A crunchy exterior gives way to a moist and flavorful quick bread loaded with peanut butter and dotted with chocolate chips.
Peanut butter and chocolate.
Chocolate and peanut butter.
The perfect combination.
A utopian match made in flavor heaven.
Don't you agree? Of course you do. You all went absolutely bananas for these triple chocolate peanut butter bites on Pinterest AND made it one of my top recipes of 2014 (also recently featured on Delish.com)! And rightfully so… When I asked you all about your favorite candy, Reese's peanut butter cups reigned supreme.
Clearly, we needed some more peanut butter and chocolate up in this place to succumb to the masses.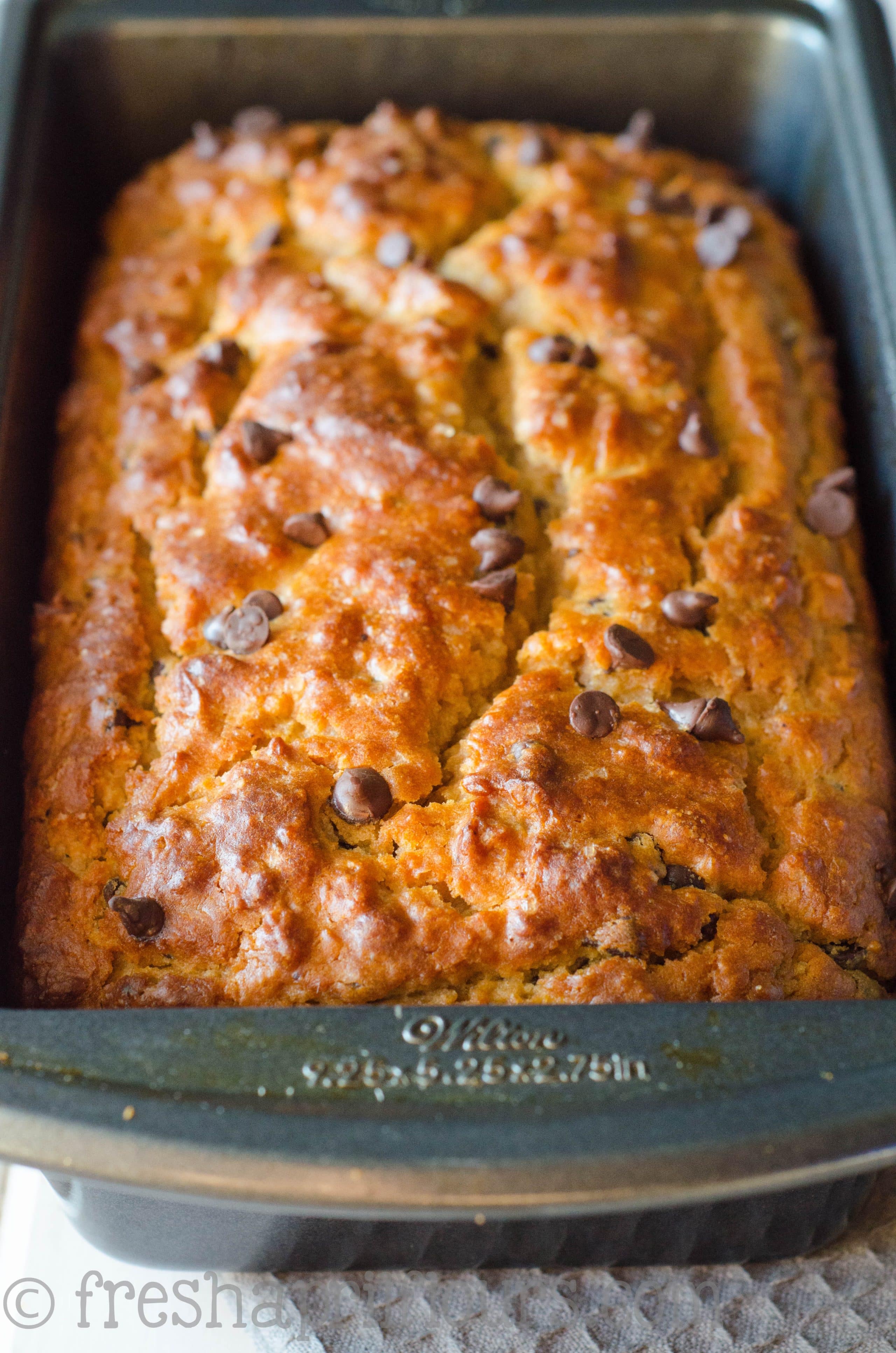 I love quick breads. They're one of my favorite things to bake and eat.
Why?
They're quick (duh), typically require minimal dirtying of utensils and/or bowls, and I just love the tender texture of something that's not quite cake, not quite bread.
I only have one other quick bread recipe on this blog at the moment, and that's because I have zero self control when it comes to a loaf. I even made a different flavored loaf a couple weeks ago and we devoured it before I could blog about it. Whoops.
Bitter cold PA temps = I want to use my oven at all times! This combined with the need for some chocolate and peanut butter resulted in this delightful little loaf.
While I had no intention of making this recipe "skinny," it kind of ended up that way. Using a ton of peanut butter helps eliminate the need for butter and/or oil. It's, like, healthy! #winning
The rest of the ingredients are super simple, and if you're a peanut butter lover and even a sometimes baker, I'm sure you have all of the ingredients you need right now. #doublewinning
I know I encourage a lot of homemade nut butter making (like, a lot), but for this bread, you'll need the sticky stuff. None of the stuff that's just peanuts and salt.
You need the stuff we call around here "peanut butter candy." A whole cup.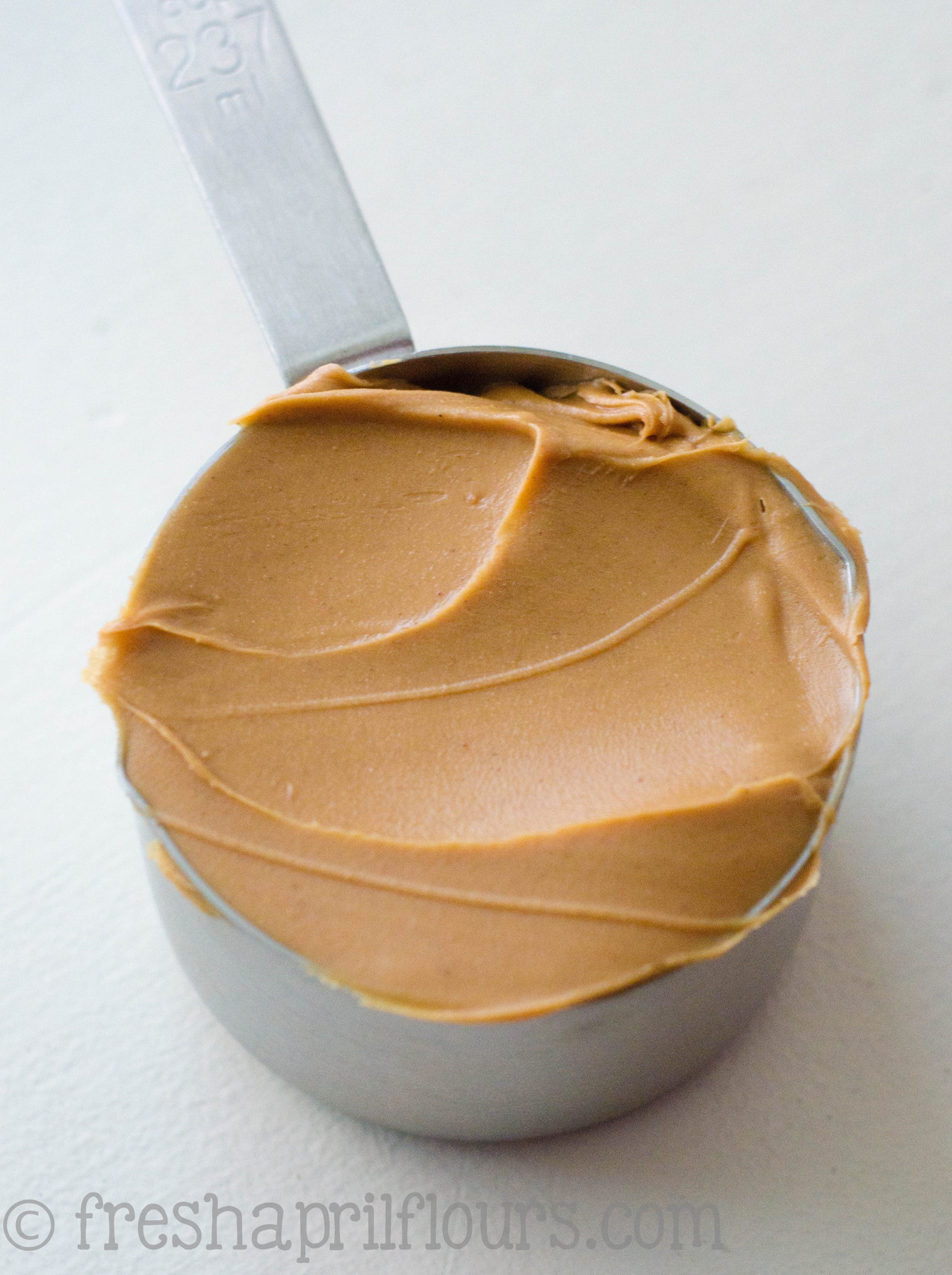 It's already sounding amazing, right?
You'll cream your peanut butter with granulated and light brown sugar. The granulated to sweeten the bread, and the light brown to sweeten AND add moisture.
To that, you'll add 2 room temperature eggs. Room temperature is key, as it encourages smooth incorporation into your batter. Don't have time to wait? Stick 2 eggs in a bowl of warm water for 10 minutes. Boom. Let's do this.
The next thing you'll need is pretty important: a cup of buttermilk. There are no substitutions for this. If you don't keep buttermilk on hand, you can make your own pretty easy peasy.
MAKE YOUR OWN BUTTERMILK
Did you know that making your own buttermilk is insanely easy? See my post about homemade buttermilk if it's not something you normally have on hand.
Homemade buttermilk, yay!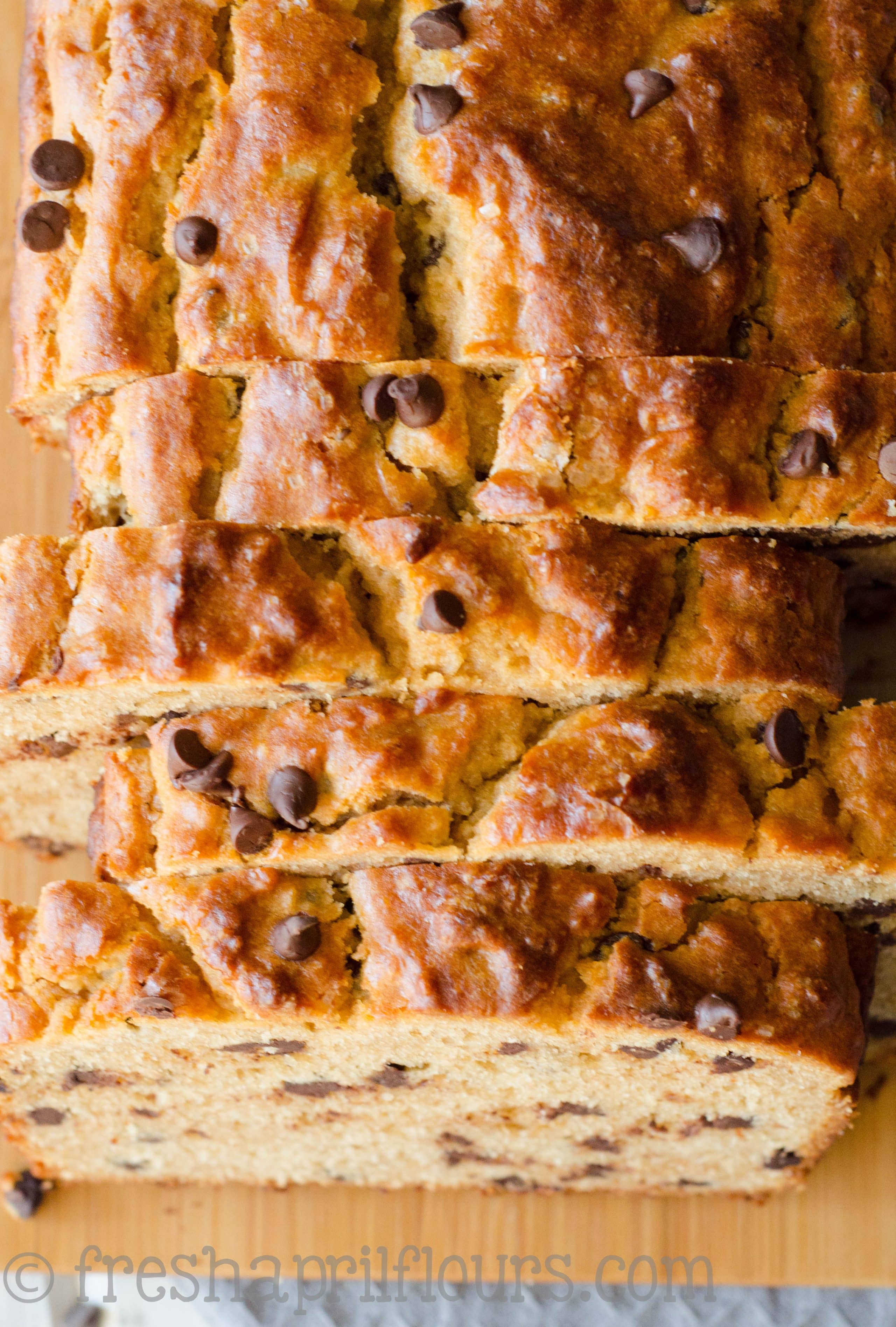 Buttermilk has a wonderful way of bringing so much moisture to baked goods. It's what makes my chocolate cake above and beyond moist, what keeps these scones from being dry, and what helps give red velvet anything its signature flavor. Miracle milk, really.
Once all of this is mixed together, you'll be left with what reminds me of melted peanut butter ripple ice cream. It looks and smells incredible, but it will be very runny. This is ok.
When it comes time to mix your wet and dry ingredients, use a very light hand. You want to be sure your final product has a tender crumb, and over mixing can prevent this from happening. Easy does it.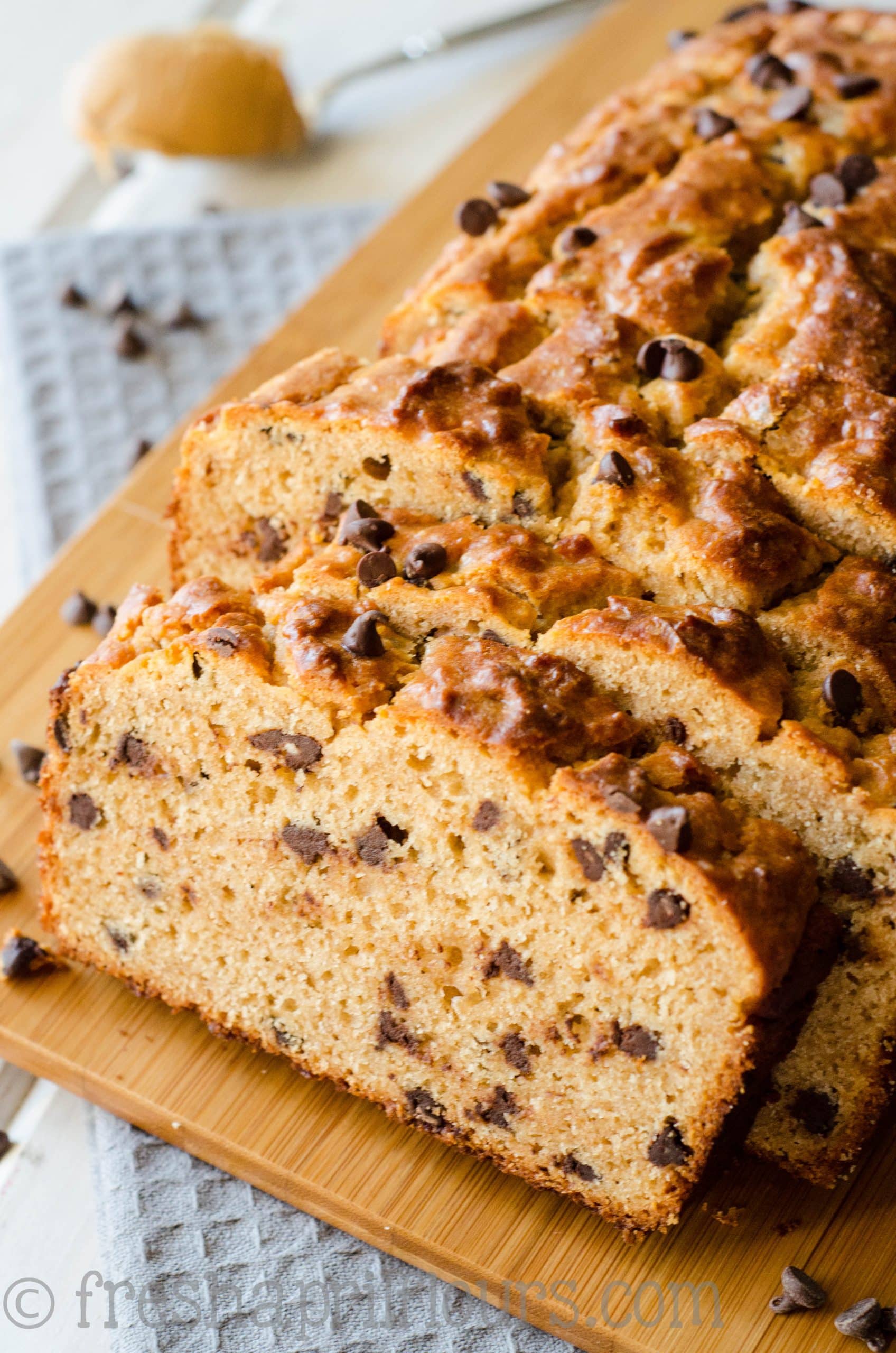 The smells that will come out of your oven while baking this chocolate chip peanut butter bread are out of this world. Toasty, nutty, and sure to make your mouth water.
When the bread is completely cool, you'll find a nice, crispy outside that leads to a pillowy soft center of peanut butter goodness. The flavor is quite peanuty but ever so slightly sweetened so you don't feel like you're eating cake.
The chocolate chips add the perfect complement to every nutty bite.
I took this loaf (and the one I made before it that needed a little tweaking) into work and it got rave reviews.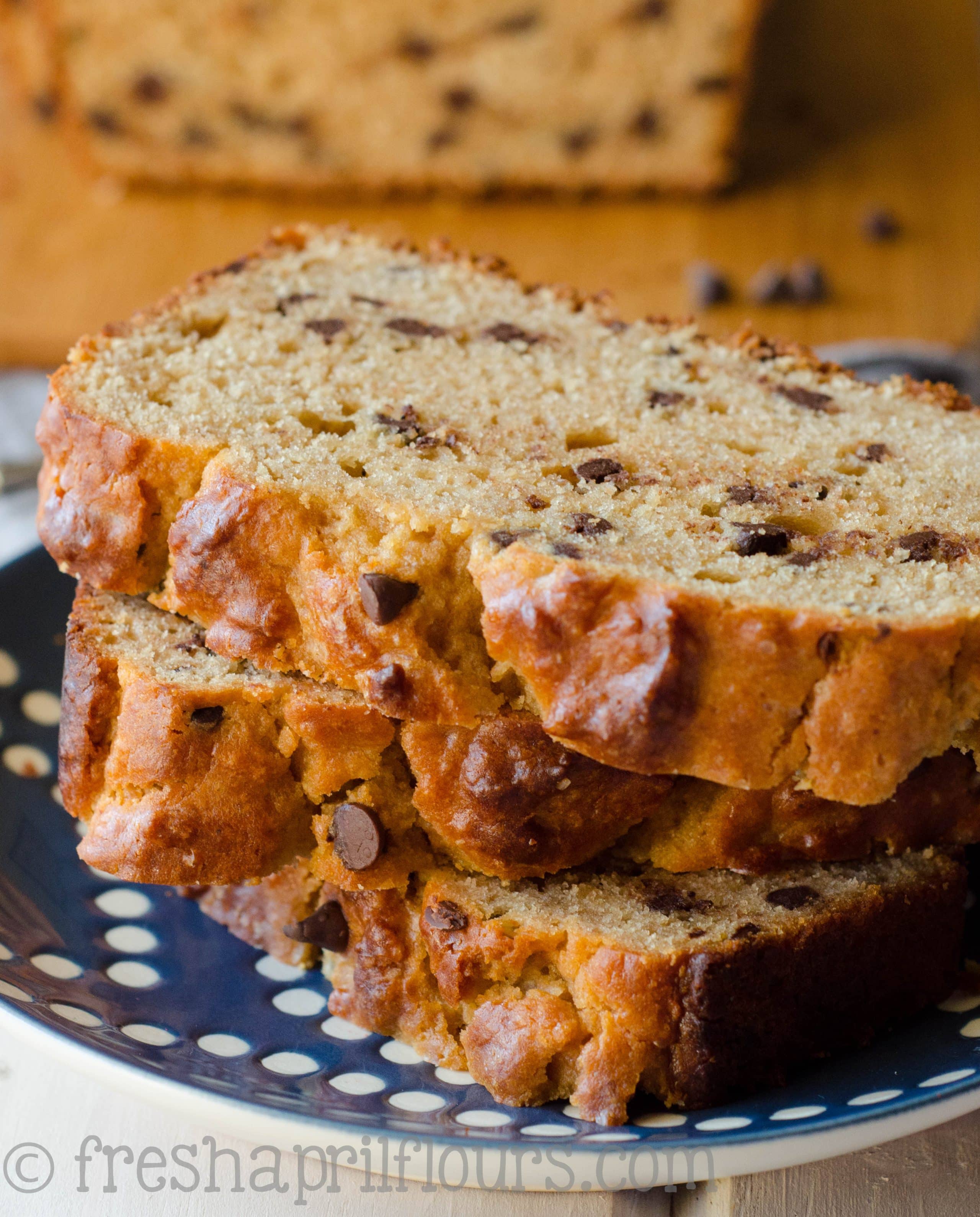 How can you go wrong with peanut butter and chocolate? You can't. I promise.
Love chocolate peanut butter? Of course you do! Check out my favorite chocolate peanut butter recipes: scotcharoos, Nutella peanut butter chip cookies, dark chocolate layer cake with peanut butter frosting, and Buckeye candy.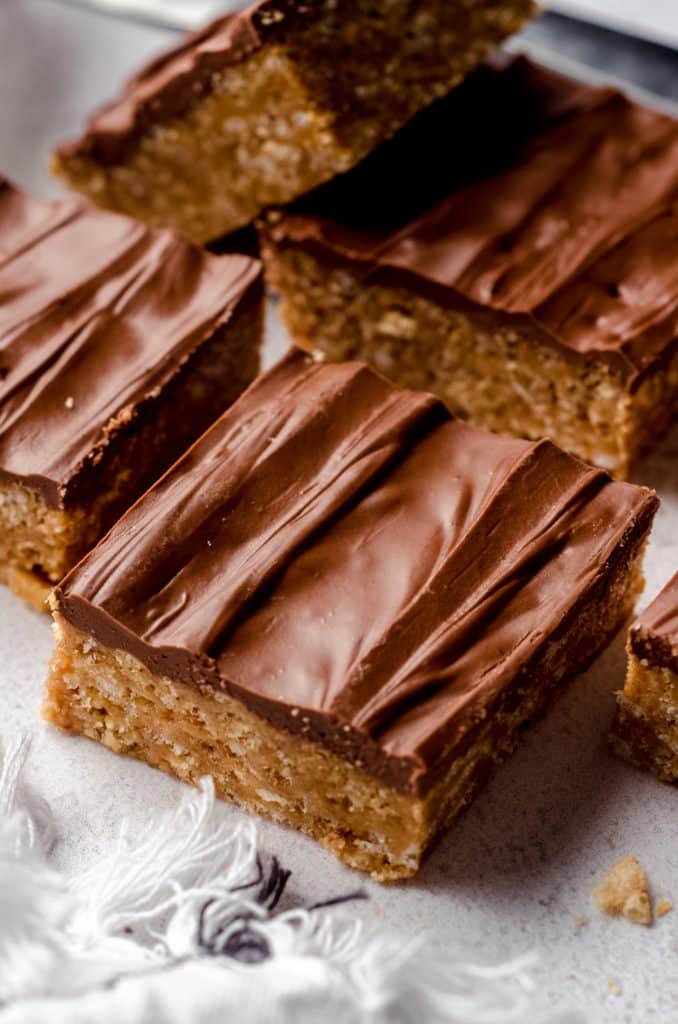 Chocolate Chip Peanut Butter Quick Bread
A crunchy exterior gives way to a moist and flavorful quick bread loaded with peanut butter and dotted with chocolate chips.
Ingredients
1 and 1/2

cups

all purpose flour

be sure to measure properly

2 and 1/2

teaspoons

baking powder

1

teaspoon

salt

2/3

cup

mini chocolate chips

1

cup

peanut butter

not natural, unless you use "no stir" kind

1/2

cup

granulated sugar

1/2

cup

brown sugar

firmly packed

2

eggs

room temperature

1

teaspoon

vanilla extract

1

cup

buttermilk*

coarse sugar for sprinkling

optional
Instructions
Preheat oven to 350ºF degrees. Spray a 9″ x 5″ loaf pan with non-stick spray and set aside.

In a large bowl, whisk together flour, baking powder, salt, and mini chocolate chips until combined. Set aside.

In a medium bowl with a handheld mixer or in the bowl of a stand mixer fitted with the paddle attachment, beat peanut butter, granulated sugar, and brown sugar together on medium speed until smooth. Add room temperature eggs one at a time, beating after each addition and scraping down sides and bottom of bowl with a spatula as necessary. After eggs are fully incorporated, use your spatula to scrape down the sides and bottom of the bowl again to ensure everything is well mixed. On low speed, beat in vanilla and buttermilk until everything is combined. Mixture will be runny– this is ok.

Slowly pour the wet ingredients into dry ingredients and stir gently until there are no more lumps. Be careful not to over mix, as this can cause bread to become tough.

Pour batter into prepared loaf pan and sprinkle with coarse sugar and more mini chocolate chips (both entirely optional). Bake for 56-58 minutes or until toothpick inserted in middle of loaf comes out mostly clean. Bread will continue to bake in pan a bit as it cools. My bread took exactly 57 minutes. Allow bread to cool completely in the pan on a wire rack before cutting. Bread will remain fresh stored in an airtight container or wrapped tightly at room temperature up to 5 days. Loaf may be frozen up to 2 months.
Notes
*If you do not have buttermilk on hand, you can make your own: see my post about homemade buttermilk.
Nutrition Disclosure
All nutritional values are approximate and provided to the reader as a courtesy. Changing ingredients and/or quantities will alter the estimated nutritional calculations.