As an Amazon Associate, I earn from qualifying purchases. Read the full disclosure here.
Thin Italian waffle cookies featuring optional anise flavoring for an authentic Italian treat. Perfect with a cup of coffee or espresso and a family favorite at Christmas time. Dust with powdered sugar for an extra sweet touch!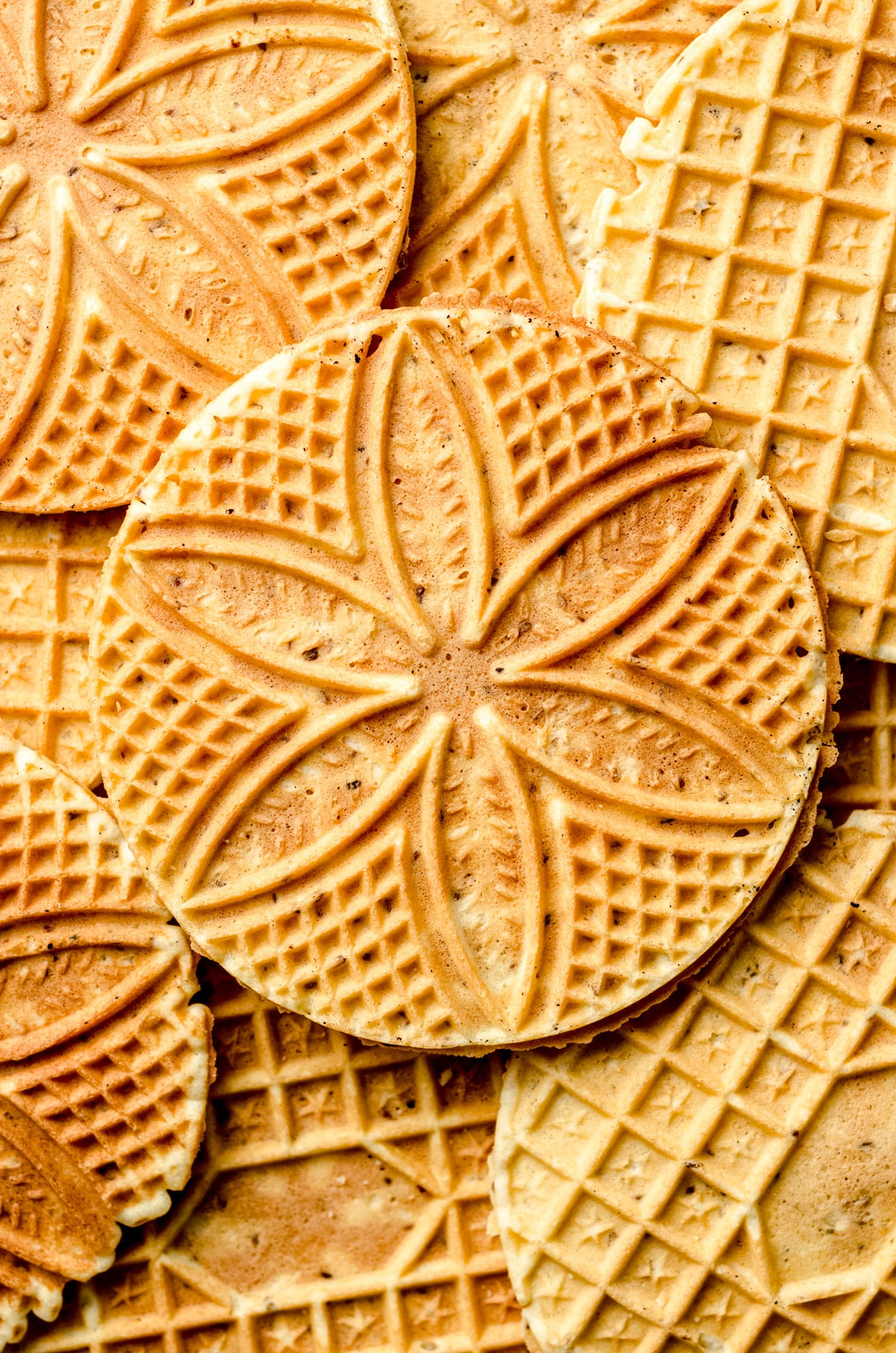 If you're anything like me (the granddaughter of Italian immigrants), your mouth starts to water at the thought of eating pizzelle.
As soon as I hear the word, I'm immediately transported back to my grandparents' house in Hershey, PA where we always had stacks and stacks of these pizzelle at the Christmas spread alongside family favorites such as sfratti, spaghetti with meat sauce, and a whole slew of classic Italian staples.
When Matt and I started dating, I learned quickly that his family also adores a classic pizzelle recipe, and there was a near fist fight over the last one at the first Feast of The Seven Fishes celebration I attended.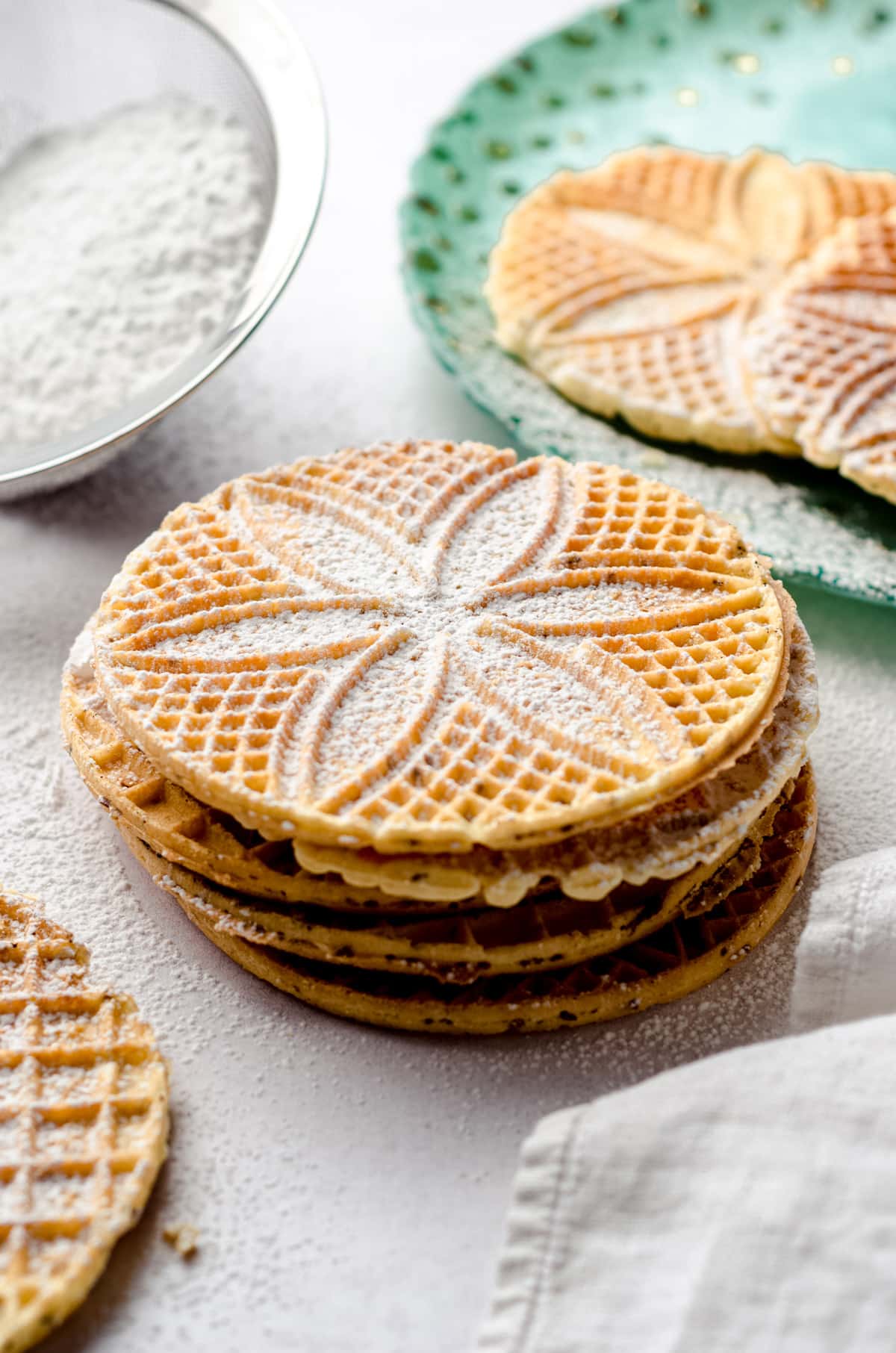 If you're intrigued by Italian recipes or traditional Italian cookies, you would probably be happy to hear that I've shared a few of my favorites over the years. These include my recipes for traditional anise biscotti, Italian anise bread, sfratti (honey walnut cookie sticks), and most recently these pignoli cookies.
WHAT ARE PIZZELLE?
Pizzelle are a traditional Italian waffle cookie that is most often flavored with anise, although a variety of flavorings could be used instead, most commonly vanilla or lemon zest.
Classic Italian pizzelles are made using a special iron with intricate designs. They are most often thin and crispy, although some people prefer their pizzelle a little thicker and therefore chewier.
These cookies are popular all year long, but become even more popular during any one of the many holidays throughout the year (we also often have them at Easter holidays!). But during Christmas? That's the absolute peak of pizzelle making and eating season.
And is it any wonder? Traditional Italian pizzelle are just as beautiful as they are delicious, making them the perfect gift or the perfect cookie to bring along to a cookie exchange or party. I personally enjoy them with a steamy cup of coffee or espresso (and yes, I dunk– I can't resist!).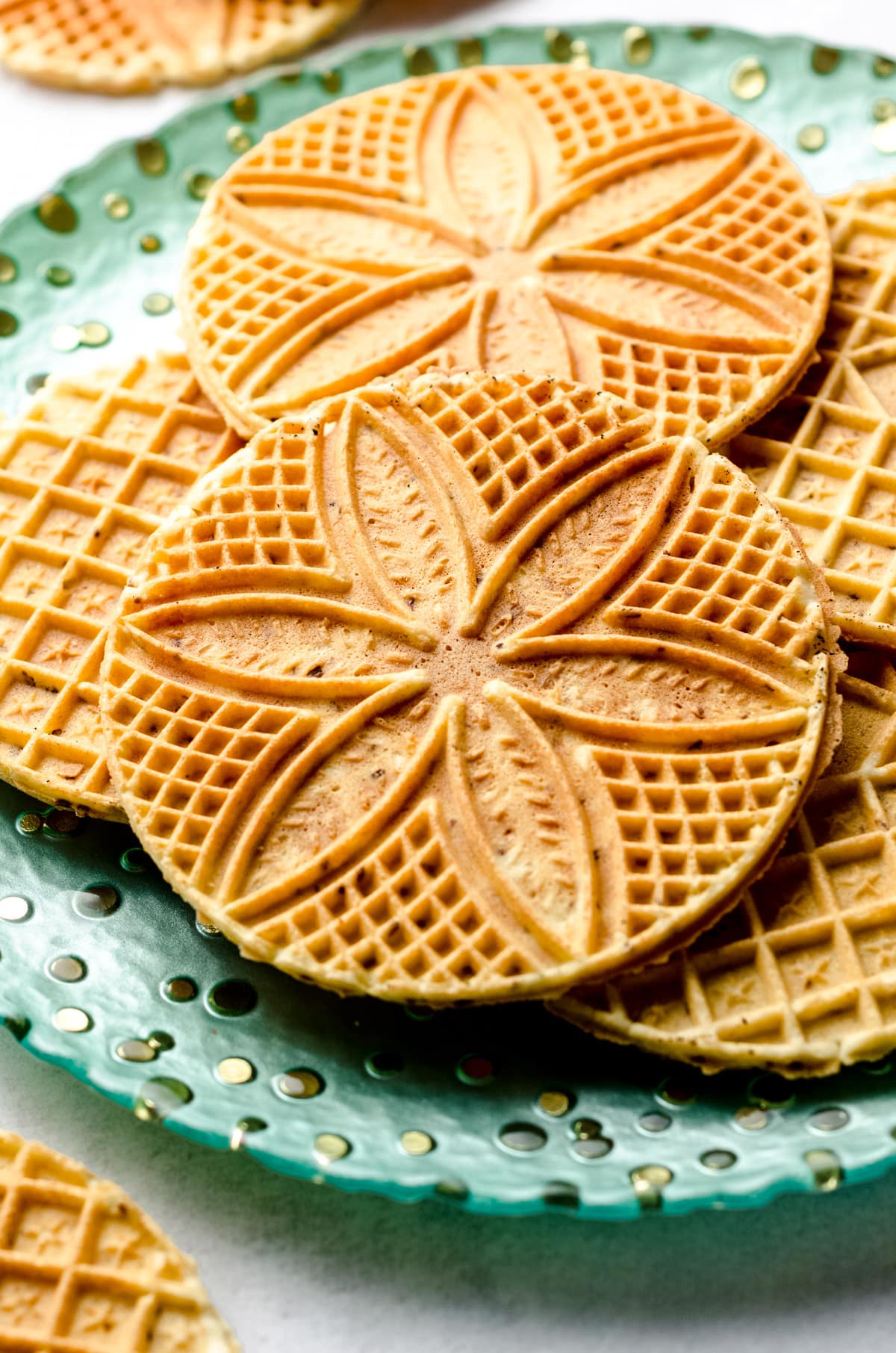 INGREDIENTS
Like so many Italian cookies (pignoli cookies anyone?), the ingredients list for these intricately patterned cookies is actually pretty short. And with the exception of the anise seed and extract, they are all pantry staples.
You basically need some flour (it's very important to measure properly), baking powder, salt, sugar, unsalted butter, eggs, and vanilla. See? Easy peasy.
Then if you're going the traditional route (Italian pizzelle cookie recipes typically have anise) you'll need some of that extract and the anise seeds I mentioned earlier. It really shouldn't be any trouble to find them– they are easy to get at your local grocery store or online.
ANISE IS OPTIONAL BUT ENCOURAGED
Anise has a flavor that is reminiscent of a popular love-it-or-hate-it food: black licorice. In my opinion, it's not a super strong licorice flavor, but there are certain people that really do not like the taste of anise in their Italian pizzelle cookies.
Personally? I really despise licorice. As in I make Matt, whose favorite candy is Good & Plenty, eat that favorite in a different room. True story.
But anise flavor? It's a totally different level of "licorice flavor," and Italian anise bread is one of my favorite recipes ever. You be the judge, but I promise, if you don't like licorice, there is a chance you could still like anise!
And while I'm in favor of adding anise oil and seed because it's traditional, it is an optional ingredient. You don't even need to find anything to replace it with– just leave out both the anise seed and anise extract and you're good to go.
Although… You do know how much I love almond extract. You could easily turn these into almond pizzelle with a little almond extract.
Hey, if you have some licorice lovers in your crew you could always divide the dough in half and add anise to one portion and leave it out of the second portion. It's all about compromise, right?
HOW TO MAKE PIZZELLE
The most important part of making this traditional Italian cookie is the pizzelle iron or pizzelle press. This is a specialized tool that gives you a thin, crispy texture and beautiful imprinting on each and every cookie.
They are a treasured item in Italian households, and can be found both at Italian markets and online– whichever you prefer! Unfortunately, there isn't really a way to make proper pizzelle without one, but I promise you that they are definitely worth the small investment.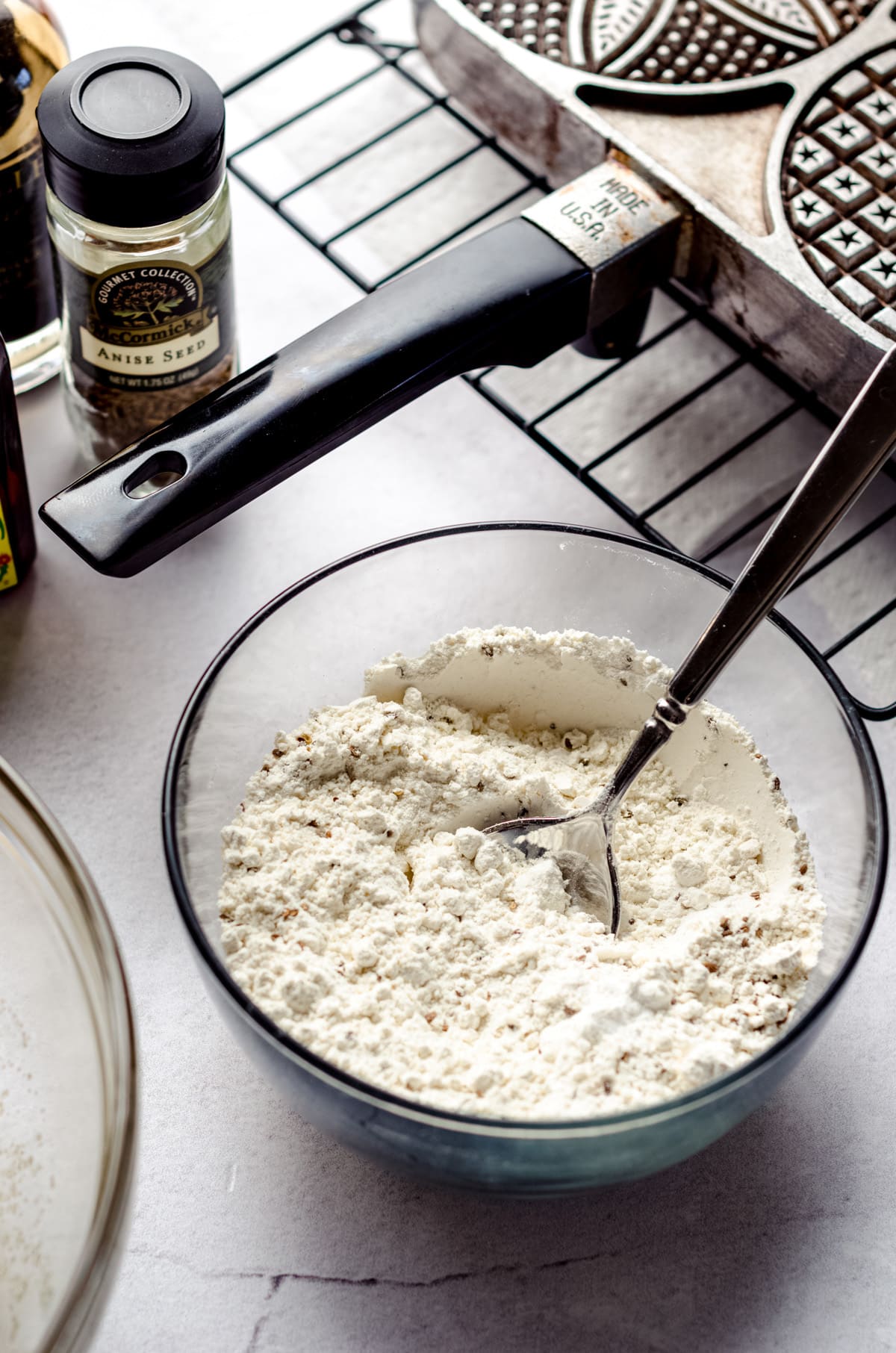 To get started on the best pizzelle recipe, make sure your pizzelle iron is plugged in and turned on. We'll let it preheat while we mix up the batter, that way it will be ready to go when we need it.
Then add your flour, anise seed (if using), baking powder, and salt to a small bowl. Give it a little whisk to combine and then set aside.
Add the sugar, melted butter, eggs, vanilla extract, and anise extract (if using) to a medium-sized bowl and whisk everything together until smooth.
Finally, pour the dry ingredients into the wet ingredients. Use a silicone spatula to fold everything together, mixing until the dry ingredients are fully incorporated into the wet ones. Just be super careful not to over-mix!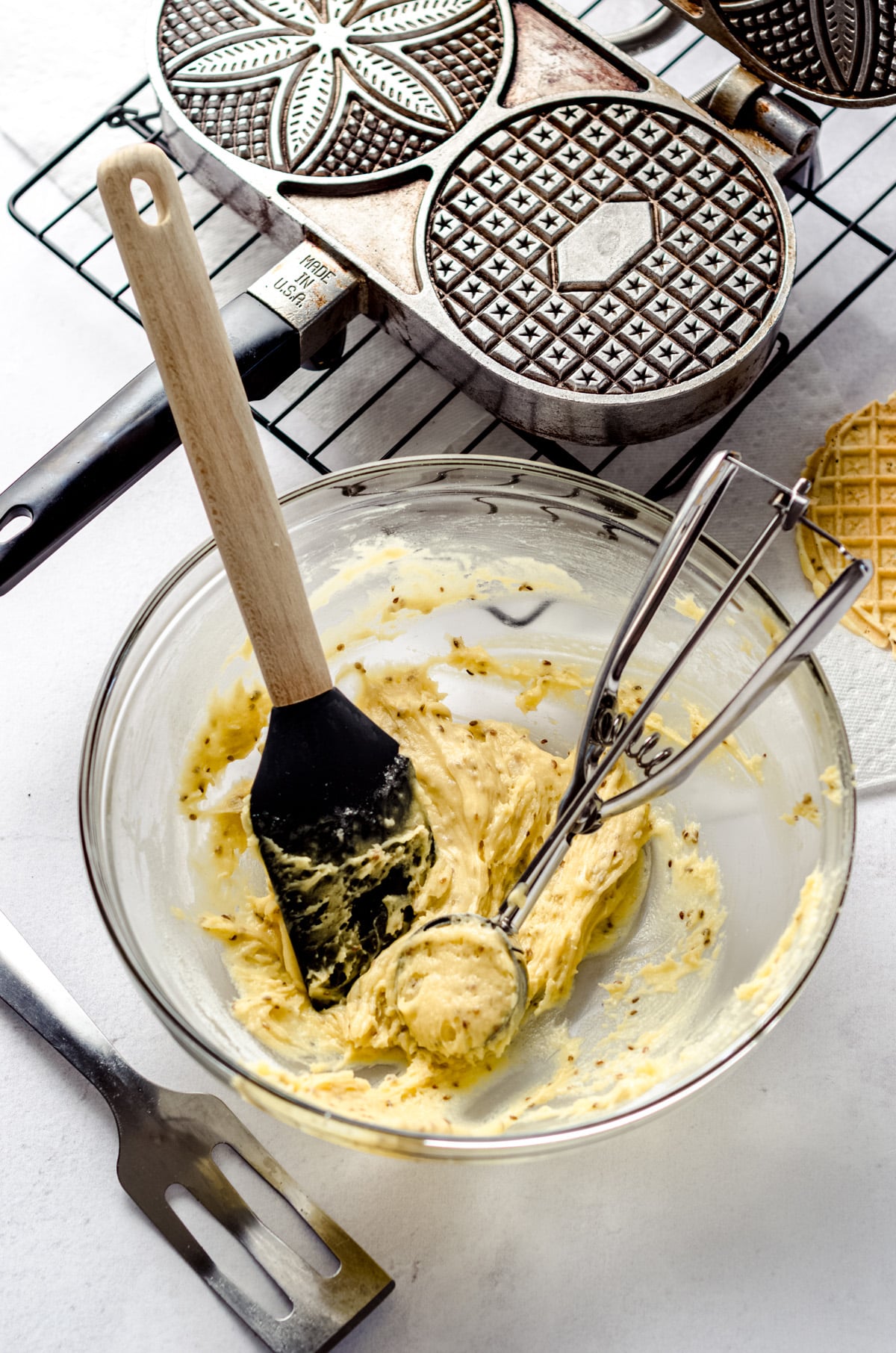 The batter will be quite thick (just a bit thinner than regular cookie dough), which can be surprising since the cookie itself is so thin. You would think it would be a thin, pancake-like batter, but nope!
I like to use a cookie scoop (this #50 cookie scoop is my standby) to portion and drop the batter into the center of each section of your pizzelle iron. You want to work quickly here, but you still need to be careful to get the perfect press.
Then cook the pizzelles according to the instructions given in the manual for your iron. In my experience, that ranges from about 30 to 90 seconds.
I used about a tablespoon of dough for each cookie, which I think is pretty standard for the majority of pizzelle irons. But I want to make sure that you check the instructions of your particular model and see what they say– some are larger and may require more dough.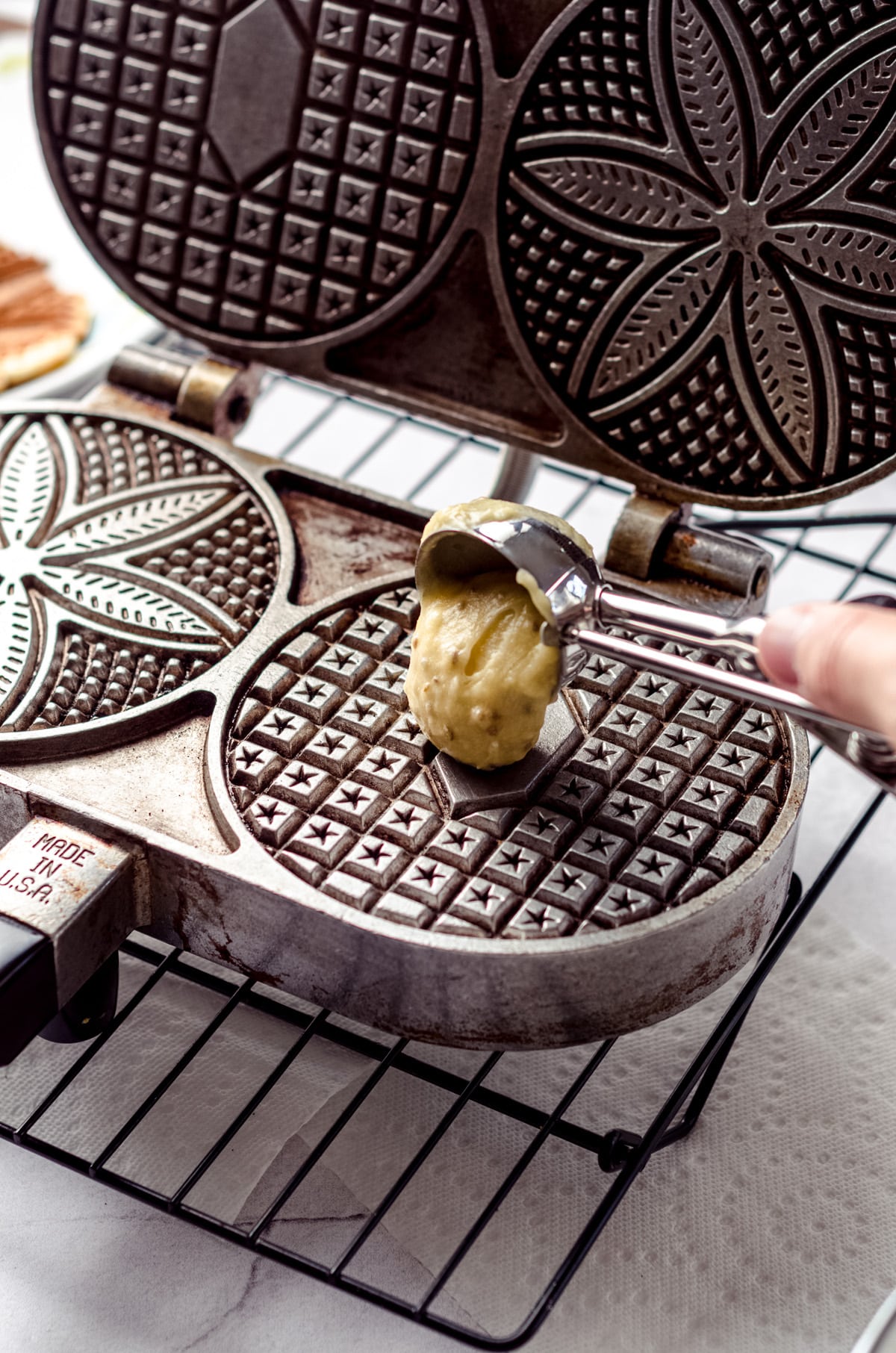 If all else fails and you can't find your manual, you can always use the first few pizzelles to test out the amount of dough and time required. I assure you, they will at the very least be tasty mistakes.
Then, once your cookies are done cooking, remove them from the iron and place them in a single layer on a wire cooling rack or a parchment-lined baking sheet. They will still be quite soft but will stiffen after they cool down. Just keep them nice and flat so they set up that way too.
Once your cookies are completely cooled remove any rough edges (more on that in a minute), and then either store them for later or dust them with powdered sugar and serve them immediately.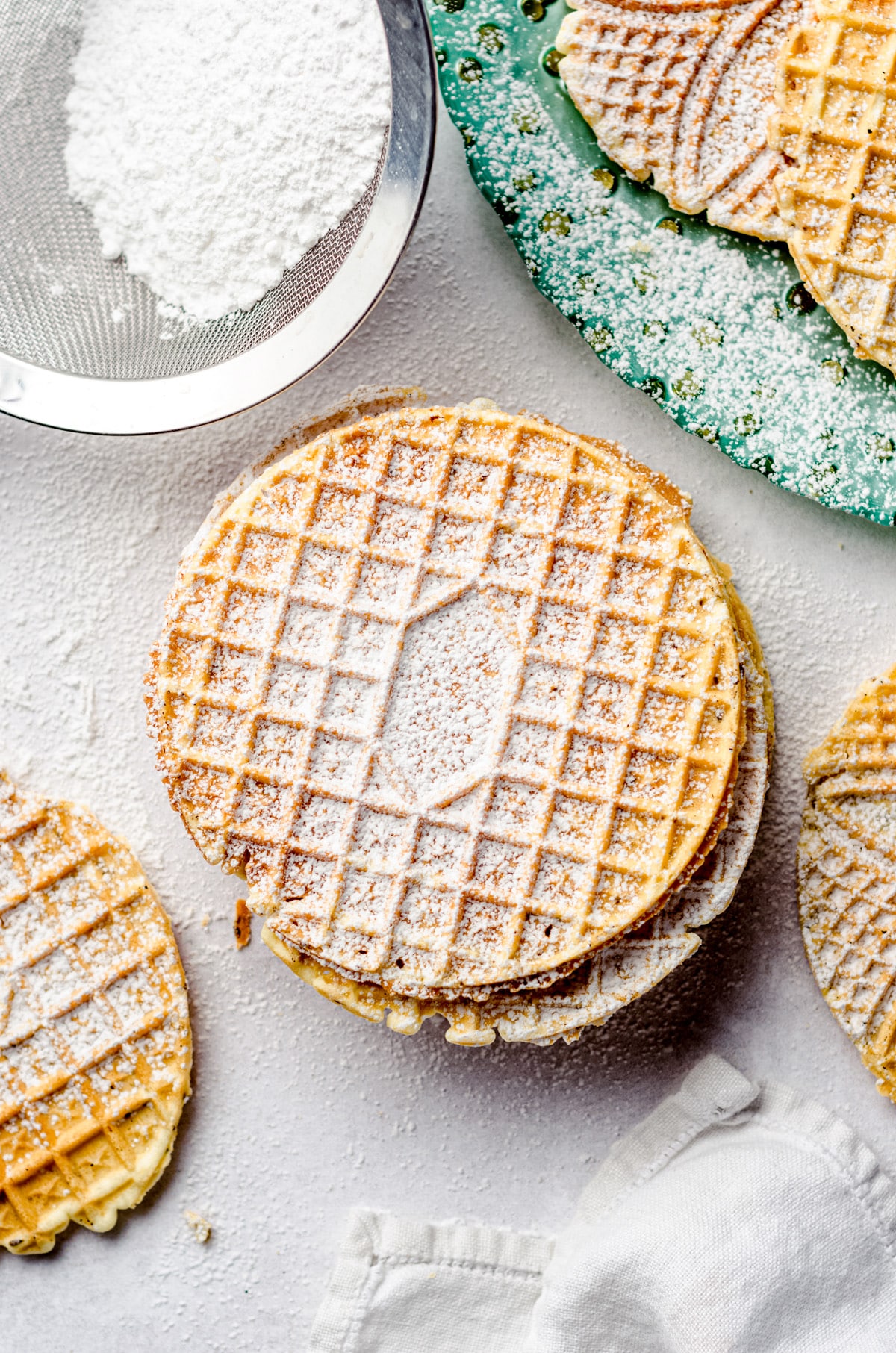 WET BATTER VS ROLLED BATTER
The vast majority of Italian pizzelle recipes (including mine) use a wet dough that is soft, scoopable, but still pretty thick. But there is a method that uses a thicker, rolled batter that is more similar to the consistency of cookie dough.
This rolled batter typically contains either additional flour, chilling the dough, or both. This makes the dough firm enough to handle and roll between the palms, similar to what you would do for a classic cookie recipe (like my pecan chocolate chip cookies).
I have personally never made this style, but I have seen it done, and it seems like it could be an efficient way of making lots of pizzelle for gifting, parties, etc.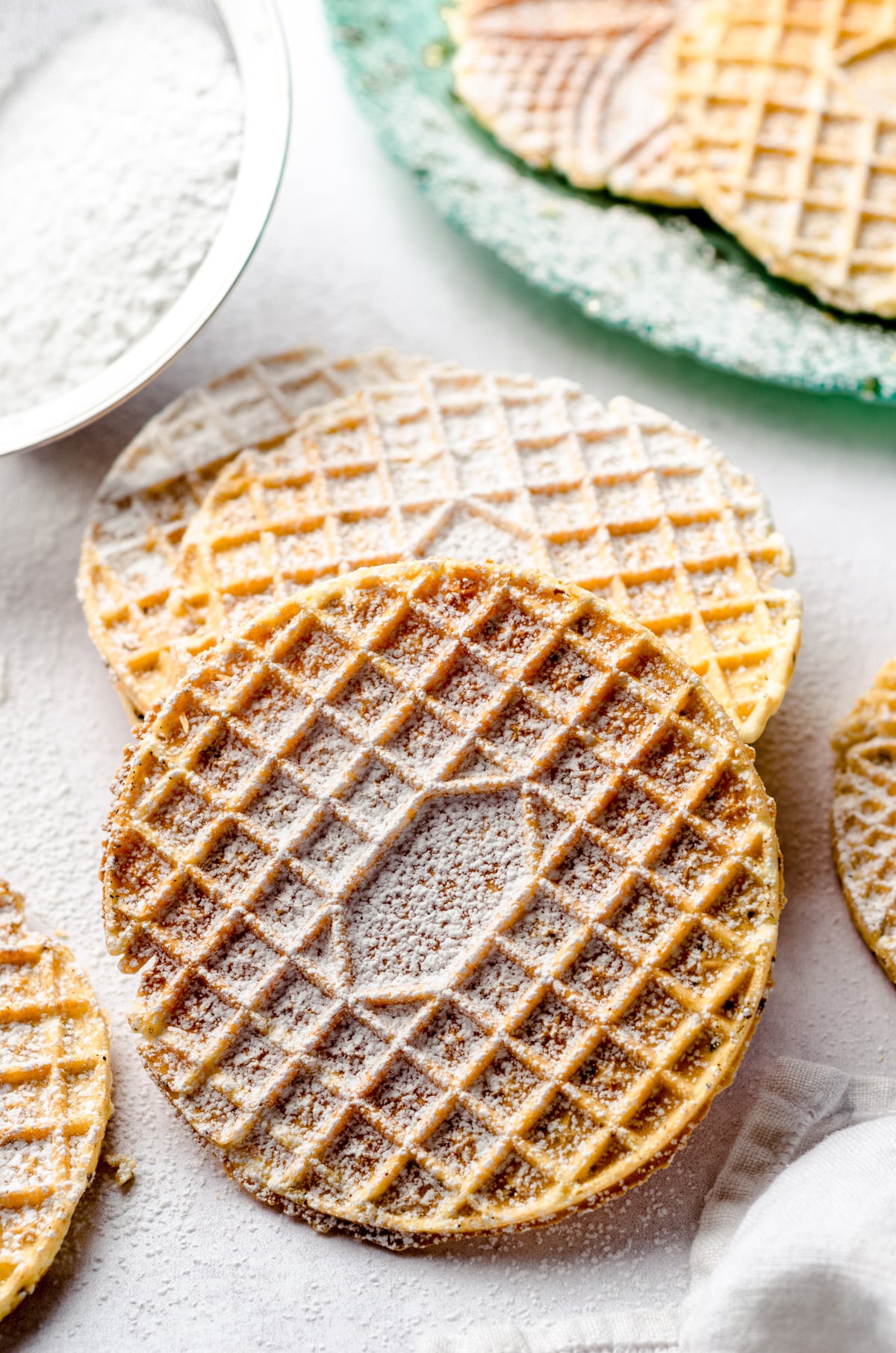 But as for me? I'm sticking to the traditional wet batter that forms crispy, perfectly browned cookies every single time. Hey, if it's not broken, what is there to fix?
WHY IS IT STILL FLOPPY WHEN IT COMES OUT OF THE IRON?
One of the most common troubleshooting issues when it comes to pizzelle cookies is their floppiness when they are first removed from the iron.
For anyone who has only ever eaten a pizzelle and has not made one, this can be pretty shocking! After all, the cookies are supposed to be crispy, thin, and delicately flavored with anise. Not floppy like a pancake!
But pizzelles actually firm and crisp up as they cool. So in order to facilitate that beautiful texture you must take your warm, floppy cookies from the iron and immediately place them on a flat surface.
Fun fact: cannoli shells are made this way! Floppy discs are shaped while still warm and cool perfectly crispy and then filled.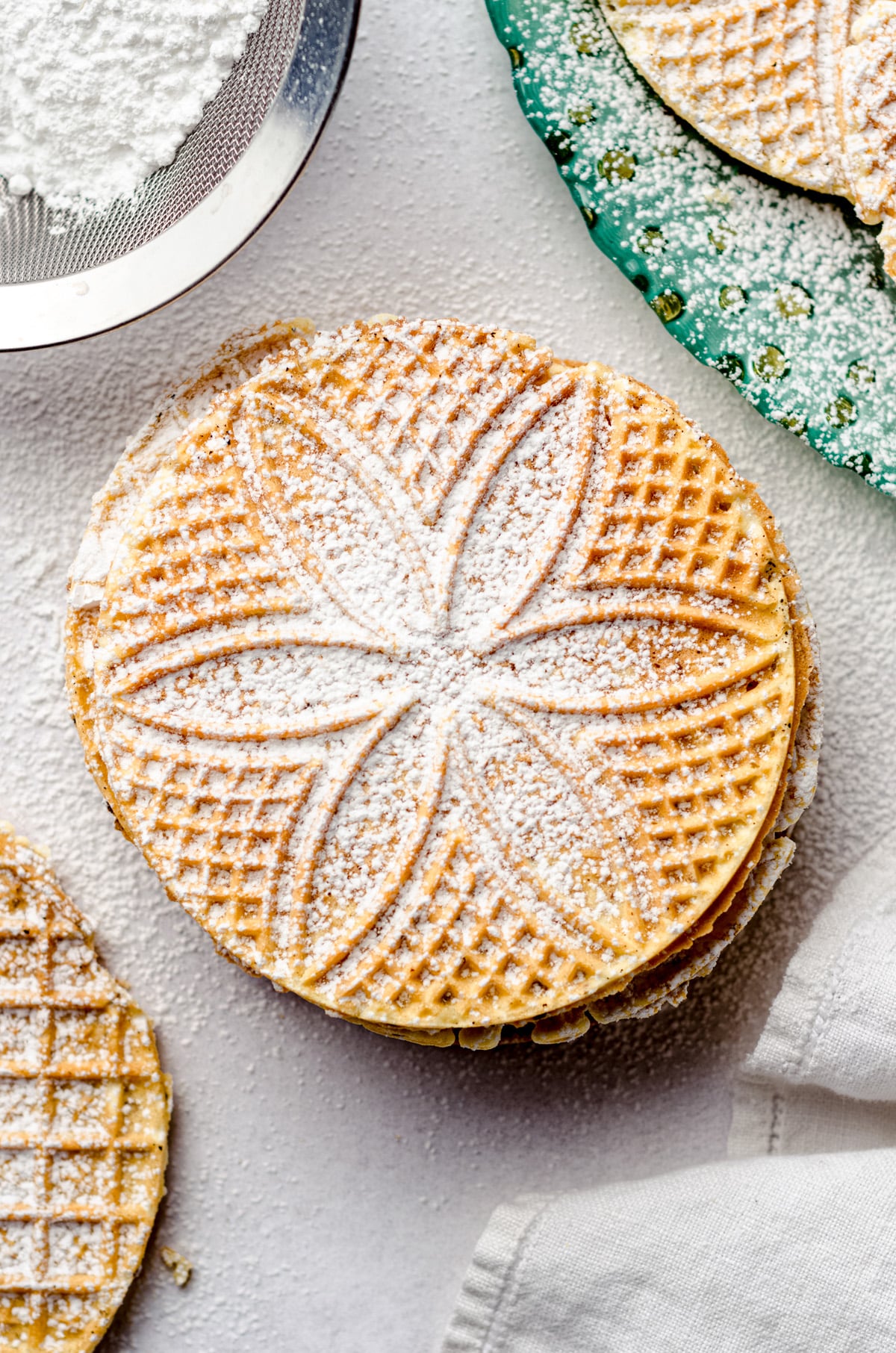 I highly recommend a cooling rack or a parchment-lined flat surface like a baking sheet or tray. If you place them directly on a dinner plate, for example, they will sweat and the moisture will prevent them from getting crispy and firm. Parchment acts as a barrier and doesn't trap moisture, while a wire cooling rack provides plenty of ventilation.
Once they are cooled and crisp, you can transfer them to storage until you need them. Just be sure they are completely cooled to room temperature first– any condensation in the storage container will cause them to lose their crispness.
WHAT DO I DO ABOUT JAGGED EDGES?
"Meet me at the altar in your white dress…"
No, no… Not that Jagged Edge. We're still talking about perfect pizzelles here.
*ahem* Anyway!
If you're making these for just your immediate family, you may not care at all about the little extra around the edges. In fact, if you're anything like me those little crisp pizzelle bits are just considered extra delicious.
But if you're bringing these pizzelle cookies to a party or gifting them to some friends or family, you may want to tidy them up a bit first.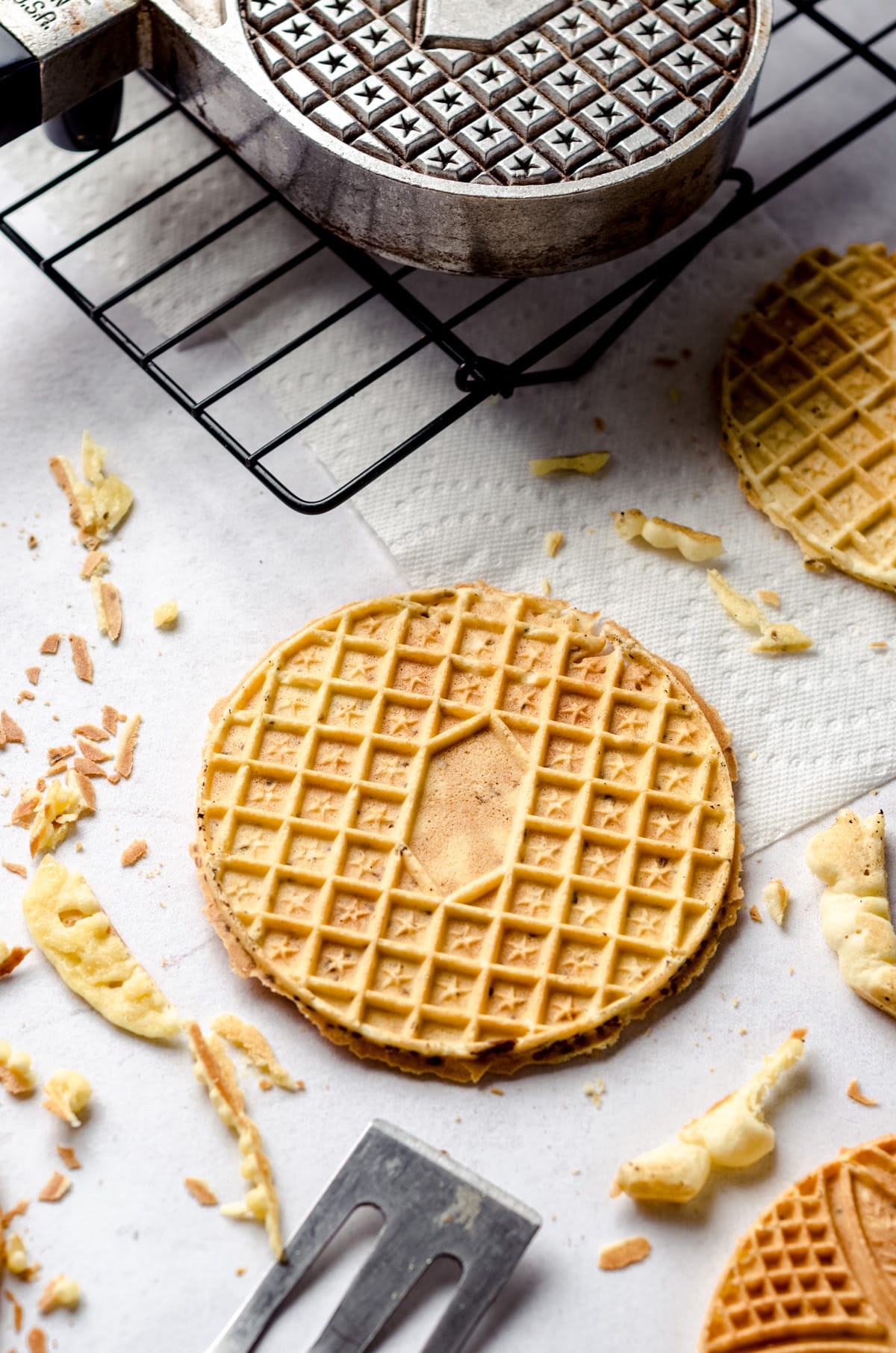 The good news is this is super easy to do. All you need is some kitchen shears or a knife. Then you just gently trim the edges with the shears or chip away at them with a sharp knife. Once they are all cleaned up, you're ready to pack them up for gifting or store them until needed.
If you find that trimming the edges of crispy pizzelles is too difficult and possibly cracking your entire cookie, trim edges before the warm pizzelle joins the cooled pizzelles. While it will cool quickly, you can get the majority of the larger pieces off before it gets too cool.
HOW TO STORE PIZZELLE COOKIES
Once your pizzelles have cooled completely, you can store them wrapped or in an airtight container at room temperature for up to 2 weeks! This makes them one of the longest-lasting cookies out there– it's no wonder they are so popular in Italian homes and bakeries.
If you would prefer an even longer storage time, you can actually freeze pizzelle cookies. They freeze super well, lasting for up to 3 months. Just thaw them at room temperature before you're ready to serve.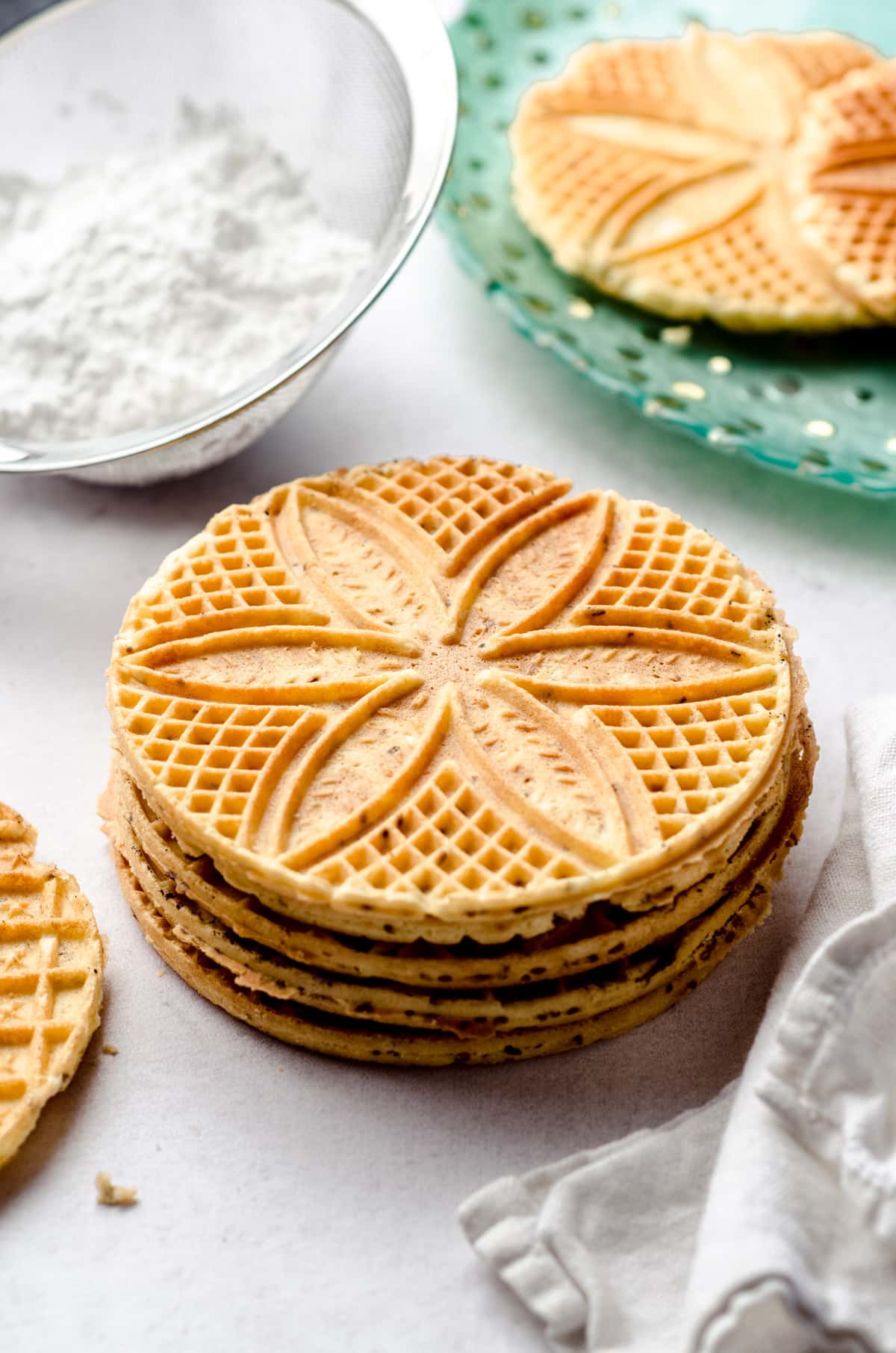 Are you thinking of making this Italian pizzelle cookie recipe for a cookie exchange or a delicious food gift? Well, you'll be happy to know I have tons of delicious giftable cookie recipes to share.
To start off, try out my Christmas Oreos (you can decorate them according to whatever season you're in), then move on to some of my other favorites. These include red velvet crinkle cookies, the forever-classic thumbprint cookies, and my super easy cut-out sugar cookies.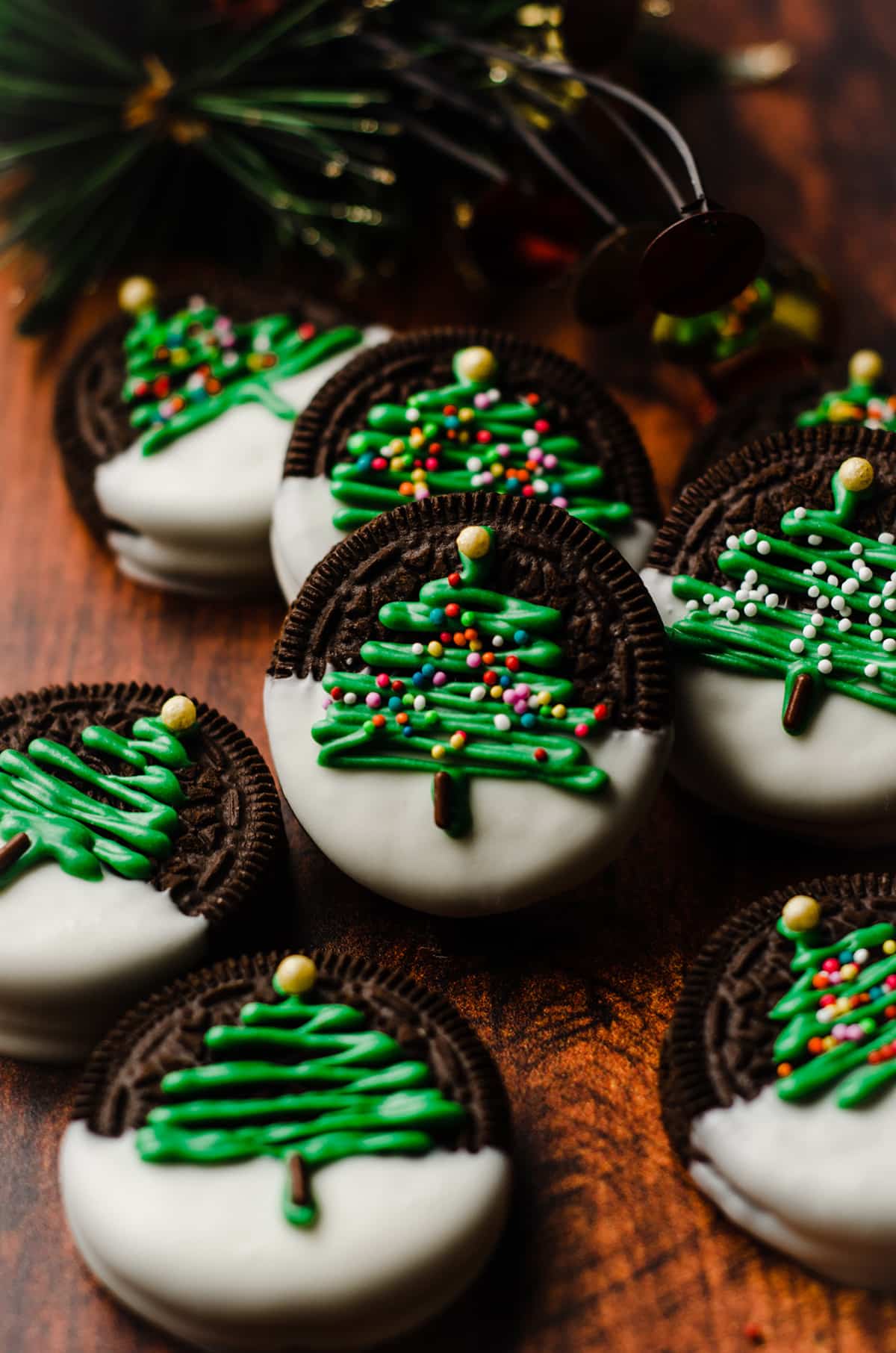 Pizzelle Cookies Recipe
Thin Italian waffle cookies featuring optional anise flavoring for an authentic Italian treat. Perfect with a cup of coffee or espresso and a family favorite at Christmas time. Dust with powdered sugar for an extra sweet touch!
Ingredients
1

cup + 2 Tablespoons

(135g) all-purpose flour be sure to measure properly

2

teaspoons

anise seed optional1

1 and ½

teaspoons

baking powder

⅛

teaspoon

salt

½

cup

(100g) granulated sugar

5

Tablespoons

(71g) unsalted butter

melted

2

large eggs

½

teaspoon

vanilla extract

½

teaspoon

anise extract optional1
Instructions
In a small bowl, whisk together the flour, anise seed (if using), baking powder, and salt. Set aside.

In a medium size bowl, whisk together the sugar, melted butter, eggs, vanilla extract, and anise extract (if using).

Pour the dry ingredients into the wet ingredients, then stir with a large spatula to blend. Stop when there are no more flour pockets. Be careful not to over-mix. Batter will be thick but viscous and will thicken more as it sits.

Using a cookie scoop2 (I use this #50 cookie scoop for all of my standard size cookies), drop batter into the center of each spot on your pizzelle iron, working quickly but carefully. Cook pizzelles per the instructions on your iron, but they typically take between 30 and 90 seconds. They will still seem wet and floppy when you open your iron, but they will crisp up as they cool.

Remove cooked pizzelles from the iron and place in a single layer on a cooling rack or flat parchment lined surface to cool. You can use kitchen shears or a knife to trim edges, if desired. Dust with powdered sugar before serving, if desired. Store pizzelles covered at room temperature up to 2 weeks. Pizzelles freeze well, up to 3 months. Thaw at room temperature.
Notes
Anise seed/anise extract: these additions are completely optional. You do not need to replace them with any additional ingredients. Simply omit.
Pizzelle batter: a Tablespoon of dough is what worked well for my iron. Depending on the size of the iron you're using, this may be too much or too little. Read the manual that came with your iron and/or use the first few pizzelles to test batter amount and cook time.
Recipe adapted from King Arthur Flour
Nutrition Disclosure
All nutritional values are approximate and provided to the reader as a courtesy. Changing ingredients and/or quantities will alter the estimated nutritional calculations.
Serving:
1
pizzelle
|
Calories:
125
kcal
|
Carbohydrates:
19
g
|
Protein:
2
g
|
Fat:
4
g
|
Saturated Fat:
2
g
|
Polyunsaturated Fat:
0.3
g
|
Monounsaturated Fat:
1
g
|
Trans Fat:
0.1
g
|
Cholesterol:
30
mg
|
Sodium:
85
mg
|
Potassium:
30
mg
|
Fiber:
0.5
g
|
Sugar:
6
g
|
Vitamin A:
140
IU
|
Vitamin C:
0.1
mg
|
Calcium:
30
mg
|
Iron:
1
mg