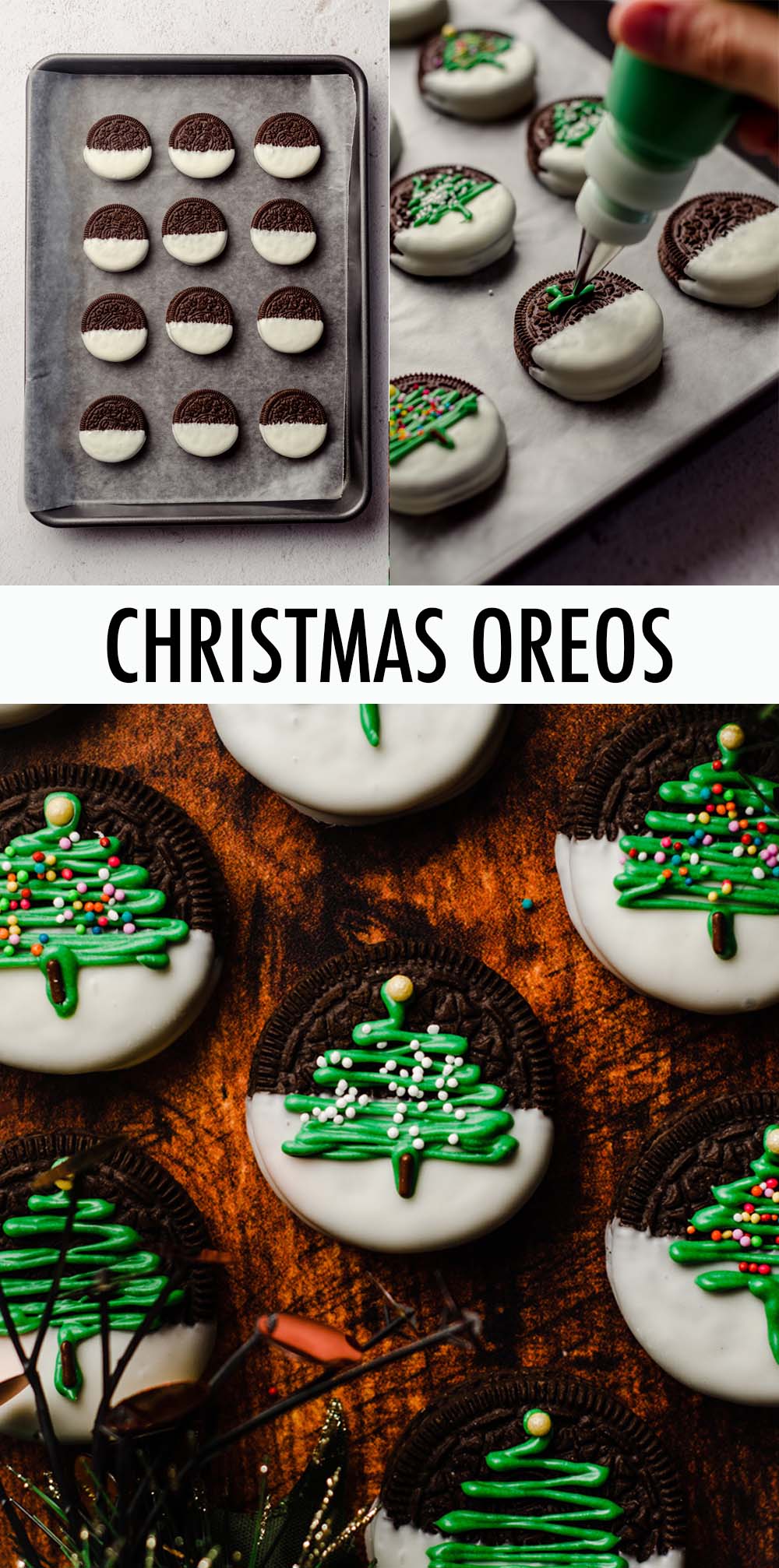 As an Amazon Associate, I earn from qualifying purchases. Read the full disclosure here.
These delightful Christmas Oreos are the perfect holiday treat! Store bought Oreo cookies are dipped into melted white chocolate, decorated with a simple (yet adorable) Christmas tree motif, then sprinkled with colorful nonpareils.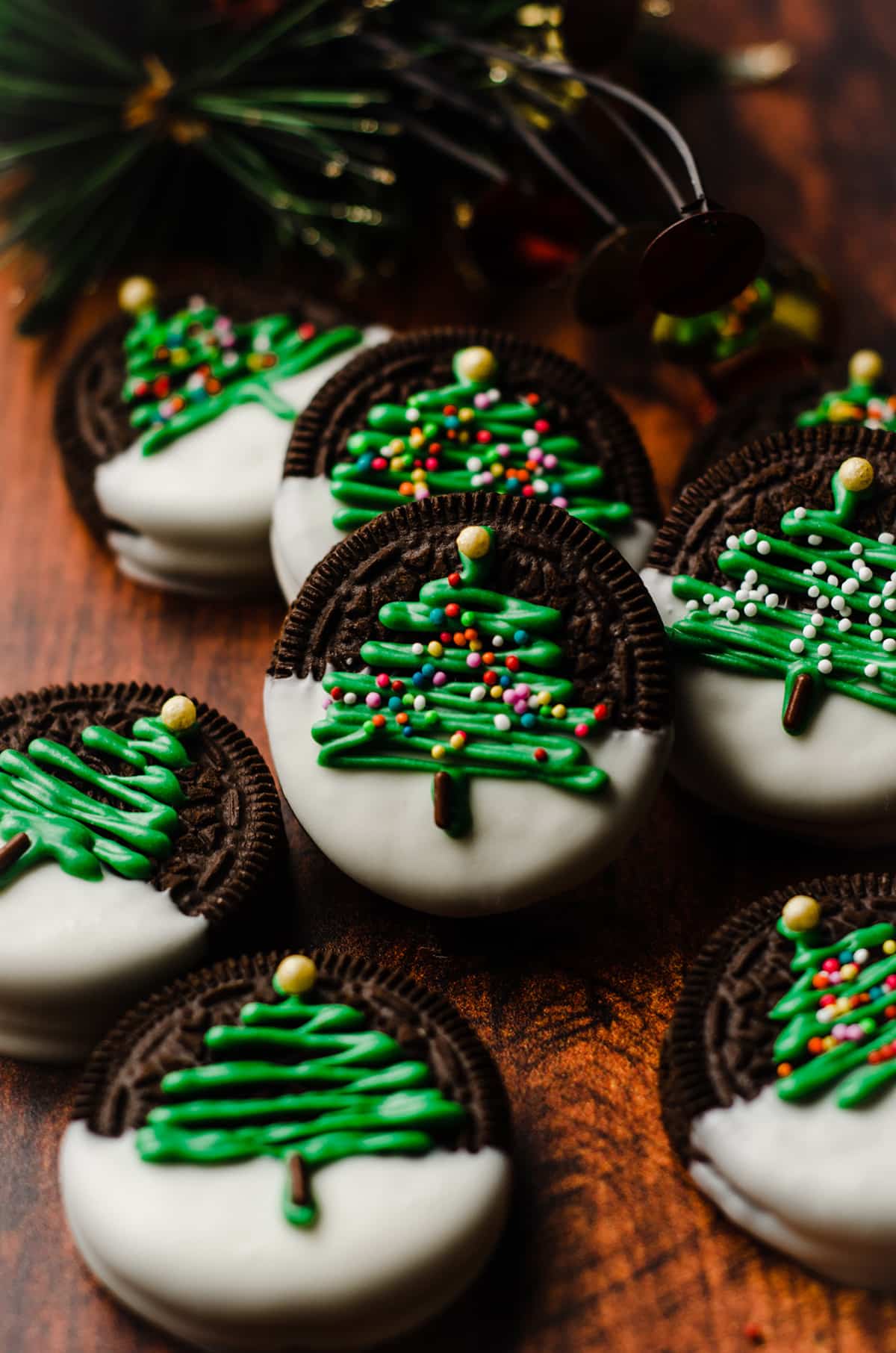 I don't know about you, but for me the holiday season just cannot be complete without at least a few new cookie recipes. While I love the classics, it just isn't Christmas without some fun new treats coming out of my kitchen.
That is exactly why I created the 12 Days of Christmas Cookies, where I share 12 cookie recipes in a row each and every December. This year, we're starting off with a simple (and amazing) recipe for Christmas Oreos!
If you've seen my post for how to make chocolate covered pretzels, you'll know all about my love for sharing homemade treats with friends and family.
I have a few recipes that ALWAYS make an appearance in these care packages, but I love to come up with new recipes to include each year. These easy Christmas Oreos are a new addition, and I'm excited to be sharing them with you today!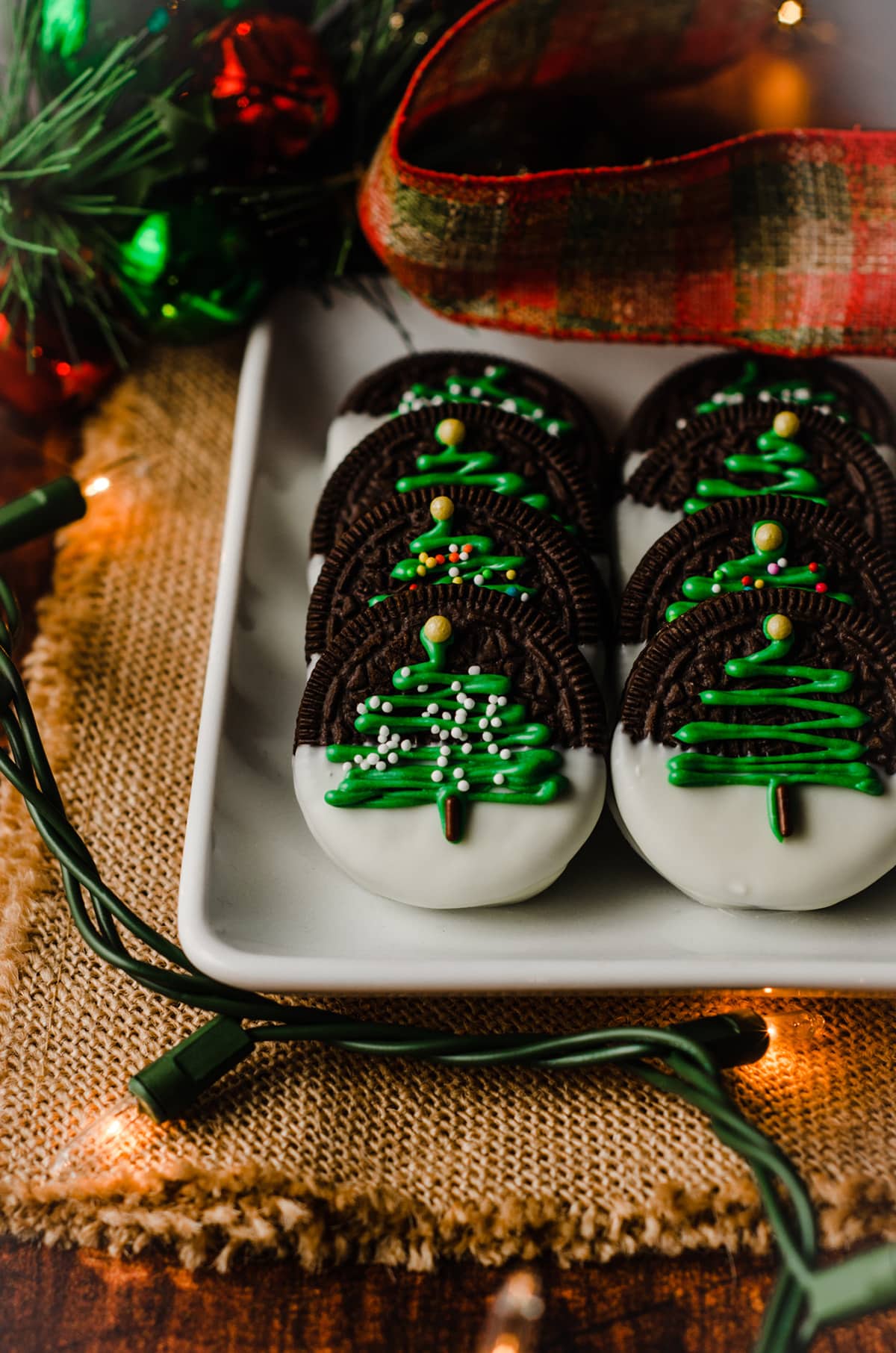 WHAT'S SO GREAT ABOUT CHRISTMAS OREOS?
First of all, they use Oreo cookies. Anything that starts off with Oreos is GOING to be good.
See my no bake Oreo pie, cookies and cream cookies, or mini cookies and cream cupcakes if you need some convincing.
Oh, and and and! You can use any Oreos you like– classic Oreos, holiday Oreos, DoubleStuf Oreos, peppermint Oreos, or any other holiday Oreo flavors– whatever you prefer.
Then we go ahead and dip those Oreo cookies in melted white chocolate. Still with me?
AND THEN, we pipe on a simple Christmas tree design using green candy melts, and finish it off with a sprinkle of colorful nonpareils.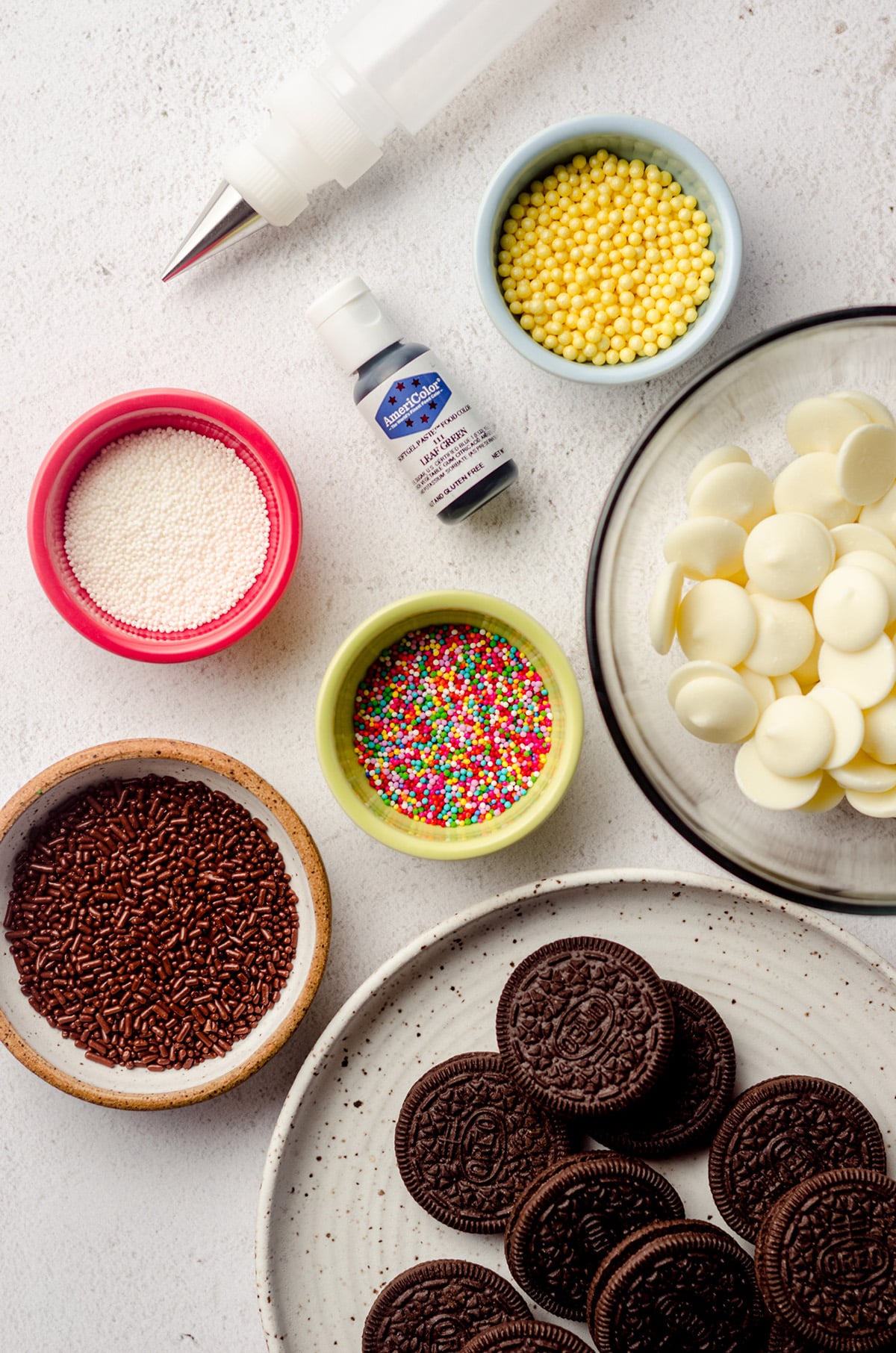 Finally, you put the cherry on top with a gorgeous gold ball or star on top of the tree. This really adds a polished and festive look, and you're going to love how adorable they are with this finishing touch.
If you really want to get fancy, a little chocolate jimmie is the perfect "trunk," but of course, as always when it comes to a lot of cute treats, you can pick and choose which parts you want to use.
In fact, if you just wanted to leave the trees green with no embellishments, that is totally fine. They're still adorable and still a perfect festive Oreo. Don't feel like you have to do them exactly the way I did them.
The Perfect Holiday Treat
Best of all, though? They are so easy to make. With no oven time, and a relatively hands off process, they are just about the easiest thing that will come out of my kitchen for the next 4 weeks.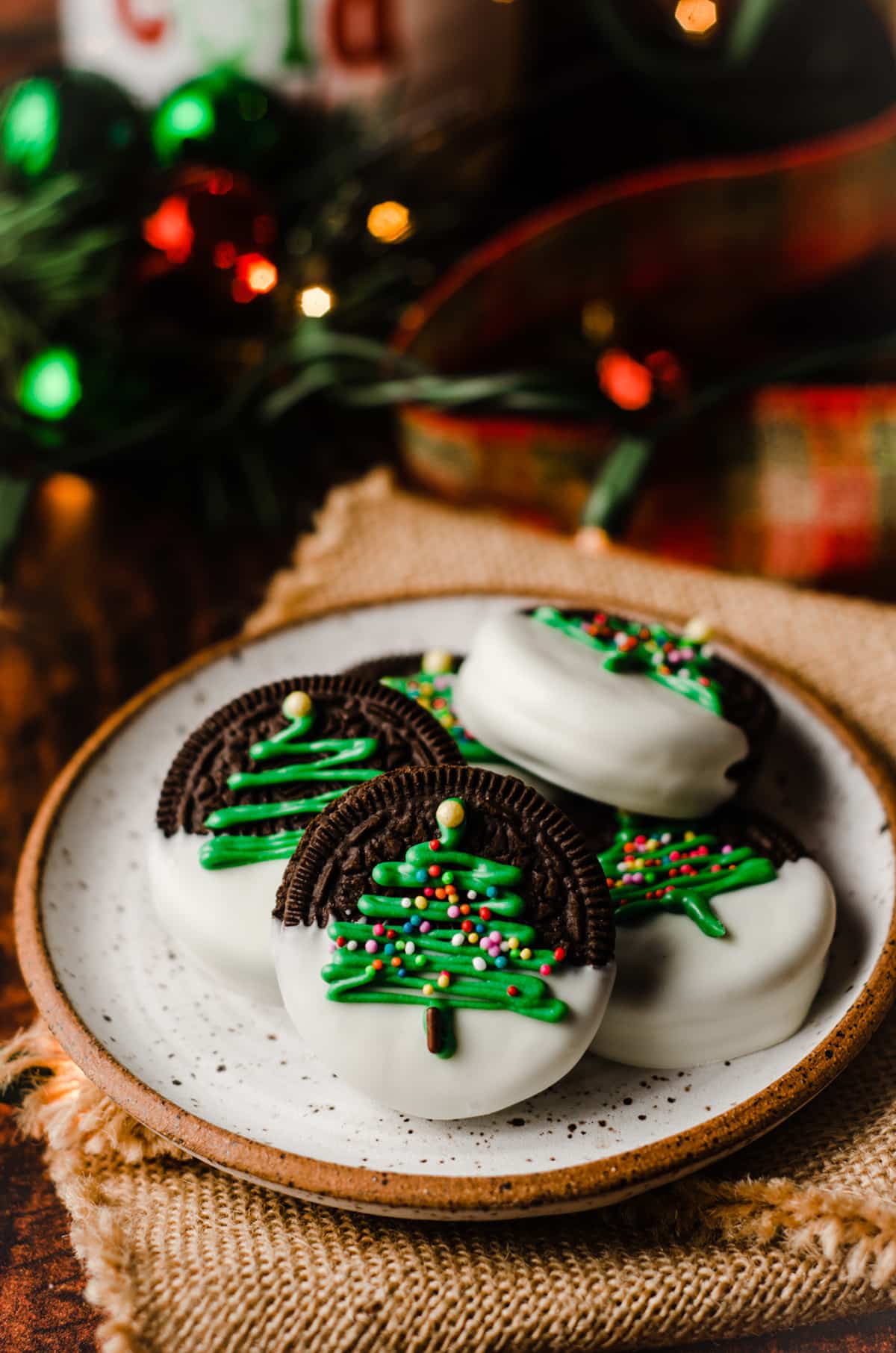 The ease of preparation makes these simple and stunning dipped Oreo cookies the perfect treat throughout the holiday season. Not only that, but they ship and store well, lasting up to 2 weeks at room temperature.
They can probably last longer than that, but in all honesty… Mine haven't stuck around near as long enough to find out!
But what's a tin of homemade cookies without a few more goodies? Some other cookies and treats I like to include are gingersnaps, chocolate chip snowball cookies, thumbprint cookies, Russian tea cakes, Rice Krispies wreaths, and maybe even a hot chocolate bomb or two!
How to Make Christmas Oreos
These adorable little Christmas treats are an easy and delicious food gift idea, or maybe just the perfect holiday treat for your family to enjoy. Either way, you're going to love how simple it is to make these Christmas dipped Oreo cookies.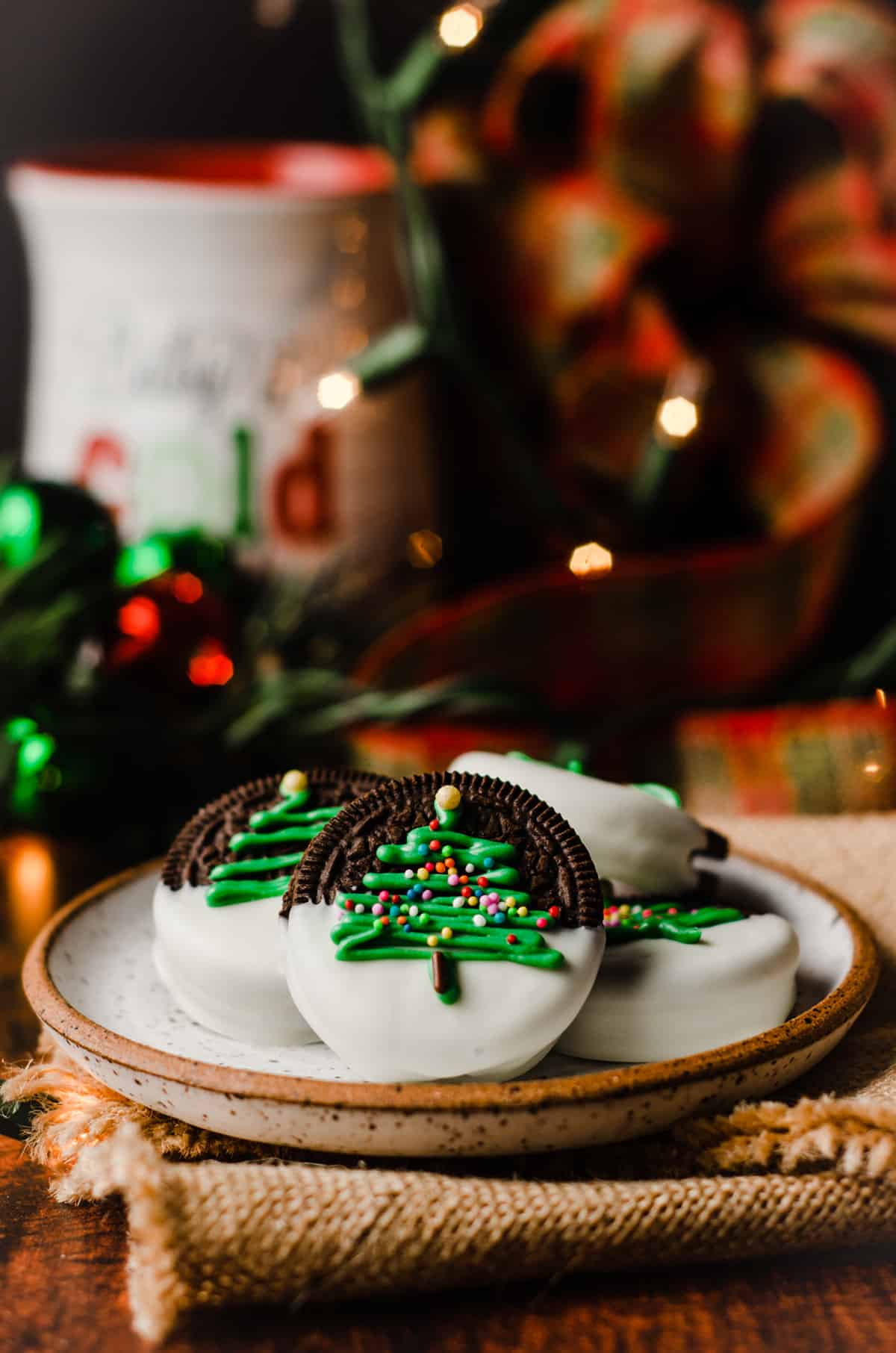 Even if you don't consider yourself a skilled baker or cookie decorator, you can have success with these! It's as simple as dipping Oreos in candy melts or melted white chocolate, and decorating with a simple piped Christmas tree design and adding a few nonpareils.
Truly, it's that easy.
SETTING UP YOUR DIPPING STATION
To keep this recipe easy and to save time on clean up, start out by setting up a dipping station. This doesn't have to be fancy at all, it just has to work for you!
I like to place a baking sheet lined with parchment on the counter, and set the bowl with the melted chocolate or candy melts directly next to it.
This way, minimal drips end up on the counter as I transfer the dipped Oreo cookies to the lined baking sheet.
PREPARING THE CHOCOLATE
You can choose to use white chocolate, OR you can use white candy melts in their place if you prefer.
I like the taste of white chocolate, but the candy melts are a little less finicky when it comes to melting. Do whatever works for you, and whatever you prefer in terms of coating your Christmas Oreos.
Whether you use white chocolate or candy melts, the process is basically the same.
Place your white chocolate or candy melts in a shallow microwave safe bowl. Heat in small increments until smooth. Make sure to stir often, as this is KEY when it comes to melting chocolate to keep it velvety smooth.
Alternately, you may use a double boiler to melt the chocolate or candy melts gently. Be sure to stir often to prevent burning and encourage the wafers or chips to melt evenly.
If you used a double boiler, add your melted candy wafers or chocolate to a small heatproof bowl and place next to your prepared baking sheet.
DIPPING THE OREO COOKIES
Now that you have your dipping station complete, you can get started dipping your Oreo cookies into the chocolate.
Working with one Oreo at a time, dip the bottom half of the cookie into the melted white chocolate. Place the dipped Oreo on the parchment lined baking sheet. Repeat with the remaining Oreos, and then allow the coating to harden completely, usually only about 15 minutes.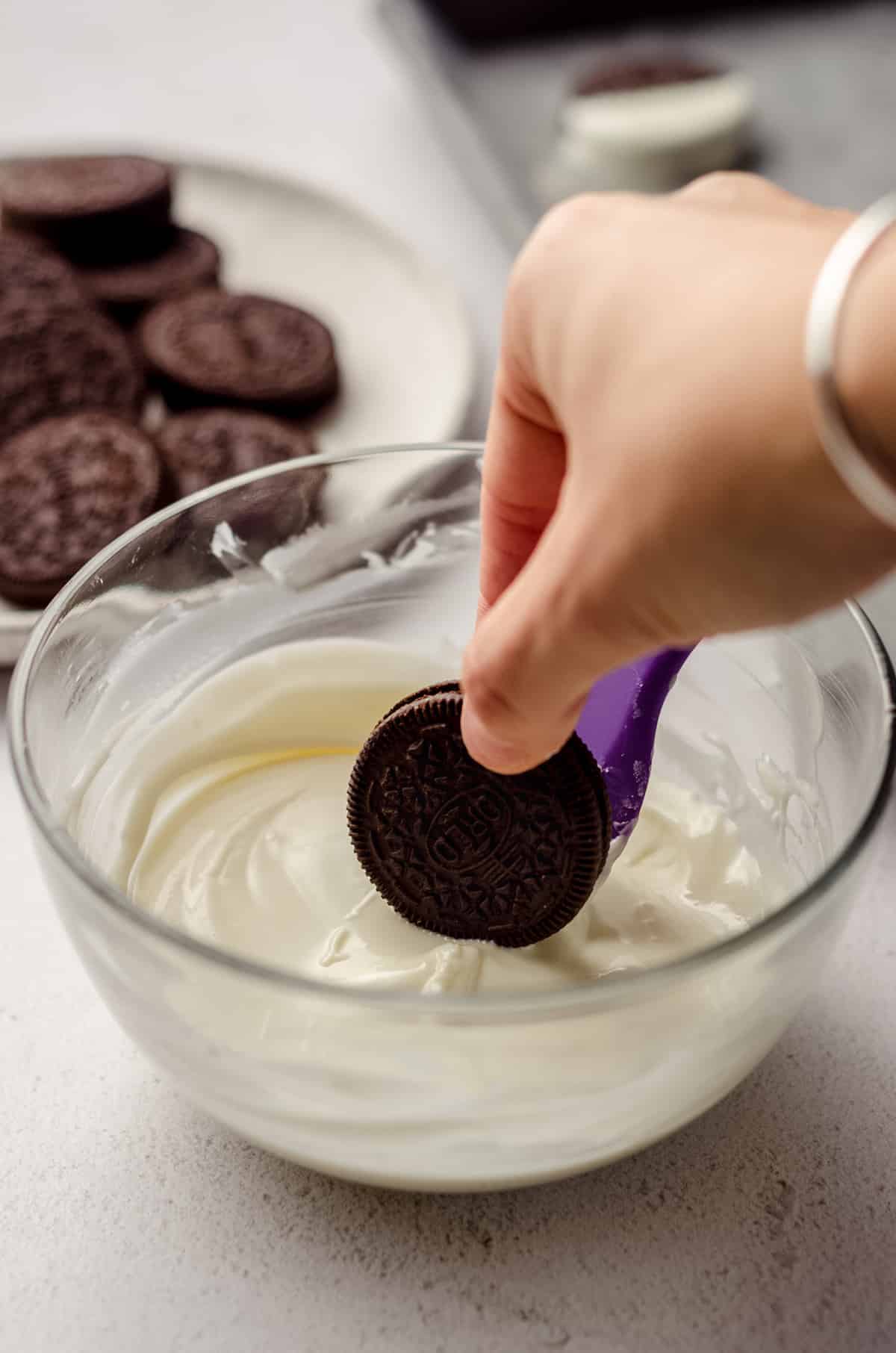 Be sure to let your cookies harden at room temperature. Adding them to the fridge or freezer in an attempt to speed up the hardening process will result in cracking, blemishes, and sweating of the chocolate.
MELTING THE GREEN CANDY MELTS
Once your chocolate dipped Christmas Oreos are completely set, you can go ahead and get started on preparing the green candy melts.
We prepare these the same way we did with the white chocolate or candy coating. That is, by adding them to a microwave safe bowl and heating in intervals until completely smooth. Again, be sure to stir often. This will help the candy melt evenly, as well as prevent over heating.
Alternately, you could use a double boiler for this step instead, just ensure it is cleaned well if you used it previously to melt the white chocolate portion of the recipe.
USE WHITE CHOCOLATE FOR EVERYTHING
If you'd like to streamline the process even more, melt your white chocolate or white candy melts, dip all of the Oreos you plan to decorate, and then tint the remaining mixture green to pipe trees.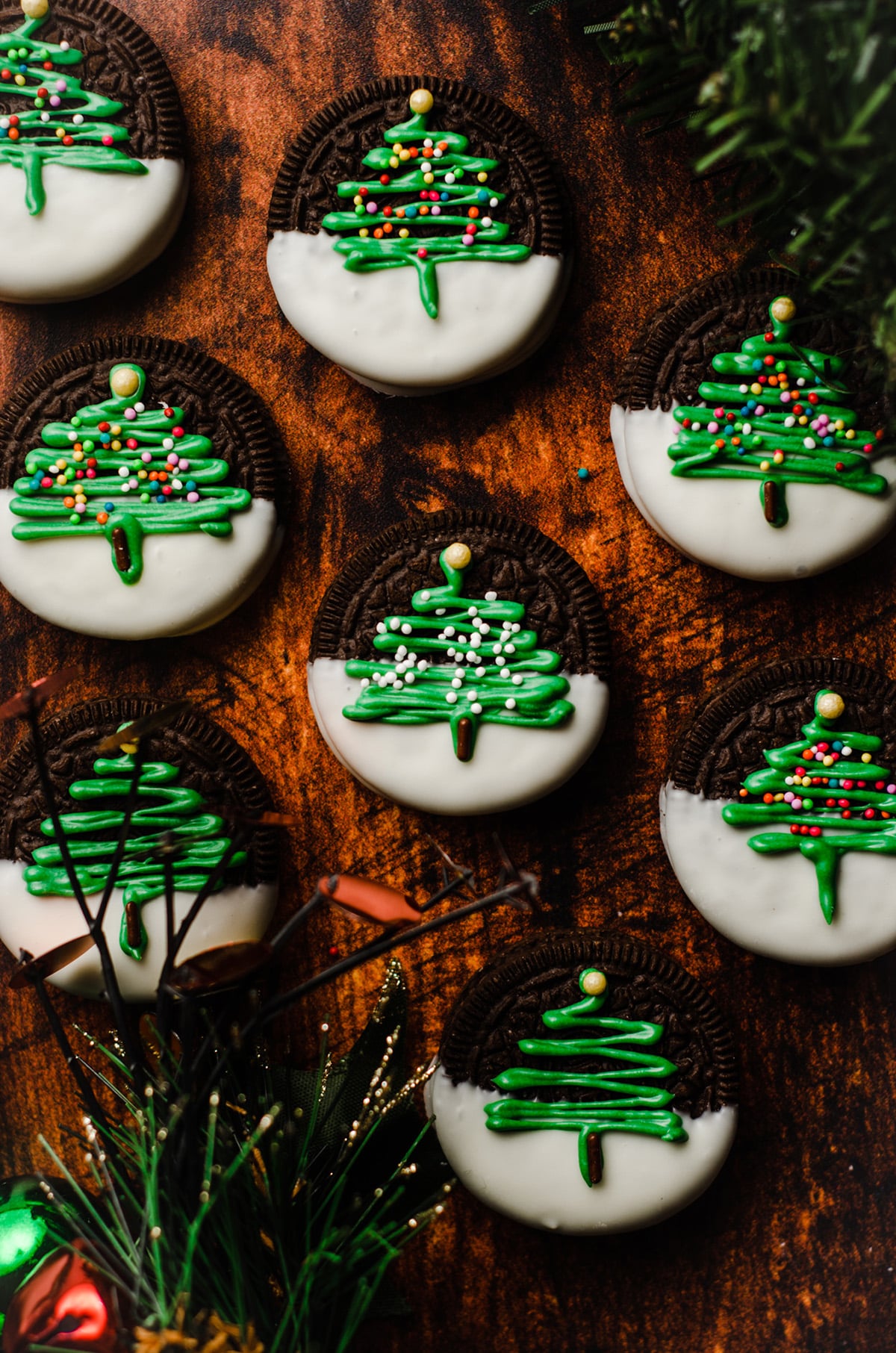 This cuts down on ingredients, having to melt something all over again (although you will likely need to reheat the chocolate or melts to get them smooth enough to pipe, but you won't have to start from whole, solid melts or chocolate.
Decorating the Dipped Oreos
Even if you're a beginner when it comes to cookie decorating, I assure you that you can have great results with these simple and festive Christmas Oreo cookies.
With a quick and simple piped Christmas tree, the hardest part is picking which sprinkles you'd like to use!
ADDING THE PIPED CHRISTMAS TREE
Add the melted green candies to a piping bag fitted with a size 1 or a size 2 piping tip.
For an ultra easy way of decorating these Christmas Oreos, I suggest using a small cookie decorating bottle with a size 2 tip. This is my personal favorite way to decorate, since the bottle is small and easily controlled.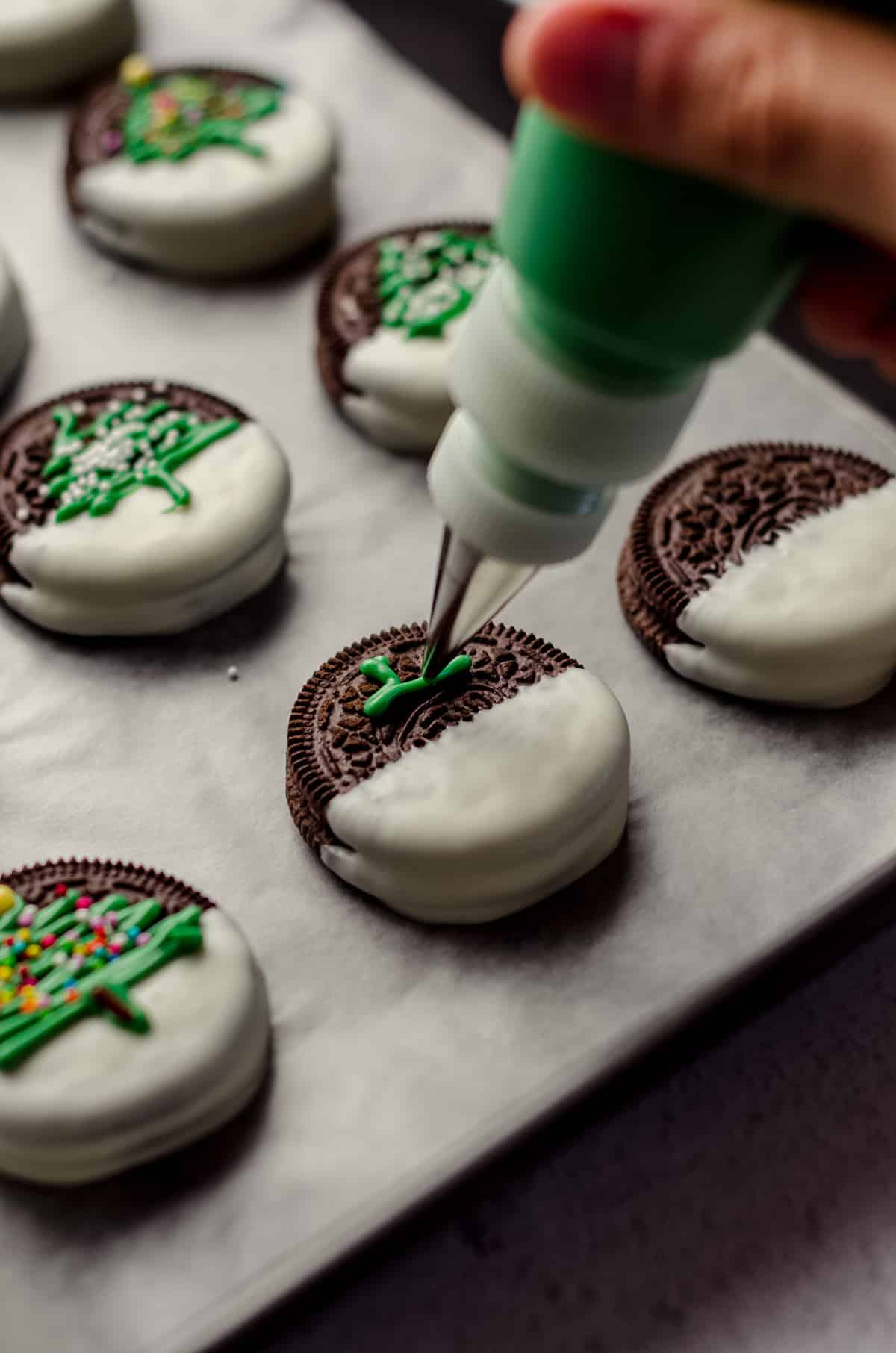 Pipe lines on top of each dipped Oreo cookie using a zig zag motion, in the shape of an abstract Christmas tree.
ADD AN OPTIONAL TREE TRUNK
I got "fancy" and added a chocolate jimmie to the tree to represent a tree trunk. This is totally optional, and can even be done with melted chocolate if that's more your style.
Of course, as mentioned already, you can leave this step out. Not all of my trees had trunks!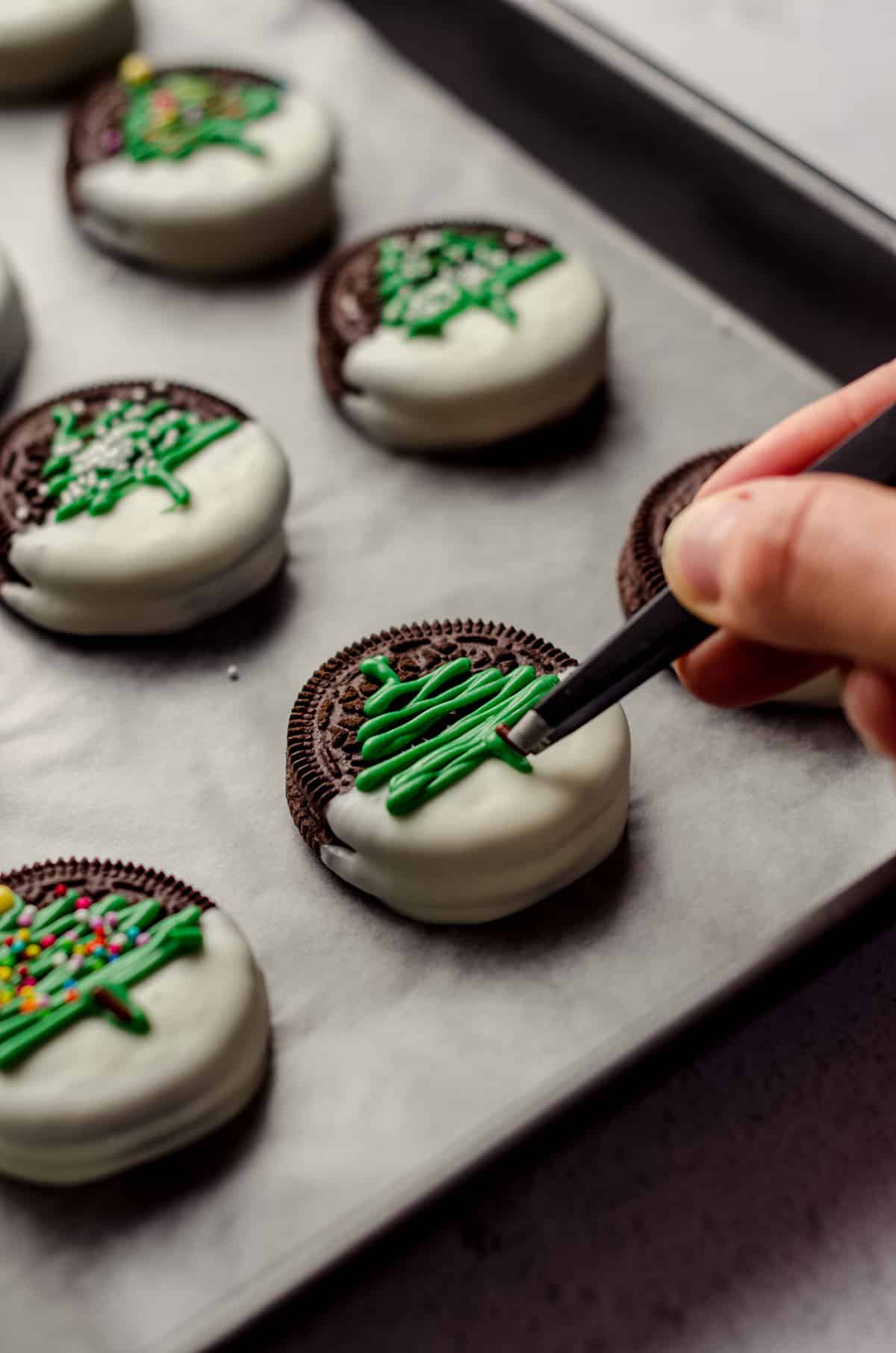 I found the best way to get that jimmie onto the tree was with clean/sanitized tweezers. You can also use your fingers or small tongs.
FINISH WITH A SPRINKLE OF COLOR
Immediately after piping on the Christmas trees, sprinkle rainbow nonpareils on top of the still wet lines. Top the "tree" with a gorgeous gold ball or gold star sprinkle.
You will need to sprinkle relatively quickly, as the small lines will start to set as soon as they're piped. I piped 1 or 2 trees before sprinkling, because if I waited any longer, the lines were beginning to be too set to receive sprinkles!
Place your decorated cookies back onto the parchment paper lined tray (or you can decorate them in place on the sheet where the white chocolate set) and allow to set at room temperature until completely hardened.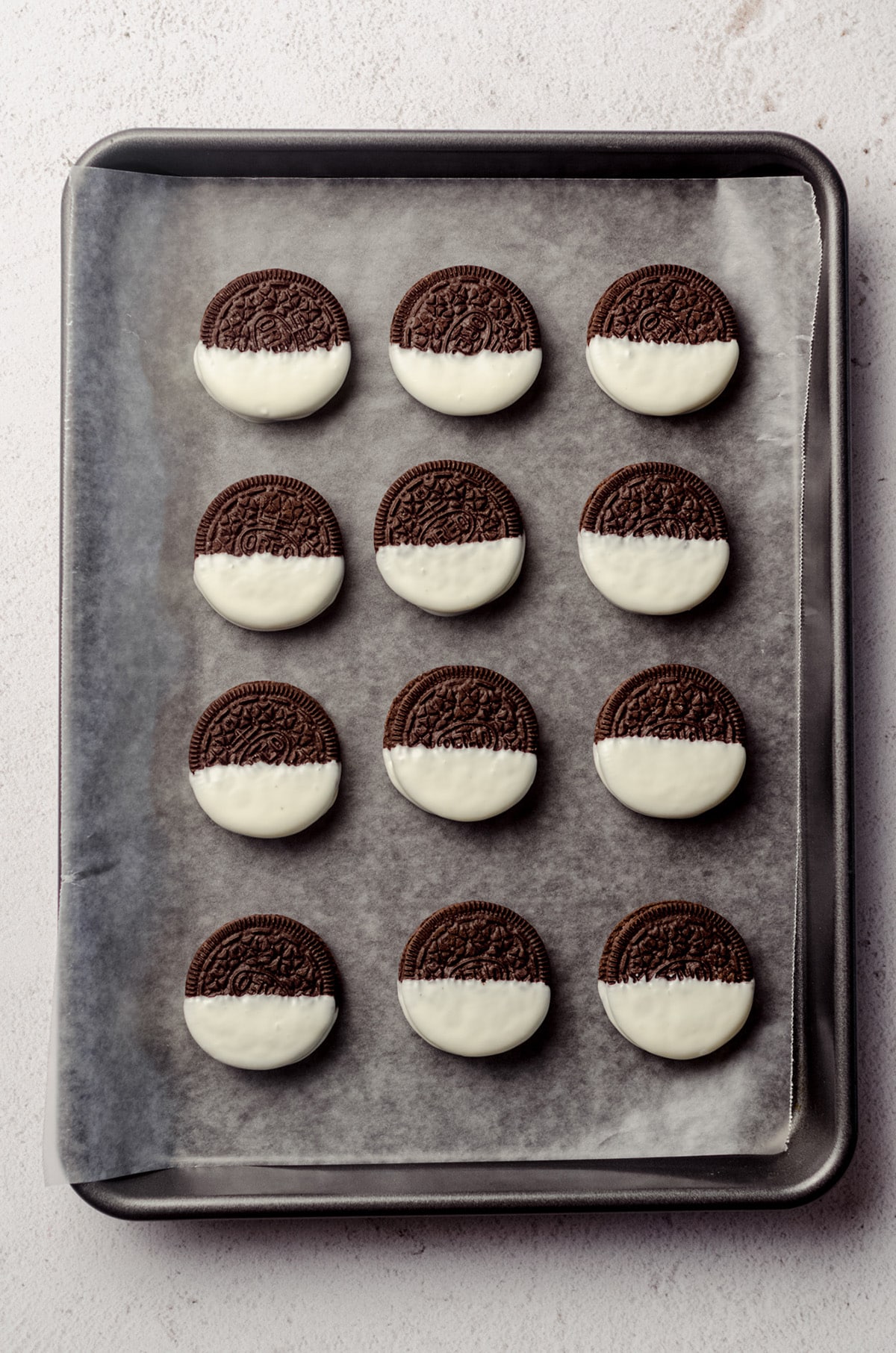 You're not limited to these options for sprinkles, though! Feel free to get creative and use seasonal or alternative sprinkles to give your cookies that custom look.
I've written a full Guide to Baking and Decorating with Sprinkles to help you along if you're needing some inspiration.
Storing Your Christmas Oreos
Once your dipped and decorated Christmas Oreos are completely set, transfer to an airtight container and store at room temperature for up to 2 weeks.
PACKAGING IDEAS FOR GIFTING
Whether you're making Christmas Oreos for loved ones, or just to enjoy in your own home, a little festive packaging can go a long way.
You can add your dipped and decorated cookies to a mason jar tied with ribbon, a classic cookie tin (reusable or recyclable), or a simple treat bag with a plastic window.
Get creative, and store and gift these delicious cookies any way you like!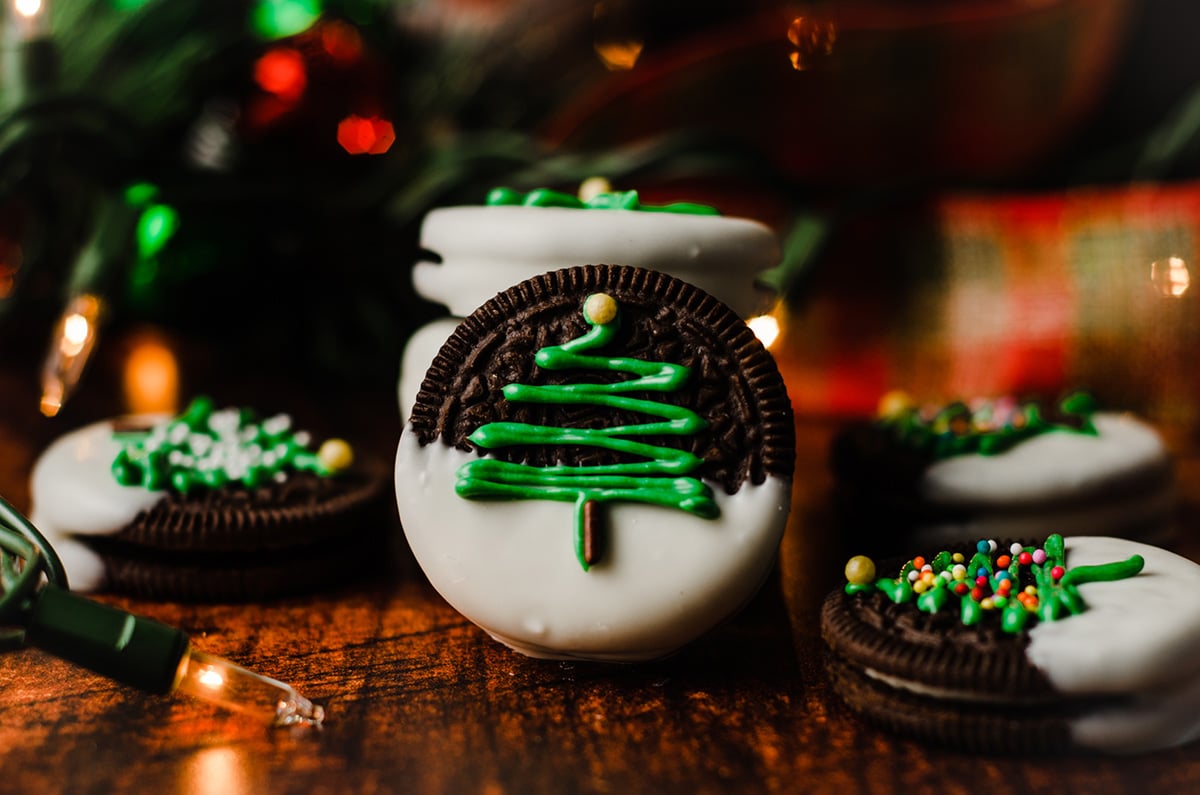 While these Christmas Oreos are perfect for the holiday season, you can easily customize the decorating of the cookie to make gorgeous and easy treats for Thanksgiving, showers, birthdays, New Year's Eve, Easter, or even Superbowl Sunday!
And don't forget to check out the rest of my Christmas cookie collection so you can start picking the rest of your holiday cookie spread ASAP.
More Christmas treats with Oreos: no bake Oreo pie, mini cookies and cream cupcakes, and no bake candy cane crunch pie.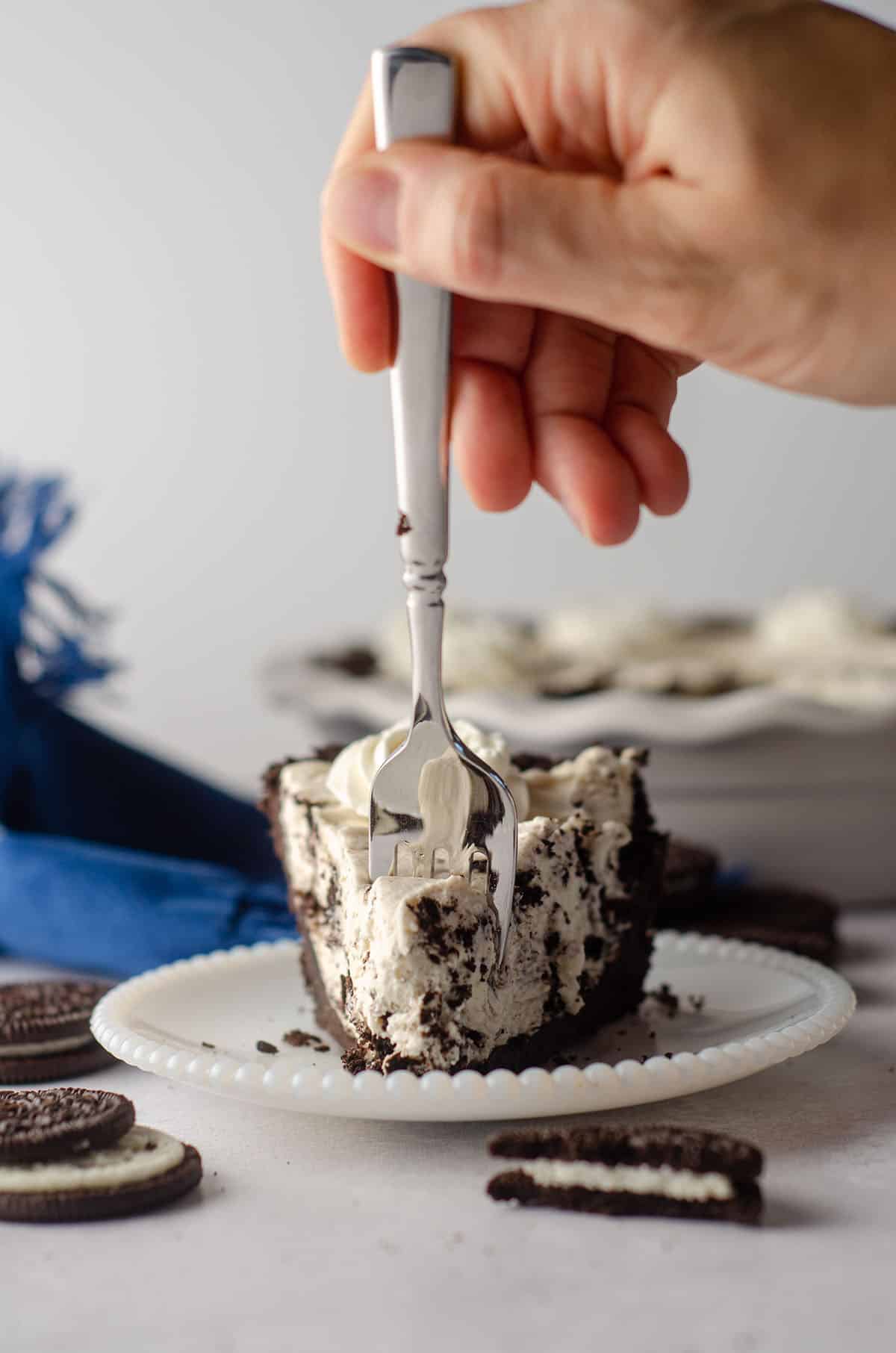 Christmas Oreos
These delightful Christmas Oreos are the perfect holiday treat! Store bought Oreo cookies are dipped into melted white chocolate, decorated with a simple (yet adorable) Christmas tree motif, then sprinkled with colorful nonpareils.
Servings:
12
Christmas Oreos
Ingredients
12

Oreos1

4

ounces

white chocolate or white candy melts

2

ounces

green candy melts2
rainbow nonpareils3

optional

yellow or gold beads or stars4

optional

chocolate jimmies5

optional
Instructions
Line a large baking sheet with parchment paper or a silicone baking mat. Set aside.

Melt the white chocolate or white candy melts in the microwave in a small, shallow microwave safe cup or bowl, or in a double boiler, until smooth. If you used a double boiler, add the melted white chocolate to a small, shallow cup or small bowl. Set aside.

Working with one Oreo at a time, dip the bottom half of one Oreo into the white chocolate, then lay on the prepared baking sheet to harden (about 15 minutes).

When the white chocolate is set, melt the green candy melts2 in the microwave in a small microwave safe bowl, or in a double boiler, until smooth.

Using a zig-zag motion, pipe lines into the shape of an abstract tree, then add decorations3,4,5. I only do trees on 1 or 2 Oreos at a time because the lines start to set quickly, so I want to make sure the decorations will stick. Allow cookies to set completely before serving or packaging6 to gift. Store leftovers at room temperature up to 2 weeks. Oreos freeze well, up to 2 months, but Oreos will lose a bit of their crunch. Wrap tightly, then thaw at room temperature in a single layer.
Notes
Oreos: you can use any kind of Oreos here (Christmas, traditional, DoubleStuf).
Green candy melts: you could also use white chocolate or white candy melts and tint it green. I actually used 6 ounces of white chocolate and just tinted the white chocolate green after I was done dipping. I prefer gel coloring for tinting white chocolate– AmeriColor is my favorite!
Rainbow nonpareils: you can also use a different color combination or even just one color of nonpareils. It is your preference.
Beads/stars: this is totally personal preference and based upon whether or not you can find said decoration.
Chocolate jimmies: another optional step. This just makes the trunk have a bit more character.
Packaging: you can add your dipped and decorated cookies to a mason jar tied with ribbon, a classic cookie tin (reusable or recyclable), or a simple treat bag with a plastic window.
Nutrition Disclosure
All nutritional values are approximate and provided to the reader as a courtesy. Changing ingredients and/or quantities will alter the estimated nutritional calculations.
Serving:
1
Oreo
|
Calories:
117
kcal
|
Carbohydrates:
15
g
|
Protein:
1
g
|
Fat:
6
g
|
Saturated Fat:
3
g
|
Polyunsaturated Fat:
1
g
|
Monounsaturated Fat:
2
g
|
Trans Fat:
0.01
g
|
Cholesterol:
2
mg
|
Sodium:
57
mg
|
Potassium:
55
mg
|
Fiber:
0.4
g
|
Sugar:
12
g
|
Vitamin A:
3
IU
|
Vitamin C:
0.05
mg
|
Calcium:
21
mg
|
Iron:
1
mg