Gingersnap Cookies– 2 Ways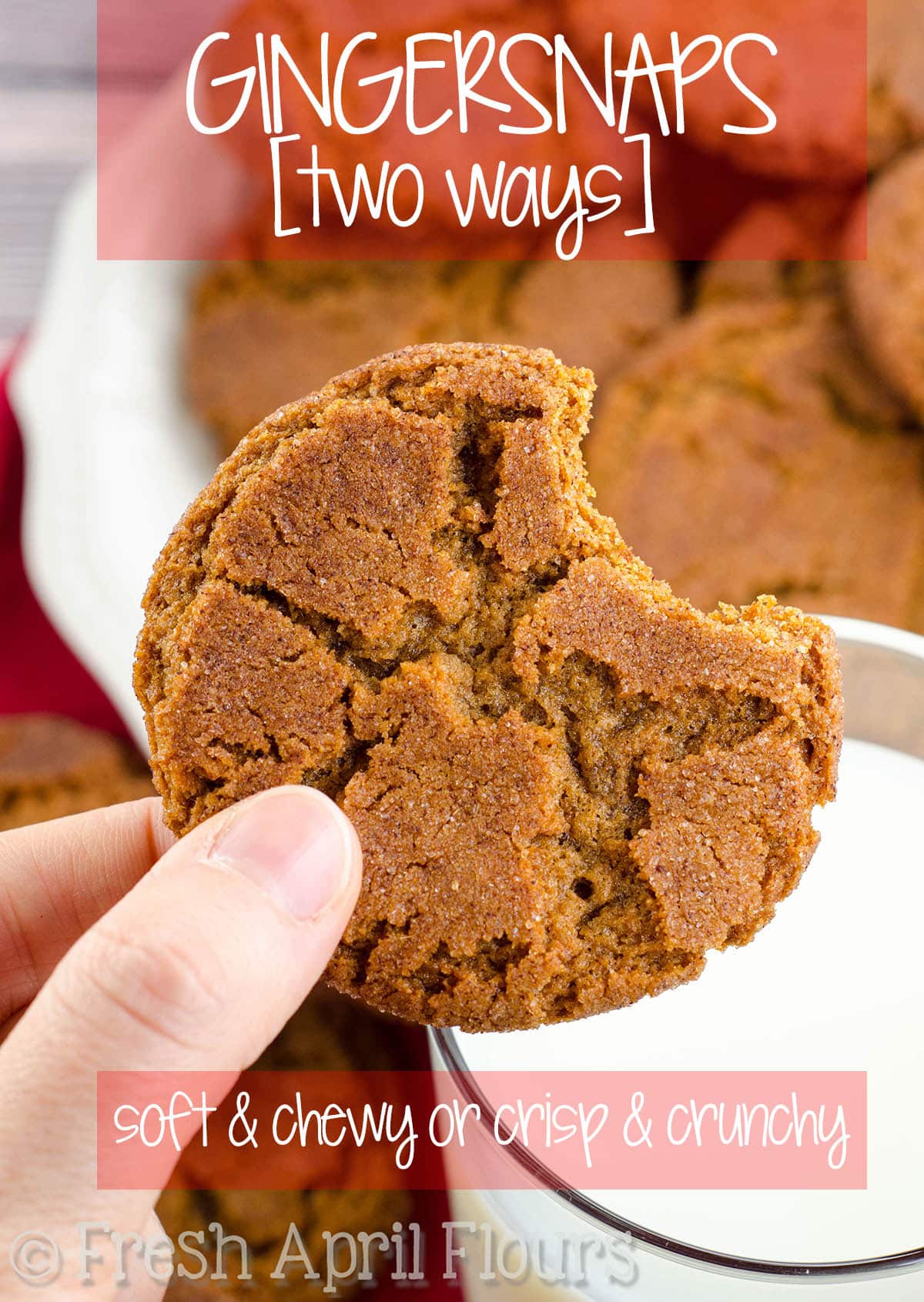 As an Amazon Associate, I earn from qualifying purchases. Read the full disclosure here.
Spicy gingersnap cookies that can be made soft & chewy or crisp & crunchy. Just one ingredient changes the cookies completely!
Happy Sunday, cookie (baking) monsters! Installment #3 of Christmas Cookie Spectacular, ready for your weekend enjoyment.
Ok, so is this recipe cheating? I'm totally slipping an extra cookie into my 12 Days of Christmas Cookies because I seriously cannot pick which one of the 2 ways I prefer my gingersnap cookies.
This is so unlike me, and I am shocked. I am totally a chewy oatmeal raisin cookie lover to the core, you know this. I love ♥♥♥ oatmeal raisin cookies ♥♥♥ so much, but if you hand me a crunchy one, I will turn my nose up at it before you can even finish offering it to me.
My gingersnaps? I never knew I could love 2 cookies the same. Seriously. This is a big problem in my life. Or at least my Christmas cookie baking.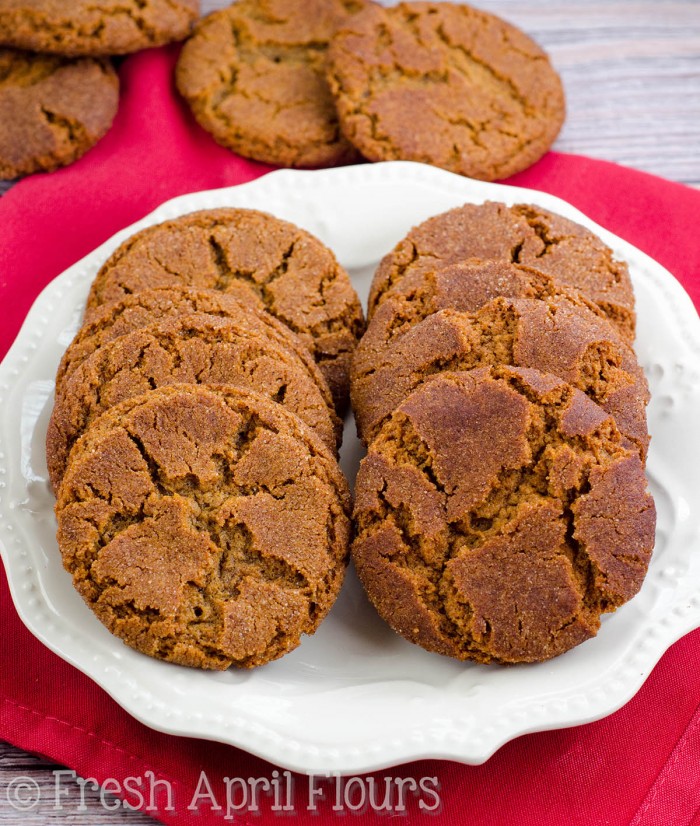 Have you ever made gingersnaps before (either soft & chewy or crisp & crunchy)? I never had before this cookie baking season. Last year, I made spiced gingerbread cookies/men, but they're definitely not the same. What's the difference, you ask? I'm so glad you asked, because I can share my cookie nerdiness with you!
GINGERBREAD COOKIES VS GINGERSNAPS
Roll-out gingerbread cookies/men are a sturdy cookie, meant for decorating, packaging up as gifts, dunking into coffee or milk, and, at least in my recipe, are a tad more on the spicy side than the sweet side.
Have you made my gingerbread cookies or my cranberry gingerbread? Do you remember there is black pepper in them?
There is none of that here. It's all about the sweet when it comes to gingersnaps, which are similar to snickerdoodle cookies with their signature cinnamon-sugar (+ ginger for these babies!) coating gracing the exterior of each cookie.
Don't worry, though– there is plenty of spice packed into each cinnamon-sugary bite. I made sure of it!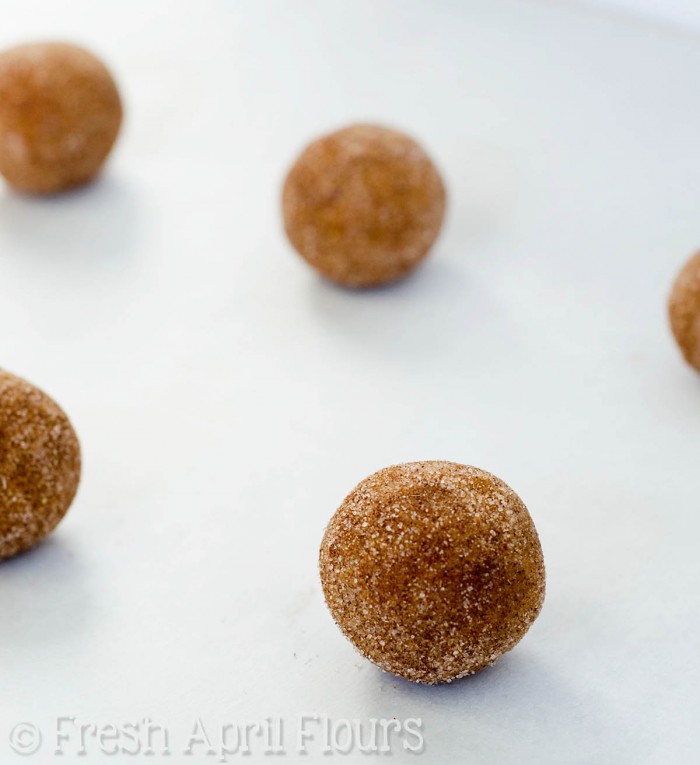 Ok, so about this "2 ways" business… Like I said, I could not decide if I preferred my gingersnaps soft & chewy or crisp & crunchy. I made them both with the intention of having a clear preference and sharing "oh yes, _____ is the way to go here," but alas, I did not.
I came out of this experiment thoroughly confused. This is totally a good problem to have.
The recipe for either texture of cookie is essentially the same, with just one differing ingredient. For soft cookies, you'll use butter. For crunchy cookies, you'll use shortening.
More cookie nerd science coming your way!!
To understand the difference in cookies, let's talk about what fat actually does in cookies. Not only is fat a great vehicle for flavor (think: BACON), it also brings moisture to the picture.
When you cream fat (butter or shortening) with sugar, you create little pockets of air which bring fluffiness to the texture of whatever you're baking. In short, fat is super important in cookies.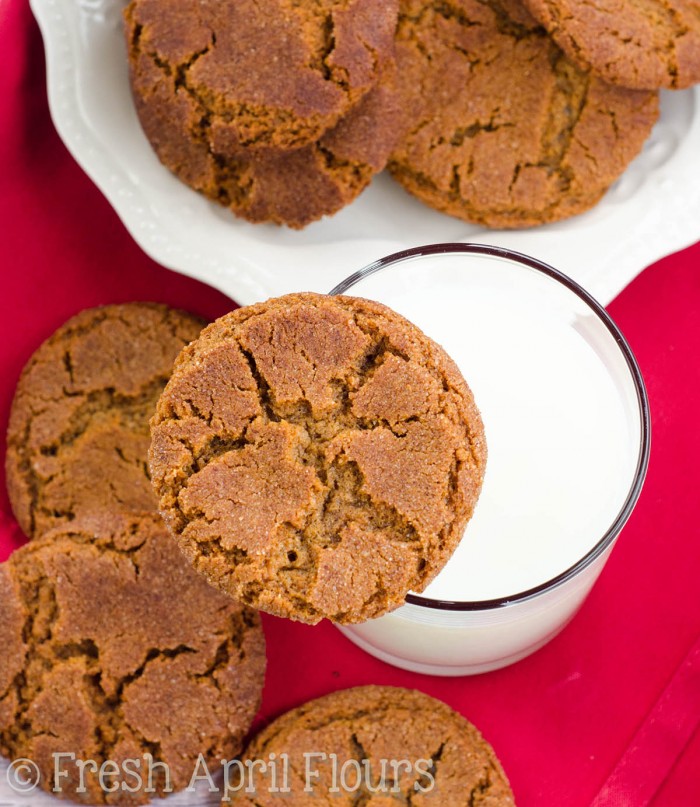 Butter is typically the #1 go-to for fat in cookies. First of all, it tastes great, duh, so your cookies have that distinct, rich, creamy flavor that can only come from butter.
Also, butter contains about 80% fat and 15% moisture (milk, cream), so it ultimately brings tender cookies to the table (cookie jar?). Milk proteins also brown a bit in the oven bringing butterscotchy notes to a cookie's overall flavor.
When compared to shortening, however, butter has a lower melting point, which means cookies will spread a bit and can burn easily. <–the trade-off
Shortening is 100% fat, so there is not as much moisture in cookies made with strictly shortening. While this might sound less appealing, resulting cookies are a bit more crisp while also being taller and puffier/fuller looking. If we're being technical, "gingersnaps" will be more "snappy" with shortening than with butter.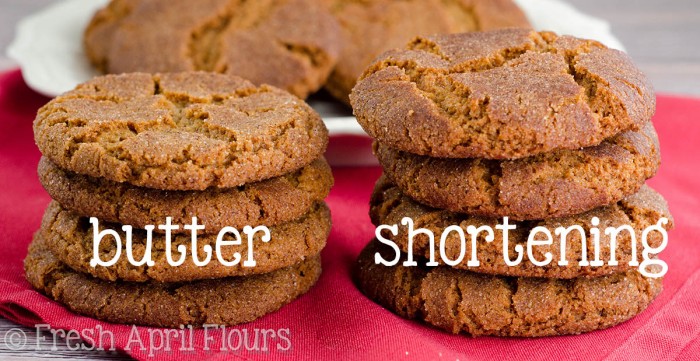 I was whole-heartedly expecting to enjoy the gingersnaps made with butter more than the ones made with shortening. While the cookies made with shortening definitely don't have as buttery of a flavor, the plethora of spices and rich brown sugar with that undeniable crispy texture totally make up for it.
Plus, I'm a huge fan of store-bought gingersnaps (used in these gingersnap cheesecake bites), and my gingersnaps made with shortening reminded me a lot of those. Aaaaaand they were perfect for dipping into milk!
Yes. Cookies and milk. The other match made in food/flavor heaven.
No matter which fat you choose to use, each cookie dough ball gets a roll in some cinnamon-sugar (can I get a bathtub full of that, pleaseandthankyou?), so you have a nice flavor profile heading into each bite no matter what the inside is like.
Plus, if you decide to dunk, then chances are your beverage of choice will have some cinnamon-sugar at the bottom of it [[WINNING]].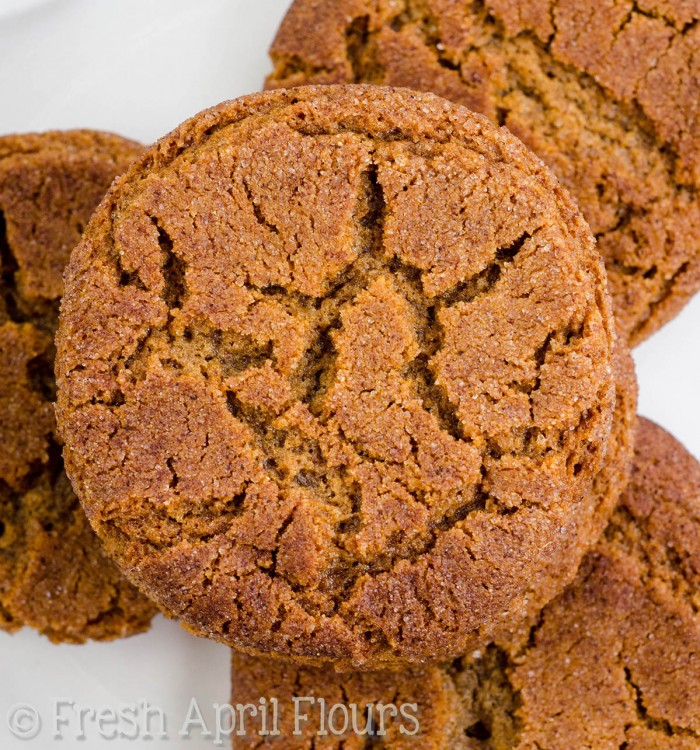 Enough cookie chitchat– dive on in to cookie recipe #3 of 12 Days of Christmas Cookies. You have the weekend to decide if you're team chewy or team crunchy. #cookieconfusion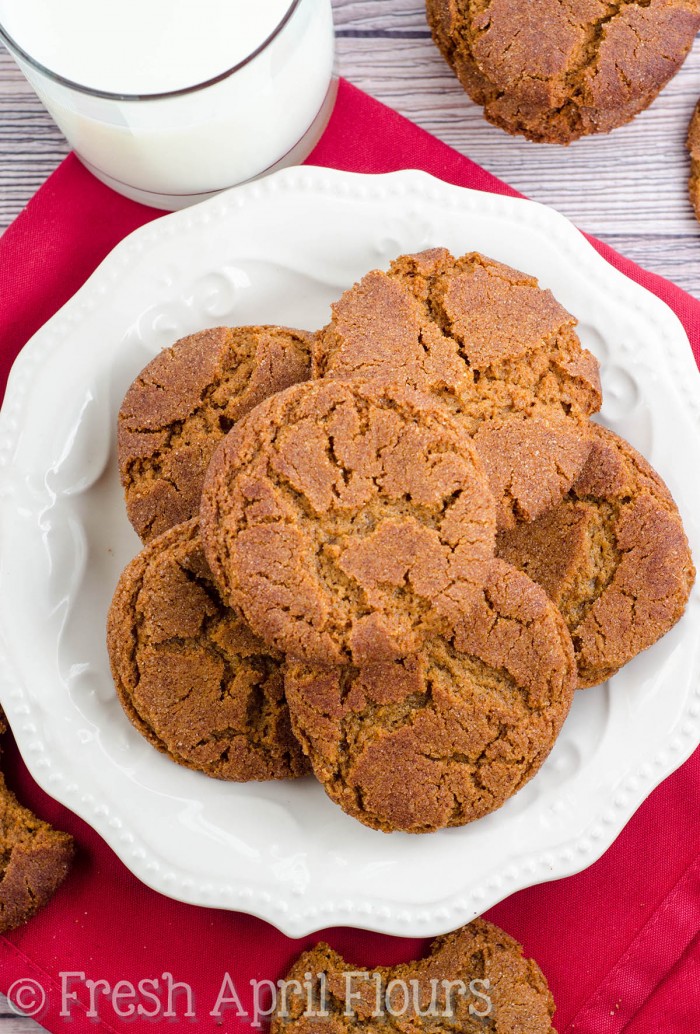 Report back with your results, please!
Gingersnap Cookies– 2 Ways
Spicy gingersnap cookies that can be made soft & chewy or crisp & crunchy. Just one ingredient changes the cookies completely!
Ingredients
COOKIES
1

cup

+ 3 Tablespoons all-purpose flour

be sure to measure properly

3/4

teaspoon

ground ginger

1/2

teaspoon

ground cinnamon

1/4

teaspoon

ground cloves

1/4

teaspoon

salt

1

teaspoon

baking soda

1/4

cup

+ 2 Tablespoons unsalted butter or vegetable shortening

room temperature*

1/4

cup

+ 2 Tablespoons brown sugar

packed

1

large egg yolk

3

Tablespoons

molasses
COATING
1/2

cup

granulated sugar

1/2

teaspoon

ground cinnamon

1/4

teaspoon

ground ginger
Instructions
In a small bowl, whisk together flour, ginger, cinnamon, cloves, salt, and baking soda. Set aside.

In a large bowl with a hand mixer or the bowl of a stand mixer fitted with the paddle attachment, beat together the butter or shortening and brown sugar until light and fluffy. Add the egg yolk and beat until combined. Add molasses and beat again until smooth, scraping down the sides and bottom of the bowl with a spatula as necessary.

With the mixer on low, slowly add the flour mixture until a smooth yet stiff dough forms. It should feel tacky but not sticky. Chill dough in the refrigerator at least 1 hour or up to 3 days.

When you are ready to bake the cookies, preheat the oven to 375°F. Line a baking sheet with parchment or a silicone baking mat. Set aside.

Make the coating by tossing together the granulated sugar, cinnamon, and gingner in a small bowl or shallow dish.

Using a cookie scoop (I use this #50 cookie scoop for all of my standard size cookies), roll cookie dough into balls with your hands. Drop each cookie dough ball into the coating, roll it around so the entire dough ball is coated, then place on a baking sheet. Do not put more than 8 cookies on a baking sheet at a time.

Bake the cookies for 11-14 minutes (11-12 minutes if you used butter, and 13-14 minutes if you used shortening) or when cookies just start to brown. Allow to cool on baking sheet for 2 minutes. Transfer cookies to a wire rack to cool completely. Cookies will stay fresh in an airtight container at room temperature up to 10 days.
Notes
*For soft and chewy cookies, use butter. For crunchy cookies, use shortening.
Recipe adapted from King Arthur Flour
Nutrition Disclosure
All nutritional values are approximate and provided to the reader as a courtesy. Changing ingredients and/or quantities will alter the estimated nutritional calculations.