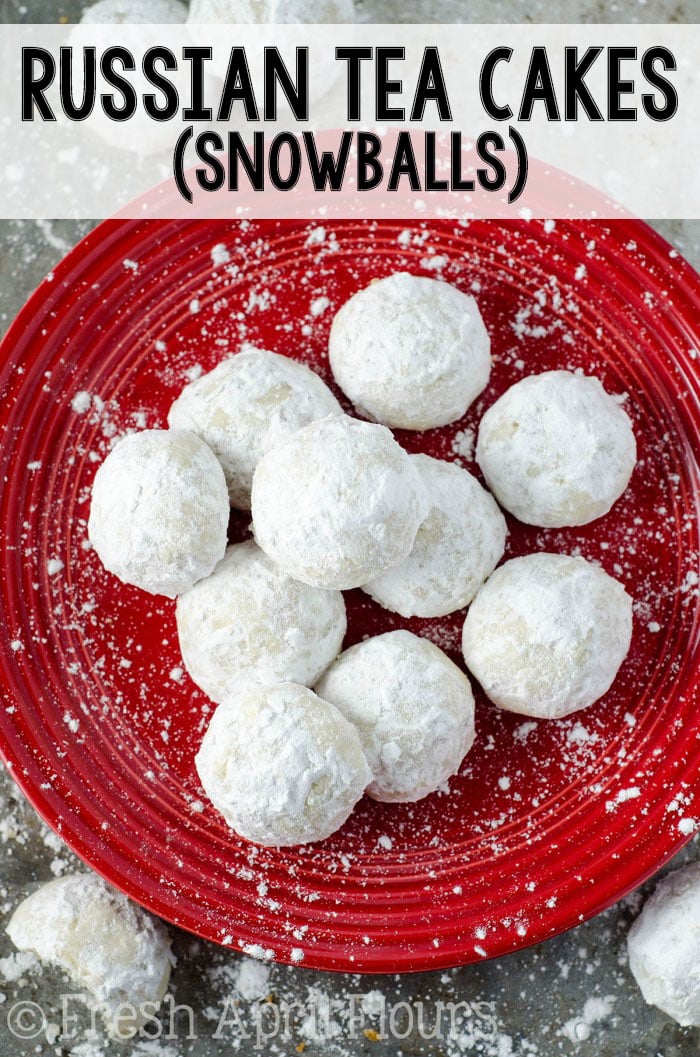 As an Amazon Associate, I earn from qualifying purchases. Read the full disclosure here.
Buttery, melt-in-your-mouth shortbread cookies filled with nuts and rolled in powdered sugar. A classic cookie at Christmas time!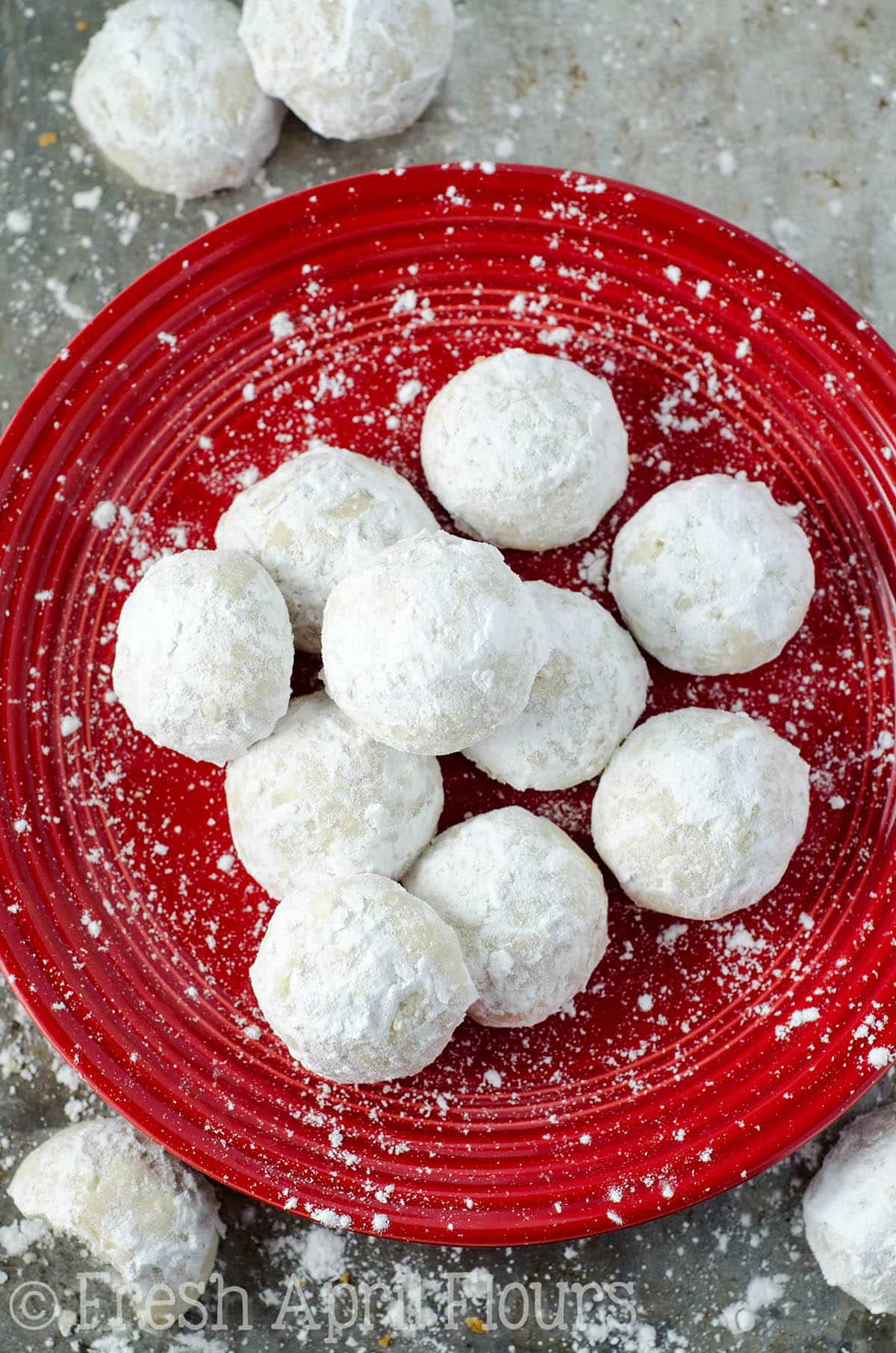 I cannot believe it's taken me until my cookie extravaganza (welcome to day #2!) to make Russian tea cakes, or as I prefer to call them, snowballs. I've also seen them called "pecan tea cookies" and "Russian tea biscuits" and "buttery Russian tea cookies."
I have been loving these cookies for what seems like all of my life. I have always looked forward to them during the holidays, but it wasn't until I started dating Matt that I had almost unending access to them during the Christmas season.
That's totally why I married him… Kiddinggggg. Kind of…
You see, my in-laws are culinary experts, self-taught chef and baker extraordinaire, and I have learned a lot from each of them in the kitchen (like my MIL's zucchini bread! and her banana bread!).
The first Christmas season that Matt and I were together (2007), I realized just how seriously his family takes Christmas cookie baking. It's quite an undertaking, and it lasts several days, even several weeks, starting in early December and ending the week before Christmas when cookie trays are distributed to anyone and everyone who knows the April/Maltese family.
It's quite amazing.
Cookies range from classics like chocolate chip, peanut butter, and oatmeal raisin to more intricate like pecan pie tarts, pizzelle (actually, my youngest brother-in-law is the pizzelle expert in the family), butter spritz cookies, and one of my favorites, snowballs.
This recipe for Russian tea cakes comes straight from my mother-in-law who is a pro when it comes to cookies.
I didn't tweak it one bit, because it's simply perfect and the best Russian tea cake recipe I've come across (though it seems similar to Betty Crocker's Russian tea cakes, so she may have had something to do with it)!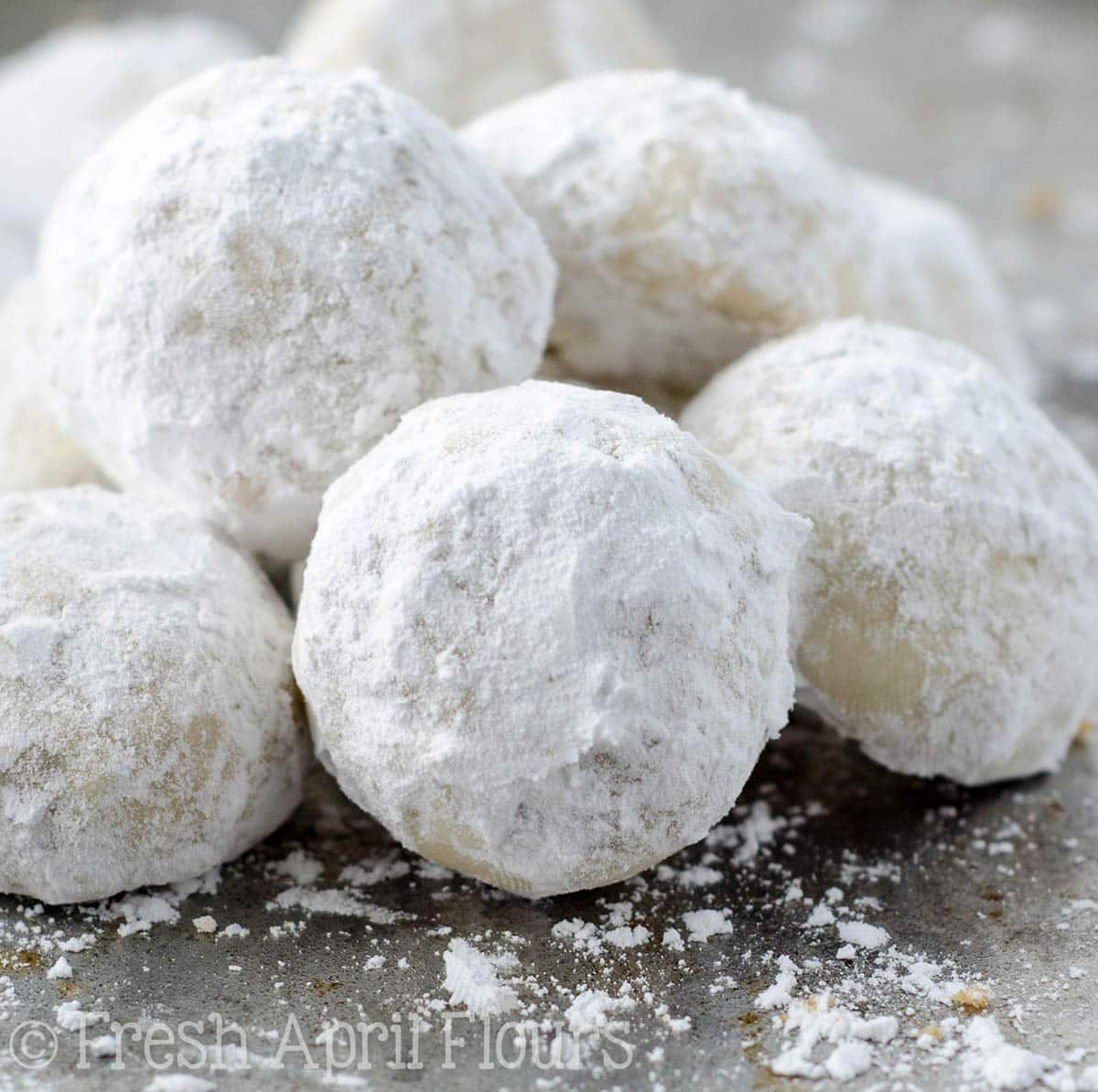 Snowballs are one of those cookies that leave you wanting needing more. Despite my undying love for oatmeal raisin cookies (chewy only, please), I can easily eat one or two and be done, satisfied with the oaty, raisiny flavors resonating on my palate and in my belly.
Snowballs? Fahgedaboutit. I need 5, AT LEAST.
I think it's the powdered sugar coating that just melts in my mouth even before I have a chance to sink my teeth into the crumbly yet soft center that also melts in my mouth. Snowballs are double-melt-in-your-mouth trouble.
What a dangerous little cookie, eh??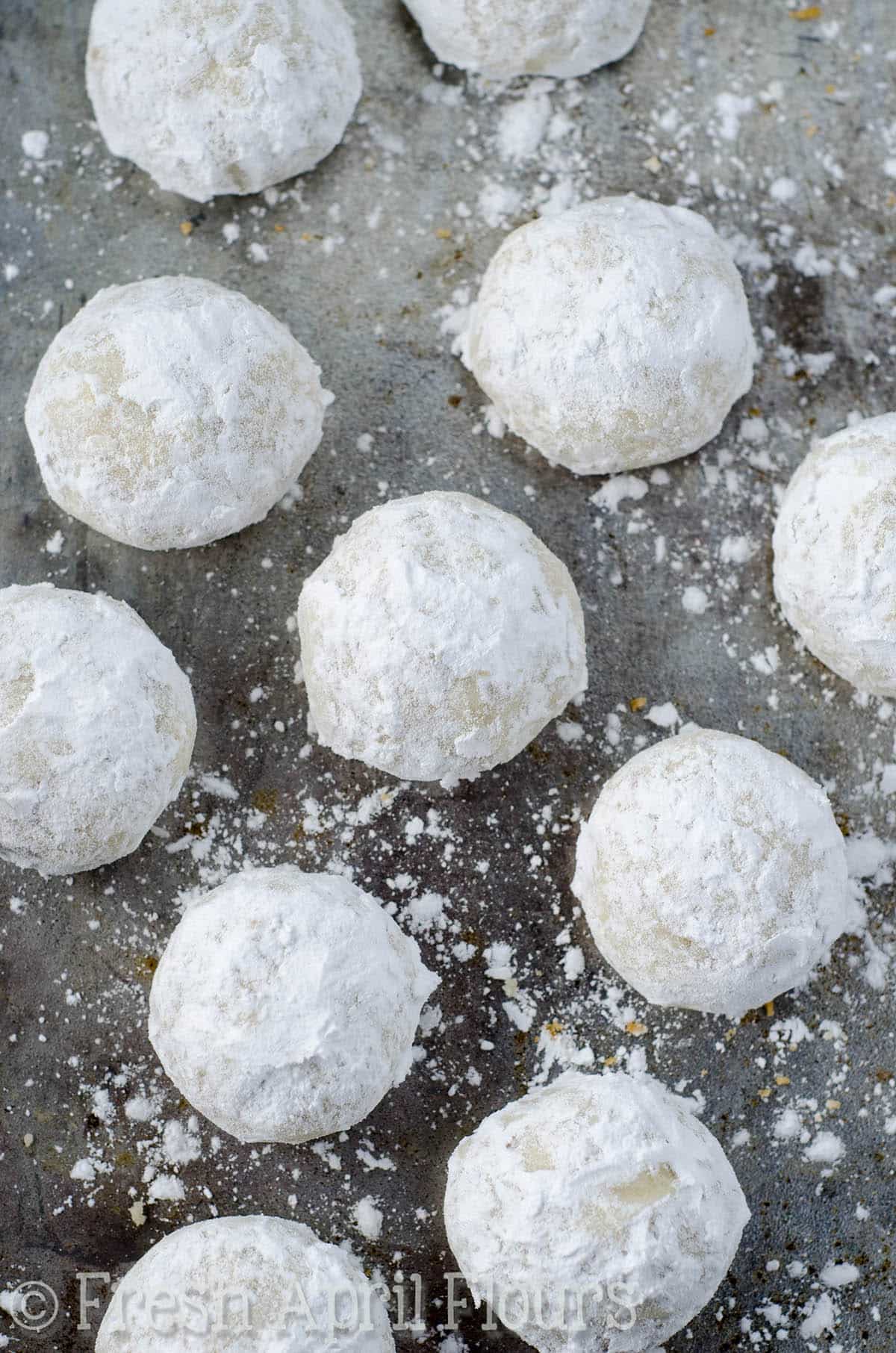 HOW TO MAKE RUSSIAN TEA CAKES
This Russian tea cakes recipe is so simple. An uncomplicated blend of butter, powdered sugar, flour, a little salt, a touch of vanilla extract, and a hefty dose of chopped nuts.
Don't like nuts? You can totally leave them out and the recipe will turn out just fine.
I prefer walnuts or macadamia nuts in my snowballs, but you can certainly use your favorite nut. Pecans would work nicely, as would almonds.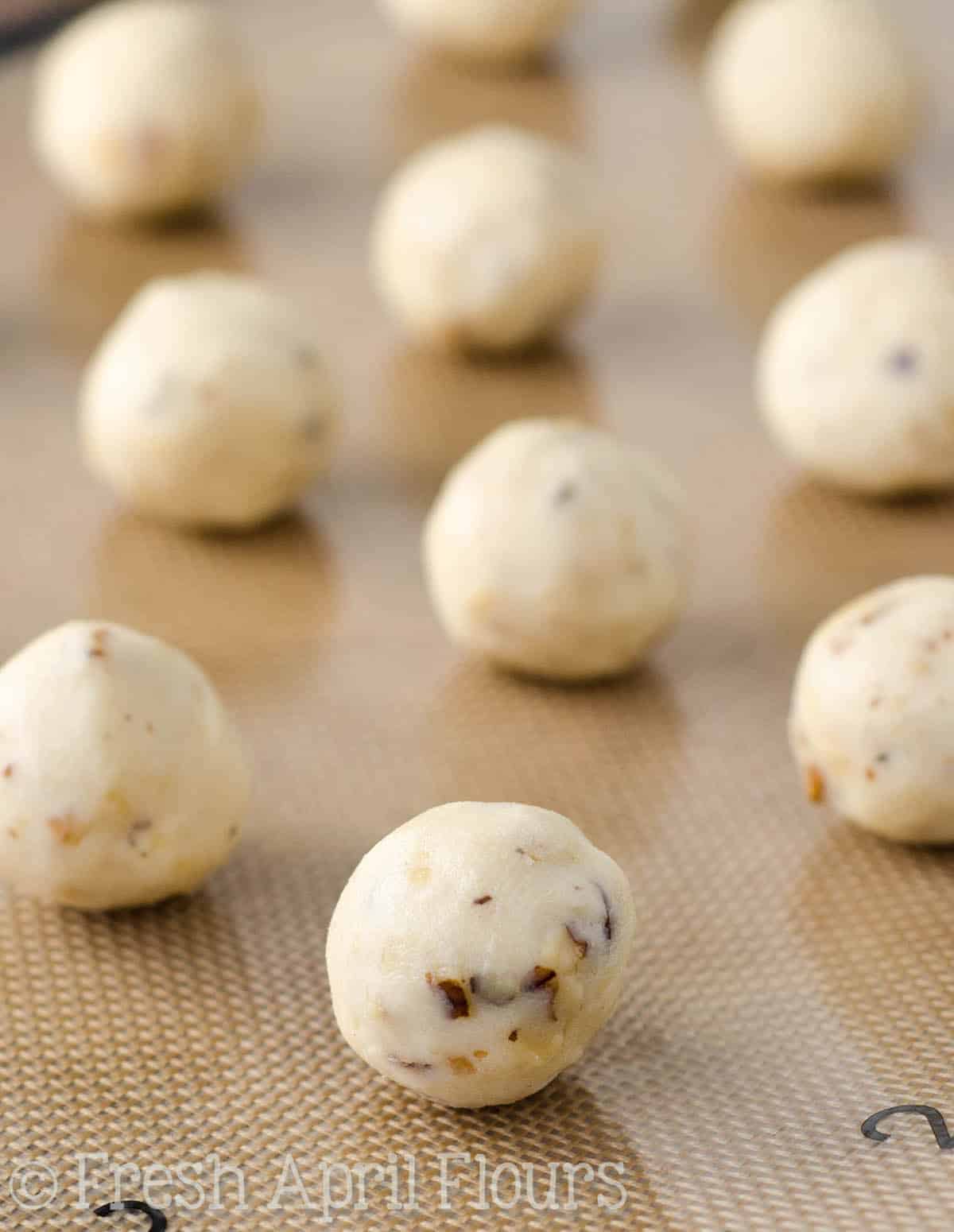 Once your cookie dough is all together, you will need to chill it for a bit. Only about an hour. Maybe during that hour, you can take a trip to the gym to combat all of the cookies you've been baking.
RUSSIAN TEA CAKES GET TWO COATINGS OF POWDERED SUGAR
After a chill, you'll roll the dough into balls, bake them, and then, while the baked cookies are still warm, you'll give them a nice dunk in some powdered sugar.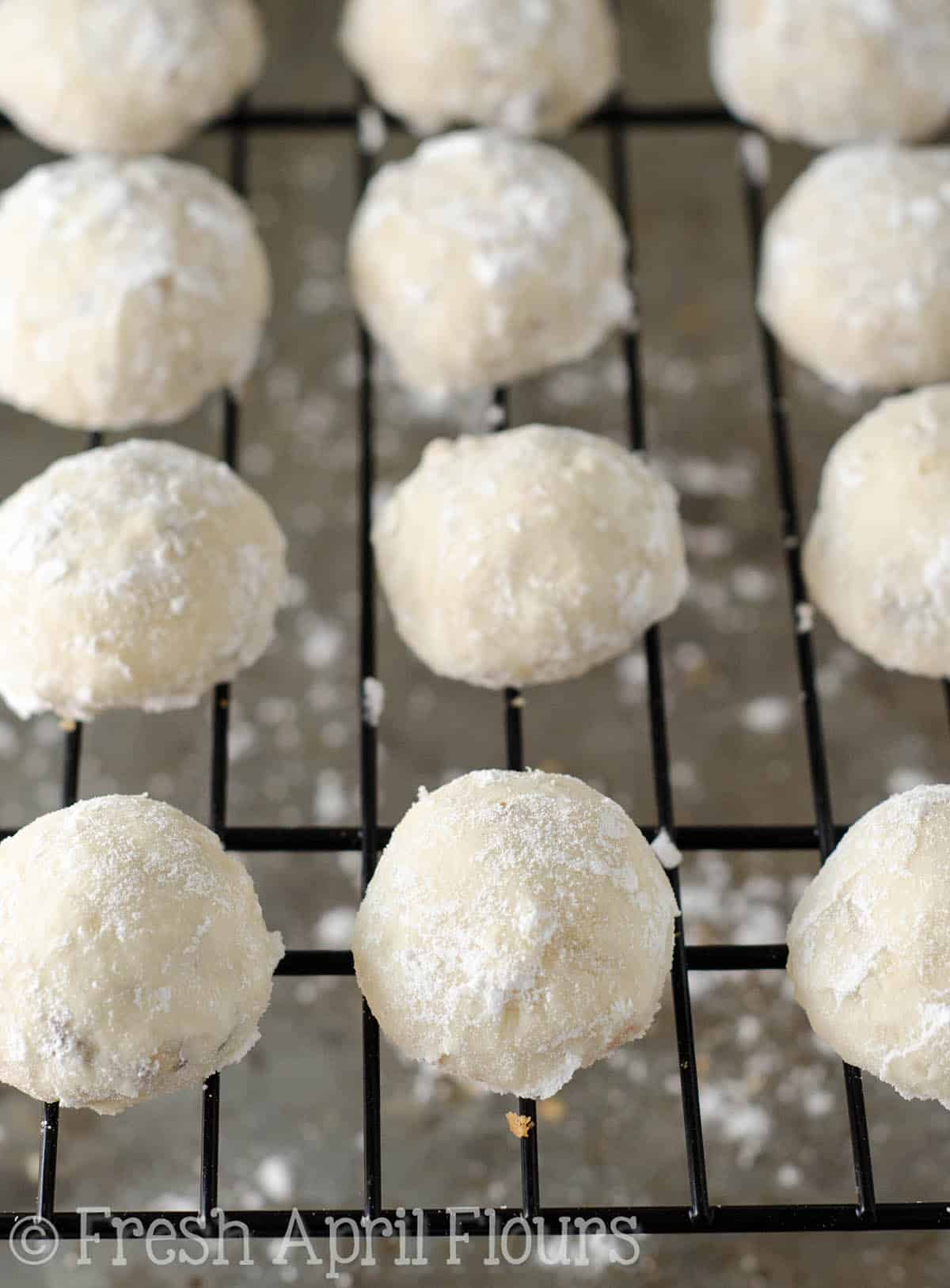 AND THENNNN, once they've cooled completely, they get a second bath in more powdered sugar (I'm starting to see why it's impossible to stop at just 1 snowball).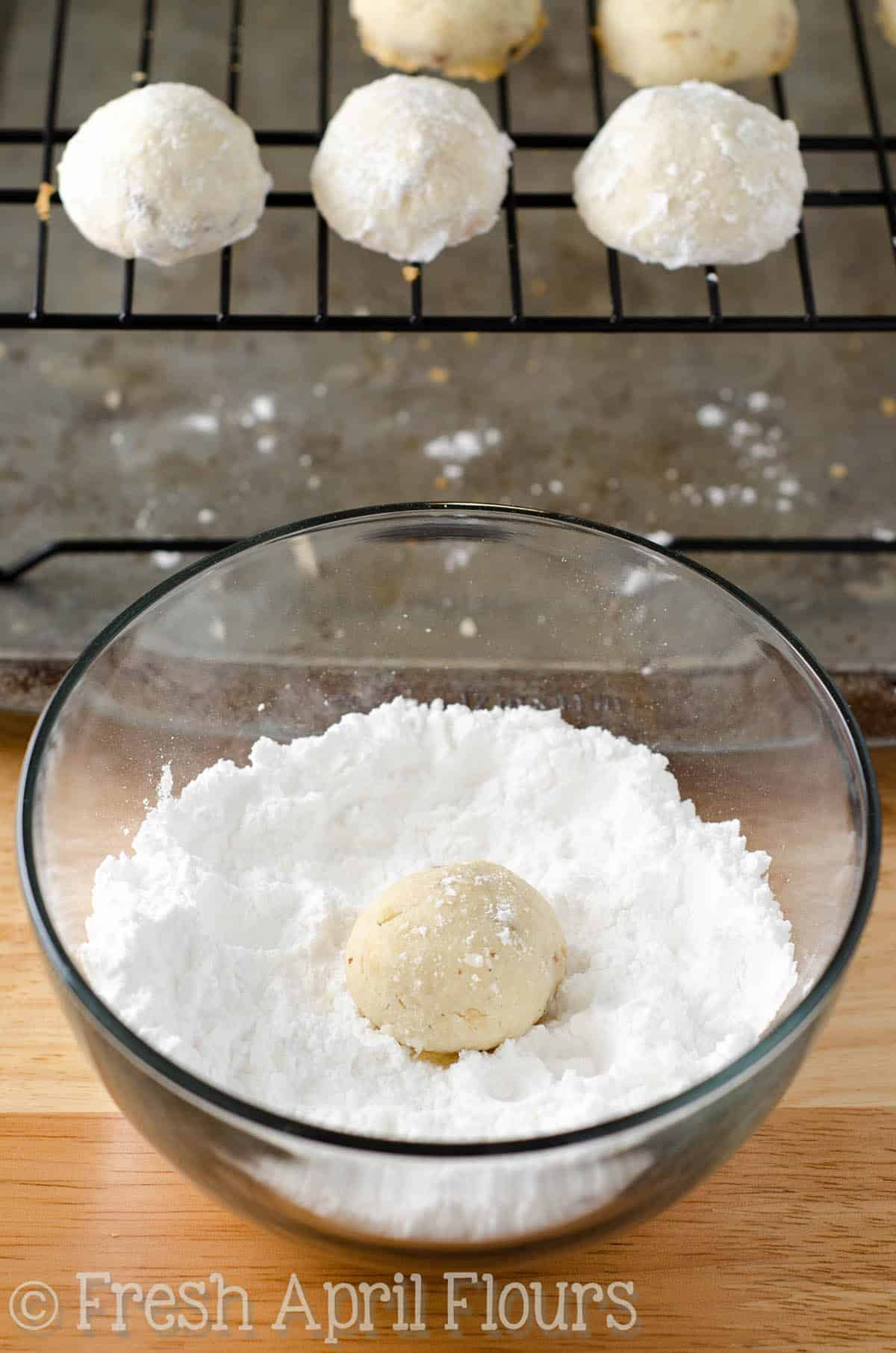 This recipe for Russian tea cookies is Christmas cookie perfection. The resulting cookies are easy to put together, they're small, they're undeniably good, and they're covered in powdered sugar so they look like snow.
Plus, if you're not into sharing your cookies, you can definitely tell if someone steals one from your stash. The indisputable powdered sugar mouth will give your thieves away in a snap.
Although I really do hope you share your snowballs with your friends/family/loved ones. They'll know how much you love them once they realize you're sharing such a delightful little treat with them.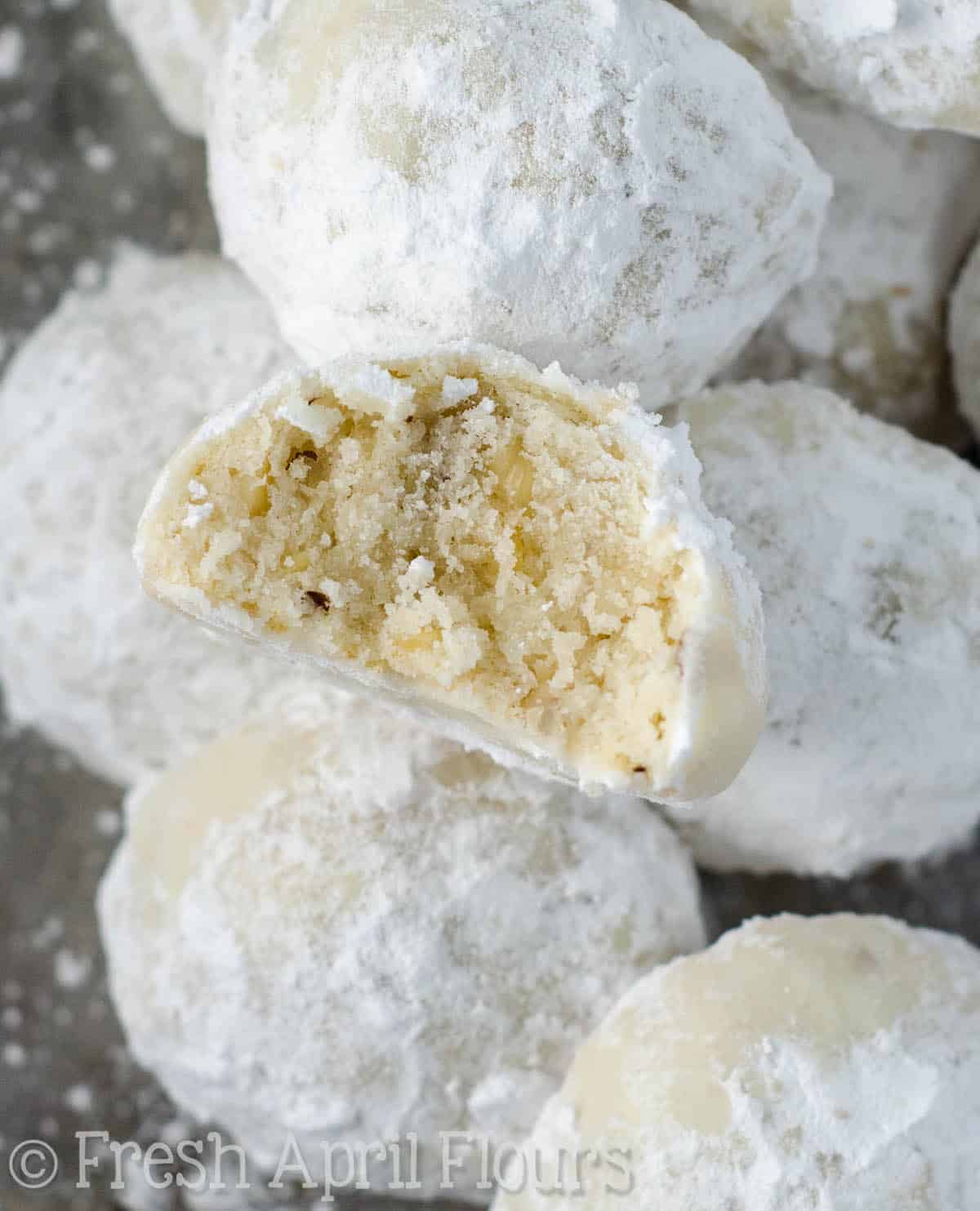 The gift cookie that keeps on giving.
Love snowball cookies? Check these variations on a theme: chocolate chip snowball cookies and funfetti snowball cookies.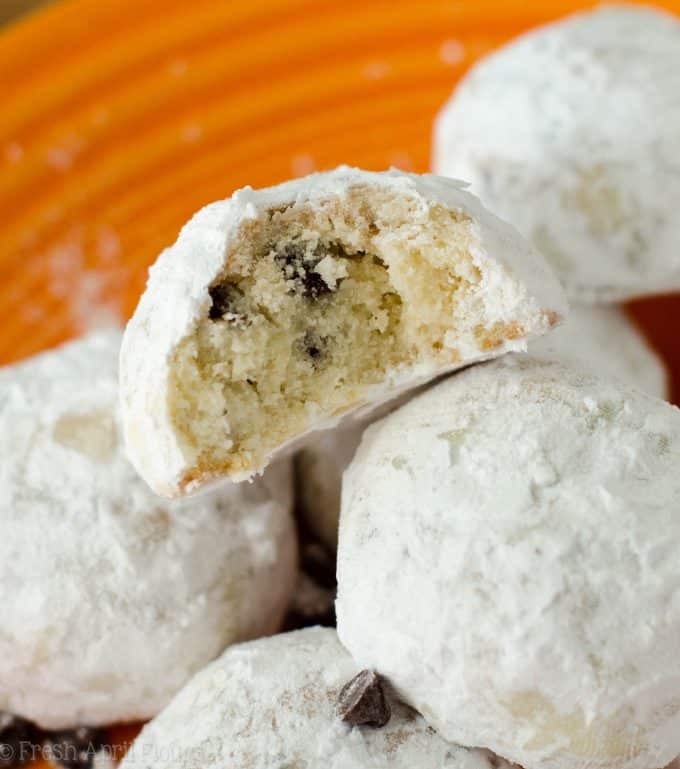 Russian Tea Cakes
Buttery, melt-in-your-mouth shortbread cookies filled with nuts and rolled in powdered sugar. A classic cookie at Christmas time!
Ingredients
½

cup

(113g) unsalted butter

softened to room temperature

¼

cup

+ ½ cup (90g) powdered sugar

divided

½

teaspoon

vanilla extract

1

cup

+ 2 Tablespoons (135g) all-purpose flour be sure to measure properly

⅛

teaspoon

salt

⅓

cup

finely chopped nuts*
Instructions
In a medium size bowl with a hand mixer or the bowl of a stand mixer fitted with the paddle attachment, beat the butter, ¼ cup (30g) of the powdered sugar, and vanilla on medium speed until smooth. Add the flour and salt and beat again on medium until completely combined. Add chopped nuts and stir with a spatula until evenly dispersed. Cover bowl with plastic wrap and refrigerate at least 1 hour and up to 3 days.

When you are ready to bake the cookies, preheat the oven to 400ºF (204ºC). Line a large baking sheet with parchment paper or a silicone baking mat. Set aside.

Roll dough into approximately 1" balls using a cookie scoop (I use this #50 cookie scoop for all of my standard size cookies). Bake until set, about 10-12 minutes. You do not want cookies to brown at all. Remove from oven and transfer cookies to wire rack. Allow to cool until you are able to handle the cookies.

Roll warm cookies in remaining ½ cup (60g) of powdered sugar. Return cookies to wire rack and allow to cool completely. When completely cool, roll in powdered sugar again. Cookies remain fresh in an airtight container at room temperature up to 2 weeks.
Notes
*Nuts: any nut you prefer will be fine. I enjoy walnuts or macadamia nuts. Pecans or almonds also work well.
Nutrition Disclosure
All nutritional values are approximate and provided to the reader as a courtesy. Changing ingredients and/or quantities will alter the estimated nutritional calculations.