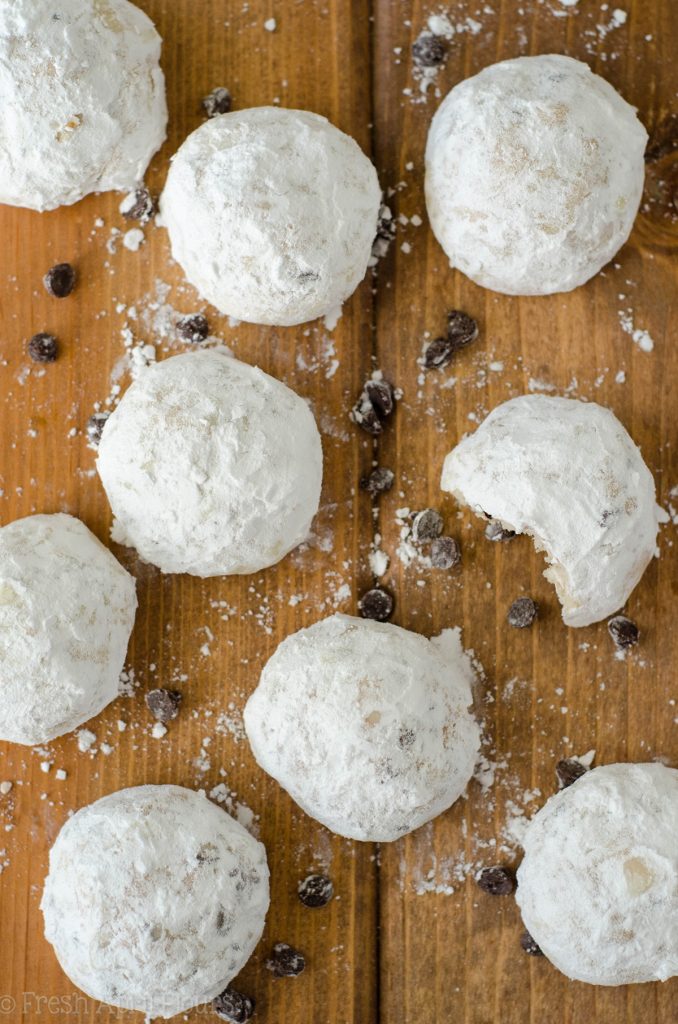 Welcome to recipe #2 in the 12 Days of Christmas Cookies! Have you seen the first one? Don't miss the giveaway I'm hosting there in partnership with Rodelle! It ends tomorrow night at 11:59pm EST. Included in the giveaway: cocoa, vanilla beans, and extracts including a pumpkin spice one. Umm, yes, I have my own (few) bottles. I'm telling you that you need it.
So today. Today we have snowballs. But not just any ol' snowballs– chocolate chip snowballs. Because I love taking a classic and doing something fun with it.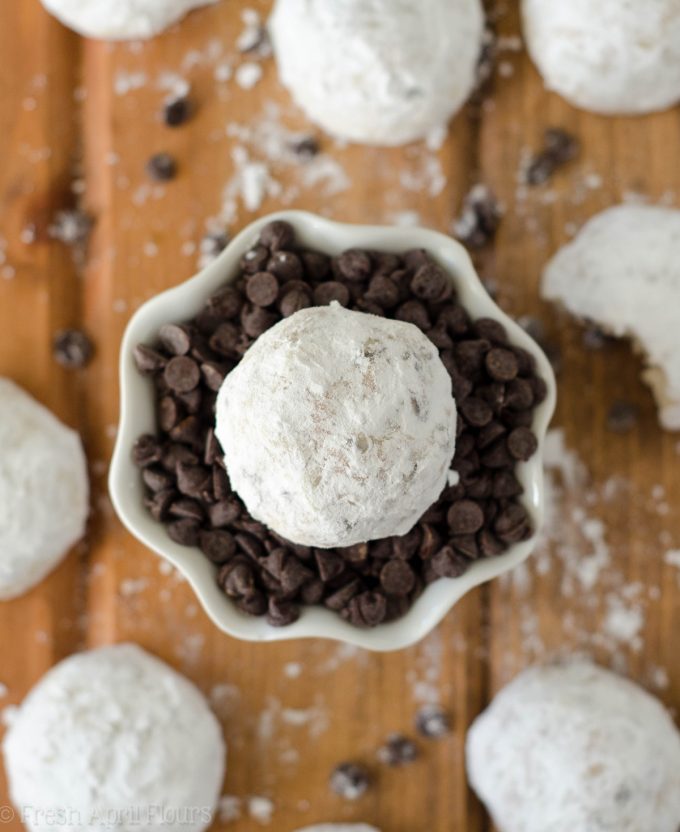 I first brought snowballs (aka Russian tea cakes) to the blog for last year's 12 Days celebration. They are an April family specialty, and they've always been one of my favorites. They're a simple shortbread cookie wrapped in a hug (actually, two hugs) of powdered sugar. I mean, how can you not love that? They're unfussy, don't require any fancy ingredients, and are a definite crowd-pleaser. Classic snowballs are filled with nuts. These chocolate chip snowballs do not have nuts in them, so it's hard to find someone who wouldn't like them! Because there really, truly are people out there who do not enjoy nuts in or out of cookies.
To those people I say "GIVE ME ALL OF THE COOKIES WITH NUTS."
I digress.
As I said, these cookies are unfussy, but they do take a bit of hands-on time. Once you pull the batter together, you'll need to chill the dough for an hour. When you're ready to bake the cookies, they only take 10-12 minutes in the oven. Once they are cool enough to handle but not completely cool, they get a nice bath in some powdered sugar.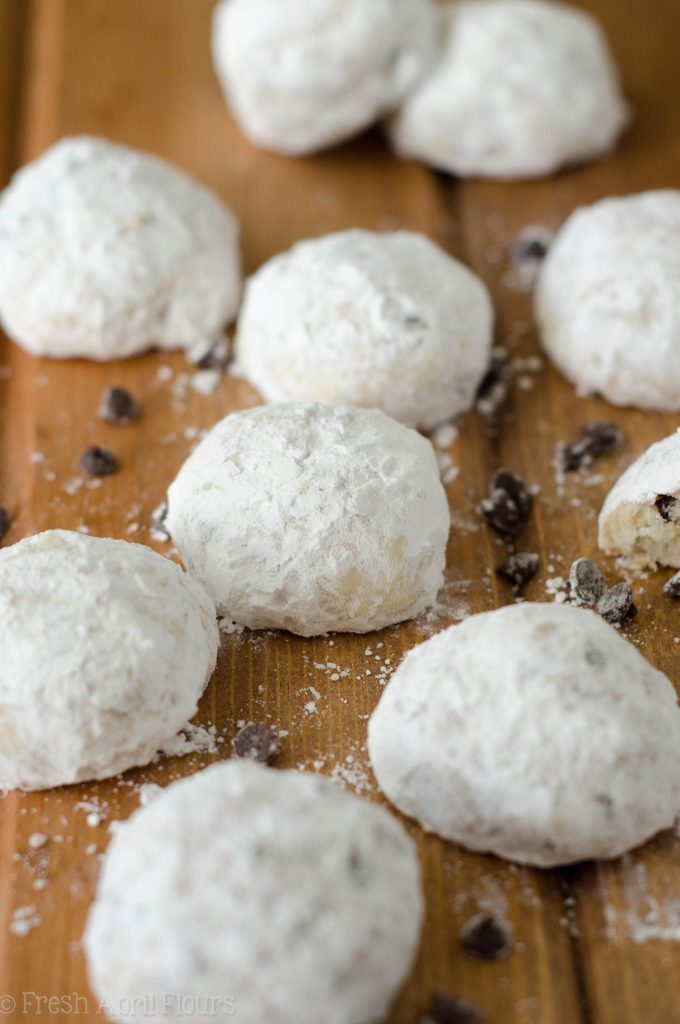 And then another bath in more powdered sugar when they are completely cool.
Remember those two powdered sugar hugs I was talking about? Yeah. Let's get all up in that and make some group hugs out of this.
What I love most about snowballs is that when you put them on a cookie tray, they "snow" on everything around them. My MIL always puts together beautiful Christmas cookie trays, and her finishing touches are snowballs in every available nook and cranny, and a light dusting of powdered sugar over the whole tray. Plus, since most cookies aren't stark white like snowballs, they add a nice contrast to the overall look of a collection of cookies.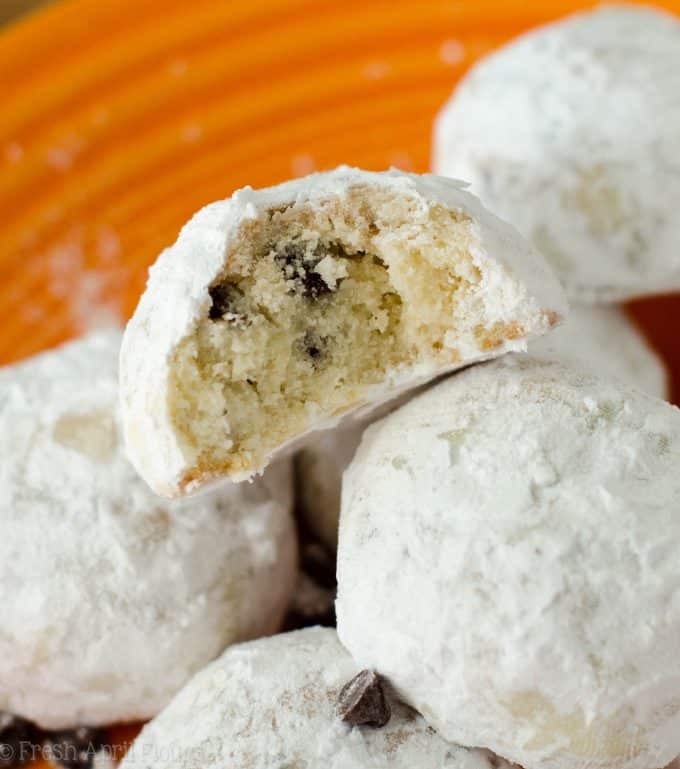 Ohhhh! How gorgeous would some chocolate cayenne cookies + chocolate chip snowballs look on the same tray?! I mean, someone do that and get back to me, please??
Simple, classic, have "winter/Christmas/holidays/snow" written all over them, perfect for the holidays or just another Friday night bake-a-thon, you'll find these chocolate chip snowballs are an easy addition to your cookie recipe collection.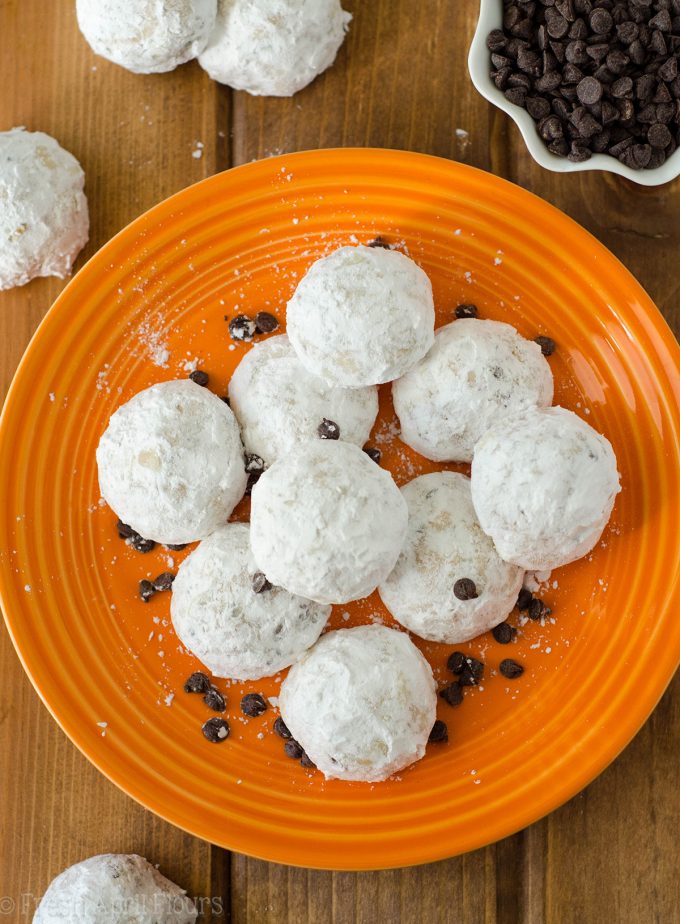 Make room, friends. We are only 2 cookies into this party and there's plenty more where they came from.