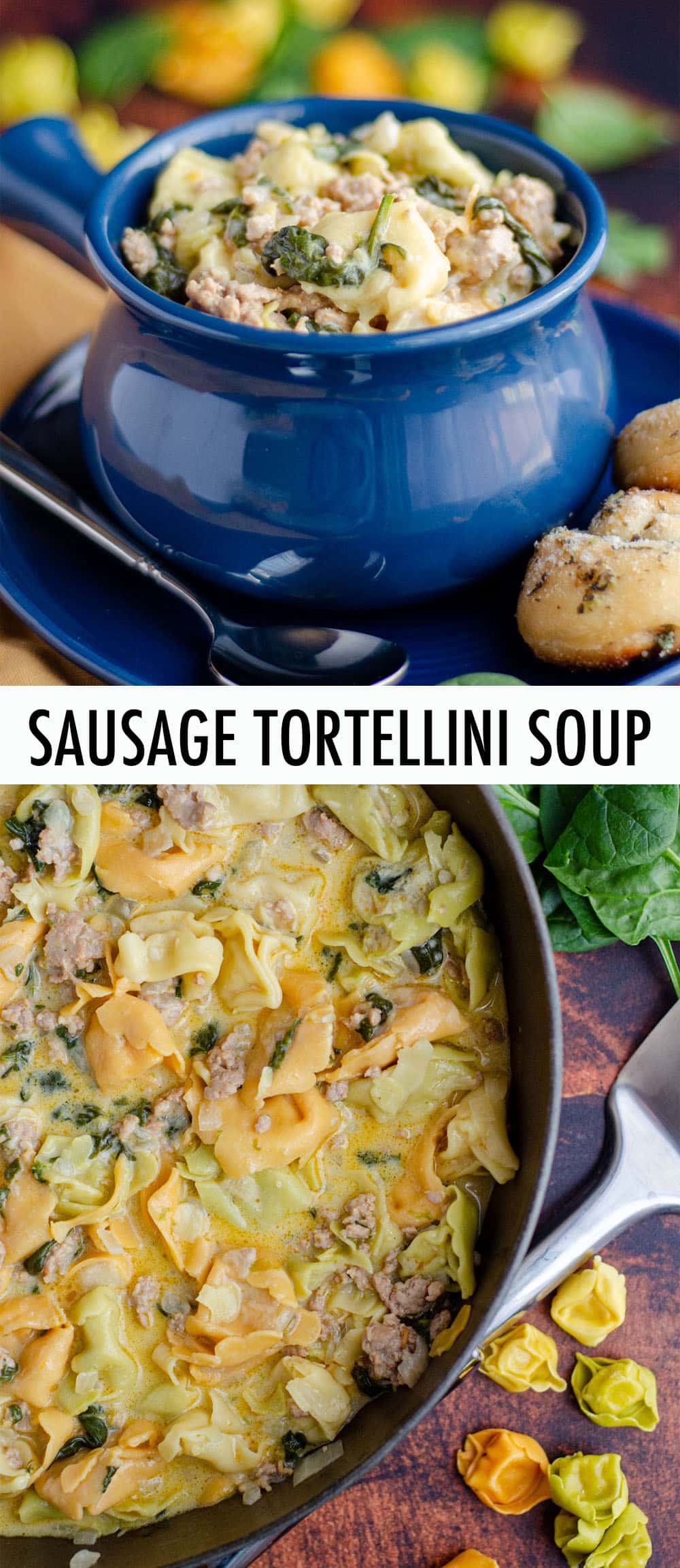 As an Amazon Associate, I earn from qualifying purchases. Read the full disclosure here.
This easy Italian sausage tortellini soup is lightly creamy, full of flavor, and ready in about half an hour.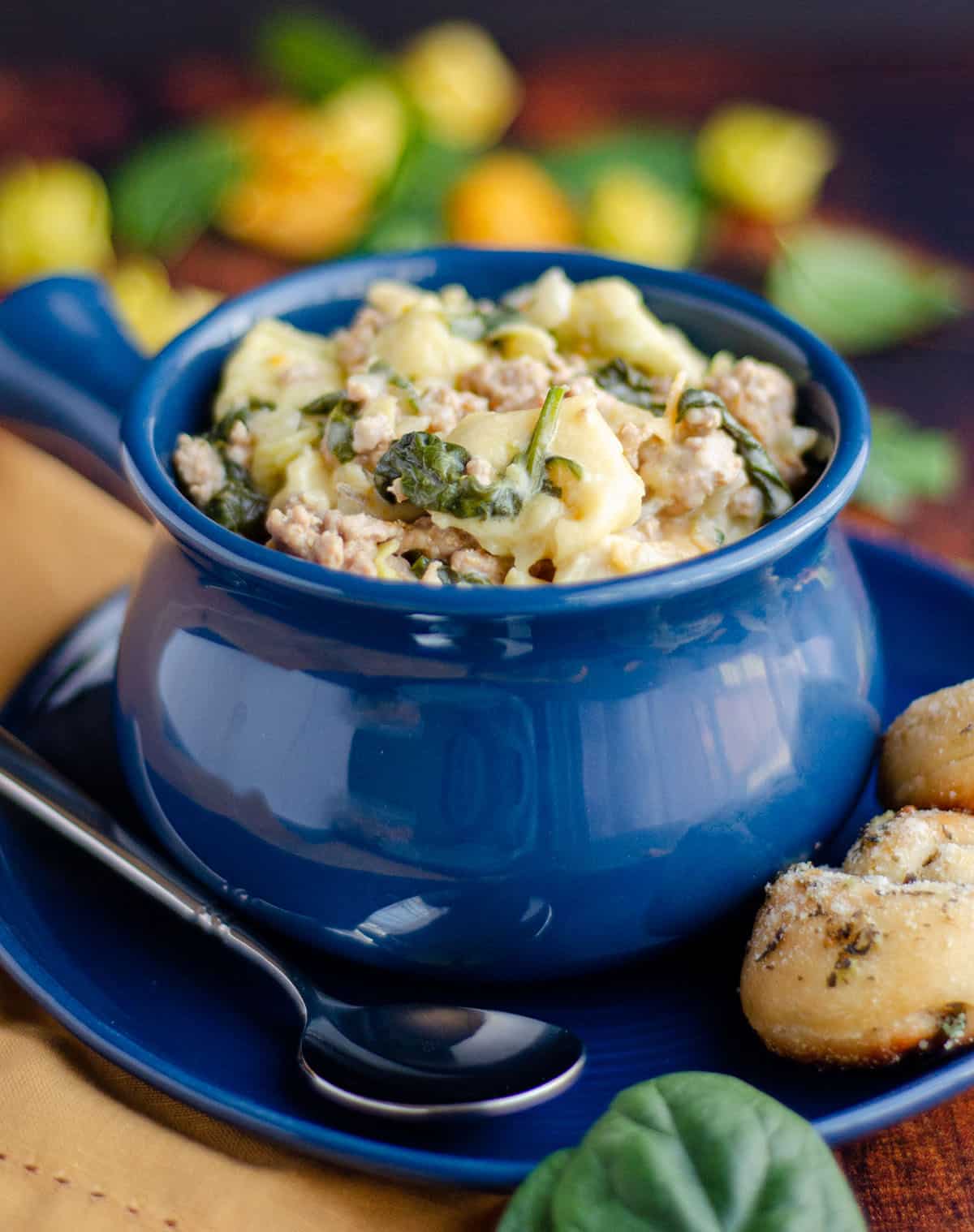 We're taking another pause in sugar this week (first pause in the form of homemade garlic knots– MAKE THOSE) because later this month, I have a whole slew of sweetness heading your way, and every once in awhile, I like to add to my savory category.
That and, despite the unseasonably warm week we've had here in southeastern Pennsylvania, comfort food is the name of the game this time of year, and this tortellini soup was WAY TOO GOOD not to share with you, so you can add it to your dinner rotation and thank me later.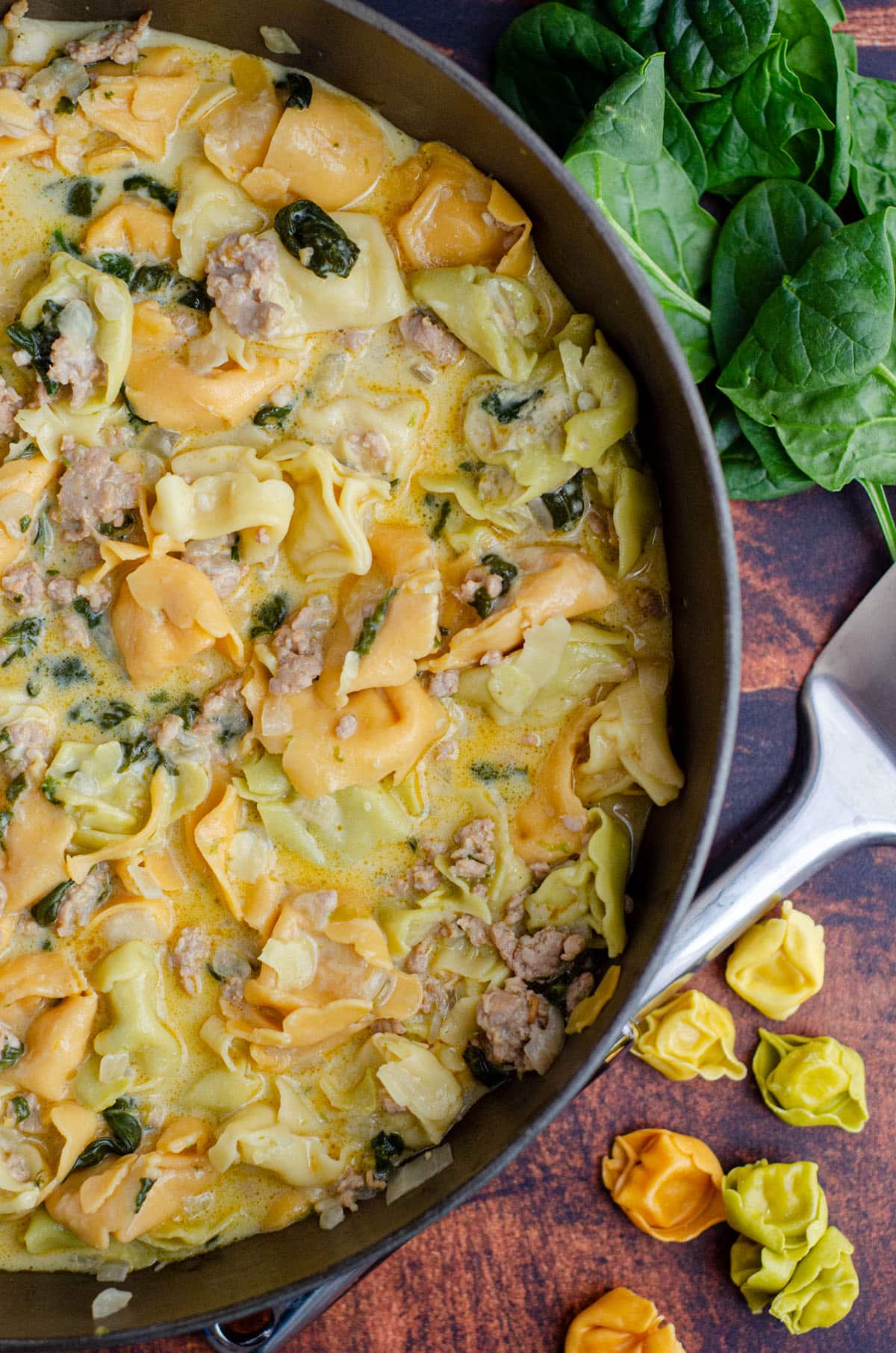 Though I have to say, this is kind of like when I made ice cream sheet cake a few years ago in April, and by the time I posted it on the blog, which actually was in May, we were having unseasonably cold days.
If that's how this is going to work, I'll keep making all the tortellini sausage soup there is. You can thank me AGAIN for that one, too.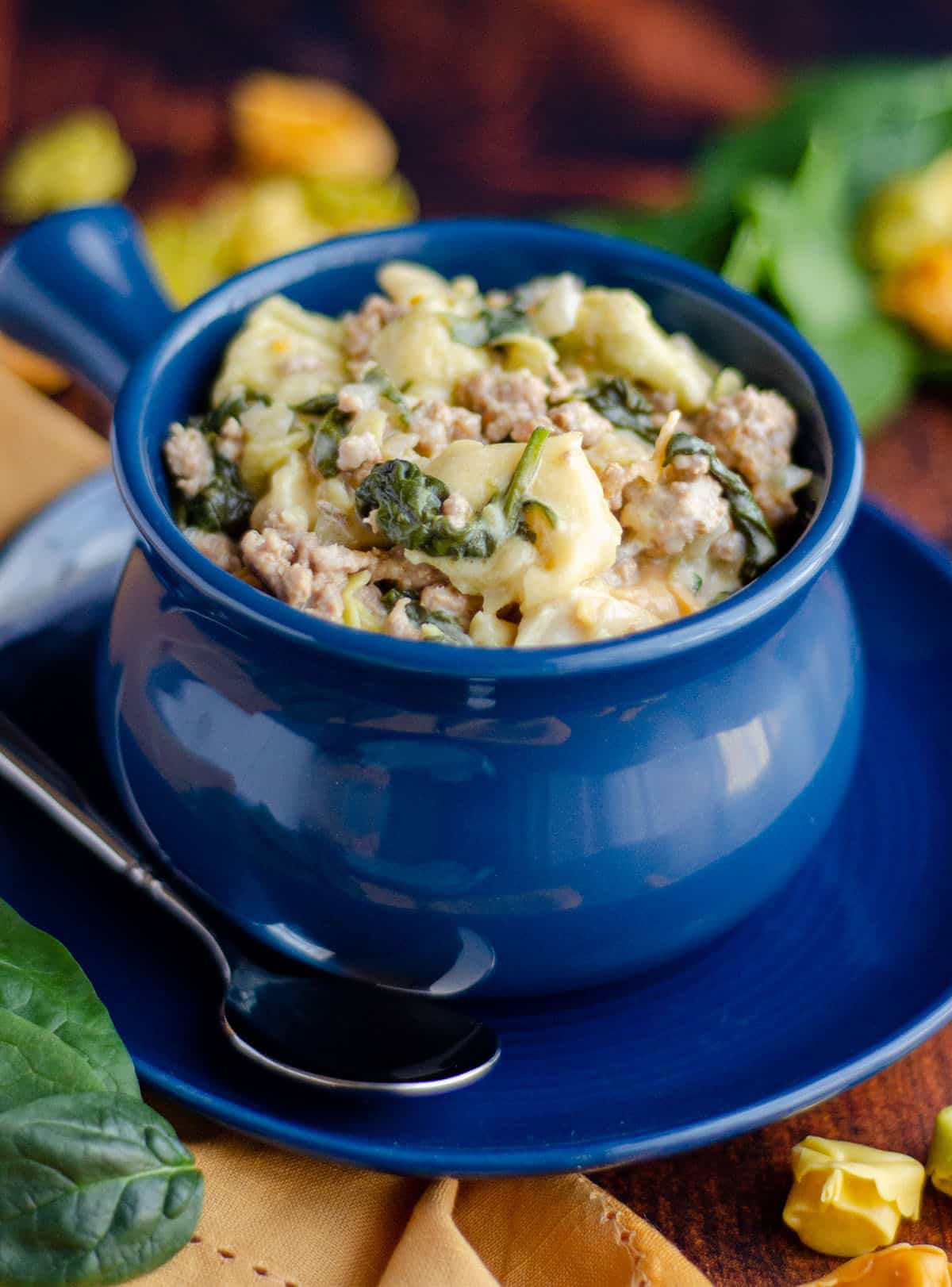 I whipped up this sausage and tortellini soup a few weeks ago to give to our neighbors who have been having a heck of a time with a sick kiddo in and out of the hospital.
They finally came home after spending almost 2 straight months gone, and we welcomed them with FOOD, because seriously, who wants to go grocery shopping and/or cook when there's a member of the household who needs constant attention?
NOBODY.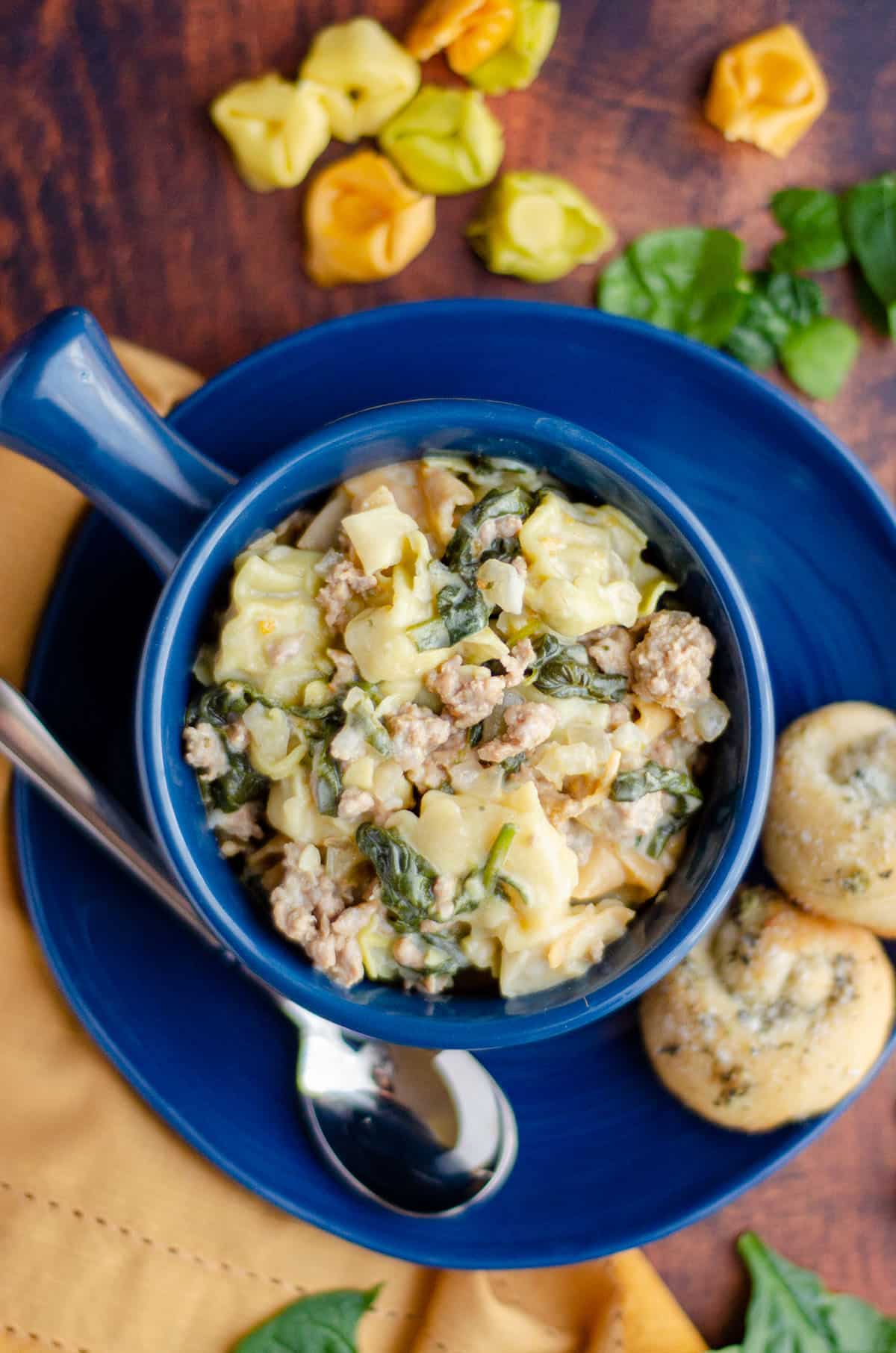 I chose this particular combination of ingredients because
1) I know the older 2 of their children like tortellini
2) pasta + Italian sausage is never a bad combo
3) family members could portion it out as needed
4) I knew leftovers would just taste better and better as time went on
I debated whether to make this tortellini soup recipe a red, tomato based one or make it creamy, and I chose creamy because my favorite way to enjoy tortellini is with some olive oil, grated cheese, and cracked black pepper.
I also enjoy creamy soups as much as I enjoy chunky ones (as opposed to thinner broth and smooth soups), so adding juuuuust a bit of heavy cream (or milk, if you prefer) is how this sausage tortellini soup recipe became a creamy one.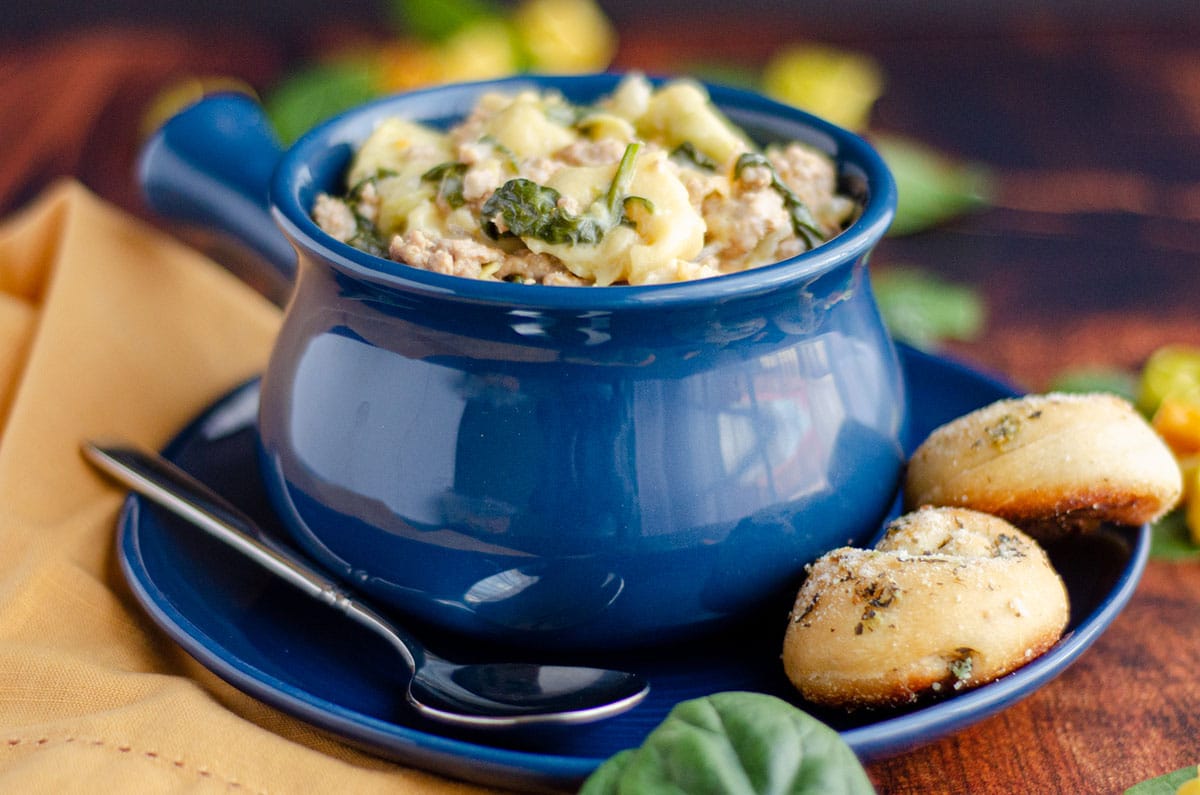 This soup, however, is definitely not heavy. I opted for mostly chicken stock as the liquid ingredient, which brings lots of flavor alongside the Italian sausage base.
PICK THE SAUSAGE YOU PREFER
Speaking of the sausage, if you like a spicier Italian sausage, by all means use that. I chose a mild sausage and it was perfect. A sweet one would also be great here, but you know your sausage preferences best.
I don't know about your house, but in our house, our kids love tortellini. We do struggle, however, with what to serve as a side dish with it, especially considering we typically eat whatever the kids eat.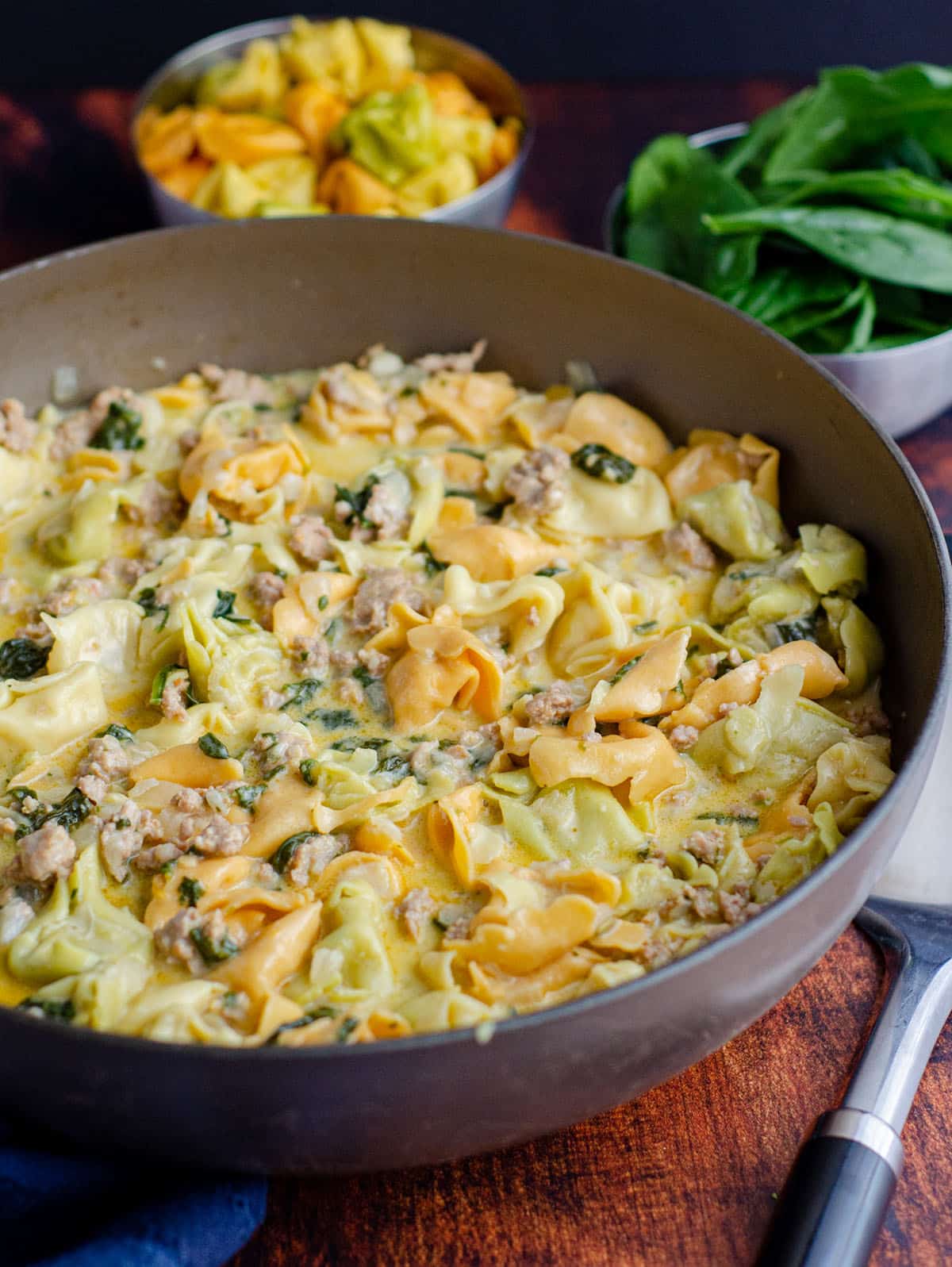 So this soup became a great middle ground for us– a serving of tortellini for the kids, and a heartier, more complex meal for the adults.
Because let's be serious– as soon as you put something kids love into something with a few more frills, they immediately don't want it.
AM I RIGHT OR AM I RIGHT?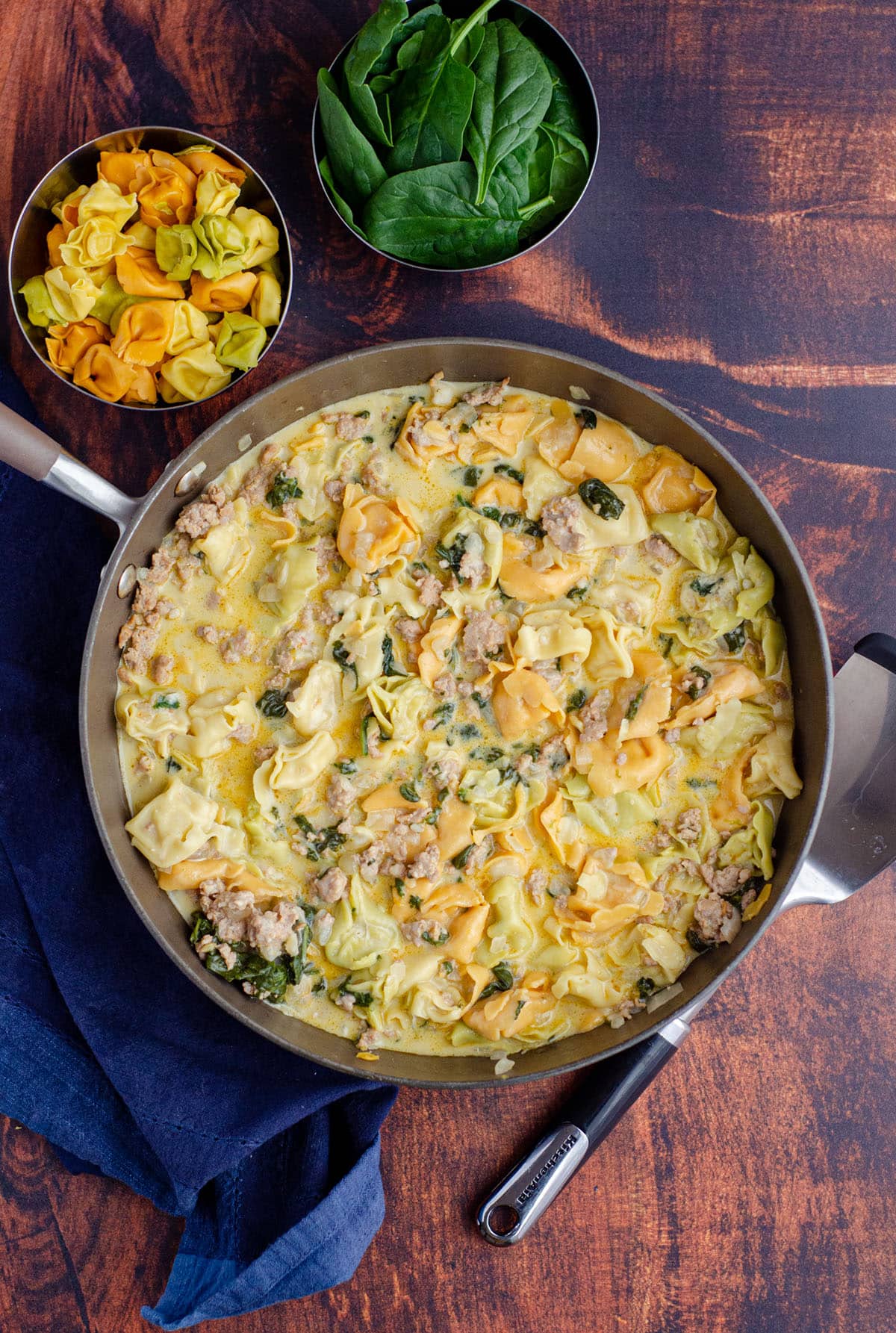 So, skip the tortellini side dish, and opt for a full blown tortellini meal, complete with extra protein (the sausage) and veggies. You can even load up on the spinach to make it even more veggie-ful (technical word). You could also add kale or collards.
THIS SOUP FREEZES WELL
One of the best parts about this sausage tortellini soup is you can absolutely freeze it. Just thaw it in the fridge the overnight before you'd like to enjoy it and BOOM, dinner is served.
It's also a great option for meal planning or helping someone stock up their freezer, like someone having a baby or surgery or some other planned event that might mean they could use some help getting meals together.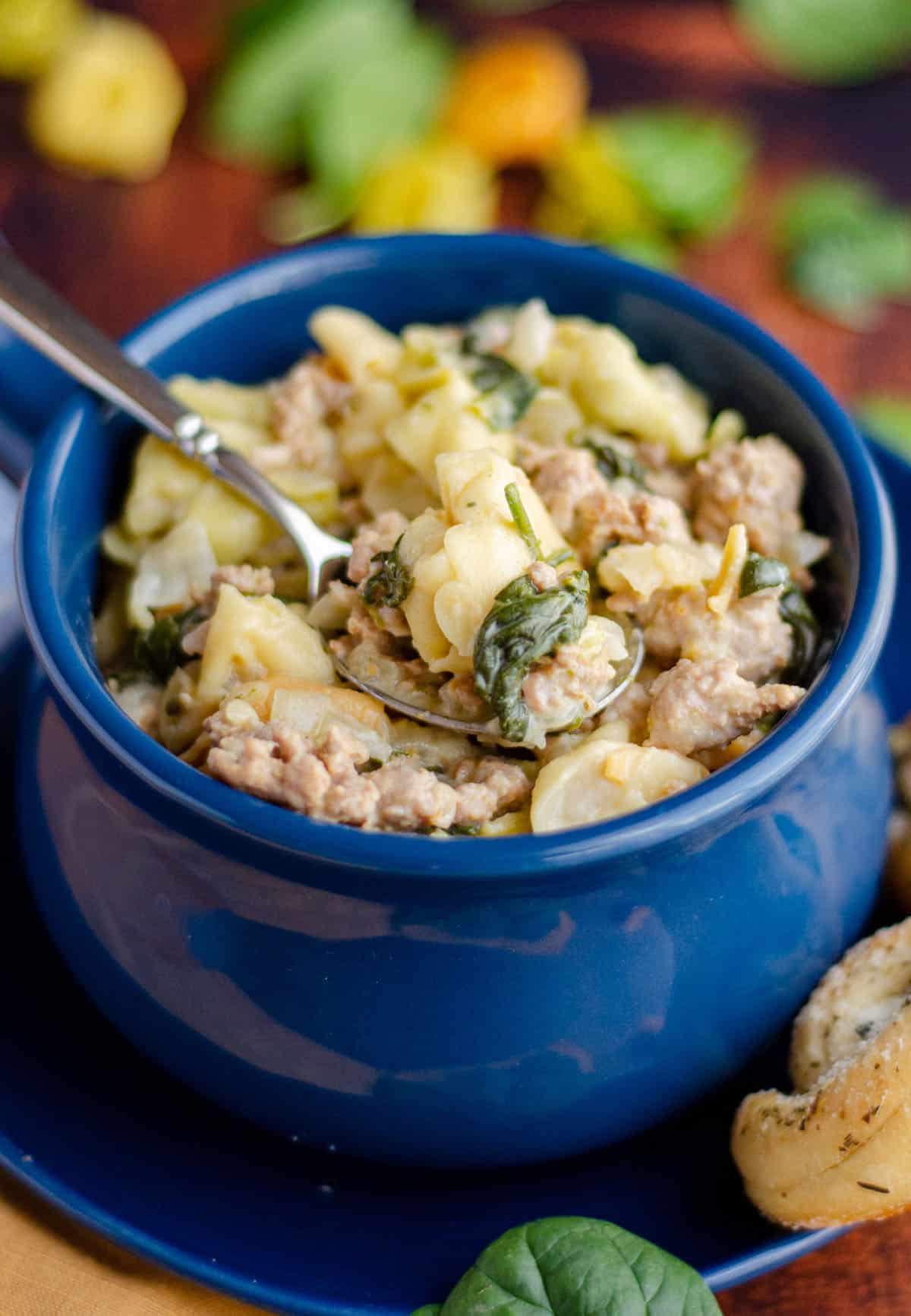 I hope you'll consider adding this easy sausage tortellini soup to your dinner rotation. It's definitely one of our new favorites! And maybe if we keep planning and making comfort foods, the cold weather will stay away for good!
More Comfort Food Recipes
We share Recipes From Our Dinner Table! Join our group and share your recipes, too! While you're at it, join our Pinterest board, too!
Sausage Tortellini Soup
This easy Italian sausage tortellini soup is lightly creamy, full of flavor, and ready in about half an hour.
Ingredients
1

pound

(454g) mild or sweet Italian sausage

1

small

yellow or white onion

diced

4

cloves

garlic

minced

32

ounces

(907mL) chicken stock

3

cups

(90g) baby spinach

1

cup

heavy cream or milk

10

ounces

(283g) refrigerated cheese tortellini
salt and pepper to taste
Instructions
In a large pot over medium heat, cook the sausage until browned, being sure to crumble it as it cooks. Transfer sausage from the pot to a plate or bowl with a slotted spoon. You may want to line the plate or bowl with a paper towel if your sausage is excessively greasy.

Using the leftover grease from the sausage, cook the onion and garlic until onion is tender, about 5-7 minutes. Gradually add the chicken stock and allow mixture to come to a low simmer.

Add back in the sausage, spinach, and heavy cream or milk, and bring to a simmer again. Add in the tortellini and cook according to the amount of time on the tortellini package (likely 3-5 minutes).

Remove from heat, taste, and add salt/pepper as needed. Allow to cool 15 minutes before serving. Store leftovers covered in the refrigerator up to 5 days. Soup freezes well, up to 2 months. Thaw in refrigerator overnight.
Nutrition Disclosure
All nutritional values are approximate and provided to the reader as a courtesy. Changing ingredients and/or quantities will alter the estimated nutritional calculations.
Serving:
1
serving
|
Calories:
459
kcal
|
Carbohydrates:
22
g
|
Protein:
18
g
|
Fat:
33
g
|
Saturated Fat:
15
g
|
Polyunsaturated Fat:
3
g
|
Monounsaturated Fat:
12
g
|
Cholesterol:
94
mg
|
Sodium:
748
mg
|
Potassium:
366
mg
|
Fiber:
2
g
|
Sugar:
4
g
|
Vitamin A:
1496
IU
|
Vitamin C:
5
mg
|
Calcium:
97
mg
|
Iron:
2
mg