As an Amazon Associate, I earn from qualifying purchases. Read the full disclosure here.
Easy garlic knots made from store bought pizza dough. Crunchy and flavorful on the outside, soft and fluffy on the inside, and ready in less than 30 minutes.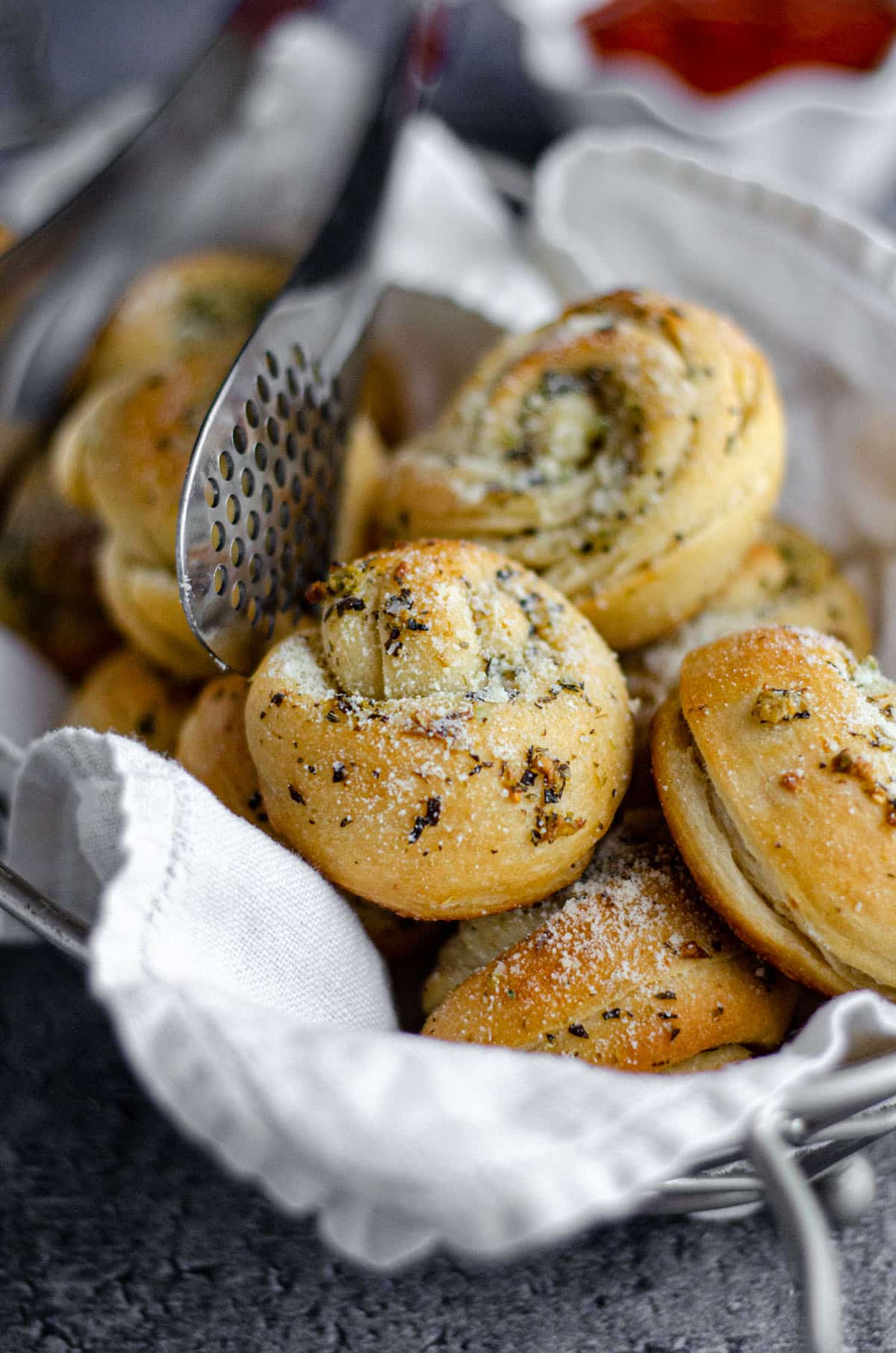 We're pressing "pause" on desserts and sugar for a minute to take care of some very important carb business. More specifically, bready carb business.
And, lucky for you, unlike many of my other bread recipes, this one doesn't use a bit of yeast and it's so quick, you'll be able to throw it together as a side dish for whatever dinner you have planned for tonight in under 30 minutes.
Ok, I guess that first part was a lie. There is yeast in these easy homemade garlic knots, but it's not your yeast. Someone else put it in there. Because we're making these garlic knots with pizza dough you bought at the store.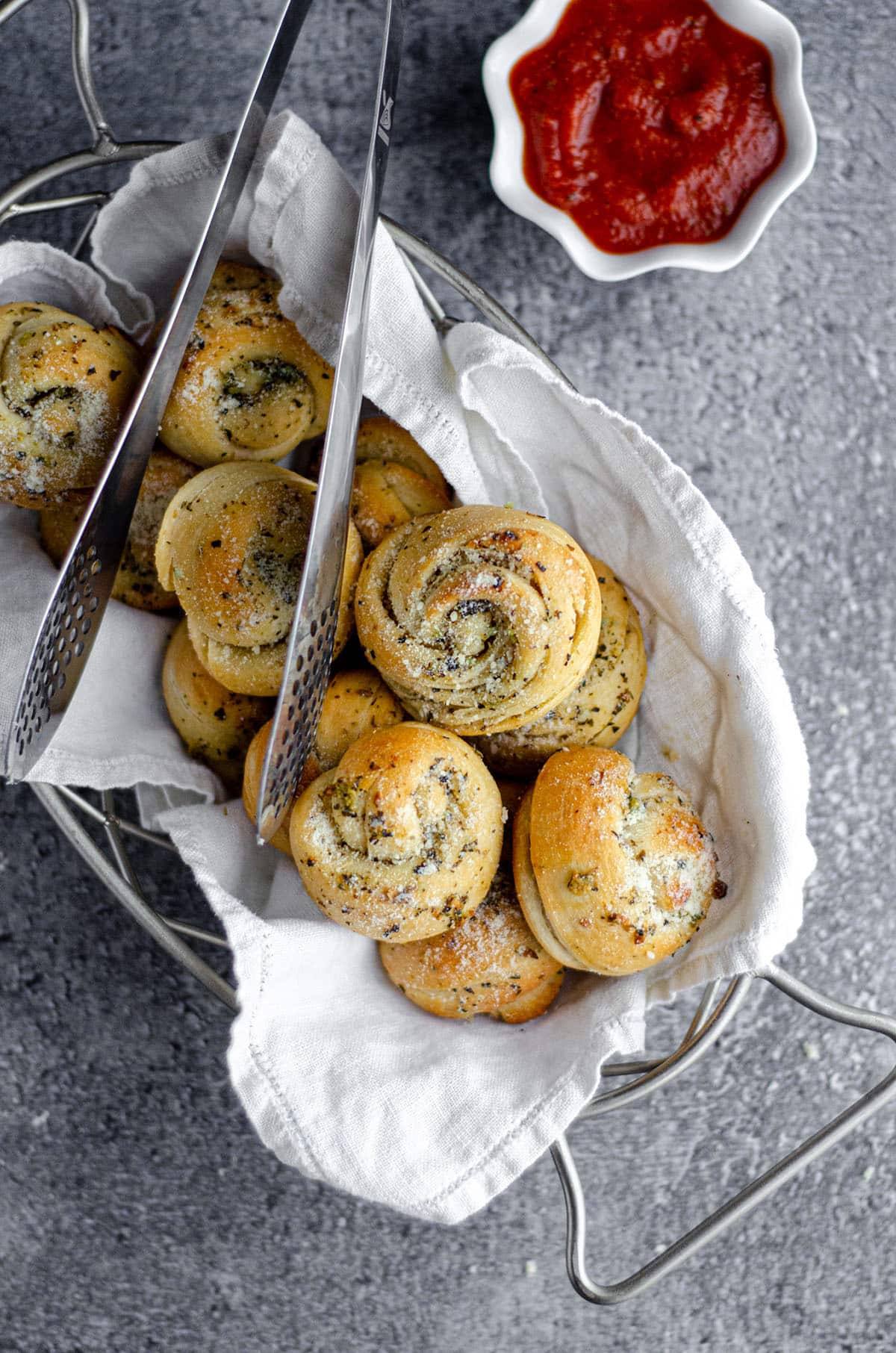 Hollaaaa! This just got even better, didn't it?
I've said so many times before that I really love making yeast breads. They're one of my favorite things ever to make because they're fun, and while they take a bit of time, the end result is always worth it.
And there's so much pride in making bread from scratch!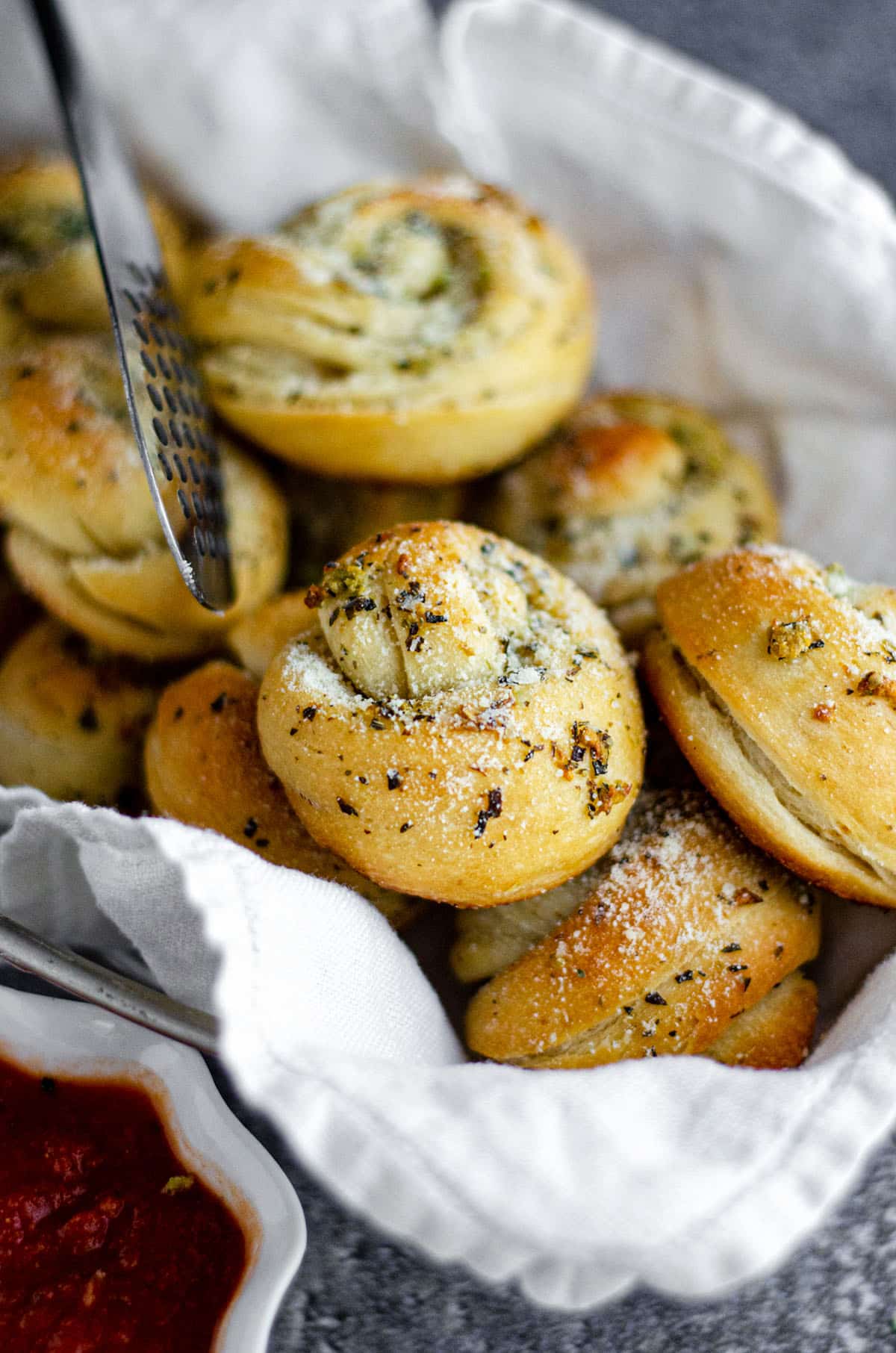 But today, we're keeping things mega quick. Because when I discovered that soft and fluffy homemade garlic knots could be a thing I could make as a side at dinner or our next holiday hosting, I said "forget you, yeast. Bring on the pizza dough!"
HOW TO MAKE HOMEMADE GARLIC KNOTS
Like I mentioned, we're using store bough pizza dough. You'll need one pound of it. I used the kind in the tube, but you can also use one that's already rolled out. You'll just need to work a little bit harder to get it into equal parts.
Once the dough is out of the tube, you'll cut it into 12 equal parts. So you'll have 12 discs of pizza dough, all roughly the same size.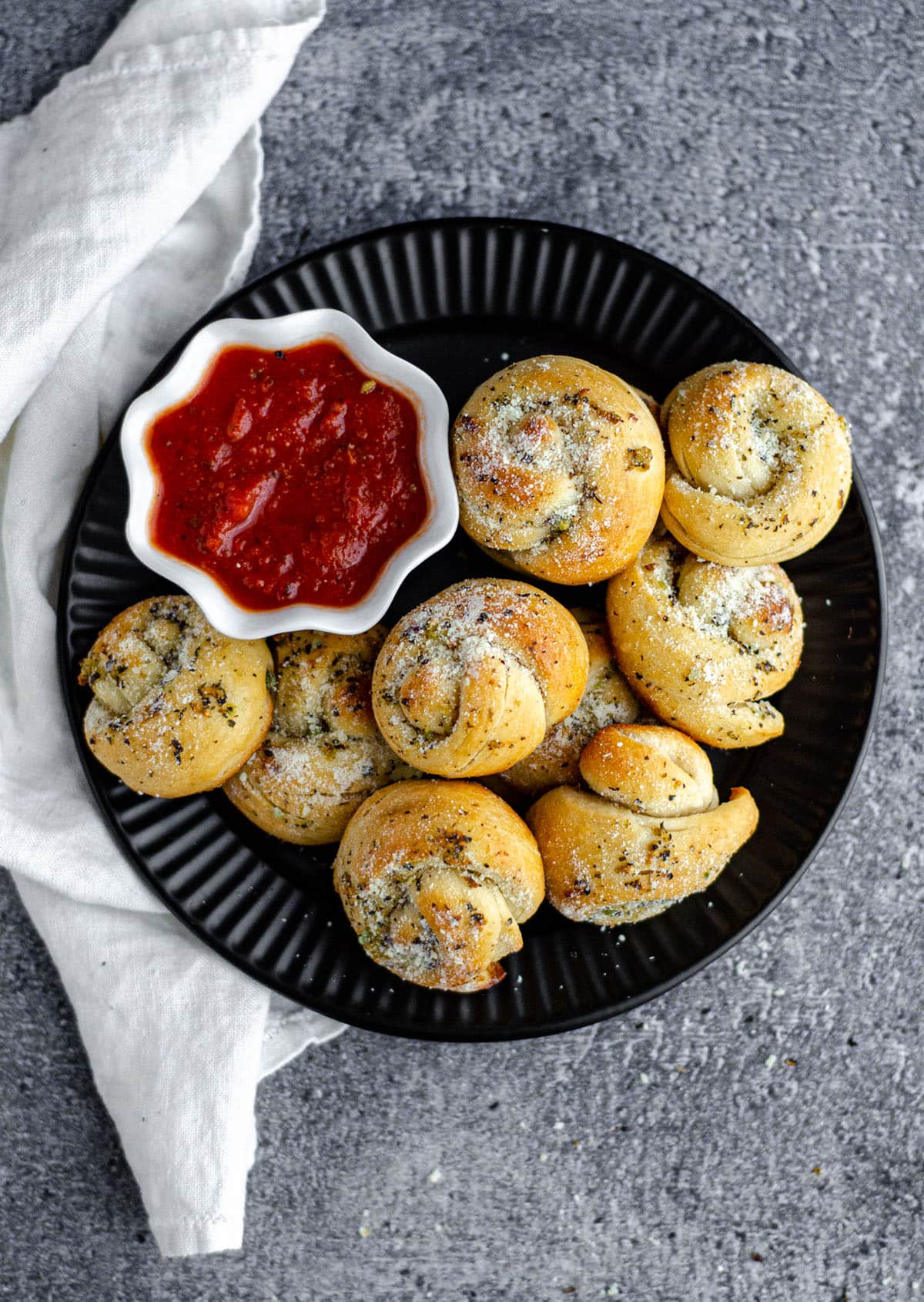 Next, roll each disc of dough into a log, about 6 to 8 inches in length. You'll want to allow the logs to rest while you prepare the garlic butter.
BRUSH SEASONED GARLIC BUTTER ON TOP
In order to get these cutie little pizza dough garlic knots all garlic-ed up, you're going to melt butter in a small saucepan with minced garlic. Yes, you'll have little bits of garlic in your butter, but believe me, you'll want this.
After it's all melted, stir in some oregano and dried basil and let it cool down a bit while you form the bread knots.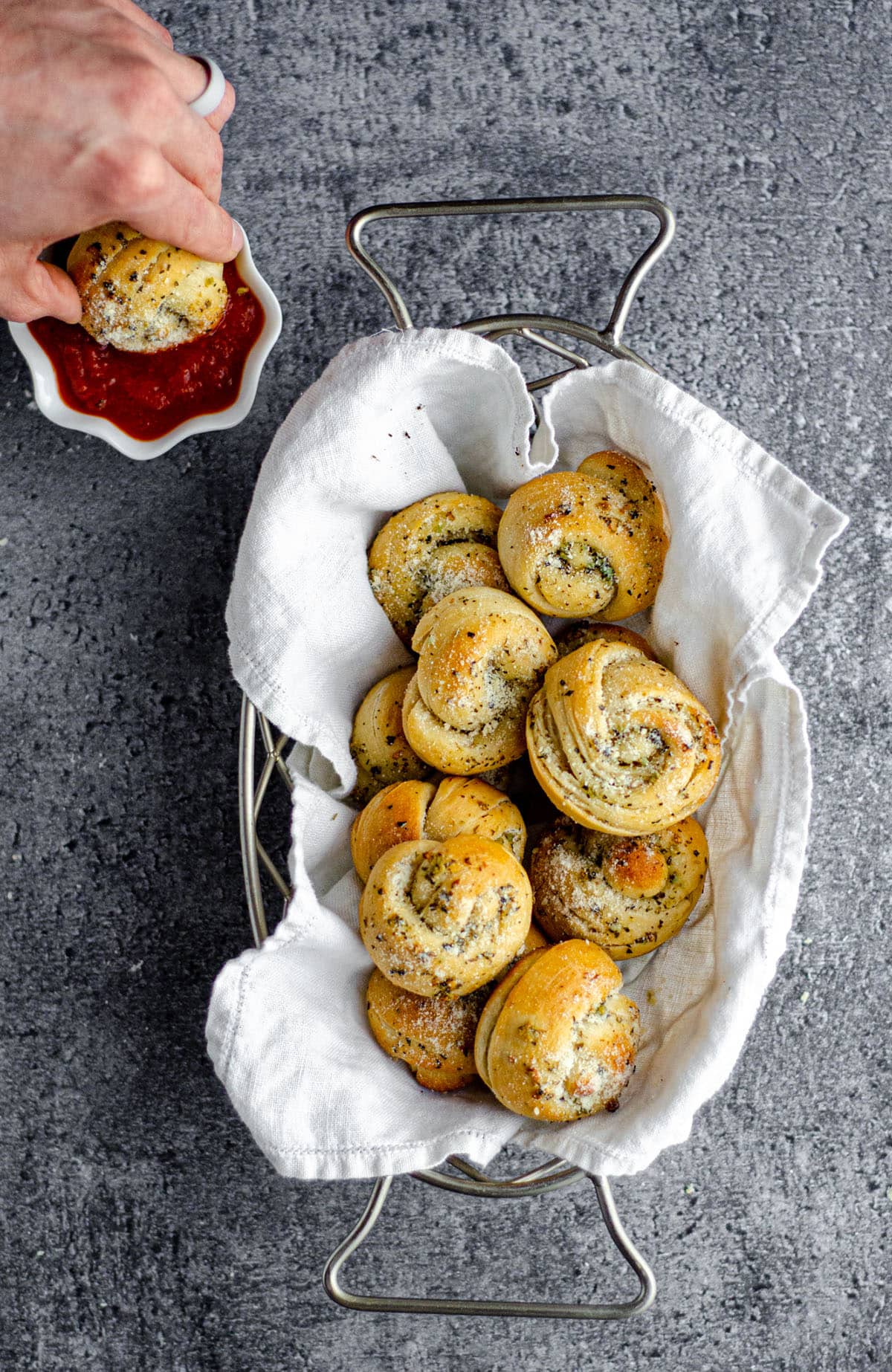 FORM THE GARLIC KNOT
You might be wondering about exactly how to tie garlic knots at this point, because it sounds difficult, but it's really not.
Grab the two ends of each log and "tie" a knot. You won't truly get to put the bread into a tie because, well, it's dough and it's sticky and stretchy, but you'll be able to form an overlap of dough.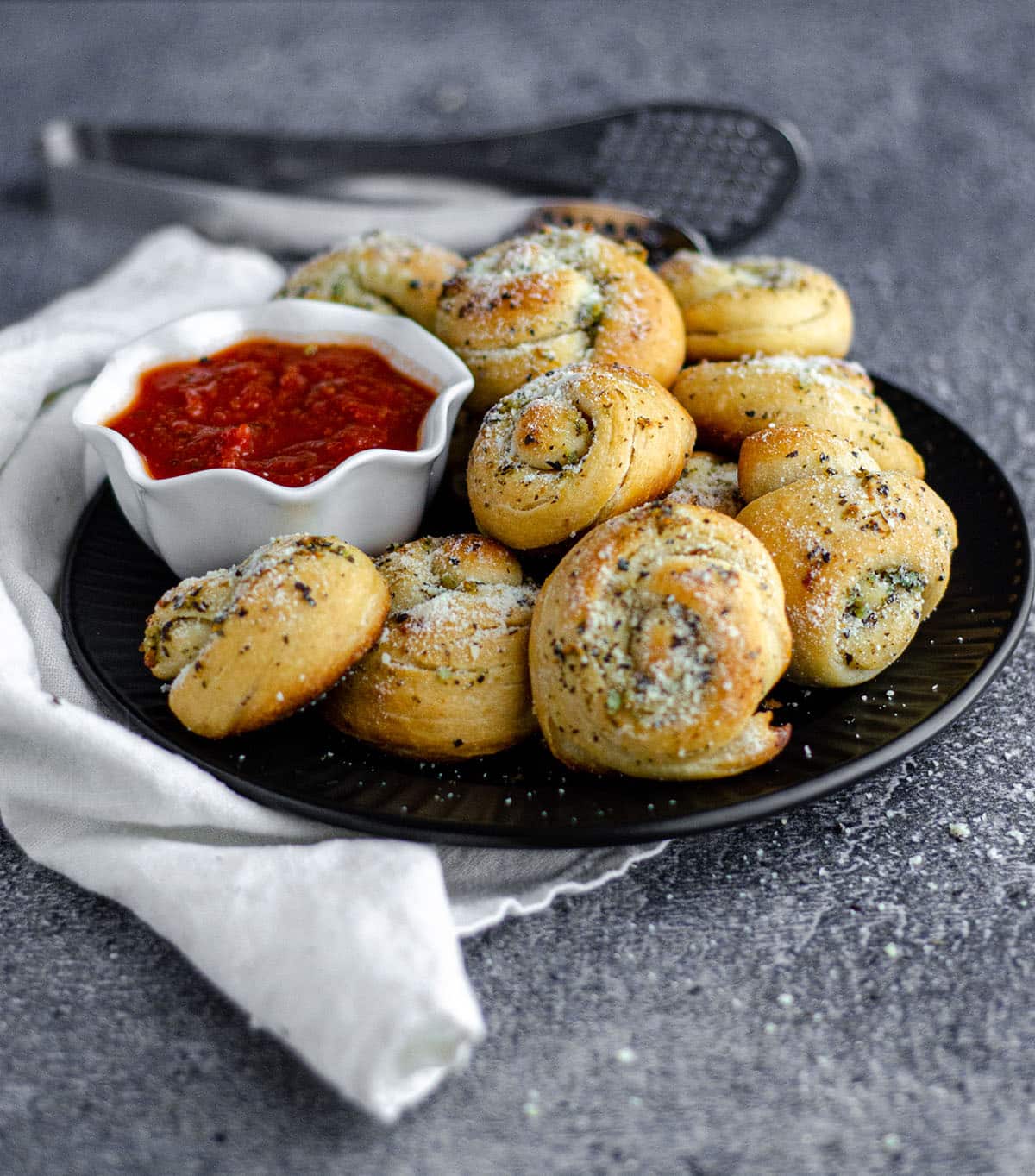 One end will poke out of the top of the knot, and you can tuck the other one under the whole knot. You can also leave the bottom end sticking out if you prefer, but your knots won't be perfectly round. Whatever floats your boat works just fine!
BRUSH THE KNOTS WITH GARLIC BUTTER
Using a pastry brush, brush your seasoned garlic butter onto the raw dough. Don't be afraid to get some garlic chunks in there!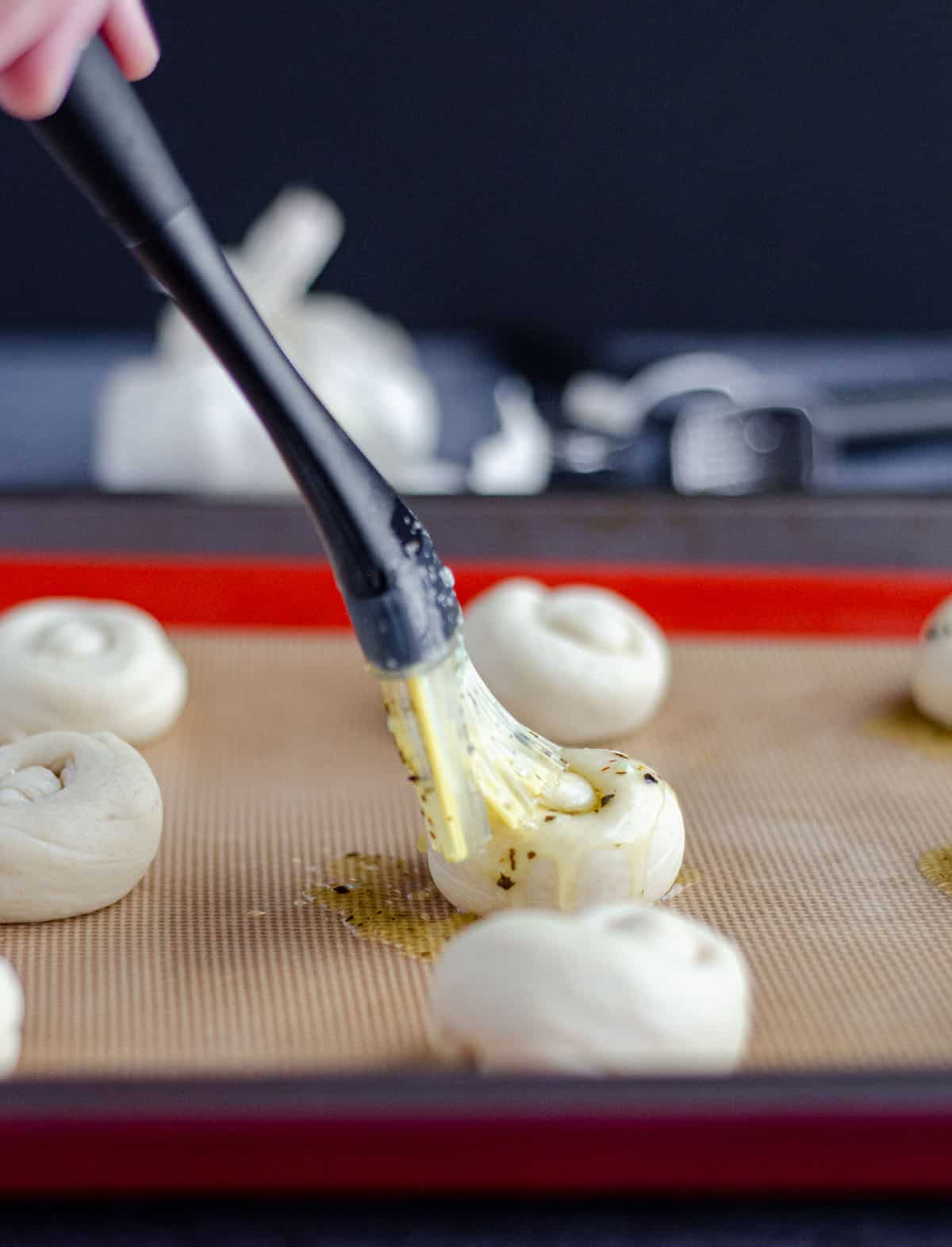 You only need to bake the knots for about 15 minutes, 18 minutes if you want them nice and golden brown. When they come out of the oven, give them one last brush of garlic butter before dusting grated Parmesan over all of the knots.
Easy peasy!
Dip in marinara sauce as a snack, use as a side with soup, or slice in half horizontally and make mini garlic sliders with your favorite fillers.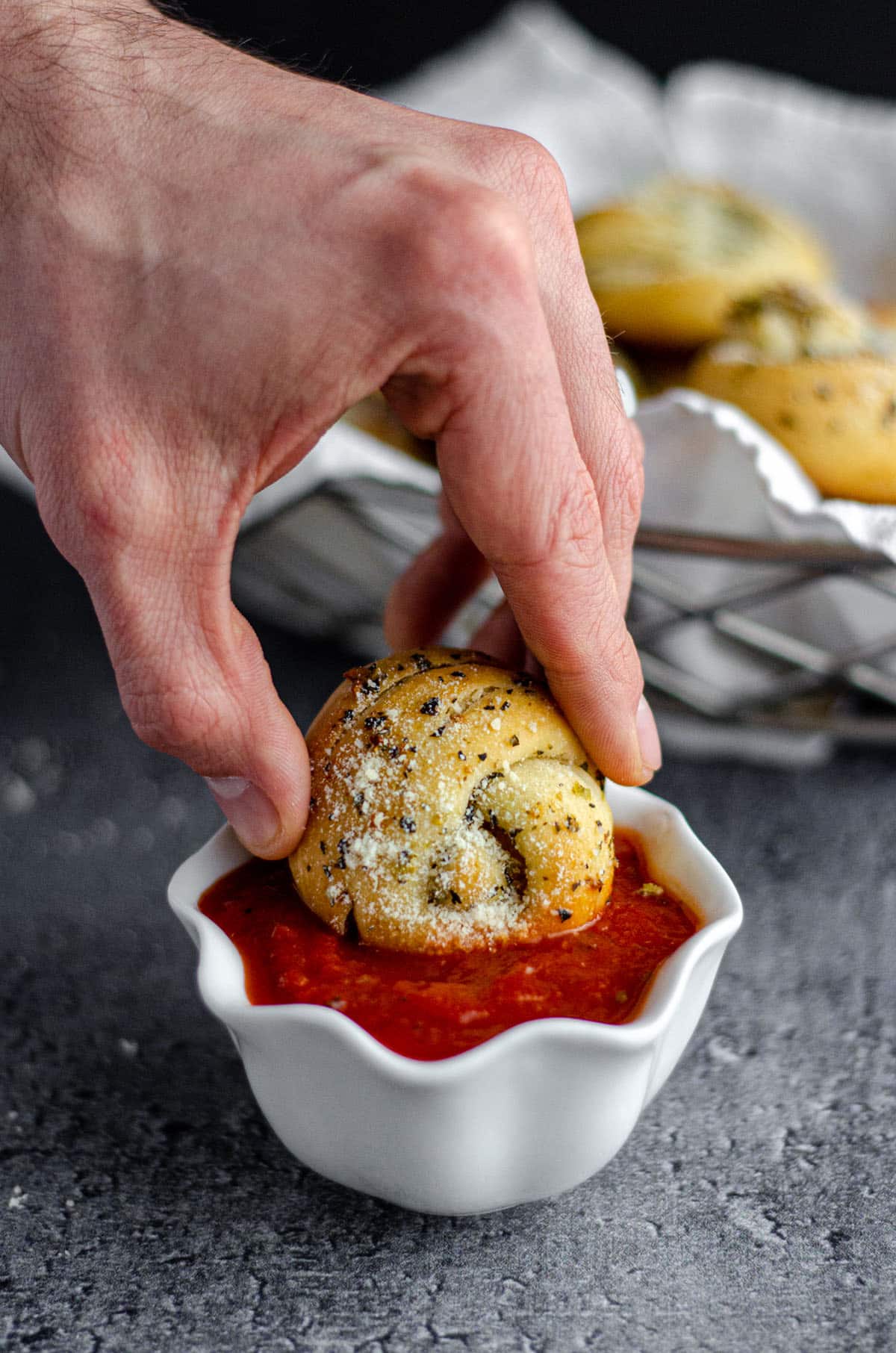 I wish I could say these lasted long in our house, but they didn't. All 12 were gone in a couple days, though I did give 4 away to my brother-in-law who would eat garlic knots until his eyes fell out if he could.
I worried about these garlic knots drying out after sitting at room temperature for a couple days, but keeping them covered tightly and reheating them for 10-12 seconds in the microwave brought them back to life and they were still perfectly soft and fluffy, just like they were right after they came out of the oven.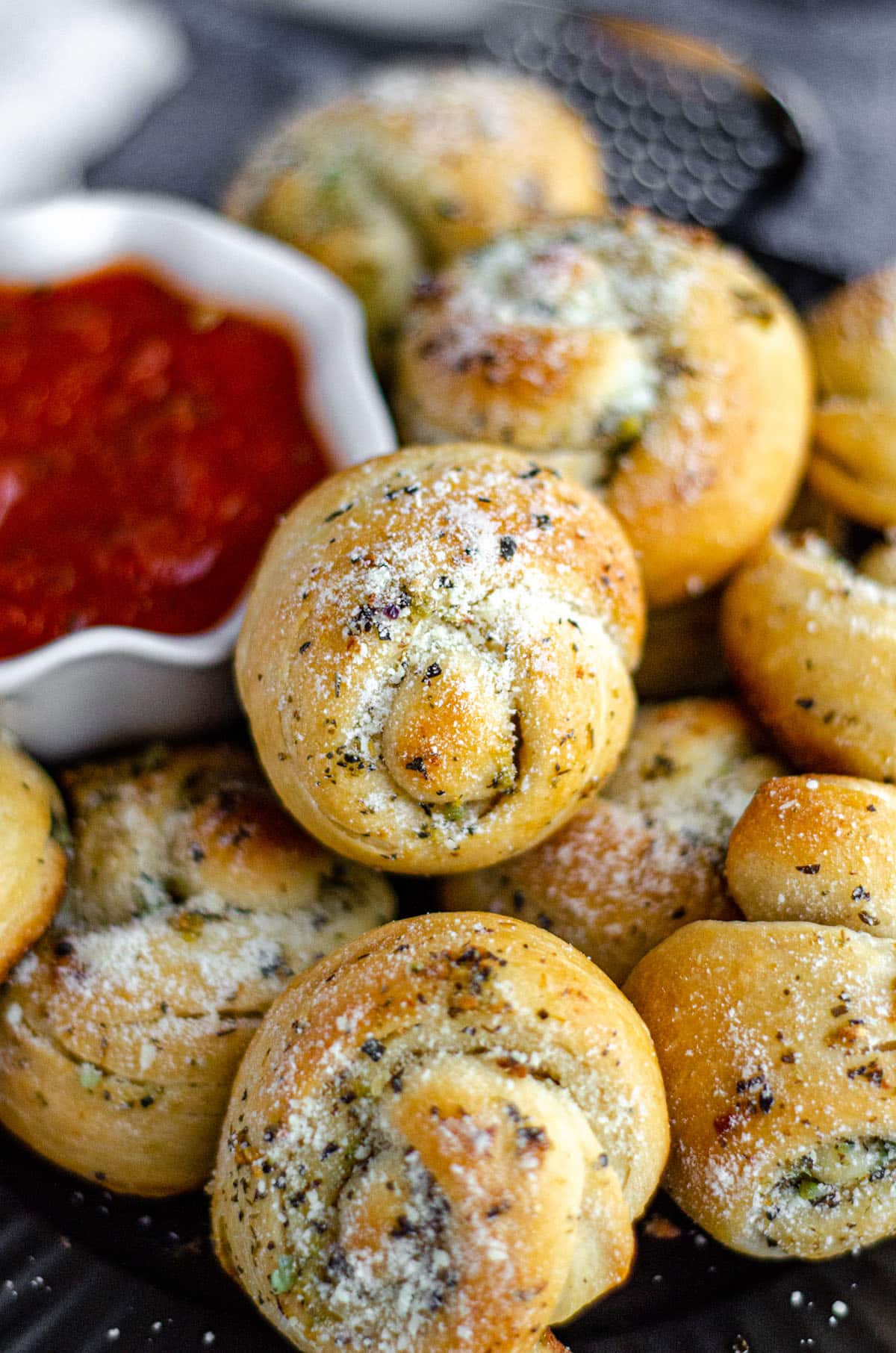 I'm totally breaking this recipe out at Easter, again at birthday parties, Thanksgiving, and Christmas. It's just too easy and too perfect not to use this recipe for garlic knots wherever I can.
So there's your fair warning, anyone who comes to our house for holidays. Garlic knots on the menu, no matter what!
Seriously, who knew making garlic knots from pizza dough could be so easy or so tasty? I certainly didn't, but now I do, and I'll probably never make garlic knots from scratch even if I had all the time in the world.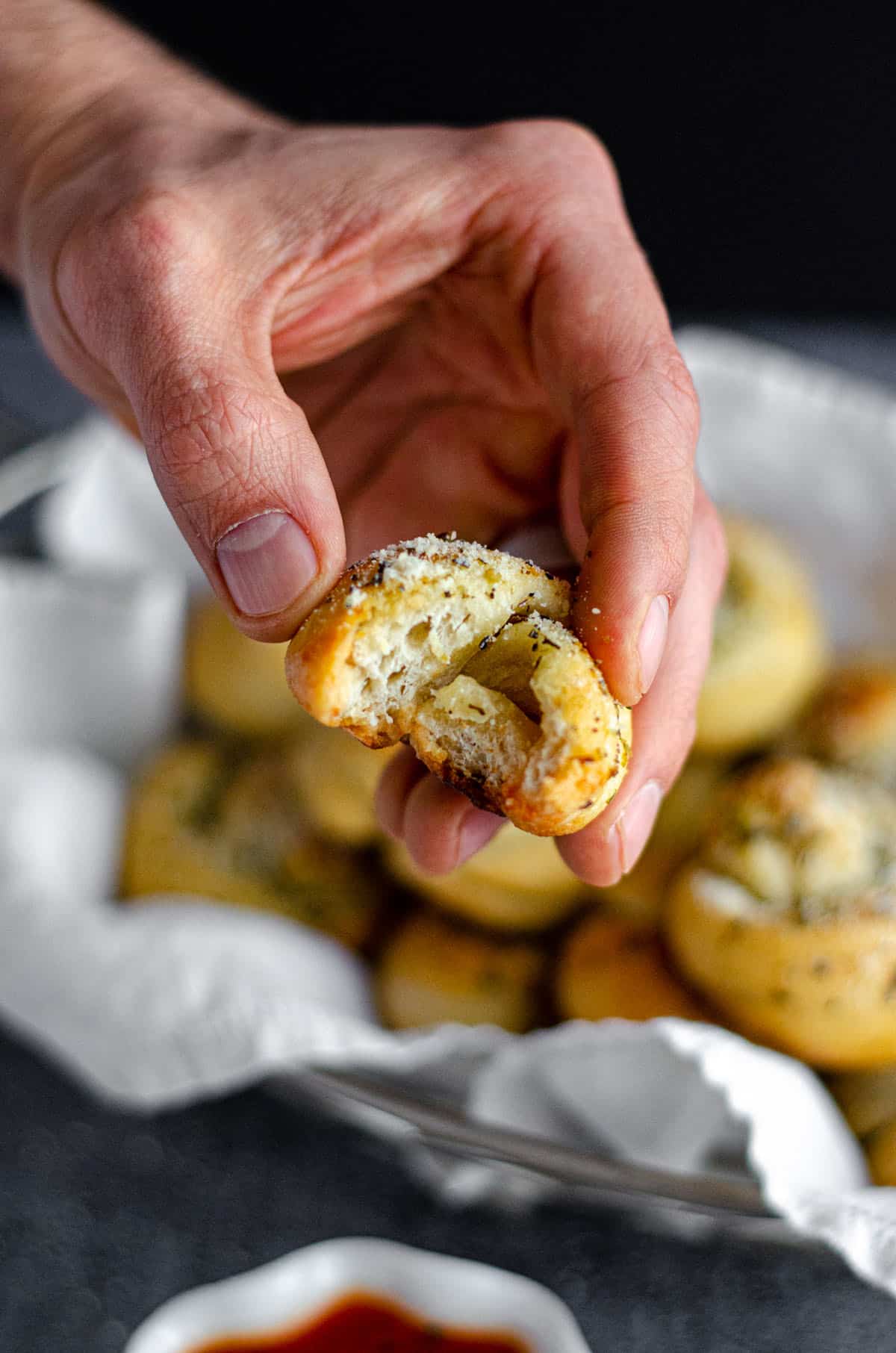 So… Who's having EASY homemade garlic knots tonight?
Homemade Garlic Knots
Easy garlic knots made from store bought pizza dough. Crunchy and flavorful on the outside, soft and fluffy on the inside, and ready in less than 30 minutes.
Servings:
12
garlic knots
Ingredients
1

pound

(454g) pre-made pizza dough

6

Tablespoons

(85g) unsalted butter

3

cloves

garlic

minced

½

teaspoon

dried oregano

½

teaspoon

dried basil

⅛

teaspoon

salt

2 to 3

Tablespoons

(30g) grated Parmesan cheese
Instructions
Preheat the oven to 400ºF (204ºC). Line a large baking sheet with parchment paper or a silicone baking mat. Set aside.

Cut the pizza dough into 12 equal pieces. Roll each piece into a 6-8" long rope. Allow to rest while you prepare the garlic butter.

In a small saucepan over medium heat, melt the butter and the garlic, then allow to cook for 2-3 minutes. Remove from heat, then stir in the oregano, basil, and salt. Set aside.

Form each rope of dough into a knot: grab each end separately and form the dough into a knot by crossing the ends over, tucking one end under the other, and looping it through the hole so it pokes out of the top. You can tuck the other end under the bottom of the knot or leave it out. Place formed knot onto the prepared baking sheet.

Brush each knot with the seasoned butter. Bake knots for 15-18 minutes, or until golden brown. Remove from the oven and brush an additional time with remaining seasoned butter, then sprinkle each knot with grated cheese. Serve immediately with marinara as dipping sauce or as a side. Store leftovers covered tightly at room temperature, up to 4 days. Reheat in the microwave for 10-12 seconds before serving. Knots freeze well, up to 2 months. Thaw in refrigerator and warm as needed.
Nutrition Disclosure
All nutritional values are approximate and provided to the reader as a courtesy. Changing ingredients and/or quantities will alter the estimated nutritional calculations.
Serving:
1
garlic knot
|
Calories:
149
kcal
|
Carbohydrates:
18
g
|
Protein:
3
g
|
Fat:
7
g
|
Saturated Fat:
4
g
|
Polyunsaturated Fat:
1
g
|
Monounsaturated Fat:
2
g
|
Trans Fat:
0.2
g
|
Cholesterol:
16
mg
|
Sodium:
313
mg
|
Potassium:
5
mg
|
Fiber:
1
g
|
Sugar:
2
g
|
Vitamin A:
184
IU
|
Vitamin C:
0.002
mg
|
Calcium:
11
mg
|
Iron:
1
mg