Orange Creamsicle Cupcakes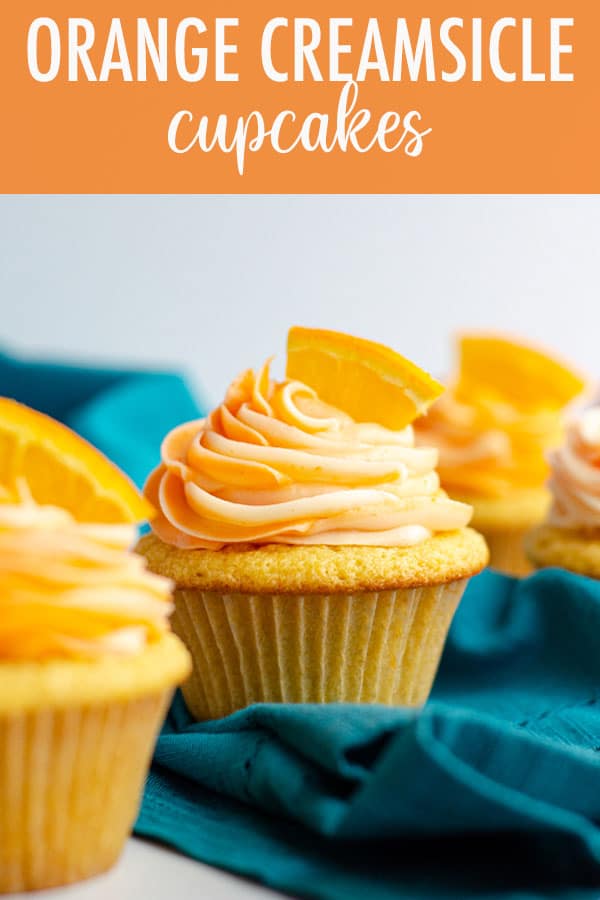 As an Amazon Associate, I earn from qualifying purchases. Read the full disclosure here.
Simple orange cupcakes topped with swirls of orange and cream cheese frostings.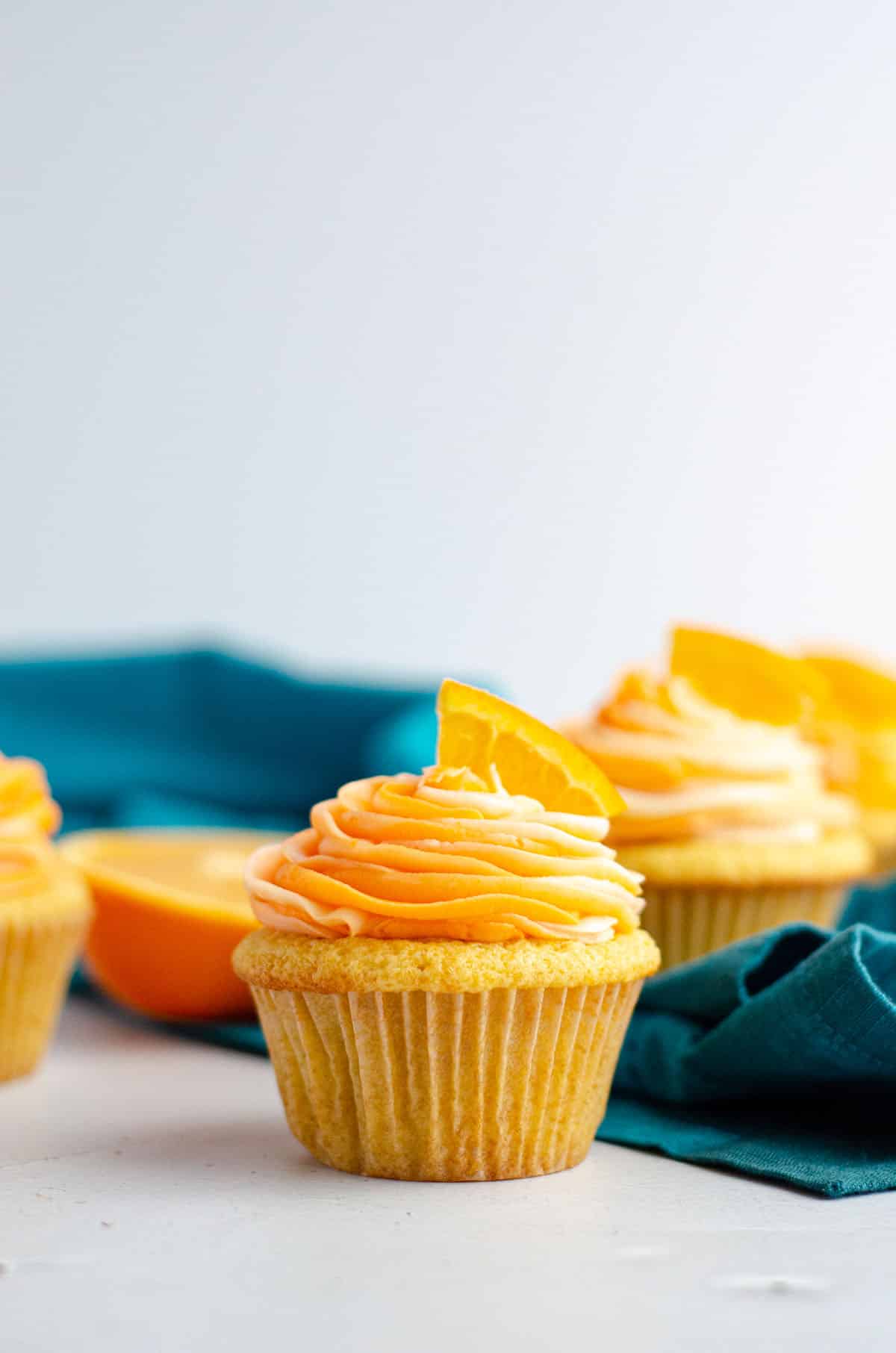 Let's think back to childhood for a second…
Do you have a flavor that instantly comes to mind when you think of a treat you had often? My childhood flavors are cardamom and orange creamsicle. Weird combo, huh?
I know that my mom used to make these cardamom rolls a lot, so that explains that one, but for whatever reason, I know there were almost always orange creamsicle popsicles in our freezer, though I can't remember if it really was almost always, or if I have a specific memory of one season that I ate them a lot?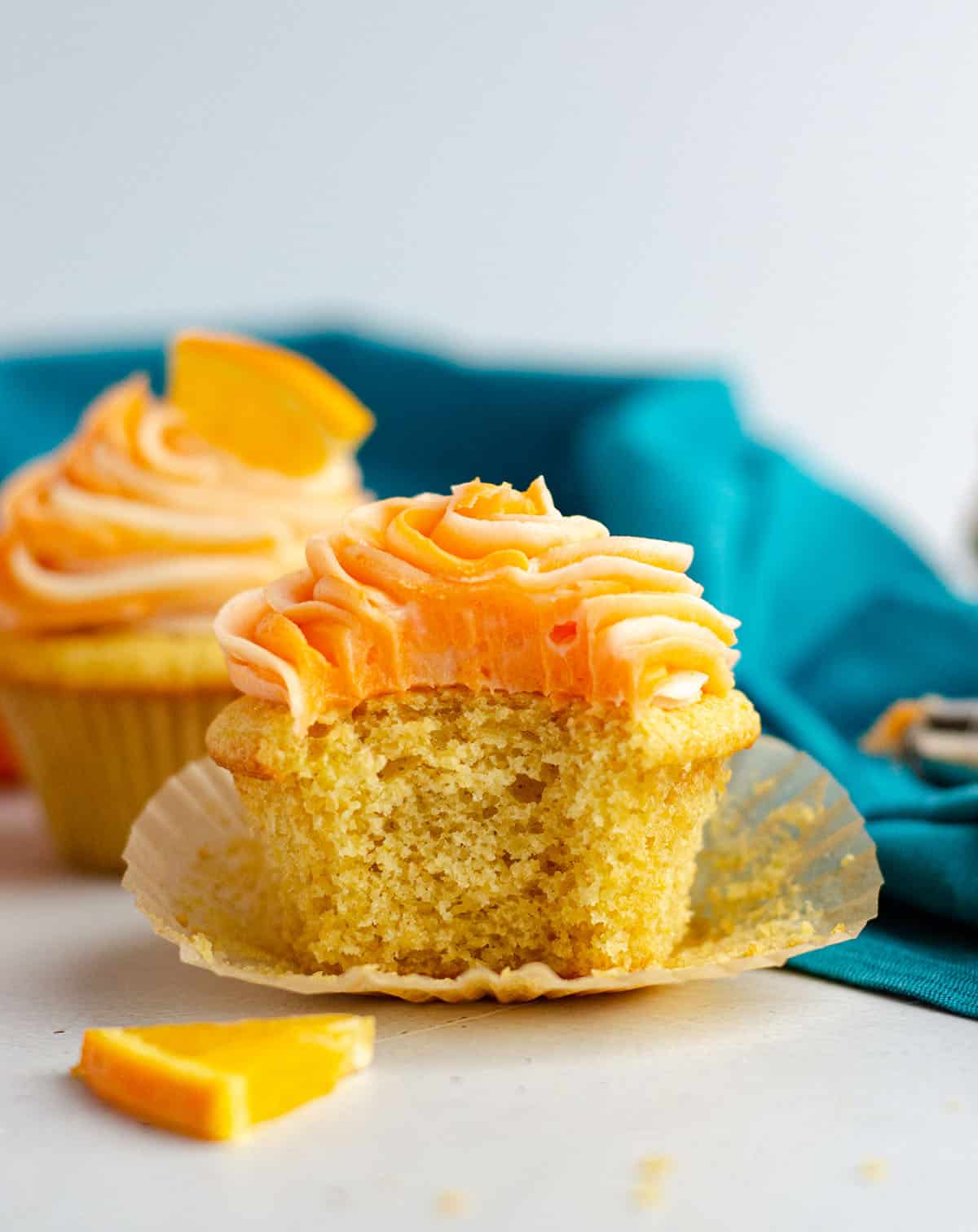 I truly have no clue. But I know that I associate the orange creamsicle flavor with my childhood. So these orange creamsicle cupcakes are my childhood taste memory in baked good form.
A few years ago, I shared a triple lemon cupcake recipe with you. That cupcake featured a soft lemon cupcake, filled with my homemade lemon curd, and topped with a lemon buttercream.
I modeled today's orange creamsicle cupcakes after those rather than converting my orange creamsicle layer cake into cupcakes for a couple reasons.
For starters, that layer cake is dense. It's supposed to be! It's a wonderful cake and it always gets fantastic reviews. But dense doesn't always translate well to cupcake land, but I knew I had a good lighter crumb going on in those lemon cupcakes, so I made the swap there.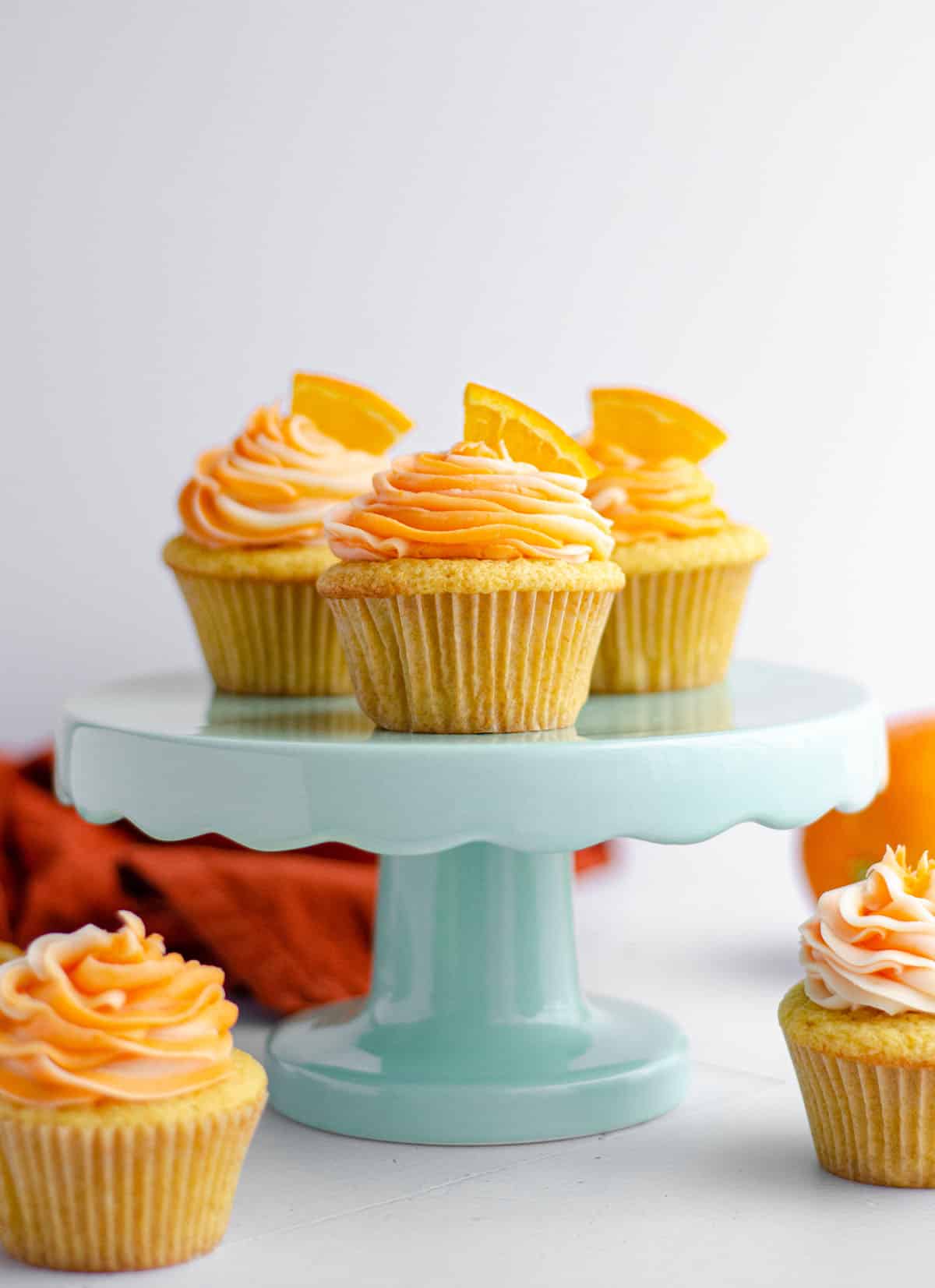 While we aren't filling these cupcakes with any orange curd (I mean, now that I've typed that, I want to make some because I think that would be aaaaamazing and I'd put it on allofthethings), we are bringing massive orange flavor to these cupcakes in the form of some fancy(ish) frosting.
Side note: today's recipe comes with a little something extra.
My husband's gym's resident photographer, Lisa, came to do this photoshoot with me. She needed some photos on a specific back drop, and I needed new head shots, so we banned together and came out on the other side with some really great pictures.
Because Lisa was there, we get some pictures to go along with this post that I wouldn't normally get to have, such as me filling a piping bag (more on that one in a second) and my hand piping frosting onto a cupcake.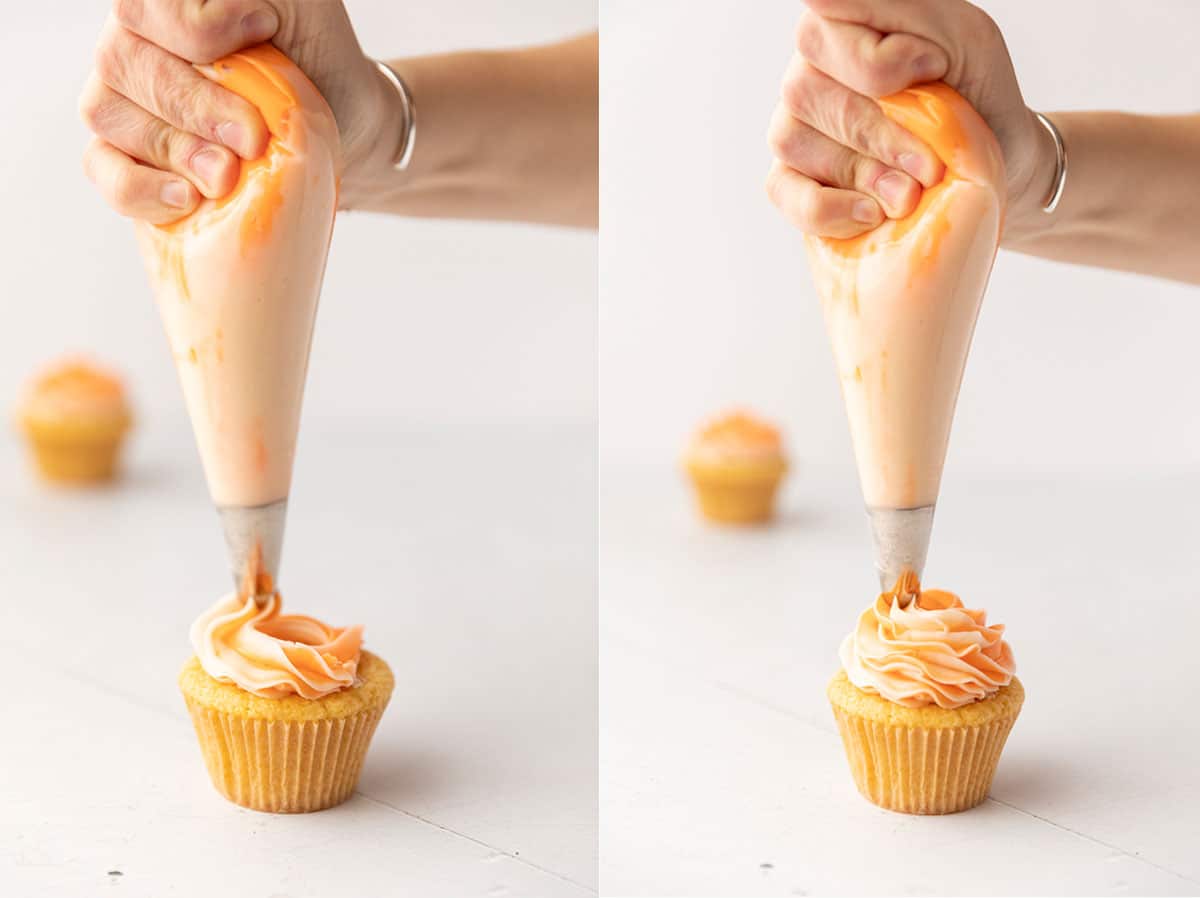 Lisa is a wedding photographer by trade, but she really brought her A game to our photoshoot, and I'm so happy to have some of these photos here of me doing my thang!
Big THANKS to Lisa for all she did for us.
Ok, back to cupcakes.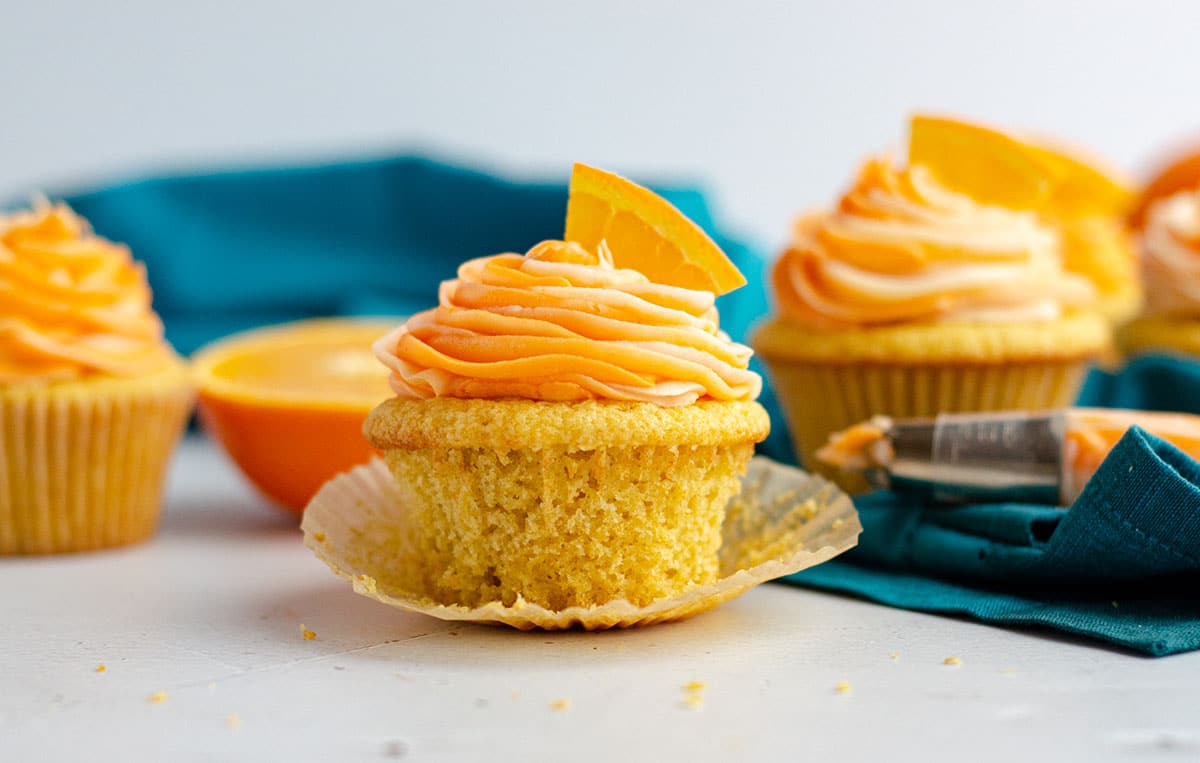 When it comes to the actual breakdown of what's happening in these easy orange cupcakes, they're really the best orange cupcake recipe I've got. They have moisture without being weighed down, and they have a tight crumb that brings all the orange flavor.
They're almost like orange buttermilk cupcakes, since we're putting the fresh squeezed orange juice right into the milk.
If you recall, a few weeks ago I told you that you can make your own homemade buttermilk by putting lemon juice or vinegar into milk.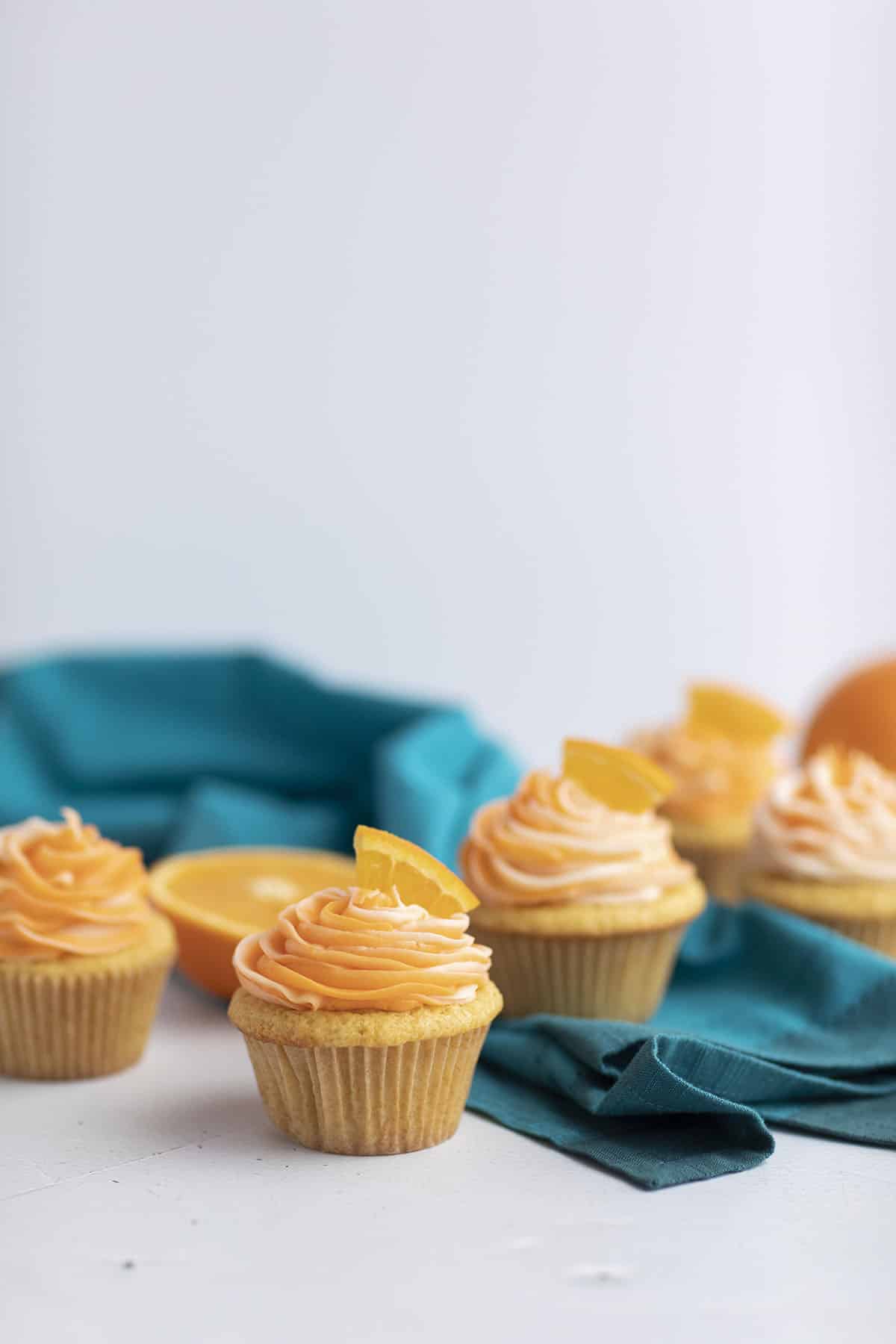 Putting orange juice in is exactly the same idea, but since lemons have a little more of a neutral taste, I swapped them for oranges to really bring the orange flavor to these orange cupcakes.
I do have to caution to you though: do not overmix this batter. In order to keep the tight, light crumb, stirring this batter carefully and slowly is the ticket.
If you're gentle and patient with the batter, you will be rewareded handsomely with a light and creamy vanilla cupcake that is bursting with orange flavor.
Now, about that frosting…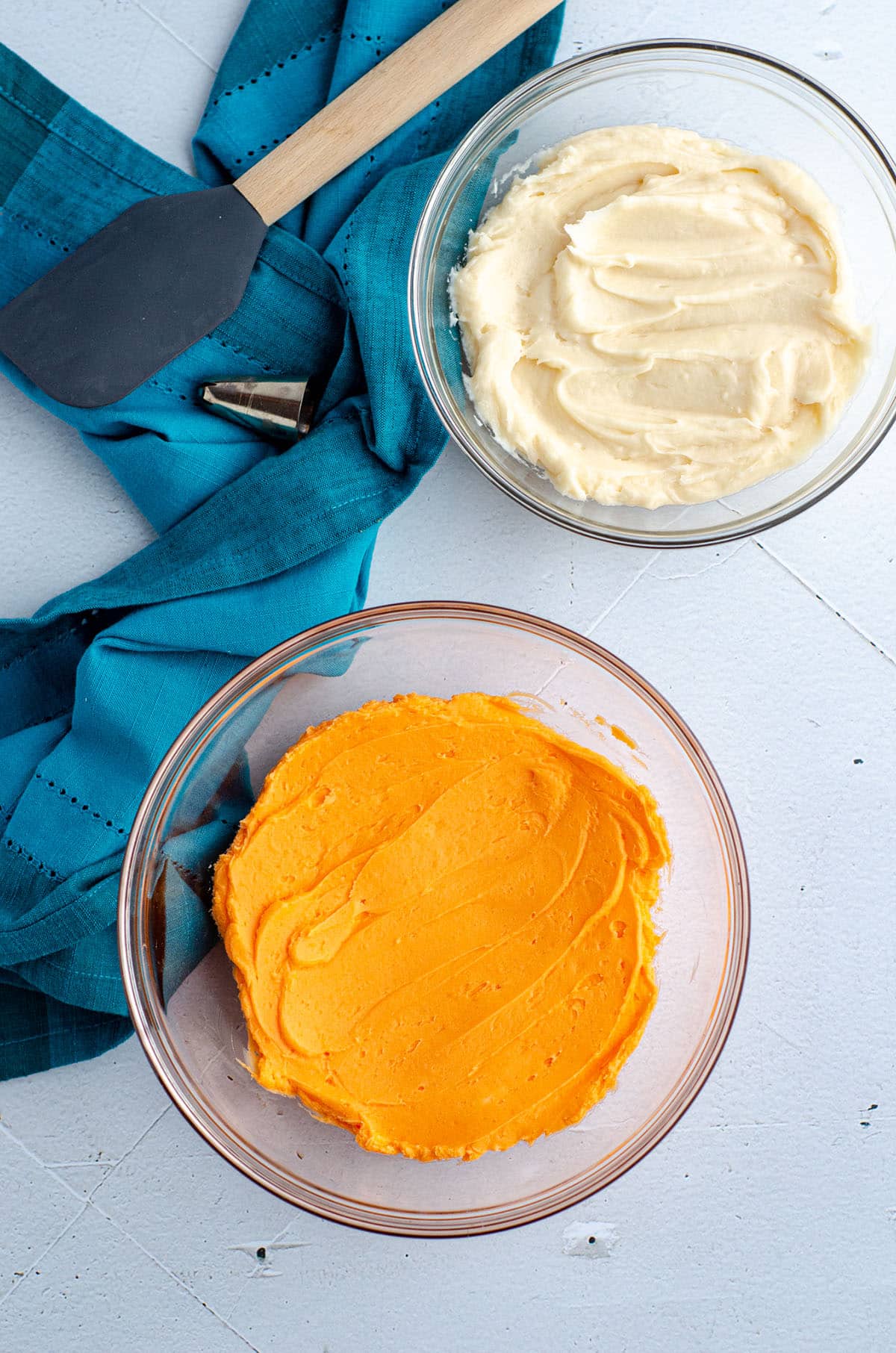 I debated what to top these cupcakes with. Originally, I thought about making an orange cream cheese frosting, much like I did with my orange creamsicle layer cake, but I also wanted a beautiful orange color to go on top, so I opted for a little of both.
On top of these orange cupcakes sits a swirl of classic cream cheese frosting paired with an easy orange frosting recipe.
The orange frosting is really just my basic vanilla buttercream, thinned out with orange juice instead of milk or cream, flavored with orange zest, and colored with just a touch of orange coloring.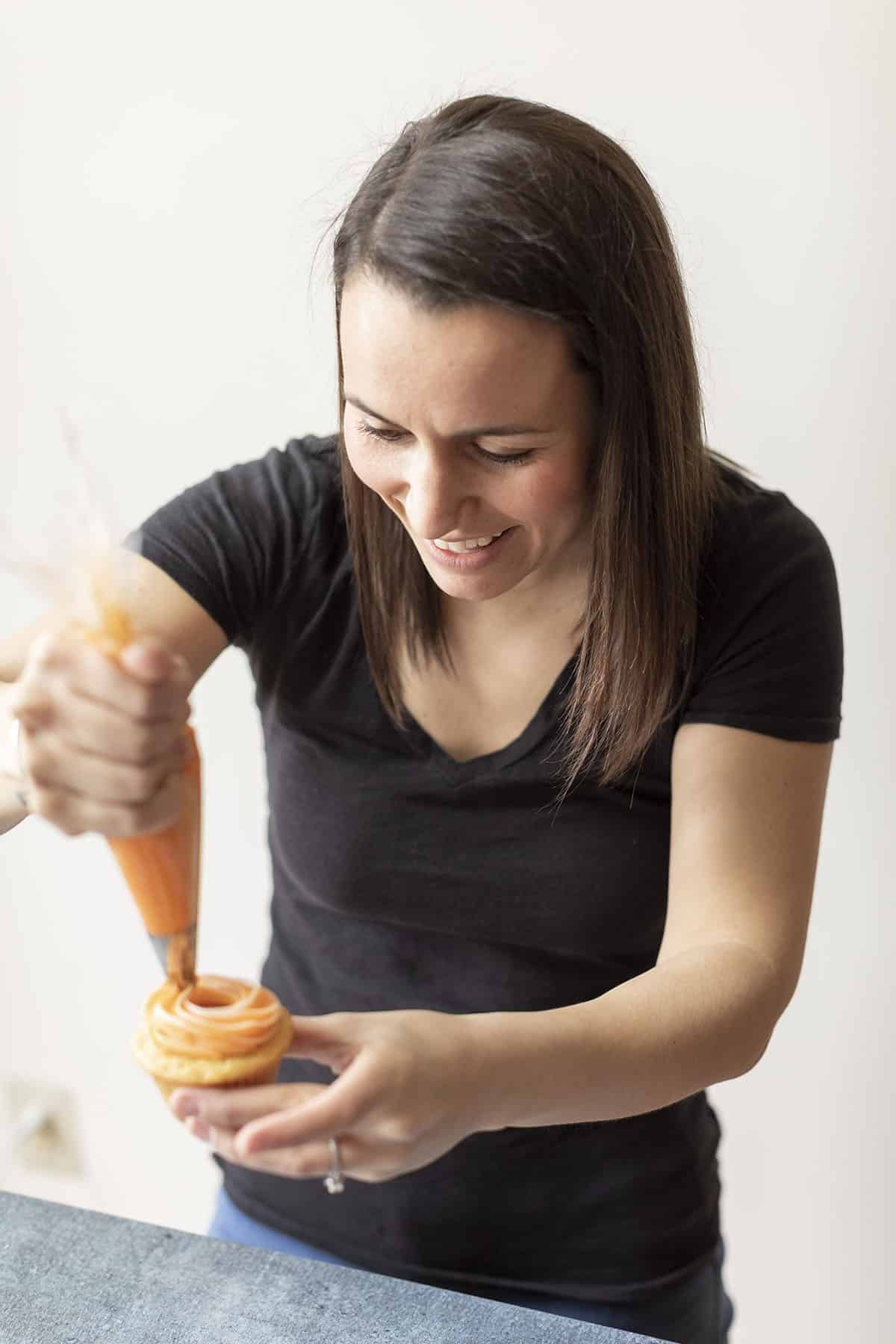 For the color, I turned to my favorite brand, AmeriColor. I used "orange" to get this gorgeous orange hue.
I did absolutely nothing fancy to fill my piping bag with these swirled frostings. I simply put one small scoop of each at a time into my piping bag, making sure to alternate which frosting went in next, and the result was a perfectly swirled combo.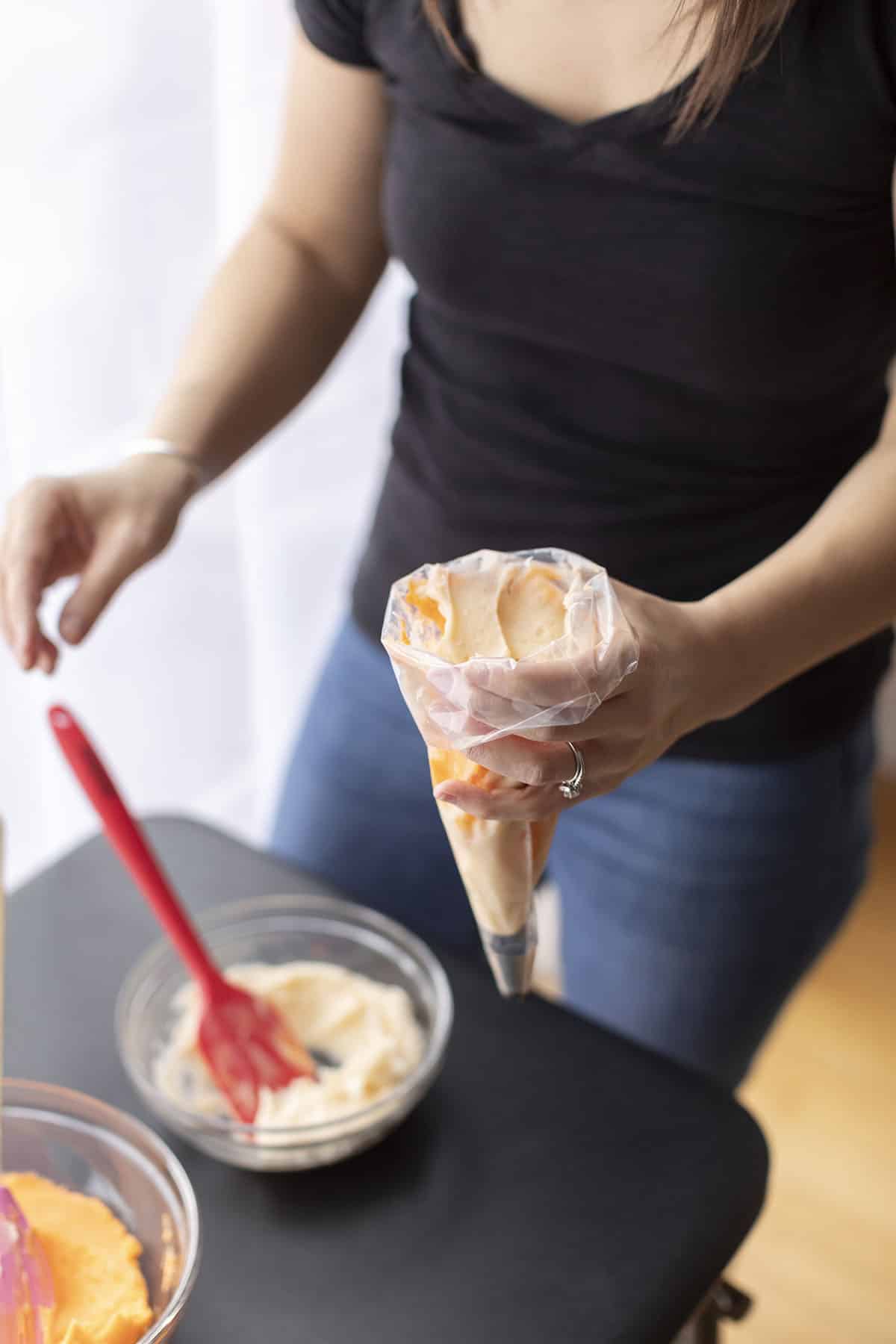 I am so happy with the way these cupcakes turned out, especially since I sort of threw the idea for them together the night before Lisa came over for our shoot.
I had originally planned to photograph something completely different, but was in serious need of some baking therapy, so orange creamsicle cupcakes it was!
Easy, adorable, bright, spring/summery, and perfect for what we hope is warmer weather in not too many weeks away. They'd also make a beautiful Easter dessert.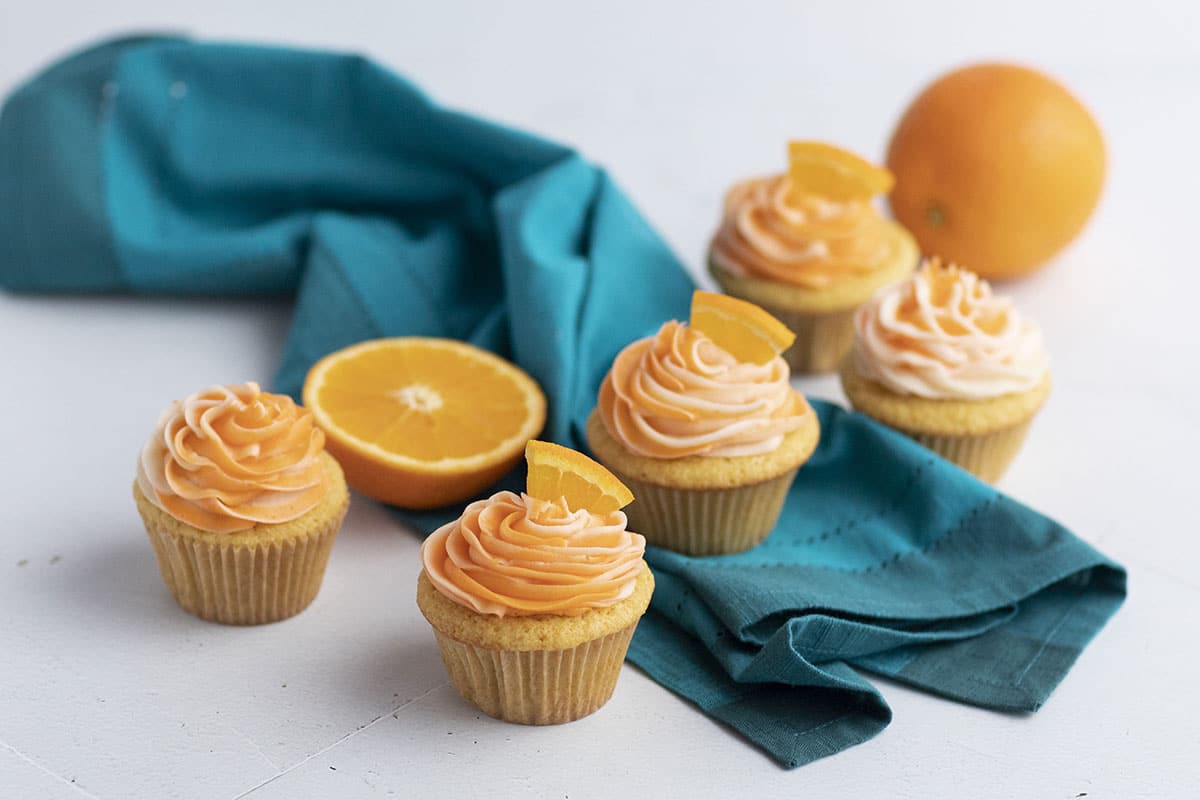 I can't wait for you to try them and I'm looking forward to seeing your orange swirl cupcakes!
Orange Creamsicle Cupcakes
Simple orange cupcakes topped with swirls of orange and cream cheese frostings.
Ingredients
ORANGE CUPCAKES
1 and ½

cups

(180g) all-purpose flour be sure to measure properly

2 and ½

teaspoons

baking powder

½

teaspoon

salt

½

cup

(113g) unsalted butter

softened to room temperature

¾

cup

(150g) granulated sugar

2

large eggs room temperature1

2

teaspoons

vanilla extract
zest of one whole orange

¼

cup

(60mL) orange juice

¼

cup

+ 2 Tablespoons (75mL) milk

any
ORANGE BUTTERCREAM
¼

cup

(58g) unsalted butter

softened to room temperature

1

cup

(120g) powdered sugar

⅛

teaspoon

vanilla extract
zest of half of an orange

1 and 1/2

Tablespoons

(22mL) orange juice
CREAM CHEESE FROSTING
4

ounces

(112g) full fat block cream cheese

softened to room temperature

¼

cup

(58g) unsalted butter

softened to room temperature

1 and 3/4

cup

(210g) powdered sugar

1

teaspoon

vanilla extract

⅛

teaspoon

salt
Instructions
ORANGE CUPCAKES
Preheat the oven to 350ºF (177ºC). Line a 12 count cupcake pan with cupcake liners.

In a medium size bowl, toss together the flour, baking powder, and salt. Set aside.

In a large bowl with a handheld mixer or the bowl of a stand mixer fitted with the paddle attachment, beat the butter and sugar on medium-high speed until light and fluffy (about 3 minutes). Add each egg, one at a time, beating on medium-high speed until fully incorporated, scraping down the sides as necessary. Add the vanilla extract and orange zest and beat again until combined.

Stir the orange juice into the milk. Scrape down the sides of the mixer bowl and turn the mixer speed to low. Add the flour in 2 additions, alternating with the milk/orange juice. Remove bowl from mixer and stir with a spatula until everything is completely combined.

Spoon batter evenly into prepared cupcake liners (I prefer to use an ice cream scoop with a trigger) and bake 16-18 minutes or until a toothpick inserted in the center of a cupcake comes out clean. Remove from oven and allow to cool completely before filling.
ORANGE BUTTERCREAM
In a medium size bowl with a handheld mixer, or a stand mixer fitted with the paddle attachment, beat the butter on medium speed until creamy, about 2 minutes.

With the mixer on low, add in the powdered sugar, vanilla, orange zest, and orange juice. Increase mixer speed to medium and beat until completely smooth, about 3 minutes. If frosting is too stiff, add more orange juice. If it is too thin, add more powdered sugar.
CREAM CHEESE FROSTING
In a large bowl with a handheld or the bowl of a stand mixer fitted with a paddle attachment, beat the cream cheese and butter together on high speed until smooth and creamy. With the mixer on low, add the powdered sugar, vanilla, and salt.

Increase mixer speed to medium-high and beat for 2 minutes.
DECORATE CUPCAKES
Fill a large zip top bag with the corner snipped off or a pastry bag fitted with a Wilton 2D piping tip. Scoop alternating frostings into the bag. There does not have to be a perfect method to filling the bag, as long as there are alternating scoops of each frosting going into the bag.

Frost the cupcakes and garnish with sliced orange, if desired.

Store cupcakes in the refrigerator up to 5 days. If you need to travel with and serve them, it's ok if they are at room temperature for awhile. Just be sure to refrigerate them to store them.
Notes
Room temperature eggs: these incorporate into batter much more easily than cold eggs. Allow to sit at room temperature for 45 minutes. If you don't have time, place eggs in a bowl of warm water for 10 minutes or until ready to use.
Nutrition Disclosure
All nutritional values are approximate and provided to the reader as a courtesy. Changing ingredients and/or quantities will alter the estimated nutritional calculations.
Serving:
1
cupcake
|
Calories:
378
kcal
|
Carbohydrates:
54
g
|
Protein:
4
g
|
Fat:
17
g
|
Saturated Fat:
10
g
|
Polyunsaturated Fat:
1
g
|
Monounsaturated Fat:
4
g
|
Trans Fat:
1
g
|
Cholesterol:
70
mg
|
Sodium:
291
mg
|
Potassium:
82
mg
|
Fiber:
0.4
g
|
Sugar:
41
g
|
Vitamin A:
540
IU
|
Vitamin C:
4
mg
|
Calcium:
101
mg
|
Iron:
1
mg