As an Amazon Associate I earn from qualifying purchases.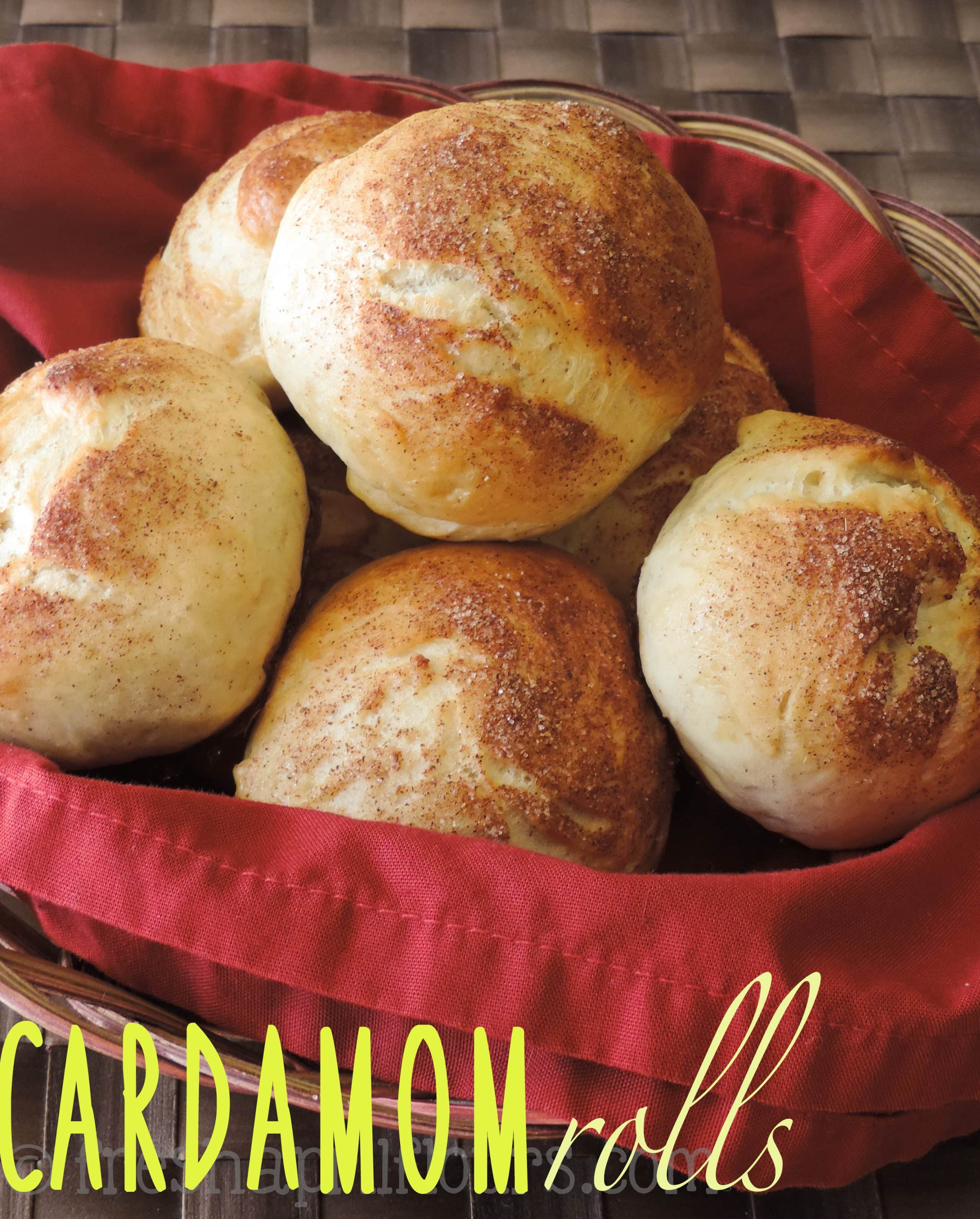 These spiced and slightly sweet yeast rolls are crunchy on the outside and pillowy soft on the inside.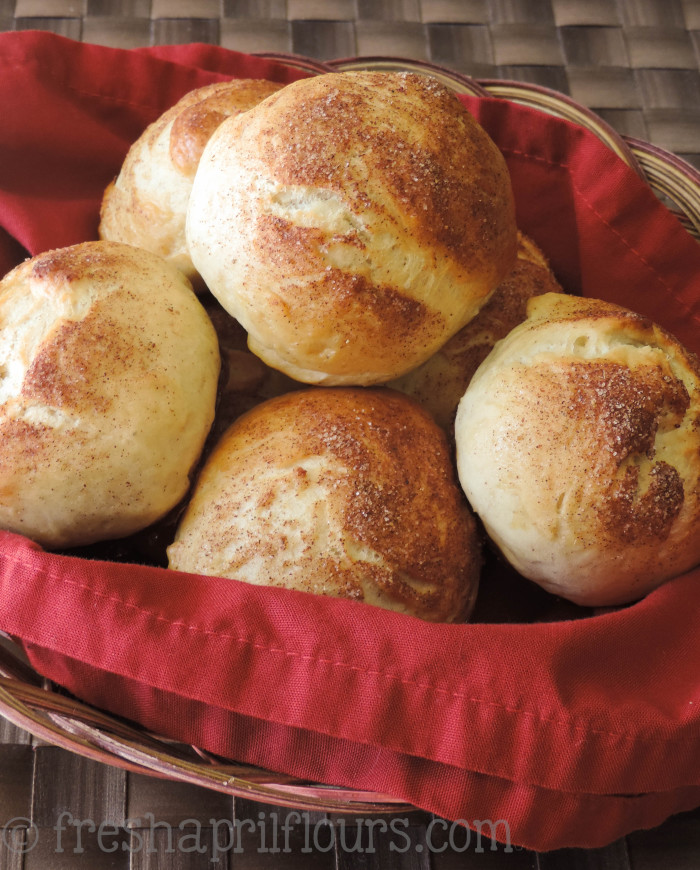 It's been awhile since I tackled the yeast bread world, and now that we are dipping into colder temperatures, I'm feeling more and more like yeast breads need to occur a little more frequently in the FAF kitchen. Not only that, but we have several amazing meals coming up in our near future, and what's a big, hearty, Italian family gathering (holiday or otherwise) without some great bread?
If you've read my DeAngelis Family Easter Pizza post (you probably haven't– it was my very first recipe, and here's the updated one: Italian anise bread), you'll know that the yeast bread world is fairly new to me.
It was always something I was too scared to try, but once I put on my big girl pants and just went for it, it turned out it wasn't as hard as I was predicting it to be.
And that's why I'm writing this post! Because you, too, can make yeast bread!
Fear not, I'm here to show you it's easy. With pictures and everything!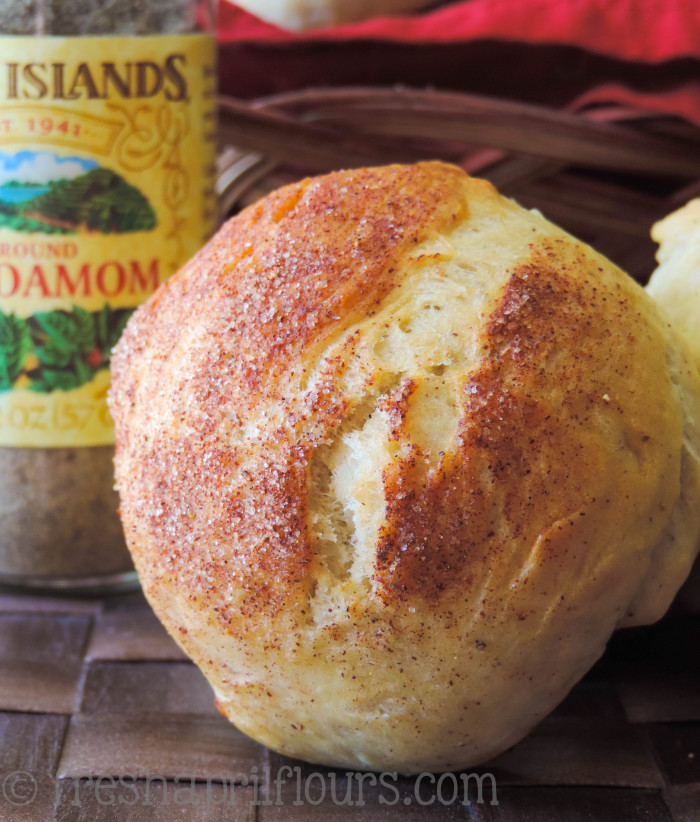 Before I get to the good stuff, let me tell you a little about this recipe. It comes from my mother (hi, Marm!), and it's one of my favorites. This bread reminds me of my childhood– a childhood scented with cardamom.
We've talked about cardamom before in my chai cake, and we're going to talk about it again, I'm sure (all of my recipes with cardamom). It's one of my very favorite spices– spicy like cinnamon but with a whole different flavor profile.
The two go very nicely together, and the original recipe doesn't use both. The combination was an executive decision, and as I tasted the first bite of a roll fresh from the oven, I gave myself a nice pat on the back.
Actually, I asked Matt to pat me on the back, because my hands were full of soft, cardamom-y bread and I totally had cardamom-cinnamon-sugar all over my fingers.
Just like any yeast bread, this is not a recipe that you can just throw together. You'll need to set aside some time for this one and plan ahead. Although you can throw the ingredients together, the dough itself will need two rises for a total inactive rising time of 3 hours.
What is rising? Super nerd alert!
Yeast is a living fungus that is inactive until it comes in contact with warm water. When yeast is combined with sugar in a bread dough, it begins to feed off of the sugar, releasing carbon dioxide, causing the dough to rise.
As the dough rises, the gluten in the flour develops and helps to create the stretchy texture of the inside of bread.
After the first rise, you will punch down your dough and allow a shorter, second rise.
Releasing the gas encourages the yeast to get to work again and develop the gluten further, refining and softening it. Once the dough bakes, the yeast dies, the gluten hardens, and we are left with beautiful, soft bread.
Neat, right?!
All that being said, this is how a yeast bread is different from a quick bread that uses baking soda and/or baking powder to make it rise at a more rapid rate. The crumb is dense and more cake-like (because there isn't a lot of gas or time to allow much gluten to develop).
Ugh, I love science.

Keading is the other thing that can be a little bit intimidating when it comes to making a yeast bread, but this step is also not hard. Plus, if you'd rather not knead your bread by hand, you can always use the dough hook on your stand mixer.
Personally, I like to use my dough hook just to get everything going, but for the most part, I will knead by hand. The more you knead by hand, the more you know what to feel and look for as your dough goes through its pre-baking stages.
Also… It makes me feel olden time-y and like I'm doing my grandparents proud and not being completely dependent on my electric mixer.
No worries, I go into thorough detail about all of this mumbo jumbo in the recipe below.
Now, let's talk about how good these rolls are. They are so so so(oooo) good. I know, cardamom isn't something you probably keep in your pantry, so if you really don't want to go out of your way to purchase some, simply leave it out (although please know I will be crying inside for you because you'll be missing out on such a wonderfully flavored treat!).
Once you've rolled your dough into small roll sizes, they get doused in an egg wash that gives them that signature shiny and slightly crispy top of a really great bakery roll.
After the egg wash, the rolls are topped off with a generous sprinkling of cardamom-cinnamon-sugar that was also an afterthought for my recipe. It is out of this world good.
It gets nice and crunchy as the rolls bake in the oven, and it adds just the right amount of sweetness to every soft and doughy bite of bread.
These rolls are best enjoyed hot from the oven, but they are pretty darn close to just as good warmed up in the microwave for 10 seconds if they've come to room temperature. I love to spread butter on my rolls, and although they are quite tasty without any butter, they are divineeee slathered in that good stuff.
I've even been known to add a little cinnamon and sugar to my butter just to challenge my will power even more and try to stop at one roll. Seriously, be careful… These rolls are dangerously delicious.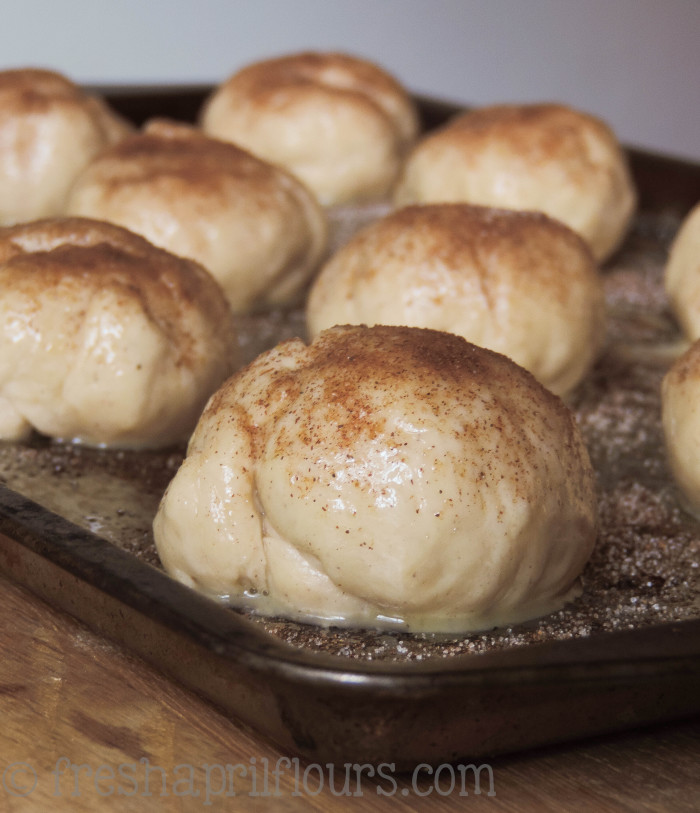 These cardamom rolls make a wonderful addition to a savory meal and can even be enjoyed as a dessert. The dough is forgiving and if you're not familiar with how to approach a yeast bread, this is a great recipe to start with.
Just be forewarned… I'm telling you it's going to be hard to stop nibbling on these wonderfully spiced pillows, and you might just become a pro at yeast breads with how often you'll want to make these.
We can just call it really great practice, ok?
Go ahead, challenge yourself in your kitchen and then challenge your tastebuds to refuse these super soft, perfectly sweet and ever so lightly spiced rolls. I bet one will be easier than the other…
Happy rising!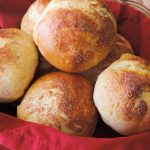 Print Recipe
Cardamom Rolls
These spiced and slightly sweet yeast rolls are crunchy on the outside and pillowy soft on the inside.
Ingredients
4

Tablespoons

unsalted butter

melted and cooled

2 and 1/4

teaspoons

dry active yeast

or 1 packet

1/4

cup

warm water

1/2

cup

milk

any

1/4

cup

granulated sugar

1/2

teaspoon

cardamom

1/4

teaspoon

ground cinnamon

1 and 1/2

teaspoons

salt

2

large eggs

divided, each lightly beaten

2 and 1/2 to 3

cups

flour

all-purpose or bread is fine
CARDAMOM-CINNAMON SUGAR COATING
3/4

teaspoon

granulated sugar

1/2

teaspoon

ground cinnamon

1/4

teaspoon

cardamom
Instructions
PREPARE THE DOUGH
In a small bowl, melt butter and set aside.

In another small bowl, combine yeast and warm water. To obtain the right temperature of water, run your wrist in the stream of tap water, adjusting the temperature until you can no longer feel the temperature of the water on your wrist (you will feel it if it is too hot or too cold). Stir with a fork until dissolved.

In a large mixing bowl, blend the milk, 1/4 cup granulated sugar, 1/2 teaspoon cardamom, 1/4 teaspoon cinnamon, and salt. Add the cooled butter, 1 egg, and yeast mixture, blending well. With the dough hook attachment or with a wooden spoon, beat in flour, beginning with about 2 cups, until mixture is smooth.

Gradually stir in just enough flour to make a soft, workable dough that pulls away from the sides of the bowl. Turn dough out on a lightly floured surface or

silicone baking mat

and knead until smooth and satiny, about 10 minutes. If using a dough hook, this will not take the entire 10 minutes. Dough is done when it feels tacky but not sticky. If you poke the dough with your finger and it slowly bounces back, it is finished. If it does not, keep kneading.

Form dough into a ball and place in a greased bowl, turning the dough to coat the top. Cover loosely with a towel, and set in a warm spot to double in size, approximately 1 and 1/2 to 2 hours.

Once dough has risen, punch down, knead lightly in the bowl, and allow to rise a second time, approximately 1 hour.

Once dough has risen a second time, turn out on a lightly floured surface and knead 2 to 3 minutes. Cover and let rest at least 15 minutes.
BAKE THE DOUGH
As dough has its final rest, preheat oven to 350ºF. Spray a baking sheet with non-stick spray. Set aside.

Divide dough into 12 equal parts, and roll each gently in your hand to form a ball. Place dough balls on baking sheet in 4 rows of 3.

In a small bowl, whisk together remaining egg with 1/2 Tablespoon of water. Using a pastry brush, generously egg wash each roll.

In a small prep bowl, make the cardamom-cinnamon sugar coating. Combine 3/4 teaspoon granulated sugar, 1/2 teaspoon cinnamon, and 1/4 teaspoon cardamom. Toss together with a fork or your fingers. Sprinkle each roll with cardamom-cinnamon-sugar mixture.

Bake for 15-17 minutes until browned and rolls sound hollow when lightly tapped on the underside. Rolls are best fresh from the oven but can be stored at room temperature in an airtight container up to 5 days. Reheat in microwave for 10 seconds. Baked rolls freeze well (up to 2 months).