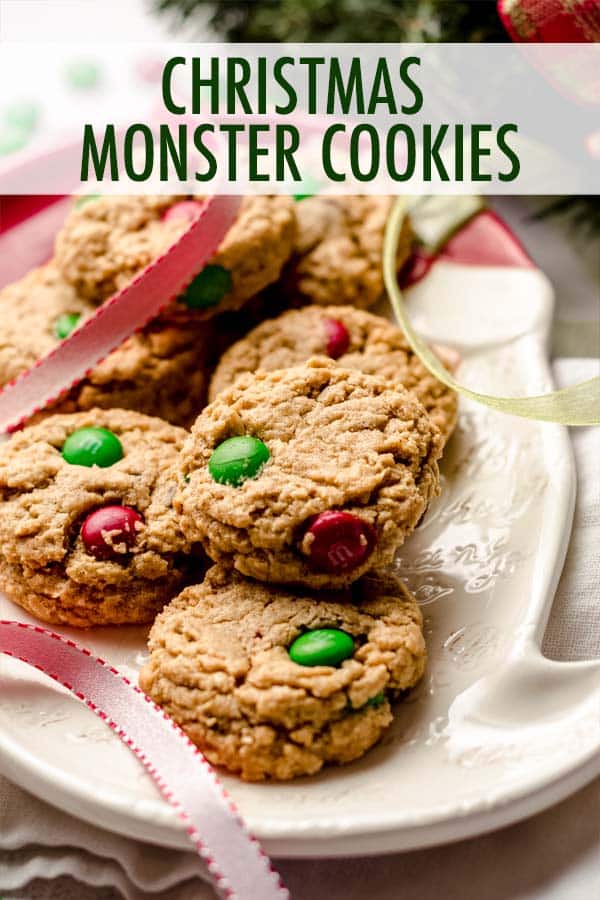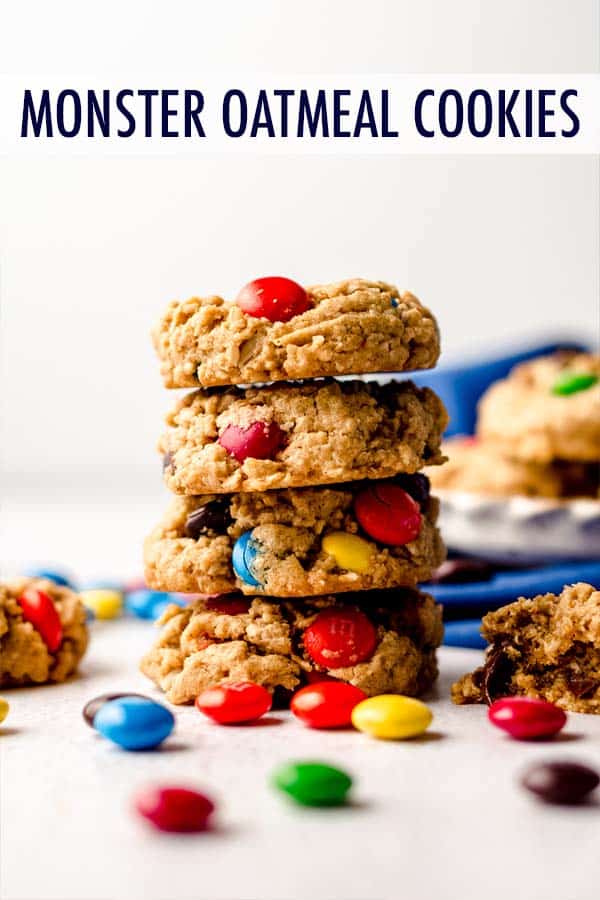 As an Amazon Associate, I earn from qualifying purchases. Read the full disclosure here.
Quick and easy peanut butter oatmeal cookies filled with chocolate chips and m&m's.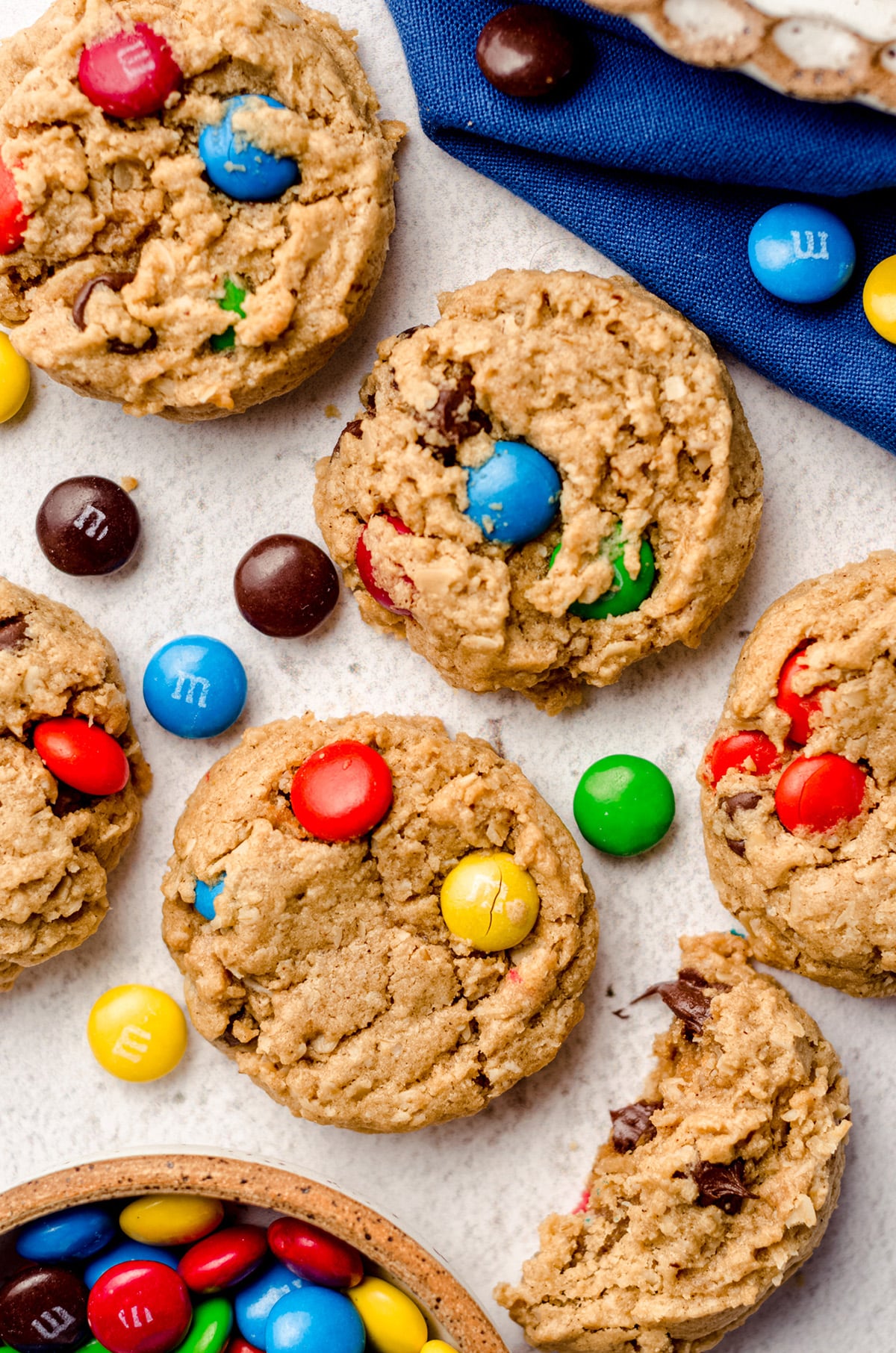 You will love these Oatmeal M & M Cookies
I am 100% sure that this is a cookie you've seen before, so we're not talking about any kind of ground breaking cookie business today.
But I do think that a solid monster cookie recipe is something every baker should have in their collection, especially when it comes to holidays or special occasions (we'll get to that part).
These chewy monster cookies have lived on my site for many many years, and every time I make them, I wonder why I don't make them more often.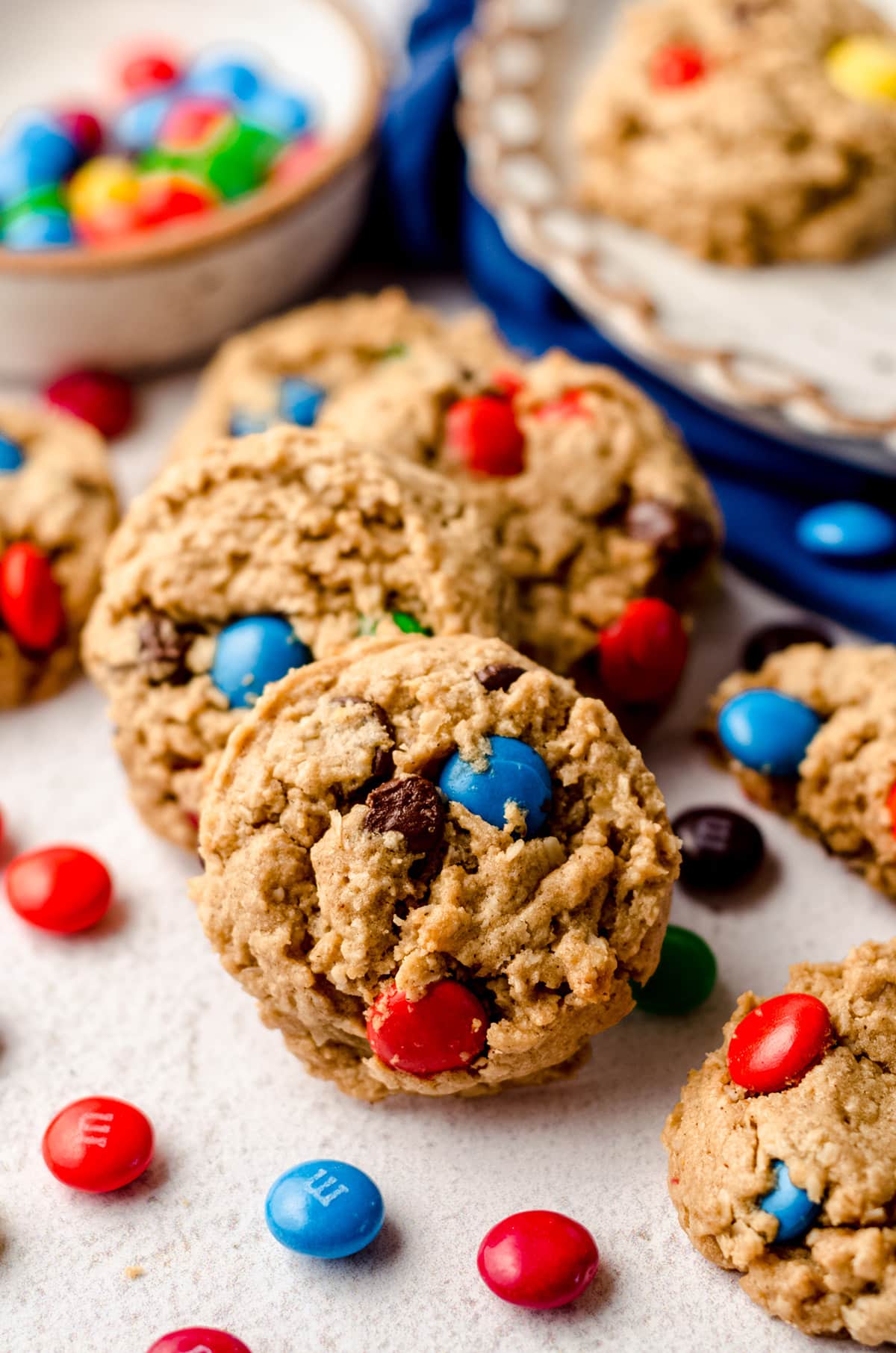 And then I remember… Because I will eat them all. Nearly immediately.
No joke, when I made them most recently to update this post, I ate 7 in one day.
No regrets.
Why we call it a "Monster Cookie"
I've always wondered how exactly the world wound up calling these oatmeal peanut butter cookies with chocolate chips and m&m's monster cookies, but then when I get all those descriptors out, it makes a little more sense.
But really, is the true reason because they're just so full of stuff that their real name would be too long?
Is it because they're such a hodge podge?
Is it because they're not particularly pretty?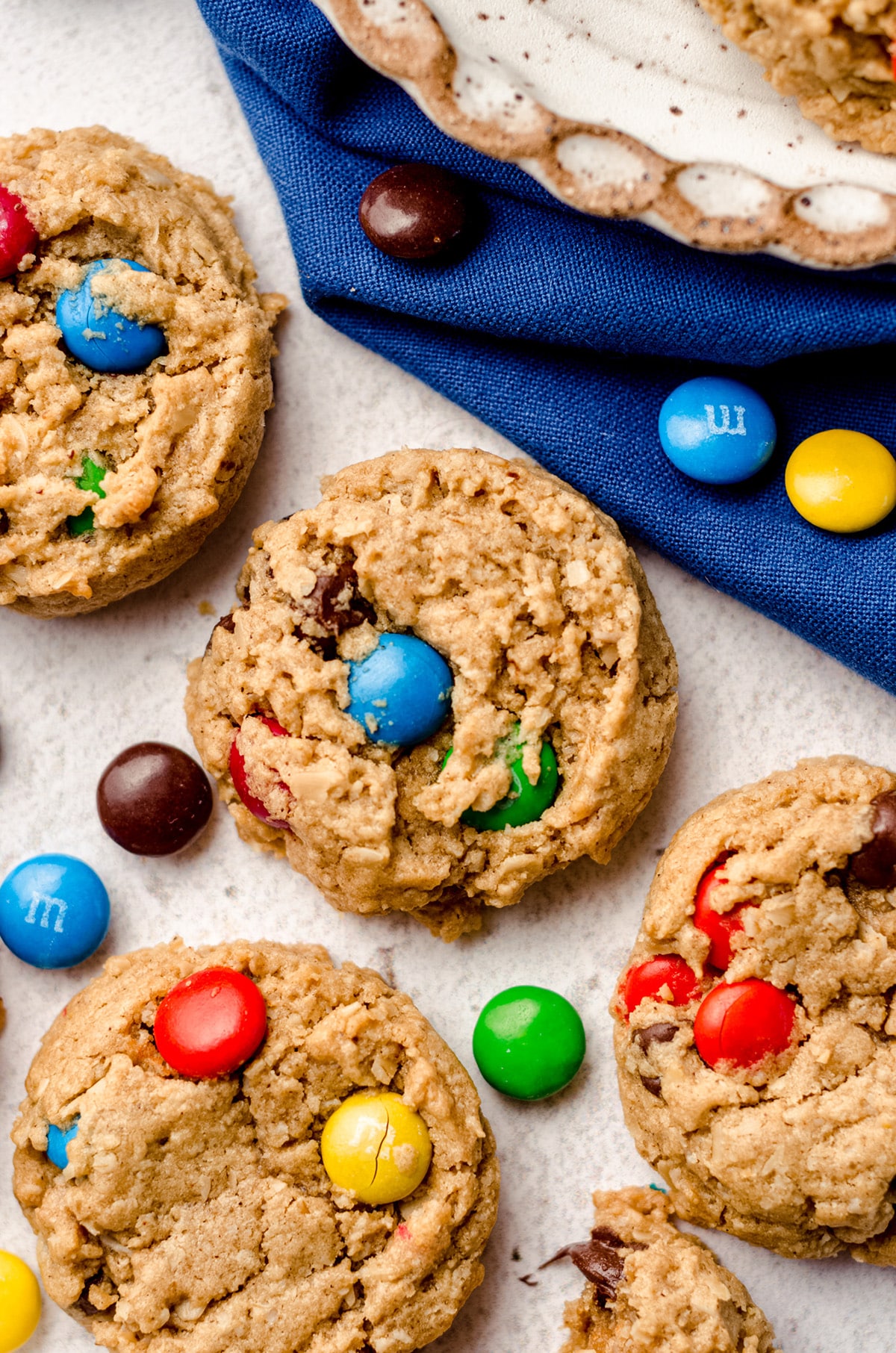 I don't know about that last one, though, because monster cookies can be so colorful (and hi, there, Christmas monster cookies with your red and green m&m's– you just scream holiday season!)
Honestly, I've always liked to think that monster cookies are called such because they're scary. Since you really can't stop at one five.
I mean… Who else agrees monster cookies are nearly impossible to stop eating? I think it's because they're so full of allofthethings that you just want to keep tasting them all. They're seriously a texture lovers' dream!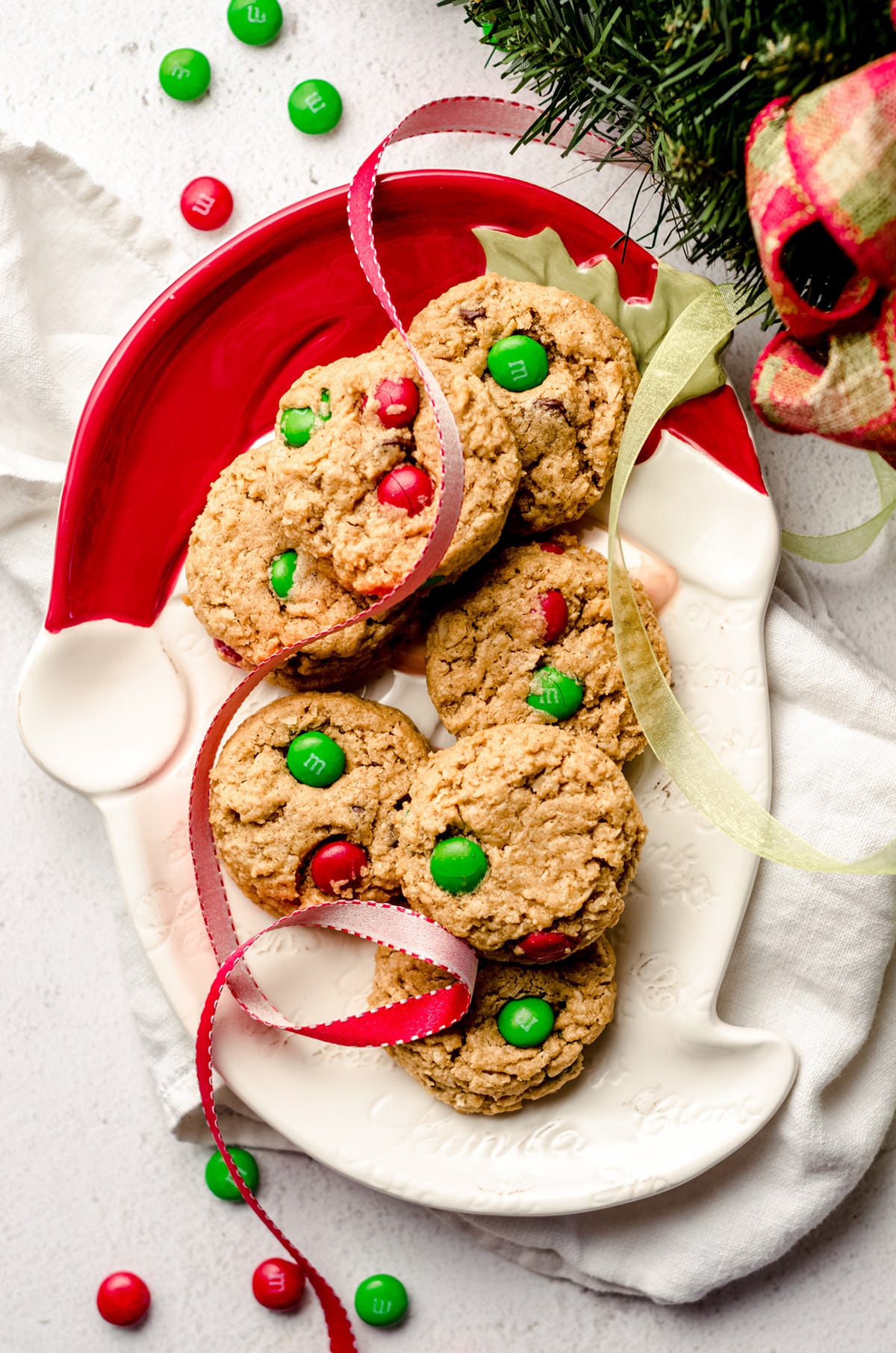 So… Five at a time it is!
Monster Cookies Recipe ingredients
This recipe for monster cookies is so simple, and my favorite part about it is that the cookie dough doesn't need to chill.
When I first developed this recipe, I used my chewy oatmeal raisin cookies as a guide. I did need to tweak a few things, though, because the peanut butter and all the extra goodies changed the way the batter came together, and after several tries, I landed on the perfect ingredients, amounts, and method for baking.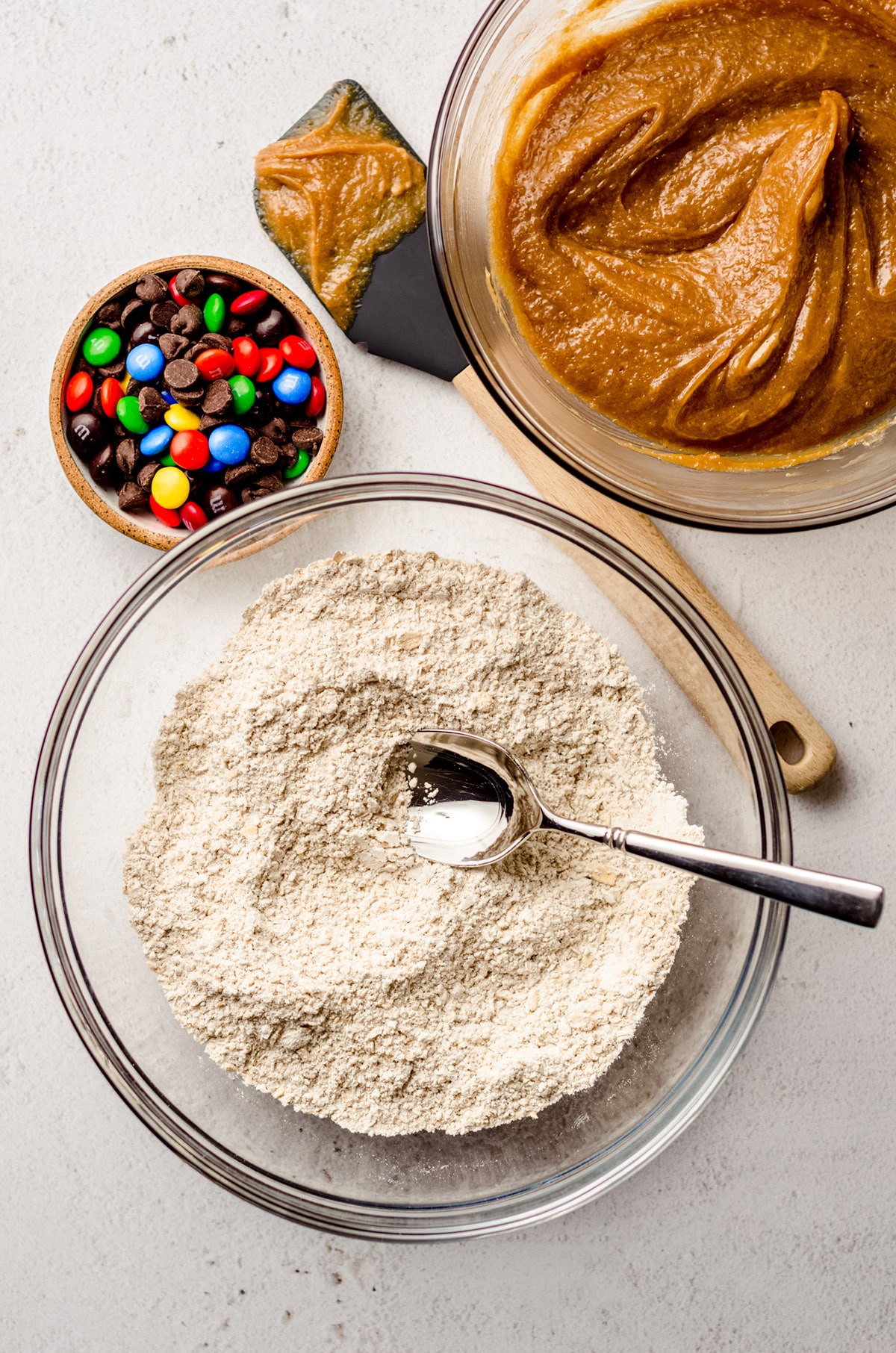 The biggest thing that differs from my usual oatmeal cookie base (seriously, I have so many oatmeal cookie recipes) is that these oatmeal monster cookies use quick oats instead of old fashioned oats.
There is so much happening in the batter and the old fashioned oats don't work as well as quick oats to absorb all the necessary moisture to form a cohesive and bake-able cookie dough.
If all you have are old fashioned oats, just pulse them a few times in a food processor or blender to make them smaller therefore able to absorb more moisture.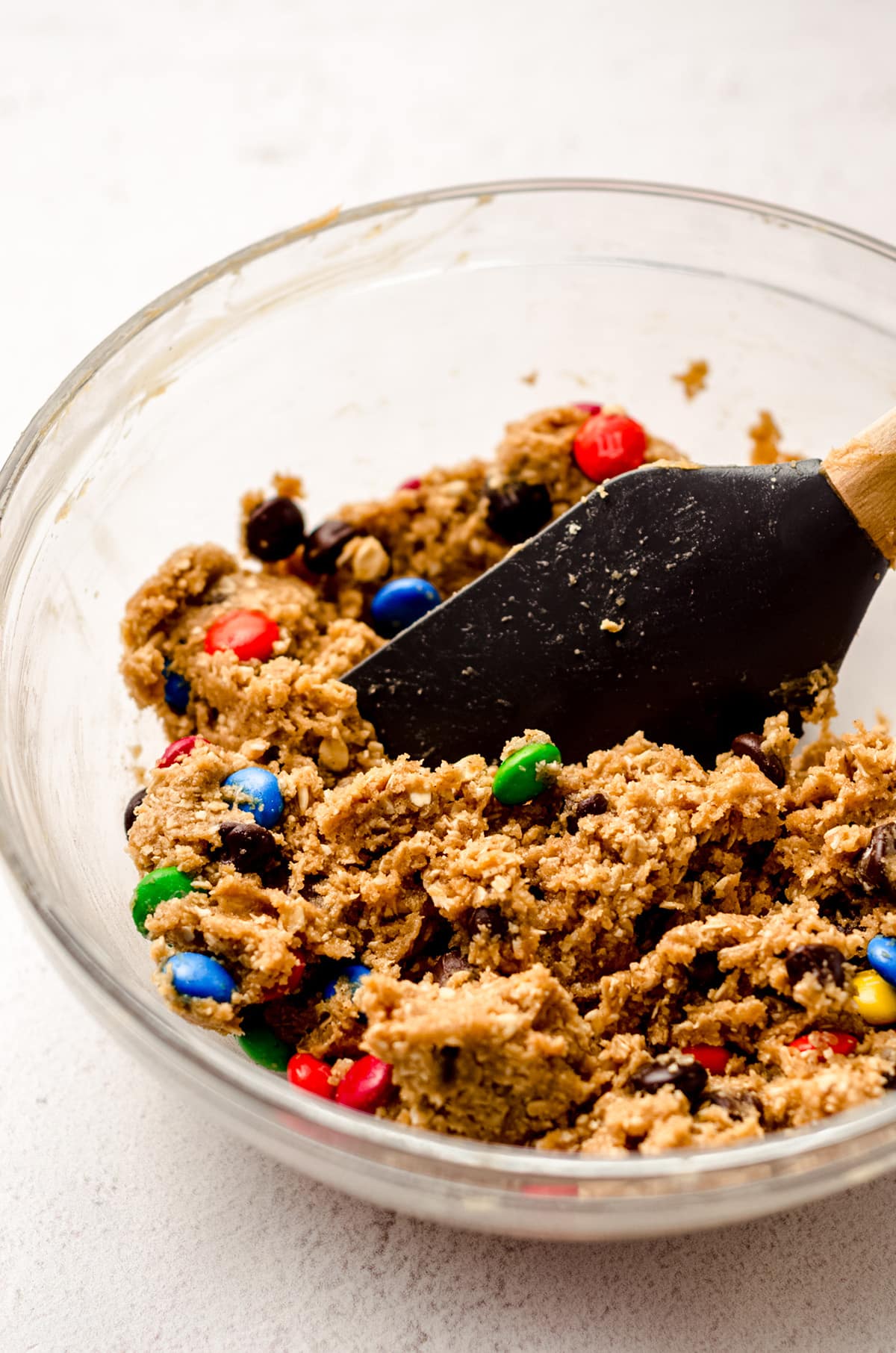 Other ingredients you'll need for this monster cookies recipe: all-purpose flour, baking soda, some cinnamon to kick the flavor up a notch, melted butter (another adjustment from my traditional oatmeal cookies), brown sugar for deep flavor, and creamy peanut butter.
A note about the peanut butter: you'll need traditional peanut butter, the kind with added sugar. Natural peanut butter will not work here.
Lastly, those add-ins are m&m's and chocolate chips.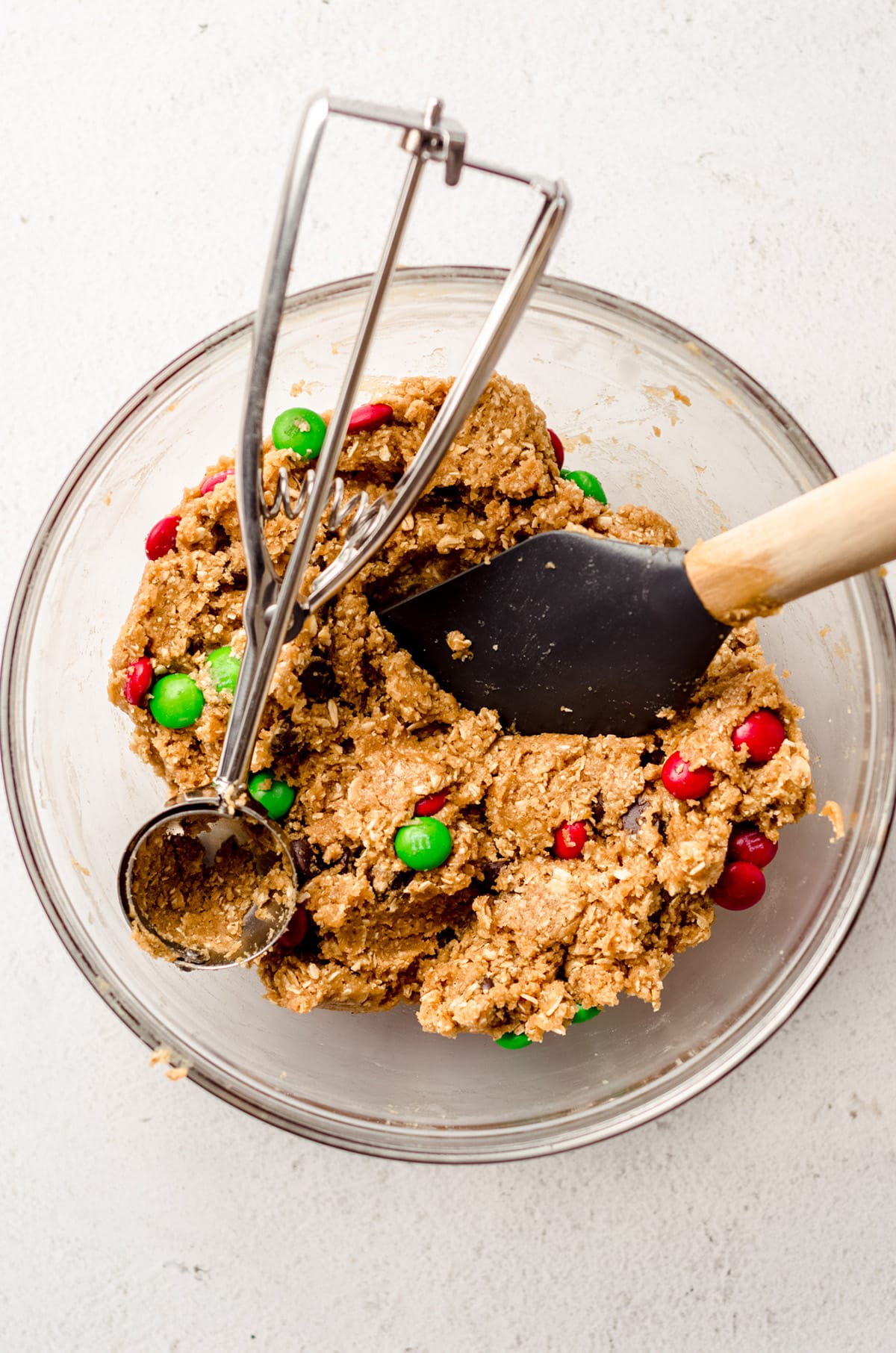 The m&m's you choose, color-wise, are up to you. Just don't use the larger m&m's like peanut m&m's or any of the other flavors that are bigger than traditional classic m&m's.
HOW TO MAKE MONSTER COOKIES
As I mentioned, the dough for these peanut butter monster cookies is simple. It's just a matter of wet team + dry team + add-ins.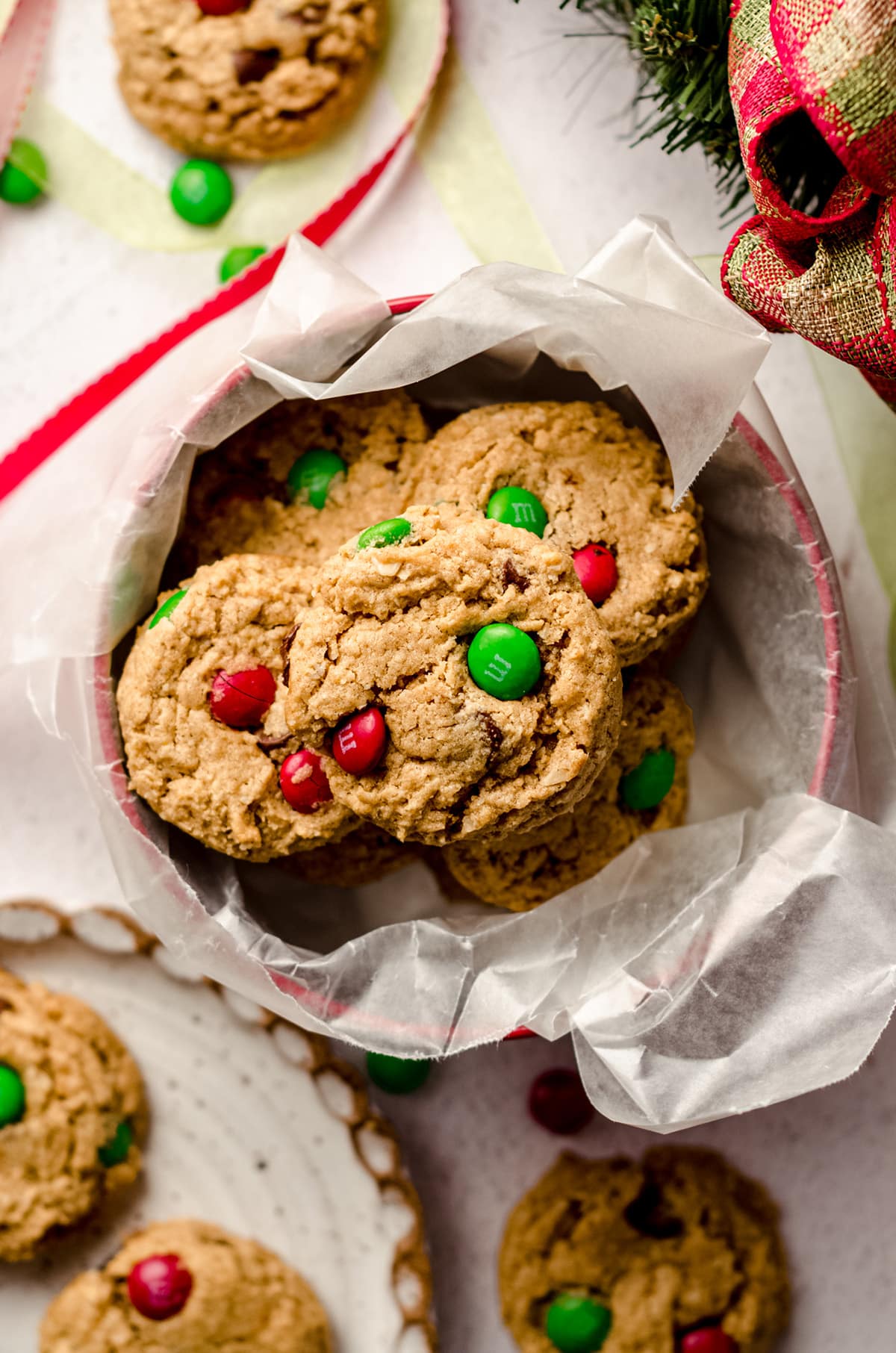 You'll want to let the dough rest for about 10 minutes before dropping balls of dough to bake, but aside from that, this cookie dough goes from ingredients to baking sheet pretty quickly.
Use a cookie scoop to drop balls of dough onto the baking sheet, then, very importantly, press down gently on the tops of them to flatten them ever so slightly.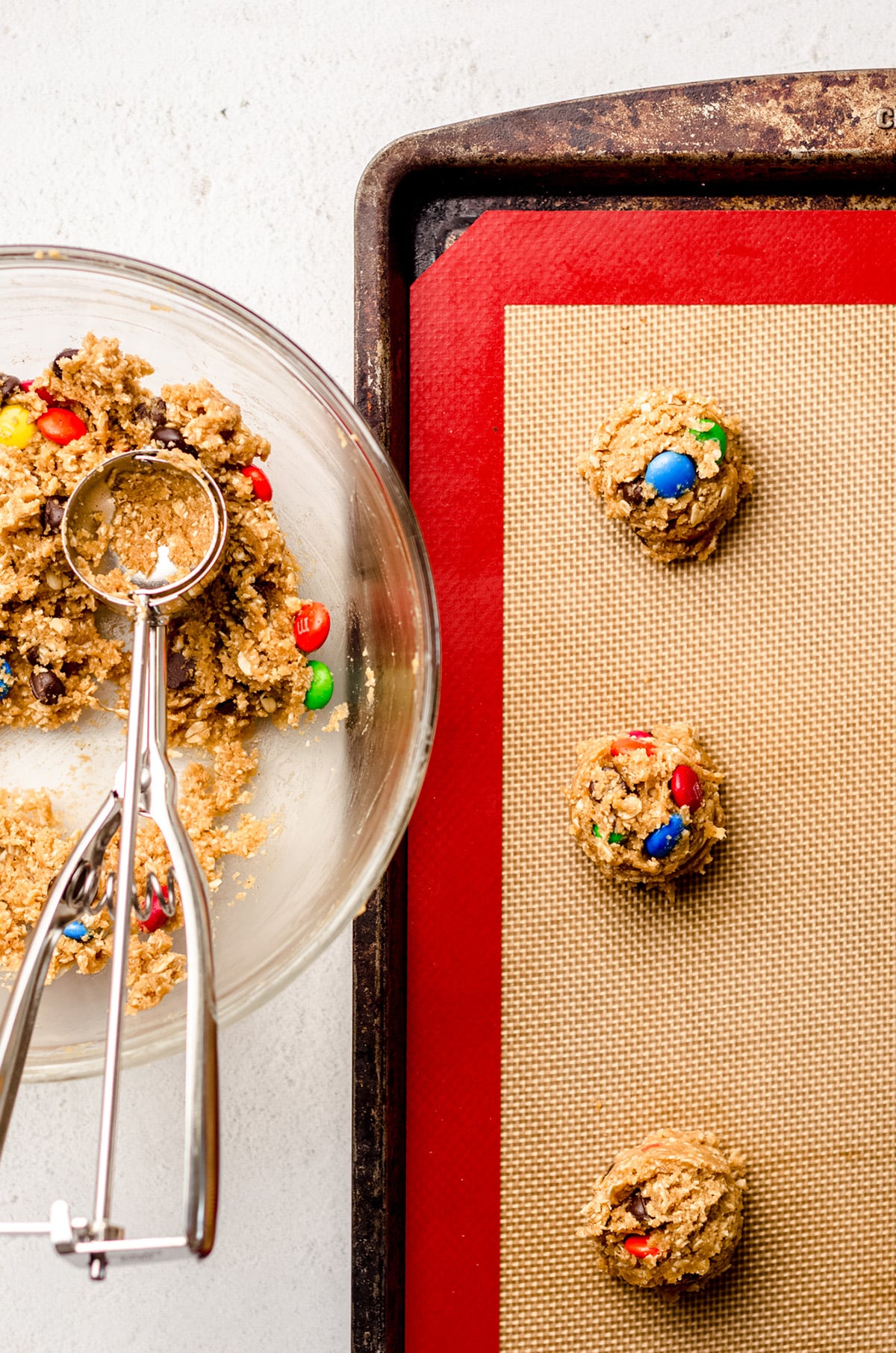 Since these cookies have so much happening in them, they don't spread a whole lot. If you forget to press down on them, they will taste absolutely fine. They just won't look as much like a round cookie as much as they will still resemble a large mound of cookie dough.
How to serve Oatmeal M&M Cookies
Once baked, I actually don't prefer these cookies right away. While they are obviously delicious, they are crunchier on the outside than they are after resting for several hours and absorbing a little more moisture.
Will I judge you if you eat them warm from the cooling rack? Nooooo way.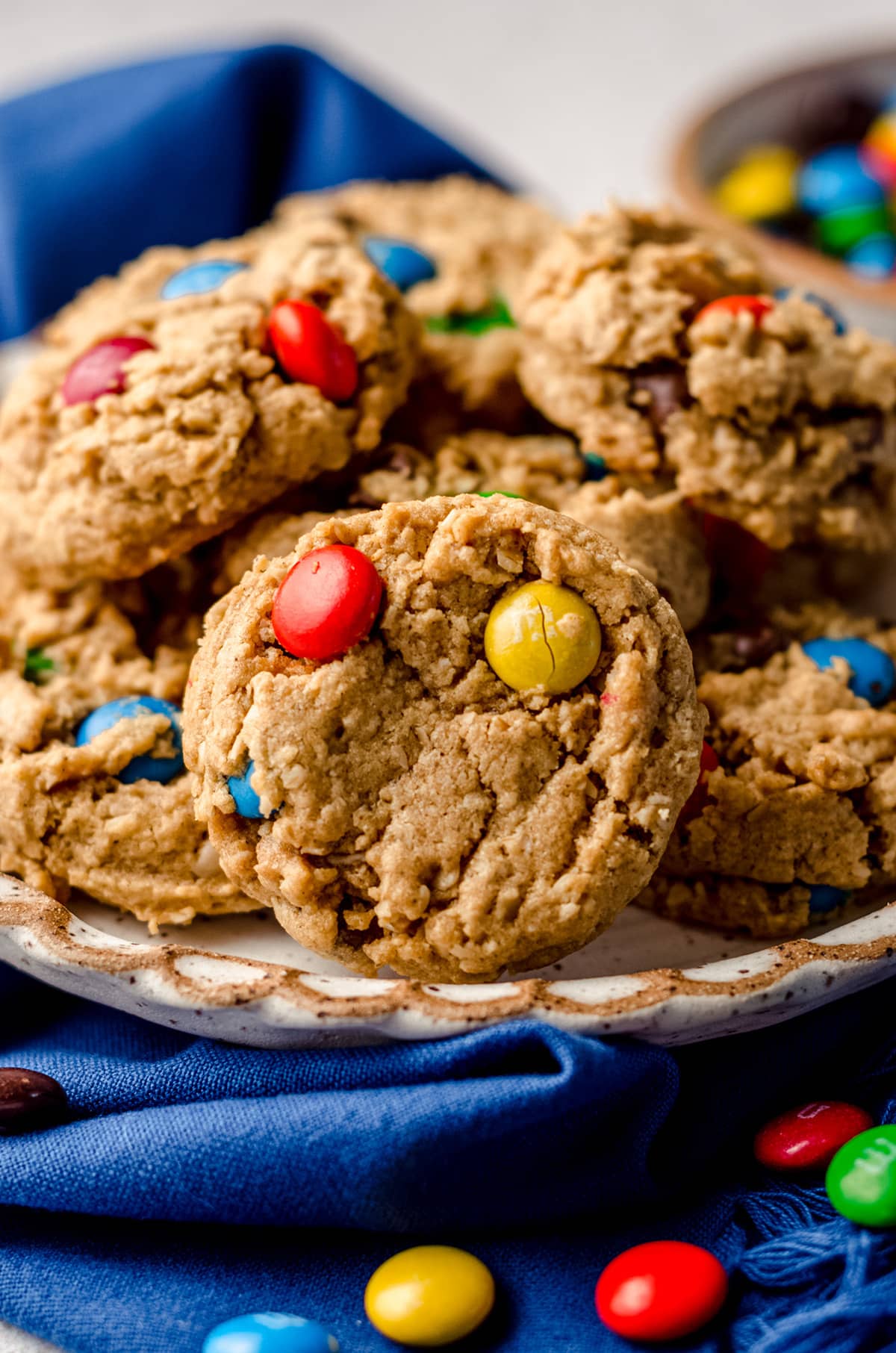 But please take this PSA and know that if you love them fresh, you'll probably love them even more a day older.
How to store this Monster Cookies Recipe
Monster cookies stay fresh covered tightly at room temperature for up to 5 days. They will soften as they sit so keep that in mind if you have a preferred texture at which to enjoy them.
Customize your recipe for Monster Cookies to fit your occasion
What I think I love most about monster cookies is that you can cater them to whatever it is you're celebrating.
Whether it be Christmas (red and green), Easter (the pastels), Thanksgiving (the fall colors), a baby shower or gender reveal (pink/blue), or maybe you can get extra fancy with special m&m's for a favorite sports team, you really have so many reasons to make monster cookies in any given year and so many occasions you can coordinate those m&m's to!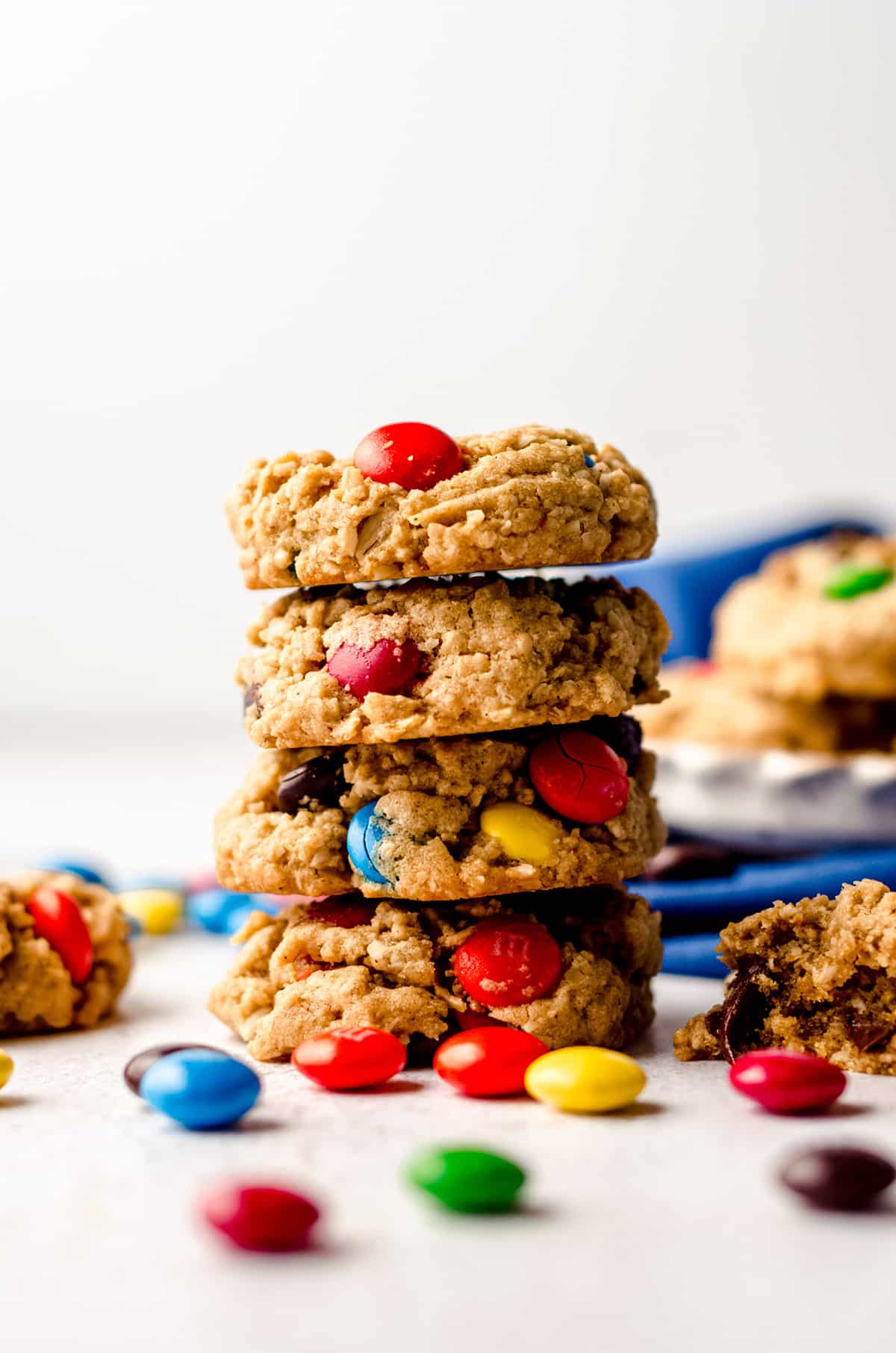 Something else to consider?
Butterscotch, peanut butter, and/or white chocolate chips in place of or in addition to the chocolate chips. Ohh, my my my. Let's just make monster oatmeal cookies everyday and be done with it. No cookies will ever need to exist ever again.
Ok, that's a lie. I have TRIPLE DIGITS cookie recipes on my site, and not a single one of them am I willing to get rid of. So… Pick a few, make some batches, sit down with your favorite cookie beverage of choice, and relish in the goodness that is alltheflavors and allthetextures.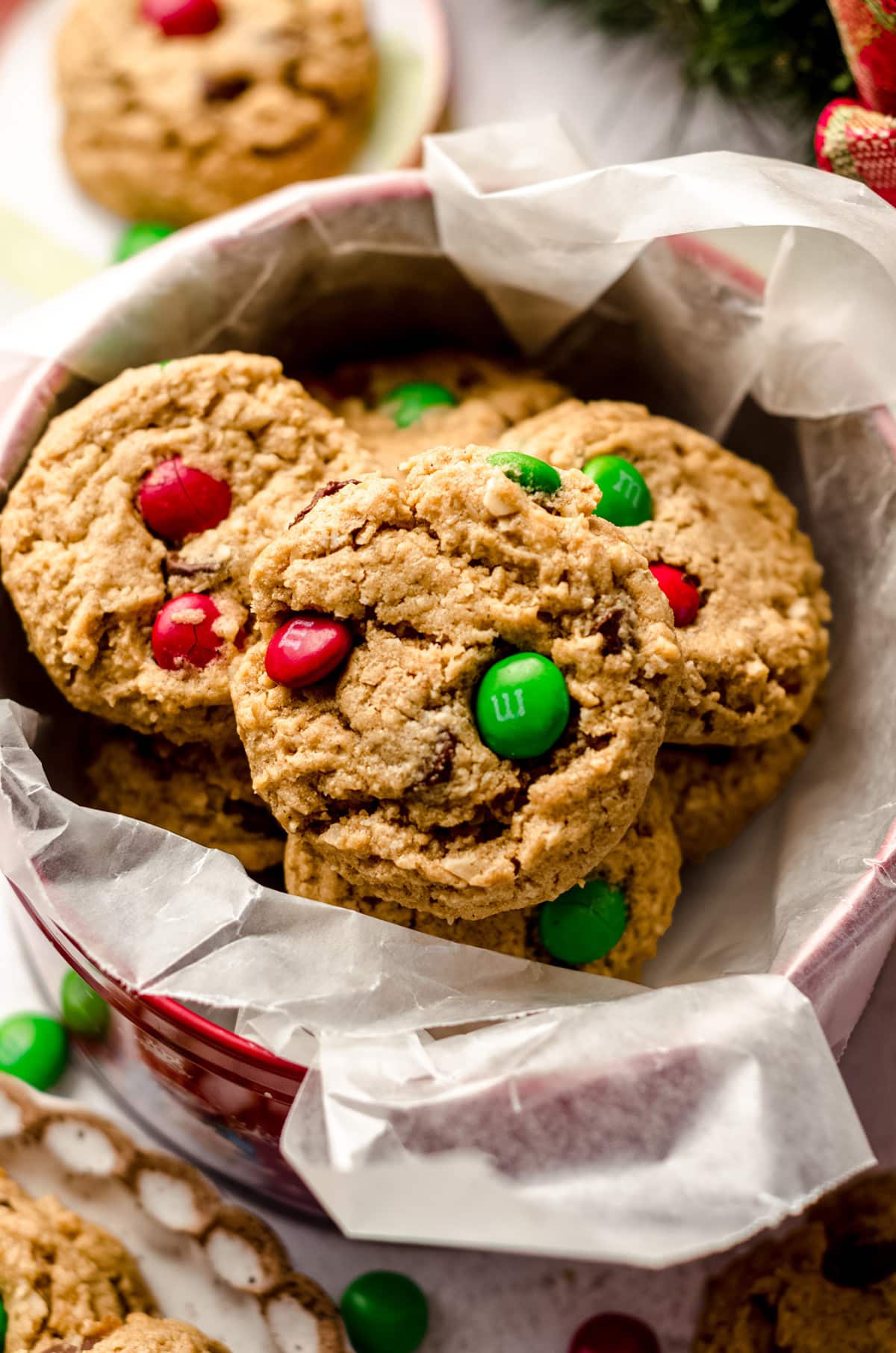 And don't forget to change up those colors! I've heard different color combos taste different (we obviously must test multiple batches).
Best Monster Cookie Recipe FAQs
Why do my monster cookies go flat?
If your monster cookies are flattening in the oven, it's possible that your oven is too hot. While this monster cookie recipe does not require chilling, it's possible your kitchen environment and oven are too warm, resulting in a flatter cookie. You can chill the dough to see if that helps.
What's the difference between oatmeal cookies and regular cookies?
While oatmeal cookies still have flour in them, they typically contain a large amount of oats alongside the flour for texture and structure. The flavor of the oats comes through very well and adds a nice dimension to the cookie dough.
Monster Oatmeal M & M Cookies
Quick and easy peanut butter oatmeal cookies filled with chocolate chips and m&m's.
Servings:
2
dozen cookies
Ingredients
2

cups

(160g) quick oats not old fashioned1

¾

cup

(90g) all-purpose flour be sure to measure properly

¾

teaspoon

baking soda

½

teaspoon

ground cinnamon

¼

teaspoon

salt

½

cup

(113g) unsalted butter

melted

¾

cup

(150g) firmly packed light brown sugar

1

large egg

at room temperature

½

cup

(128g) creamy peanut butter

not natural

1 and ½

teaspoons

vanilla extract

½

cup

m&m's2

½

cup

(85g) semi-sweet chocolate chips
Instructions
Preheat the oven to 350ºF (177ªC). Line a large baking sheet with parchment paper or a silicone baking mat. Set aside.

In a large bowl, toss together the oats, flour, baking soda, cinnamon, and salt. Set aside.

In a medium bowl, whisk together the melted butter and brown sugar until smooth. Whisk in the egg, peanut butter, and vanilla until combined.

Pour the wet ingredients into the dry ingredients and mix together with a large spoon or rubber spatula. Be patient– dough is thick. Fold in the m&m's and chocolate chips. Allow the cookie dough to sit for about 10 minutes to help the oats absorb some of the moisture.

Using a cookie scoop (I use this #50 cookie scoop for all of my standard size cookies), drop scoops of cookie dough onto the prepared baking sheet. Gently press down on the tops of each cookie dough ball to flatten the tops slightly.

Bake the cookies for 10 minutes until the edges look set. Centers will look very soft and underbaked. This is ok. Remove from the oven and allow to cool on the baking sheet for about 5 minutes before transferring to a wire rack to cool completely. Cookies stay fresh in an airtight container at room temperature up to 1 week. Baked cookies may be frozen, up to 3 months. Rolled cookie dough can be frozen, up to 2 months. Roll dough balls and chill in the refrigerator until firm before freezing. Do not thaw and bake for an additional 1-2 minutes.
Notes
Quick oats: these are essential for these cookies. Old fashioned oats do not absorb liquid well enough. If all you have are old fashioned, pulse in a food processor until oats are fine.
m&m's: any small m&m's are fine (even mini). Just do not use larger m&m's (like peanut or peanut butter).
Nutrition Disclosure
All nutritional values are approximate and provided to the reader as a courtesy. Changing ingredients and/or quantities will alter the estimated nutritional calculations.
More oatmeal cookies!
Funfetti white chocolate chip oatmeal cookies