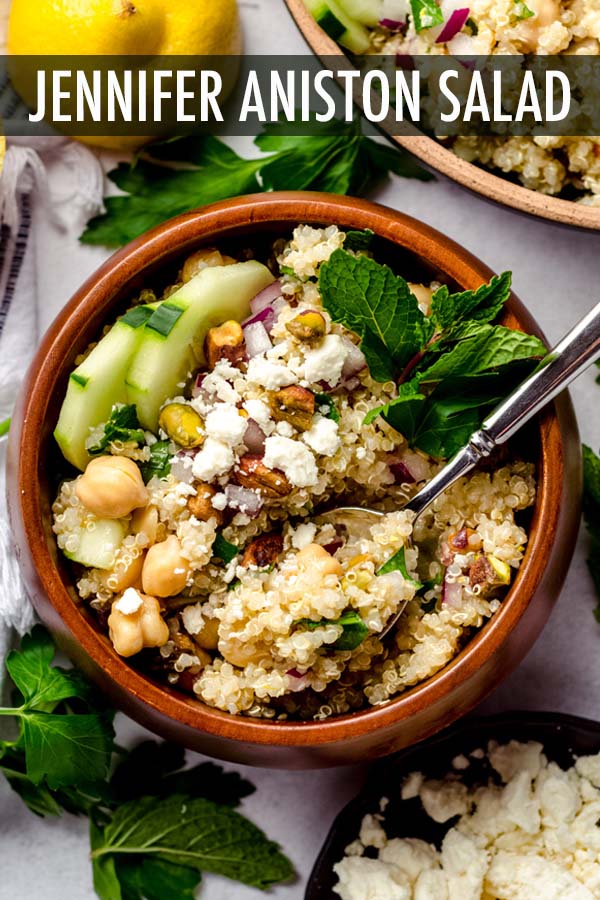 As an Amazon Associate, I earn from qualifying purchases. Read the full disclosure here.
This viral Jennifer Aniston salad recipe is made from a base of hearty quinoa, nutty chickpeas, crunchy pistachios, crispy cucumber, and tangy feta cheese. Complementary flavors include red onion, lemon, parsley, and mint that make this delicious salad a fresh new option as a side or main dish.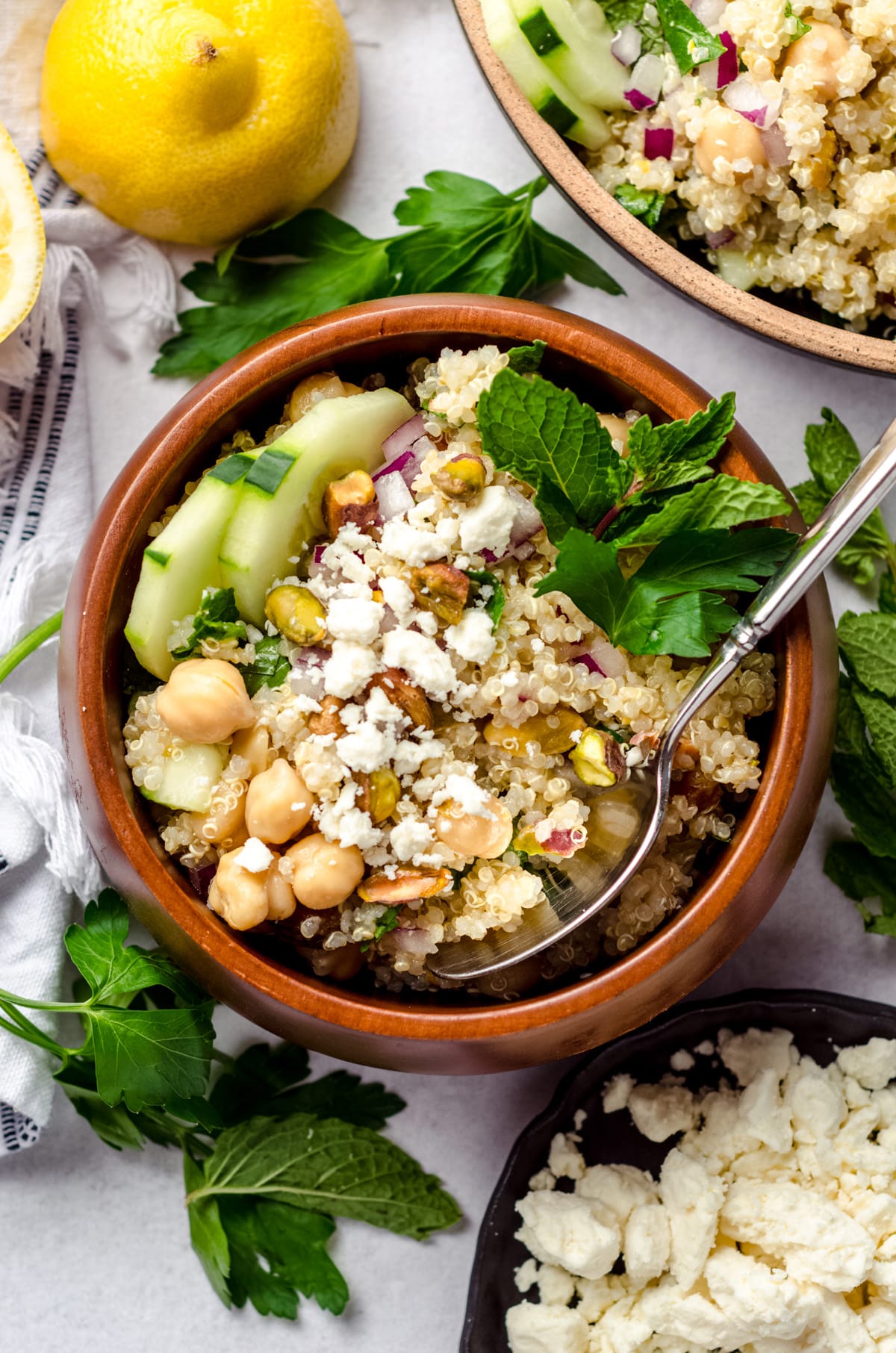 WHAT'S WITH THE NAME OF THIS SALAD?
The Jennifer Aniston salad, sometimes known as the "Rachel Salad," is the name of the salad that Jen apparently ate every day on the set of my favorite TV show. If you're a regular reader of mine, I'm sure you all know what show I'm talking about!
It's the salad that you can't help but ask "How you doin'?"
FRIENDS has been a huge part of my life for since I was probably too young to be watching it (oops!), and I love how it has affected pop culture throughout the years.
From the jokes to the copious amounts of coffee and the food, those 6 people have been with me through all my big life moments and can often be found in the background while I'm baking, photographing, and editing for my site.
I even named one of my kids after one of the characters. Well, not really, but the family name fit so there is a Joey in our house and yes he did have a onesie that said "Joey doesn't share food." I wish it still fit him.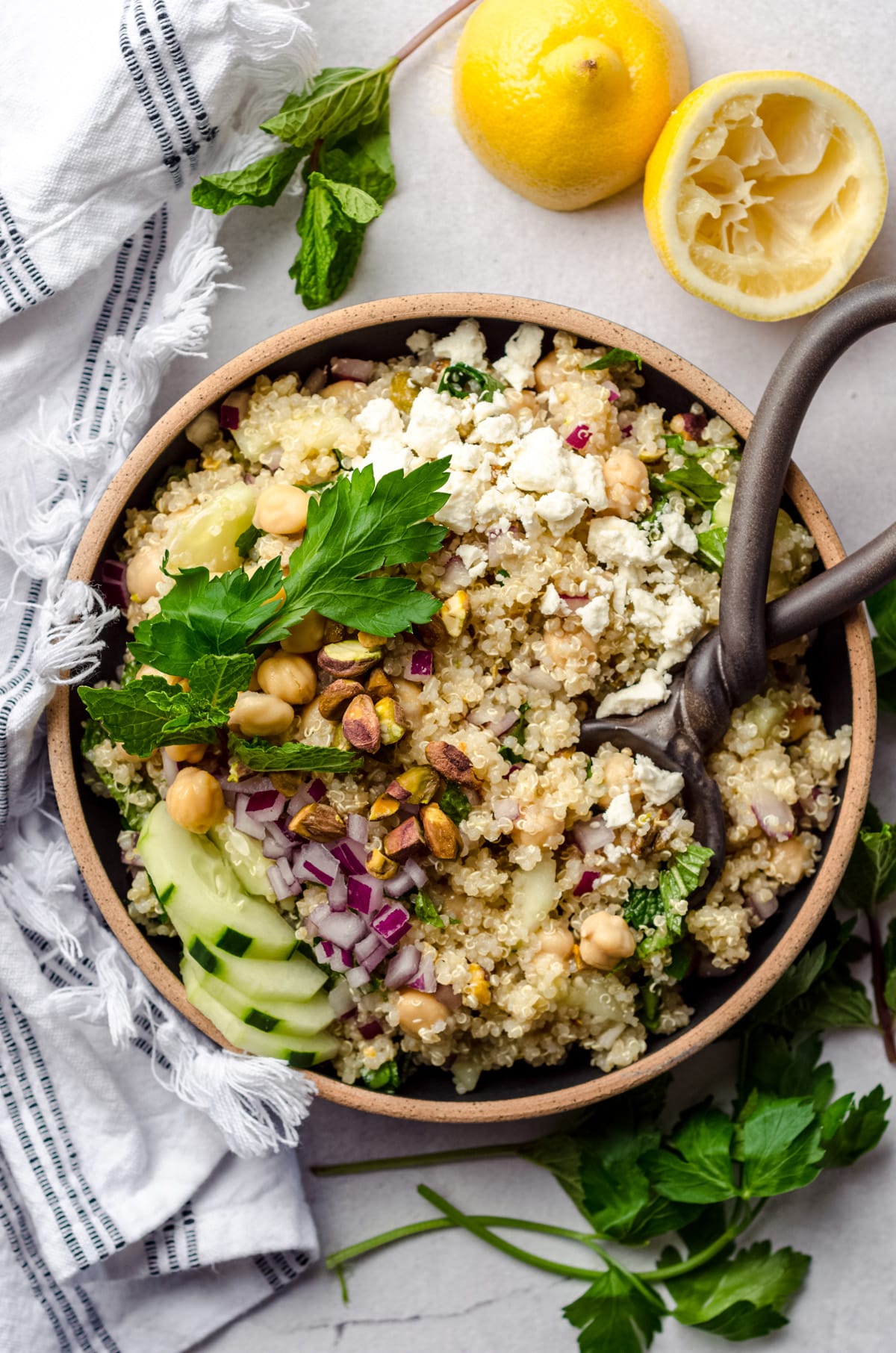 Anyway, don't worry, I'm not going to attempt to make that trifle! I'm pretty sure that's one of the few things that should be left on the set of the show. Beef and jam just do not mix, in my opinion.
Now, this might not be the exact salad as the one Jen ate on the set of FRIENDS, she explained in an interview that it was totally different, and not filled with as many healthy ingredients.
It was more based on what was available on set, and often had bacon involved (hi, yes, hello, we love bacon in this house). However, she made this salad on her Living Proof Instagram page, and to be honest, it's sooo good… Even Joey would eat it!
I've always loved hearty salads. There is something so enjoyable about crunching on fresh veggies, and I know my body will appreciate me for it, since it also loves cookies, cake, brownies… I am mostly a dessert recipe kind of gal, after all.
If like me, you enjoy salads packed with crunch, flavor, all the goodies, and can be thrown together in a snap, try my spaghetti salad, lightened-up chicken salad, or this protein-packed buffalo blue salad… Warning, these options will steal your heart with one bite.
Now, let's move on to making this Jennifer Aniston salad recipe. In the words of Chandler… "Could I BE any more excited?"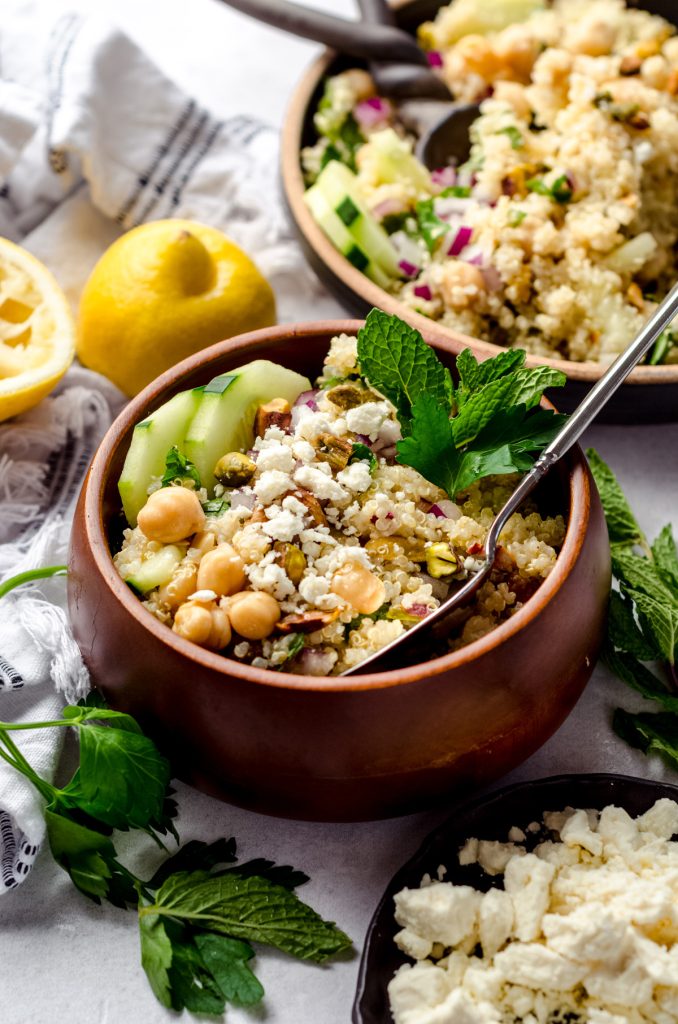 INGREDIENTS
As a huge FRIENDS fan, I wanted to make this salad when I first heard about it. I mean, I'm sure I wasn't the only girl who wanted to be Rachel Greene when I grew up.
Not long after I saw this salad circulating social media, it showed up at a potluck and I truly could not stop eating it. When I found out how simple it was, I knew it had to make it into my recipe collection.
And I'm so glad I can now share with you all how simple and easy it is to make this tasty A-list salad!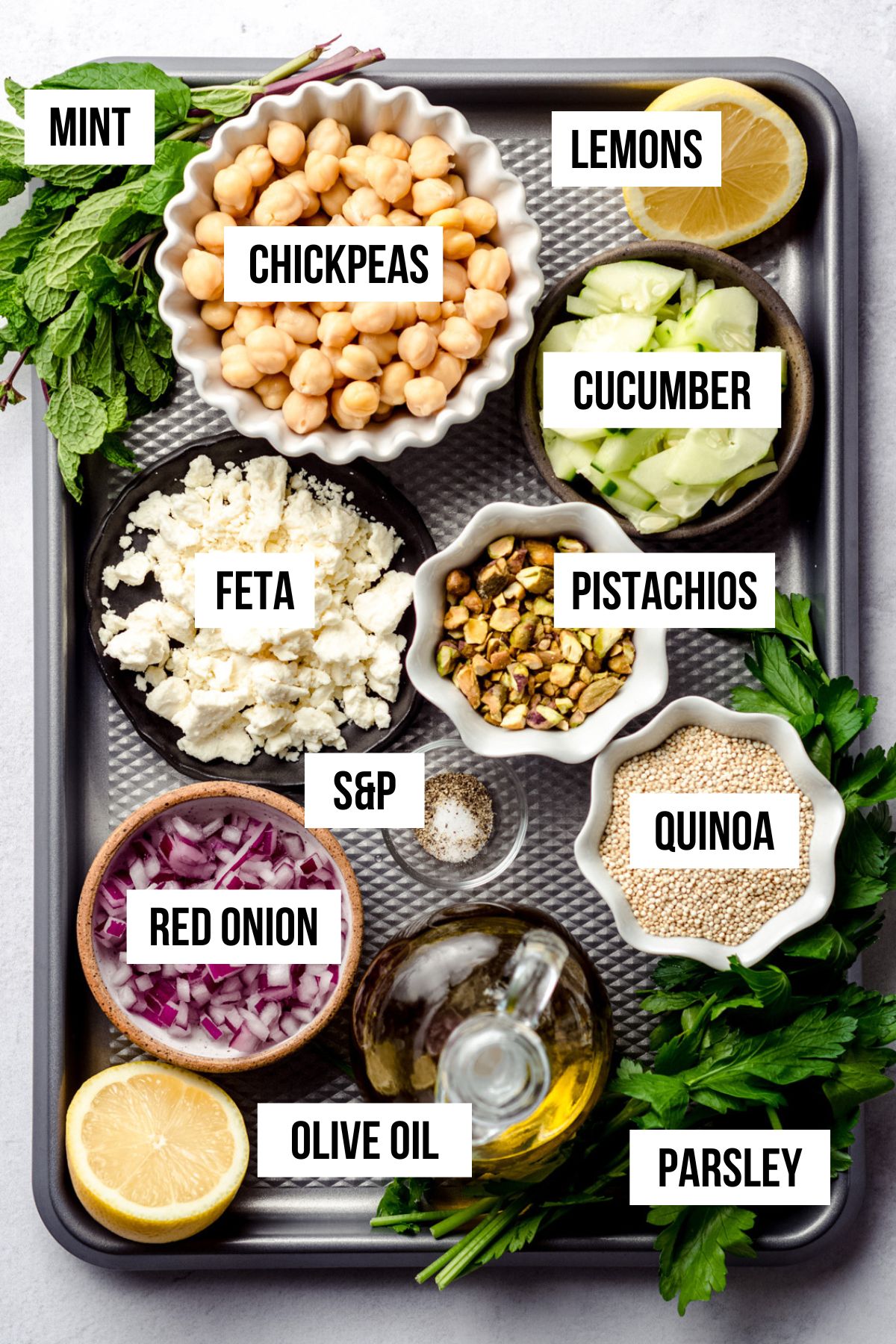 SALAD BASE
The ingredients for this Jennifer Aniston salad, which went viral on TikTok, are pretty simple.
For the base of the salad, you will need:
• red onion
• quinoa
• chickpeas (also known as garbanzo beans)
• cucumber
• fresh parsley
• fresh mint
• pistachios
• feta cheese
With a base of hearty quinoa and nutty chickpeas, you can be sure this salad full of fresh ingredients will fill you up and keep you going.
Refreshing cucumbers and red onion are added for a crisp texture and crunchy pistachios… Because, why wouldn't you? Any excuse to eat pistachios in this house…
Creamy feta cheese adds tang, something soft for your teeth to land on, and a great complement to the salad as a whole. I love to use pre-crumbled feta.
You can call it lazy, I'm just not a fan of getting cheese stuck under my nails and subsequently, all over the kitchen.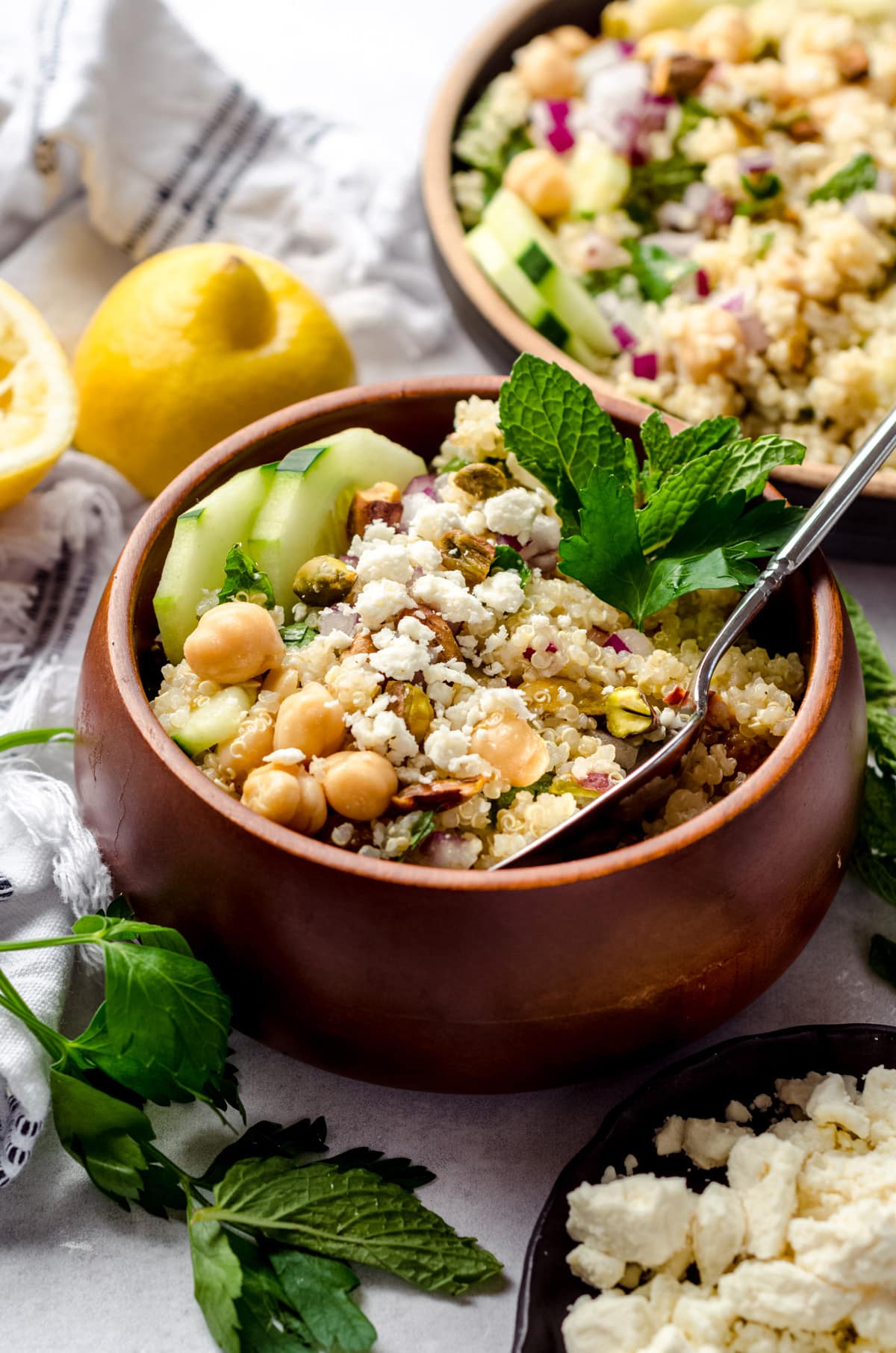 Of course, it's more expensive that way, but sometimes the convenience factor is worth it to me.
Any feta will be delicious in this salad, so pick your favorite brand, whether it's pre-crumbled, or a massive block. The creaminess of this cheese really gives this salad the WOW factor, and I'd be lying if I said I didn't add extra crumbles to my individual bowls as I portioned it out…
All of this goodness gets topped off with a squeeze of lemon and a generous serving of parsley and mint, so it makes a delightfully fresh new option and the perfect salad for a lunch box!
SIMPLE DRESSING
Just like simple syrup truly is simple, I'm not lying when I say this dressing is, too!
The simple dressing for this easy salad consists of:
• extra virgin olive oil
• fresh lemon juice
• salt
• pepper
Could there BE an easier dressing? Ok… I'll try to stop with the FRIENDS jokes!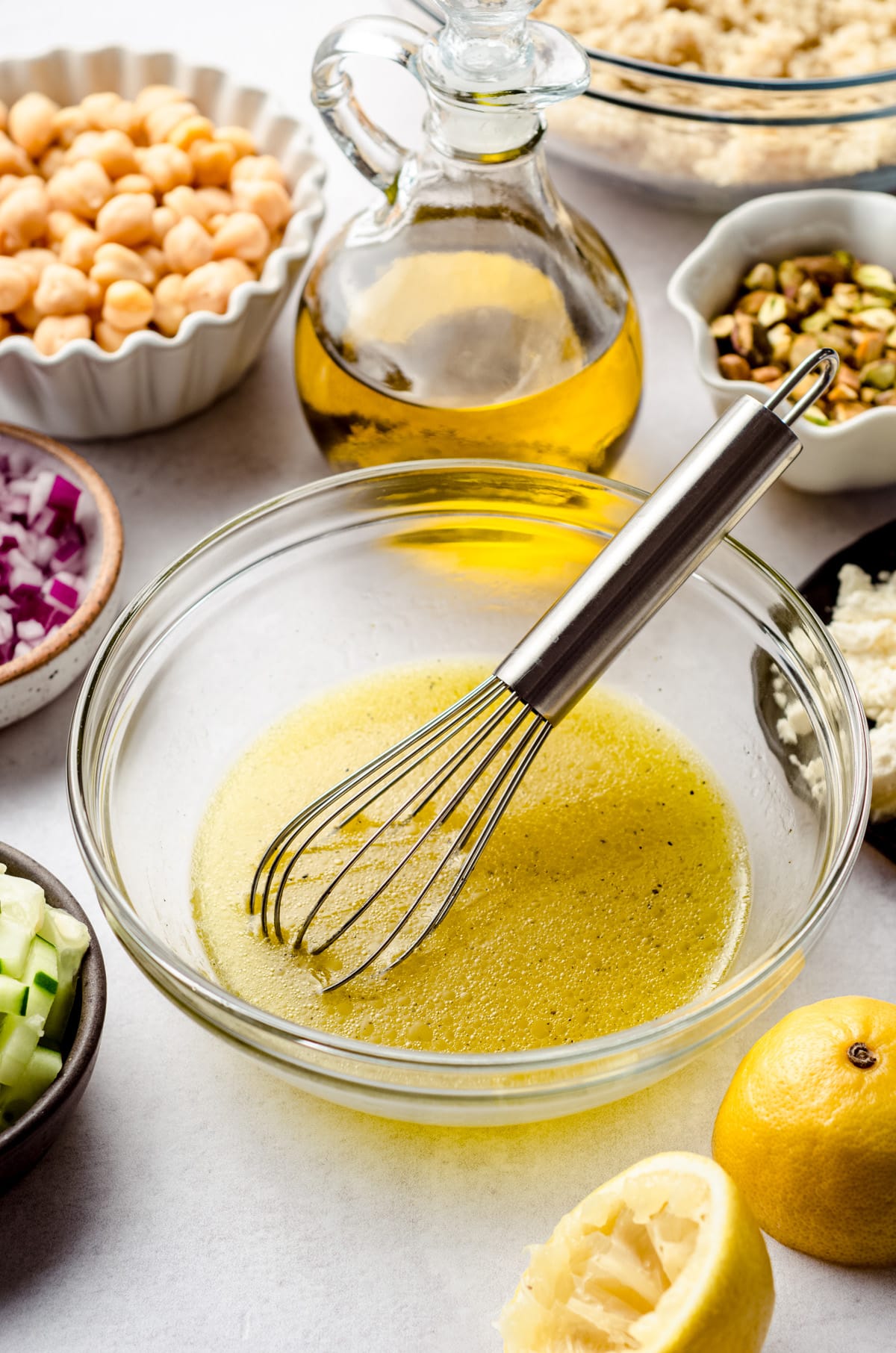 But seriously, this simple salad dressing brightens up any salad! It really helps pull all the flavors together and adds just the right amount of tang and acidity.
If you are desperate for a fancier salad dressing, then check out my homemade Italian dressing. With a few more ingredients, and not much more effort, you can really up the ante on this viral recipe.
HOW TO MAKE THIS SALAD
This Jennifer Aniston salad is so easy to make, it just requires a bit of prep to get all your veggies chopped up. I love salad as it can be thrown together in no time.
Plus it makes a great addition to your lunch box, and the best thing about my new favorite salad? Great leftovers as those flavors marry together in the fridge.
Sometimes I do meal prep things ahead of time and separate a few portions at once, then I don't have to worry about making lunch for the next few days. I can just grab and go!
SOAK THE ONIONS
At this point, maybe you're wondering why I soak the onions.
This step isn't absolutely vital to get this viral TikTok recipe just right, but soaking onions just takes the bite out of them. If you like fresh flavor of sharp onions then you can skip this step.
I like to mellow out the flavor of mine, though, so I throw this step in while I prepare the quinoa!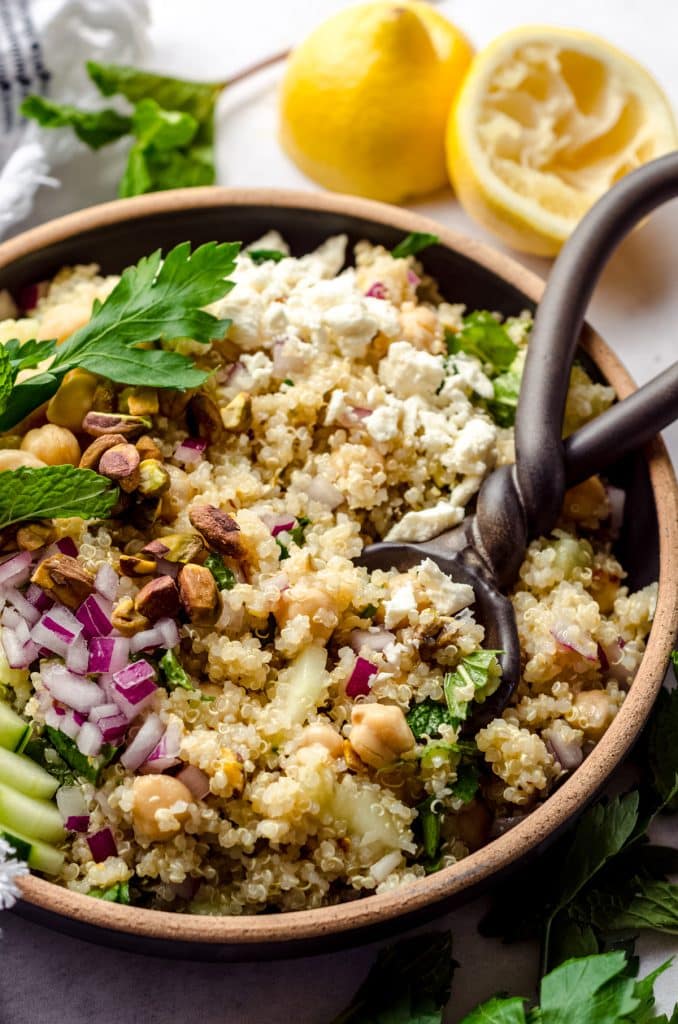 The method is simple: just pop the onions into a small bowl with cold water and let them soak while you cook your quinoa.
COOK THE QUINOA
Quinoa is super easy to cook up, just like boiling pasta. You'll want to use double the amount of water to quinoa, and quinoa will yield about 4x the amount once cooked.
I went for 1 cup of dried quinoa for this easy salad recipe which yields about 6 salad portions once all of the ingredients are combined.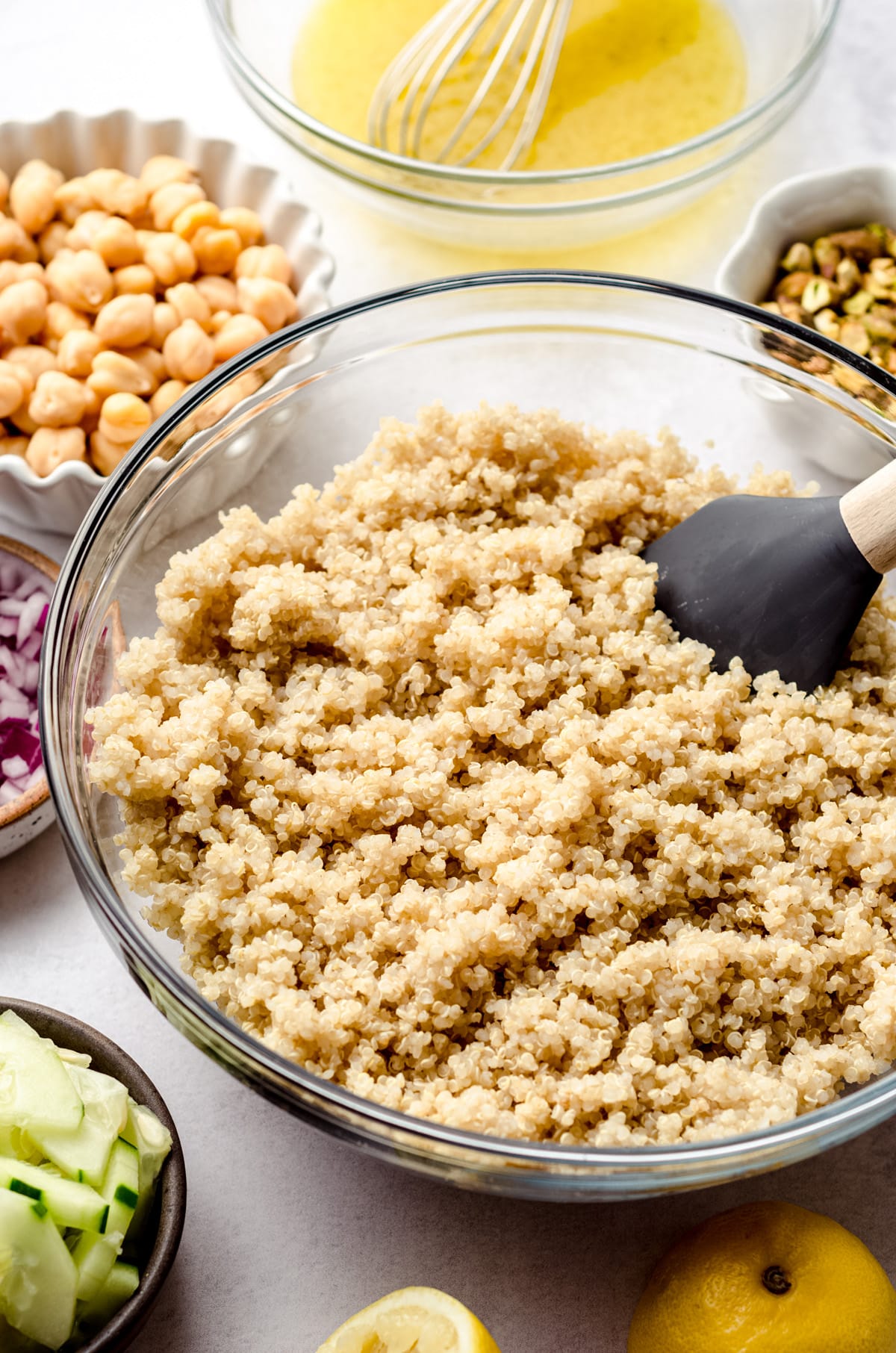 MAKE THE DRESSING
In order to bring the dressing together, combine the olive oil, lemon juice, salt, and pepper and mix until thoroughly combined. You can use a fork, whisk, spatula, or whatever is convenient for you.
Once you're done, set it to the side. Yes, it really is that easy!
ASSEMBLE THE INGREDIENTS
Find a large bowl and add the cooked quinoa. From there, all you need to do is add the rest of the prepared ingredients.
To the quinoa, add the chickpeas, cucumber, fresh mint, fresh parsley, pistachios, onion (dried-off, if you soaked them), and crumbled feta. Then pour your prepared salad dressing over all of the ingredients.
Toss everything together, making sure it's all mixed together and the dressing is coating every last delectable bite.
You could also opt to put everything in a large container with a lid so you can just shake, shake, shake it and cover everything in the dressing the fun way.
However you decide to prepare it, grab your favorite bowl and help yourself to a hearty helping of this Jennifer Aniston-approved salad!
While it may not be the exact salad she ate, if it's good enough for the ageless beauty to supposedly eat every day for 10 years, it's good enough for us!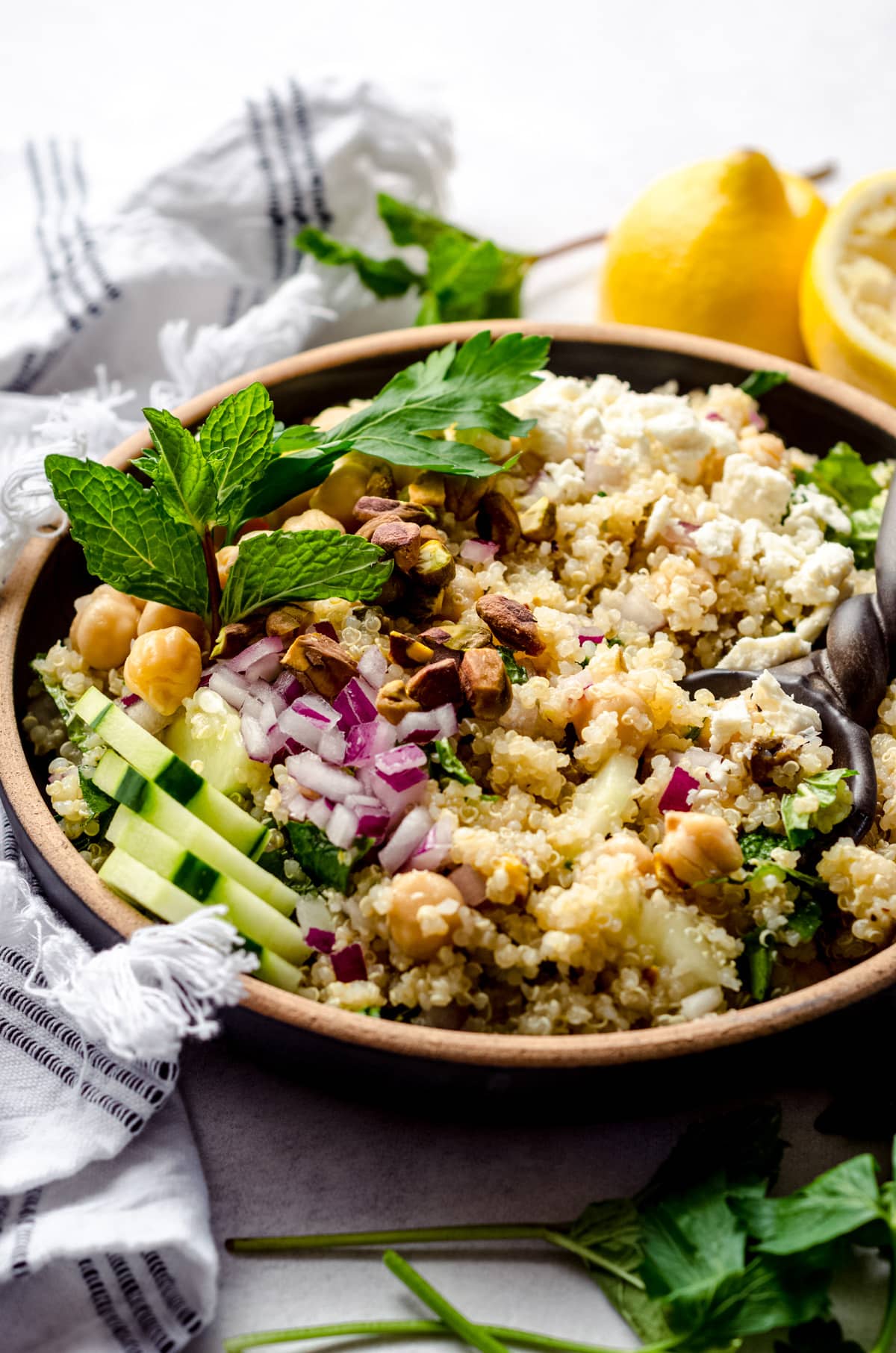 DO I HAVE TO USE QUINOA?
No, you don't have to use quinoa. There is some controversy around whether or not quinoa was the go-to grain for this legendary salad, but I love how filling the quinoa is, and we usually have quinoa on hand in the pantry.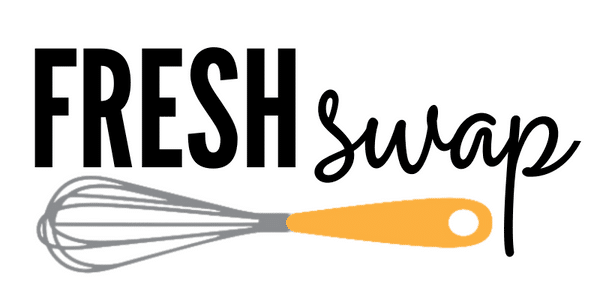 I have also seen other versions of this salad use bulgar wheat, which is a similar grain to quinoa. It contains less fat but also less protein so won't keep you as full for as long as quinoa will.
Either choice adds a healthy dose of protein and each has its own nutritional benefits. Heck, you could even use BOTH and go for gold bonus points.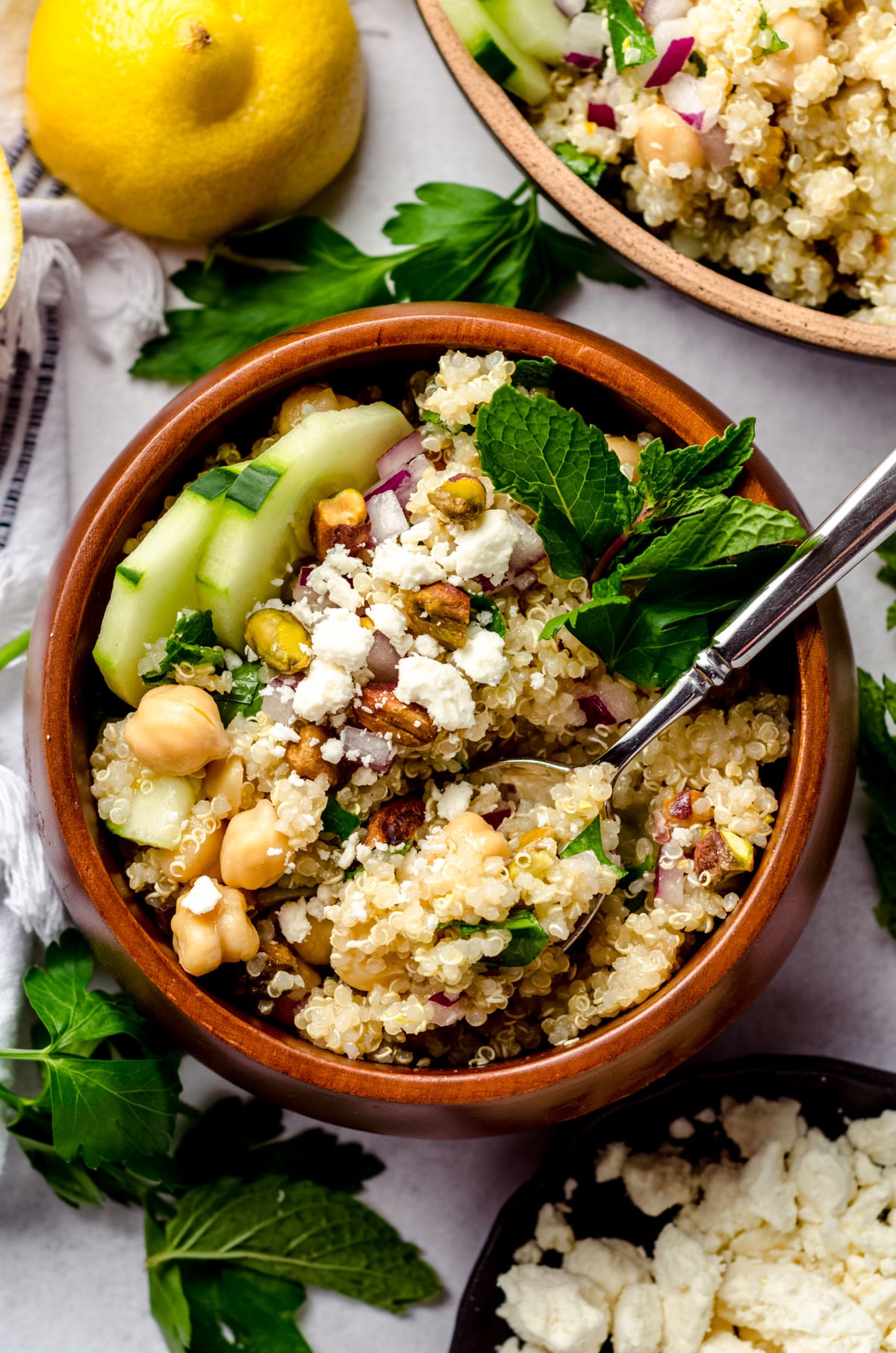 MAKE THIS SALAD VEGAN
If you want to make this Jennifer Aniston salad vegan, no problem! All of the ingredients are already plant-based, with the exception of the feta. If you want to make this a vegan salad, try tofu cheese or vegan feta cheese.
If you'd like to serve this to a crowd that has both omnivores and vegans, you can prepare the salad as written and just leave the feta as an add-on.
However you choose to approach Jennifer Aniston's salad, you've got to add this easy salad recipe to your list for easy lunches, dinner side dishes, snacks, breakfast, dessert…
You think I'm joking? Try it and you'll agree– regardless of its accuracy, this is the perfect salad to add to your rotation!
Love this Jennifer Aniston salad as much as I do? Try some of my other favorite quinoa recipes next: apple, quinoa and almond kale salad, apple quinoa granola, or enchilada quinoa casserole.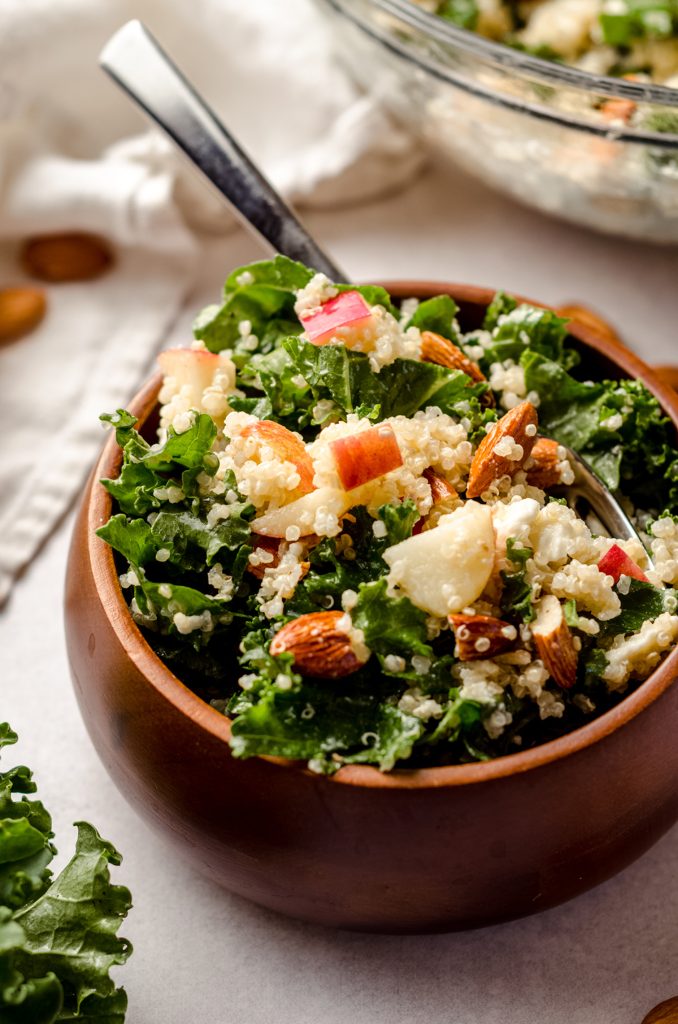 Jennifer Aniston Salad Recipe
This viral Jennifer Aniston salad recipe is made from a base of hearty quinoa, nutty chickpeas, crunchy pistachios, crispy cucumber, and tangy feta cheese. Complementary flavors include red onion, lemon, parsley, and mint that make this delicious salad a fresh new option as a side or main dish.
Ingredients
⅓

cup

red onion

finely chopped

1

cup

(180g) dry quinoa

2

cups

(480mL) water

¼

cup

(60mL) extra virgin olive oil

2

lemons

juiced

⅛

teaspoon

salt

⅛

teaspoon

black pepper

1-15

ounce can

(425g) chickpeas

drained and rinsed

1

medium cucumber

sliced and quartered

½

cup

parsley

coarsely chopped

½

cup

mint

coarsely chopped

½

cup

(62g) roasted salted pistachios

coarsely chopped

½

cup

(56g) crumbled feta cheese
Instructions
Add the chopped red onion to a small bowl of cold water. Allow it to soak while you cook the quinoa. This will reduce the "bite" of the onion. If that doesn't bother you, you can skip this step and start with cooking the quinoa.

Rinse quinoa under cold water, then drain. Add quinoa and water1 to a medium size saucepan and bring the water to a boil.

Once boiling, reduce to a simmer, cover, and allow to cook for 15 minutes. Remove the lid and allow to cool while you proceed with the recipe.

In a small bowl, whisk together the olive oil, lemon juice, salt, and pepper. Set aside.

Pour the quinoa into a large bowl. Add the chickpeas, cucumber, parsley, mint, onion, pistachios, and feta cheese. Drizzle prepared dressing over all of the ingredients, then stir to combine.

Serve immediately or let the salad chill in the refrigerator until ready to serve. Store leftovers in the refrigerator up to 5 days. Salad does not freeze well.
Notes
Water for quinoa: I like to salt my quinoa water, but this is optional. I use about

¼ teaspoon.
Recipe from Eating Bird Food
Nutrition Disclosure
All nutritional values are approximate and provided to the reader as a courtesy. Changing ingredients and/or quantities will alter the estimated nutritional calculations.
Serving:
1
serving
|
Calories:
243
kcal
|
Carbohydrates:
26
g
|
Protein:
9
g
|
Fat:
12
g
|
Saturated Fat:
2
g
|
Polyunsaturated Fat:
3
g
|
Monounsaturated Fat:
6
g
|
Cholesterol:
7
mg
|
Sodium:
124
mg
|
Potassium:
366
mg
|
Fiber:
6
g
|
Sugar:
3
g
|
Vitamin A:
441
IU
|
Vitamin C:
7
mg
|
Calcium:
89
mg
|
Iron:
3
mg