Homemade Italian Dressing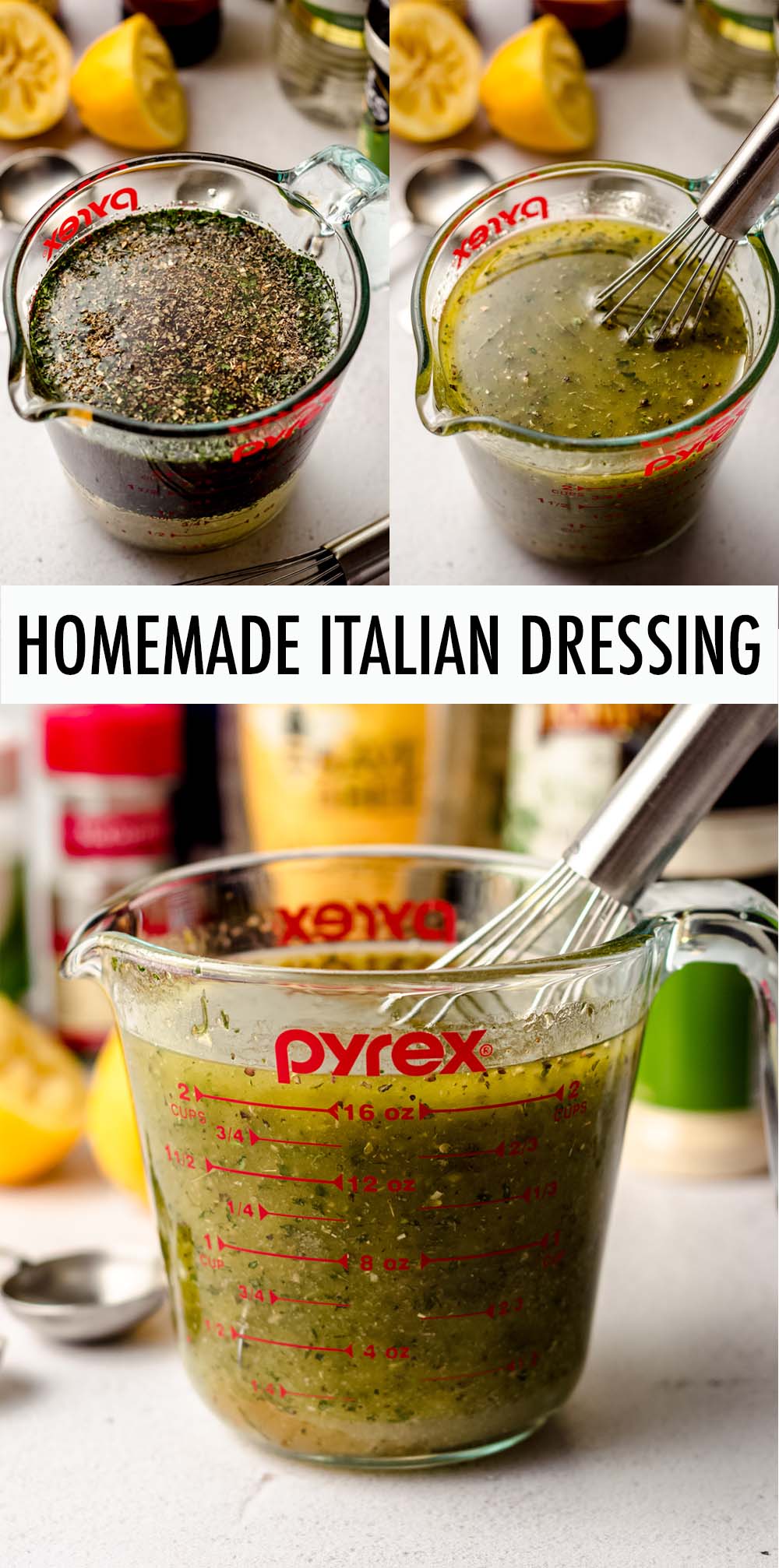 As an Amazon Associate, I earn from qualifying purchases. Read the full disclosure here.
You only need a handful of simple pantry ingredients to make this easy homemade Italian dressing, perfect for salads, meat marinades, pasta salads, or any recipe you have that calls for a bottle of Italian dressing.
I know that non-sugary/baked good recipes aren't anything new here, but you're probably finding it a little difficult to get excited about salad dressing when I have things like sprinkle-filled cookies, cake that tastes like popsicles, and mint chocolate chip pie in the recipe archives.
Sorry, friends. I promise, you'll be pretty excited about this dressing by the time I'm done with you.
First, how excited do you get about fresh vegetables in the summer time? Here in the April household, we get pretty pumped about them. Quiche, quinoa patties, stuffed peppers, salads, and hummus (for all that dipping, of course) frequent our kitchen when the produce is abundant. We are veggie lovers to the core!
WHY SHOULD I MAKE MY OWN DRESSING?
Along with veggies comes lots of loaded salads (give me hard boiled eggs and chicken and CHEESE!), and since we have some dietary accommodations to make in our house (Matt is gluten-, soy-, and dairy-free, after all), it can be difficult to find dressings that check all the right boxes for our family.
While the grocery store has come a long way in the last several years with dietary accommodations, it can be a little more difficult to find a gluten- and dairy-free Italian dressing that doesn't have soy.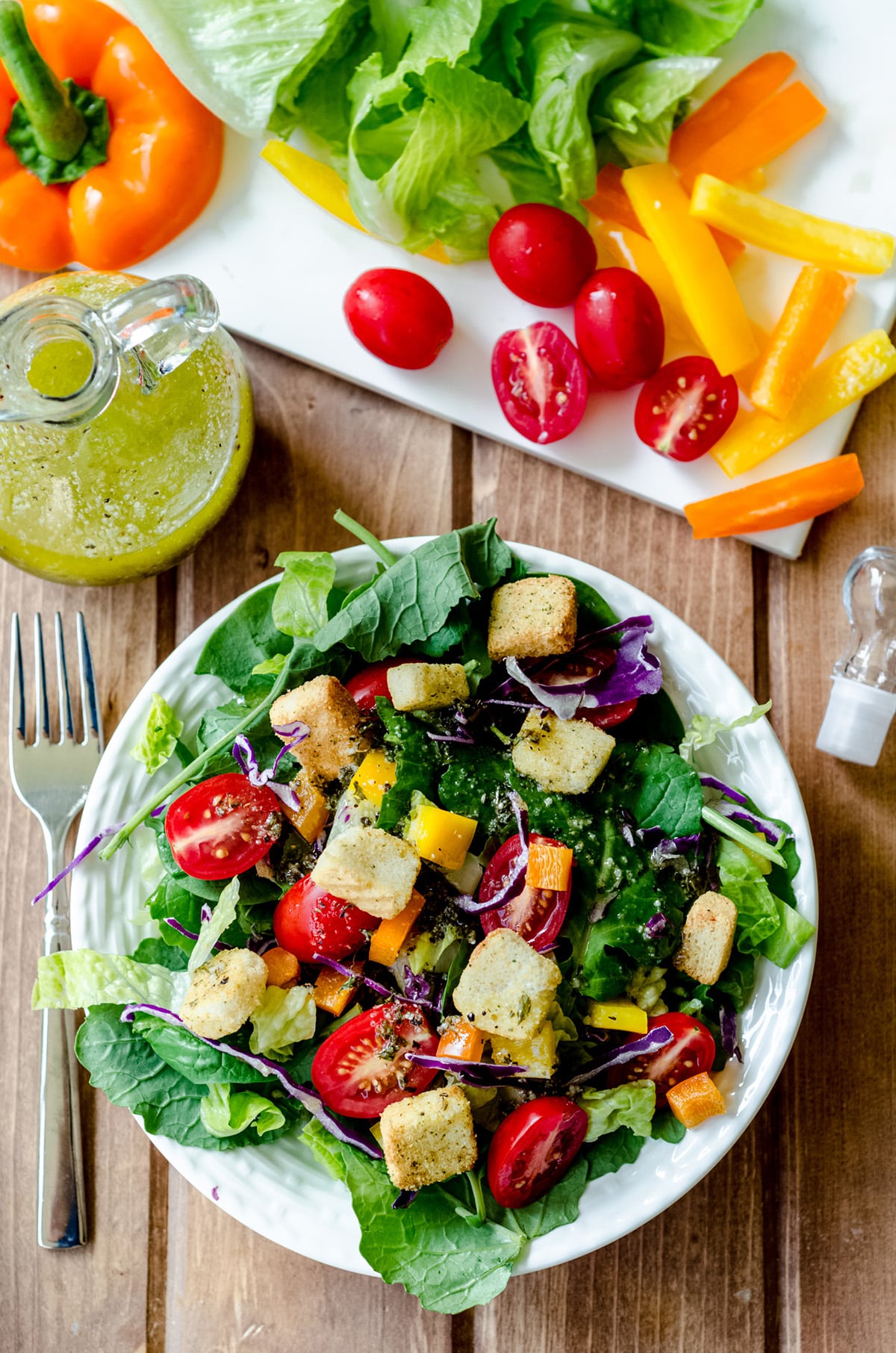 And I know, you're going to say "but Lynn, this Italian dressing recipe has Parmesan cheese in it!!" but guess what? You can leave it out and the integrity of your zesty Italian dressing will stay intact.
Phew.
INGREDIENTS
The ingredient list for my Italian salad dressing looks long, but its bulk is spices you likely have on hand. We are not a house that keeps tons of odd spices on hand, and we can make this homemade Italian dressing without taking an extra trip to the store.
The base of this dressing is extra virgin olive oil and white wine vinegar. To bring the majority of the flavor, we'll use Parmesan cheese, dried parsley, dried basil, dried oregano, onion powder, garlic powder, salt, and black pepper.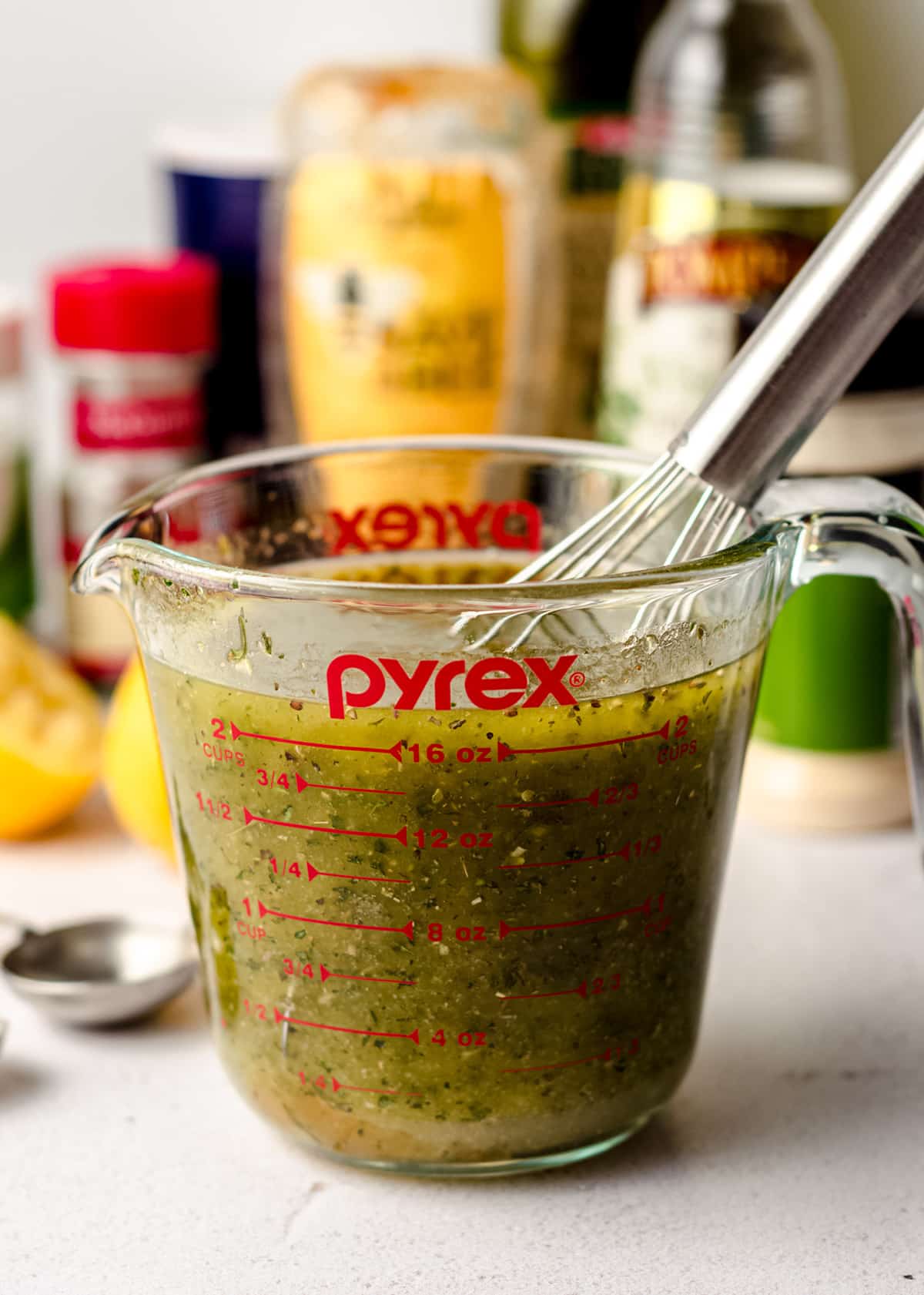 To add a little sweetness to cut the acidity we'll use some honey, and then a bit of lemon juice to help soften whatever it is you're adding it to (like a salad).
HOW TO MAKE ITALIAN DRESSING
You're never going to believe this, but… Just throw it all together. See? You can do this homemade thing.
While most cake and cookie recipes call for ingredients and methods in a specific order, the nice thing about this salad dressing recipe is that you could, theoretically, go in whatever order you want and still wind up with the same desired outcome.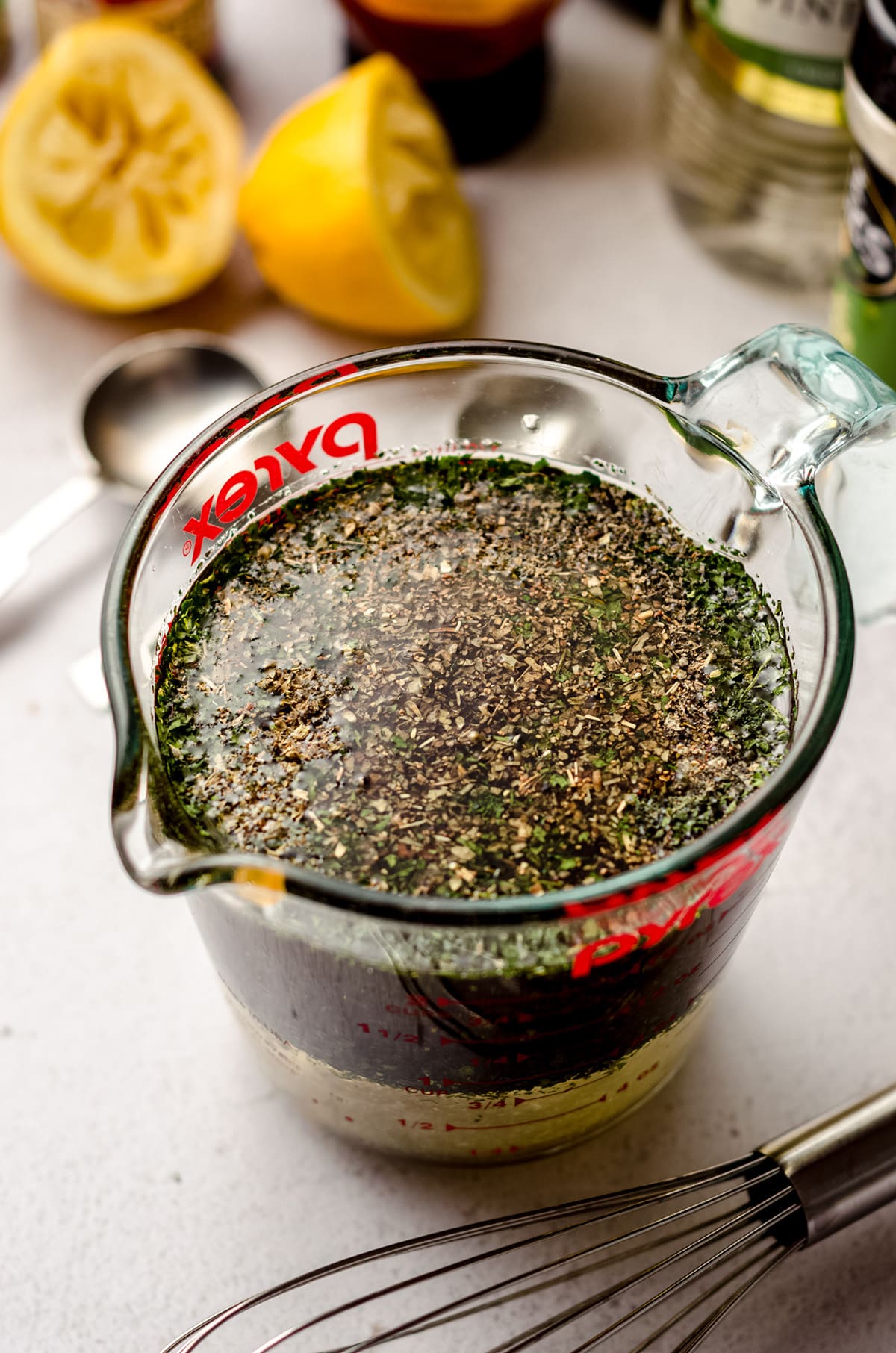 All of the ingredients get mixed together, but they're in the order I listed them because it's the easiest. But you know what, friend? You do you. I'm just excited you'll be making your own dressing.
HOW TO STORE HOMEMADE SALAD DRESSING
While you'll store your homemade Italian dressing in the fridge just like you would a store-bought version, remember that we aren't adding any preservatives. It will last about 2-4 weeks, but I guarantee you'll go through it fast enough if you're anything like us when it comes to the salad eating and veggie dipping opportunities that are in your near future.
It will separate and become a little solid when it's cold, but we just let it sit out for a few minutes at room temp, stick the jar in the microwave for about 10 seconds, or run it under hot water for a bit to loosen it up.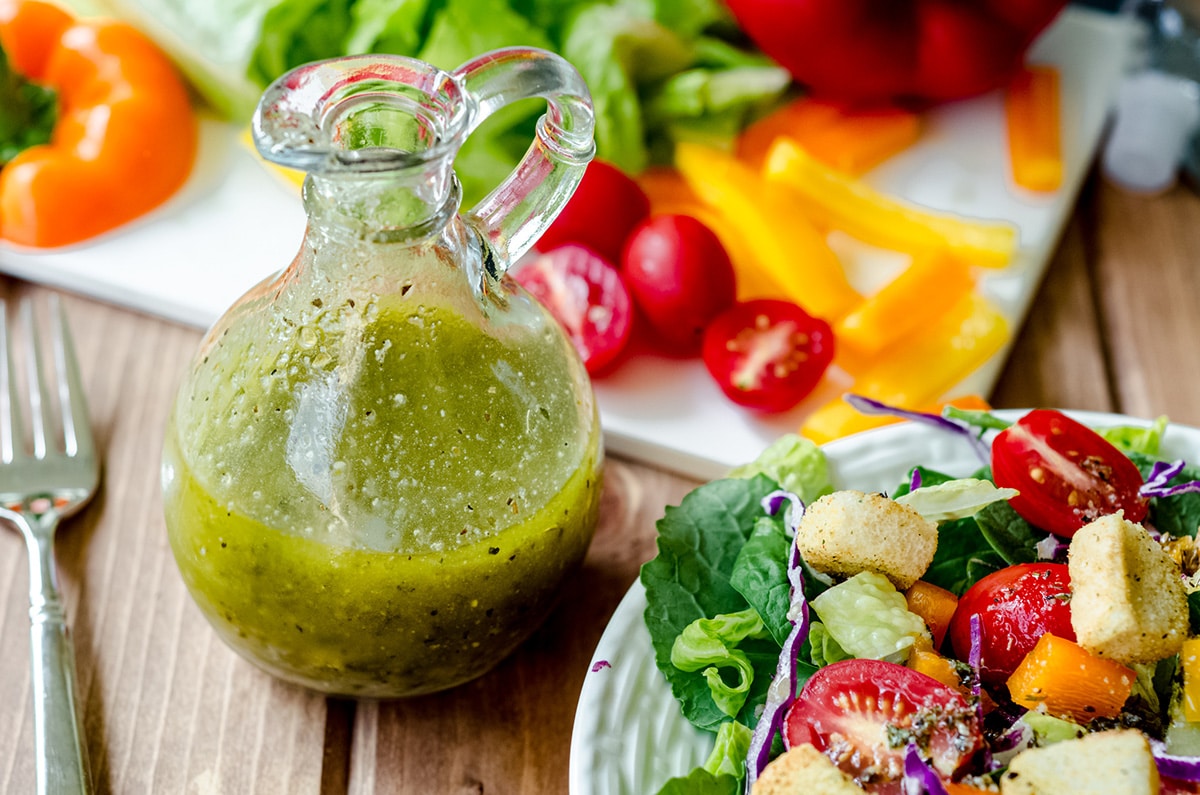 A quick shake or swirl and your homemade Italian dressing is ready to go in or on all your tasty dishes!
You could even use it as a marinade. Hello, grilling season!
Perhaps my favorite way to use this zesty Italian dressing recipe is in my spaghetti salad. This is a non-traditional pasta salad recipe that is sure to capture your heart and tastebuds like it did mine!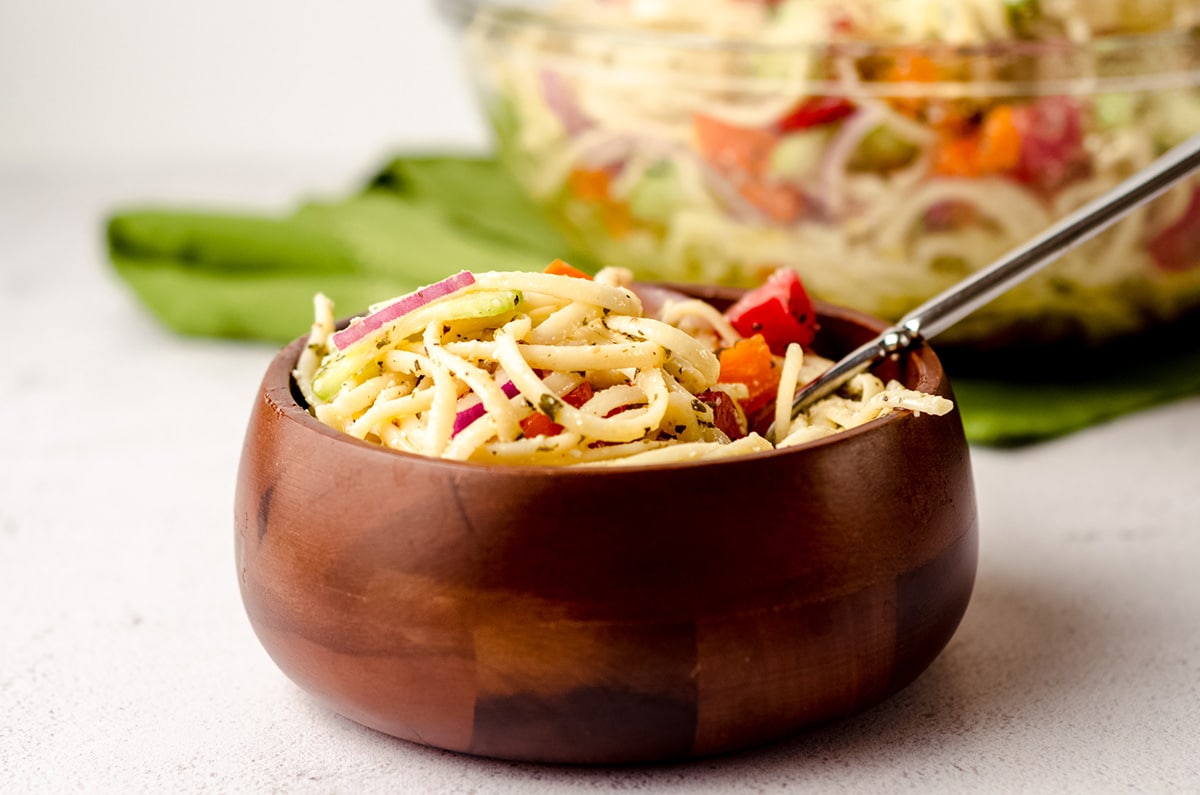 Looking for some things to go with your Italian dressing dressed-salad? Try my gluten free meatballs, homemade meat sauce, easy homemade garlic knots, or baked ziti.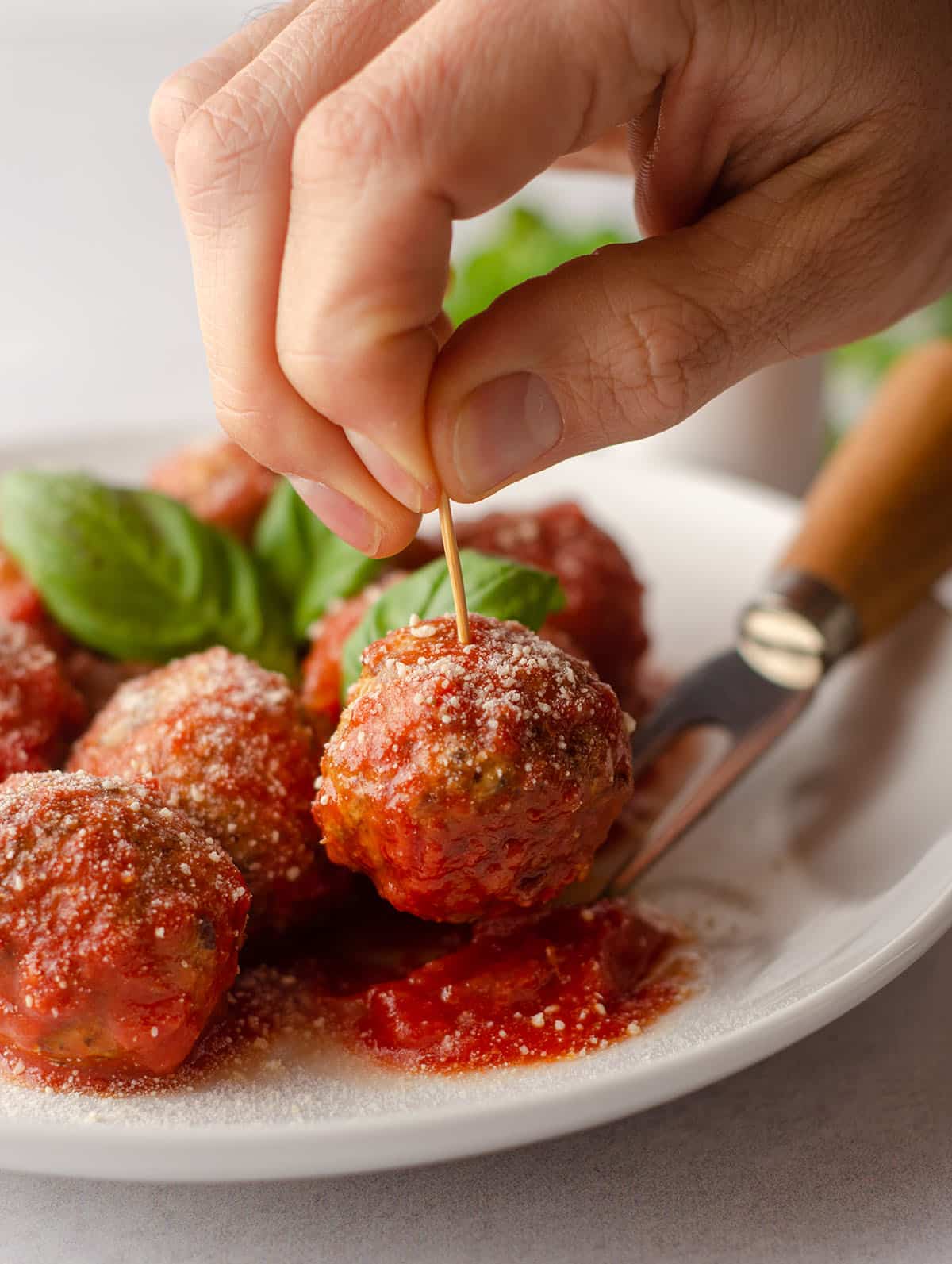 Homemade Italian Dressing
You only need a handful of simple pantry ingredients to make this easy homemade Italian dressing, perfect for salads, meat marinades, pasta salads, or any recipe you have that calls for a bottle of Italian dressing.
Ingredients
1 and ½

cups

(360mL) extra virgin olive oil

½

cup

(120mL) white wine vinegar

¼

cup

(30g) grated Parmesan cheese1

2

Tablespoons

dried parsley

1 and ½

teaspoons

lemon juice

2

teaspoons

dried basil

2

teaspoons

dried oregano

2

teaspoons

onion powder

2

teaspoons

(14mL) honey

1

teaspoon

garlic powder

1

teaspoon

salt

1

teaspoon

freshly ground black pepper
Instructions
Combine olive oil and vinegar in a medium size glass container, preferably one with a spout.

Add the Parmesan cheese, parsley, lemon juice, basil, oregano, onion powder, honey, garlic powder, salt, and black pepper. Stir or shake (if there is a lid) until everything is well combined.

Store dressing in the refrigerator, covered, up to 1 month. Allow to sit at room temperature for a few minutes or run under hot water for a few seconds to loosen dressing. Shake or stir before using2.
Notes
Parmesan cheese: if you want to keep this dressing dairy-free, simply omit the Parmesan cheese.
Use: you can also use this dressing as a marinade or dipping dressing.
Nutrition Disclosure
All nutritional values are approximate and provided to the reader as a courtesy. Changing ingredients and/or quantities will alter the estimated nutritional calculations.