Homemade Hot Cocoa Mix Recipe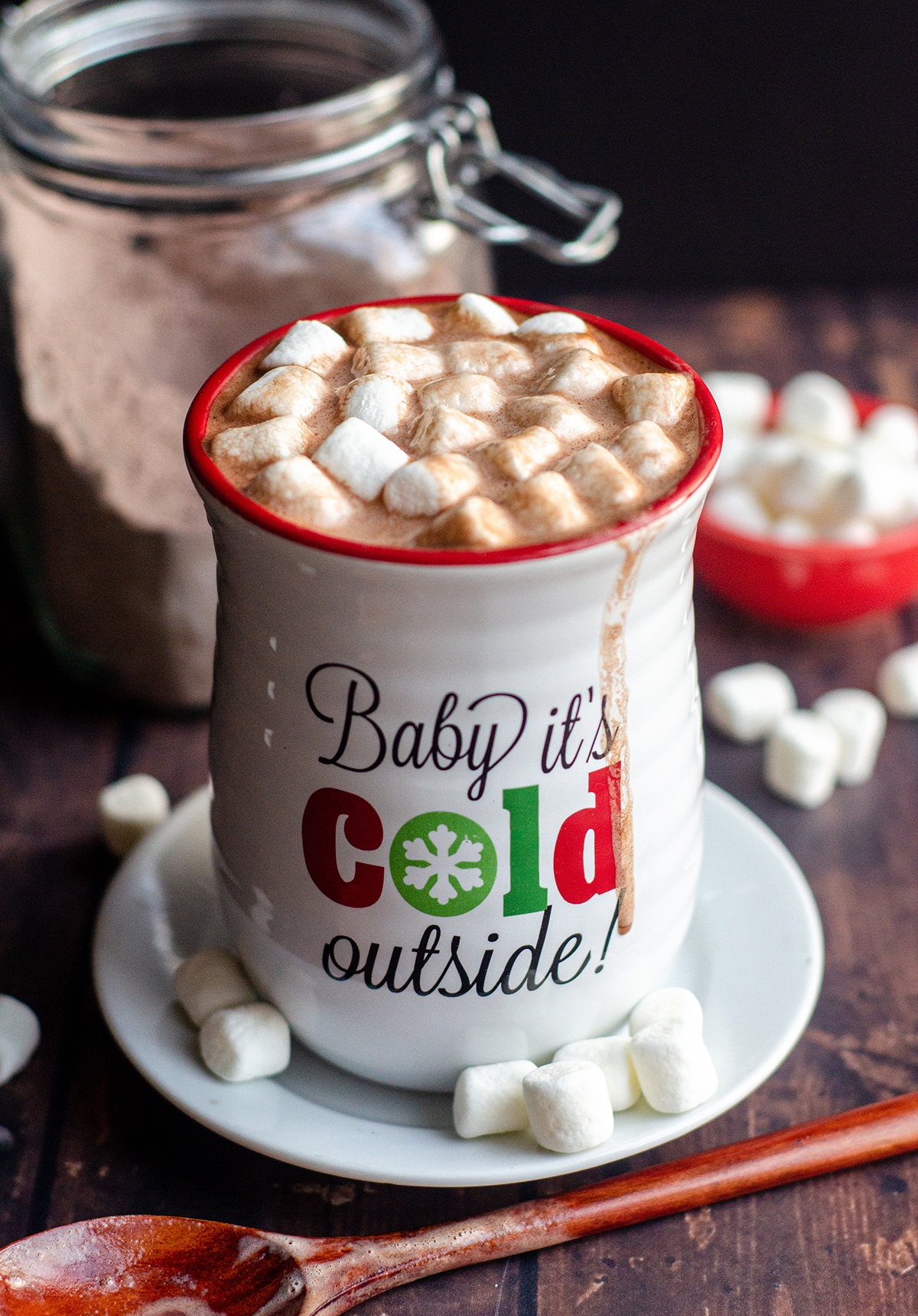 As an Amazon Associate, I earn from qualifying purchases. Read the full disclosure here.
Ditch the store-bought and make your own homemade cocoa mix to keep in your pantry. It's also perfect for gifting as a homemade holiday gift.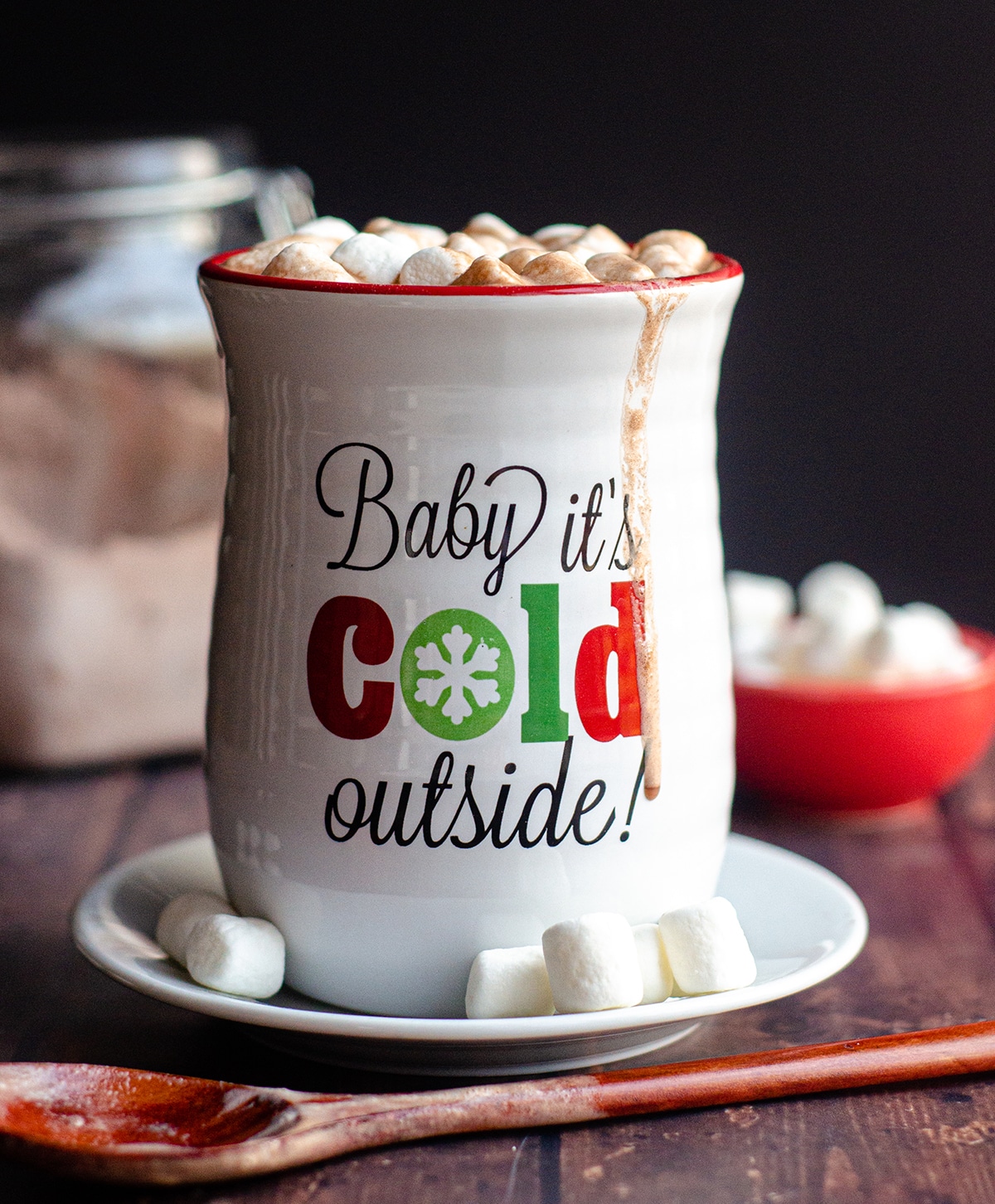 Homemade Hot Chocolate for the win
Are you a homemade gift lover? I am such a fan of them, especially consumable gifts.
I am known for bringing homemade bourbon caramel sauce, homemade vanilla extract, hot chocolate bombs, and this homemade hot chocolate mix to folks around the holidays.
I don't know about your family, but when our family/families started having kids, we stopped buying gifts for the adults and just focused on gifts for the kids, so when we go visit friends and family for these gatherings, I always like to bring something for the host as a thank you for having us.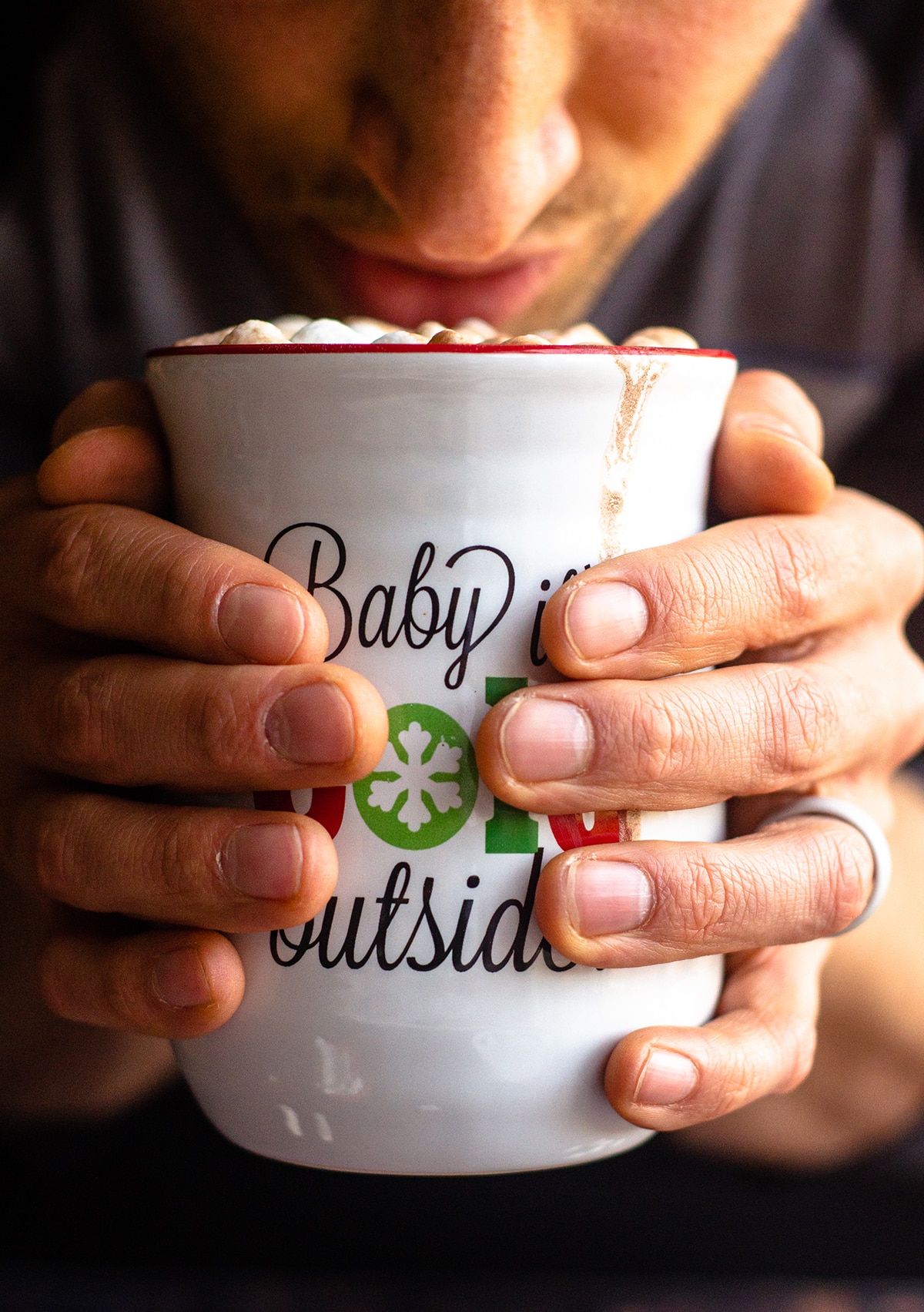 I love bringing these kinds of gifts to hosts because they're a nice gesture and they don't always have to be used right away.
In fact, my homemade vanilla extract has been steeping the same beans since I photographed that recipe in 2014. Check that one out, for sure!
Another reason I like homemade hot cocoa is because with kiddos, playing outside in the snow is 100% on our radar when cold weather comes around.
The first year we had a child old enough for playing in the snow, he out-of-the-blue requested hot cocoa upon coming back inside.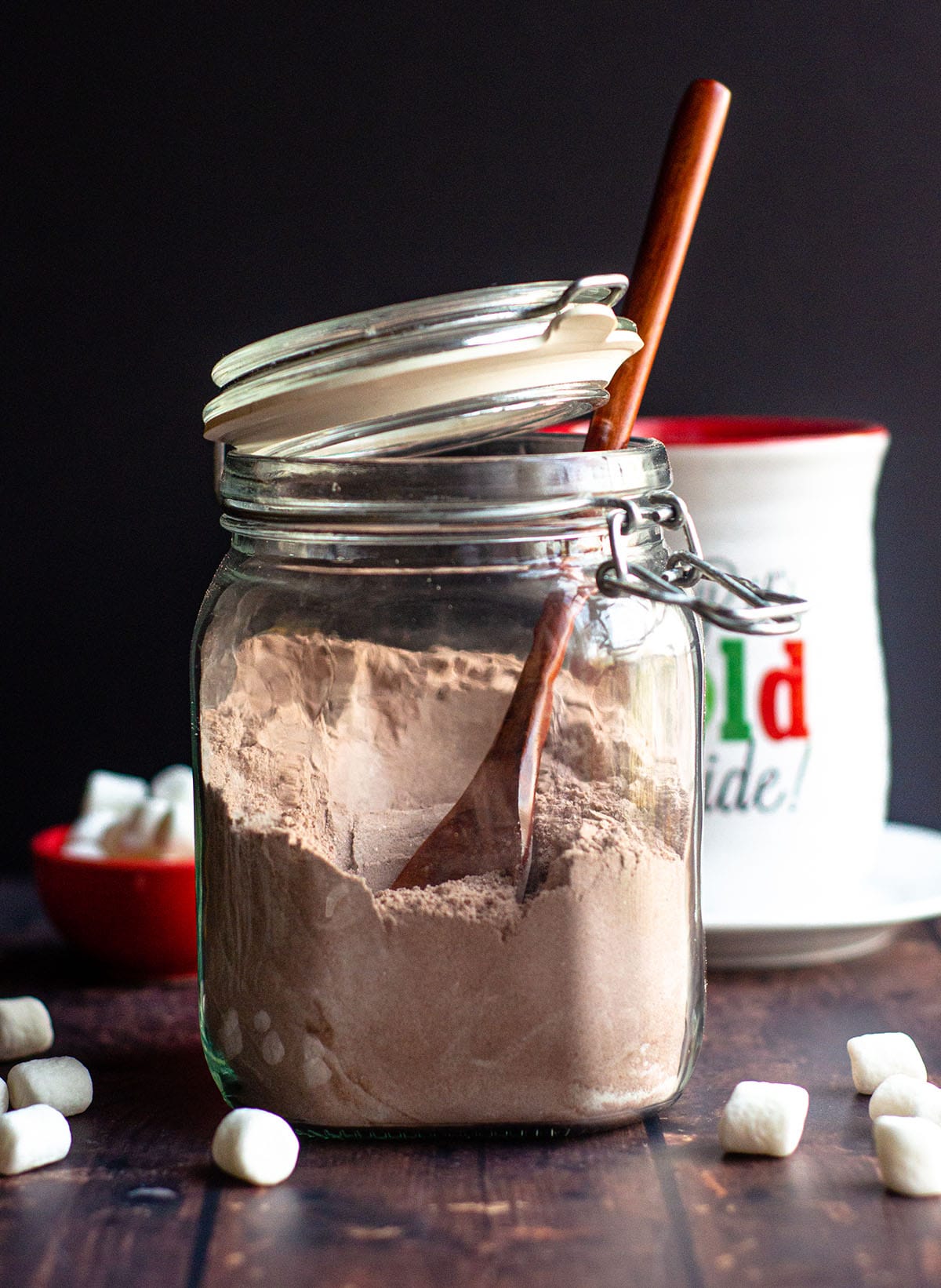 Of course, we didn't have any, so I did a quick Google of "homemade hot cocoa mix" and was met with Alton Brown's recipe.
I was a bit bummed to find that I needed dry milk powder, which of course I didn't have on hand, so we forewent that and just used sugar, cocoa powder, and salt. And it was less than stellar.
Turns out a hot cocoa mix recipe with powdered milk is the only way to go.
From that day on, I vowed to get some powdered milk and throw this less complicated recipe (seriously, he's got so much going on in his original one) up here on my site for snowy days, cozy evenings, and homemade holiday gifts alike.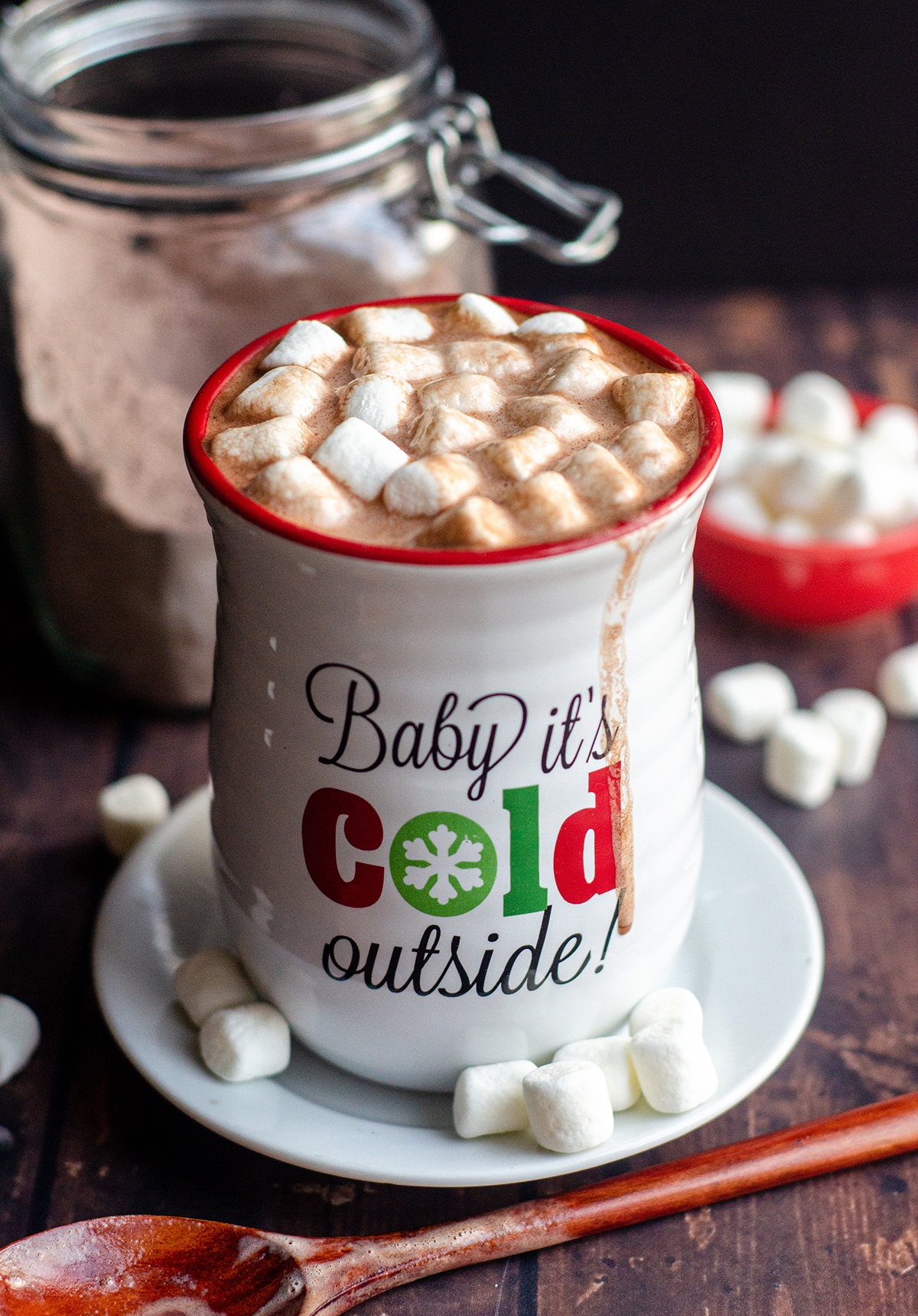 Homemade Hot Chocolate Mix ingredients
So here's the thing– this is mega simple. You only need 4 ingredients, and you'll have enough to make 6 servings of hot cocoa.
Of course, you can scale this recipe for hot chocolate mix if you're looking to gift it away, have more folks in your home who may want some hot cocoa, or just think you'd be better served with a boatload of homemade hot cocoa mix in your pantry vs a smaller amount (that's us).
On the ingredient list is:
•dry milk powder
•powdered sugar
•Dutch processed cocoa powder (or regular unsweetened)
•salt
That's it. That's all you need to get the best homemade hot chocolate mix happening on standby in your pantry all winter.
And since salt is really not much of an ingredient, this is essentially 3 ingredient hot cocoa mix. How is that for easy?
How to make Hot Cocoa with this Hot Chocolate Mix
When it comes time to make up a cup, you'll need 1 Tablespoon of mix for every 2 ounces of liquid. Liquid can be water or milk, completely your choice.
Pro tip: back when I still worked in the lab, I would sometimes use half a hot cocoa mix packet with a cup of coffee for an afternoon pick-me-up/treat. It was most excellent.
That said, you could also use coffee.
Just don't leave out those marshmallows… Mmmmkay?
Hot cocoa without marshmallows is so sad!
The thing I love most about this homemade hot cocoa mix is that it's not too sweet. It's the perfect balance of chocolate and sweetness, and if you're feeling like it could be more chocolatey, add some chocolate syrup or use some sweetened almond milk.
Cater your mix to your needs. And make it your best cup of cocoa ever.
SIFT FOR THE BEST TEXTURE
Just oneeee major point here: you've got to sift those ingredients. Cocoa tends to be very chunky, and tossing it into powdered sugar (which can also tend to clump up) is just going to make matters worse.
Sift sift sift!
You'll only have to do this once, and all should be well and good inside the container you're keeping your mix in.
How to make a single serving of Homemade Hot Chocolate
If you'd like to make homemade hot chocolate mix single serving style, use 3 and ½ Tablespoons of powdered milk, 2 and ½ Tablespoons of powdered sugar, 1 and ½ Tablespoons of cocoa powder, and just a pinch of salt.
Then, use your 8 ounces of preferred liquid.
Keep for yourself, gift out, make for neighbors who are shoveling your driveway… Anything goes in homemade hot cocoa land.
Should you make hot chocolate with boiling water?
You can make hot chocolate with boiling water or milk. Personally, I prefer the added creaminess of using milk, but since this mix is made with powdered milk, using water will dissolve that powder to make a milky texture.
Hot Chocolate Mix Recipe storage
You can store this hot chocolate mix in an airtight container in a cool, dry place for up to 1 year.
To package for gifting, place in a lidded jar or food storage container with decorative bow and a tag or sticker with instructions.
Homemade Hot Cocoa FAQs
How much hot chocolate mix per cup?
To make hot chocolate, you'll want to combine 1 Tablespoon of hot cocoa mix for every 2 ounces of liquid (use boiling water or hot milk). Standard cup size is 8oz, so you'll want to use 4 Tablespoons per cup of water or milk.
What's the difference between hot chocolate and hot cocoa?
While these two names are often used synonymously, hot chocolate is typically made from melted chocolate and how cocoa is made from cocoa powder.
Is hot chocolate mix just cocoa powder?
Hot chocolate mix is not just cocoa powder– there is a sweetener, a milk component, and a little salt to offset the sweetness.
Is hot chocolate just chocolate milk but hot?
Sometimes, hot chocolate can just simply be warmed chocolate milk. It all comes down to personal preference of flavor and ingredient availability.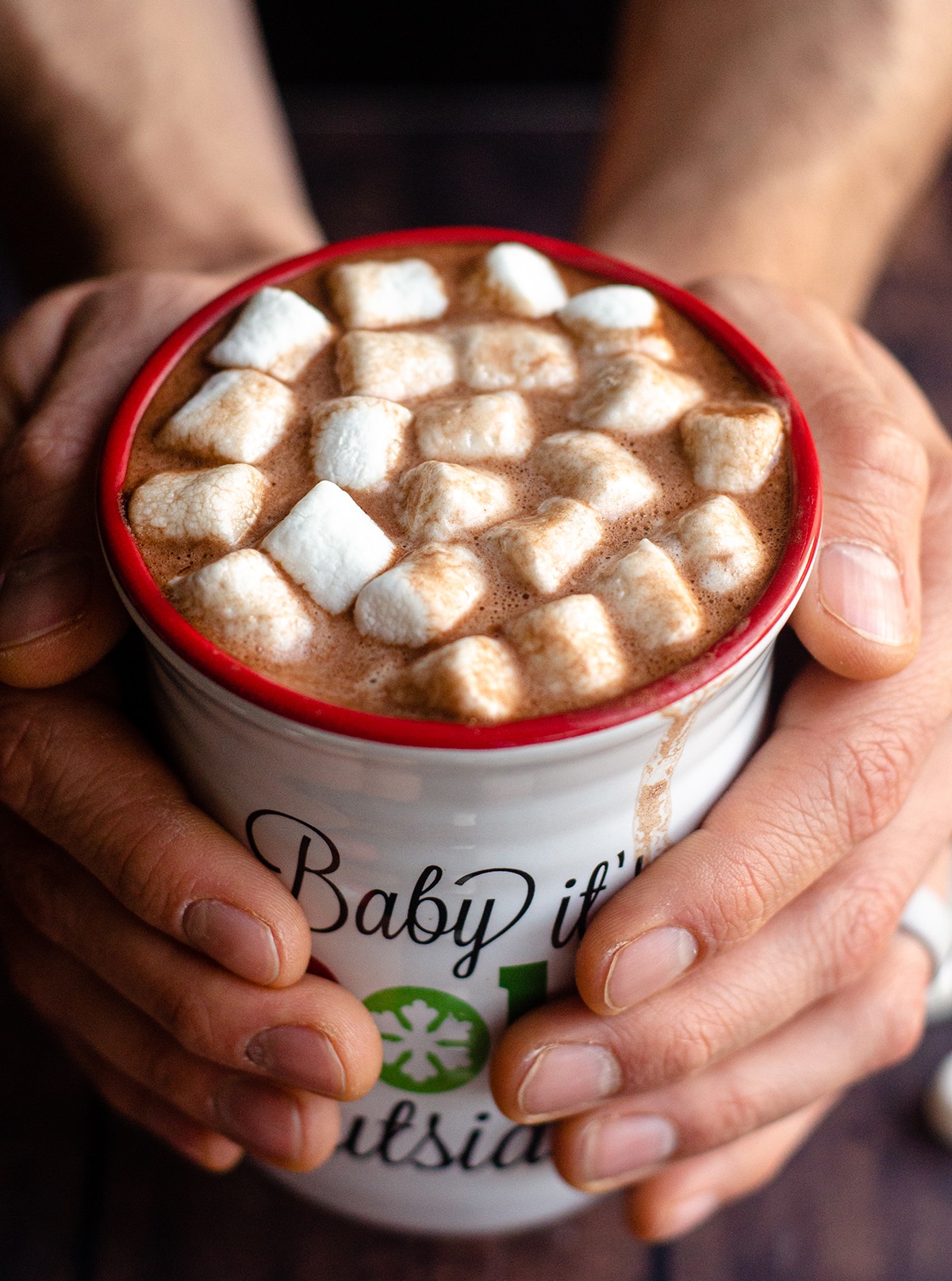 Just seriously, don't forget those mallows!
Hot Cocoa Mix Recipe
Ditch the store-bought and make your own homemade cocoa mix to keep in your pantry. It's also perfect for gifting as a homemade holiday gift.
Servings:
6
servings (2 and 3/4 cup mix)
Ingredients
1 and ¼

cups

(115g) nonfat dry milk powder

1

cup

(120g) powdered sugar

½

cup

(48g) Dutch processed cocoa powder

unsweetened cocoa powder is fine

¼

teaspoon

salt
Instructions
In a large bowl, sift together all of the ingredients. Sifting is imperative as mix will remain lumpy if you just stir it.

Stir sifted ingredients to insure everything is dispersed evenly. Store in an airtight container in a cool, dry place up to 1 year.

To use: combine 1 Tablespoon of hot cocoa mix for every 2 ounces of liquid (use water or milk). Serving size is for 8 ounces of hot cocoa (4 Tablespoons of mix and 8 ounces of hot water). For decadent hot cocoa, use 1 Tablespoon mix for every 1 ounce of liquid.
Nutrition Disclosure
All nutritional values are approximate and provided to the reader as a courtesy. Changing ingredients and/or quantities will alter the estimated nutritional calculations.
Serving:
1
serving
|
Calories:
191
kcal
|
Carbohydrates:
38
g
|
Protein:
11
g
|
Fat:
1
g
|
Saturated Fat:
1
g
|
Polyunsaturated Fat:
0.04
g
|
Monounsaturated Fat:
0.4
g
|
Cholesterol:
5
mg
|
Sodium:
241
mg
|
Potassium:
587
mg
|
Fiber:
3
g
|
Sugar:
34
g
|
Vitamin A:
581
IU
|
Vitamin C:
2
mg
|
Calcium:
345
mg
|
Iron:
1
mg