As an Amazon Associate, I earn from qualifying purchases. Read the full disclosure here.
Easy chocolate bark made with bananas, pineapples, strawberries, and peanuts.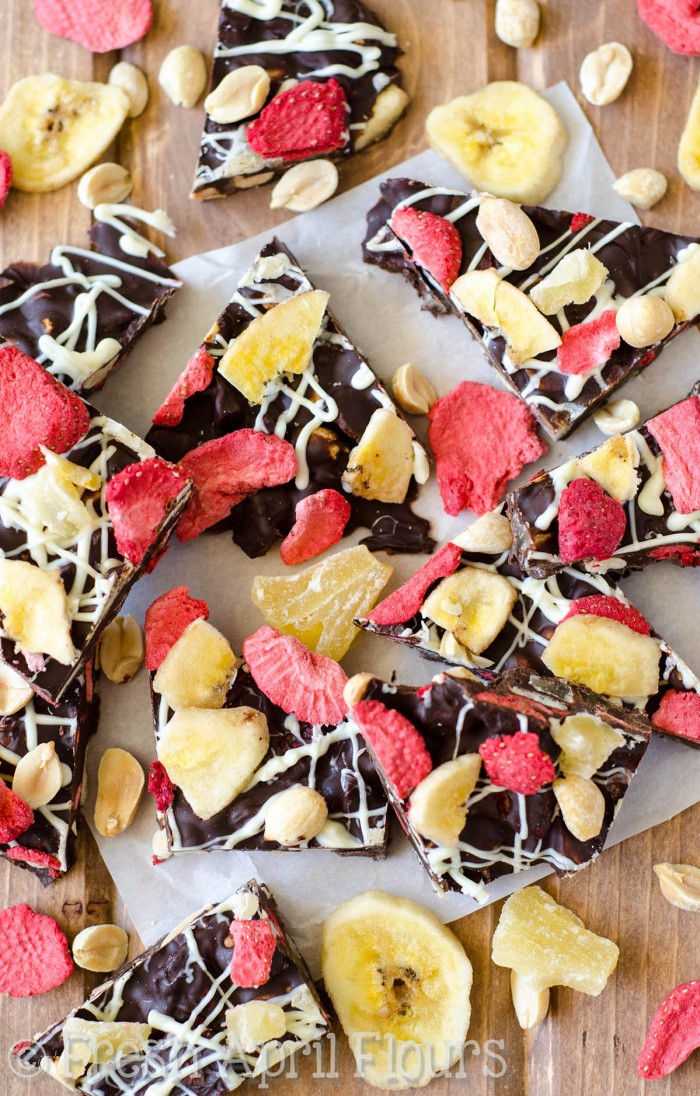 Tell me how you feel about banana splits, will you? Are you into 'em? Do you not really love them? Have you, heaven forbid, never had one?
I hope you love 'em, because they are near and dear to my heart.
The first time I hung out with my very best friend (we were in 11th grade), we went to see a movie, then went to Friendly's and shared a munchies platter and a banana split. It was basically like a date, but with to-be-eventual-besties.
It was the first time I had ever had a banana split, and ironically enough, we both wound up working at a mom and pop ice cream parlor that following summer where we whipped up banana splits for customers all night long. I always wanted to "mess one up" so I "had to eat it."
That may have been the best job I've ever had. We ate soooo muchhhh ice cream that summer. And I totally wish I still had the metabolism to get away with that now!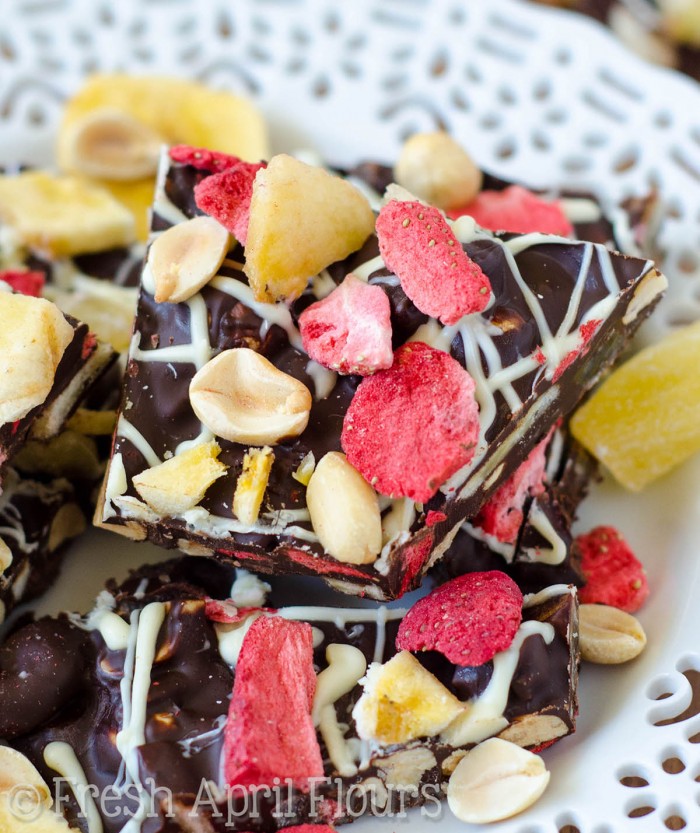 Anyway, back to banana splits… There is so much flavor going on in one of those jam packed desserts. First, you've got the obvious banana adorned with one scoop each of vanilla, chocolate, and strawberry ice cream.
Add some crushed pineapple, peanuts, chocolate sauce, whipped cream, and of course, a cherry on top, and you've got yourself one mean dessert. Sharing is optional, of course.
This ridiculously easy banana split bark aims to recreate that whole mess of flavors but without all the work and ingredients. Plus, while this bark isn't exactly health food, it's most certainly the healthier option to eating an entire banana split yourself. Unless you eat the whole pound of bark yourself.
Whatever. No judgment. Promise.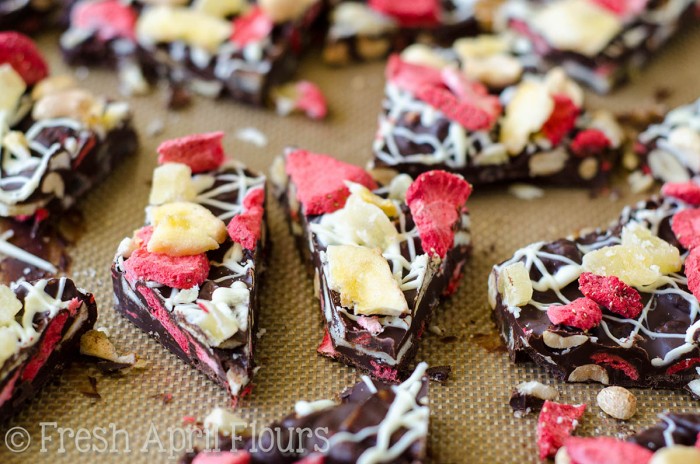 All you need is some quality semi-sweet chocolate*, a little bit of white chocolate, dried banana chips, freeze dried strawberries, dried pineapple, and some roasted peanuts (salted or unsalted is fine).
*Quality chocolate is key. You will not get smooth, melted chocolate from chocolate chips. My preferred brand is Baker's or Ghirardelli.
This bark (like most of my barks) is so simple to throw together that it's hard to even really call it a recipe. In fact, a video would suffice better for you, so I made you one!
Can't view the video? Click here to view it on YouTube.
Even if you've never had an actual banana split, there is one thing for certain: this banana split bark is the entire essence of a melty, drippy, ooey gooey original, packed in tiny little chocolate packages.
If that's not enough to convince you to try this recipe, I'm not sure what else is!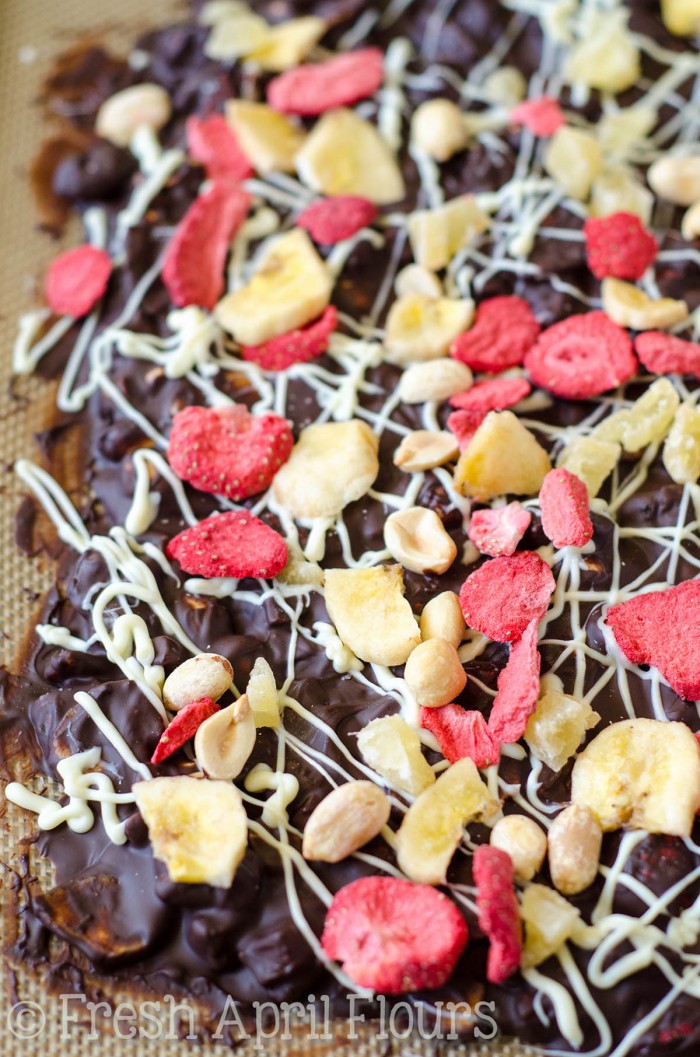 Also… Fruit in chocolate. There's gotta be some benefit in that, right?
Banana Split Bark
Easy chocolate bark made with bananas, pineapples, strawberries, and peanuts.
Servings:
1
pound of bark
Ingredients
¾

cup

dried sweetened banana chips

broken into medium size pieces

¾

cup

freeze-dried strawberries

coarsely chop if pieces are large*

½

cup

chopped dried pineapple

½

cup

peanuts

roasted unsalted or salted is fine

12

ounces

semi-sweet chocolate

coarsely chopped

2

ounces

white chocolate

coarsely chopped
Instructions
Line large baking sheet with parchment paper or a silicone baking mat. Set aside.

In medium bowl, toss together banana chips, pineapple, strawberries, and peanuts until thoroughly mixed. Reserve ½ cup of mixture and set everything aside.

In a medium saucepan over low-medium heat, melt the semi-sweet chocolate, stirring constantly, until smooth. You may also do this in the microwave, melting chocolate in 15 second intervals and stirring thoroughly with a spatula between each interval.

When semi-sweet chocolate is completely melted, pour over the bowl of mixed fruit and nuts and stir until everything is well-coated. Pour mixture onto prepared baking sheet and form into a large rectangle (mine was approximately 8" x 10"). Set aside.

In a small microwave safe bowl, melt the white chocolate on HIGH in 15 second intervals, stirring thoroughly with a spatula between each interval. Drizzle melted white chocolate evenly over semi-sweet chocolate layer (I did this with a decorating bottle, but you may also use a glass container with a spout or simply a spoon or spatula). Sprinkle with reserved fruit and nut mixture, pressing any loose pieces in gently with your fingers. Allow bark to cool until set, about 45 minutes.

When chocolate is completely set, break into desired pieces with your hands or cut with a sharp knife. Store bark in an airtight container at room temperature in a cool, dry place or in the refrigerator for up to 3 weeks. You may also freeze bark for up to 2 months. Thaw overnight in the refrigerator.
Notes
*If you prefer a sweeter bark, you may use sweetened dried strawberries instead.
Nutrition Disclosure
All nutritional values are approximate and provided to the reader as a courtesy. Changing ingredients and/or quantities will alter the estimated nutritional calculations.
More bark!