Crustless Mushroom & Tarragon Quiche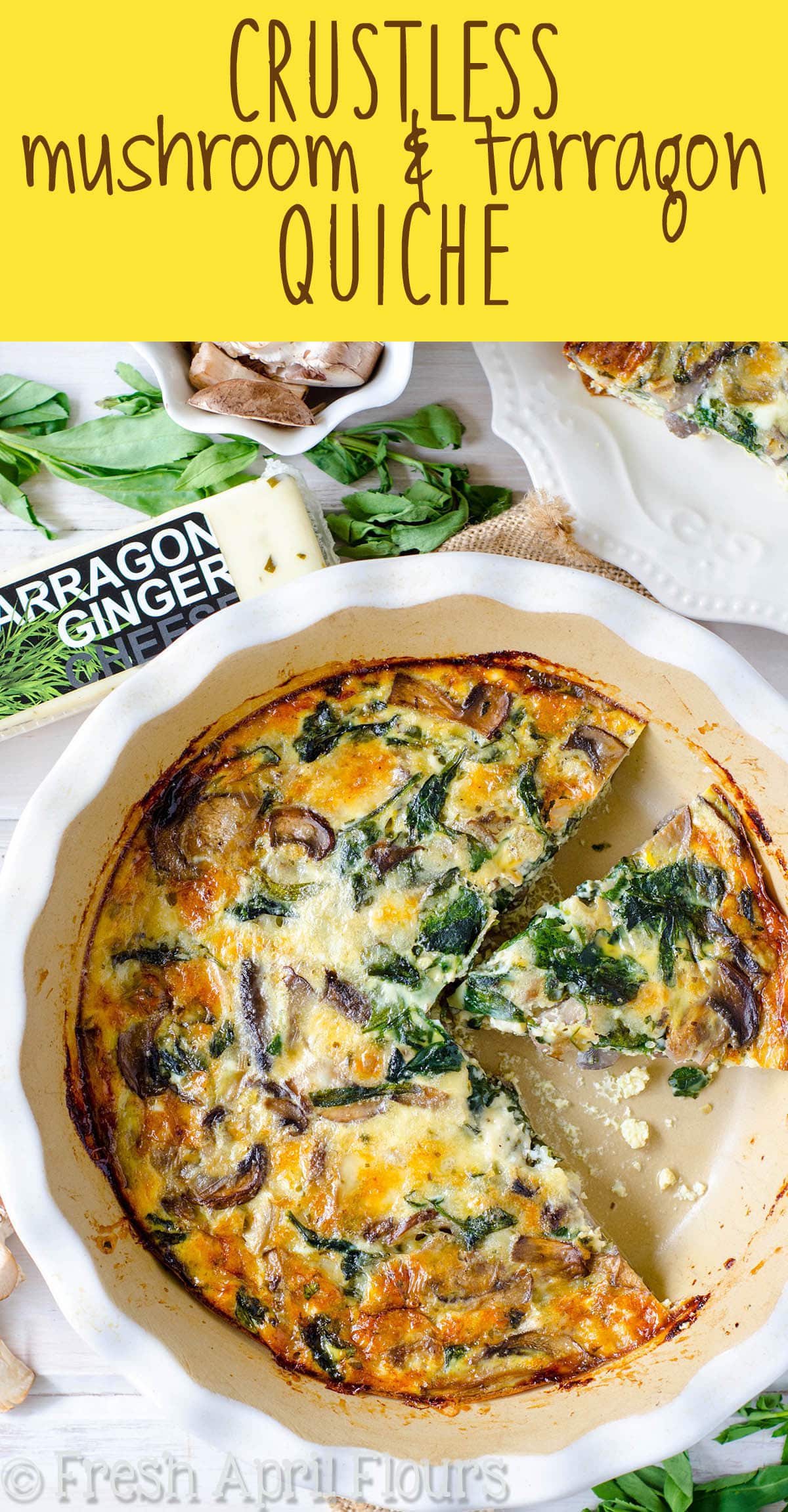 As an Amazon Associate, I earn from qualifying purchases. Read the full disclosure here.
This incredibly flavorful quiche features earthy mushrooms, aromatic tarragon, and ultra creamy tarragon ginger cheese. Great for a hearty low-carb meal.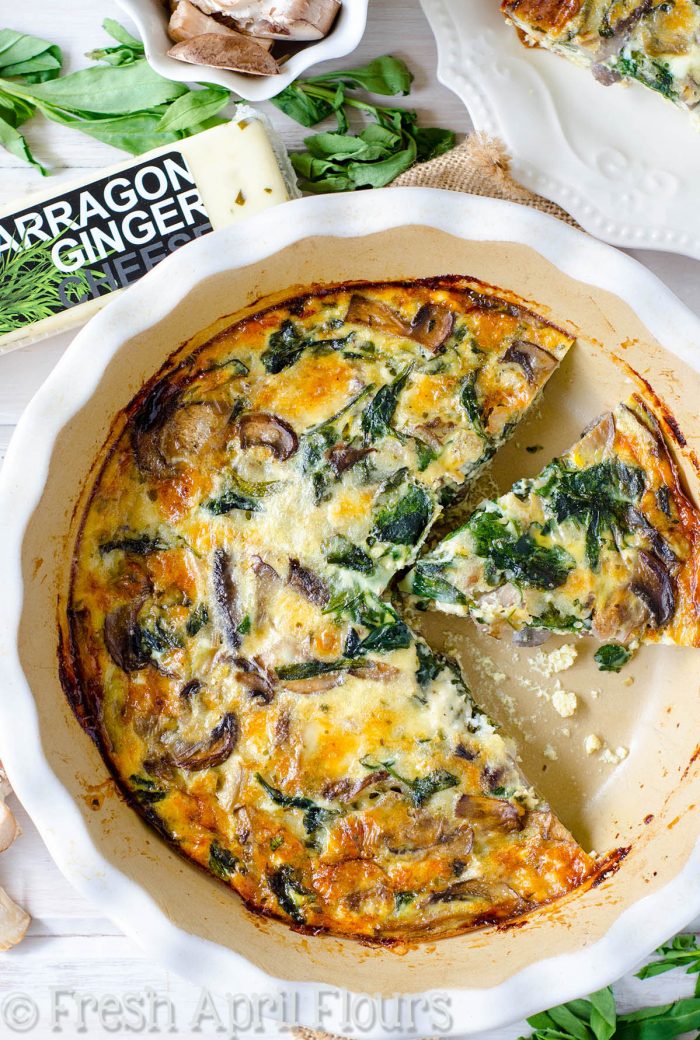 After last week's sprinkle explosion, I think we could all use some vegetables and healthy carbs. How 'bout it?
It may be hard to believe, but both of the quiches (here and here) I have on my blog are incredibly popular recipes. I get a ton of traffic to both of them daily. Along with these blueberry lemon pie bars, but… Life is all about balance, so, that's ok.
I was feeling that it was high time for another quiche, and when I received some tarragon ginger cheese in the mail from my friends at Sincerely, Brigitte, I knew my next recipe had to go in the eggy, breakfasty direction. It was just meant to be!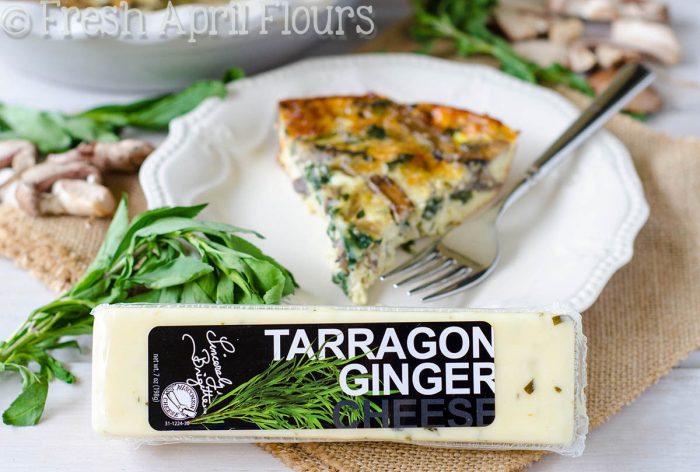 Have you ever tasted tarragon? Like actually tasted tarragon? Before I opened this cheese, I wasn't sure that I liked tarragon, because I always thought it was some weird herb that was only used in French cuisine.
One taste of this cheese and I was immediately proven wrong. I discovered a delightfully bittersweet green flavor, a hint of pepper, and an aftertaste slightly reminiscent of anise (and you know how I feel about anise). I would also describe this creamy, flavorful cheese as "earthy," so pairing it with mushrooms worked out wonderfully in my kitchen.
AND! The perfect way to give a nod to Earth Day later this week! Celebratory foods. Love 'em.
This quiche is no fuss, easy peasy, make-ahead, make now, freeze for later, serve for breakfast/brunch/lunch/dinner/a snack, and of course, jam packed with fresh and good-for-you ingredients that make it the perfect way to get lots of fiber, protein, and good fats.
And since this is crustless, it's naturally gluten free (although you can certainly use the cauliflower crust from my cheesy vegetable quiche)! Don't care about the gluten? Throw it in my favorite homemade pie crust.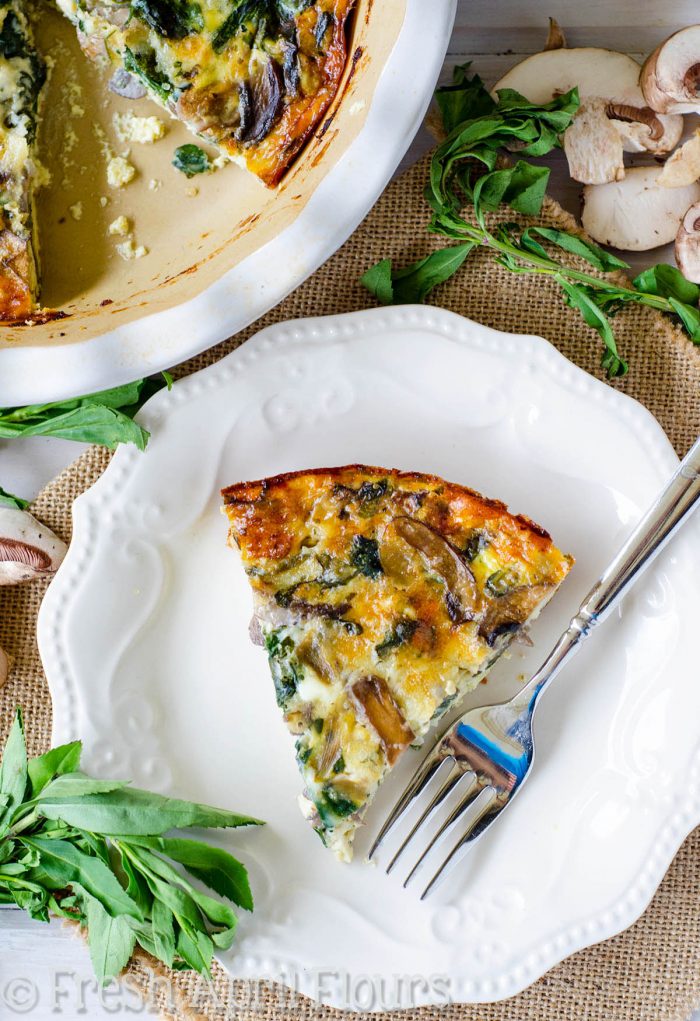 Like I said: no fuss quiche. You'll start with some chopped onion and sliced mushrooms. Sweat 'em out, soften 'em up, then wilt some fresh spinach and tarragon along right into that beautiful veggie mix.
I decided to amp up the tarragon flavor in this quiche with some fresh tarragon (as opposed to dried and in the spice aisle), which gave our kitchen an incredible aroma and the quiche a stunning flavor. This is a must for supreme flavor.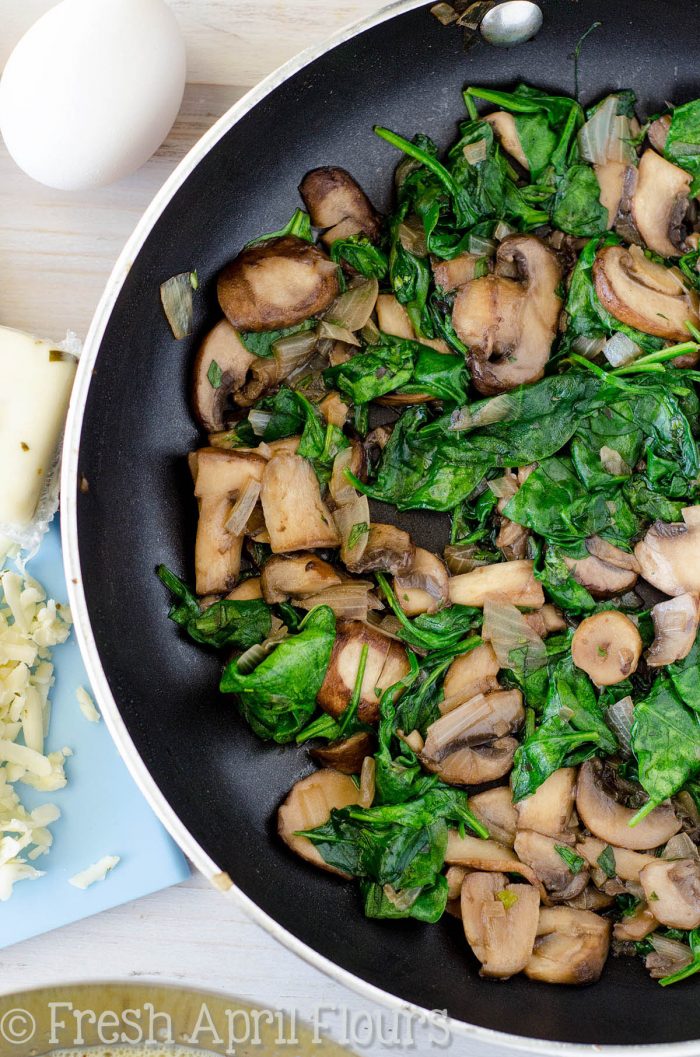 Once the filling is done, you'll prepare the egg filling. Just 4 large eggs, some milk (any unsweetened/unflavored kind works here), and some salt & pepper. See? Easy.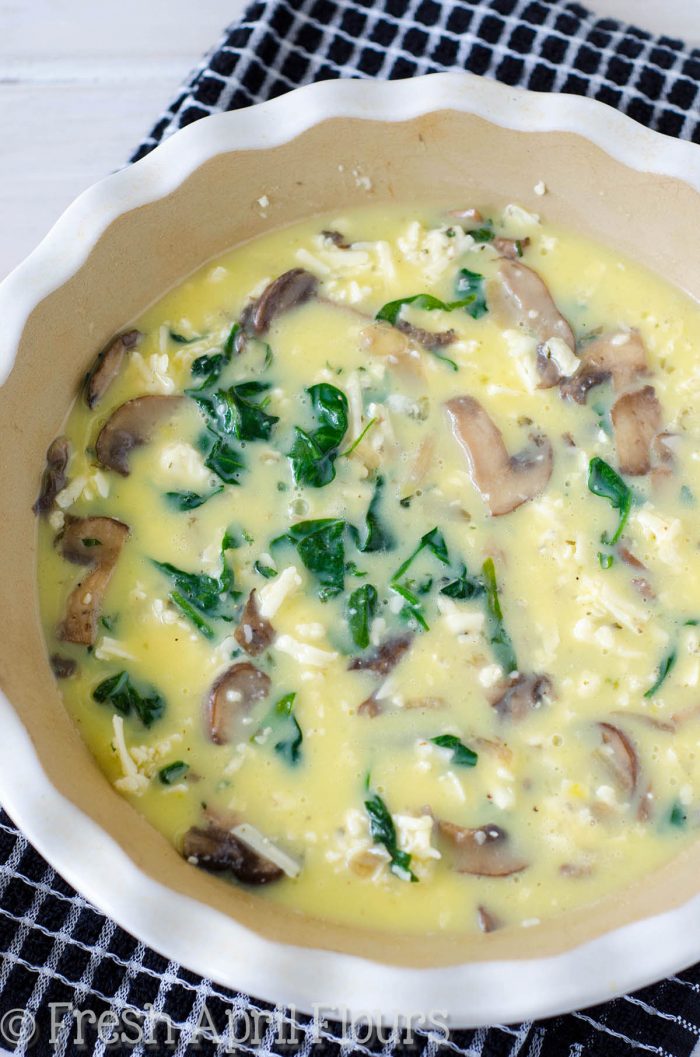 Veggie filling + creamy shredded cheese right on top + egg mixture and you're ready to go. Just about 40 minutes in the oven, 10 minutes of cooling (otherwise it will likely fall apart with the first cut!), and in about an hour, you've got yourself one impressive meal.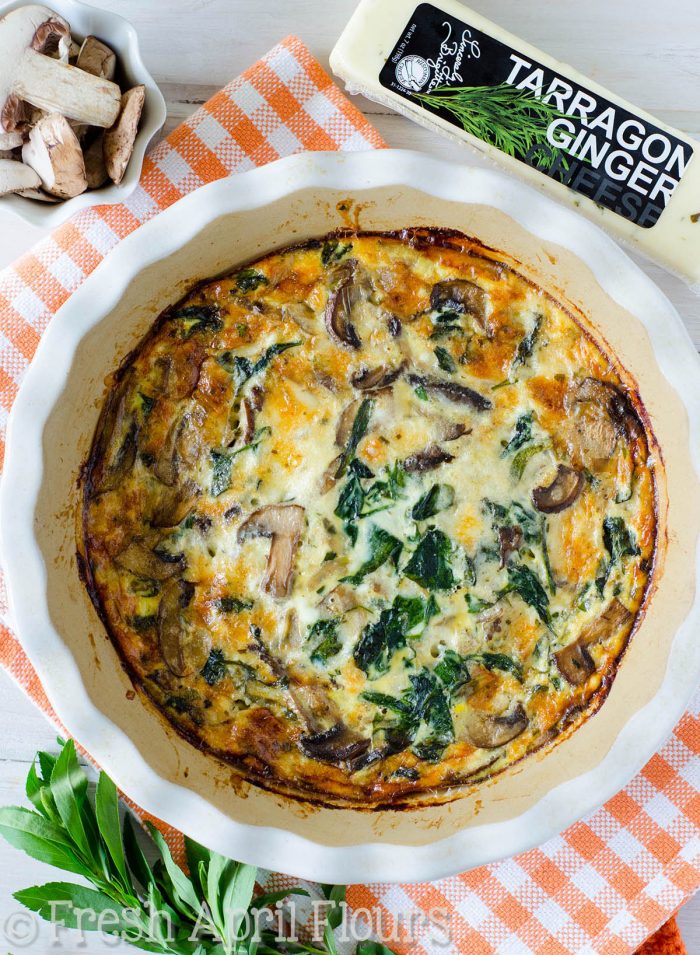 As I said earlier, you can absolutely serve this for any meal of the day. We actually ate the first round in 2 days. I made it a second time and we managed to keep around for 3 days while practicing extreme self-control. And you better believe we had it for all sorts of meals. Including a snack.
I actually made this quiche at the same time I made these roasted herbed red potatoes, and the two went perfectly together for a lazy Sunday breakfast. DO IT. You won't regret it.
If you're hesitant to put mushrooms, tarragon, cheese, and eggs together in your next meal, don't be. This was one of the most fantastic recipes I've ever put together, and I know that it will be making another appearance as soon as we get our hands on some more mushrooms.
I mean, we do live right outside the mushroom capital of the world (yes, they do drop a giant mushroom on New Year's Eve), so I'm thinking that needs to happen sooner than later.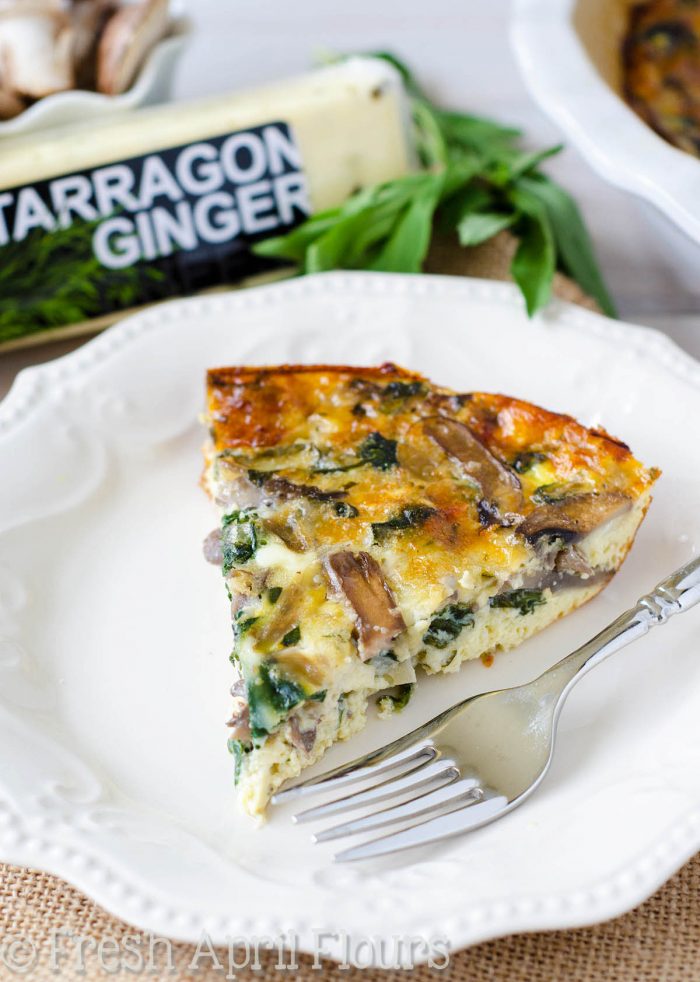 Plus, if there's any meal that can get cheese in my belly, I'm all for it. Add in veggies and super flavor? Pshh, quiche alldayerryday!
Crustless Mushroom & Tarragon Quiche
This incredibly flavorful quiche features earthy mushrooms, aromatic tarragon, and ultra creamy tarragon ginger cheese. Great for a hearty low-carb meal.
Ingredients
1

teaspoon

olive oil

1/3

cup

chopped yellow onion

about 1/2 of a medium onion

1/2

pound

mushrooms

sliced into 1/4" slices

3

cups

baby spinach

if using regular spinach, roughly chop

1

Tablespoon

chopped fresh tarragon

remove leaves from stems; approximately 5-6 medium sprigs

4

large eggs

3/4

cup

milk

any

1/2

teaspoon

salt

1/4

freshly cracked pepper
Instructions
Preheat the oven to 350ºF. Spray an 8" or 9" pie plate lightly with non-stick spray. Set aside.

Heat the olive oil in a large skillet over medium heat. Add the onion and mushrooms to the skillet and heat while stirring frequently with a spatula or wooden spoon until mushrooms are tender and most of the moisture is gone (approximately 8-10 minutes). Add the spinach and tarragon and continue to cook for 1-2 additional minutes until spinach is wilted and tarragon is fragrant. Remove from heat and set aside.

In a medium size bowl, whisk together the eggs, milk, salt, and pepper. Pour the cooked vegetables into the bottom of the prepared pie plate. Sprinkle with the shredded cheese and use a spatula to spread the vegetables and cheese into an even layer on the bottom of the pie plate. Pour the egg mixture evenly over the vegetables and cheese. Bake for 38-42 minutes until lightly browned on top. Allow to cool at least 10 minutes before serving. Cover leftovers tightly and store in the refrigerator up to 4 days, or in the freezer up to 2 months. Thaw in refrigerator overnight and bake at 350ºF for about 20 minutes.
Nutrition Disclosure
All nutritional values are approximate and provided to the reader as a courtesy. Changing ingredients and/or quantities will alter the estimated nutritional calculations.
Throw some Roasted Herbed Red Potatoes on the side of this cheesy quiche!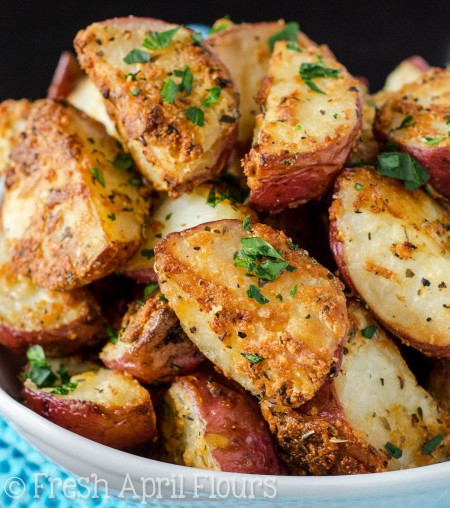 Feeling something a little on the sweeter side? Baked Chai Donuts should fit the bill!