Cranberry Almond Vanilla Protein Bars

As an Amazon Associate, I earn from qualifying purchases. Read the full disclosure here.
Grain free, gluten free, and wholesome protein bars filled with wholesome ingredients and a hefty dose of natural protein. Perfect for on-the-go snacking!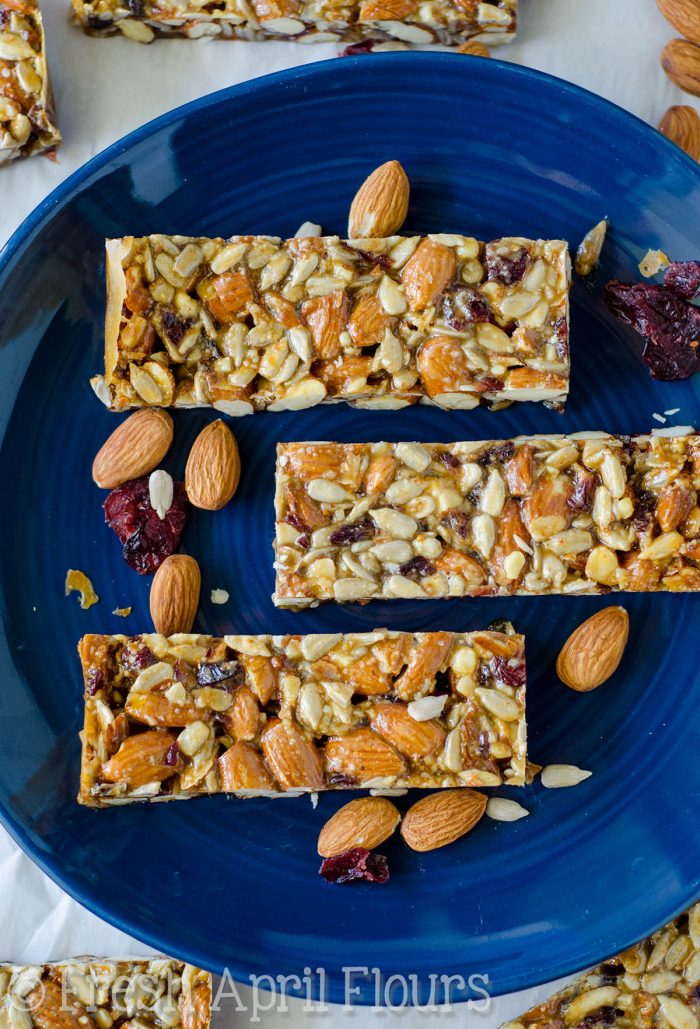 There's one thing that really grinds my gears when it comes to the "healthy food" world. Well… There are a few things, but one really big one that I find a lot are foods that are loaded with sugar and artificial ingredients but are still targeted toward athletes, fitness freaks, and those trying to live a healthy lifestyle.
Don't get me wrong, I love me some cookies and cake, but life is all about balance, and when I'm trying to make the healthy choice, I want to go full-throttle and fuel my body with good stuff (that also tastes good)!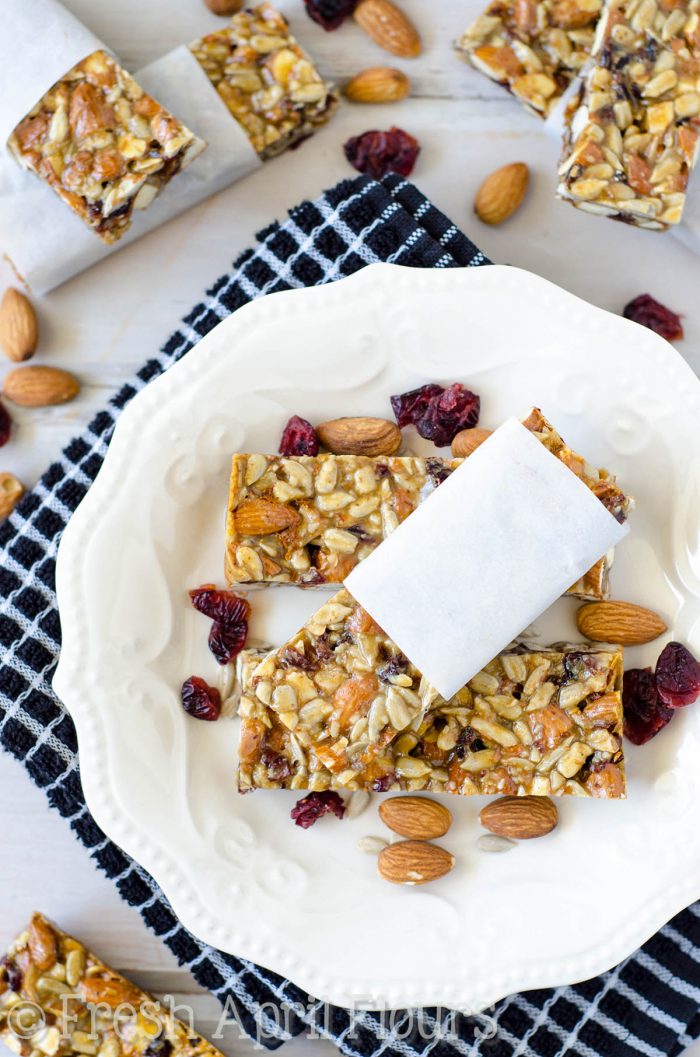 Something we used to eat a lot of around here were KIND bars. Surely you've heard of them? For the most part, these bars check off all the boxes in my approved healthier choices list, but there's one thing I don't love: they're fairly expensive for their size and not all of them have a great balance of macro nutrients for my liking.
One thing I decided I wanted to make when I started baking for myself again and blogging about it was a protein bar that had lots of protein in it without using protein powder. Why? Because protein powder makes me feel weird sometimes (although this one is both Lynn and Matt approved!) and can often be filled with strange ingredients and flavorings.
When I started working with collagen peptides, I knew they would be the perfect solution to upping the protein in my snacks without getting funky with the ingredient list. Score!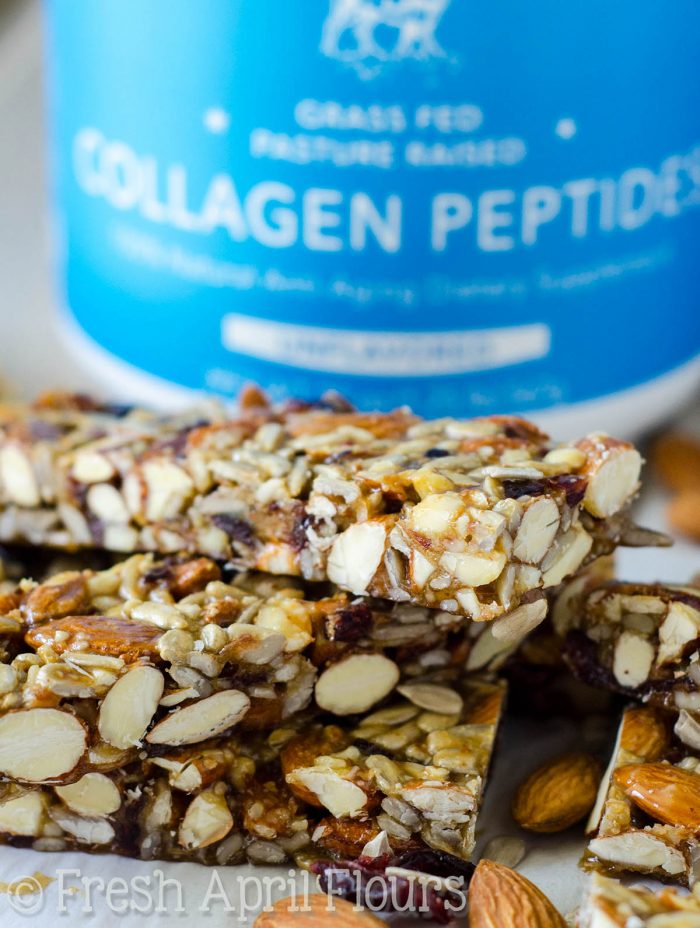 I wish that the journey to the final product of these bars were as easy as finding the perfect protein supplement, but alas… It was not. It took me several tries to get these bars just right, and although each trial was super tasty, we had many trials of ultra-sticky, too crunchy, and slightly burned protein bars.
Womp womp.
These things happen when you develop recipes, but I'm glad to have finally found the perfect recipe to share with you!
These bars are really very simple. No fancy ingredients or techniques, and nothing you don't recognize. You will need a little bit of elbow grease, as stirring together sticky honey and lots of bulky, crunchy nuts can get a little tough. No worries– you're burning calories! Right? Ya with me?
You'll start with honey, and although you will add a little water to the honey to thin it out, I don't suggest using a thinner liquid sweetener like agave. That's too thin. Rice syrup would be a good substitute as well.
Since your collagen peptides can dissolve easily in liquid, you'll add them right to the honey/water and stir to make a sticky paste. It's going to be fairly thick, but that's completely ok. Once everything else gets thrown into the mix, everything smooths out just fine.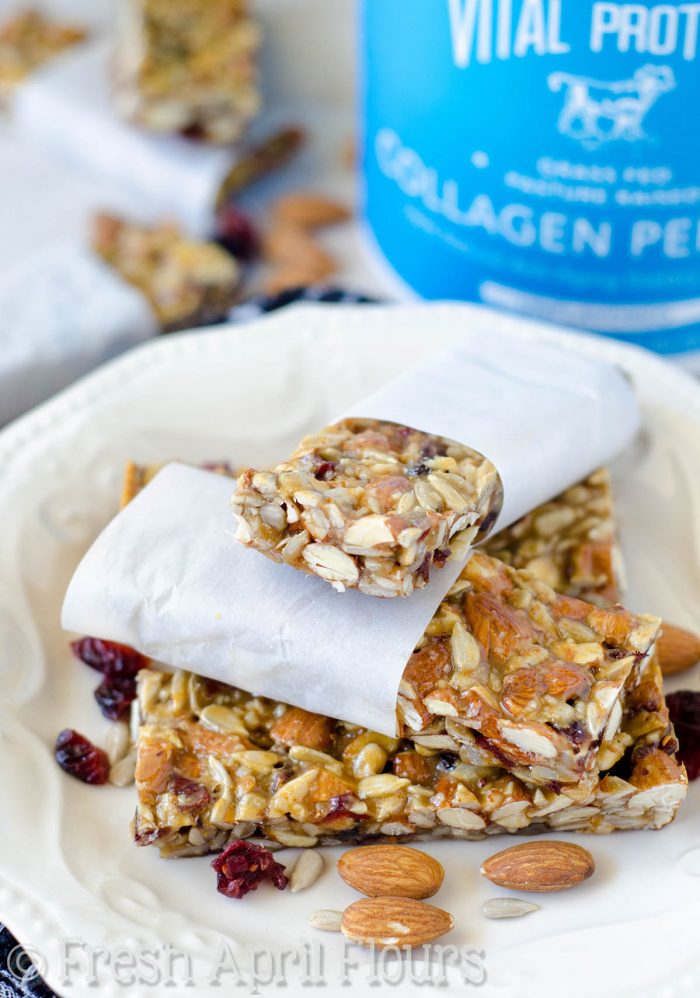 To keep these cranberry almond vanilla protein bars gluten free, you'll be working with almond meal, which you can make yourself or purchase. If you pulse 1/4 cup of whole almonds in a food processor (this is the one we own and love) or strong blender (this is the one we own and love) until it creates a fine powder, you'll wind up with a tad more than 1/4 cup of almond meal. Use all of it.
To finish up the "batter" for these bars: some salt, some natural nut butter (I used peanut butter and also almond butter in my experiments), a hefty dose of vanilla, some more almonds, sunflower seeds, and chopped dried cranberries. Lots of tasty, wholesome ingredients!
Spread this mixture into a parchment lined baking pan, toss them in the oven, let them cool, and then cut them up into desired bar sizes (I decided on 12).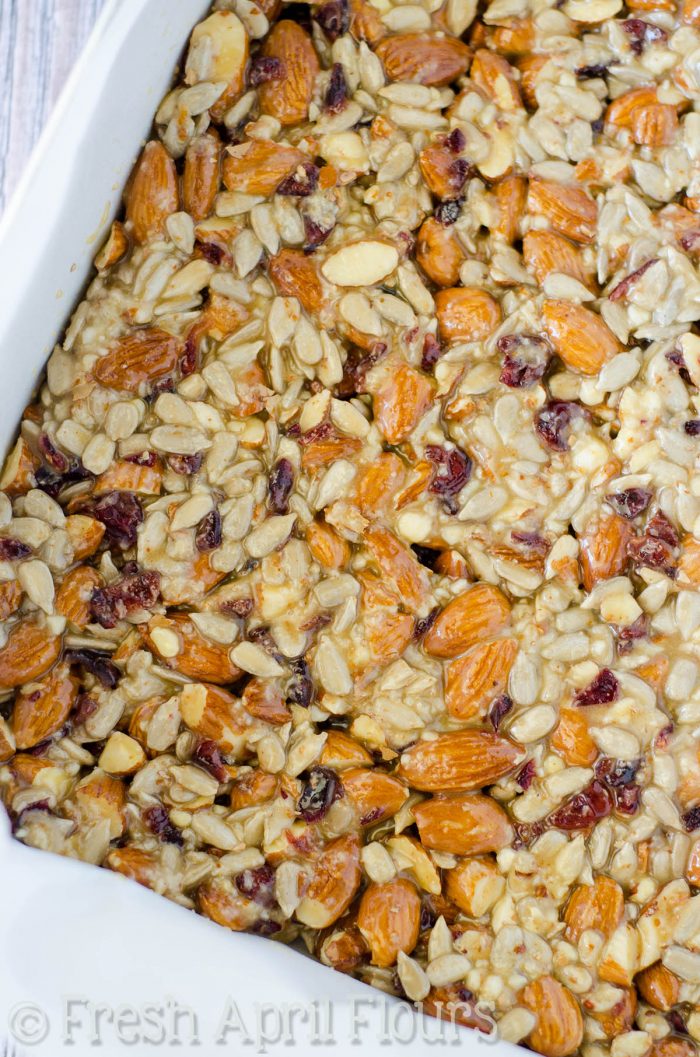 I don't always include nutritional information, but when I'm curious or trying to make a point of creating a specific macro nutrient balance, I will. As written, the nutritional information for each bar is:
209 calories
13.7g fat
14.4g carbohydrates (8.7g sugar)
10.1g protein
Not bad for a homemade treat, especially one that is personal trainer approved for pre- or post-workout fuel.
These cranberry almond vanilla protein bars are super crunchy, filled with pockets of chewy goodness, sweet enough to satisfy the tastebuds, and jam packed with protein and wholesome, good-for-you ingredients.
I am so glad we found a go-to recipe for making our own protein bars at home and I hope that you'll adopt this recipe for your own kitchen to help you when you're looking for a sweet treat that won't completely wreck your day.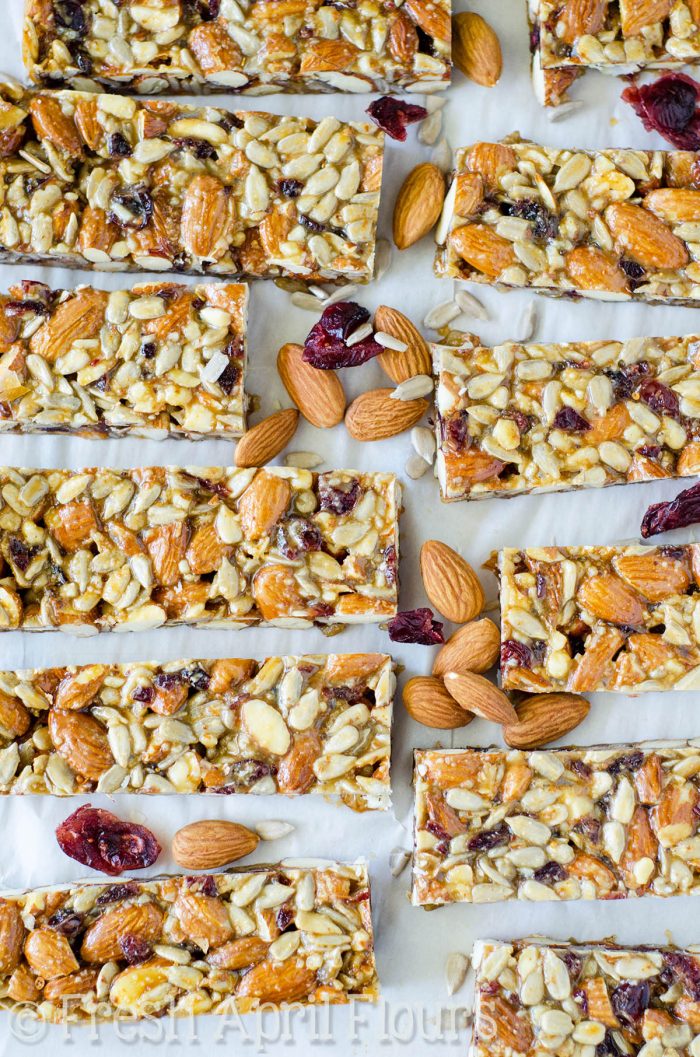 Plus, anything that I can whip up at home and avoid buying at the grocery store is a win-win for me! Diet and wallet friendly– that's my kind of snack!
Cranberry Almond Vanilla Protein Bars
Grain free, gluten free, and wholesome protein bars filled with wholesome ingredients and a hefty dose of natural protein. Perfect for on-the-go snacking!
Ingredients
1/4

cup

honey

2

Tablespoon

water

6

scoops collagen peptides

1/4

cup

almond meal1

1/4

teaspoon

salt

1 and 1/2

Tablespoons

natural nut butter

any works fine

2

teaspoons

vanilla extract

1 and 1/4

cup

whole almonds

roughly chopped

2/3

cup

unsalted sunflower seeds2

1/3

cup

dried cranberries

roughly chopped
Instructions
Preheat oven to 300ºF. Line an 8" square baking pan with parchment paper. Set aside.

Pour honey and water into a large microwave safe bowl. Heat in the microwave on HIGH for 10 seconds. Stir in collagen peptides until combined. Mixture will be thick. Stir in almond meal, salt, nut butter, and vanilla. Fold in almonds, sunflower seeds, and cranberries. If at any time the mixture is too hard to stir, heat in the microwave for about 5 seconds to loosen the honey.

Press mixture firmly into prepared pan. Bake for 20-22 minutes. Honey should just be starting to brown on the edges. Remove from oven and allow to cool completely on a wire cooling rack, about 1 hour. Chill in the refrigerator for at least 1 additional hour before removing parchment from the baking pan and cutting into 12 bars. Wrap each bar individually in parchment paper or plastic wrap. Bars stay fresh at room temperature up to 1 week or in the refrigerator up to 2 weeks. I find them to be pretty sticky at room temperature, but they taste just fine. Bars may be frozen, wrapped individually, up to 3 months. Thaw completely before serving.
Notes
You can buy almond meal already made or make your own: pulse 1/4 cup almonds in a food processor or strong blender until texture resembles a coarse meal. You will have a little more than 1/4 cup almond meal, but that's ok. Toss it all in.
If you are using salted sunflower seeds, reduce salt to 1/8 teaspoon.
Nutrition Disclosure
All nutritional values are approximate and provided to the reader as a courtesy. Changing ingredients and/or quantities will alter the estimated nutritional calculations.
If you're into these protein bars, you'll love my Almond Butter Chocolate Chunk Cookies!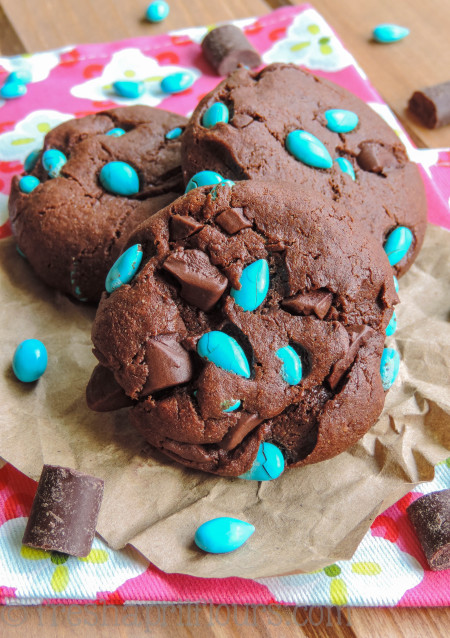 More almond recipes…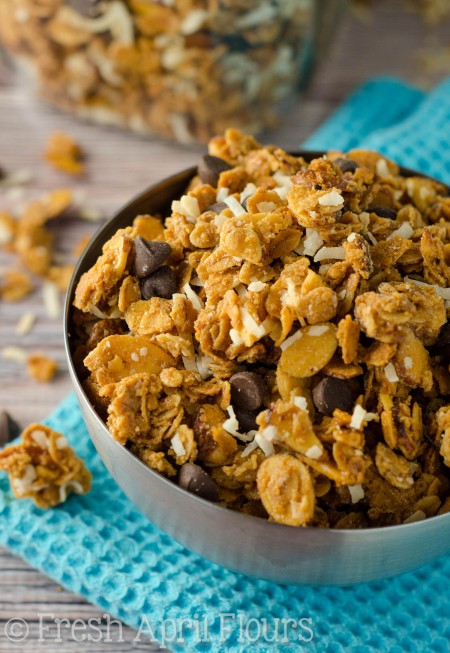 Homemade Honey Roasted Almond Butter