Jalapeño Popper Mac & Cheese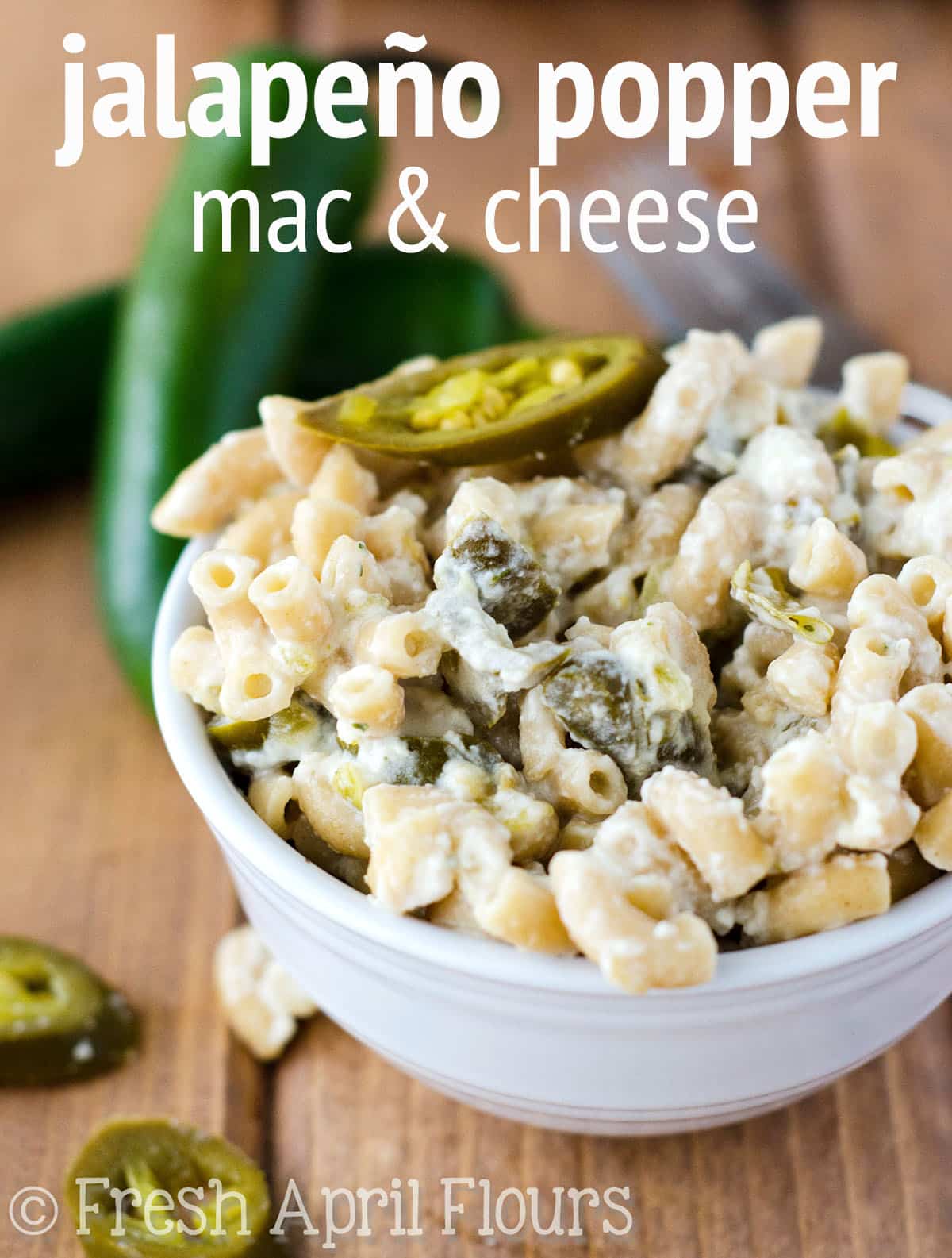 As an Amazon Associate, I earn from qualifying purchases. Read the full disclosure here.
A quick and easy homemade macaroni and cheese filled with spicy jalapeños and green chiles.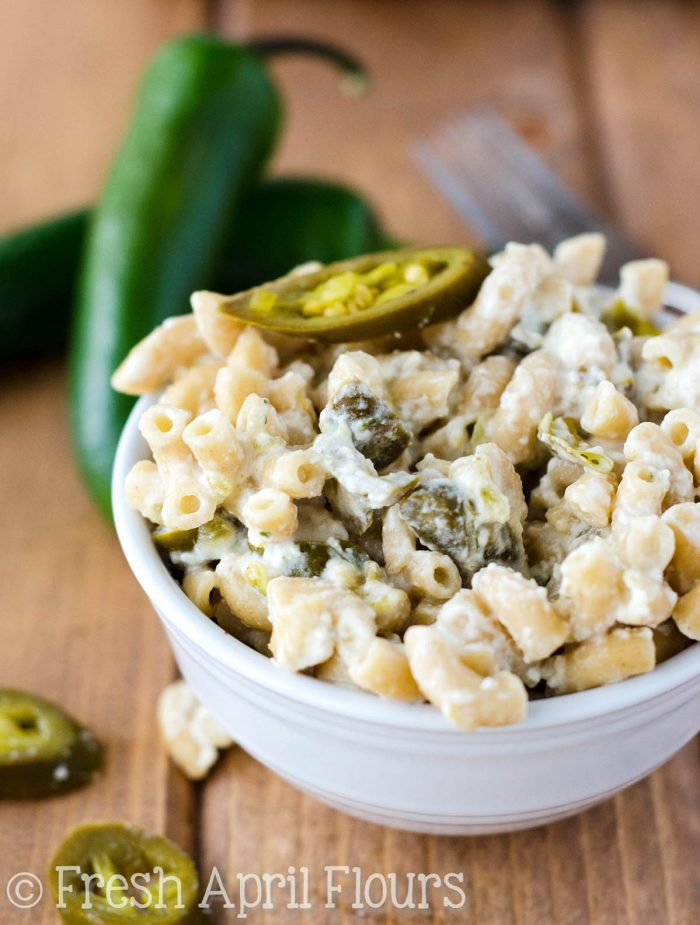 Oh, hello, MAY. When did you get here? I swear we were just celebrating Easter, which I now realize was all the way back in March. Did April even exist this year?
How was your April? Ours was adventurous. More frequent doctors appointments to check on our little guy, some official transitioning of job titles, Game of Thrones excitement, and celebrating Fresh April Flours' 2nd birthday! So apparently April did exist, it all just happened basically in one day.
Well, I'm kicking off May with a bang. In the form of jalapeño peppers. Cinco de Mayo is only 3 days away, and you should probably have some snackies ready to share with your friends when you celebrate this week. Or just for you. Whatevs. No judgment for eating entire batches of anything all yourself.
Last year, I whipped up this jalapeño popper dip to take to my coworkers on Cinco de Mayo. This year, I hoarded my Cinco de Mayo treat and didn't share it with them (sorry, friends). I did, however, share it with Matt and his friends at our baby shower a few weeks ago.
Ladies at the party with flowers, polka dots, kangaroo cookies, and deeeeelish cupcakes that I'll be sharing in a few weeks (get pumped!), and the guys were at our house with beer, dips, chips, Sports Center, and this jalapeño popper mac & cheese.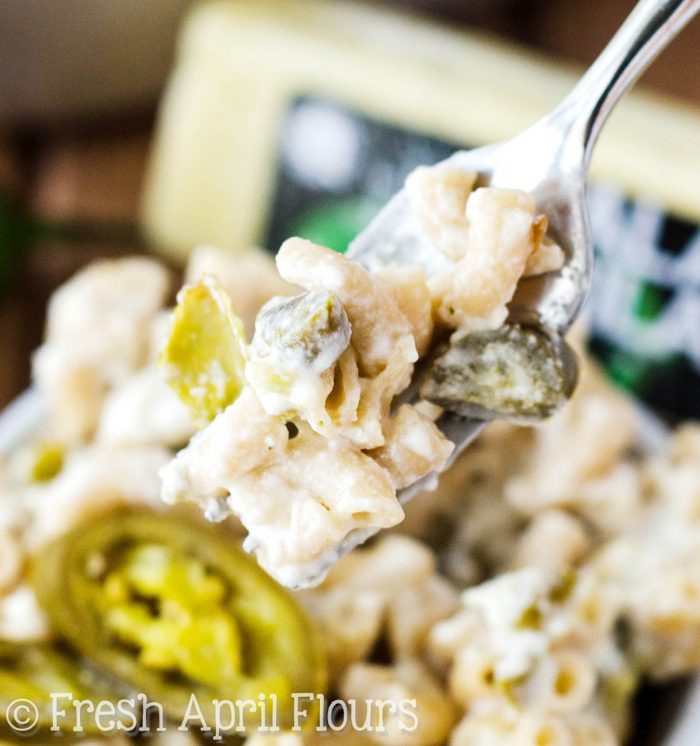 I don't think they were mad about missing the onesies and baby books.
I actually made a double batch of this mac & cheese right off the bat because I wasn't sure how much would get eaten at our house, but I also wanted to freeze some to have on hand for when the baby arrives.
Yeah. That worked out for a week.
I absolutely froze half of the recipe, but I wound up thawing it last week and ate it all myself (over a period of a couple? few? days, but still). It was hard to resist. And that's proof I really wasn't kidding about enjoying a whole lot of something all by yourself.
This jalapeño popper mac & cheese is not your typical mac & cheese dish. You're not going to make a roux, there's no baking involved, and we aren't working with any kind of fresh veggies or breadcrumbs. This is straightforward noodles, all kinds of cheese, and jarred jalapeños and green chiles. Easiest peasiest mac & cheese on the block.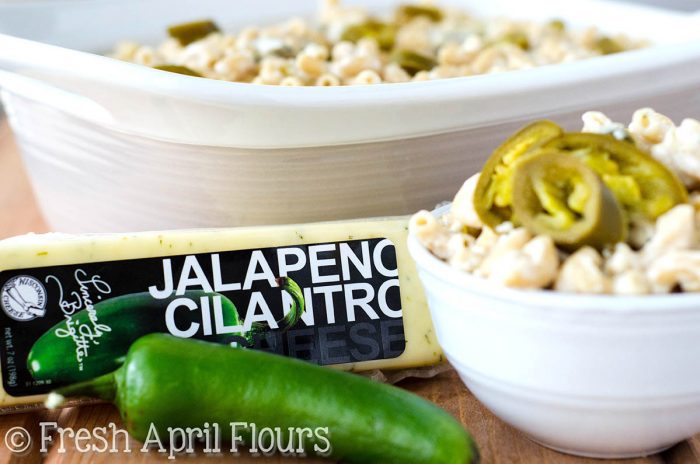 Start by cooking some macaroni noodles. I think you can handle this pretty well. While that's cooking, sauté some minced garlic in some olive oil to lay the flavor foundation, then stir in some milk, cream cheese, grated Parm, and some plain Greek yogurt. See? No flour, no butter, nothing you can't handle. All that dairy plus some extra protein from the yogurt? This is practically healthy.
Right?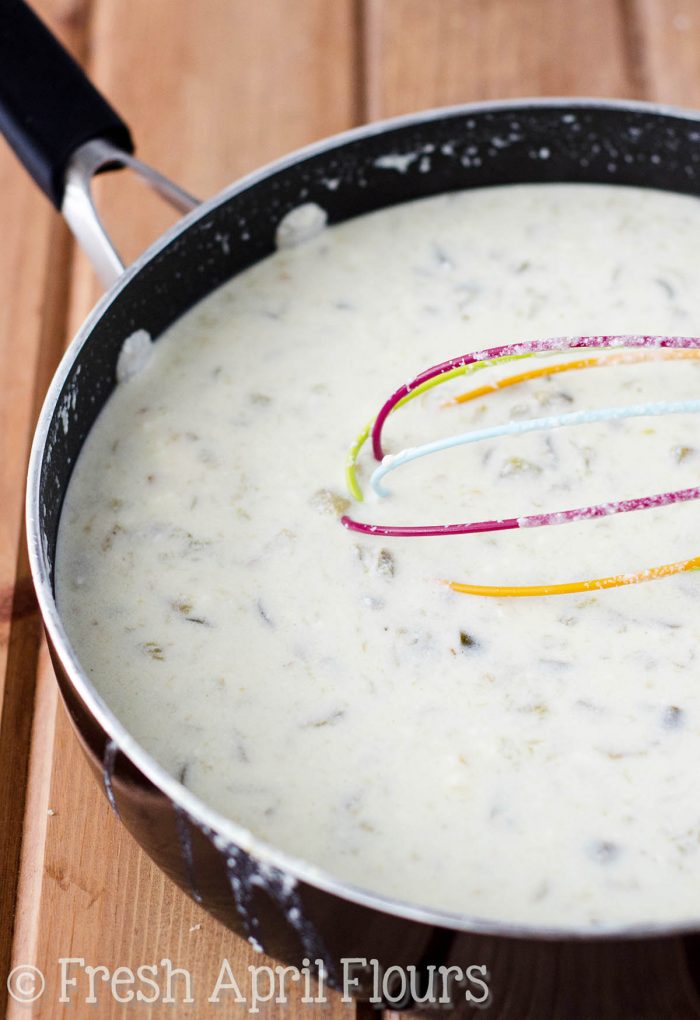 To add some heat, you'll use a small can of pickled jalapeños and another can of diced green chiles. It is 100% entirely up to you whether or not you'd like to use fresh jalapeños. I cannot handle fresh, and I had a little run-in with some jalapeño oil + a cut several years ago that wound my fingers up in a bowl of yogurt, so… I don't mess with those guys any more.
'Peño at your own risk, people.
And last but certainly not least, a nice big pile of shredded cheese. If you can't find jalapeño cheese, no worries. Simply use some pepper Jack or your favorite spicy cheese. Plain monterey or cheddar would work just fine as well.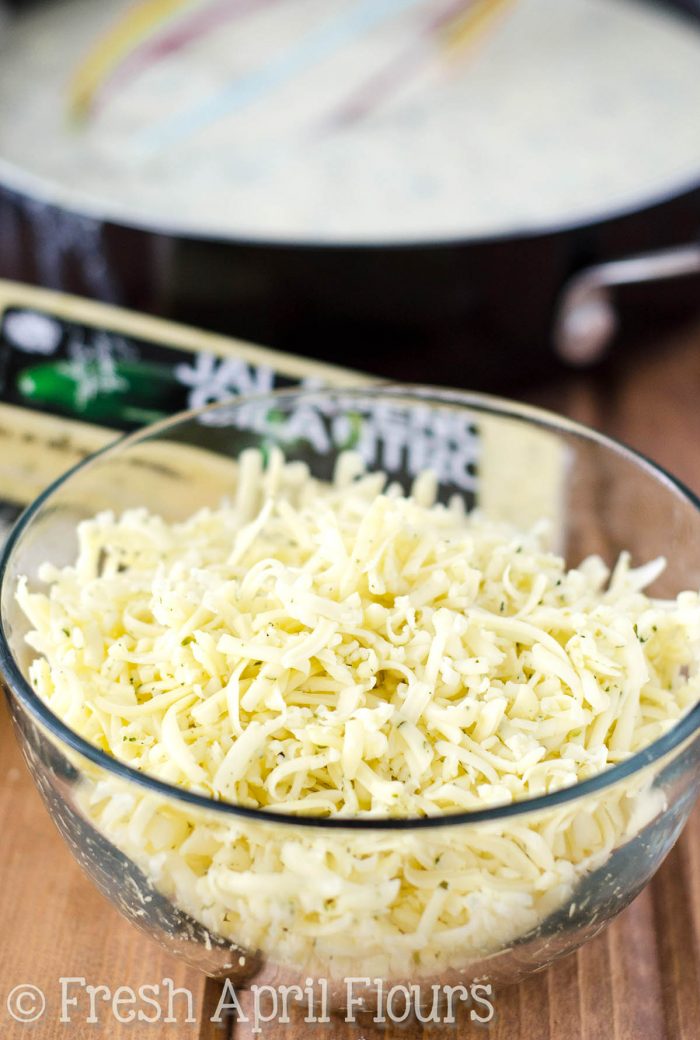 Combine this cheesy goodness with the pasta and– tadaaaa! You've got yourself one heck of a celebratory mac & cheese going on. No need to bake it, just serve from the pot or toss it all in a casserole if you'd like it to be a little fancier.
You can absolutely reheat this dish. Check for reheating instructions in the recipe.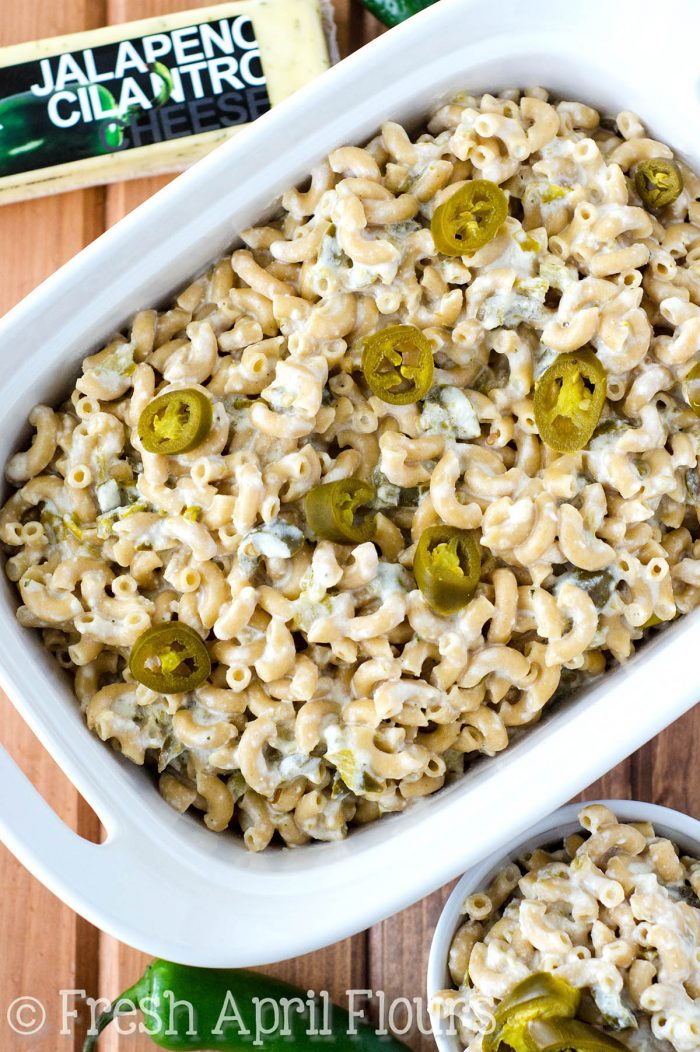 We adored this dish, and lucky for me, heartburn hasn't hit me too bad, so I ate my fair share quite a few times last week. It thawed and reheated so nicely and was the perfect dinner for me while Matt was training clients all week. A couple times I added some chicken, and that was a fantastic choice on my part.
What I love about this jalapeño popper mac & cheese is that it is totally uncomplicated. Too many times, I've wanted to make mac & cheese from scratch and found that there are just so many steps there alongside just cooking the noodles.
While this mac & cheese may be slightly atypical, the result is still a creamy dish that serves up a hefty dose of "comfort food." Because isn't that what mac & cheese is all about??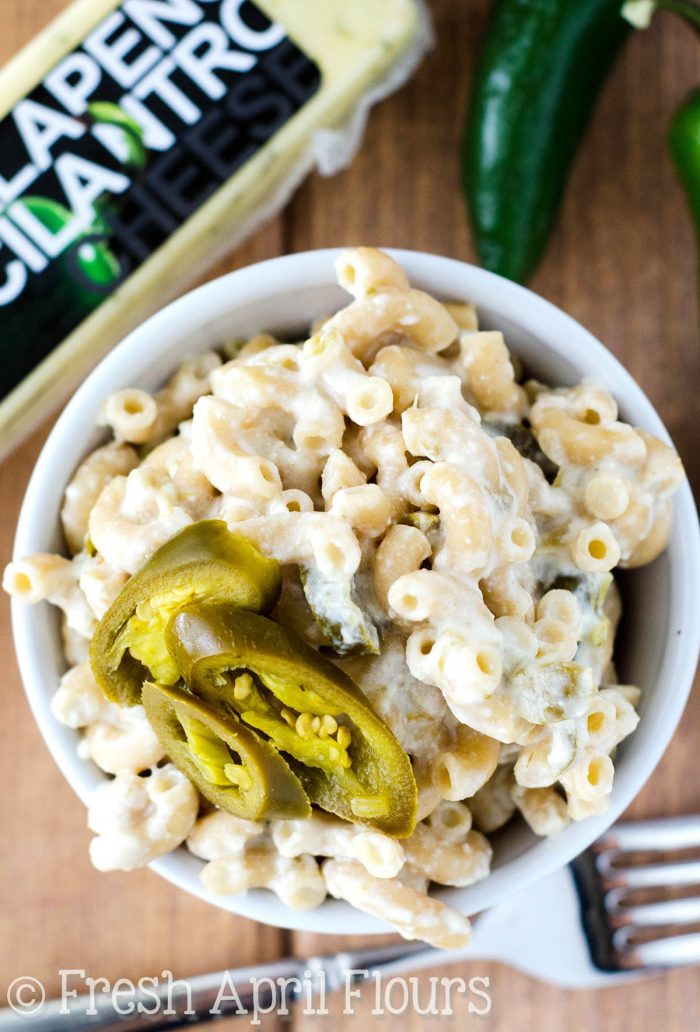 While this recipe is obviously perfect for Cinco de Mayo, it can certainly serve as an easy weeknight meal, makes great leftovers, and although it didn't last in our freezer long at all (oops), it is great for making ahead and having on hand in a pinch.
Creamy, cheesy, spicy, and easy. All things that embody a jalapeño popper without all the work of stuffing peppers and all that jazzy stuff. Serve up with some margaritas, add a dollop of guac to the top of your serving, and get to celebrating this week!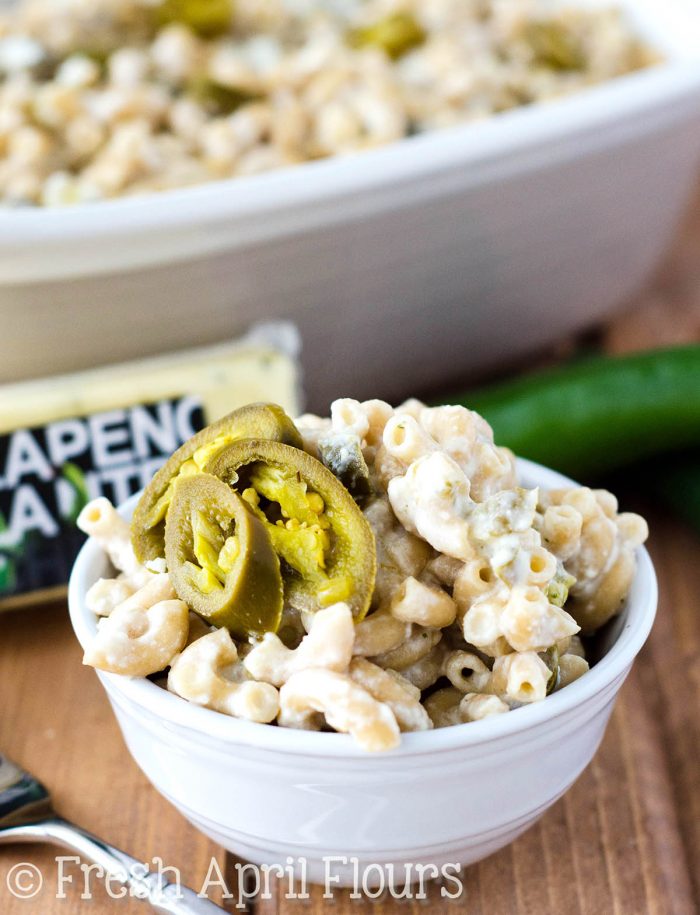 Or… Any night ever. There's never a bad time for Mexican food. Or margs. And especially cheese.
Jalapeño Popper Mac & Cheese
A quick and easy homemade macaroni and cheese filled with spicy jalapeños and green chiles.
Ingredients
1

box

13.5oz macaroni noodles

1

Tablespoon

olive oil

1

clove

garlic

minced

1

cup

milk

recommended: anything 1% and higher

4

ounces

cream cheese

cut into 6-8 pieces (any fat content)

1/3

cup

grated Parmesan cheese

½

cup

plain Greek yogurt

you may also use sour cream

1/2

teaspoon

salt

1

can

4oz sliced pickled jalapeños, drained and roughly chopped (you may also use fresh*)

1

can

4oz diced green chiles, drained

4

ounces

jalapeño or pepper Jack cheese
Instructions
Cook pasta according to directions on the box.

While the pasta is cooking, prepare the cheese sauce. In a medium size saucepan or skillet, cook the garlic in olive oil over medium heat until soft and fragrant, about 2 minutes. Add the milk, cream cheese, grated Parmesan, yogurt, and salt. Stir mixture until the cream cheese is no longer chunky. Add the jalapeños and chiles and stir until combined. Remove from heat.

Return the cooked drained pasta to the pot it cooked in, pour in the cheese sauce and shredded cheese, and stir until pasta is evenly coated and all of the cheese is melted. Pour into casserole or serving dish and serve immediately. Store leftovers in the refrigerator covered tightly up to 1 week. Casserole freezes well, up to 2 months. Thaw in refrigerator overnight. Heat individual servings in the microwave (I like to add a splash of milk to prevent cheese from drying out) or cover casserole with foil and reheat in a 300ºF oven for 20 minutes.
Notes
*Slice a fresh jalapeño (using seeds at your discretion), roughly chop, then measure out approximately 1/2 cup.
Nutrition Disclosure
All nutritional values are approximate and provided to the reader as a courtesy. Changing ingredients and/or quantities will alter the estimated nutritional calculations.
Keep the party going!