As an Amazon Associate I earn from qualifying purchases.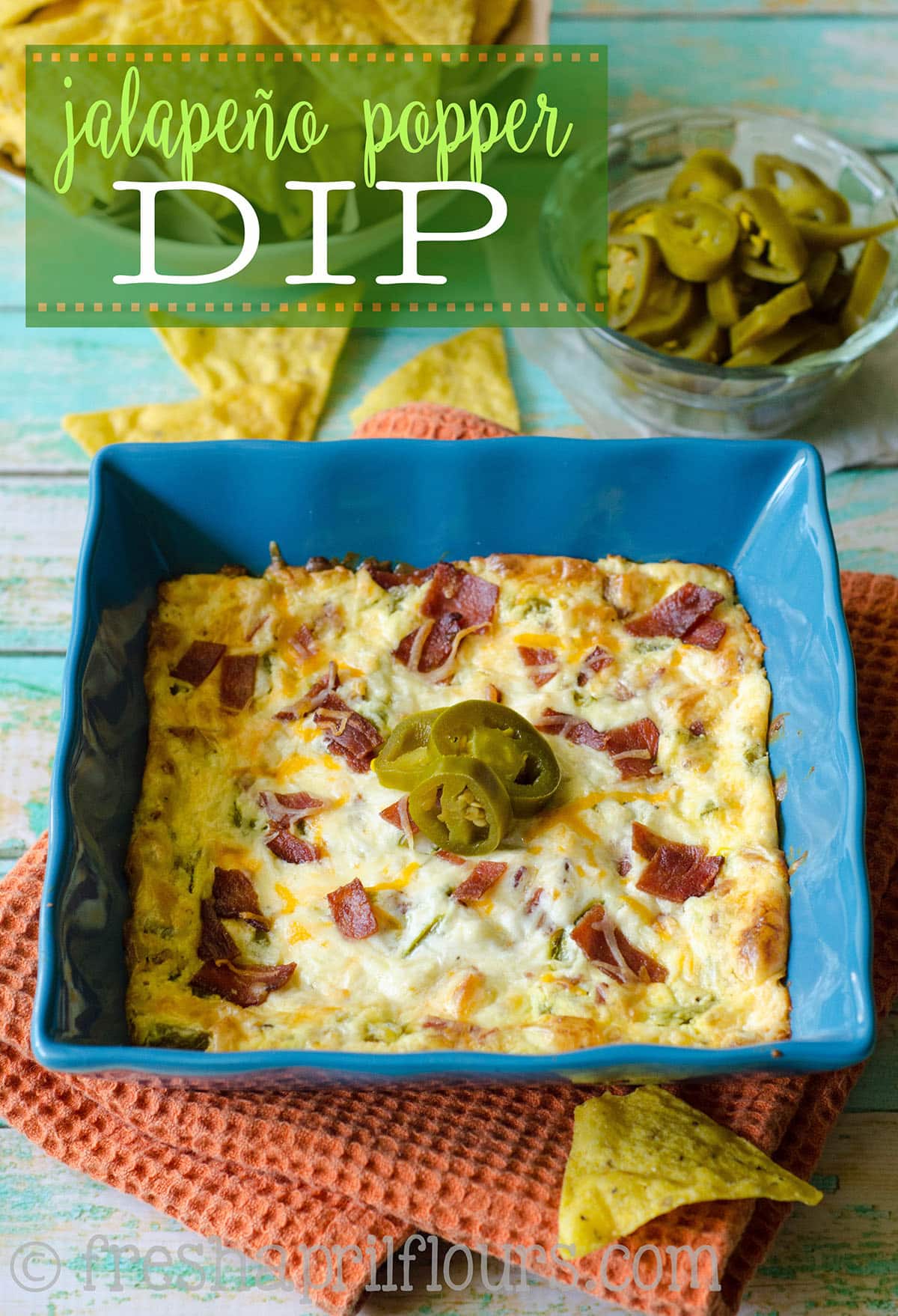 Cheesy, creamy, spicy jalapeño popper dip is the perfect appetizer or side for any Mexican dish. Serve with chips, vegetables, or as a topping.
Just in time for Cinco de Mayo, I'm bringing you something to add to my savory collection, because, yes, I'm still recovering from sugar overload.
So, allow me to bring a little spice and flair to your life this week, because it feels like summer outside and I'm thinking we all could use some celebrating.
Let me just say… Cinco de Mayo and I have a little history. You see, I used to work with 2 dear friends whose birthdays fell on Cinco de Mayo, and one year I wanted to make them a little bit of a special cake. I was still running my cake baking/decorating business and I was making cakes for all kinds of celebrations, so I thought it would be fun to take Emily and Jon's birthday cake to a whole new kind of celebratory level…
That's right. I made them a sombrero cake.
Now, don't judge it too hard… This was in my early stages of cake decorating and I really just winged it one night. The good thing about this cake was no one was paying me for it (so it didn't need to look perfect) and it still tasted great.
We all got a good laugh before devouring the entire thing that day!

This jalapeño popper dip is a far cry from dessert, because on a holiday like Cinco de Mayo, I prefer spicy, salty treats to the sweet ones. Also, I think you will agree this dip is a great addition to any Mexican food spread any time of the year (because who doesn't love Mexican food?!).
Do you like jalapeño poppers? I loveeeee them. That spicy, crunchy jalapeño pepper stuffed with creamy, melted cheese, all wrapped up in crisp bacon is the perfect marriage of flavors. I have an incredible amount of self-control (I've had to teach myself this since starting my blog) and managed to eat only 2 nibbles of this dip.
If I didn't have all of that self-control, this dip would not be going anywhere except into my belly. Instead, it's currently wrapped up in the fridge waiting to ride along to work with me tomorrow. My coworkers are going to wonder what happened to all of their puppy chow samples.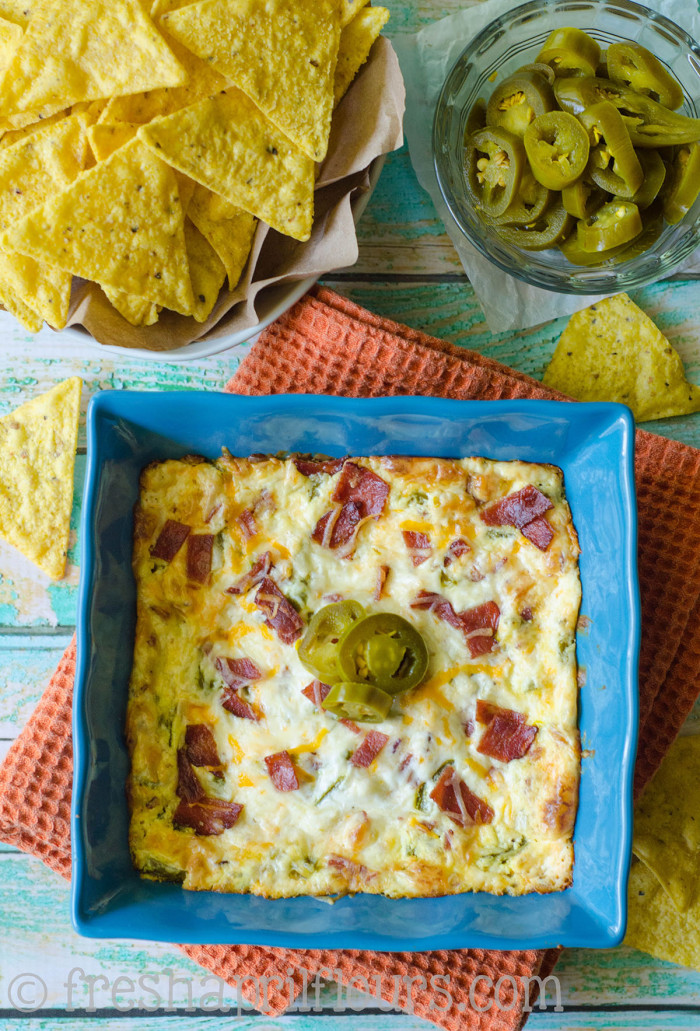 This dip could not be simpler to throw together. All you'll need is some bacon, cream cheese, yogurt or sour cream, a little mayo, some shredded Mexican cheese, and of course, jalapeños.
Let's talk about those peppers though… I used canned pickled jalapeños, but you are certainly welcome to use fresh (raw or roasted).
I have had terrible experiences with chopping jalapeños in the past that ended with my fingers in yogurt and vodka (not kidding), so I stay away from preparing them as much as I can. Just keep in mind, if you're going to leave your peppers raw, you leave the seeds in at your own risk. It might be best to give them a little roast in the oven before you chop them up.
End jalapeño safety public service announcement.
Once all of your ingredients are combined, you'll put your dip into a small casserole or divide it up into 4 ramekins, top with a little extra bacon and shredded cheese, and bake it for 20-25 minutes.
Serve with chips, vegetables, along side some salsa, pico, or guacamole in a Mexican spread, and of course… A margarita. Margaritas are always welcome in my life, but especially when salty chips and cheesy dips are involved.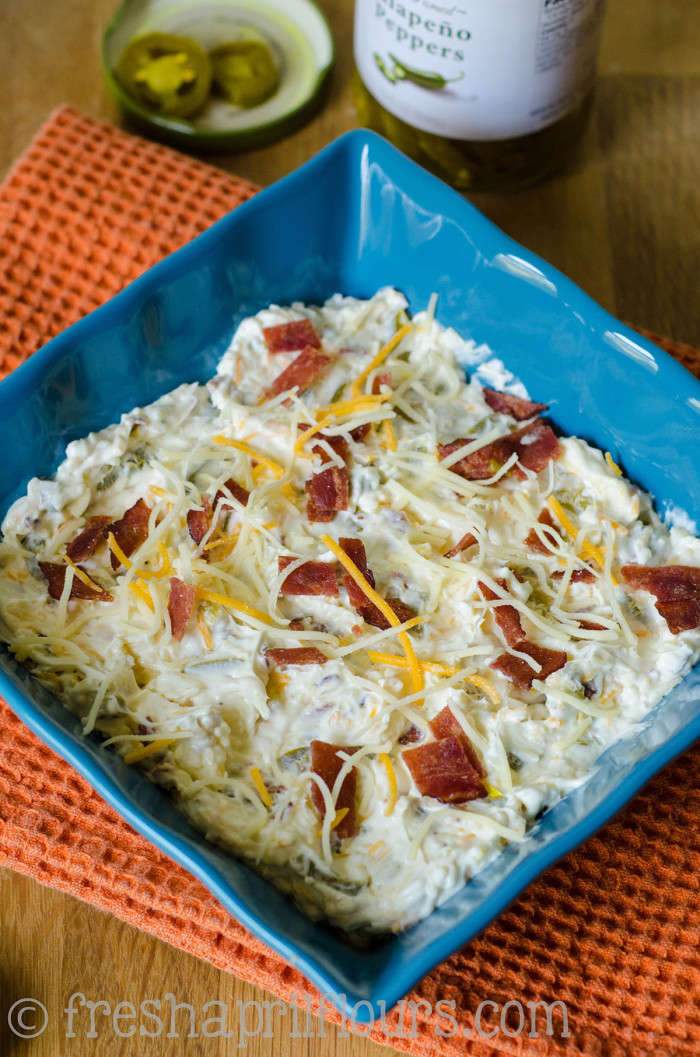 Because I was just testing this recipe, I made a very small batch and baked it in my 5″ square casserole dish. It could comfortably serve 3-4 people, so if you're looking to entertain, I would suggest at least doubling the recipe (check the note at the bottom of the recipe).
Grab some jalapeños and any of the ingredients you don't already have in your fridge on your way home from work today. This dip comes together in less than a half an hour, and it will make your Cinco de Mayo that much better, I promise.
Spicy, cheesy, salty, and bacon-y. With flavors like that, how can you go wrong?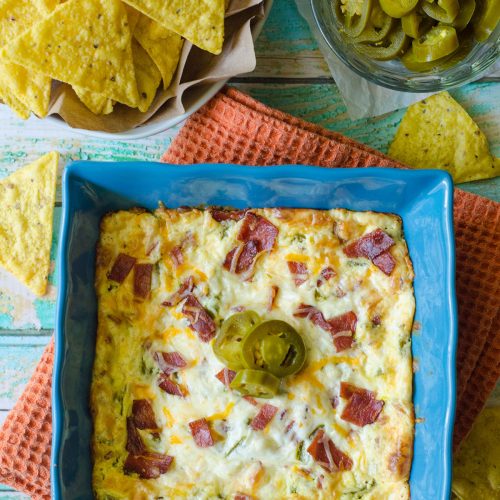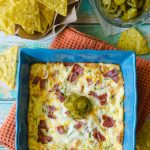 Print Recipe
Jalapeño Popper Dip
Cheesy, creamy, spicy jalapeño popper dip is the perfect appetizer or side for any Mexican dish. Serve with chips, vegetables, or as a topping.
Ingredients
3

slices

of bacon

4

ounces

cream cheese

softened to room temperature

3

Tablespoons

plain yogurt or sour cream

1

Tablespoon

mayonnaise

1/8

teaspoon

salt

1/8

teaspoon

black pepper

1/2

cup

shredded Mexican cheese

2

ounces

jalapeño peppers

I prefer canned pickled, chopped
Instructions
Preheat the oven to 350ºF.

Cook the bacon as per the directions on the package. I prefer to use pre-cooked turkey bacon so it only takes a few seconds in the microwave. Set aside to cool while you prepare the rest of the dip.

In a small bowl with a handheld mixer or stand mixer fitted with a paddle attachment, beat the cream cheese, yogurt, and mayonnaise together on medium-high speed until smooth. Add the salt, pepper, and shredded cheese and beat on high until combined.

Crumble or chop 2 slices of the cooked bacon. Add the bacon and chopped jalapeños to the cream cheese mixture and stir together with a spatula until combined.

Pour the mixture into a 4-5" casserole dish or baking pan. Alternatively, you can spoon it evenly into 3-4 small ramekins (6 ounce size). Crumble or chop the last piece of bacon and sprinkle on top. Top with additional shredded cheese, if desired. Bake for 23-25 minutes or until cheese on top is melted and the sides are bubbling. Dip is best enjoyed immediately, but leftovers keep well covered tightly in the refrigerator up to 3 days. Reheat at 300ºF until the sides are bubbly again.
Notes
If you are serving more than 3-4 people, I suggest doubling this recipe from the start. Bake in an 8" casserole or 6-8 small ramekins (6 ounce size).
Do you love spicy? Try my buffalo chicken chili next!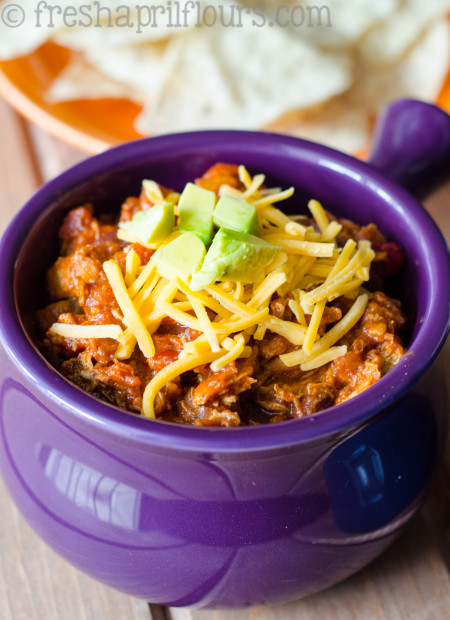 Or my buffalo blue salad.