As an Amazon Associate, I earn from qualifying purchases. Read the full disclosure here.
Incredibly moist and chocolatey sheet cake topped with a fudgy pecan icing.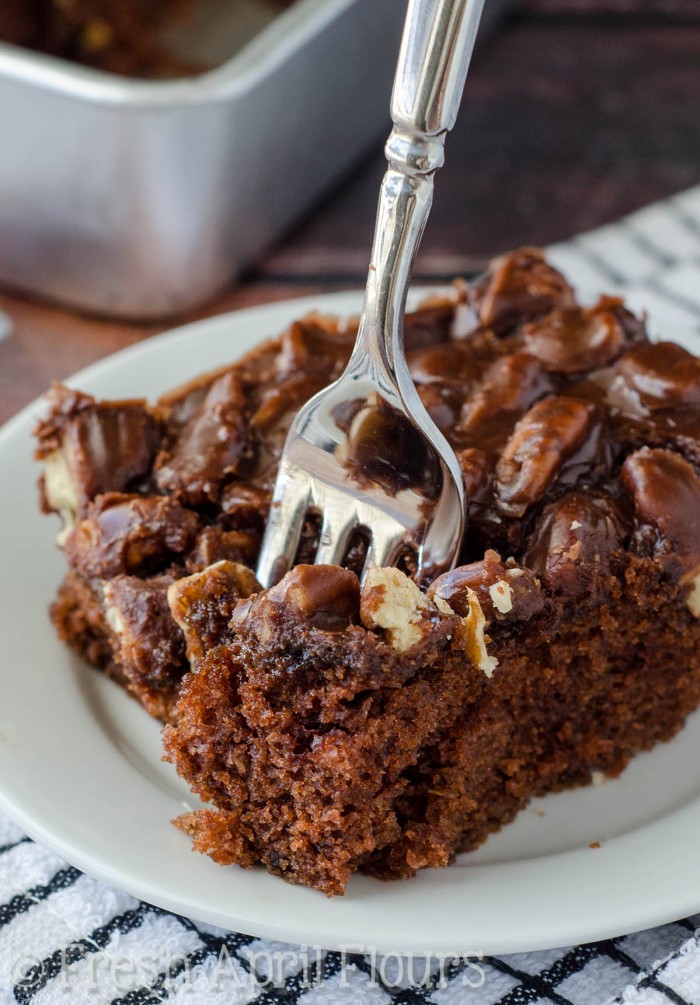 If you have never laid your tastebuds on Texas sheet cake, ohhh my friend, you have not lived. I am not exaggerating this is in the least. In fact, only about 2 years ago did I experience the love that is Texas sheet cake, but I can't believe it's taken me this long to recreate it in my kitchen.
So if you've never had it, let's talk about what it is. It's magic in a sheet pan. Ok, there you go. Now go make it.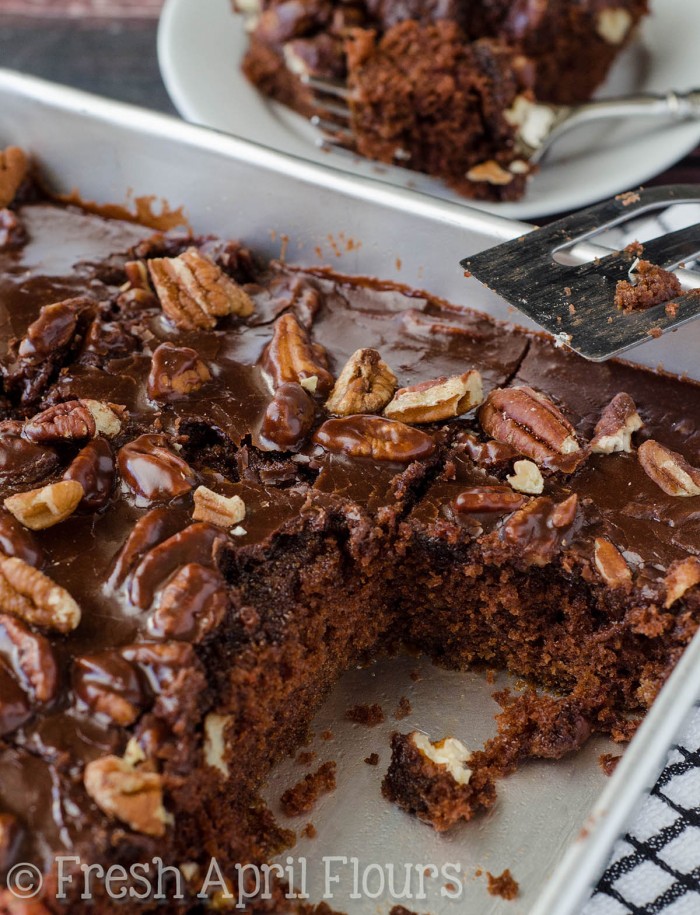 Just kidding.
But really, I do want you to get to making it ASAP, so I'll talk (type?) as little as I can as to minimize the time between reading and devouring eating.
Texas sheet cake may or may not have come from Texas, but I really don't care where it came from, because it can happen in my kitchen and that's all that matters in life. Apparently, it's a staple in Texan hospitality. In short, I'm thinking I need to move there if it means people will be bringing me this cake on the reg.
This cake really is just a chocolate cake that is super super simple to make, can travel well, and can make a lot*/feed a crowd. What more could you ask for in a dessert? Not much.
But lucky for us, this cake delivers not only in convenience but also in taste, texture, and overall level of chocolatiness. On a scale of 1 to 10 on the chocolatey scale, we're working with a 12 here, folks.
*See my notes at the bottom of the recipe for making this an actual sheet cake sized treat.
So how do we make this cake? So easy. First, you'll whisk together your flour, sugar, cocoa powder, and salt. Then, you'll start working on the stovetop where you'll melt butter and coffee together (and a touch of vanilla extract).
Coffee is not a typical ingredient in classic Texas sheet cake recipes, but if you know me well, you know I love me some coffee in my chocolate. Just like in my chocolate layer cake, the coffee really brings out the deep chocolate flavors.
I promise, if you don't like coffee, you'll still love this cake. You can't even taste it!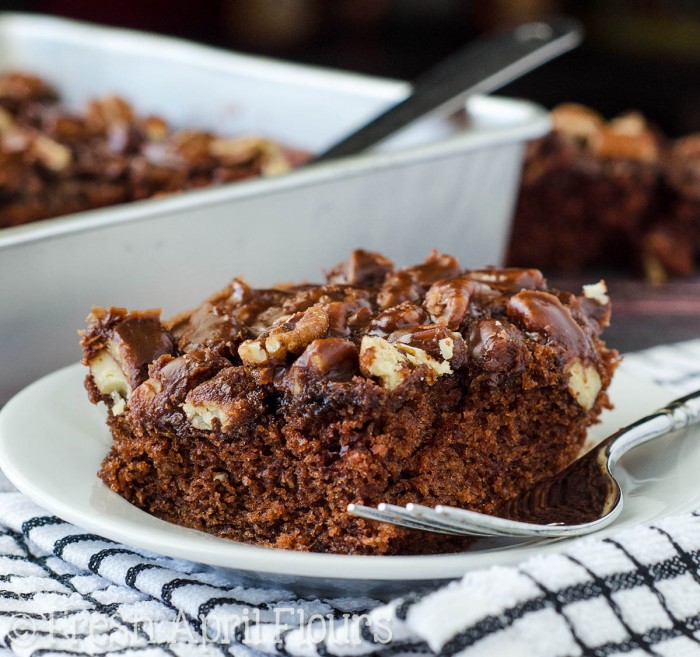 Once that butter/coffee/vanilla mixture boils, remove it from the heat and stir in the flour mixture. Add some Greek yogurt for super moisture, one egg for binding it all together, and then a little baking soda to help it rise just the right amount.
You'll bake this cake for about 18 minutes, so at the 13ish minute mark, you'll make the most amazing chocolate icing that you've ever tasted in your life.
Kind of the same way my baked funfetti donuts get a crackly finish by heating the glaze, the same thing goes with this Texas sheet cake. Heat butter, milk, and vanilla extract until boiling, then whisk in powdered sugar, cocoa powder, and a dash of salt.
Mix it all up, and then add the one ingredient that takes this cake from really good to reeeeeeally good: chopped pecans. You may also use walnuts. Just, please… Don't leave them out! Unless of course you have an allergy or just really dislike nuts. You'll still be left with a fabulous cake.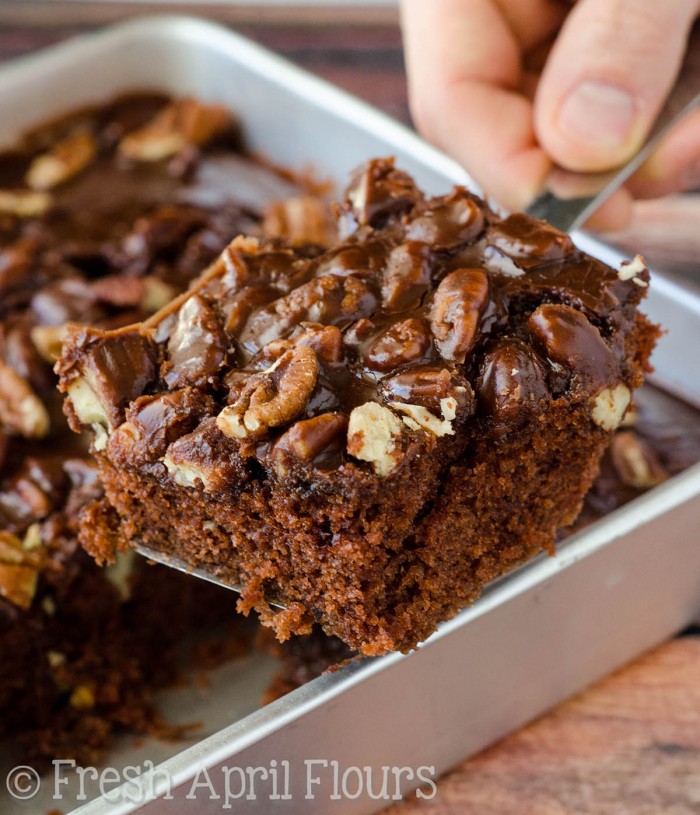 When the cake is finished baking, you'll pour this warm, ooey, gooey, chocolatey icing all over the hot cake. Hot cake + warm icing = a crackly finish that literally melts in your mouth.
An extra sprinkle of more chopped pecans and you've got yourself one easy peasy cake… After you let it cool and set for about half an hour. <–hardest part of this whole process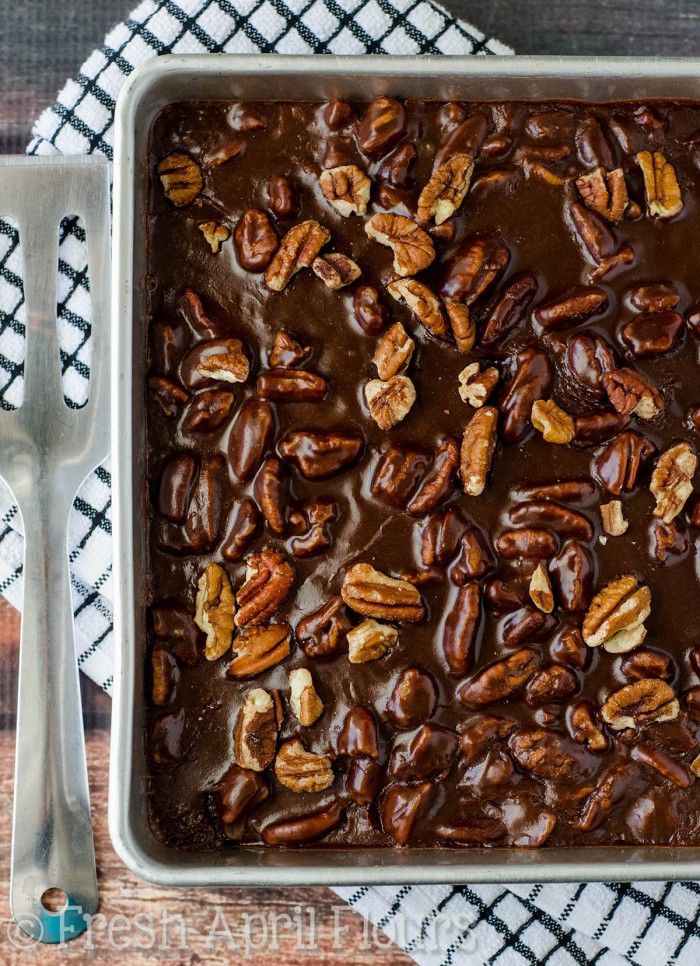 If you can manage to wait, not drool all over your cake, and wait until just the right moment to slice into this warm Texas sheet cake, you will be met with the most lovely of textures, the moistest of chocolatey bites, a fudgy and nutty icing to top off every sliver, and a huge pat on your back because you just made an incredible cake that will come in handy for years to come.
What makes this cake so popular is the fact that it can stay in the sheet pan, so it's seriously easy for carting to picnics, potlucks, and gifting to friends who just had a baby (yes, that's where this one went…After we taste tested a large portion of it!).
I'm not kidding when I say that this might be the best chocolate sheet cake recipe you'll ever find, so you must tuck it away for safe keeping. It's basically like making a huge brownie, but can also cater to the cake lovers and general chocolate lovers of the world.
Those Texans really know what's up, and I'd love to be able to say a personal thank you to whomever it was who created this masterpiece of chocolate cake business.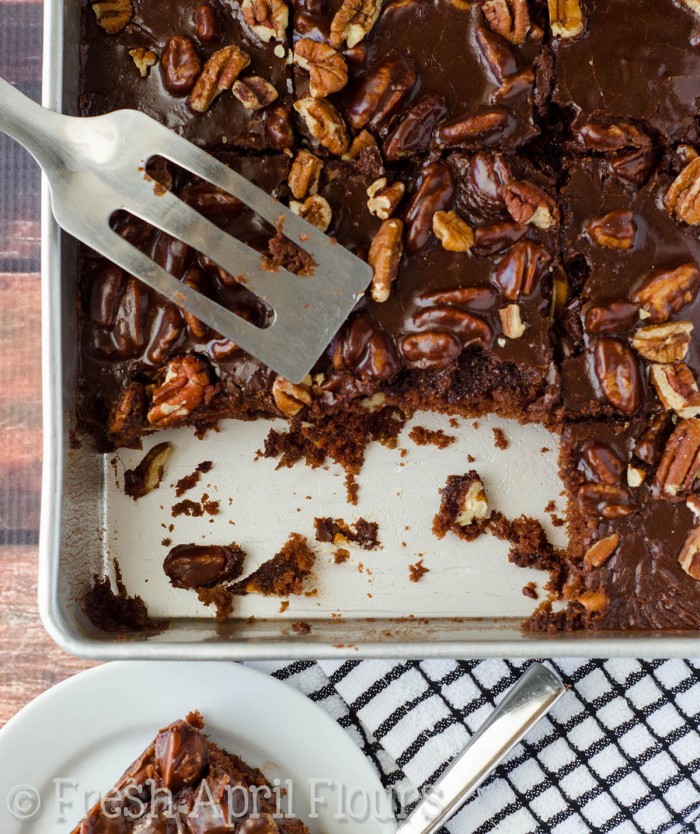 I can assure you that if you invite me to a party or picnic or other type of gathering that you'd like me to bring dessert to, there's a good chance I might be making Texas sheet cakes for the rest of my life. So… Ball's in your chocolate court now 😉
Texas Sheet Cake
Incredibly moist and chocolatey sheet cake topped with a fudgy pecan icing.
Ingredients
CAKE
1

cup

all-purpose flour

be sure to measure properly

1

cup

granulated sugar

2

Tablespoons

unsweetened cocoa powder

1/4

teaspoon

salt

6

Tablespoons

unsalted butter

cut into 6 slices

1/2

cup

coffee

or water

1/2

teaspoon

vanilla extract

1/4

cup

plain Greek yogurt

or sour cream

1

large egg

1/2

teaspoon

baking soda
ICING
2

Tablespoons

unsalted butter

cut into 2 slices

3

Tablespoons

milk

1/2

teaspoon

vanilla extract

2

cups

powdered sugar

2

Tablespoons

unsweetened cocoa powder

1/8

teaspoon

salt

1/2

cup

chopped nuts

pecans or walnuts work best
Instructions
CAKE
Preheat the oven to 350ºF. Spray an 8" square baking pan with non-stick spray. Set aside.

In a medium size bowl, whisk together the flour, sugar, cocoa powder, and salt. Set aside.

In a medium size saucepan, combine the butter, coffee, and vanilla extract. Heat over medium-high heat and bring to a boil. Remove from the heat and whisk in the flour mixture until thoroughly combined. Add the yogurt, egg, and baking soda. Whisk again until batter is smooth.

Pour the batter into the prepared pan. Bake for 18-20 or until a toothpick inserted in the center comes out clean.
ICING
When the cake has about 5 minutes remaining to bake, prepare the icing. In a medium size saucepan, combine the butter, milk, and vanilla extract and heat over medium-high heat. Bring to a boil, remove from heat, and whisk in powdered sugar, cocoa powder, and salt until smooth. Stir in the chopped nuts.

When cake is finished, remove it from the oven and immediately pour hot icing over the cake. Gently spread the icing into an even payer over the cake. Sprinkle more chopped pecans on top, if desired. Let the icing set before serving (about 30 minutes). Cake will stay fresh covered tightly at room temperature up to 5 days. Cake freezes well, up to 2 months. Thaw in refrigerator overnight and allow to come to room temperature before serving.
Notes
This recipe doubles easily. Bake in 9x13" or 11x15" baking pan. Increase baking time to 20-22 minutes.
Adapted from Brown Eyed Baker
Nutrition Disclosure
All nutritional values are approximate and provided to the reader as a courtesy. Changing ingredients and/or quantities will alter the estimated nutritional calculations.
More chocolate recipes.
More cake recipes.
More icing recipes.