Mocha Chocolate Chunk Muffins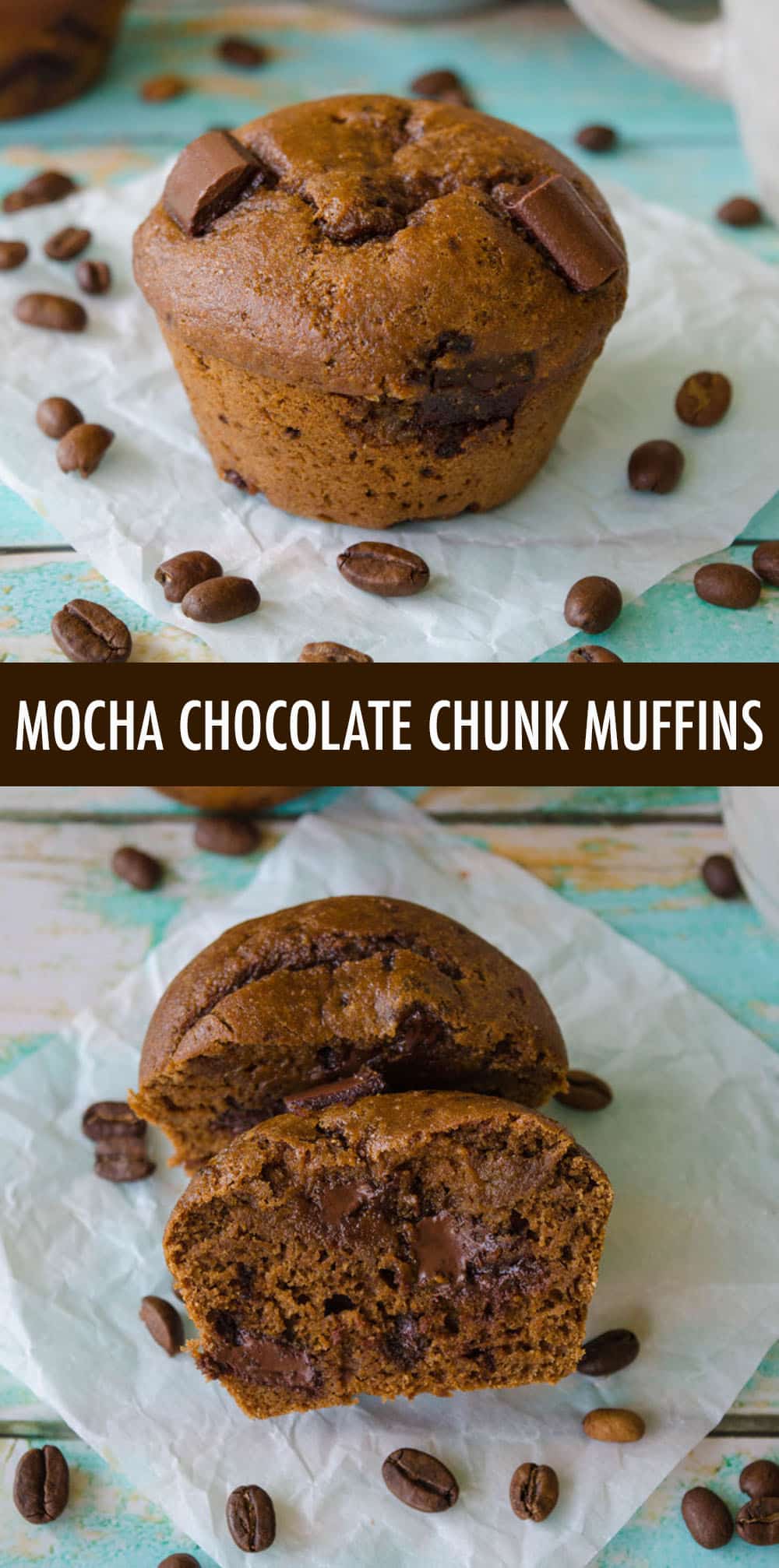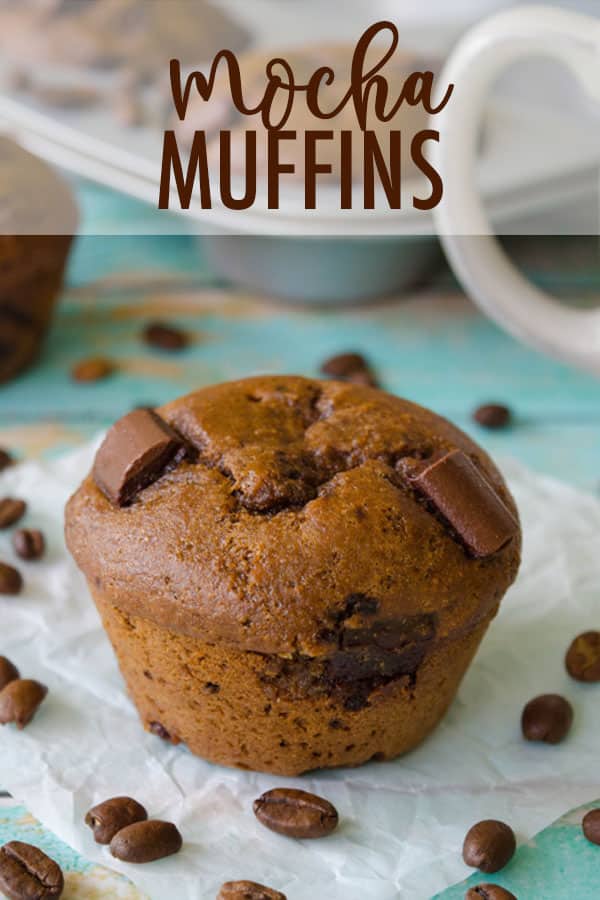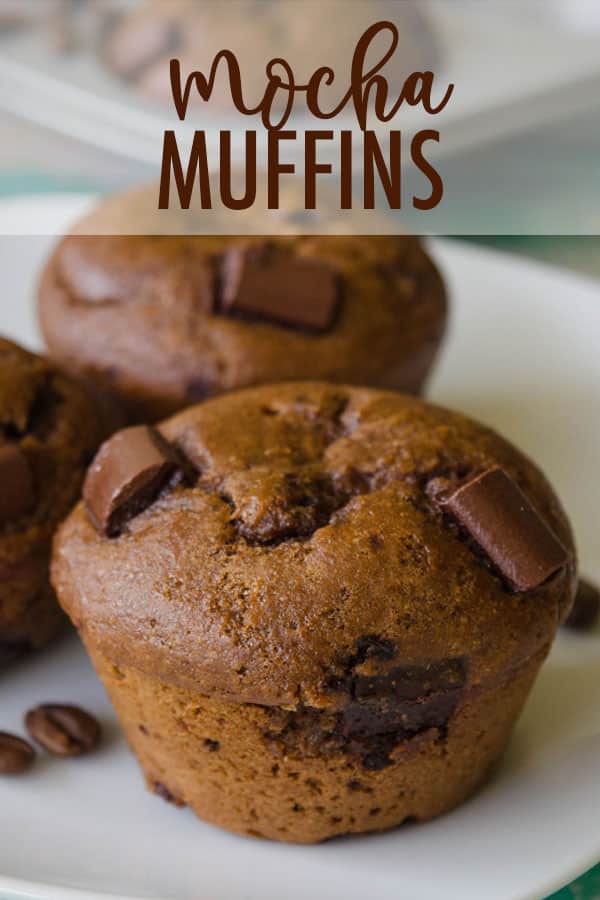 As an Amazon Associate, I earn from qualifying purchases. Read the full disclosure here.
Moist and tender coffee flavored muffins filled with gooey chunks of chocolate. No oil, no butter, but so many mouthwatering flavors!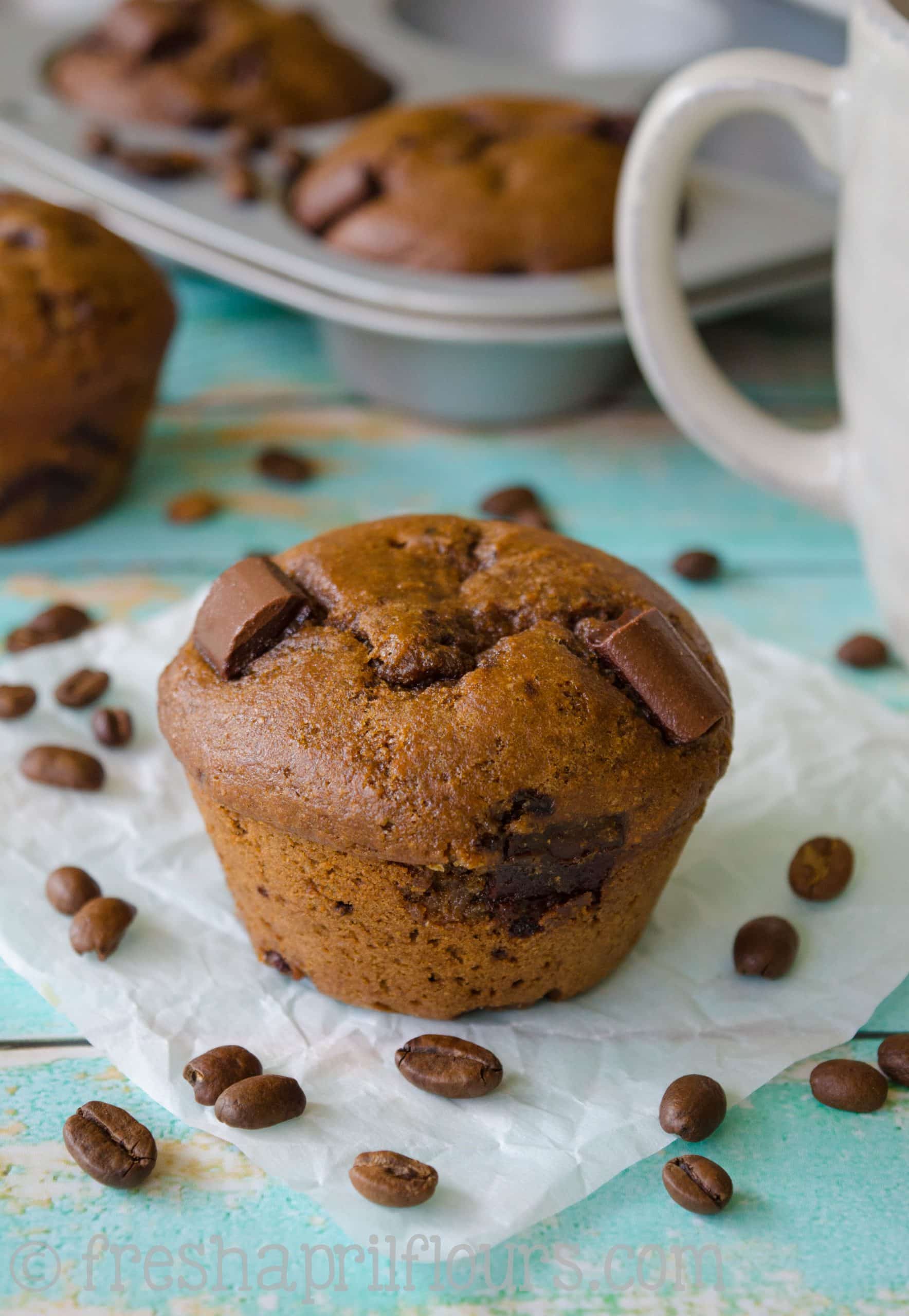 I am seriously stuck on coffee these days (see recent how to make cold brew coffee, homemade French vanilla coffee creamer, and cappuccino cookies). Seriously. It is one of my favorite things in the world and it's one of my favorite flavors to put into baked goods.
I've chatted before about how I love coffee in my chocolate, but I don't love chocolate in my coffee. This homemade peppermint mocha creamer is that exception, and now these muffins have completely flipped my chocolate-in-coffee world upside down. Flip with me, won't you?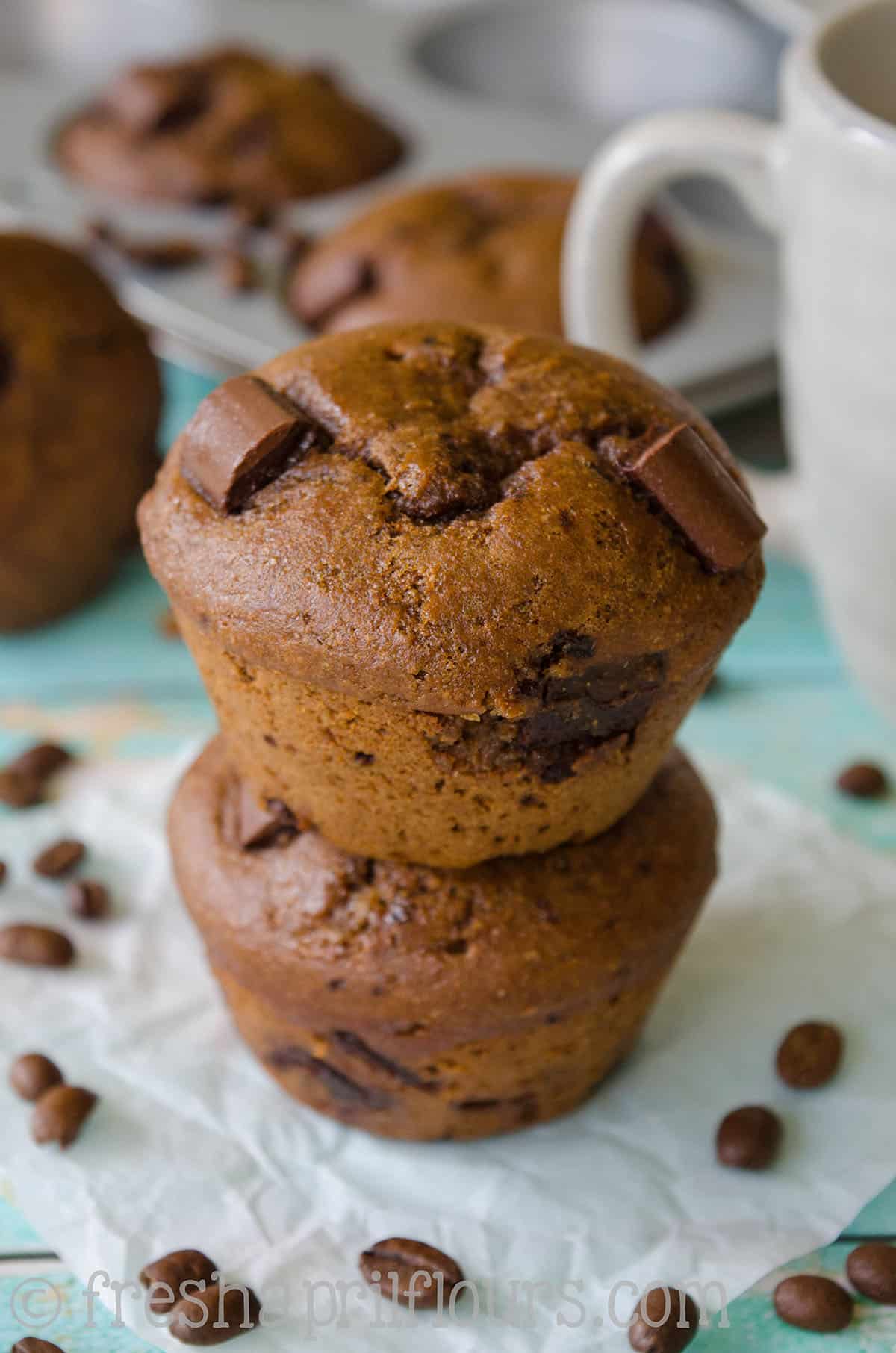 I made some skinny muffins a few months ago and used the muffin batter for that recipe as a base for these mocha muffins, but thanks to a hefty dose of some chocolate chunks, their "skinny" factor is not really there. Sorrynotsorry.
There's still no butter or oil in these muffins, so if you reduce the amount of chocolate chunks, you'll mayyyyybe be able to call these "skinny-ish." (technical term)
All adjectives aside, let's focus on the important part: the coffee flavor. For my chocolate layer cake, I use brewed coffee. For these mocha muffins, I didn't want to add any extra moisture, but I still wanted strong coffee presence, so I settled on instant coffee granules.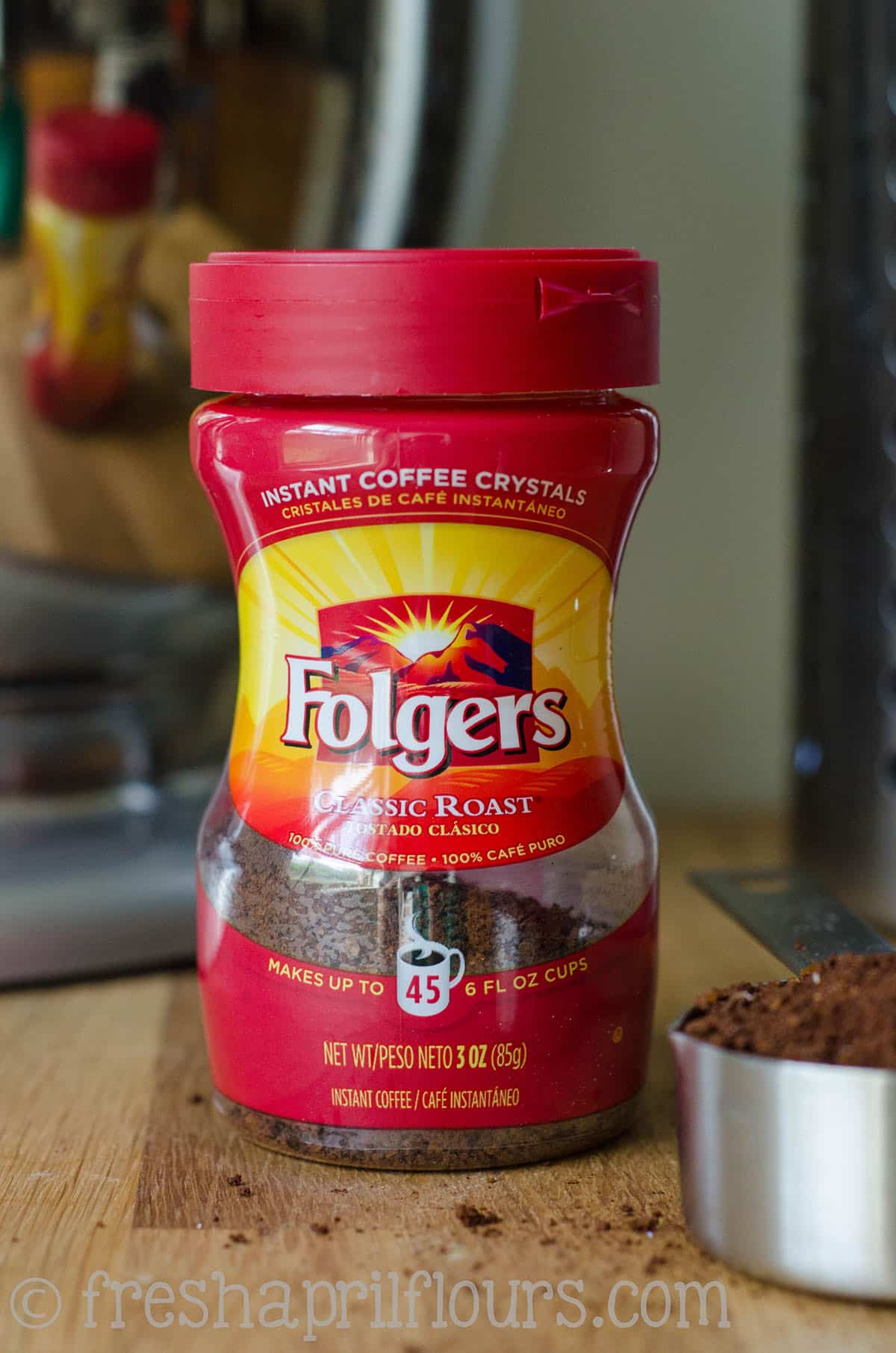 I use these in my cappuccino cookies, and I also use them in a recipe in my new cookbook (ohmygosh, one of my favorites in the book). This is not the same as ground coffee. Instant coffee granules are formulated a bit differently so that they can easily be dissolved in water (to make instant coffee– duh).
They work perfectly for this muffin batter because you dissolve them into your wet ingredients.
You can also use espresso powder. Coffee flavor without too much moisture: SCORE!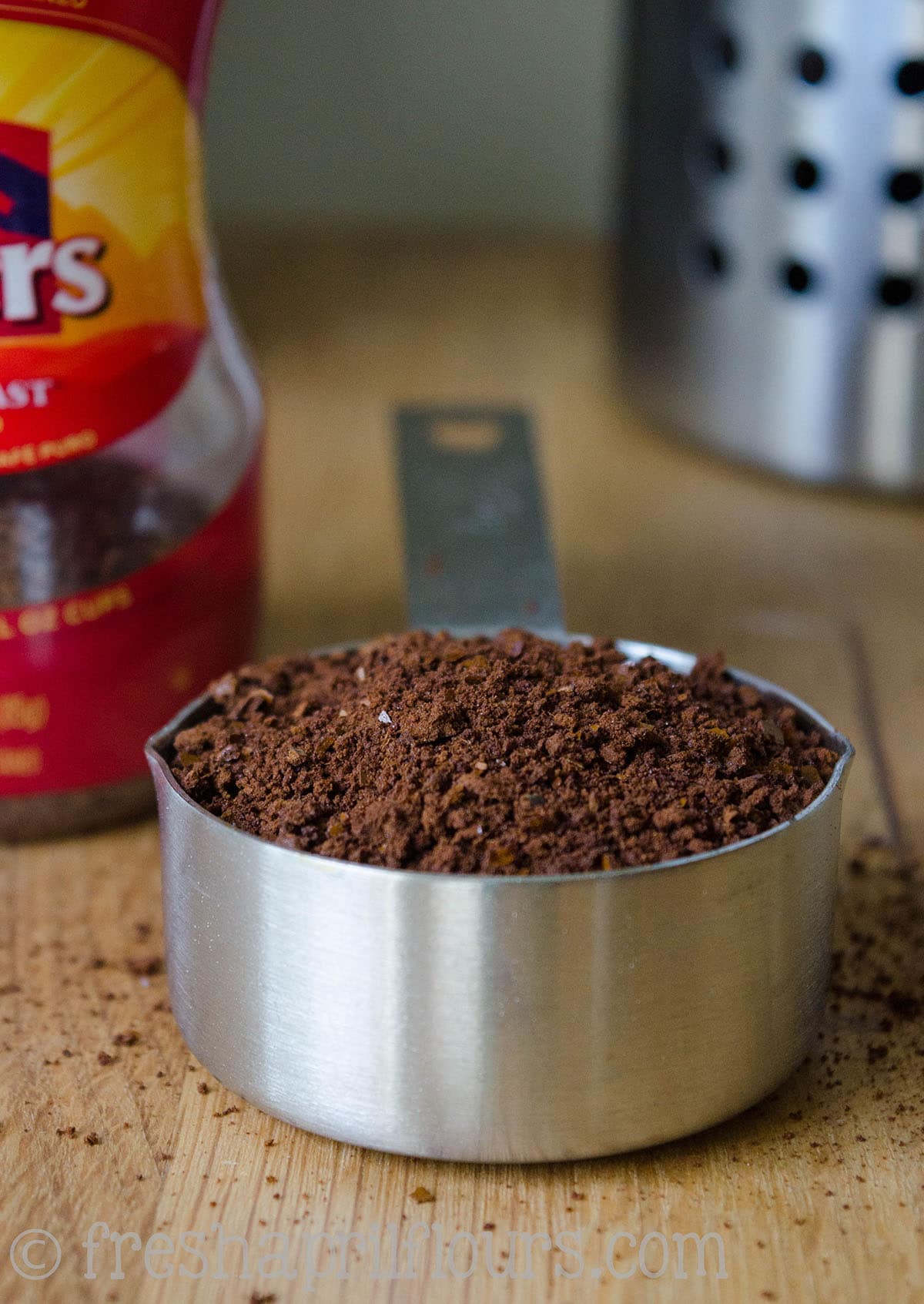 The muffin recipe itself is pretty standard. No weird ingredients, but you may have to take a special trip to the grocery store if you don't keep yogurt or unsweetened applesauce on hand. These two ingredients alone bring so much moisture to these muffins, you won't even miss the butter or oil that aren't part of the ingredient list.
An egg helps bind everything together to create a moist yet tender crumb inside each coffee-laden bite of dessert-for-breakfast goodness. I use granulated sugar and just a touch of brown sugar as the sweeteners. The brown sugar gives a little extra "oomph" and adds some caramel notes.
The most important part about mixing up these muffins is to be sure you don't over mix the batter. Over mixing batter develops the gluten in the flour too much, resulting in a tough crumb. We want to keep the crumb nice and soft, so easy does it when you add your wet ingredients to your dry ones and then again when folding in the chocolate chunks.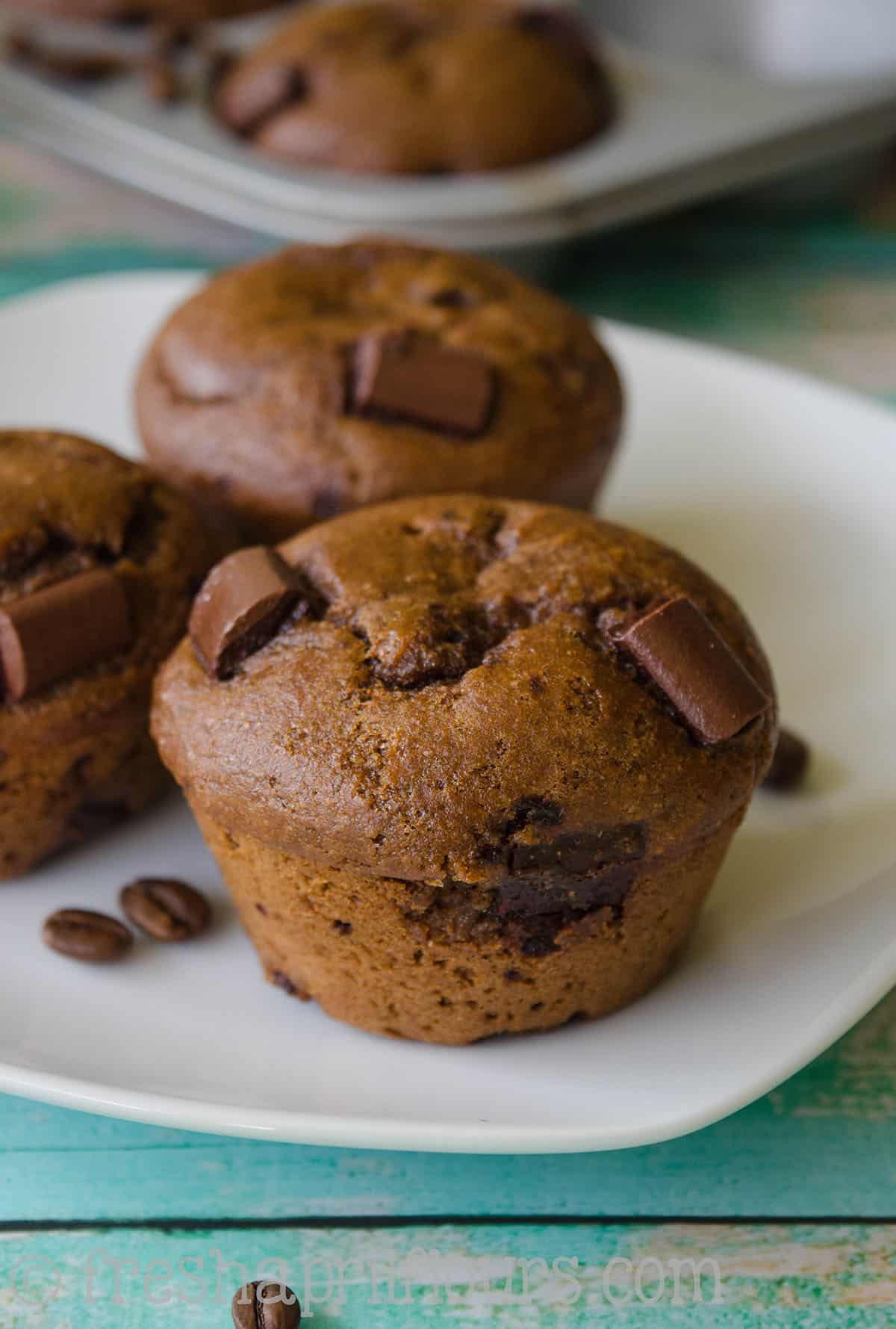 For good measure, I like to stick a couple extra chocolate chunks into the tops of each muffin before they go into the oven. This ensures each one has a little something special gracing its top, making sure these muffins say "I'm deliciously coffee-y and chocolate-y all at one time."
Do your baked goods talk to you? No? Just me. My life is weird.
Whip these muffins up for a sweet treat at breakfast, a nice addition to your brunch spread, or use them entirely as a dessert. They're basically a cupcake without icing, so you can totally call them dessert.
So much coffee flavor with ooey gooey chocolate chunks melted into every single bite… These muffins will knock your socks off with their taste and texture and you'd never guess they are made with yogurt and applesauce.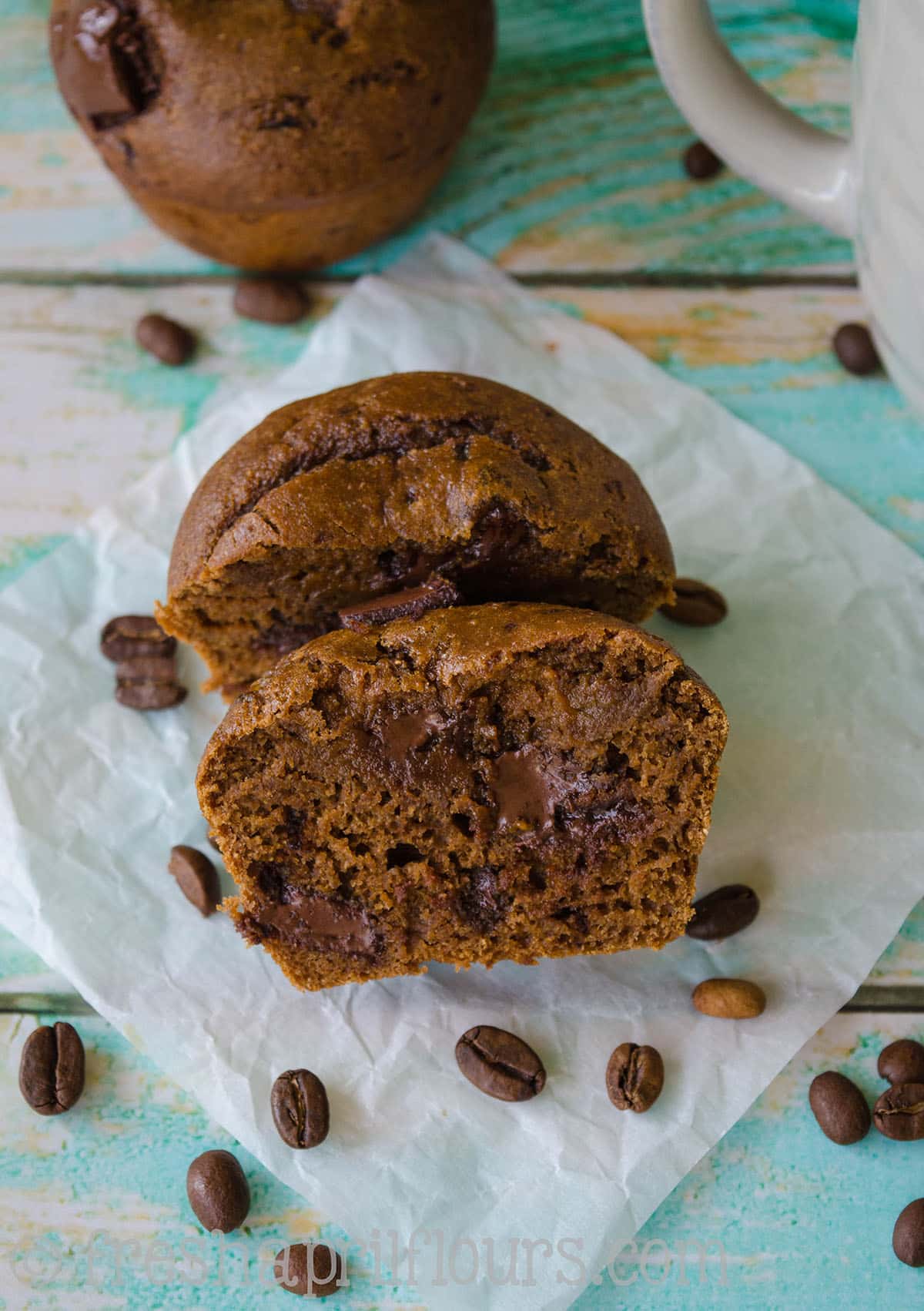 The only way to make these muffins better is to enjoy them with a nice steamy cup of coffee. I like my coffee with a side of coffee, thankyouverymuch. Coffee for the win.
Lots of coffee recipes around these parts. Check out these coffee recipes next: cappuccino cookies, how to cold brew coffee, coffee rolls, tiramisu brownies, and mocha cake.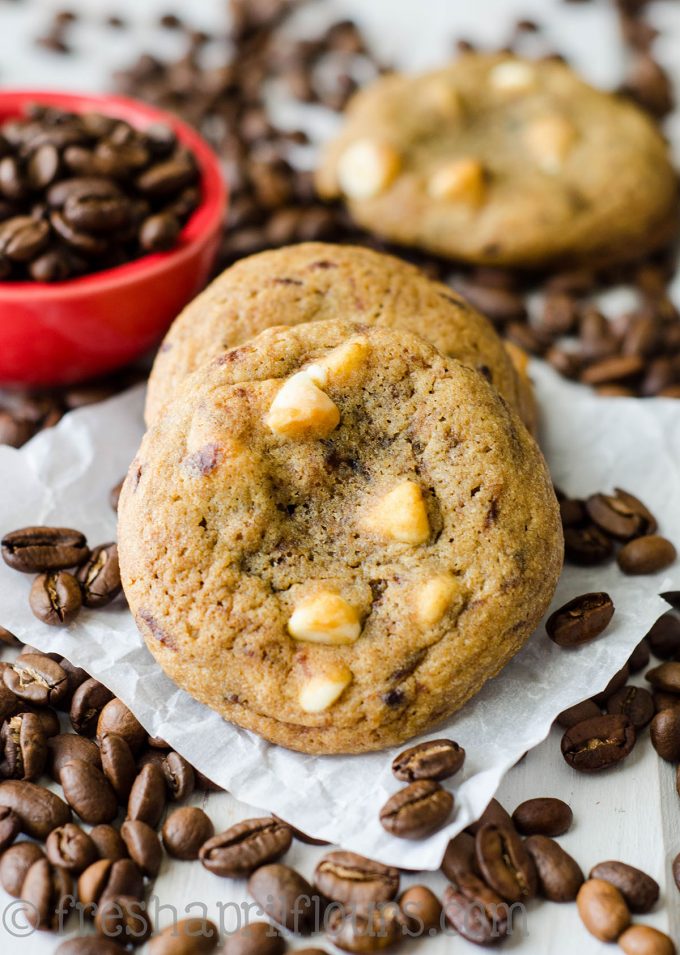 Mocha Chocolate Chunk Muffins
Moist and tender coffee flavored muffins filled with gooey chunks of chocolate. No oil, no butter, but so many mouthwatering flavors!
Ingredients
1 and 1/2

cups

whole wheat flour

you may also use all-purpose or a combination of both; be sure to measure properly

1

teaspoon

baking powder

½

teaspoon

baking soda

¼

teaspoon

salt

½

cup

granulated sugar

1/4

cup

light brown sugar

loosely packed

1/2

cup

unsweetened applesauce

3/4

cup

plain Greek yogurt

or vanilla

1/3

cup

instant coffee granules or espresso powder

not coffee grounds

1

teaspoon

vanilla extract

1

large egg

2/3

cup

semi-sweet chocolate chunks

reduce to ⅓ cup if you prefer a less sweet muffin
Instructions
Preheat oven to 350ºF degrees. Spray a cupcake/muffin pan generously with nonstick cooking spray. Do not use liners. Set aside.

In a large bowl, toss together the flour, baking powder, baking soda, and salt. Set aside. In a separate medium bowl, whisk together both sugars, unsweetened applesauce, Greek yogurt, instant coffee granules and vanilla extract until smooth. Whisk in the egg until fully incorporated. Add the wet ingredients to the dry ingredients until just combined– do not over mix batter. Fold in the chocolate chunks.

Divide the batter evenly between 10 muffin cups (using an ice cream scoop with a trigger makes this easier). Stick a few extra chocolate chunks in the tops of the batter for aesthetics, if desired. Bake for 15-18 minutes or until a toothpick inserted in the middle comes out clean. Allow muffins to cool in pan 5-10 minutes before transferring to wire rack to cool completely. Muffins will stay fresh in an airtight container at room temperature up to one week. Muffins freeze well, up to 2 months. Thaw in microwave for 45-60 seconds before eating.
Nutrition Disclosure
All nutritional values are approximate and provided to the reader as a courtesy. Changing ingredients and/or quantities will alter the estimated nutritional calculations.