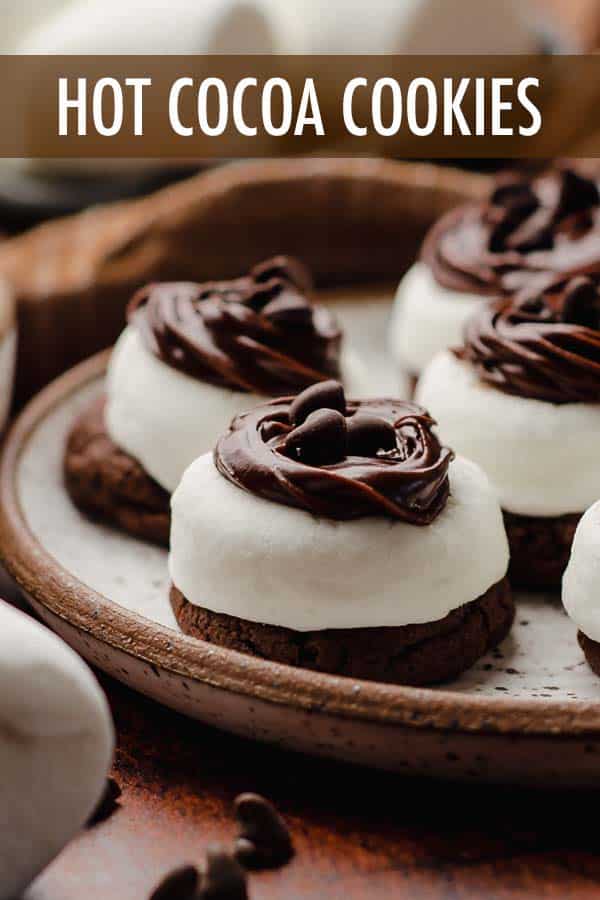 As an Amazon Associate, I earn from qualifying purchases. Read the full disclosure here.
These easy bite-size fudgy chocolate cookies start with a boxed cake mix and are topped with a gooey marshmallow and a swirl of dark chocolate buttercream.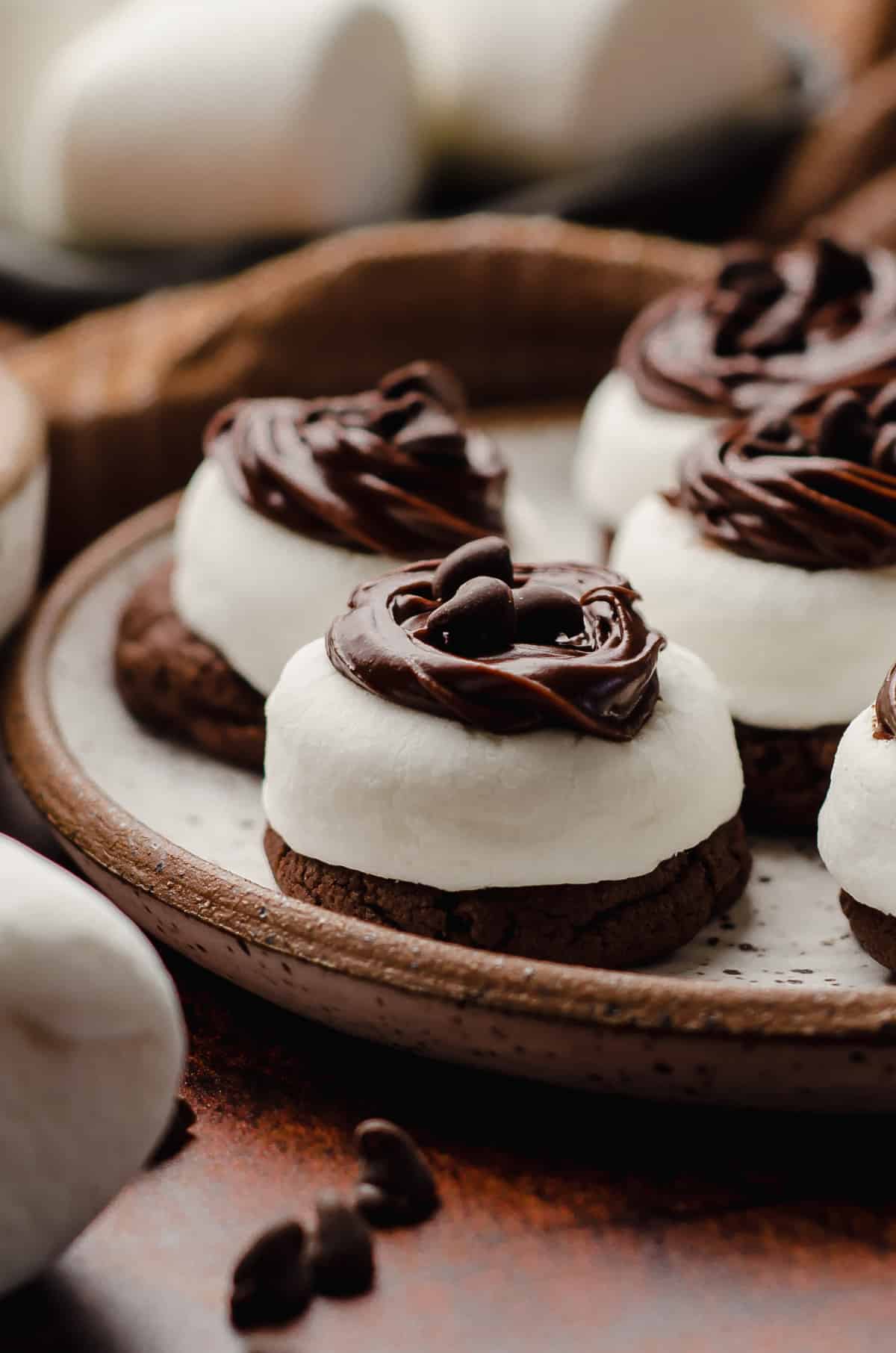 Today is a SUPER FUN day on my site, as I'm participating in a little blog hop called Freaky Friday! Michaela from An Affair From The Heart put together this event where one blogger makes a recipe from another assigned blogger's site.
And this month, it's a virtual cookie exchange! Bring on ALL the cookies!

What I love about these Freaky Friday events is that I usually get connected with food bloggers I had never "met" before. This time around, however things are a little different, and I got paired with my DEAR friend Rebecca from Devour Dinner.
But here's the thing… I actually got paired with her new (as of this year) site, Best Cookie Recipes. And let me tell you, friends… Rebecca has worked her tush off this year after deciding on a whim to start a new site in February. She launched her site in May and it's been so fun to watch her absolutely crush it, set ridiculously crazy goals, and reach so many of them.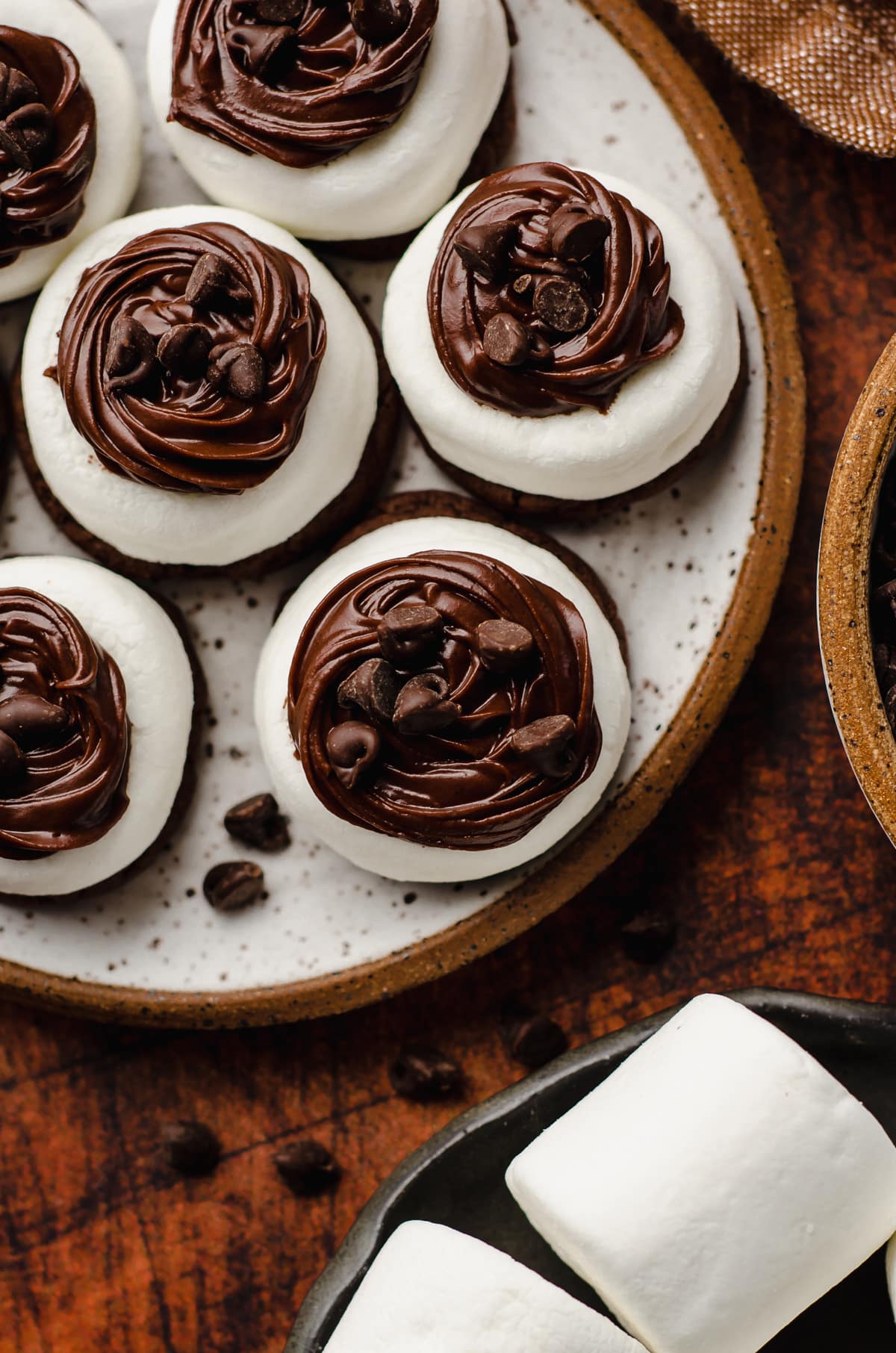 I am first and foremost proud to be her friend but also proud to be alongside her in this crazy job we have as food bloggers. And also really excited to dive into her JAM PACKED cookie recipe collection.
I actually had a really hard time picking what cookie to make from her site, but I ultimately landed on these hot cocoa cookies because they weren't something I had on my site yet and I'd actually never made a cookie that started with a boxed cake mix, so I was super intrigued.
Other contenders for my cookie of choice were these eggnog cookies, these snickerdoodle sandwich cookies (you know I love me a good snickerdoodle!), and these soft almond sugar cookies will be making an appearance in my kitchen at some point just for funsies because YUM.
Oh, and if you need a Thanksgiving cookie, she's your girl. These pumpkin pie sugar cookies went bananas on Facebook and LOOK HOW CUTE.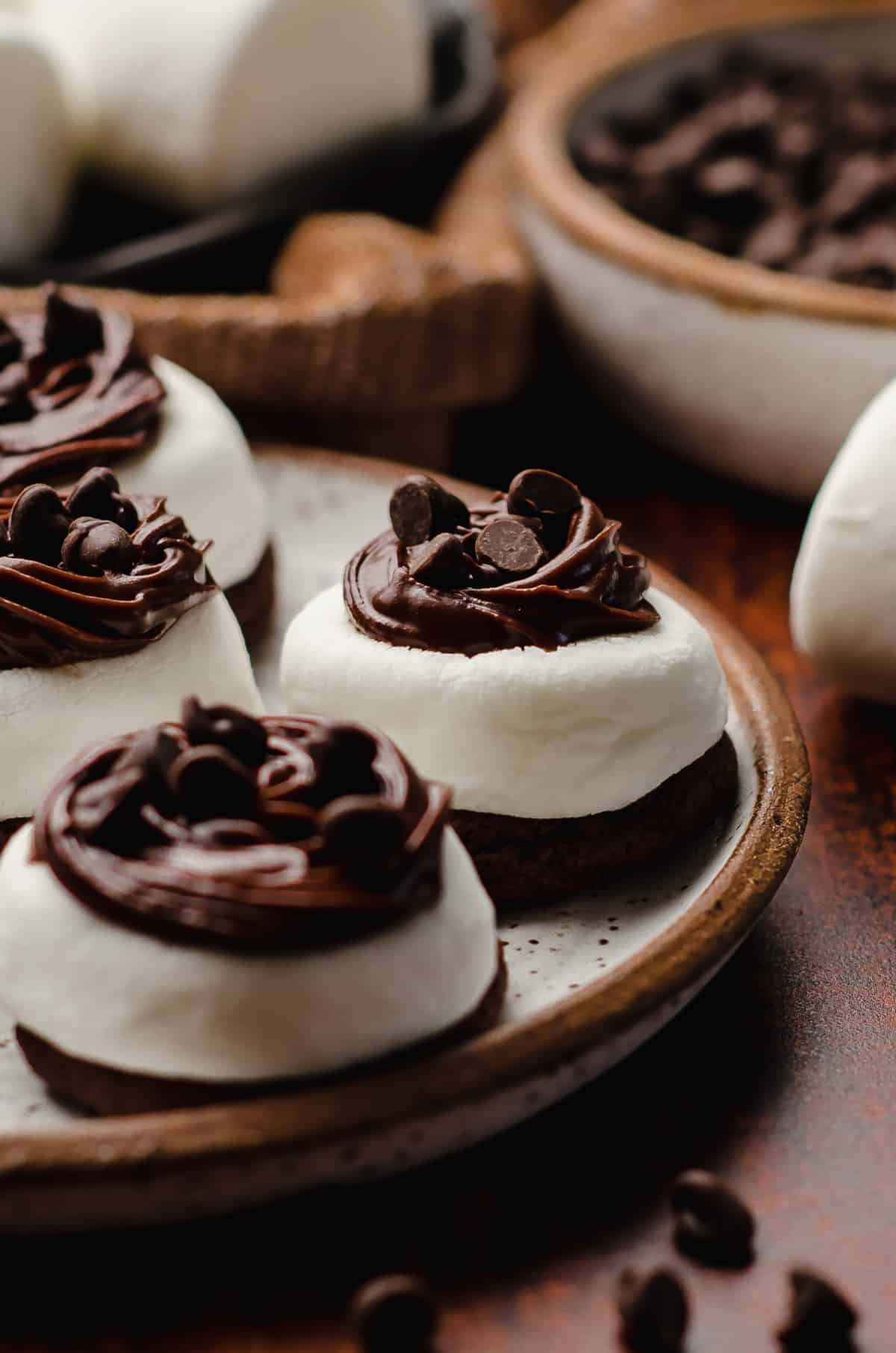 Ok ok, enough other cookie talk, let's talk about this hot cocoa cookie recipe, because it's so good and so quick and so simple, you're going to want to make them ASAP!
INGREDIENTS
As I mentioned, these gooey hot chocolate cookies start with a box mix, so the list of ingredients is seriously tiny.
CHOCOLATE COOKIE BASE
While Rebecca's original cookie recipe calls for an entire box of Devil's Food Cake, I actually tweaked the recipe a tiny bit to make bite size cookies (as opposed to the standard size Rebecca made), so we're only using half of a box of the cake mix.
Use the rest of the cake mix to make a bigger batch, or to make standard size cookies. See notes in the recipe card about doing this.
To the box mix, you'll only need to add an egg and some vegetable oil.
MARSHMALLOW TOPPING
The large marshmallow on top is simple.
We're not making these marshmallows from scratch or anything like that, so you just have to purchase some of the large size marshmallows. You'll cut each of these in half so that one marshmallow can top two cookies.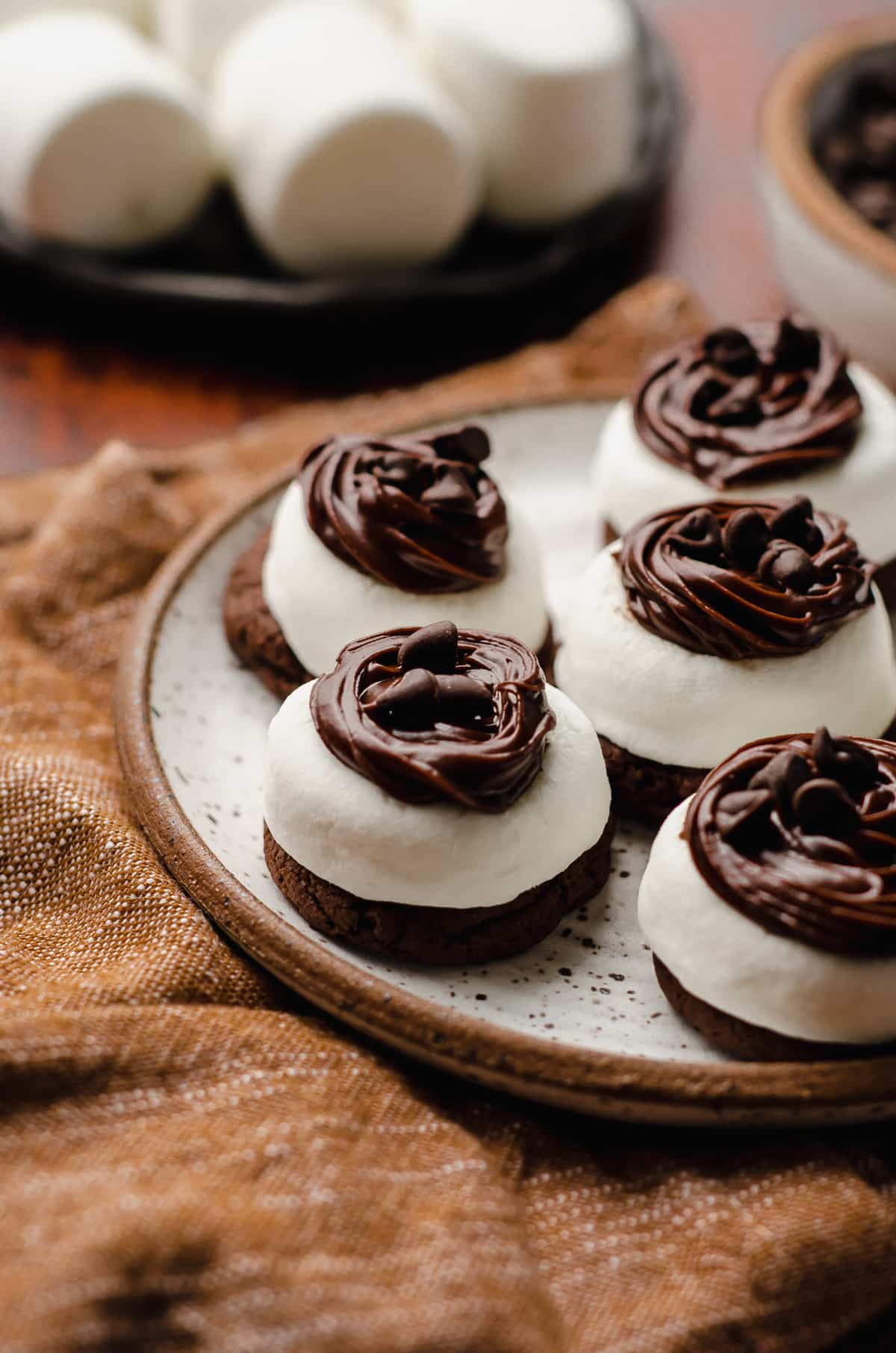 Make sure to cute them in half lying on their side and not sitting on their flat bottoms.
DARK CHOCOLATE BUTTERCREAM
For the buttercream on top, you'll need some butter, Dutch processed cocoa powder (although you can also use regular unsweetened cocoa powder if that's all you have), some vanilla extract, salt, and milk to thin it out.
HOW TO MAKE HOT COCOA COOKIES
Since this hot chocolate cookies recipe starts with a box mix, the time it takes to get the dough together is so fast. The bake time is also really fast, so it's best to have all of your marshmallows prepared before the cookies go in the oven.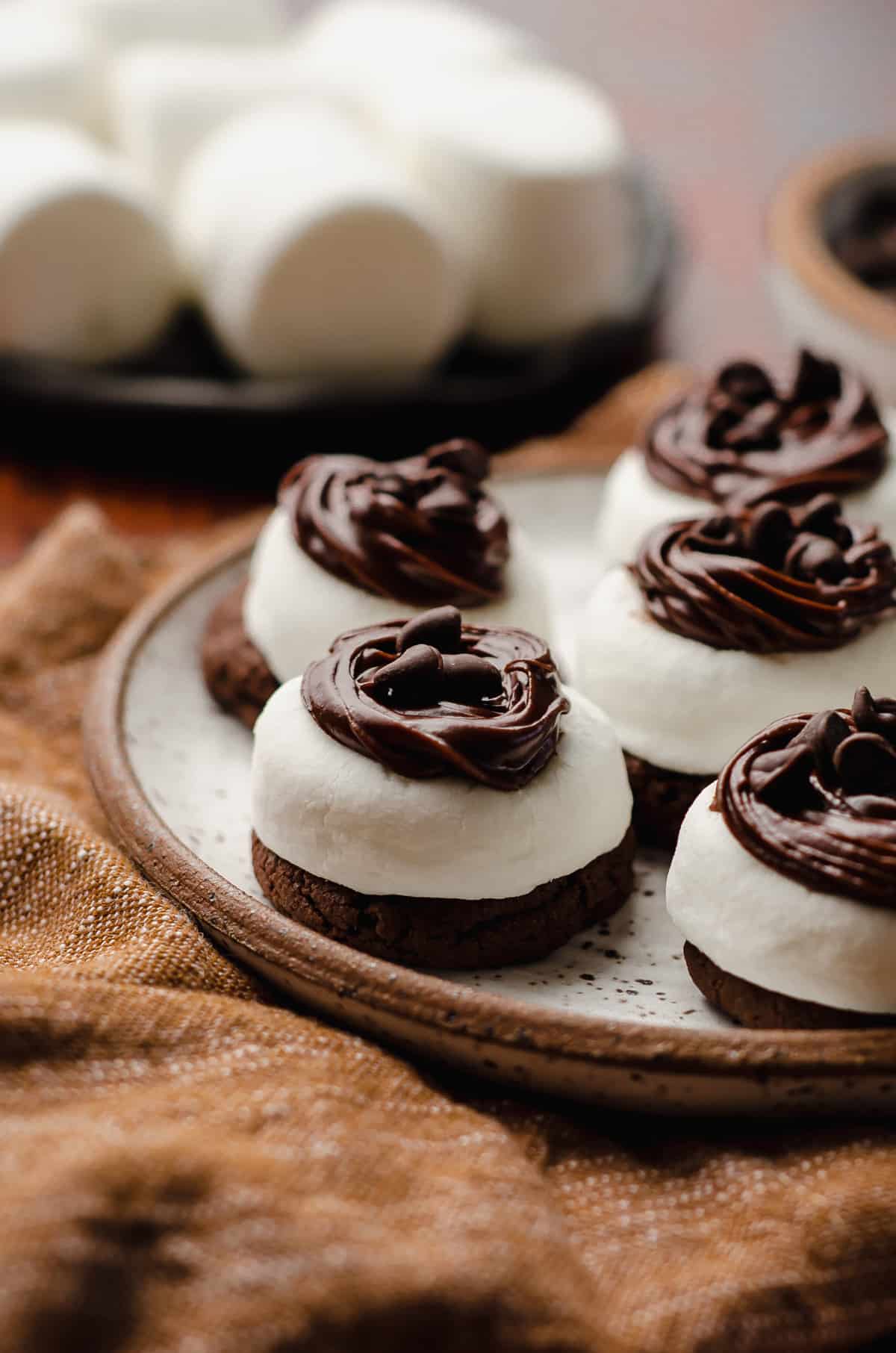 Of course, there's no problem with cutting the marshmallows while the cookies bake, but as soon as my cookies go in the oven, I almost always forget what I'm supposed to be doing and that little beep of the timer is what brings me back to reality (mom brain? Food blogger brain? I don't know, but can you relate?!).
MAKE THE COOKIE DOUGH
To make the chewy chocolate cookies, add the box mix, egg, and vegetable oil to a bowl. You can use a mixer to blend the ingredients if you prefer, but a spatula works just fine, too.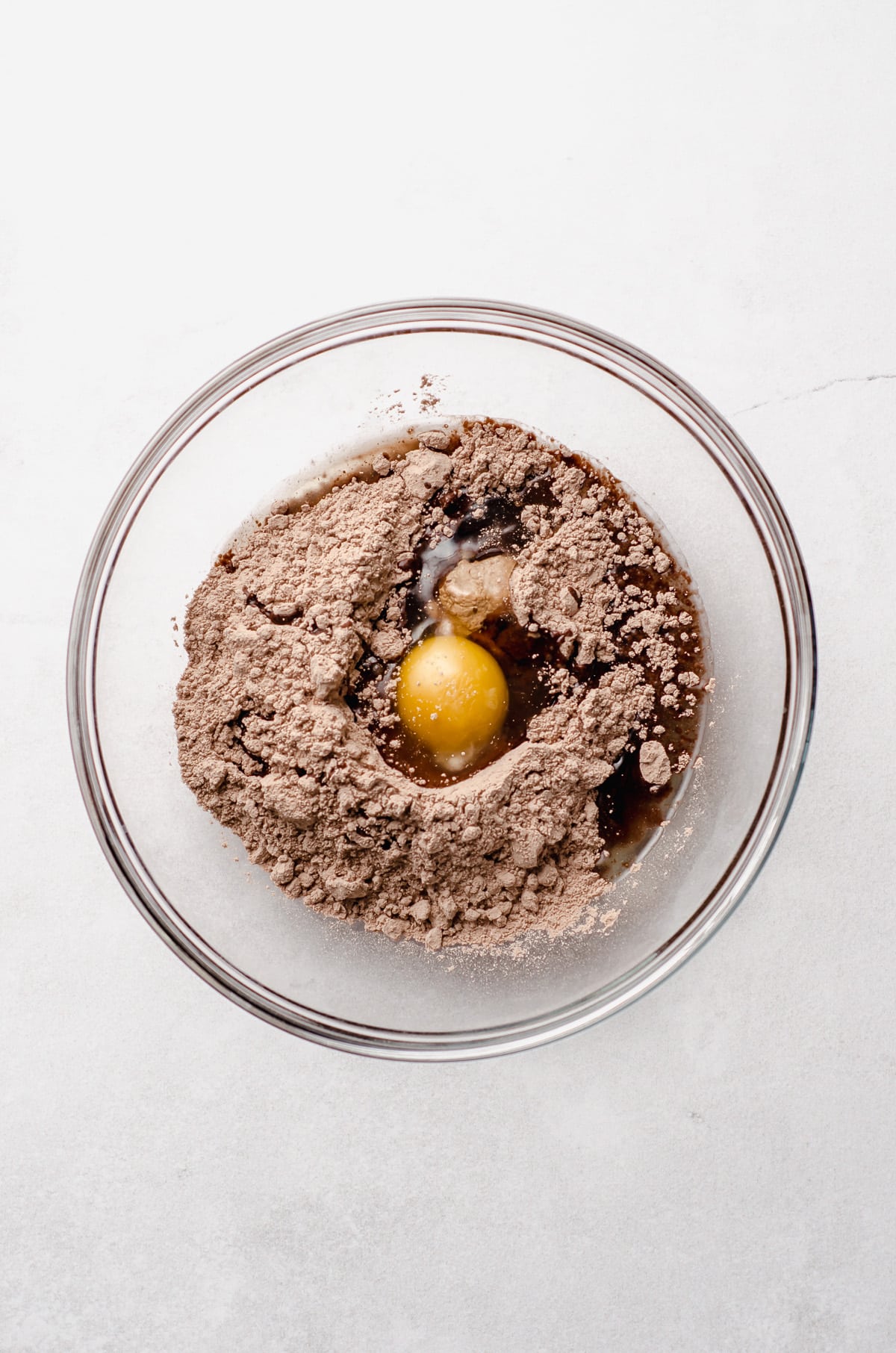 Then, using a mini cookie scoop, drop balls of dough onto a prepared baking sheet.
These cookie dough balls won't spread too much, so you can fit 18 of them on one sheet.
INITIAL BAKE
The chocolate cookies will only take about 4 minutes of initial bake time.
These 4 minutes will partially bake the cookies, and they will still look mostly like a dough ball and less like a flatter cookie. This is ok, and we'll take care of the shape of the cookie by adding the marshmallow.
ADD THE MARSHMALLOW
Once you pull the cookies out of the oven, work quickly but carefully to press a marshmallow half onto the top of each cookie.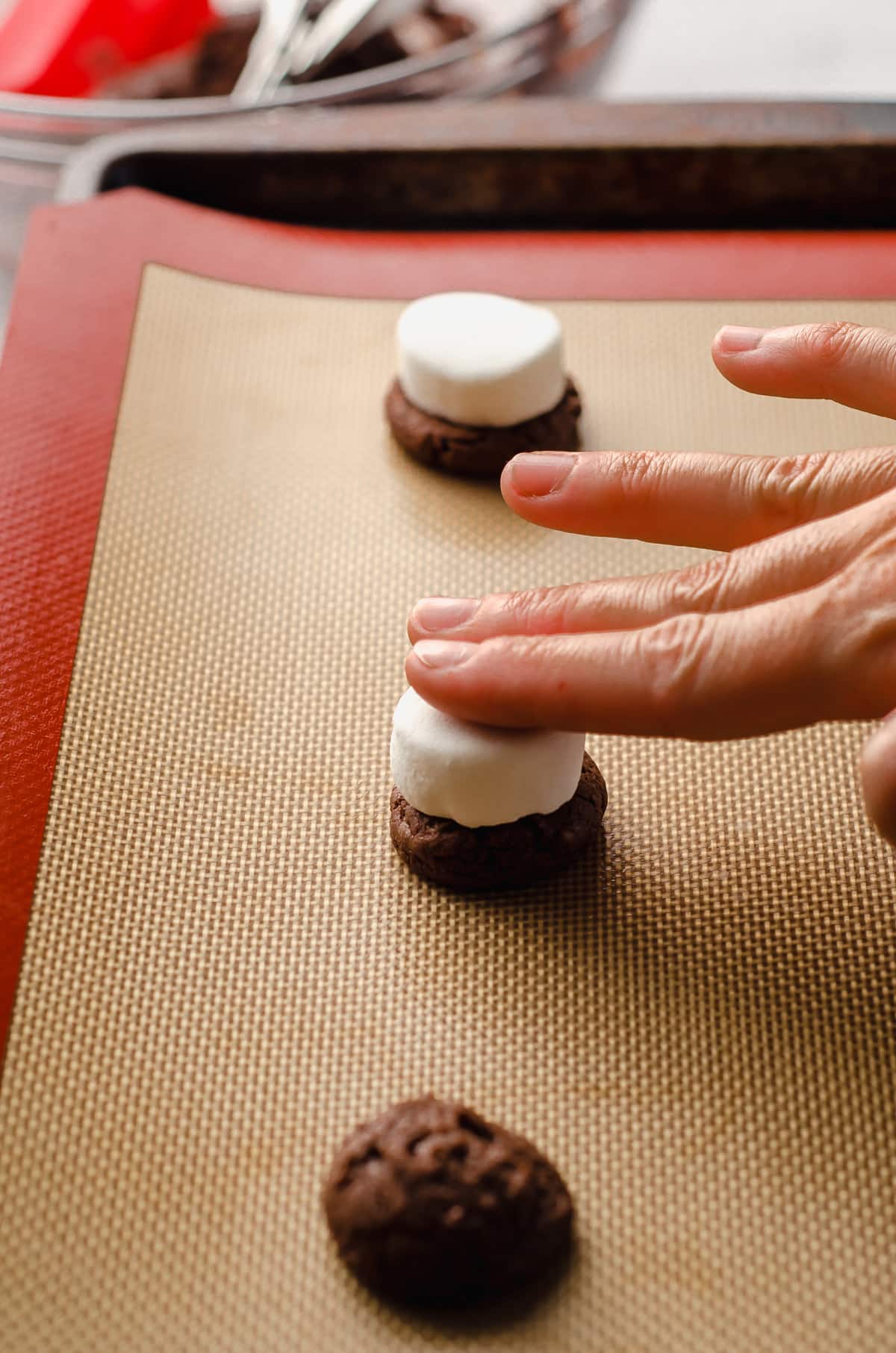 Pressing down gently will insure the marshmallow adheres to the center of each cookie and also flatten the tops of the cookies so they look more like a cookie than a ball.
BAKE A SECOND TIME
Place the cookies back in the oven for just 2 more minutes to allow the cookie to fully bake and melt the marshmallow.
In the oven, the melted marshmallow will puff up significantly and your cookies will look crazy! This is ok. The marshmallows will deflate as they cool.
ALLOW TO COOL
Since these cookies are so small, they will not take long to cool completely.
By the time I got my gooey, chewy cookies out of the oven and made the frosting, the cookies were ready for their final touch: the dark chocolate buttercream.
MAKE AND PIPE THE FROSTING
This chocolate buttercream is really simple, and while I do love a good chocolate fudge frosting that starts with melted chocolate, this basic buttercream uses cocoa powder to bring all the chocolate flavor.
Beat the butter, add the dry ingredients, then thin it out with the milk.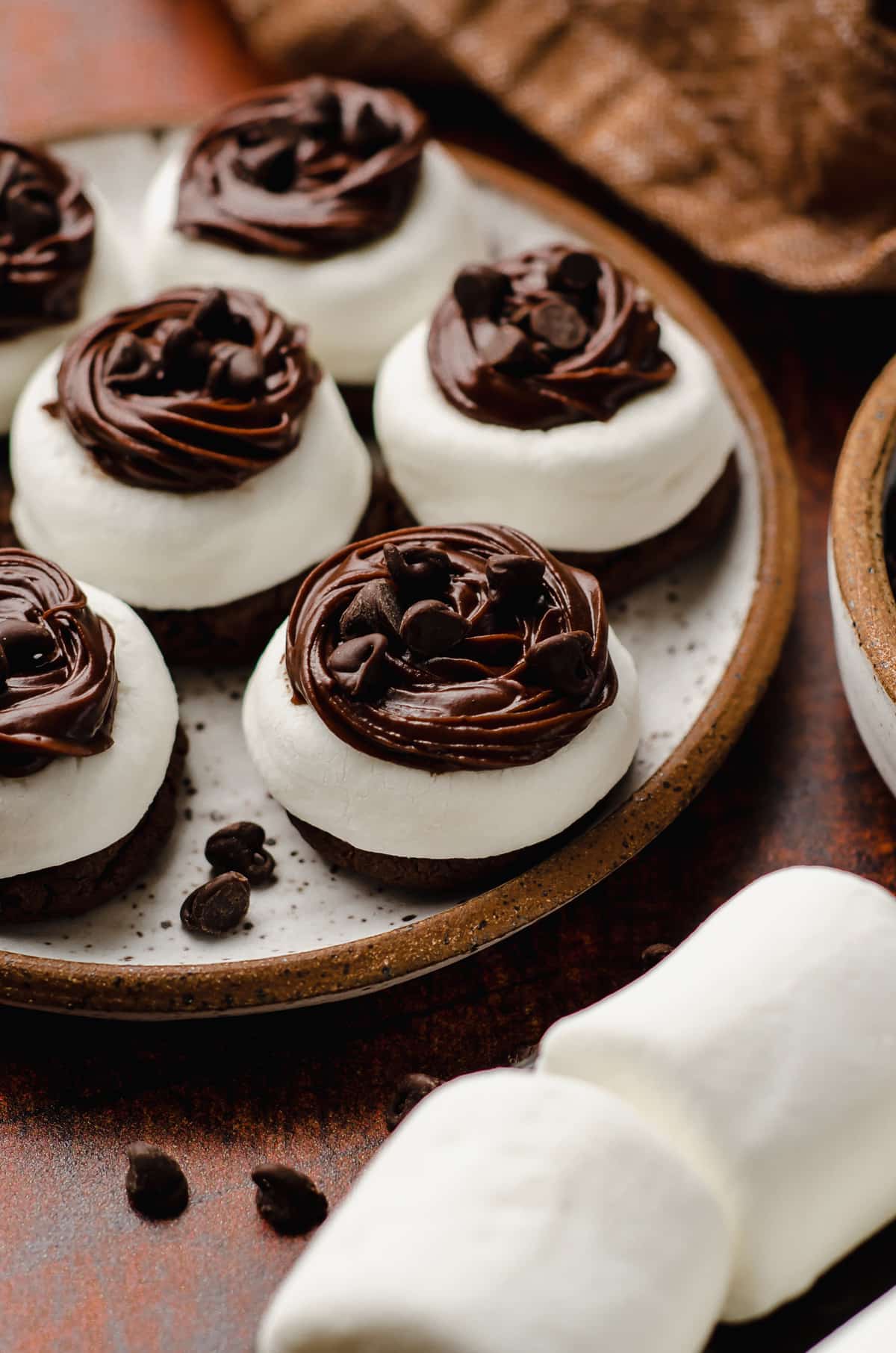 You're looking for a consistency you can easily pipe but that isn't too runny. Use the milk to get the consistency you prefer, and then pipe a little swirl on top of each cooled, gooey marshmallow.
I liked using a star tip like Rebecca did, but you can use whatever you have or prefer to get that swirl done.
GARNISH
As far as garnishing these cookies that taste just like a cup of hot cocoa, I went with mini chocolate chips. Rebecca used mini chocolate curls, but you could also use some chocolate sprinkles or even colorful sprinkles if you prefer.
STORING HOT COCOA COOKIES
The only thing you need to be careful about is storing these hot cocoa cookies nicely.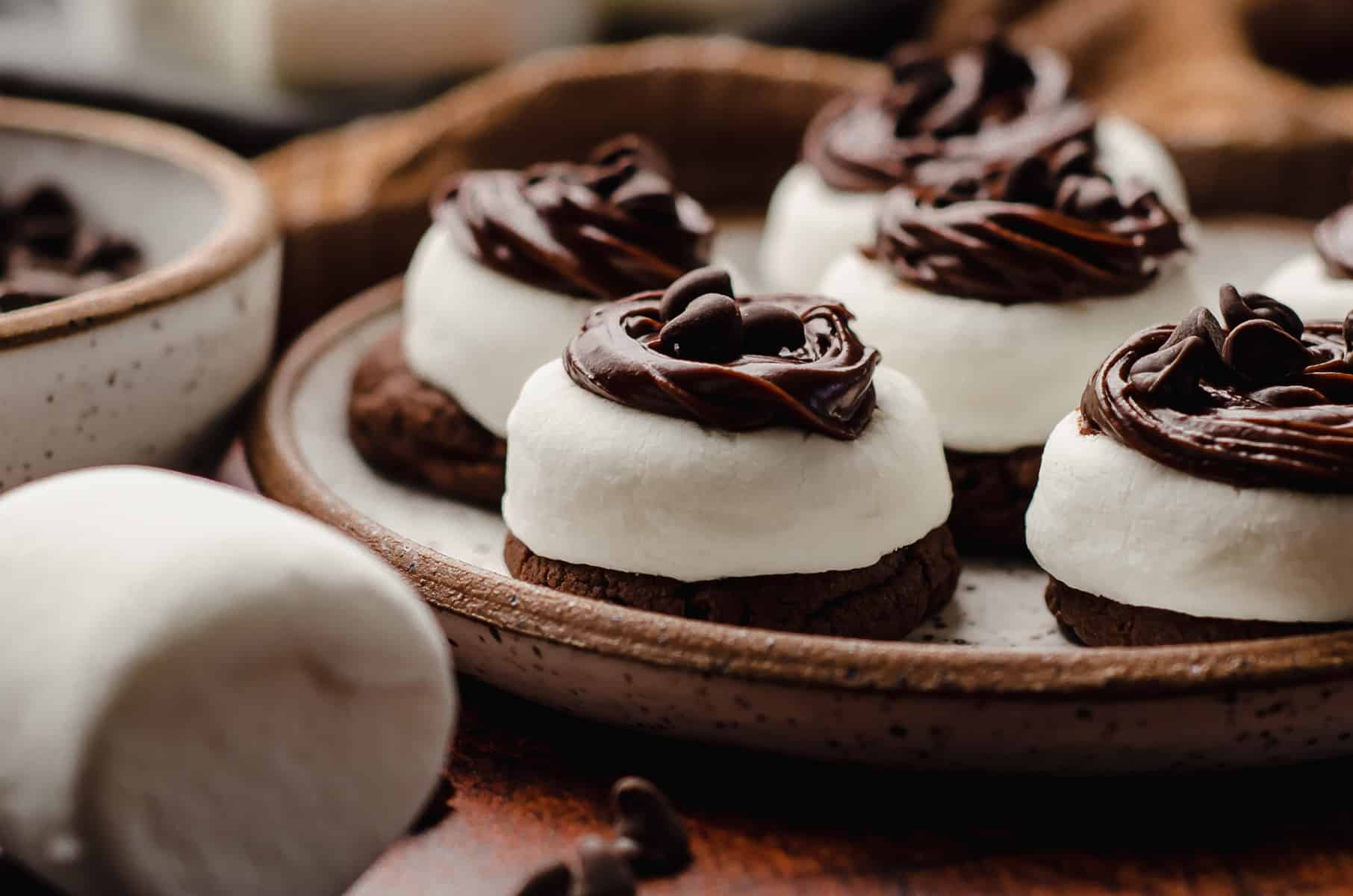 Since that marshmallow on top is so gooey and melted and then topped with chocolate buttercream, you'll want to keep your perfect cookies, well, perfect, so do not stack them to store them.
If you're planning to use these for a holiday cookie exchange, my best tip is to layer them between parchment or wax paper if you have to stack them.
Ideally, you don't stack them at all, but if you do, just be sure to keep them from sticking together. Stacking would only squish them down, so if that doesn't matter to you, go for it.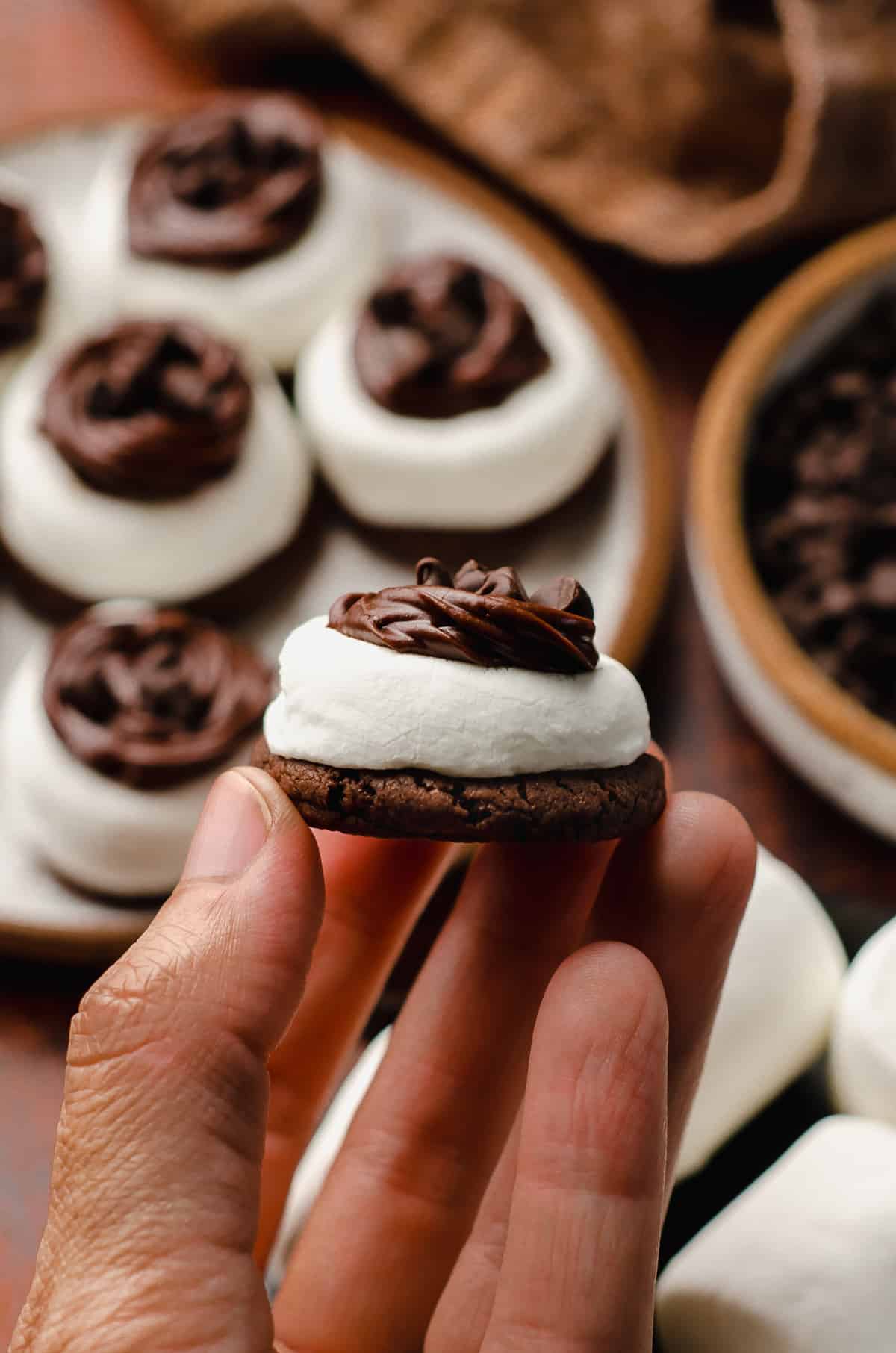 These wound up being perfectly bite-sized, so really, squishing them down would just make it easier to eat anyway!
I hope you'll add this hot chocolate cookie recipe to your collection, and if you're looking for more cake mix cookie recipes, check out Rebecca's extensive collection. And if you're into them, she has a great collection of copycat cookie recipes (think Crumbl, Swig, Starbuck's, Gideon's).
And if you're into chocolate cookies in general, grab one of my favorite chocolate cookie recipes: chocolate white chocolate chip cookies, chocolate shortbread cookies, and chocolate cut-out sugar cookies.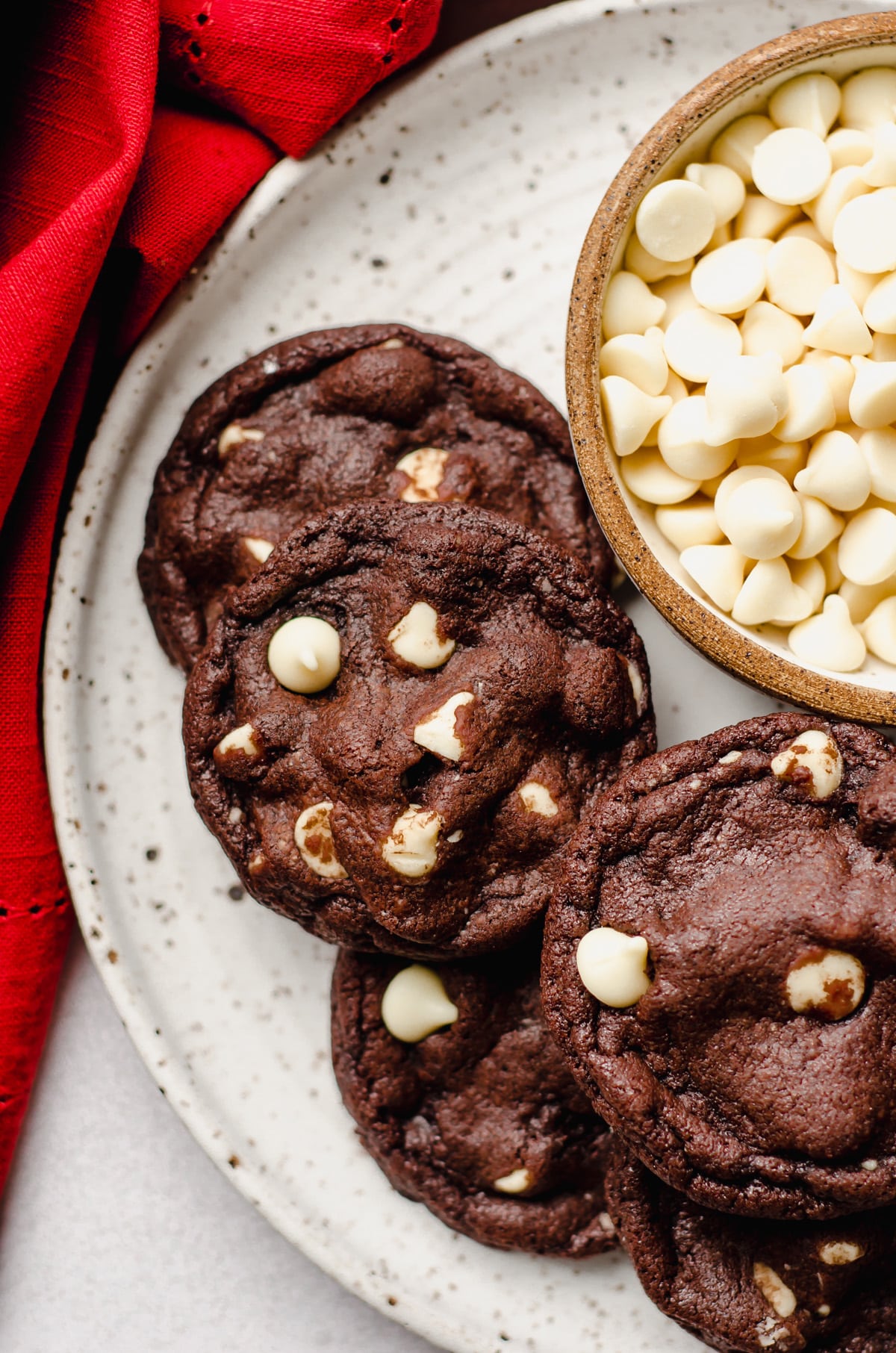 Hot Cocoa Cookies Recipe
These easy bite-size fudgy chocolate cookies start with a boxed cake mix and are topped with a gooey marshmallow and a swirl of dark chocolate buttercream.
Ingredients
CHOCOLATE COOKIES
½

box

Devil's Food Cake mix

about 1 and ¾ cup

1

large egg

3

Tablespoons

(42mL) vegetable oil

16

large marshmallows cut in half1
DARK CHOCOLATE BUTTERCREAM
1 and ½

Tablespoons

(21g) unsalted butter

softened to room temperature

1

cup

(120g) powdered sugar

2

Tablespoons

(12g) Dutch processed cocoa powder2

½

teaspoon

vanilla extract

1 to 2

Tablespoons

(15-30mL) milk
pinch of salt
Instructions
CHOCOLATE COOKIES
Preheat the oven to 350ºF (177ºC). Line a large baking sheet with parchment paper or silicone baking mat. Set aside.

In a medium size bowl, combine the Devil's Food Cake mix, egg, and oil. Stir with a large spatula until completely combined.

Using a mini cookie scoop or a ½ teaspoon measure, drop mounds of cookie dough onto the prepared baking sheet (you can fit 18 mini cookies on one sheet with 3 rows of 12). Gently roll them into smooth balls with your hands.

Bake the cookies for 4 minutes, remove from the oven, quickly but carefully place 1 cut marshmallow on top of each warm cookie, pressing gently to adhere the marshmallow and also slightly flatten the cookie, then return to the oven for 2 more minutes. The marshmallows will puff up during this time.

Remove the cookies from the oven, allow to cool for 1-2 minutes on the baking sheet (marshmallows will deflate), then transfer cookies to a cooling rack to cool completely before adding chocolate buttercream.
DARK CHOCOLATE BUTTERCREAM
In a small bowl with a handheld mixer or the bowl of a stand mixer fitted with the paddle attachment, cream the butter on medium-high speed until it is light and fluffy, about 1-2 minutes.

Turn the mixer to low, then add the powdered sugar and cocoa powder and mix until combined. Add the vanilla extract, milk (starting with 1 Tablespoon), and salt, then increase the mixer speed to medium and continue to beat until completely combined. You'll want a consistency you can pipe but don't want it too thin so that it's runny. Add additional milk to thin out but add slowly to achieve the perfect consistency.

Fit a piping bag with a star tip (this is my favorite star tip) or a zip top bag with the corner snipped off. Pipe a swirl of frosting on top of each cooled marshmallow, then garnish with mini chocolate chips, chocolate curls, or chocolate sprinkles. Store leftover cookies in an airtight container at room temperature up to 1 week, but are best enjoyed within 3 days. Do not stack cookies as they will stick together. Cookies freeze well, up to 3 months. Thaw at room temperature, and again, do not stack.
Notes
Cut the marshmallows: turn each large marshmallow on its side so that you have two short, round marshmallow pieces to put on top of cookies.
Dutch processed cocoa powder: you can also use regular unsweetened cocoa powder if that's all you have.
Standard size cookies: this recipe will make 16 standard size cookies (with a #50 cookie scoop) or 32 cookies if you use the whole box mix. If you want to use the whole box and double the recipe, don't forget to double the number of marshmallows and dark chocolate buttercream. Initial bake time for standard size cookies is 6 minutes then an additional 2 minutes after placing the marshmallow. Keep in mind if you double the recipe and still want bite-size cookies, you'll wind up with 64 cookies.
Recipe from Best Cookie Recipes
Nutrition Disclosure
All nutritional values are approximate and provided to the reader as a courtesy. Changing ingredients and/or quantities will alter the estimated nutritional calculations.
Serving:
1
cookie
|
Calories:
74
kcal
|
Carbohydrates:
12
g
|
Protein:
1
g
|
Fat:
3
g
|
Saturated Fat:
1
g
|
Polyunsaturated Fat:
1
g
|
Monounsaturated Fat:
1
g
|
Trans Fat:
0.03
g
|
Cholesterol:
7
mg
|
Sodium:
61
mg
|
Potassium:
30
mg
|
Fiber:
0.3
g
|
Sugar:
8
g
|
Vitamin A:
25
IU
|
Calcium:
12
mg
|
Iron:
0.4
mg