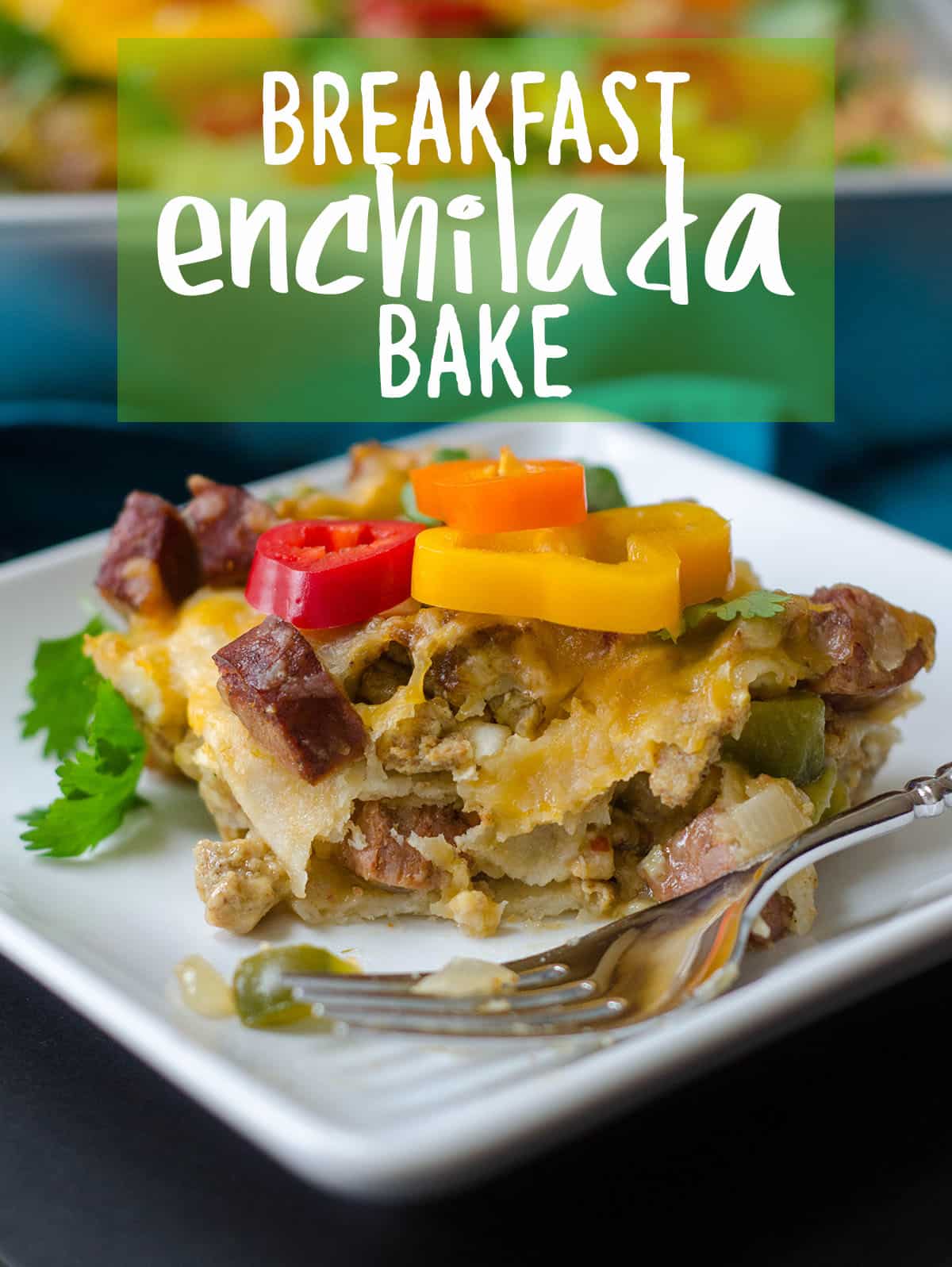 As an Amazon Associate, I earn from qualifying purchases. Read the full disclosure here.
Seasoned scrambled eggs and vegetables combined with spicy chorizo, and layered between corn tortillas and enchilada sauce for an easy and flavorful breakfast dish.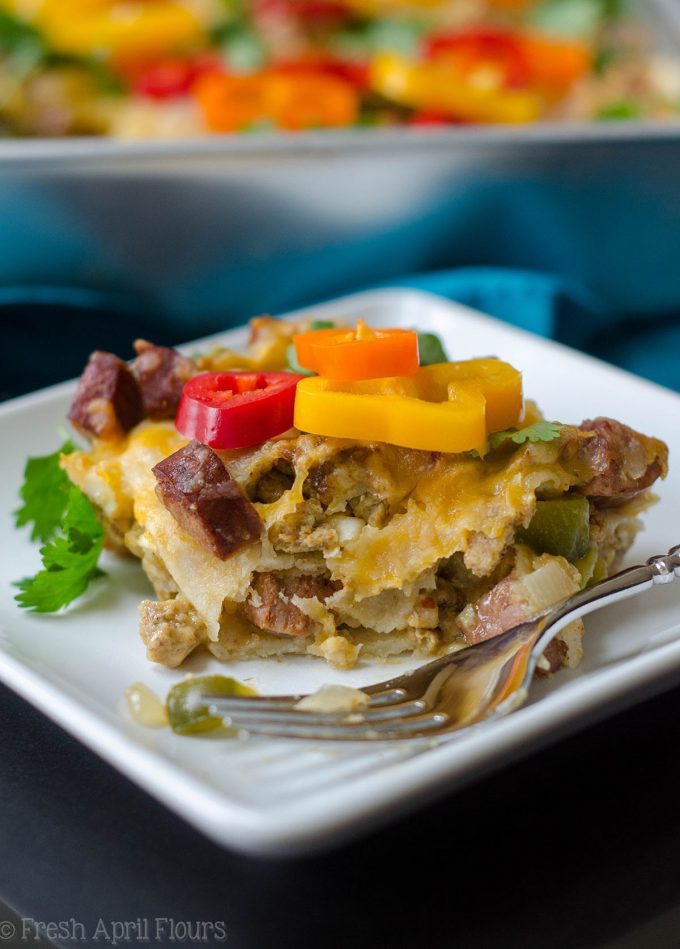 Well, this is my first official post as the mom of two kids on the outside! Our second son arrived 3 days before his due date on Thursday last week, so we're fully immersed in the two-under-two life for another month until Big Bro turns 2.
So far, so good, though I'm certain our veteran parenting has a lot to do with it. We've been getting some decent (and I say "decent" with a hefty dose of perspective here– we still have a newborn!) sleep, which I equate to a very good 7lb nurser.
Our first son was 5lb at birth (and ate all the time) and we struggled to nurse for the first 6 weeks (but we eventually got the hang of it and lasted just about a year).
Also, knowing that things get better and newborns eventually become a little less helpless (AND THEY SMILE!!) helps for sure.
That said, I am so glad I prepped some things for us during the weeks before his arrival. Not only do I have a million muffins, I have leftovers of this tasty enchilada dish that we enjoyed for breakfast, lunch, and dinner when it was fresh.
It will absolutely be coming in handy in the next few weeks once Matt gets back to work and isn't around to help me shove food into my mouth (though recall he is the stay-at-home parent between teaching classes, so I will be lucky to have him around for so much of my leave).
This is one of those recipes that looks like a lot of ingredients, but that is really mostly a list of spices. We've got eggs (this is breakfast, hello!), milk, chorizo, veggies, enchilada sauce, tortillas, and cheese.
Ok, I guess that is a lot of ingredients, but for all of the things in this enchilada bake, the hands-off time is pretty minuscule compared to actual enchiladas.
No rolling of anything, just layering! That's my kind of dish.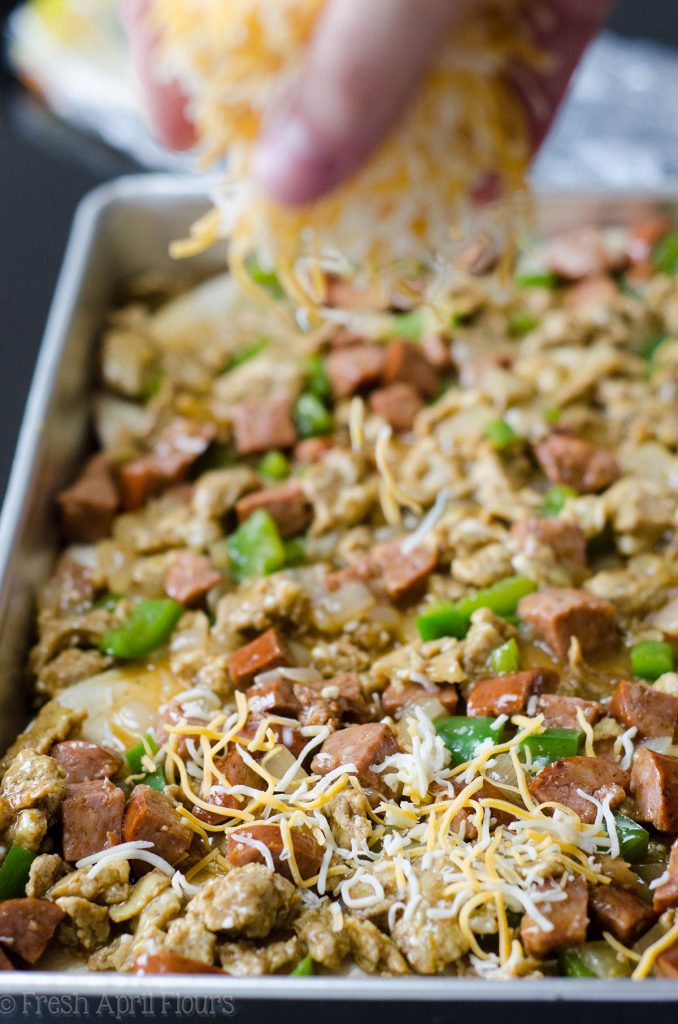 Plus, if you want, you can prep the filling up to a day in advance and then layer and bake in the morning! One less thing to do to prep. That's ALSO my kind of dish.
While this isn't the most traditional breakfast item, it's a nice change-up to the typical egg dish, and who doesn't love a little extra flair with spices and TOPPINGS? Believe me, this nursing mama is all about the toppings right now.
More calories, more good. Gimme all of it.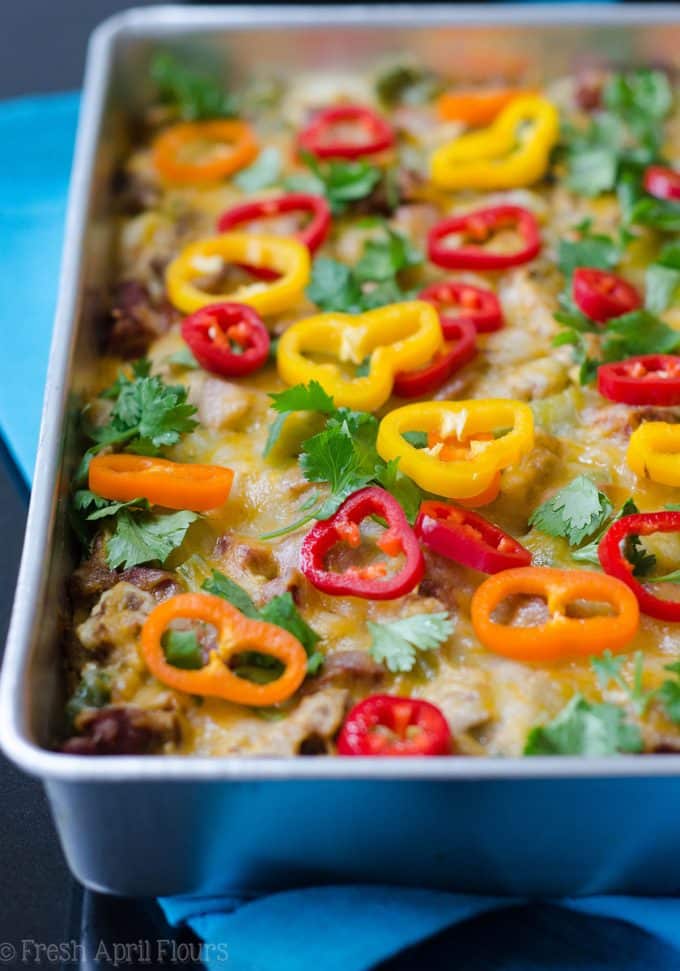 And don't limit this just to breakfast. Like I mentioned, we ate it for every meal at some point during the week I made it. Just because there are eggs doesn't mean you can't eat it for lunch or dinner.
Eggs know no specific meal to me! And because there's so much going on in this enchilada bake, you don't necessarily need any sides or extra "stuff" to go with it. One item on the table and you've got yourself a meal.
Extra bonus– since this uses corn tortillas, it's automatically friendly for the gluten free folks in your life. Don't you love when that accidentally happens?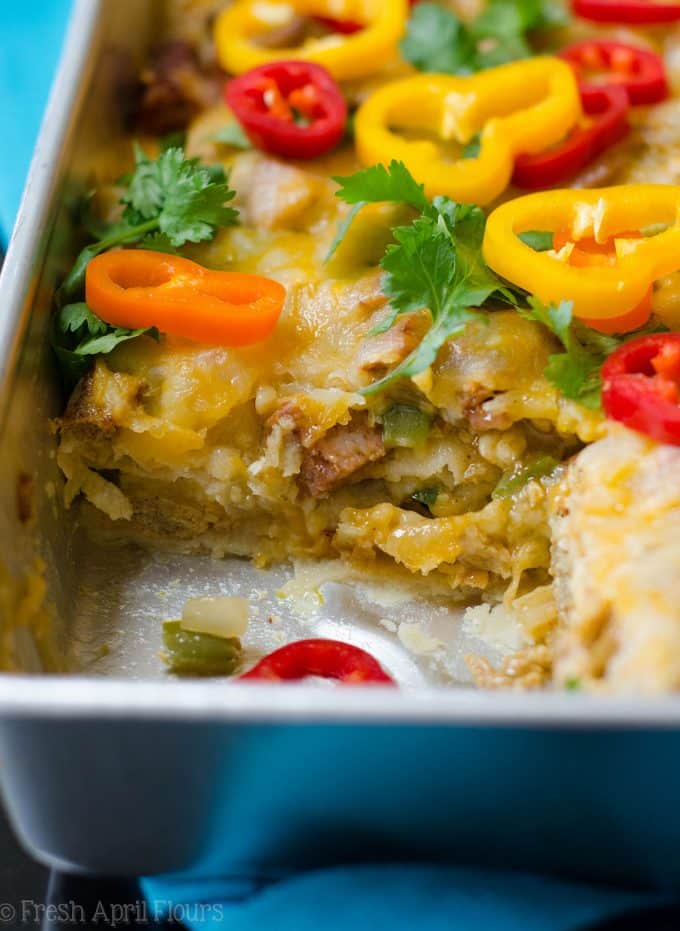 Thank you for all of the well wishes on IG regarding our new arrival. We are feeling the love from all the people in our lives and so appreciate the understanding as the blog takes a little side-step for a few months.
Don't worry, I've got content for you through the summer, but I'll be stepping back on frequency of posting for a bit (looking at about one post every other week as opposed to every week).
I know you all are so supportive of this decision and thank you in advance for continuing to read, bake, cook, pin, and share. I have the best fans!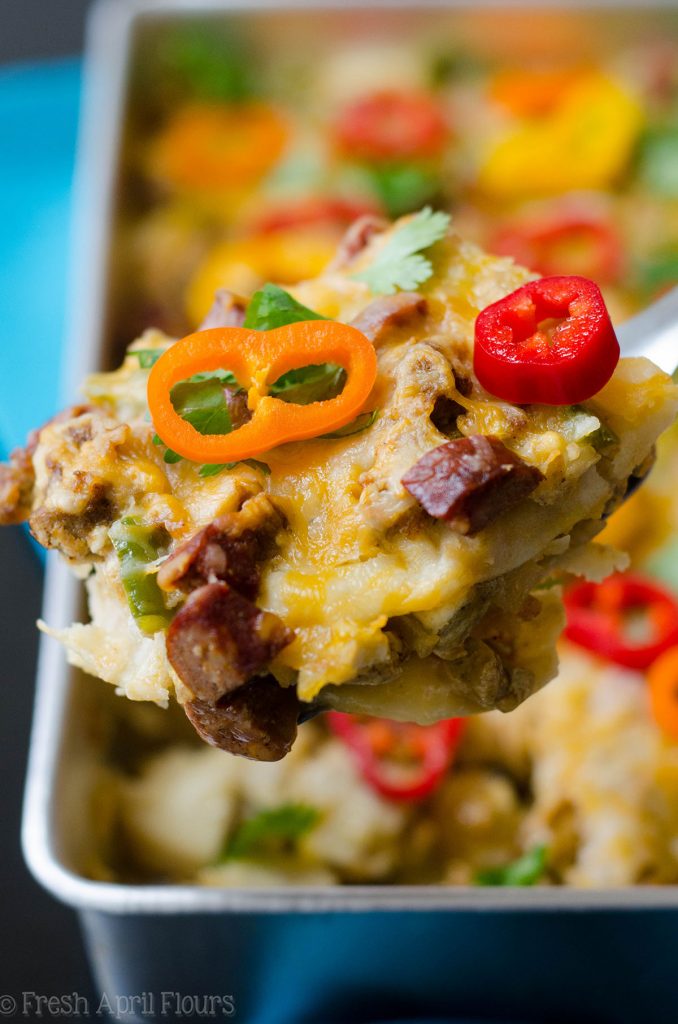 Now, let's make some enchiladas, casserole style! And now that I'm not pregnant anymore, can we add some margaritas to that spread??
Breakfast Enchilada Bake
Seasoned scrambled eggs and vegetables combined with spicy chorizo, and layered between corn tortillas and enchilada sauce for an easy and flavorful breakfast dish.
Ingredients
12

large eggs

lightly beaten

1/4

cup

milk

any

1

Tablespoon

chili powder

1

Tablespoon

ground cumin

1/2

teaspoon

garlic powder

1

teaspoon

smoked paprika

regular is fine

1

teaspoon

salt

1

pound

chorizo

1

medium onion

diced

1

large bell pepper

chopped

2

cups

green enchilada sauce

12

corn tortillas

4

cups

shredded Mexican cheese

toppings for serving

see notes for ideas
Instructions
Preheat the oven to 350ºF.

In a large bowl, beat the eggs and milk with a fork or whisk. Add in the chili powder, cumin, garlic powder, paprika, and salt and mix again until everything is combined. Set aside.

In a large skillet over medium heat, combine the chorizo*, onion, and bell pepper. Cook until veggies are tender, about 8-10 minutes. Pour in the egg mixture and stir frequently until eggs are fully cooked.

Remove from heat and add 1 cup of enchilada sauce to the mixture. Stir until everything is completely combined.

Pour 1/2 cup enchilada sauce in the bottom of a 9x13 casserole dish. Layer 6 tortillas along the bottom, followed by half of the chorizo egg mixture, and 2 cups of the shredded cheese. Repeat these layers, then bake for 25 minutes. Allow to cool for 15 minutes before serving. Serve with toppings or as is. Store leftovers in the refrigerator, covered tightly, up to 5 days. Dish freezes well, up to 2 months. Thaw in refrigerator overnight. Make ahead: you can prep the chorizo and egg filling up to 1 day in advance. Store in the refrigerator until ready to use and proceed with step 5.
Notes
*If you are using raw chorizo, brown the meat first before cooking with the vegetables.
Toppings: we served this with cilantro and sliced mini bell peppers and loved the added crunch to the dish. Also consider sliced jalapeños, chopped green onion, crumbed oaxaca cheese, beans, sour cream, or salsa.
Nutrition Disclosure
All nutritional values are approximate and provided to the reader as a courtesy. Changing ingredients and/or quantities will alter the estimated nutritional calculations.