Easy French Toast Casserole (Overnight Recipe)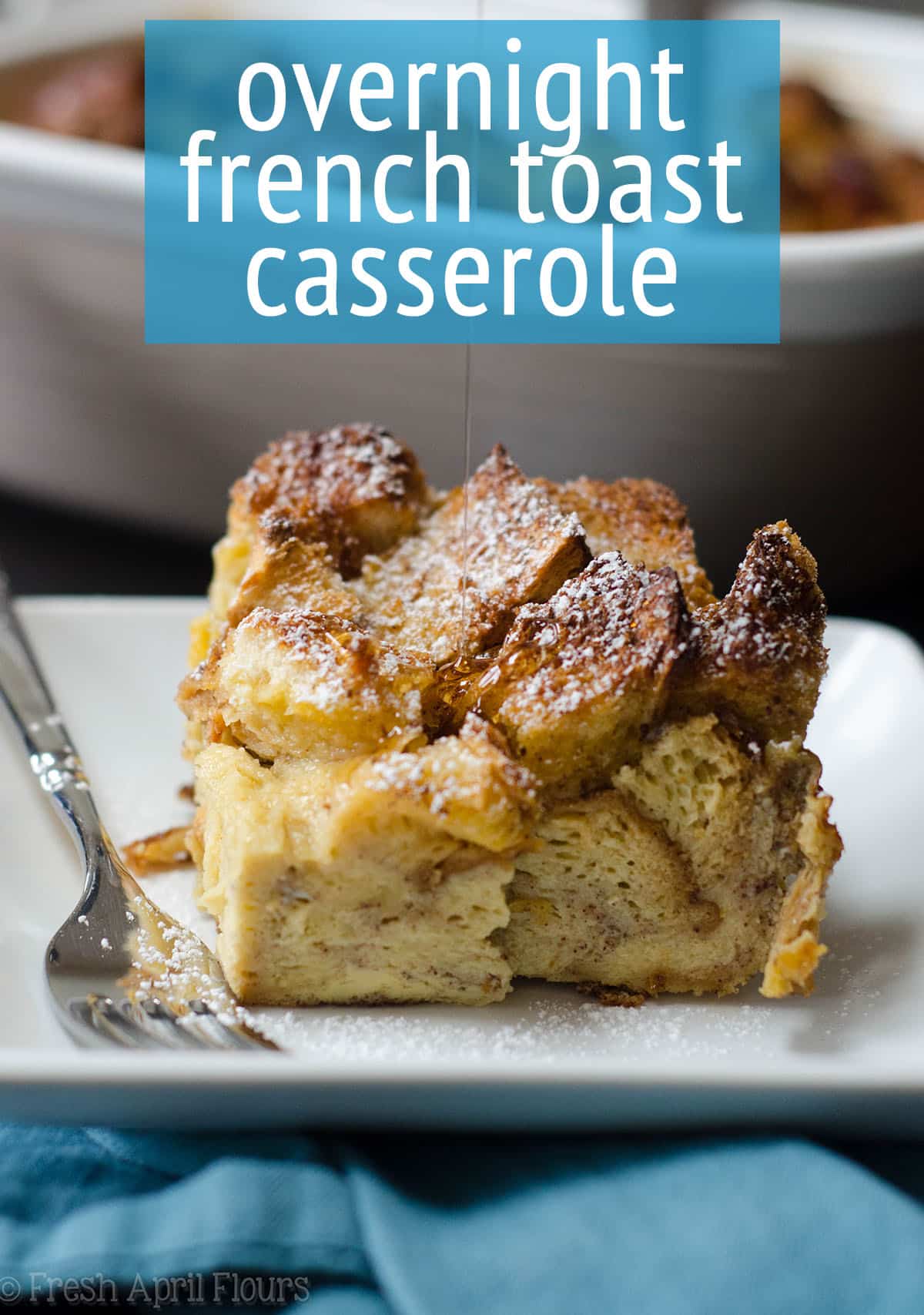 As an Amazon Associate, I earn from qualifying purchases. Read the full disclosure here.
This easy make ahead French toast casserole recipe is great for entertaining and saves you from standing over a griddle or stovetop all morning.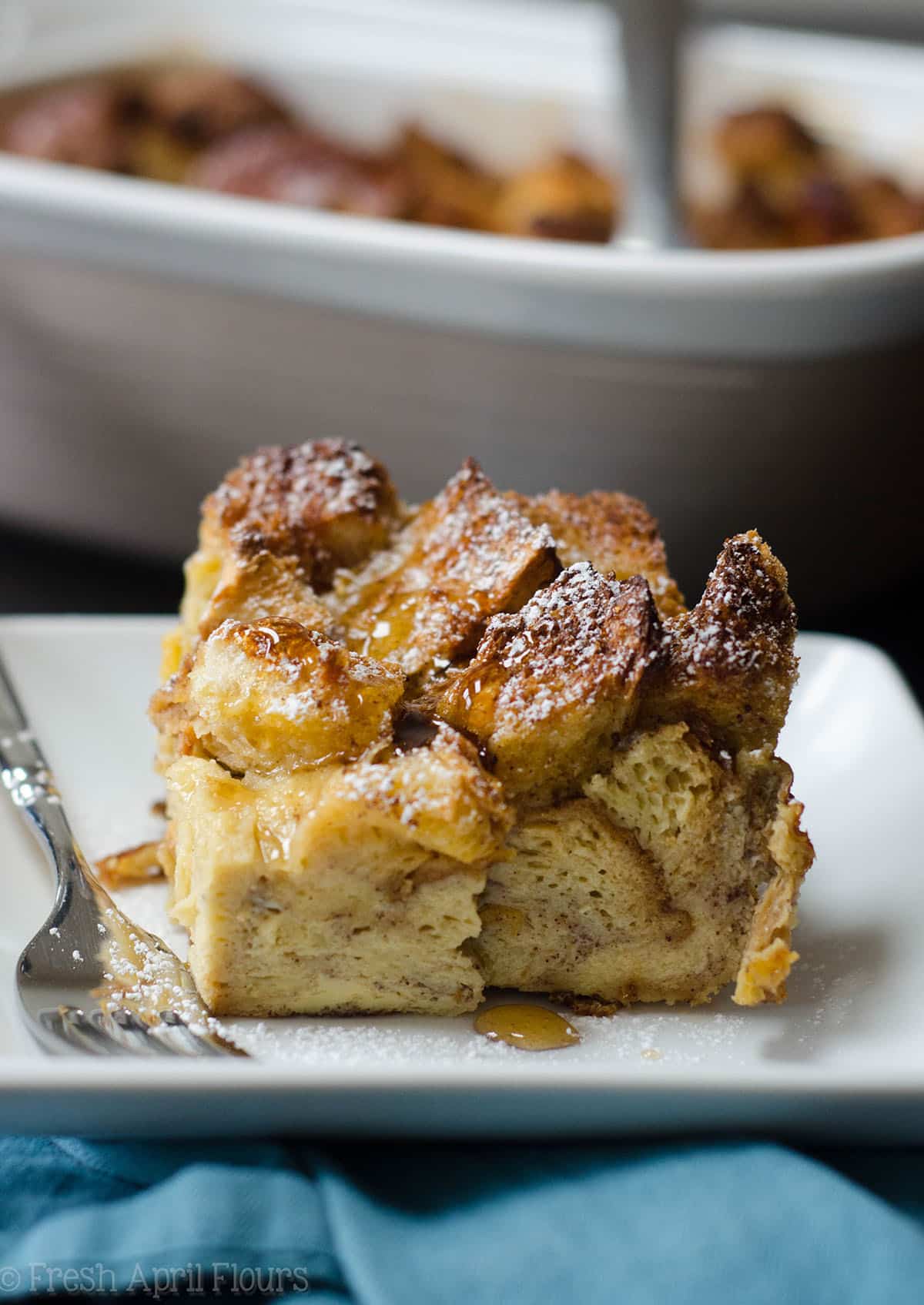 This make ahead French toast bake has lived on my site since 2018, about three weeks after our second son was born.
Two years prior to that, I published my super popular make ahead breakfast casserole at the same time in the newborn phase: that dreaded third week.
There is something about three weeks into newborn-hood. Something oh-so-awfully special: sheer exhaustion.
Sleep deprivation for a week is rough. Another week on top of that is a bit worse.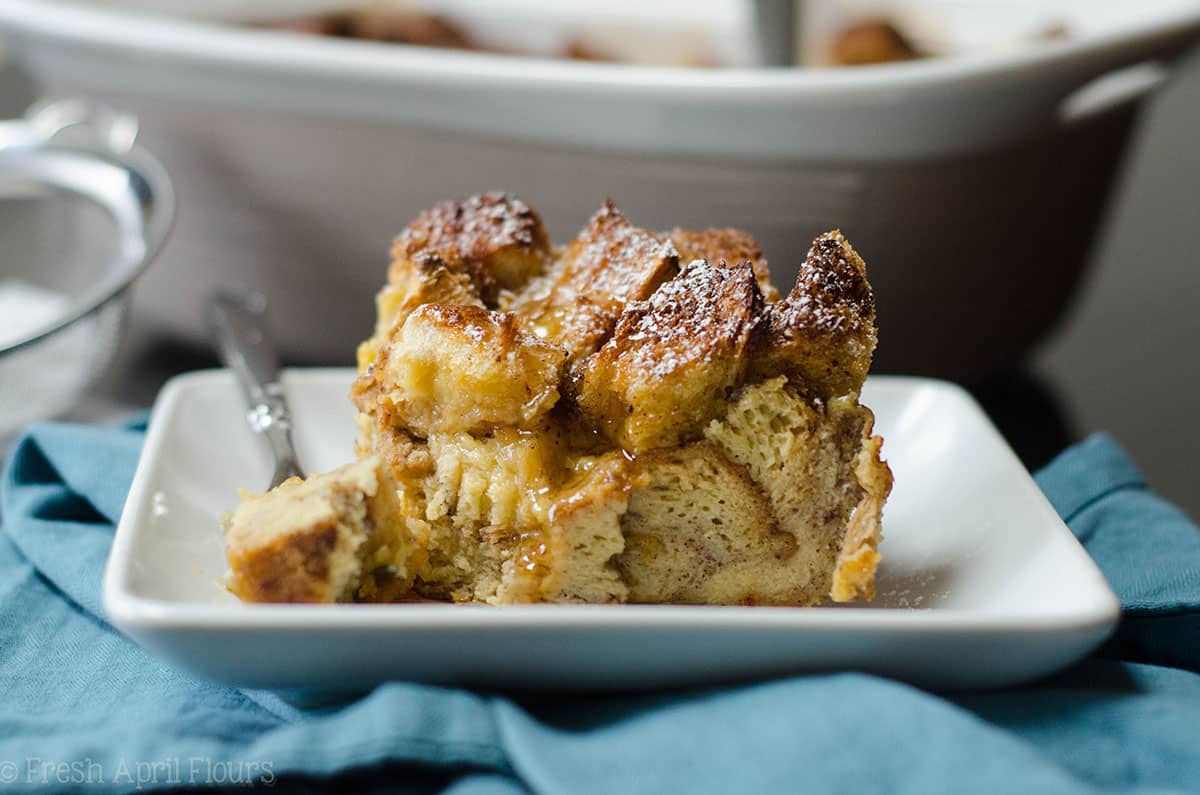 Add a third? Then we're talking real sleepy.
And thankfully, all that sleeplessness subsides a bit eventually, but until it does…
Food you can make ahead of time, perhaps while you have a crying, cluster-feeding newborn strapped into a carrier in the evening and then bake in the morning when you're feeling hungry and desperate for a meal, should be a staple in your kitchen.
Oh, and hopefully some people are bringing you some meals, because that is a godsend with a newborn. GODSEND.
Shoutout to ALL of the people who brought us snacks and meals and so many other things during both of our newborn phases (like meatballs, gin and tonic ingredients, nutritious salads, and zucchini ravioli).
You people absolutely carried us through that and we are so appreciative, even so many years later.
This French Toast Breakfast Casserole is the best for feeding a crowd!
This overnight French toast casserole is perfect for newborn life, but also…
• Christmas morning breakfast
• holiday breakfasts
• weekend breakfasts
• Easter brunch
• Thanksgiving breakfast
• Mother's Day
…or any special occasion (or non-special occasion!) you need to have a lot of food for a lot of people and don't want to hang out over a stovetop all morning, dipping bread slices into an egg wash and waiting to flip each piece at the perfect time.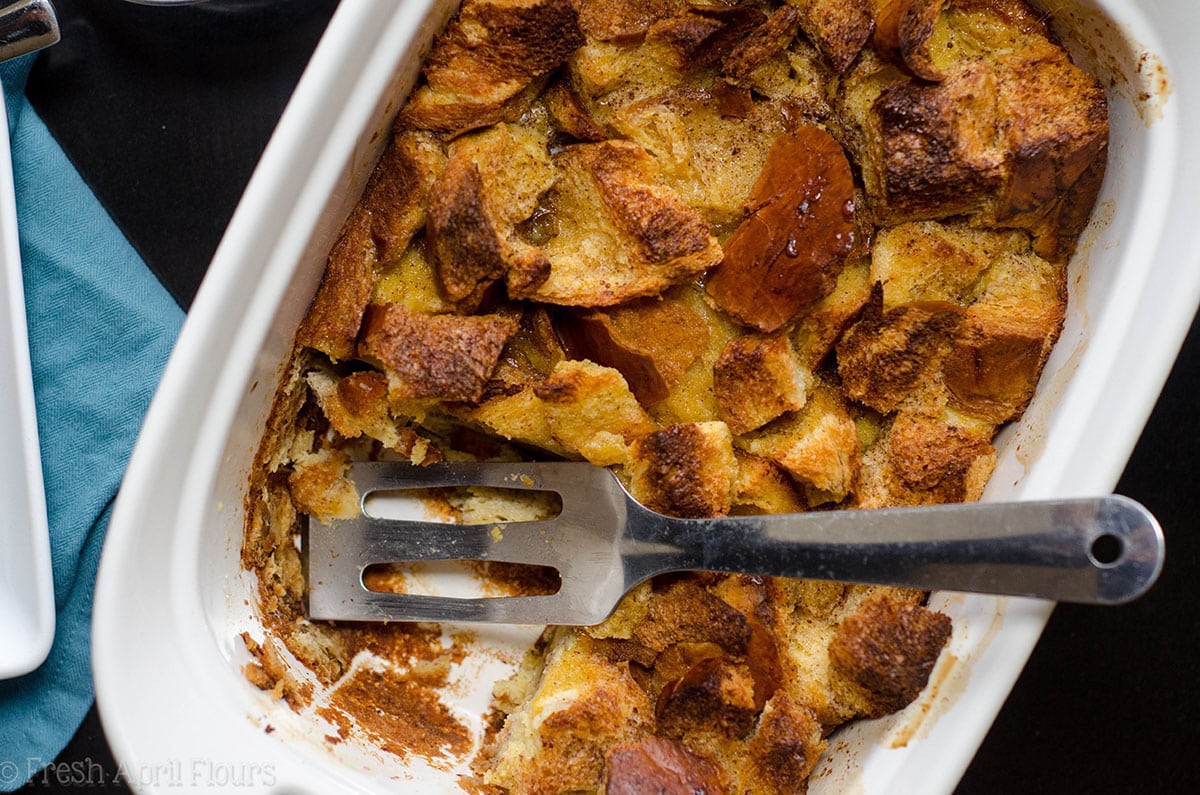 This is the easy peasy way to French toast, and it's just as delicious as the individually sliced kind.
French Toast Breakfast Casserole ingredients
For this overnight French toast casserole, you will need:
• stale bread
• butter
• brown sugar
• eggs
• milk
• vanilla extract
• ground cinnamon
• salt
There are two parts to the best French toast casserole: sliced/cubed bread and an egg custard.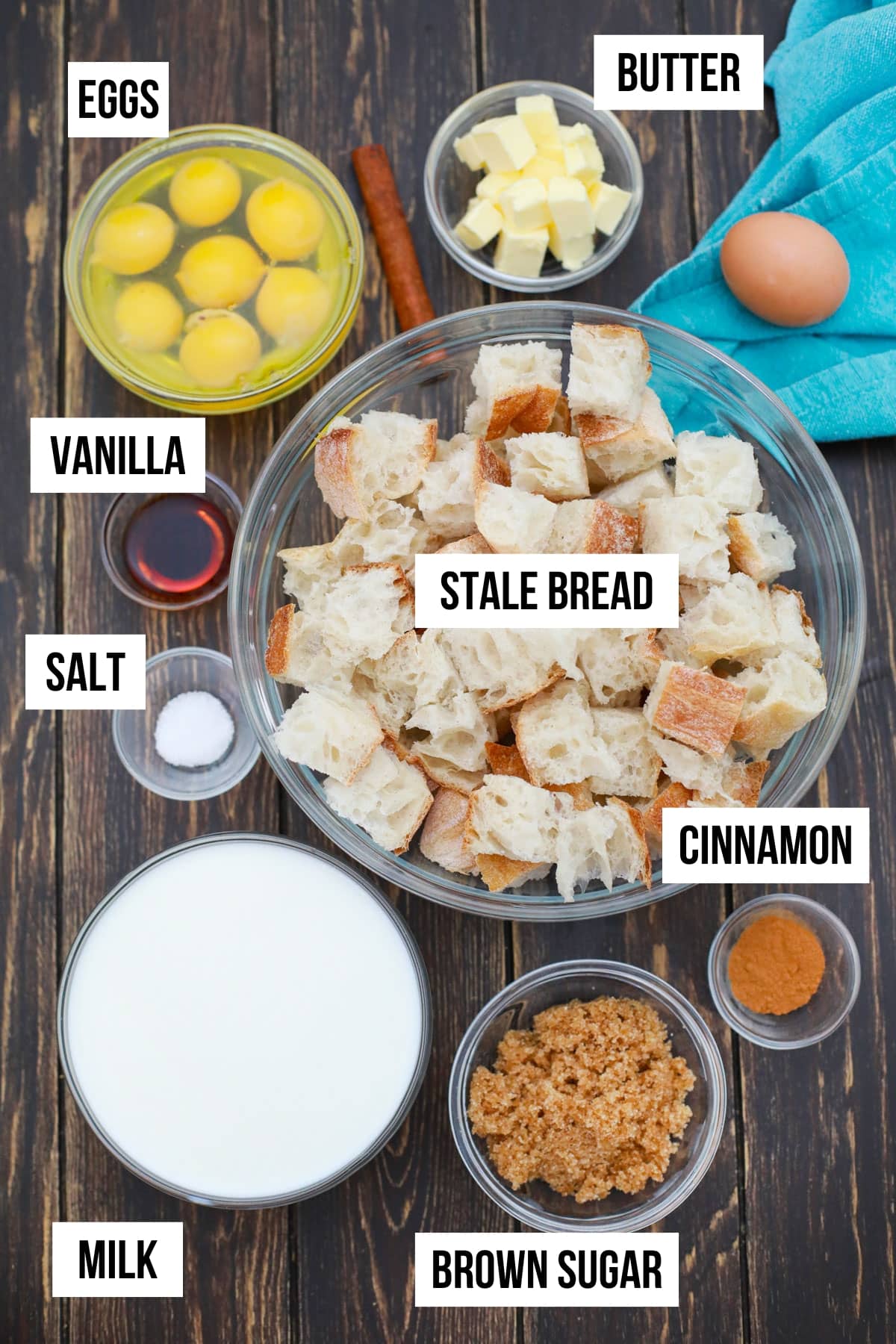 For the bread, you can use any kind you like: brioche bread, challah bread, Italian bread, sliced sandwich bread, really any kind of crusty bread. This is also a great place for sourdough bread! There's just one very important qualifier here, and that's that you'll need stale bread.
START WITH STALE BREAD FOR THIS FRENCH TOAST CASSEROLE RECIPE
In order to get the best easy baked French toast casserole possible, you must start with stale bread.
Why are we going to use stale bread for this French toast recipe? More dry places for the egg custard to go.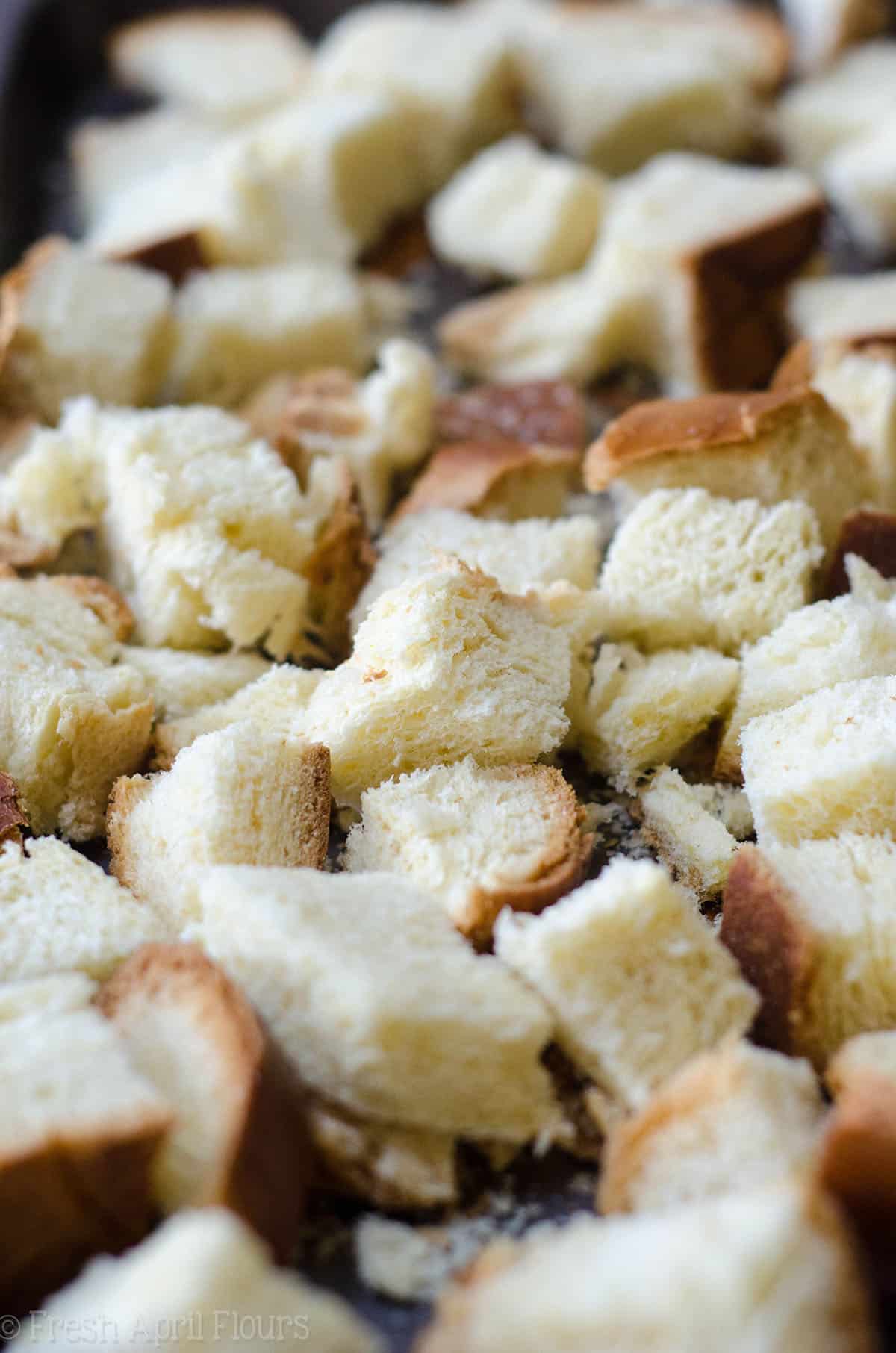 Fresh bread won't work quite the same and you'll find yourself with some goopy French toast casserole instead of soft in the center with a crispy exterior.
WHAT DO I DO IF I DON'T HAVE STALE BREAD?
There's a chance you'd like to make this easy French toast casserole but don't actually have any old bread on hand. That's ok, we can make it happen!
Cut up a fresh loaf of bread and let it sit out on the counter all day. Cut the bread in the morning, start the casserole in the evening, bake it the next morning.
CUSTARD
As for the egg custard, the base consists of 8 large eggs and some milk. Any kind of milk will do, but I prefer using whole milk. High fat = high flavor so you can even use some heavy cream if you have that on hand.
We'll amp up the flavor for this French toast overnight casserole with some brown sugar, vanilla extract, and cinnamon. Feel free to add more spices like nutmeg and ginger if you're into them.
This is definitely no "set-in-stone" recipe when it comes to the flavors. You could also use some almond or citrus extract in place of the vanilla, if you're feeling extra fancy.
I've also thrown in orange zest, orange juice, and fresh fruit to turn traditional French toast into something easier and more interesting.
Your breakfast/brunch, your choice!
How to make the Best French Toast Casserole
The method for this recipe is simple:
STEP 1: Prepare your bread.
STEP 2: Toss the bread cubes into a casserole dish.
STEP 3: Pour the prepared egg mixture all over it.
STEP 4: Chill the French toast casserole recipe overnight in the refrigerator.
STEP 5: Bake it in the morning the next day.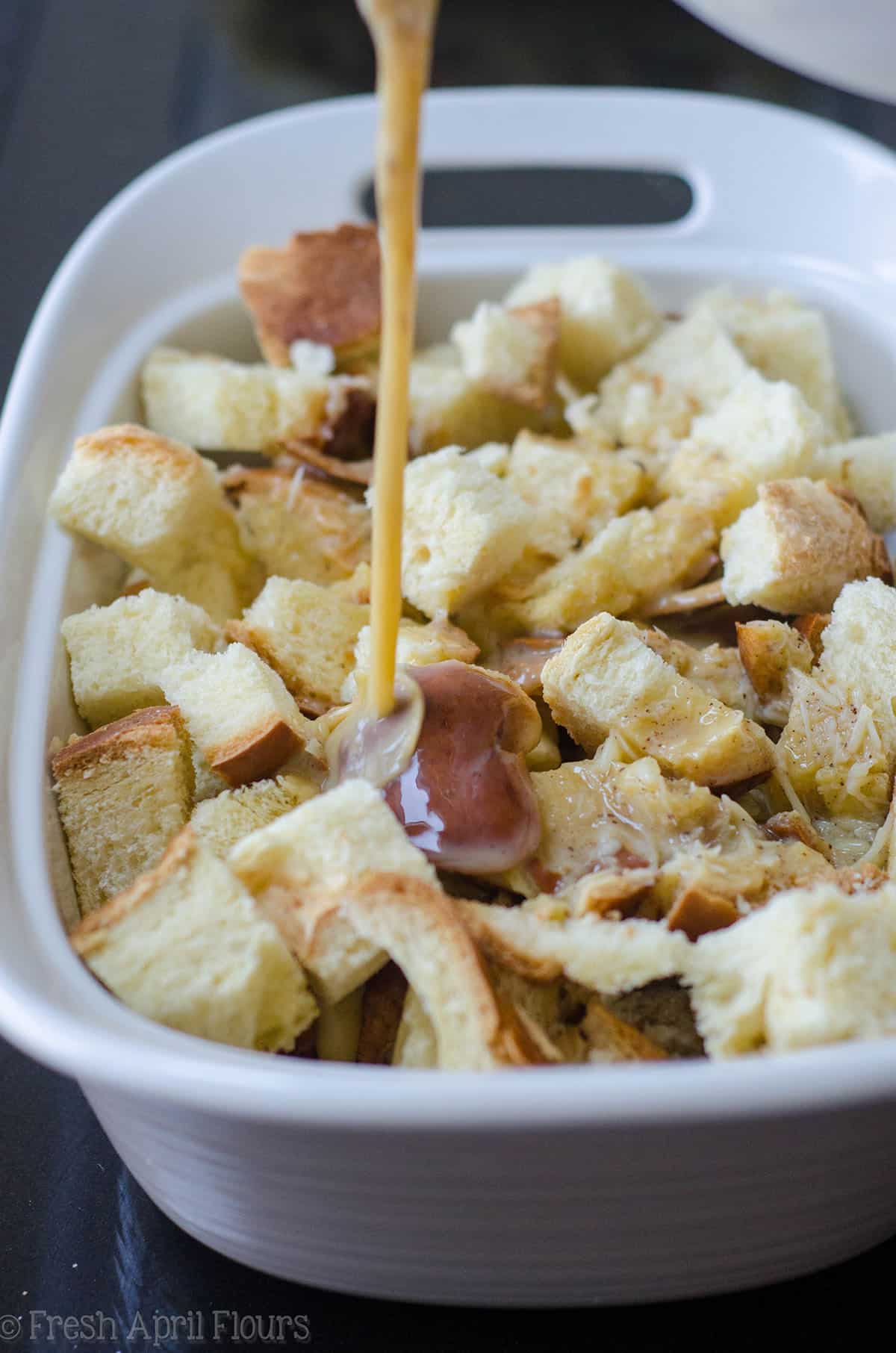 Could that be simpler? I don't think it could.
You'll spend a whole 24 hours with your casserole, but the hands-on time is seriously minimal. Only about 20 minutes in total!
BAKE THE FRENCH TOAST
The total bake time on this casserole of deliciousness is 60-70 minutes, so you can wake up, pop the baking dish in the oven, and then by the time you're ready to start functioning, breakfast is piping hot and ready to eat.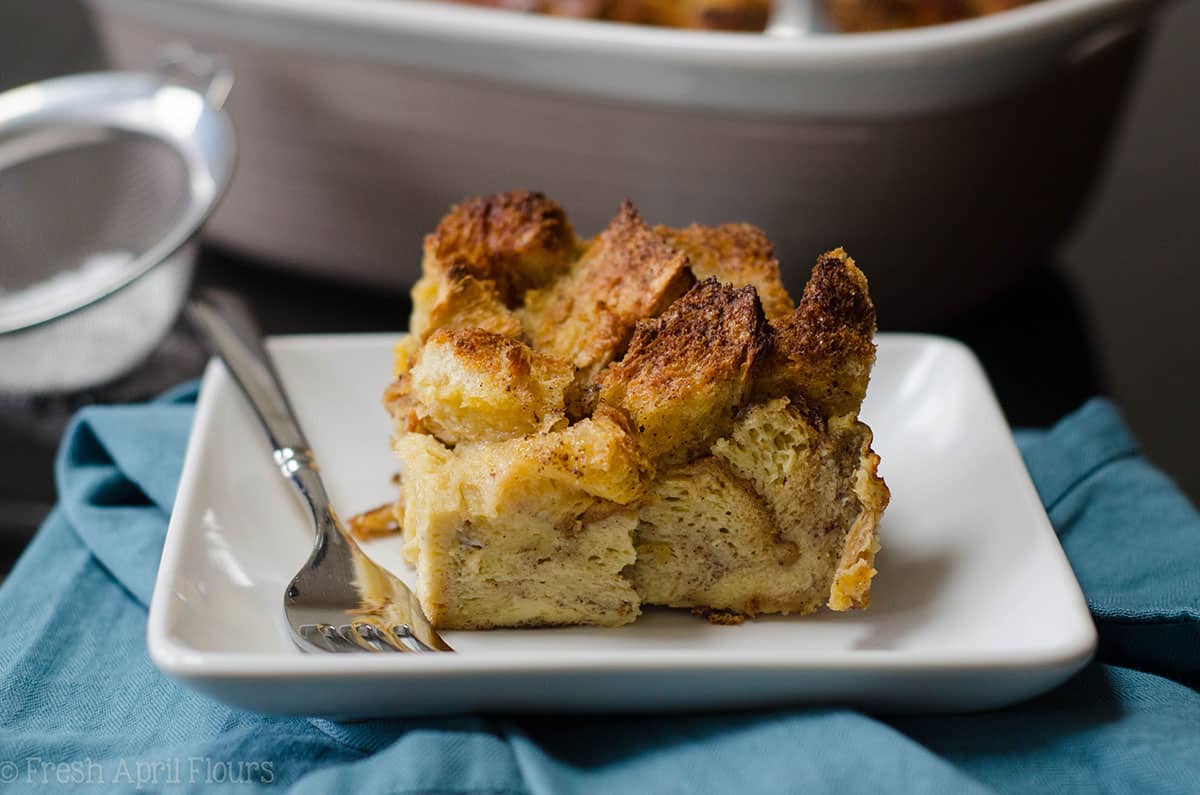 You'll be left with soft bites of custardy French toast, topped with crispy pieces that sat on the top of the whole shebang. And leftovers? Toast them in the toaster oven and you're in for a real treat.
How to serve Overnight French Toast Bake
You can serve this French toast casserole as is, or with pure maple syrup, powdered sugar, homemade whipped cream, salted caramel sauce, strawberry compote, fresh fruit, or any other topping you enjoy on your traditional French toast.
Easy French Toast Casserole is great for gifting!
As I mentioned, this overnight baked French toast casserole has been in our lives for many years. It is a favorite to make any time we are having brunch guests, and it's another favorite to send to families with newborns or families who could use a break from making a meal.
Looking to share this French toast overnight breakfast casserole with someone else? Bring them a container of stale bread and the custard pre-mixed.
They can just dump it all together, stick it in the fridge, and bake when they're ready to enjoy.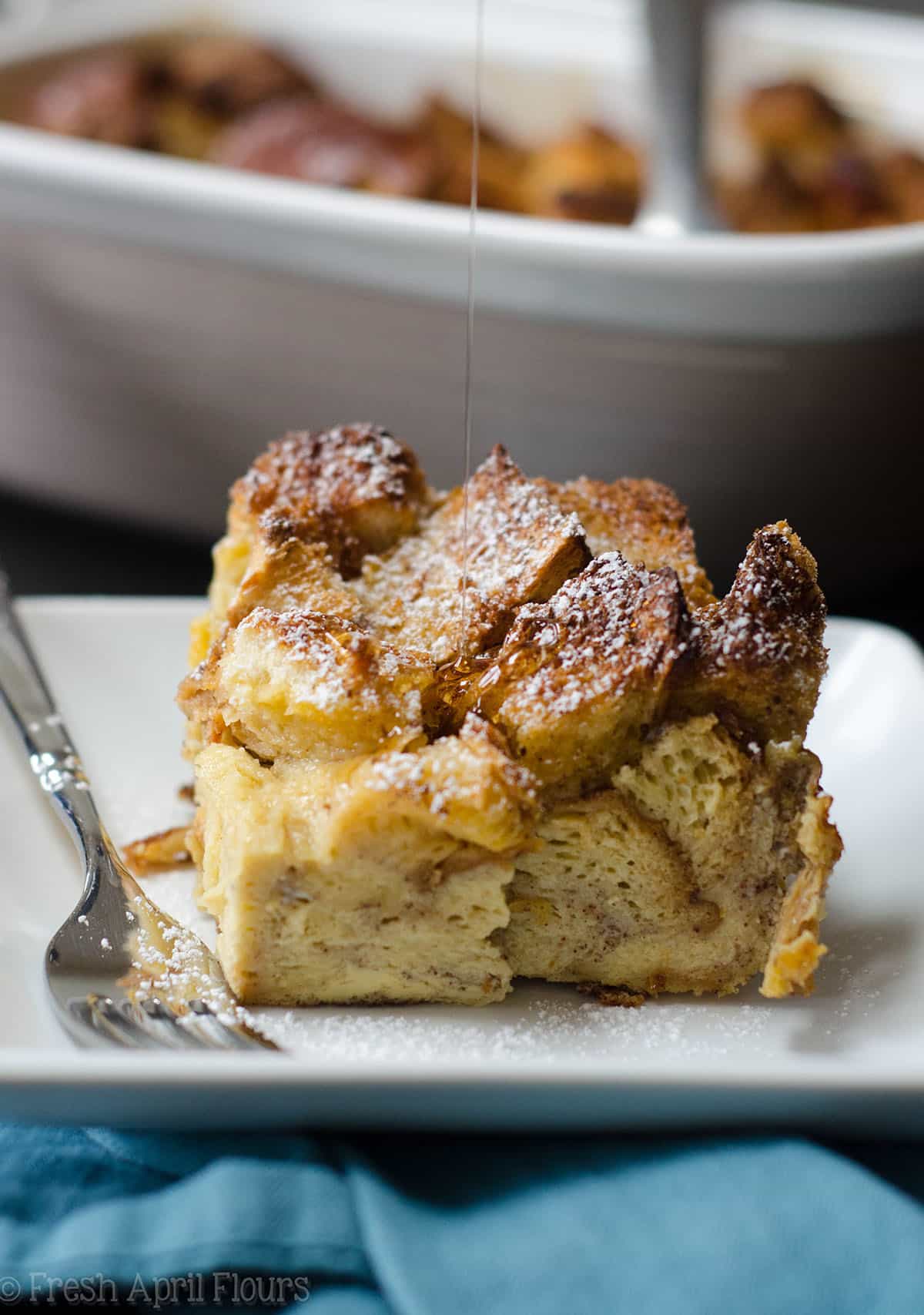 This is truly one of my favorite overnight recipes, because it can serve as breakfast, brunch, lunch, dinner, or a snack. Give me a drizzle of maple syrup any time of day, eh?
Storing Overnight French Toast Casserole
Store baked French toast casserole in the refrigerator, covered tightly, up to 5 days. This casserole freezes well, up to 3 months. Thaw in the refrigerator overnight, and reheat portions as needed.
You can also freeze an unbaked casserole, up to 3 months: add the custard, allow to soak for 3 hours, then freeze. The night before you want to eat it, thaw in the refrigerator, then bake in the morning.
French Toast Casserole (Overnight) FAQs
Looking for some make ahead French toast casserole with fruit? Or a make ahead French toast casserole with cream cheese? Look no further than my make ahead blueberry French toast. And don't forget to check out some of my other easy breakfast recipes with my make ahead breakfast egg casserole, sheet pan pancakes, and homemade instant oatmeal.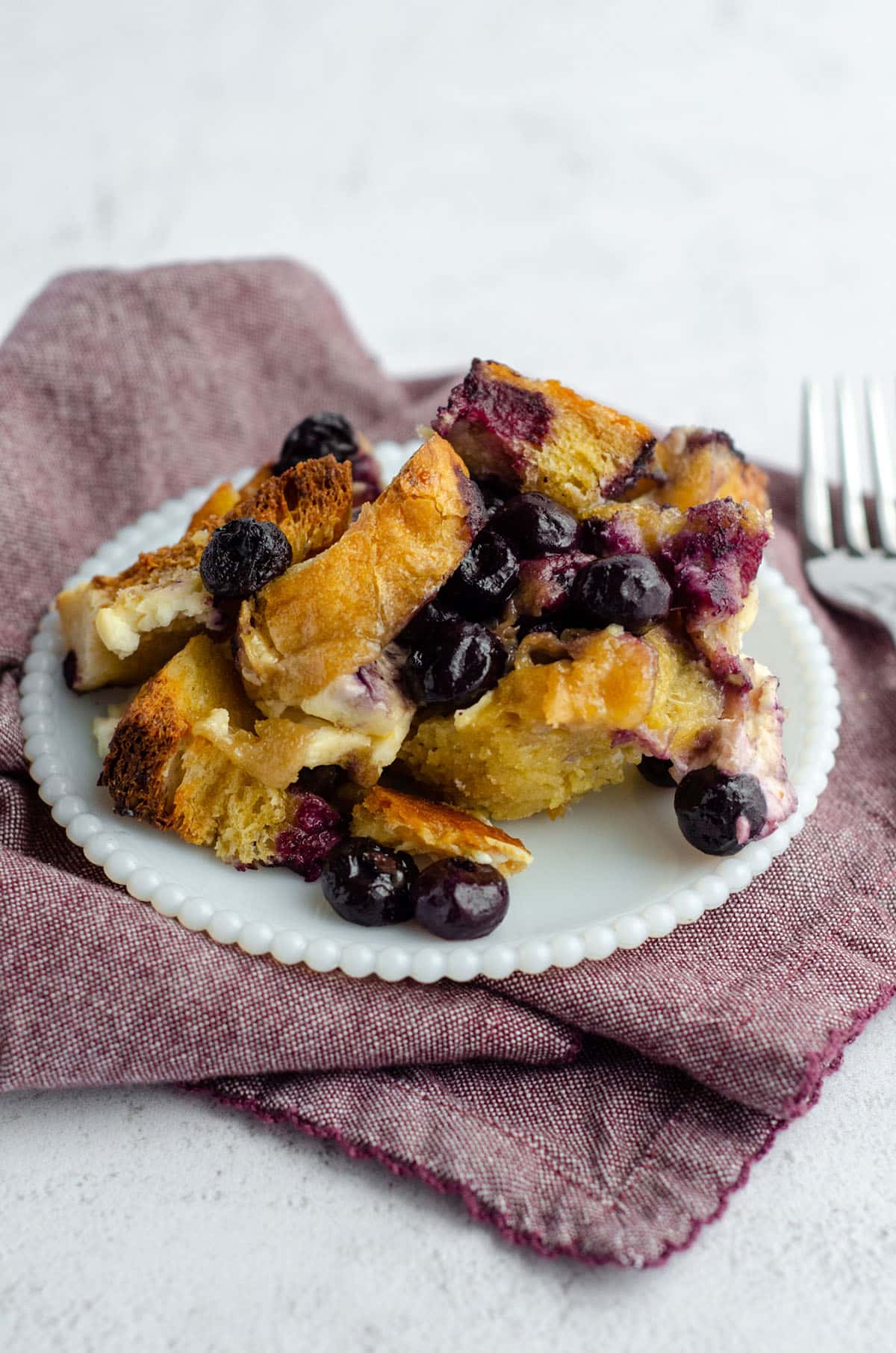 More Favorites From Fresh April Flours
French Toast Breakfast Casserole
This easy make ahead French toast casserole recipe is great for entertaining and saves you from standing over a griddle or stovetop all morning.
Ingredients
10 to 12

ounces

(283-340g) stale bread1

cut into large cubes (about 8-9 cups of bread)

¼

cup

(57g) unsalted butter

melted

⅔

cup

(67g) firmly packed brown sugar

8

large eggs

2

cups

(480mL) milk

any, but I prefer whole cow

2

Tablespoons

vanilla extract

1

teaspoon

ground cinnamon

¼

teaspoon

salt
Instructions
Spray a 2 quart casserole or 9" x 13" baking dish2 with non-stick spray. Place the bread cubes in the prepared baking dish.

In a large bowl, whisk together the melted butter and brown sugar. Add the eggs, milk, vanilla extract, cinnamon, and salt, and whisk again until everything is completely combined.

Pour the egg mixture over the bread, cover with a lid or foil, and allow to rest in the refrigerator for at least 3 hours or overnight.

When you are ready to bake the casserole, preheat the oven to 350ºF (177ºC). Bake the casserole for 60 to 70 minutes or until the top is golden brown and the egg mixture looks set. Baked casserole freezes well, up to 3 months. Thaw in the refrigerator overnight, and reheat portions as needed. You can also freeze unbaked casserole unbaked, up to 3 months– freeze after step 3, then thaw in refrigerator overnight before continuing with step 4.
Notes
Stale bread: the reason for stale bread is because you want the bread to soak up all of the liquid ingredients. Stale bread has far less moisture in it, allowing for intake of the custard. I usually cut up my bread and let it sit out during the day or even overnight an extra night, if I have that much advance planning. I prefer to use challah, brioche, or other crusty bread.
Baking dish: you can easily halve this recipe and put it in a smaller casserole dish or 8″ square baking pan. Bake time is 50-55 minutes.
Nutrition Disclosure
All nutritional values are approximate and provided to the reader as a courtesy. Changing ingredients and/or quantities will alter the estimated nutritional calculations.
Serving:
1
serving
|
Calories:
262
kcal
|
Carbohydrates:
31
g
|
Protein:
9
g
|
Fat:
11
g
|
Saturated Fat:
5
g
|
Polyunsaturated Fat:
1
g
|
Monounsaturated Fat:
3
g
|
Trans Fat:
0.2
g
|
Cholesterol:
149
mg
|
Sodium:
266
mg
|
Potassium:
187
mg
|
Fiber:
1
g
|
Sugar:
19
g
|
Vitamin A:
412
IU
|
Vitamin C:
0.1
mg
|
Calcium:
131
mg
|
Iron:
2
mg