Copycat Quesadilla Sauce Recipe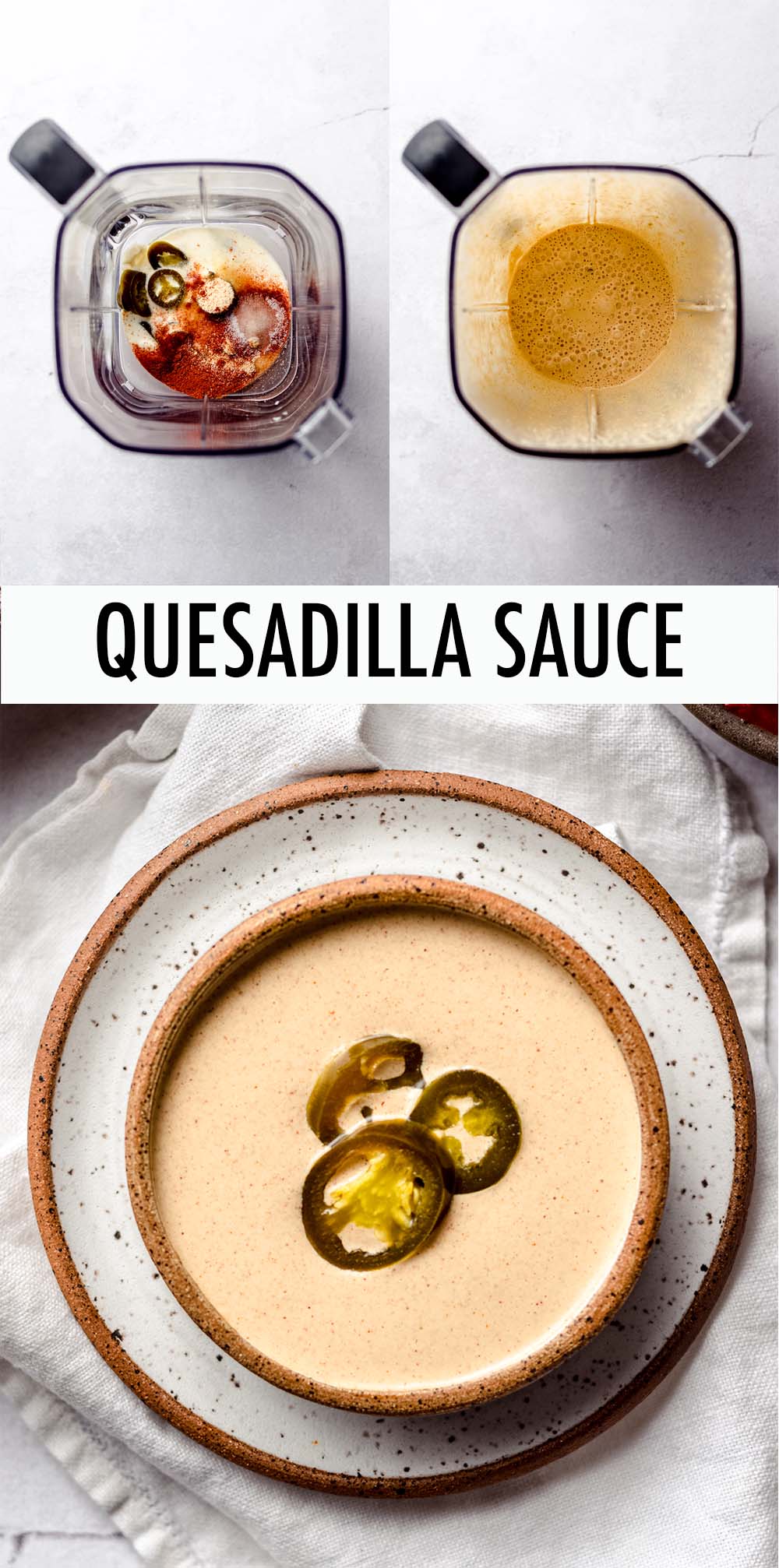 As an Amazon Associate, I earn from qualifying purchases. Read the full disclosure here.
Make this creamy jalapeño sauce entirely in your blender, then add it to all of your homemade quesadillas for some extra zing (or dip your quesadillas right into the sauce). It's also great for chips, nachos, tacos, and taco salads!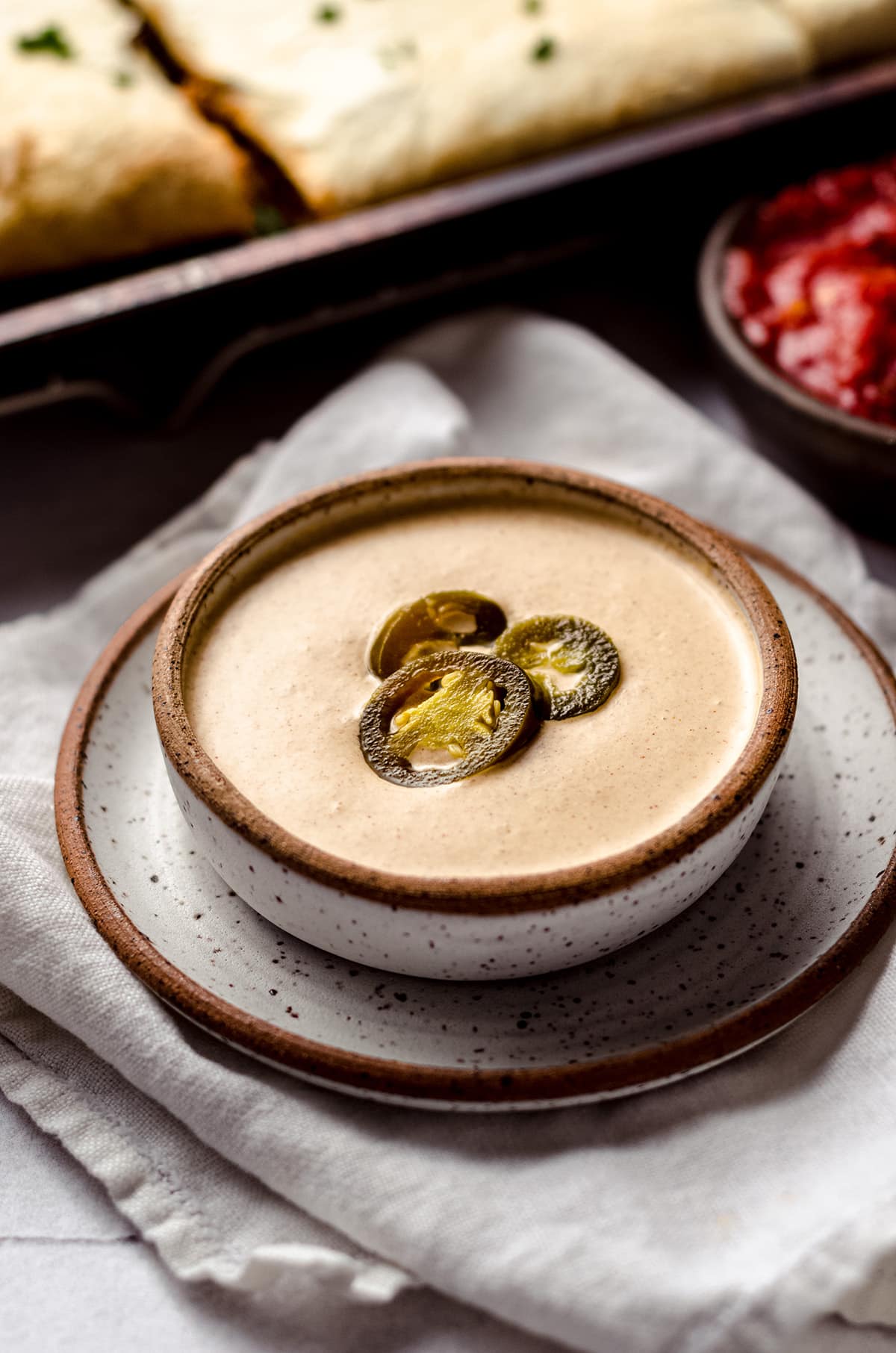 What is Quesadilla Sauce?
No shame confession time: I love me some Taco Bell. In fact, after I graduated from college and lived by myself, there was a Taco Bell on my way home from the gym, and I stopped there for dinner… Frequently.
I am a giant sucker for a hard shell taco, but when they came out with those chicken quesadillas, my life was changed!
I loved the slightly spicy, super zesty, and oh-so-creamy sauce that was on the quesadillas, and it wasn't until I decided to create sheet pan quesadillas for my site that I thought it would be simple to create Taco Bell's quesadilla sauce myself.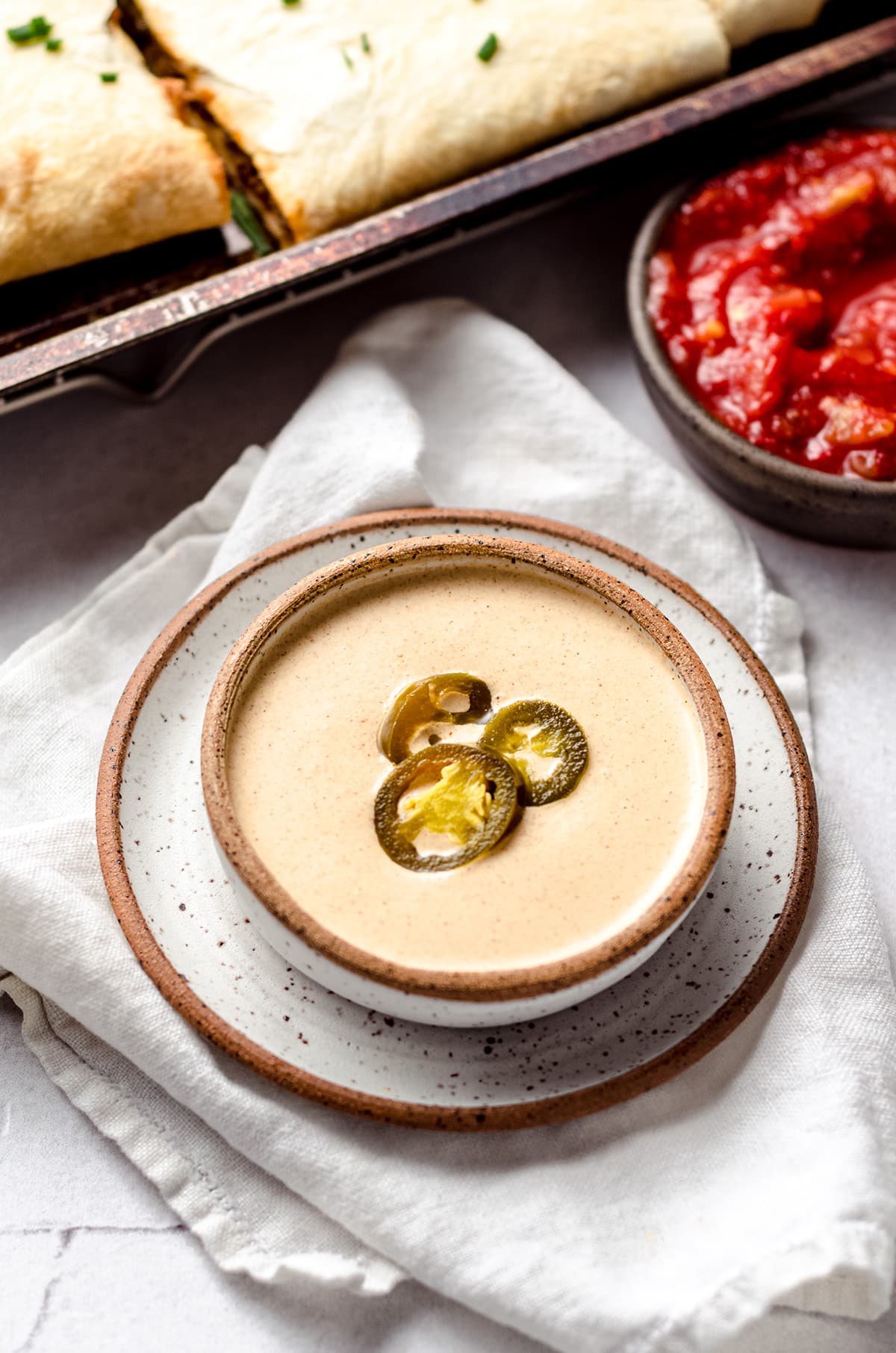 I went straight to the source and checked out the ingredients in their creamy jalapeno sauce and saw that aside from lots of weird ingredients (#fastfood), the base of the recipe was really just a bunch of simple ingredients I had in my pantry and refrigerator already.
So… A copycat recipe it is! And don't worry, I'll show you exactly how to use this great sauce as more than just a dipping sauce for your quesadillas.
Taco Bell Quesadilla Sauce Ingredients
The ingredient list for Taco Bell's quesadilla sauce is long, but because my job is to make life simple for you, my copycat Taco Bell quesadilla sauce is only 10 very basic and easy ingredients.
The base of the sauce is mayonnaise and sour cream. You could also use Greek yogurt if you prefer!
The jalapeño portion of the sauce comes from pickled jalapenos (the ones that come in a jar), whose juice we will also use to thin out and flavor our homemade quesadilla sauce. You could use fresh jalapenos if you're up for the spiciness, but you'll also want to grab some of the jarred juice to help bring the tangy and vinegary aspect to the quesadilla sauce recipe.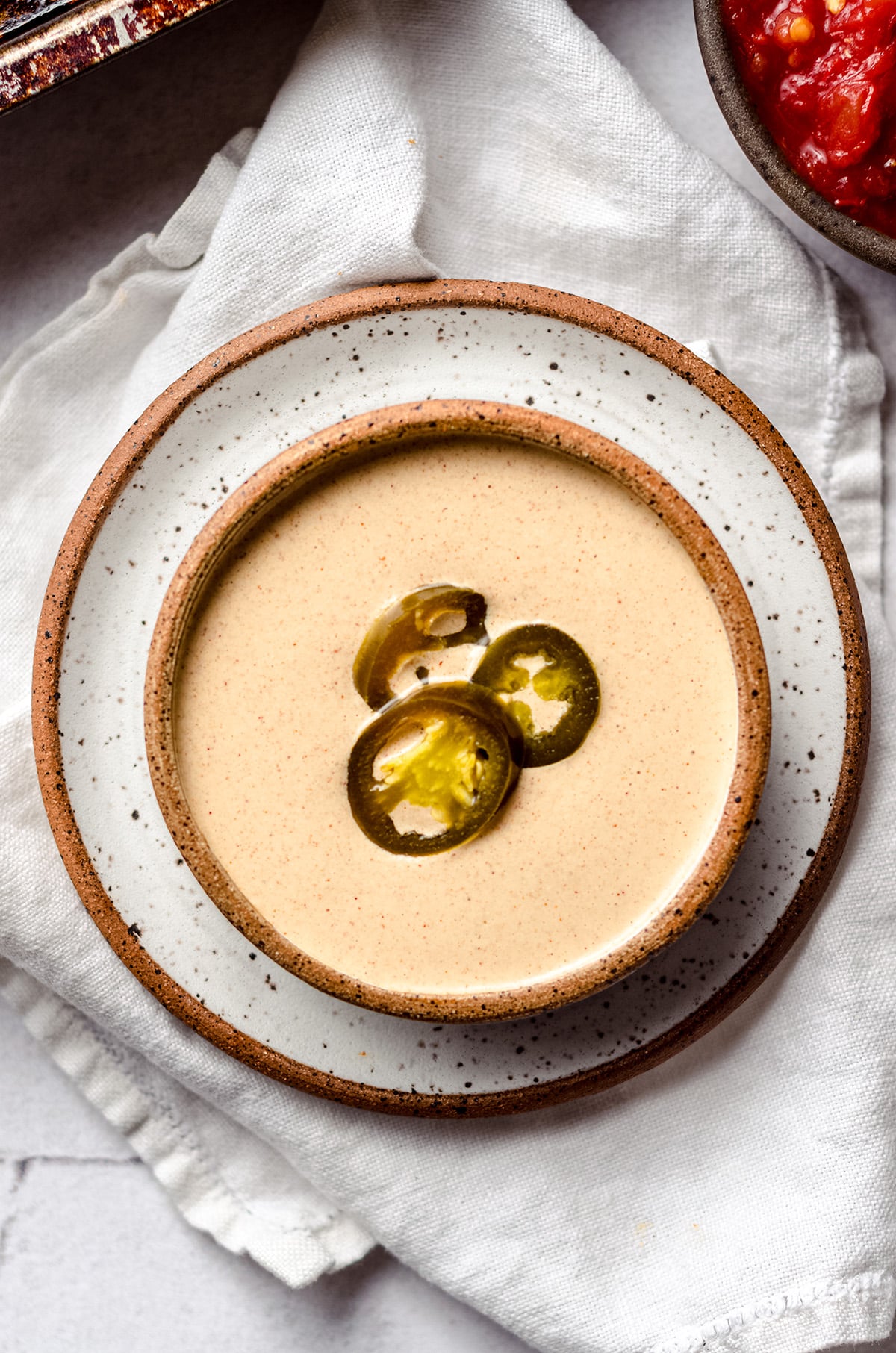 The spices are the final components, and that list includes paprika, ground cumin, onion powder, garlic powder, chili powder, and salt. You've definitely got all of those if you're even remotely into cooking Tex-Mex food, right?
How to make Taco Bell Quesadilla Sauce
You're going to love this… All you need to do is… Are you ready… ?
PUT THE INGREDIENTS INTO A BLENDER.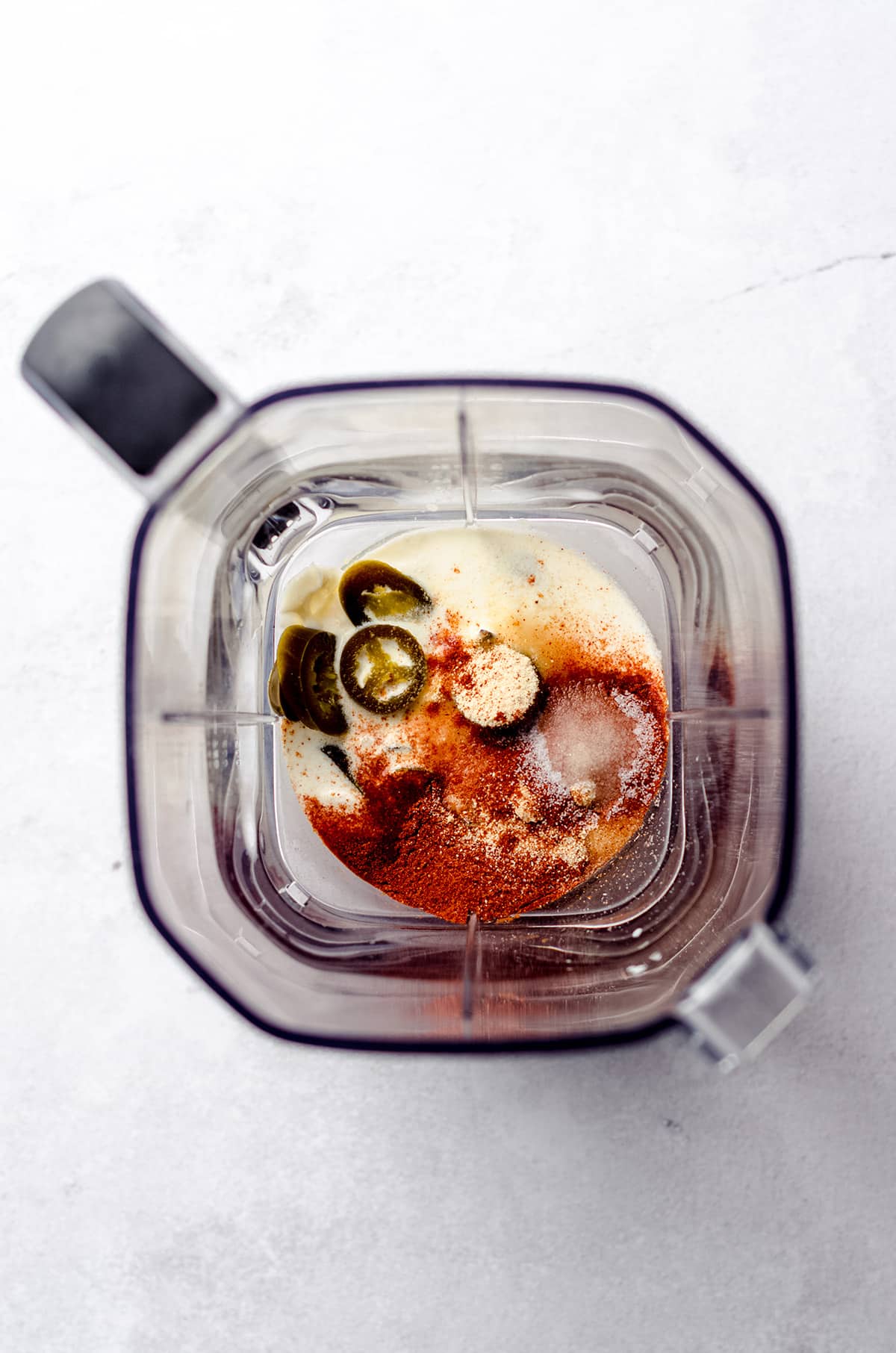 Yep. That's it.
Blend to your liking, meaning blend it a lot to really emulsify the jalapeno peppers, or blend it just a little to give your spicy sauce some chunks. You can also chop the jalapeño peppers by hand, then stir them into the other ingredients, if you really want chunks. Totally up to you! Bottom line… It's an easy recipe! Don't overthink it.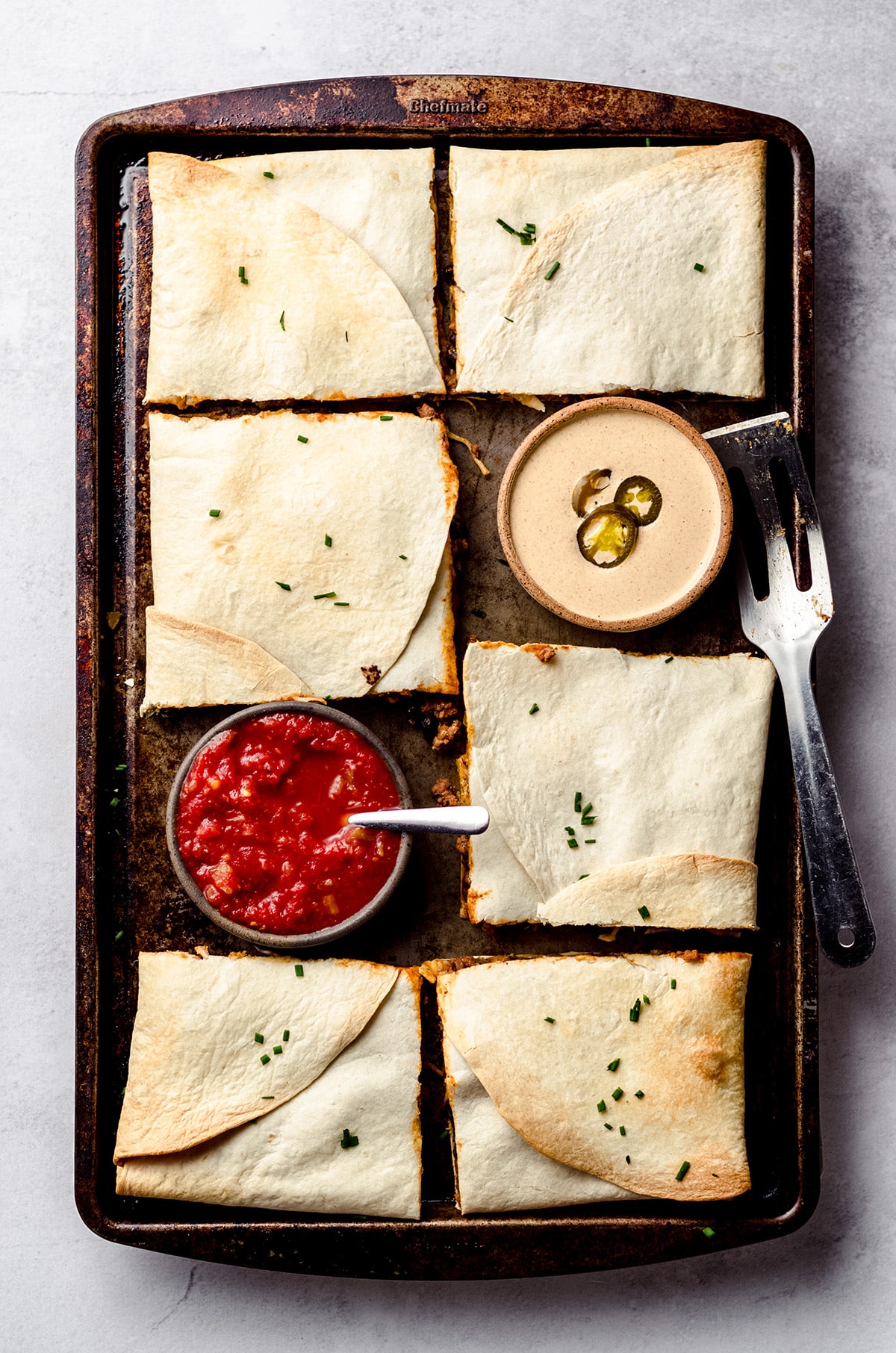 In the recipe, I start with just 2 Tablespoons of the jalapeno juice, but you may want to add more to thin your sauce out based on the other ingredients you use.
I find that different brands of sour cream have different viscosities, so if yours is on the thinner side, your yummy sauce may already be on the runnier side and you won't want to add any more jalapeño juice. If it's thicker, maybe you want to keep the sauce as is, or maybe you want to thin it out.
You choose!
How to use Sauce for Quesadilla
Ok, this is my favorite part: while I originally made Taco Bell's quesadilla sauce to add to my sheet pan quesadillas, I also found it to be a great salad dressing, dipping sauce for the quesadillas and also chips, and it could even be used as a basic taco sauce even if you aren't making quesadillas.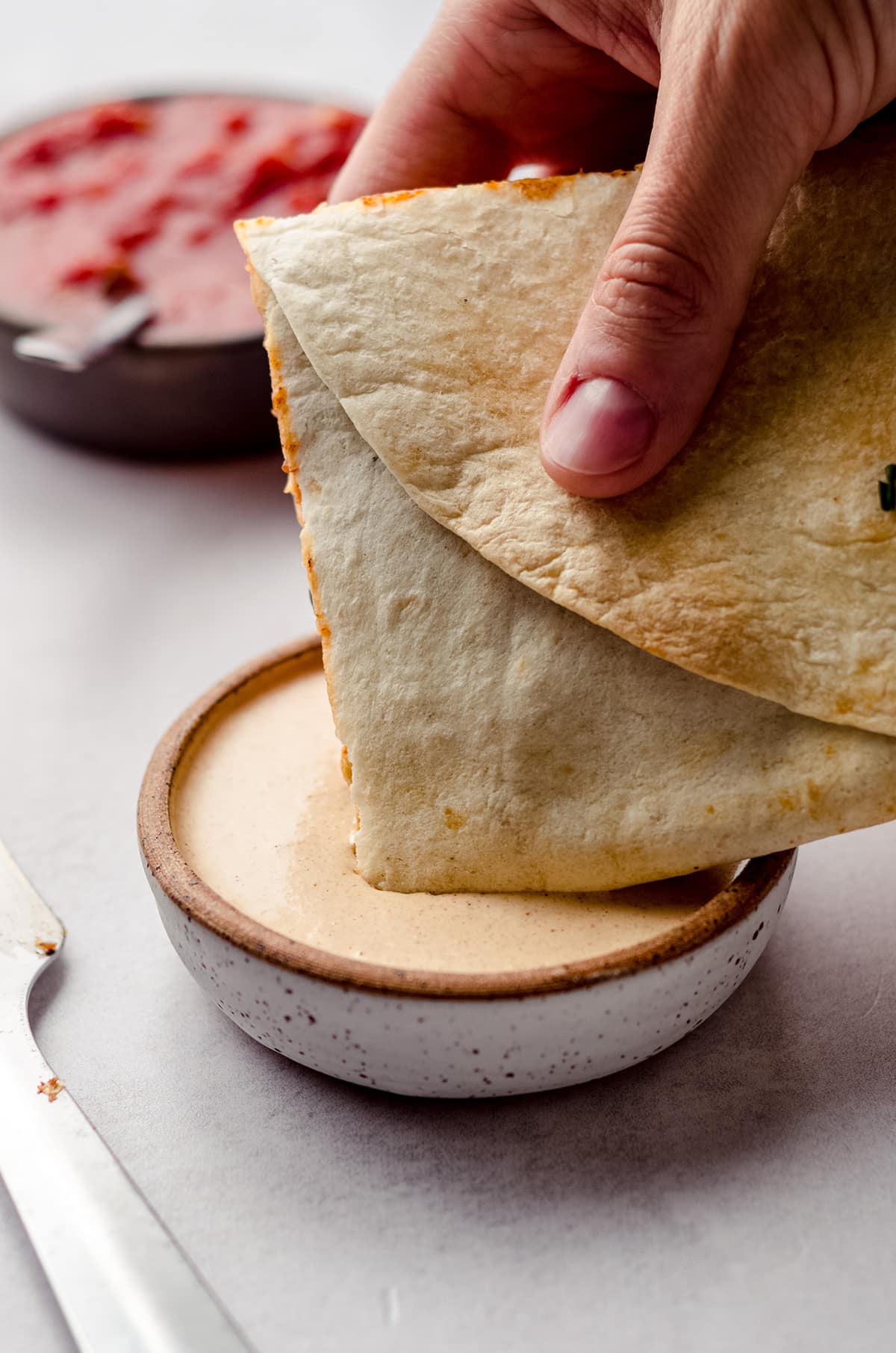 Other ways to serve this recipe for Quesadilla Sauce
This sauce also makes a great salad dressing, a dipping sauce for quesadillas, a basic chip dip, and as a taco sauce for a taco salad or a plate of tacos. It would also make a great topping for nachos!
There's no reason you have to limit this sauce to quesadillas, and I'd love to hear the ways you're using your sauce… Or just invite me over so I can taste test your version.
Use it for plain cheese quesadillas, burrito bowls, your favorite Mexican dishes, anything you'd put hot sauce on… The possibilities are endless and bound to be delicious!
Now that you have your quesadilla sauce, consider adding it to any of my favorite Tex-Mex recipes: taco zucchini boats, baked taco casserole, sheet pan quesadillas, or enchilada quinoa casserole.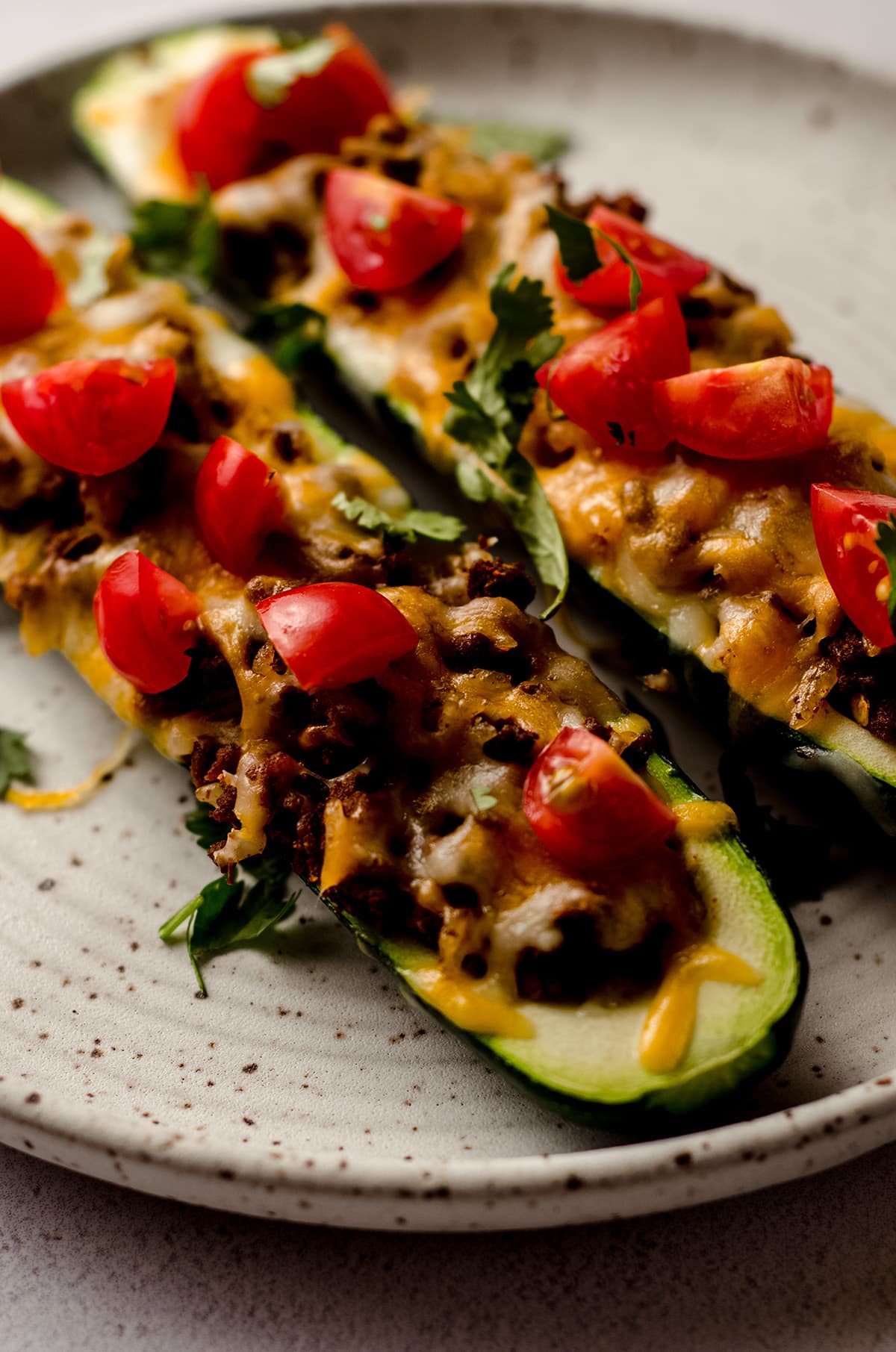 Taco Bell Quesadilla Sauce (Copycat)
Make this creamy jalapeño sauce entirely in your blender, then add it to all of your homemade quesadillas for some extra zing (or dip your quesadillas right into the sauce). It's also great for chips, nachos, tacos, and taco salads!
Ingredients
½

cup

(104g) mayonnaise

½

cup

(120g) sour cream

2

Tablespoons

pickled jalapeños

2 to 4

Tablespoons

(30-60mL) pickled jalapeño juice

2

teaspoons

paprika

2

teaspoons

ground cumin

1

teaspoon

onion powder

½

teaspoon

garlic powder

½

teaspoon

chili powder

¼

teaspoon

salt
Instructions
Pour all of the ingredients (starting with 2 Tablespoons of the pickled jalapeño juice) into a blender and blend on high until mixture is smooth.

Alternatively, you can chop the jalapeños, add everything to a bowl, and stir together until combined.

Add more pickled jalapeño juice to your liking if you want a thinner sauce. Use with sheet pan quesadillas, tacos, nachos, taco salads or as a dipping sauce for chips.
Nutrition Disclosure
All nutritional values are approximate and provided to the reader as a courtesy. Changing ingredients and/or quantities will alter the estimated nutritional calculations.
Serving:
1
cup
|
Calories:
1036
kcal
|
Carbohydrates:
14
g
|
Protein:
6
g
|
Fat:
108
g
|
Saturated Fat:
25
g
|
Polyunsaturated Fat:
52
g
|
Monounsaturated Fat:
25
g
|
Trans Fat:
0.2
g
|
Cholesterol:
115
mg
|
Sodium:
1692
mg
|
Potassium:
425
mg
|
Fiber:
3
g
|
Sugar:
6
g
|
Vitamin A:
3447
IU
|
Vitamin C:
4
mg
|
Calcium:
190
mg
|
Iron:
5
mg