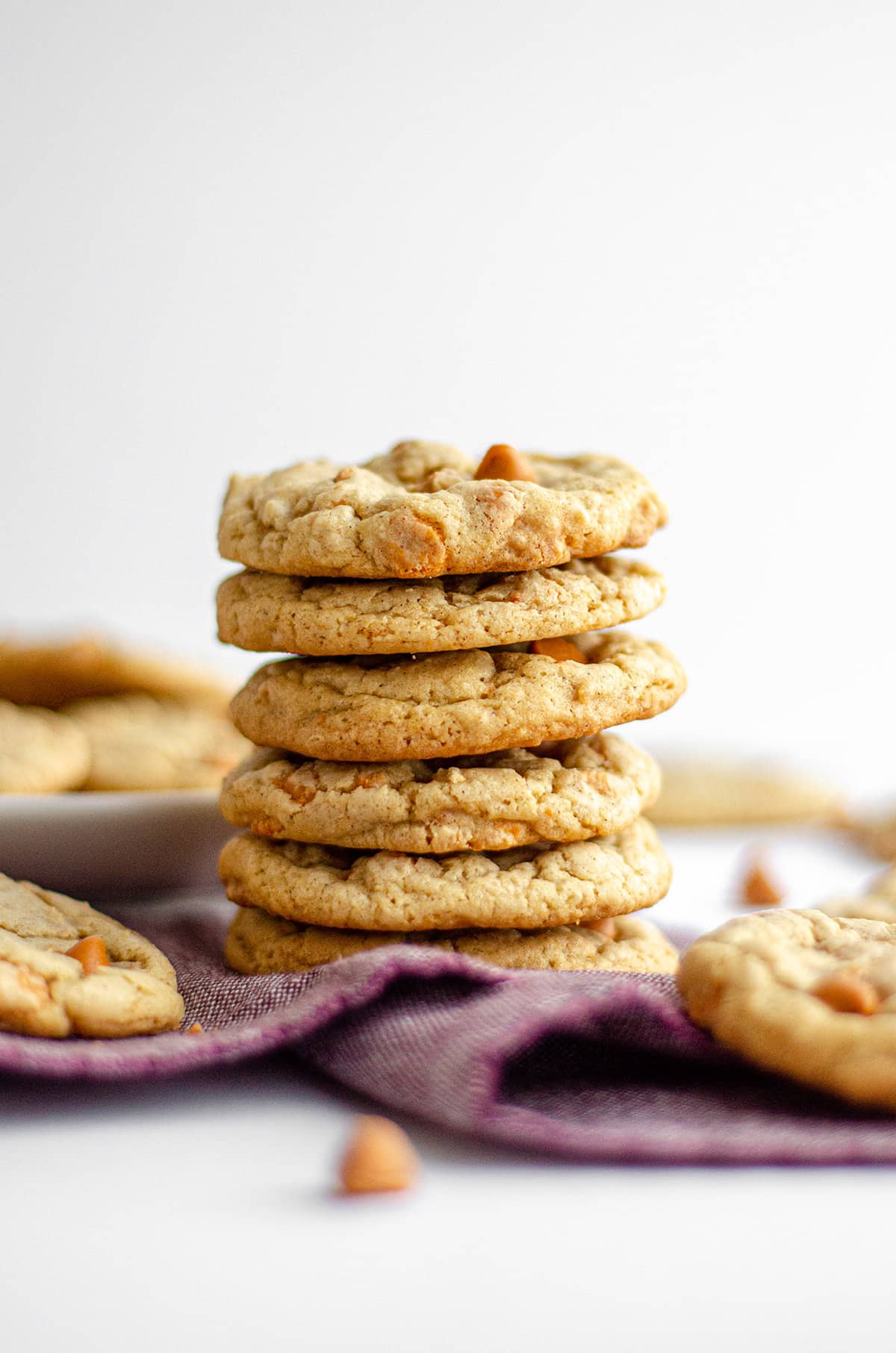 As an Amazon Associate, I earn from qualifying purchases. Read the full disclosure here.
Easy brown sugar drop cookies filled with a heavy dose of butterscotch chips. No chilling required!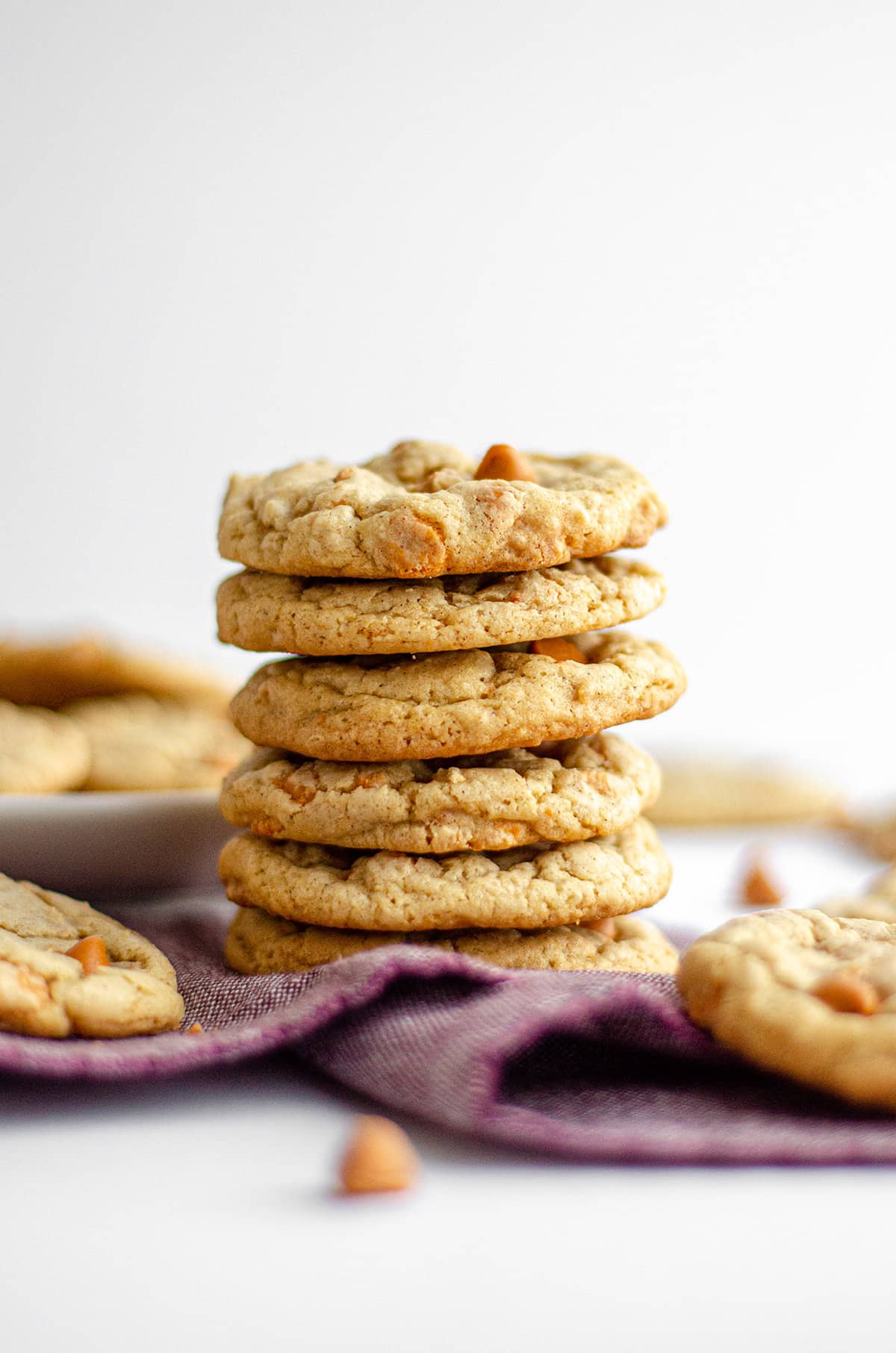 Please, a show of hands… Who here agrees with me that butterscotch is a highly underrated flavor?
I mean, if your hand isn't up, I am going to have to say you're sorely mistaken.
I feel a little bit bad for the butterscotch chips– they seem to be a staple in the baking aisle of the grocery store, and I think everyone probably has a bag of them in his or her pantry, but… Are you using them nearly enough?
The answer is probably a big giant NO.
And that's why we're here. Because butterscotch chips deserve a chance, friends, and these easy butterscotch cookies are where it's at.
We're continuing onto recipe #3 of my basics and simple recipes. Recall the "if it ain't broke, don't fix it" mentality where I turn gingerbread layer cake into gingerbread cupcakes, along with "let's turn this base into something different" method, where I turn dark chocolate layer cake into chocolate bundt cake.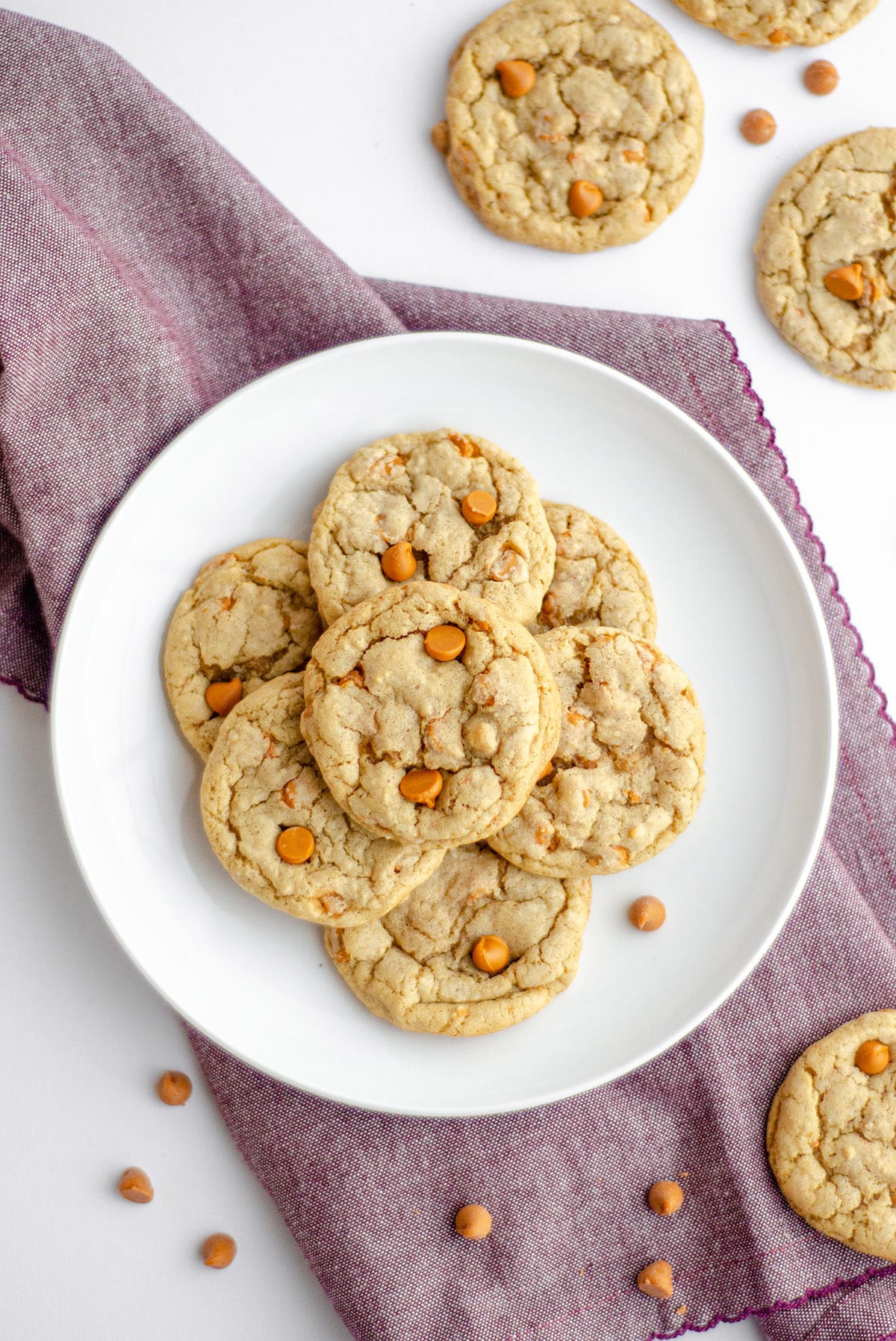 Today, we're venturing into the cookie world for our simple recipe, because as much as I love me a complex and involved cookie (looking at you, gender reveal cookies), I also love being able to toss some ingredients together and have a cookie in my mouth in under an hour.
When I first looked at what kind of cookies come up on Pinterest when I searched for "butterscotch cookie recipe," I found a lotttt of oatmeal scotchies, which are basically just an oatmeal cookie with butterscotch chips.
And you all know how I feel about oatmeal cookies.
But I wanted uncomplicated, no chill, and minimal ingredients recipe for butterscotch cookies, so I stuck to something I knew and love.
HOW TO MAKE BUTTERSCOTCH COOKIES
I first used the base for this easy butterscotch cookies recipe when I made Andes mint cookies several years ago. I've since used that base several times, even putting cookies into cookies à la cookies & cream cookies.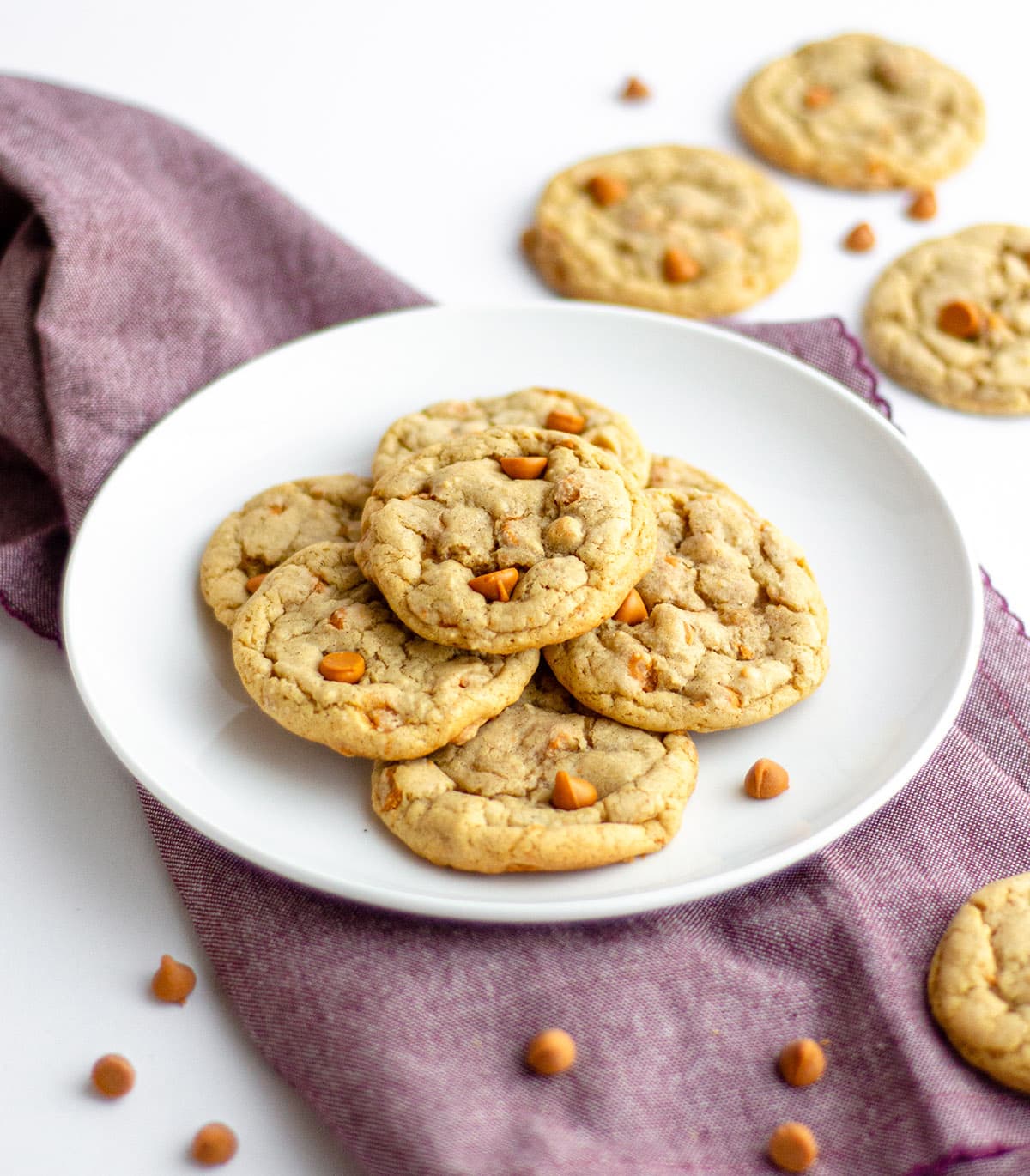 These butterscotch chips cookies are no different, because we're swapping Andes mints for butterscotch chips, and upping the amount because that absolutely needed to happen in my life.
I absolutely adore this cookie recipe because it's unfussy and it doesn't require any chilling. The ingredients are simple, and since we don't have to chill it, this batter becomes a drop cookie in no time.
WHAT IS A DROP COOKIE?
I spoke extensively about drop cookies vs regular cookies in my mini drop sugar cookies with sprinkles post if you're interested in a cookie read, but all you really need to know right now is that you + this batter + a cookie scoop + your oven = fast cookies.
I baked these butterscotch chip cookies on a Monday night, fully prepared to send 12 of them to my son's preschool class for his Thanksgiving party and to keep the other 12 (I doubled the batch!) to photograph while he was at school on Tuesday, and let me just tell you…
I had a HECK of a time trying not to eat them before I took pictures. And I will fully admit to bribing son #2 with one of these homemade butterscotch cookies (broken into about 10 pieces because I'm no dummy!) to sit still while I took the pictures.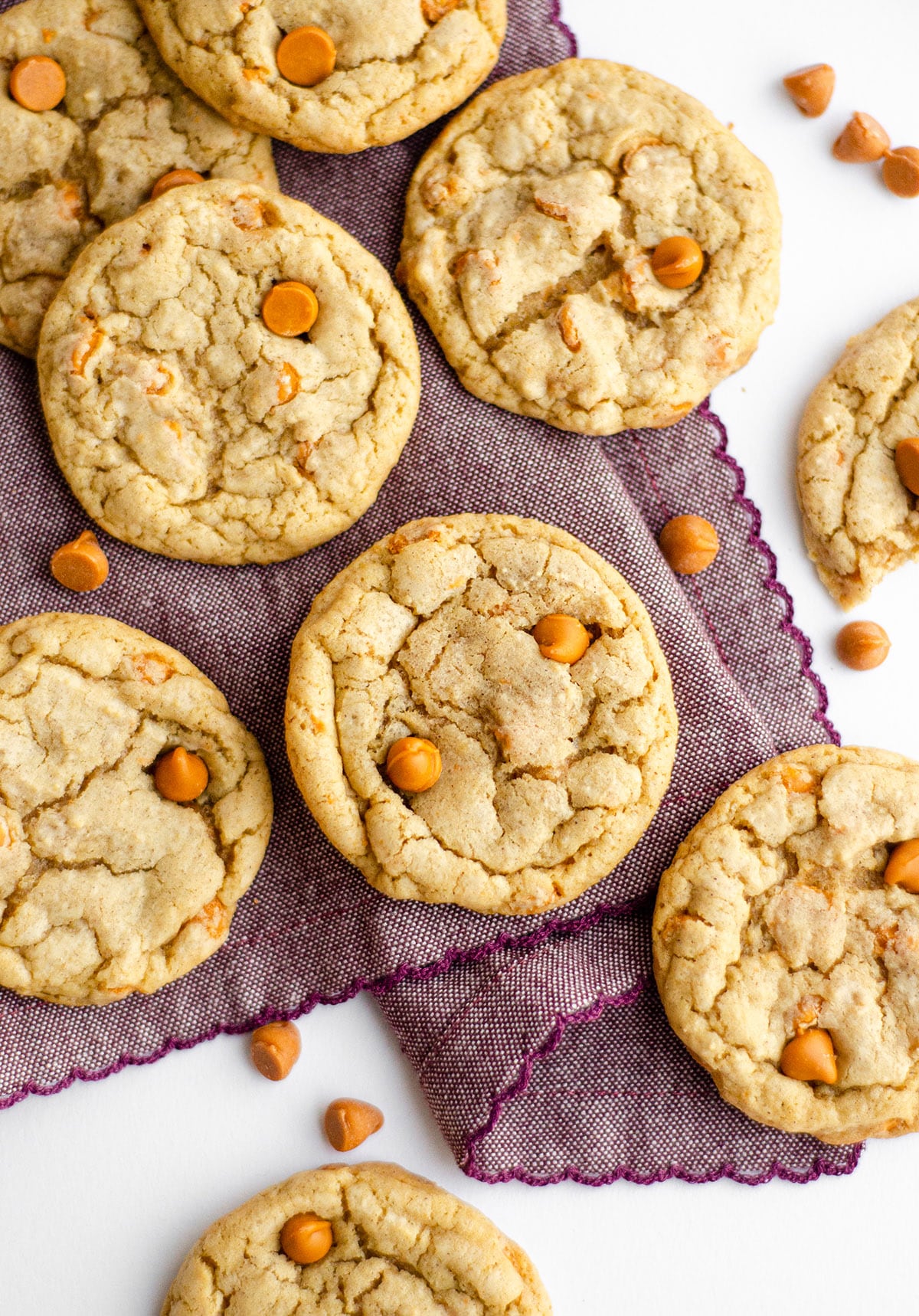 I got many signs of "more" while he was still processing the bite before. And this kid is totally not a sweet-tooth kind of kid!
I absolutely cannot blame him.
They're crunchy on the edges, soft and buttery in the middles, and there are approximately one billion butterscotch chips per bite, so I mean… Hi, hello, you need these butterscotch chip cookies.
Fun fact: if you want chewy butterscotch cookies, underbake them a bit. If you prefer crispy butterscotch cookies, bake them a minute or two longer.
So join me in this simple cookie recipe and dig out that half-empty bag of butterscotch chips, or open the one you bought on sale a few weeks ago when Thanksgiving baking was in full swing and spread the butterscotch love to those cookie trays with the best butterscotch cookies.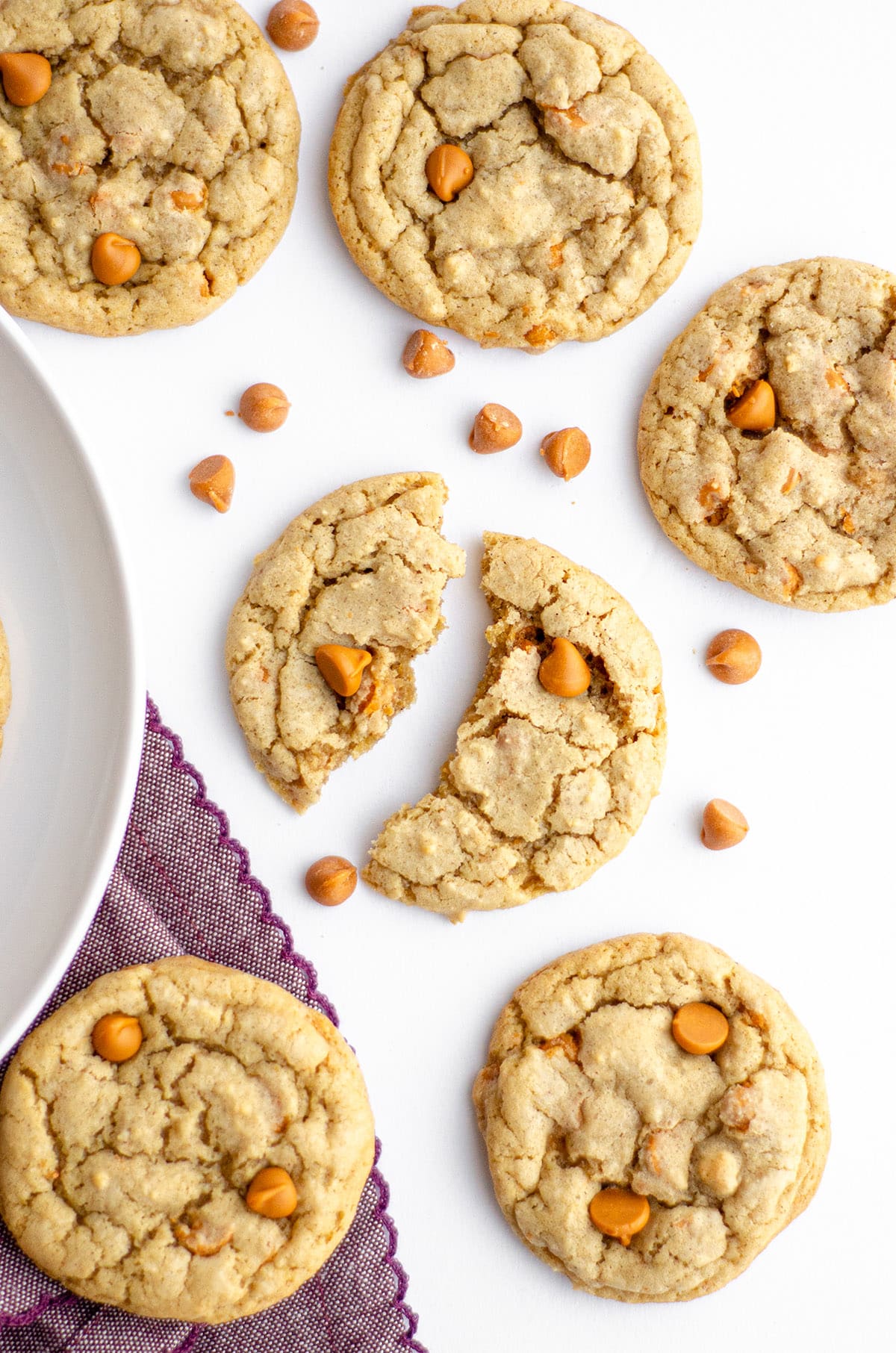 Because we owe it to those sweet little morsels, and ourselves, to grace the cookie world with cookies with butterscotch chips.
Butterscotch Cookies
Easy brown sugar drop cookies filled with a heavy dose of butterscotch chips. No chilling required!
Ingredients
1

cup

+ 2 Tablespoons (135g) all-purpose flour be sure to measure properly

½

teaspoon

baking soda

¾

teaspoon

baking powder

½

teaspoon

salt

¼

cup

(57g) unsalted butter

softened to room temperature

½

cup

+ 2 Tablespoons (112g) firmly packed light brown sugar

1

large egg

½

teaspoon

vanilla extract

¾

cup

(128g) butterscotch chips
Instructions
Preheat oven to 350ºF (177ºC). Line a baking sheet with a parchment paper or a silicone baking mat. Set aside.

In a medium size bowl, whisk together the flour, baking soda, baking powder, and salt. Set aside.

In a separate medium size bowl with a hand held mixer or the bowl of a stand mixer fitted with a paddle attachment, cream together the butter and brown sugar on medium speed. Scrape down the sides and bottom of the bowl with a spatula. Add the egg and vanilla extract, and beat again on medium speed until everything is combined and no lumps remain.

With the mixer on low, slowly add the dry ingredients to the wet ingredients in 2 additions, mixing thoroughly after each addition. Add the butterscotch chips and mix again on low until evenly dispersed.

Using a cookie scoop (I use this #50 cookie scoop for all of my standard size cookies), drop rounded balls onto baking sheet. Bake for 10-12 minutes until sides just begin to brown (mine took exactly 11 minutes). Remove from oven and allow to cool on the baking sheet for 1-2 minutes before transferring to a wire rack to cool completely. Cookies stay fresh in an airtight container at room temperature up to 1 week. Baked cookies may be frozen up to 2 months. Rolled cookie dough can be frozen, up to 2 months. Bake frozen on baking sheet for 11-13 minutes.
Notes
Nutritional information: all nutritional values are approximate.
Adapted from Andes Mint Cookies
Nutrition Disclosure
All nutritional values are approximate and provided to the reader as a courtesy. Changing ingredients and/or quantities will alter the estimated nutritional calculations.
Serving:
1
cookie
|
Calories:
154
kcal
|
Carbohydrates:
27
g
|
Protein:
2
g
|
Fat:
5
g
|
Saturated Fat:
3
g
|
Polyunsaturated Fat:
0.3
g
|
Monounsaturated Fat:
1
g
|
Trans Fat:
0.2
g
|
Cholesterol:
25
mg
|
Sodium:
219
mg
|
Potassium:
30
mg
|
Fiber:
0.3
g
|
Sugar:
18
g
|
Vitamin A:
149
IU
|
Calcium:
28
mg
|
Iron:
1
mg