Gingerbread Layer Cake with Molasses Buttercream

As an Amazon Associate, I earn from qualifying purchases. Read the full disclosure here.
A sweet and spicy cake full of all of your favorite gingerbread flavors and topped with a creamy, bold molasses buttercream.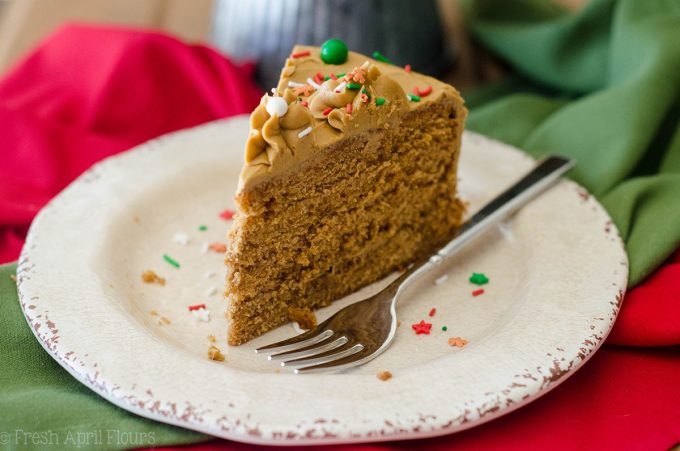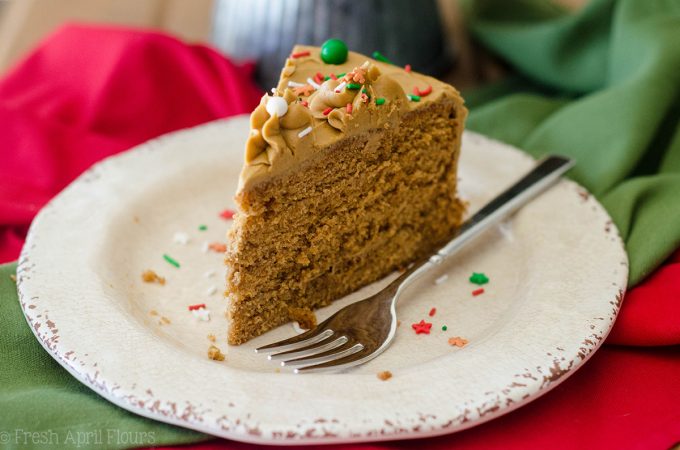 And just like that, we are officially into the Christmas season. I've already started listening to Christmas music, our tree went up this weekend, and before we know it, we'll all be assembling those cookie trays to gift to our friends, family, and neighbors.
And don't you worry, I have the perfect lineup of Christmas cookies for you this year, which kicks off on Thursday with a special little precursor to the cookie party.
And thennnn, on Friday, get ready. You'll need lots of butter and sugar and vanilla and flour and and and ALL THE GOODIES for the cookie collection I have to share with you this year.
But before I get to all those fun cookies, you don't think I'd let November go by without sharing a Cake of The Month with you, did I? Of course not.
And this one is perfect for carrying us right into the holiday season, when pumpkin seems to get the boot and gingerbread reigns supreme with its warm spicy notes and, occasionally, the perfect canvas for sharing a smile with someone you love.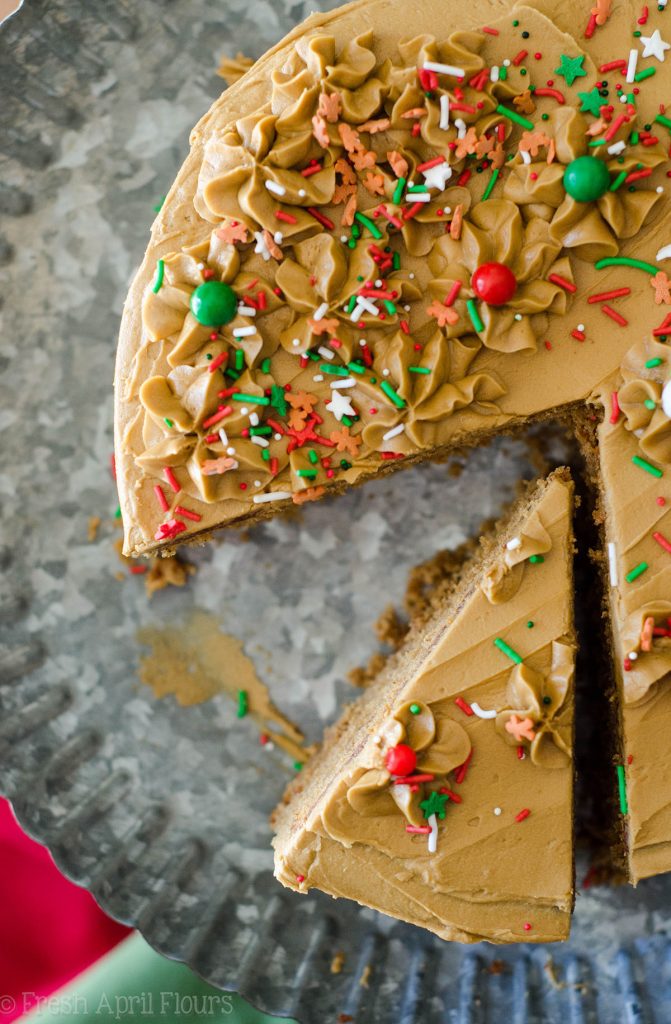 While I do love me some peppermint mocha in my coffee every once in awhile through the Christmas season, I am really much more into the gingerbread movement than anything else. Give me the cookies, the bread, the Rice Krispies Treats, all of it. Get that gingerbread all up in all of my treats until January, because there is no time like now to enjoy those flavors.
This cake comes to you by a little adaptation from a recipe I found for a gingerbread bundt cake from King Arthur Flour. While that bundt cake looks amaaaaazing, I really wanted to stick with my layer cake theme that I've had going through most of my Cakes of The Month, and I really wanted to use a fancy sort of buttercream with it.
And that, my friends, is what I think is the star of the show for this gingerbread cake, but we will get there.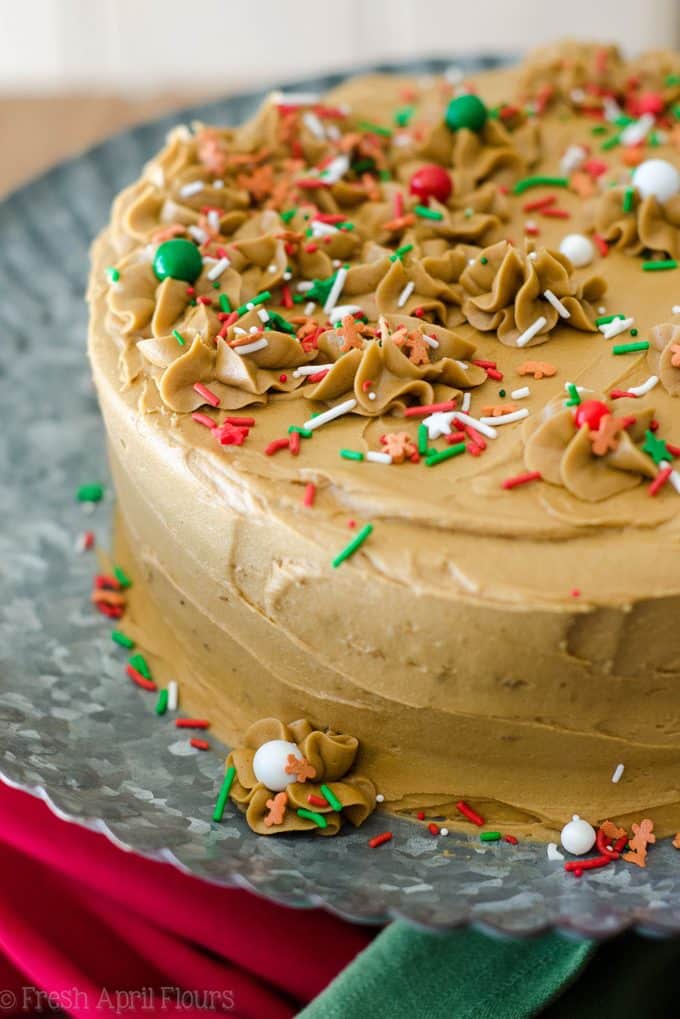 First, let's start with the cake. There is nothing extra fancy in this cake, and all of the flavor comes simply from molasses and is boosted a bit with some of molasses's best buds.
We've got a whole slew of spices in this cake: ginger, cinnamon, nutmeg, cloves, allspice, and, my favorite addition to gingerbread anything– black pepper.
YES. Include it. Believe me, your cake won't taste like pepper at all.
In fact, the pepper only accentuates all the warm notes already going on in the molasses and other spices. Only 1/4 teaspoon in the whole cake. But don't leave it out!!
I backed off the leavening agents in this layer cake from the original bundt cake recipe. I learned from my fav bundt cake pro that upping the leavening agents in a bundt cake help it rise and fluff up in that tall pan, as evidenced by using my classic white cake recipe in a bundt cake here, so I went the opposite direction.
I was still so happy with how much puff this cake had, and the layers had perfect domes on them when they were all said and done and cooled. Perfect domes = extra taste testing. Duh.
Now, this molasses buttercream is something to write home about. It is so simple and I used my classic vanilla buttercream as the base, but omitted any vanilla and backed off on the cream/liquid component.
You'll use 1/4 cup of molasses in this buttercream, so just a touch of milk/cream to thin it out. I usually use about 1/3 cup of milk or cream for my buttercream, but since molasses is very liquidy (thick, but still a liquid), I didn't want any kind of runniness happening in this buttercream.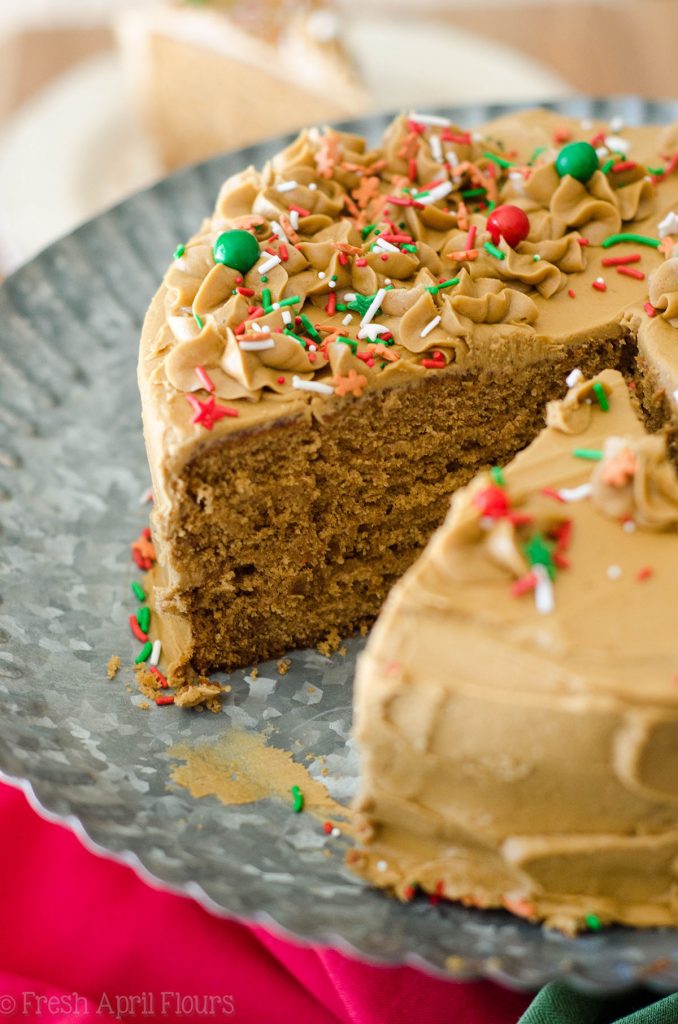 I can't even tell you how good this buttercream is. You're just going to have to experience it yourself. It's sweet but not too sweet because that molasses just brings ALL the warm fuzzy feelings right there with it. I didn't even add any salt to cut the sweetness because the molasses takes care of that for us.
Plus, that gorgeous brown color is just begging to be spread all over some deep brown gingerbready cake and covered in red and green Christmas sprinkles. Isn't it?! All the googly heart eyes, my friends!
We served this cake on Thanksgiving and the day after and it was the perfect dessert to marry the two holiday seasons together, and I think that I might have to whip up another one of these bad boys for my company's Christmas party potluck because it's just too good not to share with more people.
I was a little worried the spicy gingerbread cake would be too much flavor and spice with the strong molasses buttercream, but the two go so wonderfully together that it just tastes like one big bite of Christmas at once.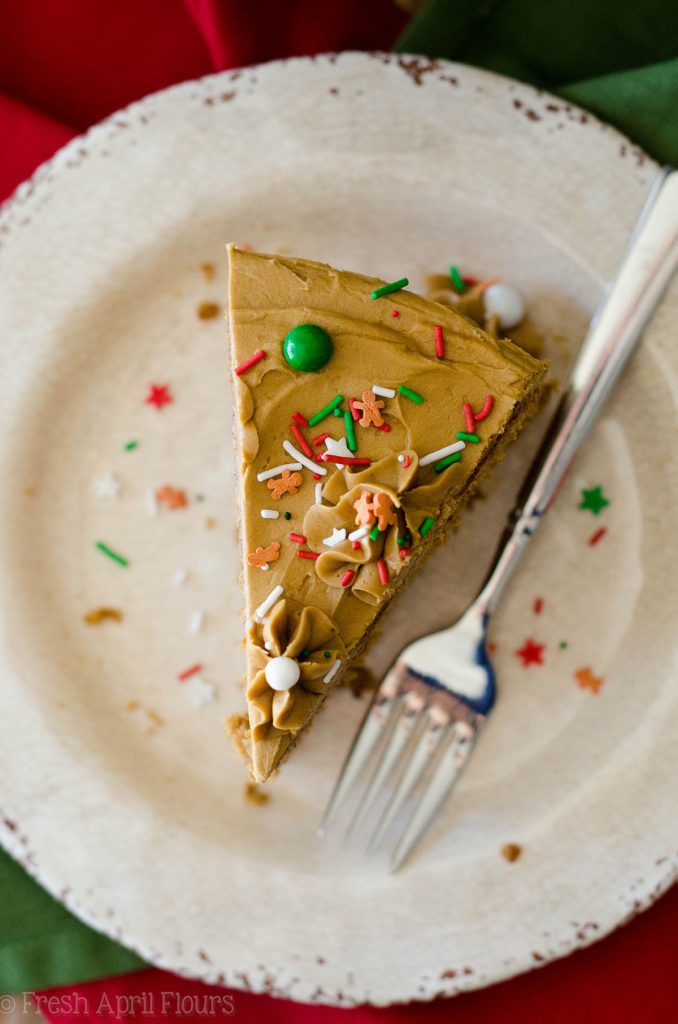 Add those sprinkles I was talking about and you've got yourself a jingle belly cake that should make an appearance at any holiday gathering or celebration you have planned in the month of December.
Gingerbread Layer Cake with Molasses Buttercream
A sweet and spicy cake full of all of your favorite gingerbread flavors and topped with a creamy, bold molasses buttercream.
Ingredients
GINGERBREAD CAKE
2 and 1/2

cups

all purpose flour

be sure to measure properly

2 and 1/2

teaspoons

ground ginger

2

teaspoons

ground cinnamon

1

teaspoon

ground nutmeg

1/2

teaspoon

ground cloves

1/2

teaspoon

ground allspice

1/2

teaspoon

salt

1/4

teaspoon

freshly cracked black pepper

3/4

teaspoon

baking powder

1/4

teaspoon

baking soda

3/4

cup

(1 and 1/2 sticks) unsalted butter

softened to room temperature

1 and 1/2

cups

firmly packed brown sugar

2

large eggs

1/2

cup

molasses

1

cup

milk

any
MOLASSES BUTTERCREAM
1

cups

(2 sticks) unsalted butter

softened to room temperature

4

cups

powdered sugar

2

Tablespoons

molasses

1

Tablespoon

milk or cream
Instructions
GINGERBREAD CAKE
Place oven rack on the middle setting and preheat the oven to 350ºF. Grease and flour (or use homemade cake release) two 8" or 9" round cake pans.

In a large bowl whisk together the flour, ginger, cinnamon, nutmeg, cloves, allspice, salt, pepper, baking soda, and baking powder. Set aside.

In a large bowl with a handheld mixer, or the bowl of a stand mixer fitted with the paddle attachment, cream the butter and brown sugar together until light and fluffy. Add the eggs one at a time, allowing the first to incorporate before adding the second. Add the molasses and beat again on medium speed until everything is incorporated, scraping down the sides and bottom of the bowl with a spatula as needed.

Add the flour mixture in three additions alternating with the milk, starting and ending with the flour mixture. Mix until smooth.

Divide batter evenly between the two prepared cake pans. Bake cakes for about 26-30 minutes or until a toothpick inserted in the center comes out clean and the tops are nicely puffed. Remove from oven and allow cakes to cool in the pans completely on a wire rack before removing and assembling.
MOLASSES BUTTERCREAM
In a large bowl with a handheld mixer, or a stand mixer fitted with the paddle attachment, beat the butter on medium speed until creamy, about 2 minutes.

With the mixer on low, add in the powdered sugar, molasses, and milk or cream and beat until completely smooth, about 3 minutes. If frosting is too stiff, add more milk. If it is too thin, add more powdered sugar.
ASSEMBLE THE CAKE
Trim cooled cake layers to create a flat surface. You can do this with a large serrated knife or a

cake leveler

. Cut each layer in half horizontally again if you'd like a more layered cake. Place one layer on a plate or cake stand and cover the top with molasses buttercream frosting. Spread evenly with an

offset spatula

.

Place second layer on top, cut surface down. For a sturdier cake, refrigerate at this point for about 10 minutes. When cake is slightly chilled, remove from refrigerator and spread more frosting on the top and around the sides. Serve. Leftovers stay fresh, covered tightly, at room temperature up to 5 days and in the refrigerator up to 1 week.

Make ahead: prepare cakes and frosting up to 1 day in advance. Cover cakes tightly and keep at room temperature or in the refrigerator until ready to assemble. Refrigerate prepared frosting in an airtight container until ready to use. Unfrosted cake layers may be frozen, wrapped tightly, up to 2 months. Thaw overnight in the refrigerator before assembling. Frosted cake can be frozen, wrapped tightly, up to 2 months. Thaw overnight in the refrigerator and bring to room temperature before serving.
Nutrition Disclosure
All nutritional values are approximate and provided to the reader as a courtesy. Changing ingredients and/or quantities will alter the estimated nutritional calculations.