As an Amazon Associate I earn from qualifying purchases.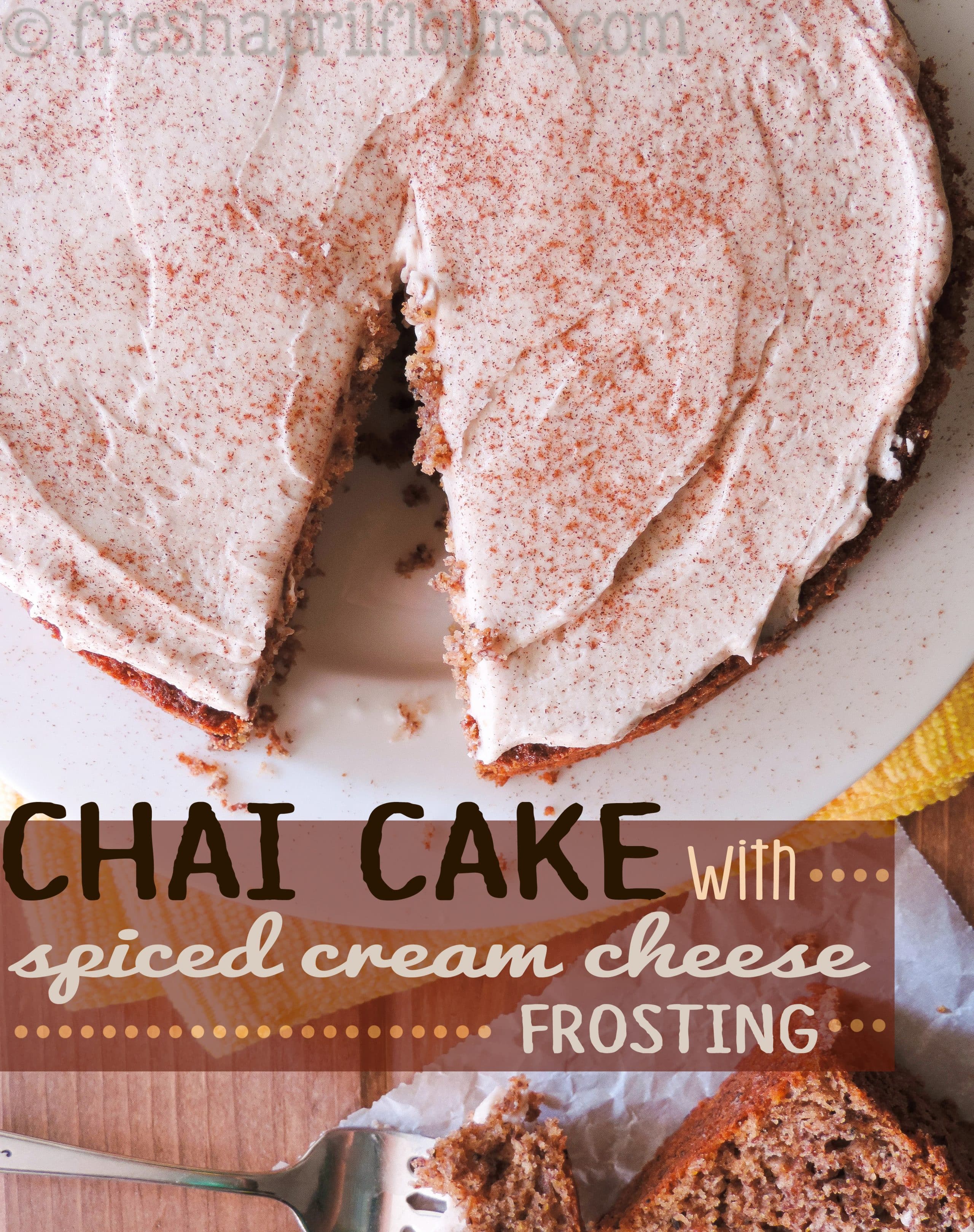 This tender cake is spiced with chai-infused milk, extra spices, and topped off with a spicy cream cheese frosting. No shortage of fall flavors in this perfectly sweetened cake!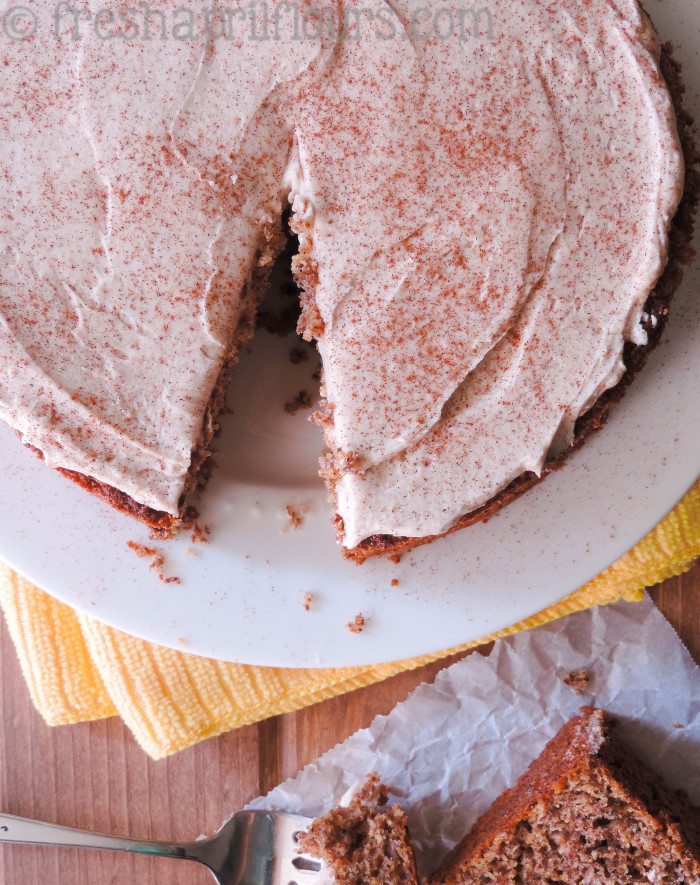 I love cinnamon. Love it. It's actually my favorite spice to bake with (see all of my recipes with cinnamon!), but I haven't gotten much of a chance to use it yet since it's not typically a summer spice and I've only been recipe blogging since April.
I have a blogger friend named Amy (I mentioned her at the end of my almond butter chocolate chunk cookie post) who lives in Australia and runs an entirely gluten-free blog, Throughly Nourished Life. She has some really amazing recipes on there that I have been meaning to get to.
The funny thing about the planet, though, is that while we were in sunny summer, Amy was in a chilly winter. She's now entering summer as we approach fall, so our seasonal recipes are kind of swapped.
Back in July, Amy posted a gluten-free chai cake that sounded out of this world… I needed to try it! But the last thing I wanted in the dead of summer was spiced cake. So I've been waiting and waiting for the right time to bust this baby out, and this past weekend was the perfect weekend to do it.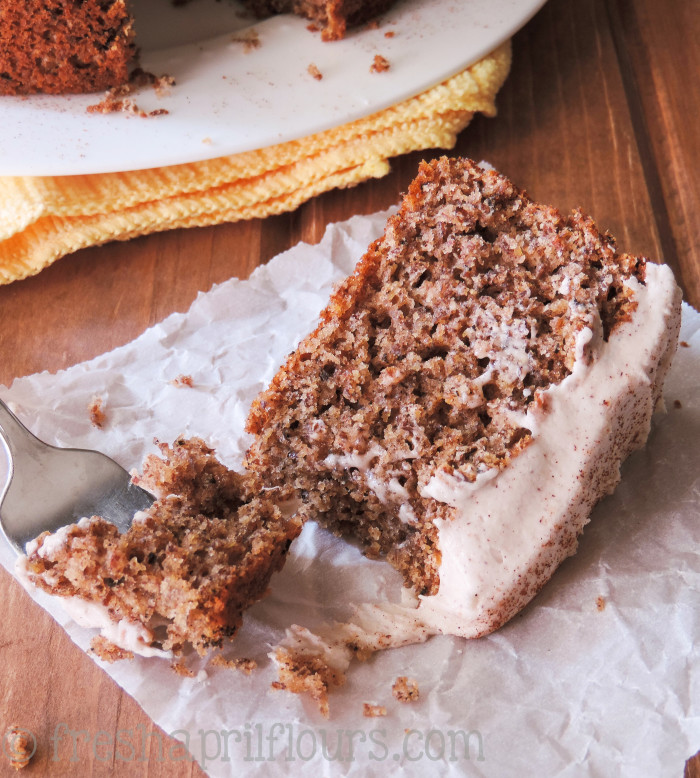 I didn't have cake on my birthday– instead I had several of my chewy oatmeal raisin cookies, a little pumpkin spice coffee creamer in my morning cup, and a lot of Japanese food. This cake served as my own birthday treat to myself, and I couldn't have given myself a better present.
Seriously. Nice job, Lynn!
Amy helped me make this cake completely gluten-y (that's the opposite of GF if you didn't know), so if you're looking for the gluten-free version, head over to Amy's original recipe. As per her suggestion, I did swap out almond meal for ground flaxseed simply for texture's sake. So… If you don't mind gluten in your cake, let's get started.
If you've never had chai, it is a spicy blend of fennel seed, cardamom, cloves, cinnamon, and ginger. It is a supremely fragrant black tea, and when combined with hot milk and a little sugar, it becomes one killer cold weather beverage. I'm not a tea drinker at all, but hand me a cup of chai and I will drink up every last drop!
I also enjoy flavoring desserts with chai. See my baked chai donuts, chai spiced granola, chai streusel muffins, and chai spiced oatmeal cookies.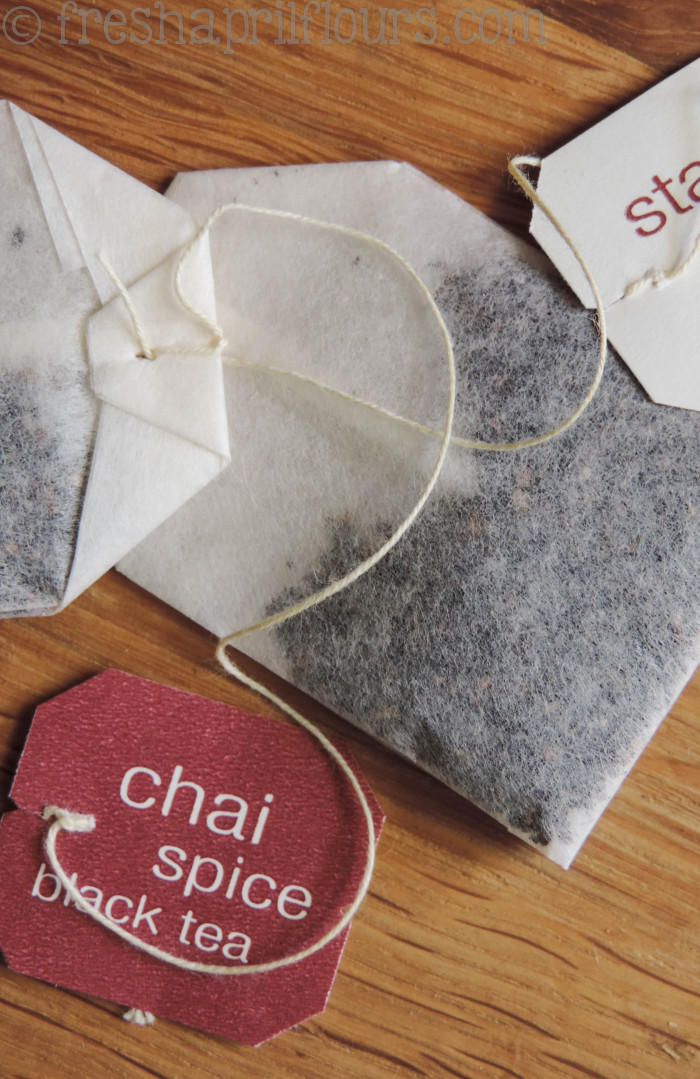 You'll start by steeping 2 chai tea bags in some warm milk. It's important you don't let the milk boil as you will lose a lot of your moisture to evaporation. Once steeped, the bags actually get cut open and the plethora of spices packed into that tea bag are let loose to roam around in the milk to kick the spice up a notch (or three).
This step smells amazing. And guess what? It only gets better from here, because the cream cheese frosting slathered on top is flavored with the same spices that you'll find inside the cake. Really, this goes nowhere but up.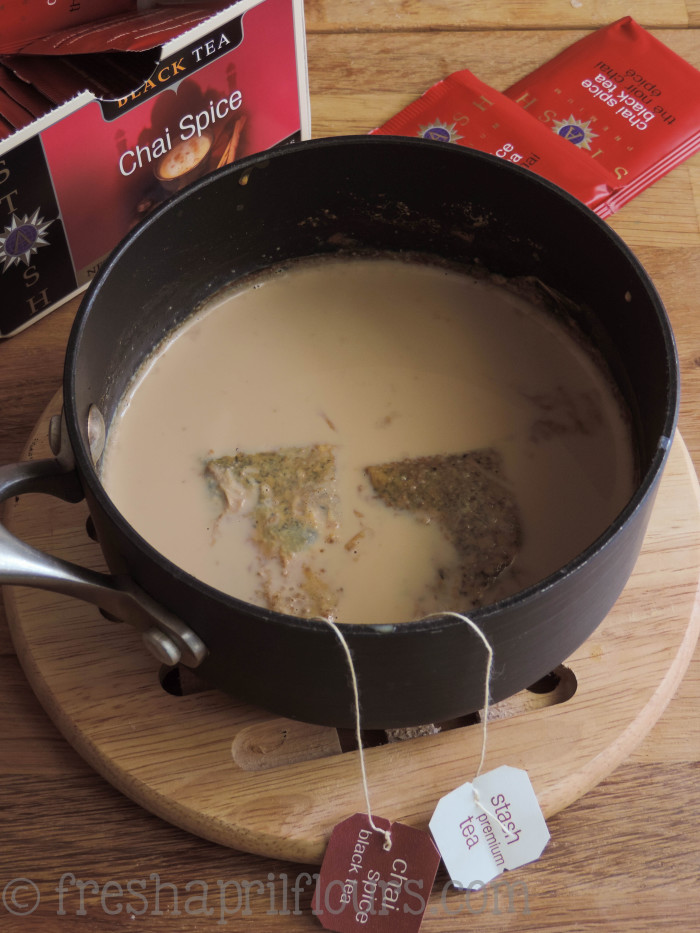 After you're done spicing up your milk, this cake is in your round pan and ready to bake in a snap. The recipe is pretty straight forward, but you're just going to want to remember not to over mix your batter. You want to keep your crumb nice and soft, so mix your wet team into your dry team gently and stop when everything has just come together.
This cake… Wow. First of all, I'm considering baking one every single day just so our house can smell as amazing over and over again… Matt said "oh my gosh, that smells SO GOOD" literally every single time he came near the kitchen while it was in the oven and even when it was cooling.
Despite the warmish weather outside, the smell alone was tempting me to throw on my oversized sweater and leggings and grab a pumpkin to carve, but I refrained when I realized it was still September.
What I love most about this cake is that it isn't overly sweet by any means. It is the perfect amount of spice without tasting savory, and just enough sweet to go perfectly with a cup of coffee or tea (read: it is completely acceptable to eat this as breakfast). I would even go so far as to say if you left the cream cheese frosting off of this cake, it would still be a perfect chilly weather snack.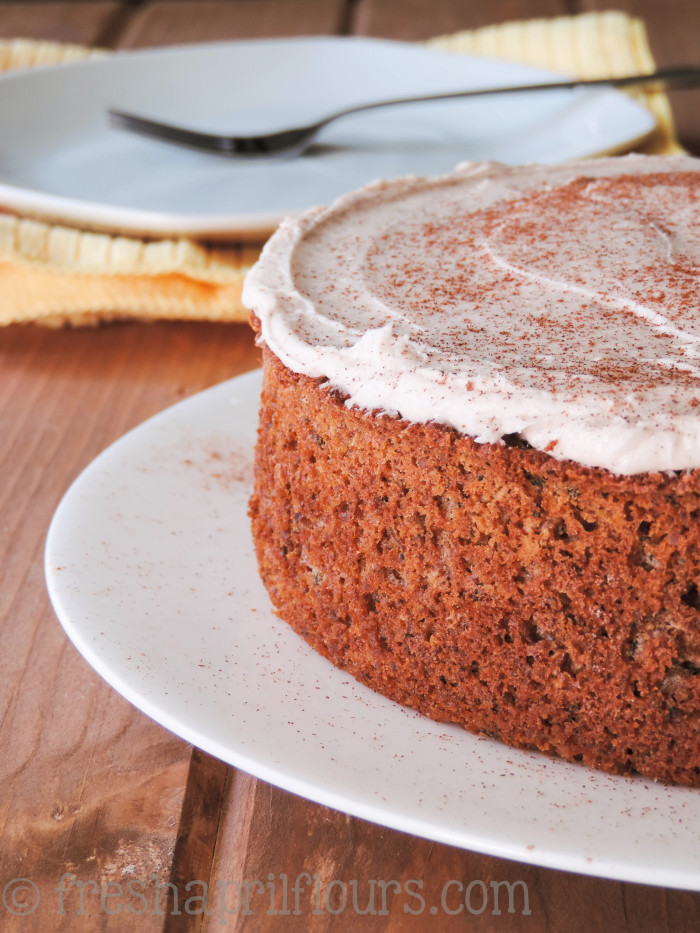 Spice, sugar, creamy cream cheesy frosting, and a steamy cup of the good stuff with the even better stuff. Sounds like something you need in your life ASAP.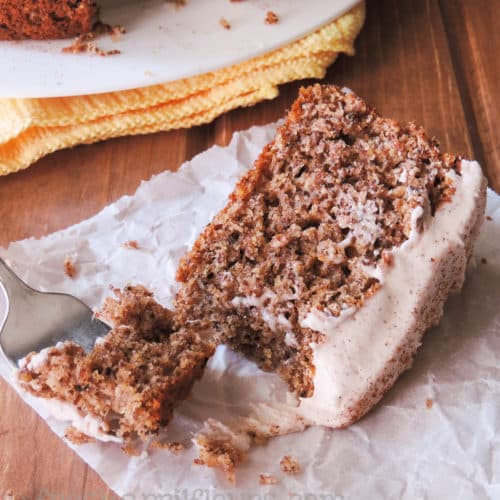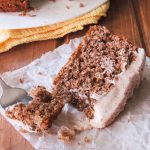 Print Recipe
Chai Cake with Spiced Cream Cheese Frosting
This tender cake is spiced with chai-infused milk, extra spices, and topped off with a spicy cream cheese frosting. No shortage of fall flavors in this perfectly sweetened cake!
Ingredients
CHAI CAKE
3/4

cup

milk

any

2

chai tea bags

1/2

cup

unsalted butter

melted

3/4

cup

granulated sugar

1 and 1/2

cups

all-purpose flour

3/4

cup

ground flaxseed

2

teaspoons

baking powder

1/2

teaspoon

baking soda

1

teaspoon

salt

1 and 1/2

teaspoons

ground cinnamon

1

teaspoon

ground ginger

1/4

teaspoon

ground cardamom

2

eggs

1/4

cup

plain yogurt

any fat content

2

teaspoons

vanilla extract
SPICED CREAM CHEESE FROSTING
4

ounces

full fat cream cheese

4

Tablespoons

unsalted butter

softened to room temperature

3

cups

powdered sugar

1

teaspoon

ground cinnamon

1/2

teaspoon

ground ginger

1/8

teaspoon

ground cardamom

2

Tablespoons

milk

any
Instructions
CHAI CAKE
In a small saucepan, heat milk gently over low heat until steaming, being careful not to bring to a boil. Add chai tea bags and steep for 20 minutes. Allow to cool. Once milk is cooled, remove teabags, cut open and empty contents into spiced milk mixture. Set aside.

Preheat the oven to 350ºF. Grease and flour a 9-inch round cake pan and set aside.

Pour the melted butter into a medium size bowl. Whisk in sugar until no clumps remain. Set aside.

In a large bowl, whisk together flour, ground flaxseed, baking powder, baking soda, salt, cinnamon, ginger, and cardamom. Set aside.

Whisk the eggs, yogurt, and vanilla extract into cooled milk mixture. Set aside.

Fold flour mixture and milk mixture into cooled butter mixture, being careful not to not over mix but being sure no flour pockets remain.

Pour batter into prepared pan and bake for 30-35 minutes or until a toothpick inserted in the middle comes out clean. Remove from oven and allow to cool for 10 minutes in cake pan. Remove cake from cake pan and transfer to a wire rack to cool completely before frosting.
SPICED CREAM CHEESE FROSTING
In the bowl of a stand mixer fitted with the paddle attachment or in a medium bowl with a hand mixer, beat together cream cheese and butter until light and fluffy. Add powdered sugar, spices and milk. Beat until combined. Add more sugar if frosting is too thin for your liking, or more milk if it is too thick.

Spread evenly on top of cooled cake. Cake will stay fresh up to 4 days in an airtight container in the refrigerator or 3 days at room temperature.