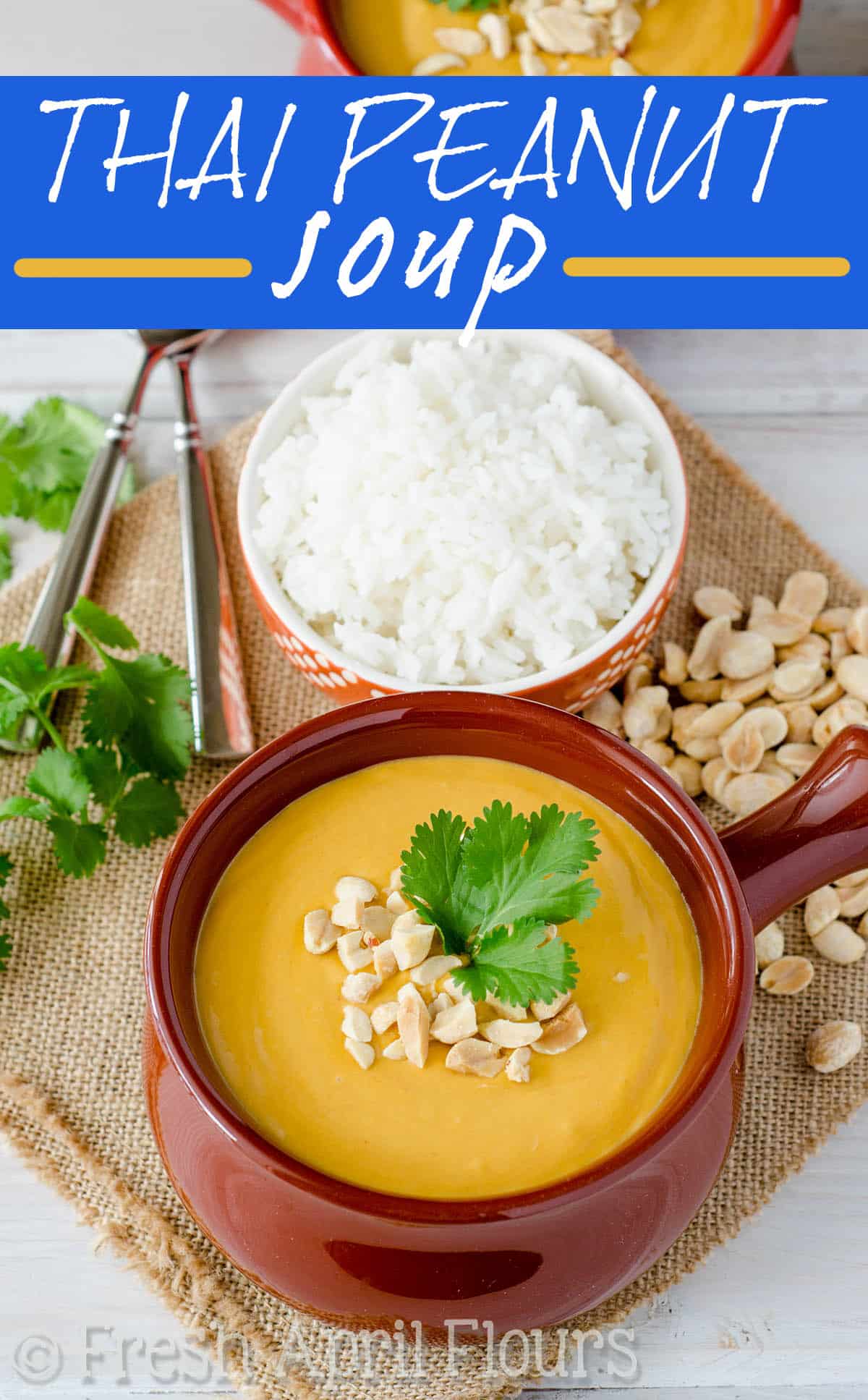 As an Amazon Associate, I earn from qualifying purchases. Read the full disclosure here.
Nutty and flavorful soup, filled with lots of veggies, a little bit of heat, and all of the flavors you love about Thai food. Serve over rice, add some meat, or add noodles to make this suit your meal needs and tastebuds.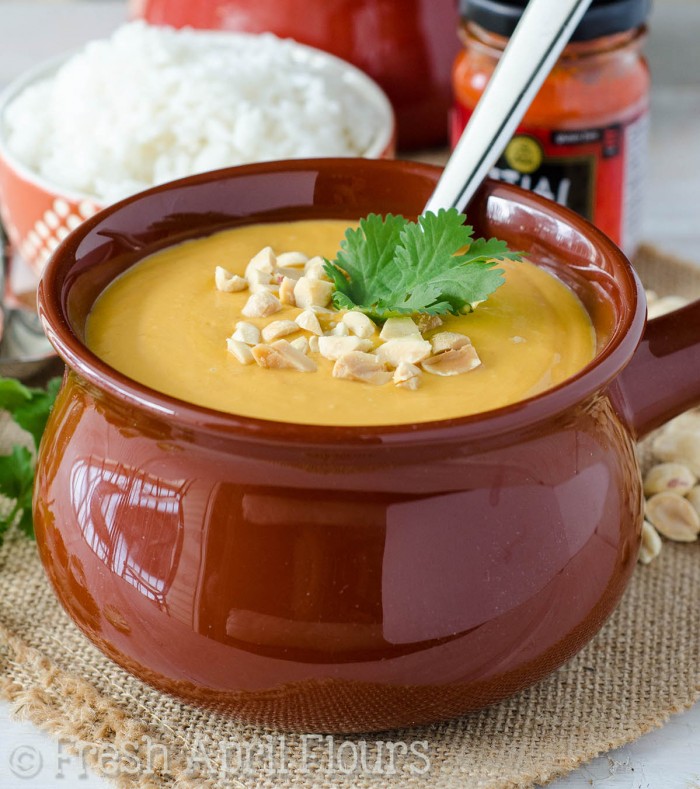 For the past 5 months (basically since I found out I was pregnant), I have wanted this soup. But I didn't know I wanted this soup until last weekend when I did a little kitchen experimenting and came up with it. Umm, what? Ok, let me explain.
Everyone's favorite question to a pregnant woman is "are you having any cravings??" and I always feel so bad when I shoot these people down, who look so eager to hear my "oh yeah, pickles and ice cream, totally" response, when all I can honestly say is "no. Nothing."
I am such a boring pregnant lady.
I've felt great, I've had only mild mood swings (ok, maybe occasionally they're a little extreme…), and I haven't once craved anything weird or out of the ordinary.
Sure, there was that time a few weeks ago where I just really wanted some Doritos (and haven't had any since), when I wanted pasta and meatballs for about a week, and the fact that I want dressing (ranch, 1000 Island, honey mustard) on all of my chicken all of the time, but I wouldn't call them "I-need-this-right-this-second" cravings, and they certainly do come and go.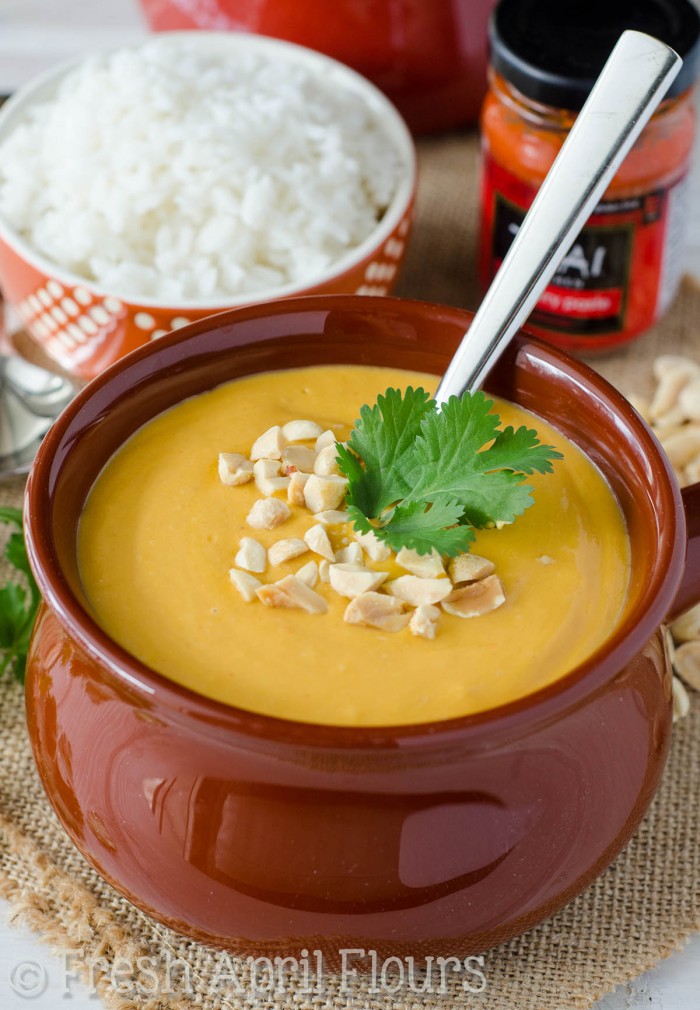 However… The oneeeee thing that I have observed consistently in all of my food adventures these past months has been that I just really want savory, salty, spicy, flavorful things.
I've tried eating curry chicken with curried vegetables over rice, putting soy sauce on my chicken/rice/vegetable combos that we meal prep, hot sauce and/or salsa on salads and eggs, and even this creamy corn dip.
But nothing, nothing fit all of those characteristics I listed until this soup came into my life. And I just HAD to share it with you, because it's too good not to have everyone in the history of ever participating in the making and tasting of this Thai peanut soup!
Now the list of ingredients may seem a bit long, but trust me— not only is it worth it to put all of them in there, the work this soup takes is minimal. I'm talking one pot, one blender/food processor (<– we have and love both of these!) type thing, and this soup is ready to devour.
You'll start by sweating down an onion, some garlic, and a red bell pepper in some olive oil. Easy enough, right? Then, you'll •add some pretty familiar ingredients:
•vegetable or chicken broth (for taste, obviously)
•a can of unsweetened coconut milk (for that little touch of coconut flavor that is almost crucial in Thai food)
•some natural peanut butter (or regular, if you prefer– another usual suspect in Thai food)
•some soy sauce (instead of fish sauce which, let's be honest, grosses me out a bit)
•and some frozen peas (for extra protein and a touch of sweetness).
Then you have your not-so-familiar/unsuspecting ingredients: red curry paste (which I found at Wegman's in the "Indian" aisle)…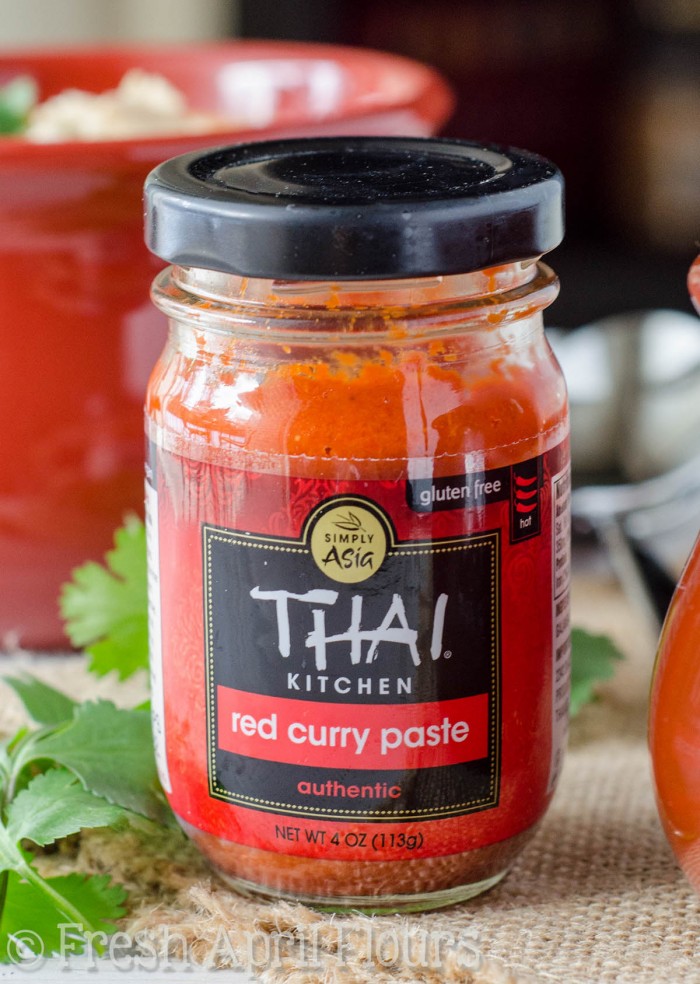 And, uhh, sweet potatoes. Yes, you read that right: SWEET POTATOES.
You may be asking yourself why, or maybe you've used sweet potatoes as the base in a soup before. Either way, let me tell you that sweet potatoes make an incredible base for a soup.
For one thing, they're starchy and therefore act as a natural thickener (no flour or cornstarch here!), and secondly, they're naturally sweet, which eliminates the need for adding any kind of refined sugar to this soup.
Pretty neat, eh?
You'll simmer all of this for about 30 minutes, allow the mixture to cool a bit, and then comes the fun part: blending all of it up in the blender/food processor I mentioned above that you'd need (or bonus points for an immersion blender!).
Not only will this make your soup nice and creamy, but it will also prevent you from worrying about your vegetables getting soggy during cooking (confession: I wanted this to be a chunky soup but thanks to pregnant brain, long story short, IT WAS NOT).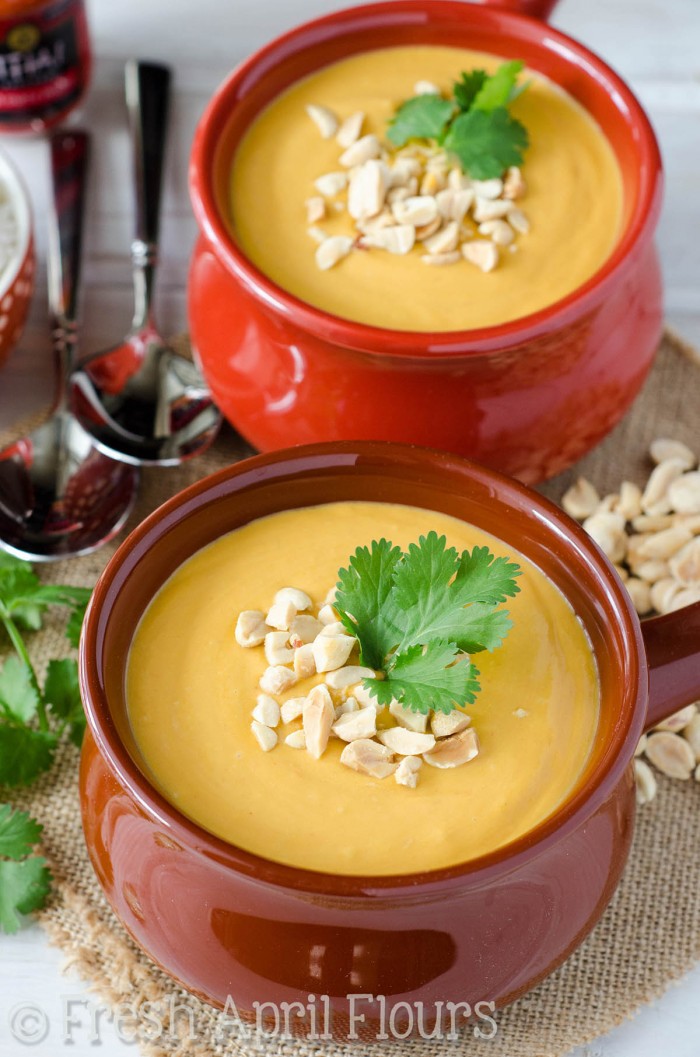 Ok, now for the taste? Umm… Heavenly. One taste test of this soup and my 5 month long search for THE FOOD THAT BABY WANTED was over. Completely. Who knew all it was going to take was some Thai food?
Throw this soup over some rice, chop up some meat and some broccoli, or toss in your favorite noodles. Whatever you want. This soup is seriously versatile and I would love to hear how you serve it up!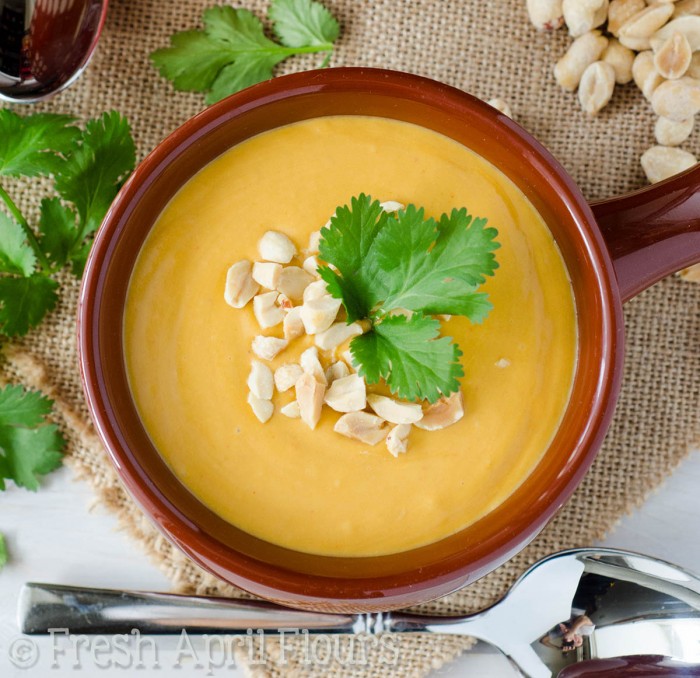 Nutty, spicy, flavorful, creamy, dreamy, filling, and the perfect way to warm up your belly in this chilly winter weather. I'd say this soup should be in everyone's kitchen ASAP. And if it is… Invite me over, please?
I will likely be wanting this for the rest of my life, pregnant or not.
Thai Peanut Soup
Nutty and flavorful soup, filled with lots of veggies, a little bit of heat, and all of the flavors you love about Thai food. Serve over rice, add some meat, or add noodles to make this suit your meal needs and tastebuds.
Ingredients
1-2

Tablespoons

olive oil

1

medium onion

sliced/chopped/diced (your preference)

1

clove

garlic

finely chopped

1

large red bell pepper

chopped

2

large sweet potatoes

peeled and roughly mashed

1-32

ounce

container chicken or vegetable broth

1-13

ounce

can unsweetened coconut milk

6

Tablespoons

natural peanut butter

3

Tablespoons

red curry paste

1

Tablespoon

soy sauce

1

cup

frozen peas

cilantro for garnish

chopped peanuts for garnish
Instructions
In a large pot, heat the olive oil over medium-high heat. Add the chopped onion, garlic, and pepper and cook for 5-6 minutes, stirring frequently, or until tender. Add the sweet potatoes, chicken/vegetable broth, coconut milk, peanut butter, red curry paste, soy sauce, and peas. Bring mixture to a boil then reduce heat to medium-low and simmer for 30 minutes. Allow to cool for about 15 minutes.

Ladle or pour the soup into a blender or

food processor

(this is the

blender

I used) and blend until smooth (this can also be done with an

immersion blender

). You may need to do this in smaller batches if using a blender. Garnish with cilantro and chopped peanuts (if desired).

See "notes" below for other serving options.

Leftovers can be kept in the refrigerator in a tightly sealed container up to 5 days. Reheat as necessary. Soup can be frozen in a large zip-top bag or storage container up to 3 months.
Notes
I like to serve this several ways:
--over rice with broccoli
--with meat*
--over/with noodles**
*Add meat right before serving. If you're not serving the soup right away, it is ideal for the meat to sit in the soup for a few hours to soak up the flavors. Approximately 2 cups of chopped meat should be plenty for this soup, but you are welcome to add more or less.
**To serve with noodles (I would suggest thicker noodles like fettuccine): cook noodles according to package and add after soup is blended. If you would prefer to add thinner noodles to soup, go with something like angel hair or even ramen without the seasoning packet.
Consider any combination of the above ingredients to suit your meal needs and tastebuds.
Nutrition Disclosure
All nutritional values are approximate and provided to the reader as a courtesy. Changing ingredients and/or quantities will alter the estimated nutritional calculations.
Love heat? Check out some of these other spicy (and gluten free!) recipes…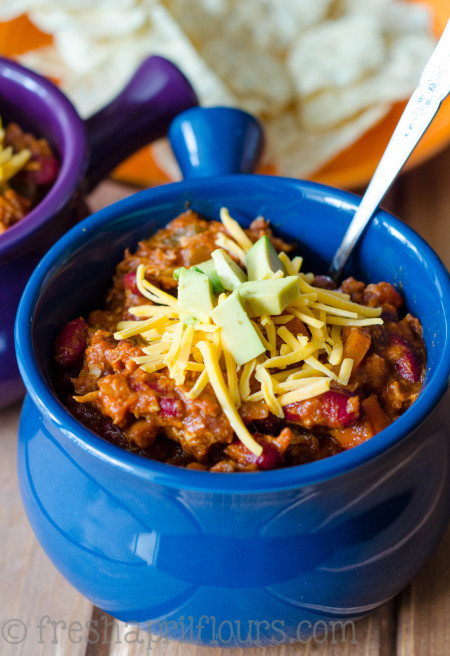 Cheesy Enchilada Quinoa Casserole