Instant Pot Garlic Mashed Potatoes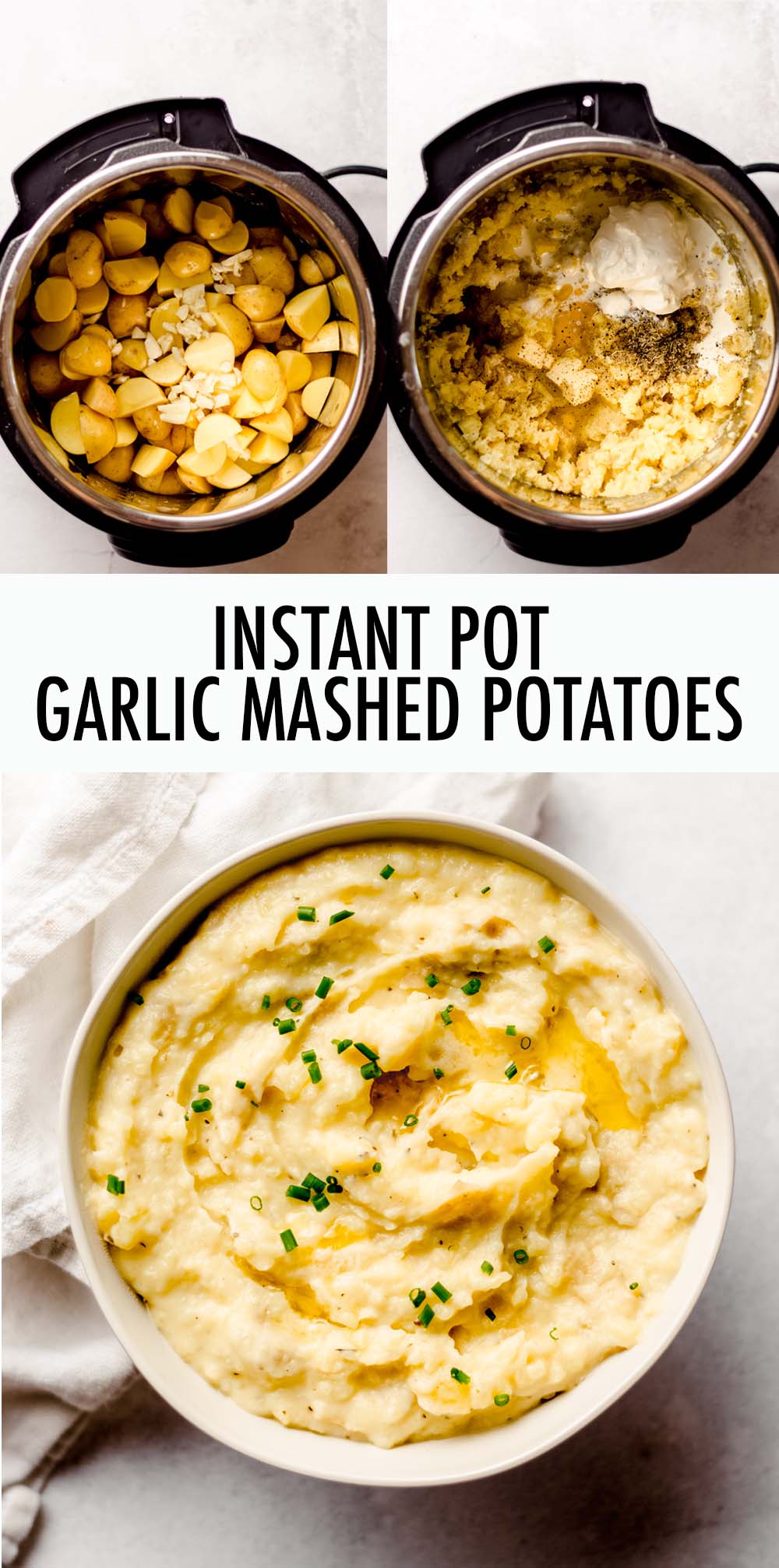 As an Amazon Associate, I earn from qualifying purchases. Read the full disclosure here.
Just a few minutes of ingredient prep, then let your Instant Pot do the rest! These garlic mashed potatoes can be made creamy and smooth or textured and chunky. No matter how you like to eat them, you're going to love how simple these mashed potatoes are to make.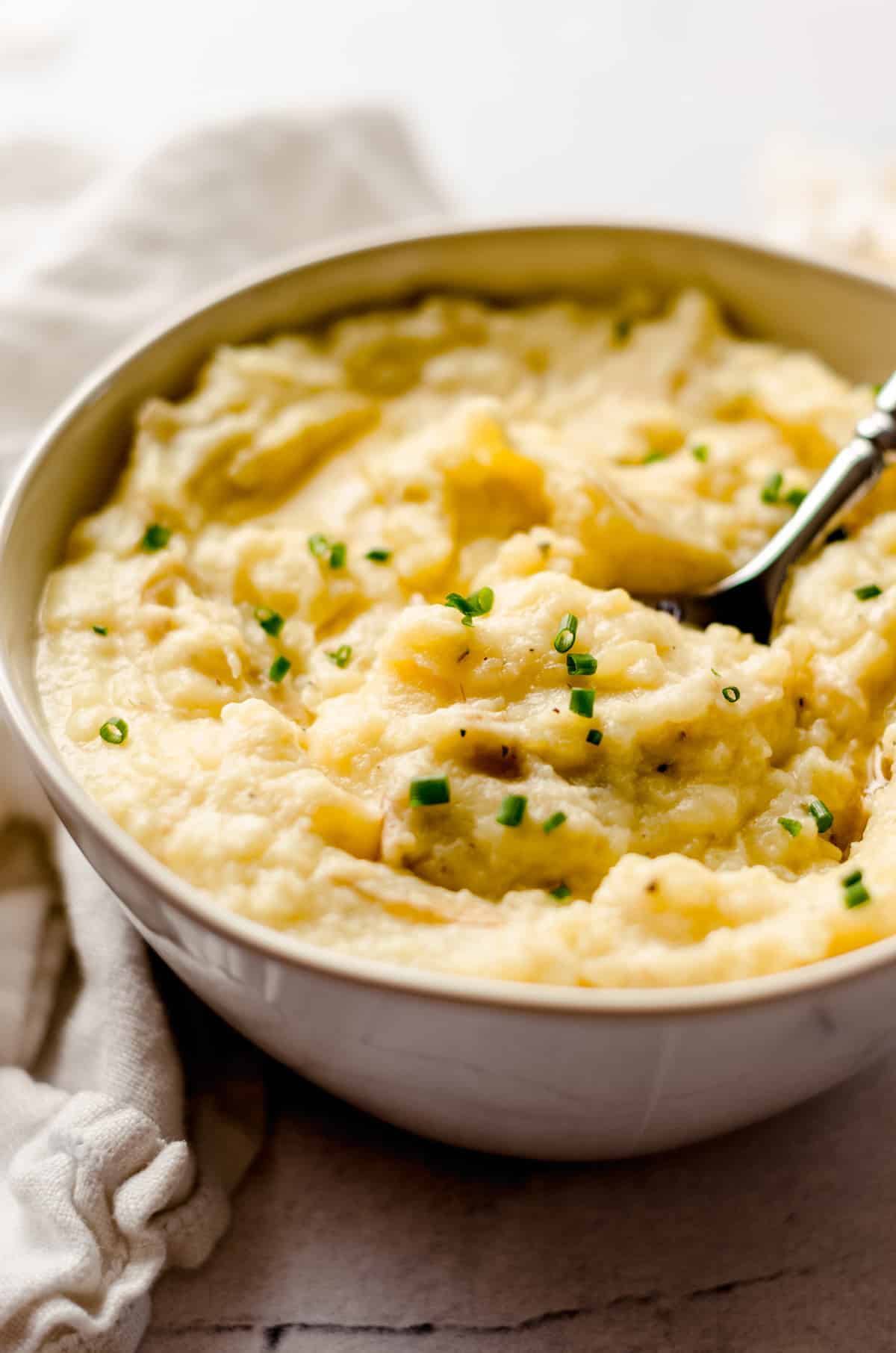 Today is a SUPER FUN day on the blog, as I'm participating in a little blog hop called Freaky Friday! Michaela from An Affair From The Heart put together this event where one blogger makes a recipe from another assigned blogger's blog.


What I love about these Freaky Friday events is that I get connected with food bloggers I had never "met" before, and just like the blogger I was paired with during my first Freaky Friday event, I found out that I had a lot in common with my assigned blogger, Kathleen from The Fresh Cooky.
I started by reading her "about me" section, where I legitimately LOLed when she described her two sons who fight a lot, and the fact that she knows they "love each other deep down, like core of the earth deep." Her sons are 19 months apart, and much older than our sons who are 23 month apart and still single digit ages.
What really made me laugh, though, was realizing that right now, our dudes are BFF, and we are totally prepared for that to change in the future. Kathleen simply reminded me of what I already knew: children can and will surprise you, for better or worse, and your job as a parent is to love up on them as long as you can and give them memories worth remembering.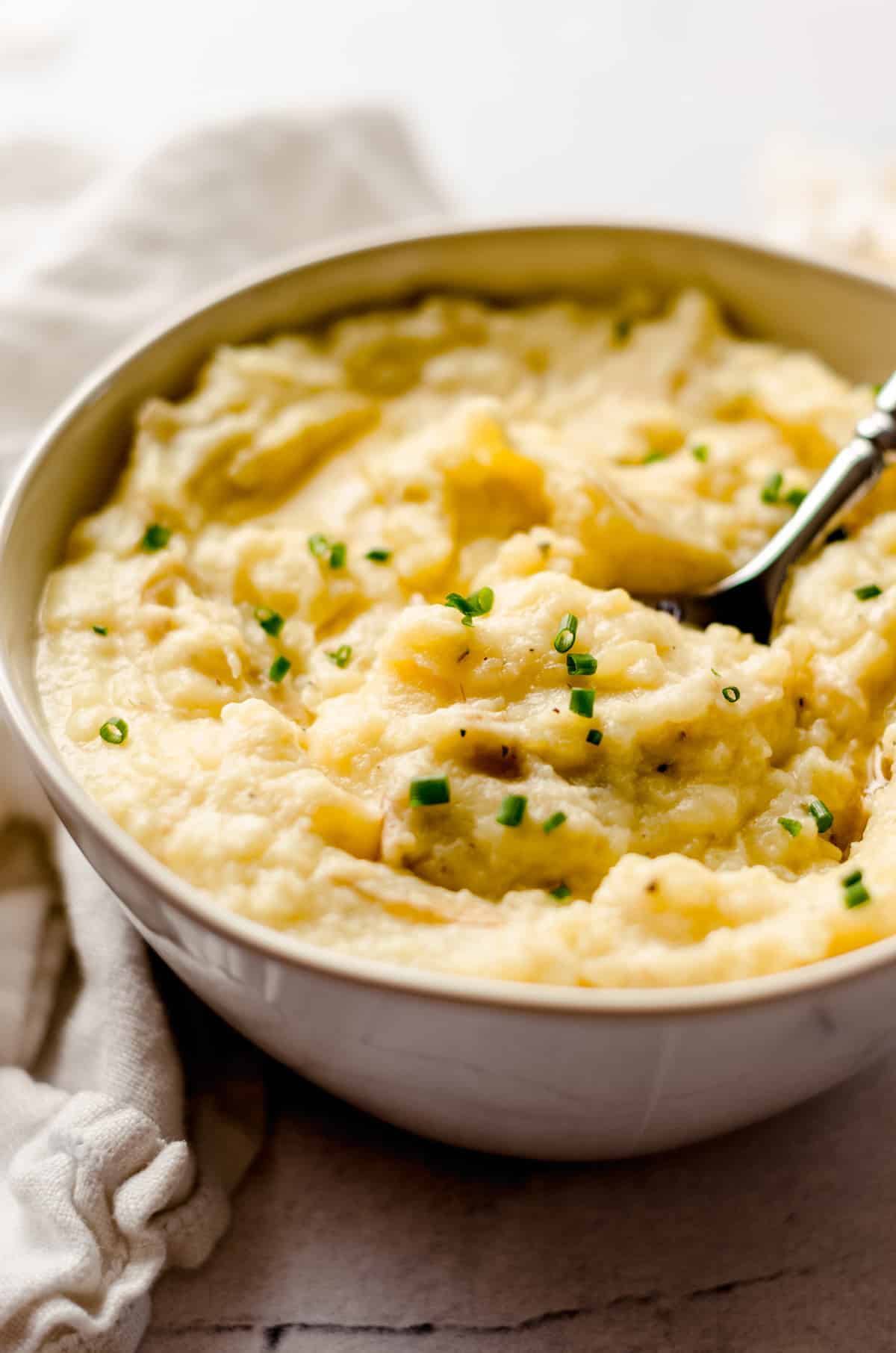 Like being in the kitchen together (at least in our house)!
Which is where these Instant Pot garlic mashed potatoes came in (believe it or not).
Since the beginning of my time as a recipe blogger, I have centered mostly around desserts. You can read about how I discovered my love for baking desserts on my "meet Lynn" page, and my pairing with Kathleen came at just the right time in my blogging career.
This year, I wanted to beef up my Thanksgiving content, which already houses traditional bread stuffing, spiced cranberry sauce, classic pumpkin pie, easy yeast rolls, and, since I have no business (nor the know-how to!) posting any kind of turkey recipe, my favorite baked turkey and cheese sliders for that leftover turkey!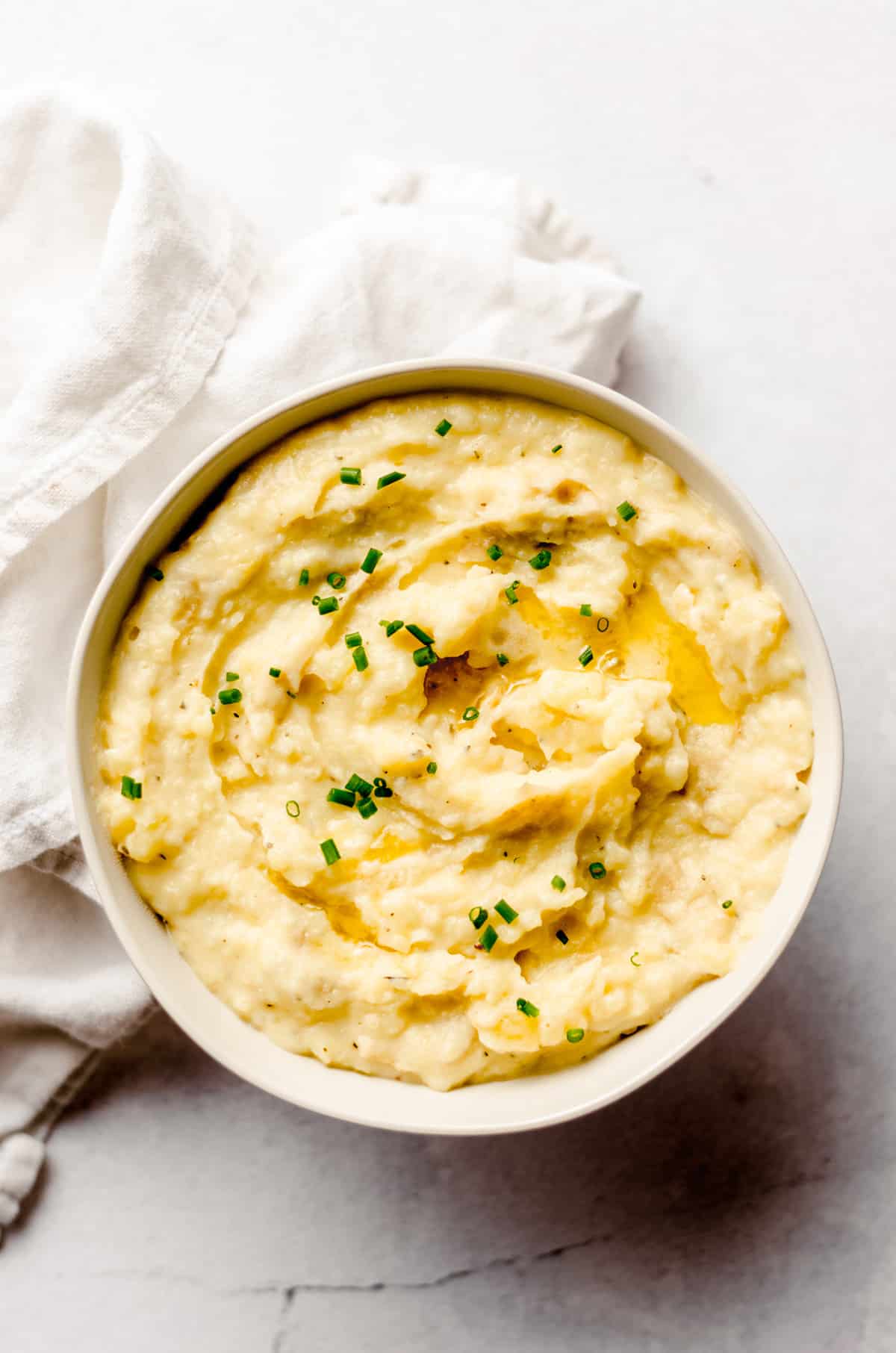 While I do have roasted herbed red potatoes on my blog (a super popular recipe, actually), I have had a mashed potatoes recipe in the back of my mind all year while planning content. When I saw Kathleen's Instant Pot mashed potatoes while perusing her recipe collection, it was decided immediately I was going to use it for this event!
Not only was I intrigued by the Instant Pot method (or other electric pressure cooker!) of making mashed potatoes, I also loved how simple it was to adapt to the slow cooker or the stovetop, if needed. And I knew that I could slice the potatoes and one of my kids would love to throw them into the pot for me (and he counted them while he did it, by the way).
INGREDIENTS FOR GARLIC MASHED POTATOES
The base for this mashed potato recipe is any kind of potato you want (just make sure it's 3 pounds total), a few cloves of garlic, and some chicken broth.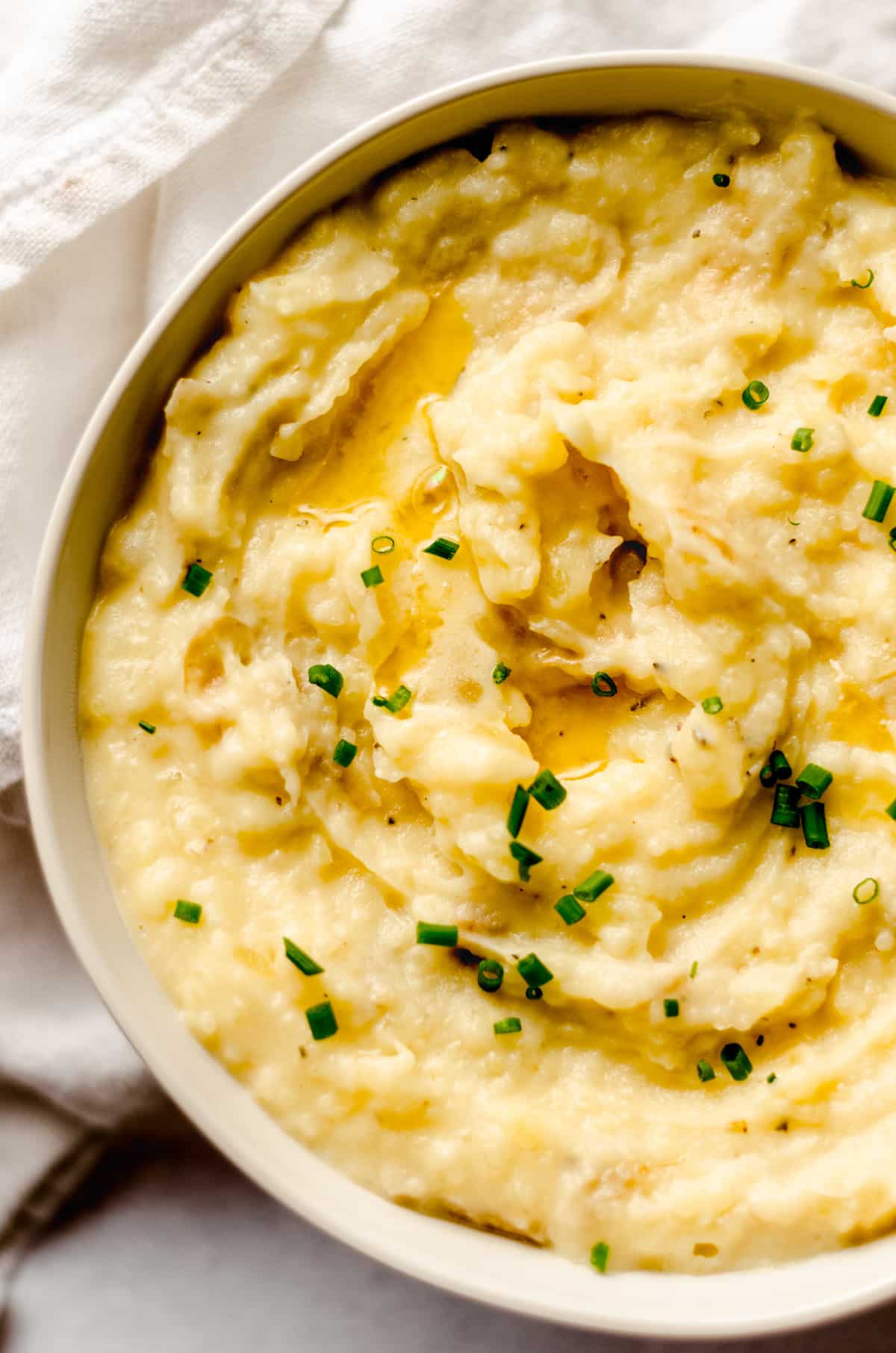 As far as add-ins go after the potatoes are cooked, Kathleen offers up just the right amount of ingredients to make these easy Instant Pot mashed potatoes smooth, creamy, and flavorful.
I used butter, heavy cream, and sour cream as my "creamy" ingredients, but Kathleen makes notes for other ingredient swaps, which I have noted in the recipe, if you want those.
You'll also little extra garlic powder (these are garlic mashed potatoes, after all), some salt and pepper, a little Italian seasoning, and some fresh chives or green onions for garnish and a little pop of flavor.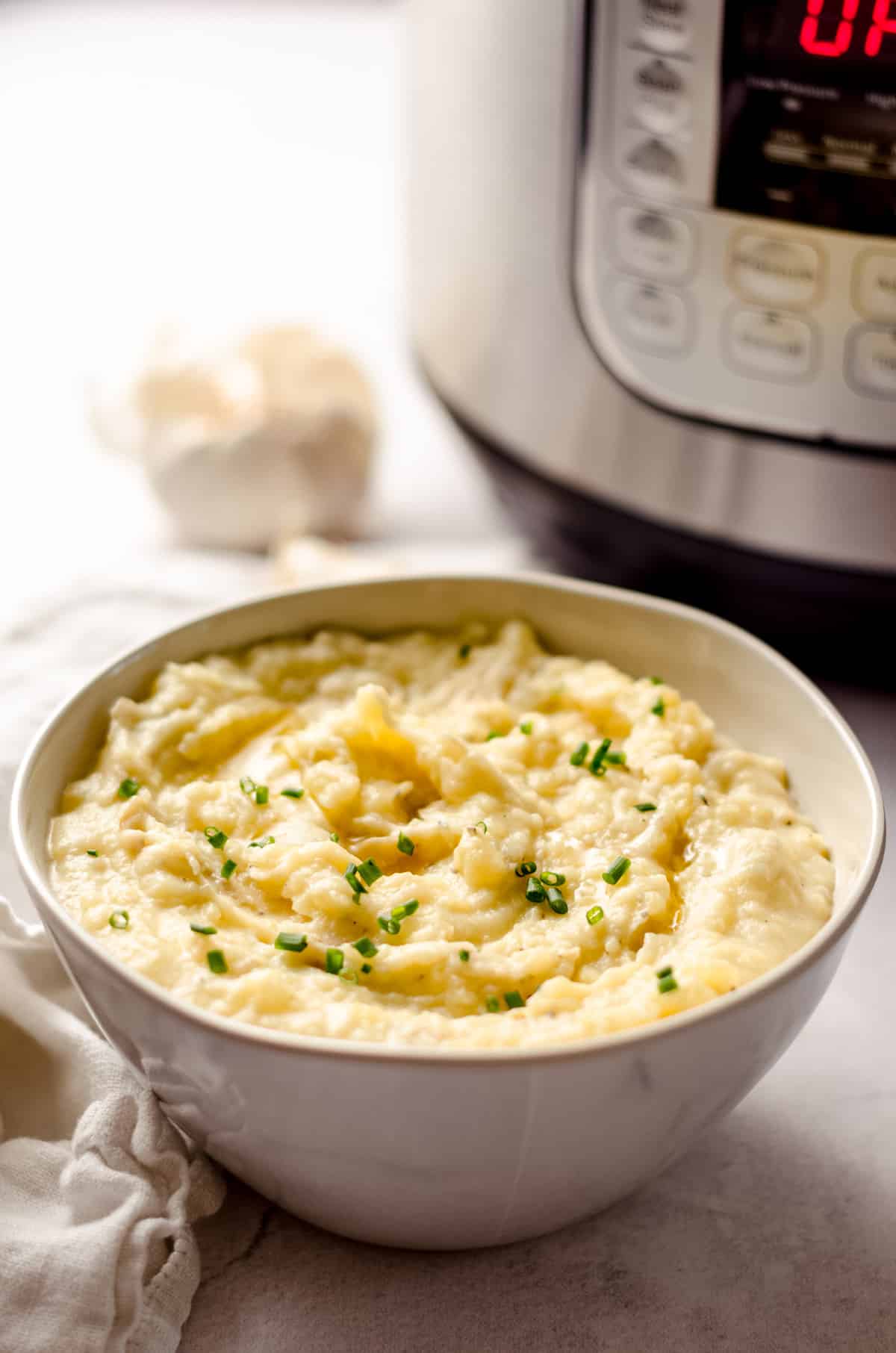 HOW TO MAKE MASHED POTATOES IN THE INSTANT POT
The process for getting these potatoes from raw and whole to perfectly cooked and mashed is seriously so simple, and it's all thanks to that Instant Pot.
PREPARE THE POTATOES
Depending on your preference, you can leave skins on, take them all off, leave only some of them on… Whatever you want! You know how you like your mashed potatoes, and I am a skin on kind of gal. Do whatever you prefer, then halve or quarter your potatoes, depending on what size they are.
I used Yukon gold, which are on the small side. I halved most of them, but some of the larger ones went into quarters. Red potatoes, which are also on the smaller side, could probably be prepared the same.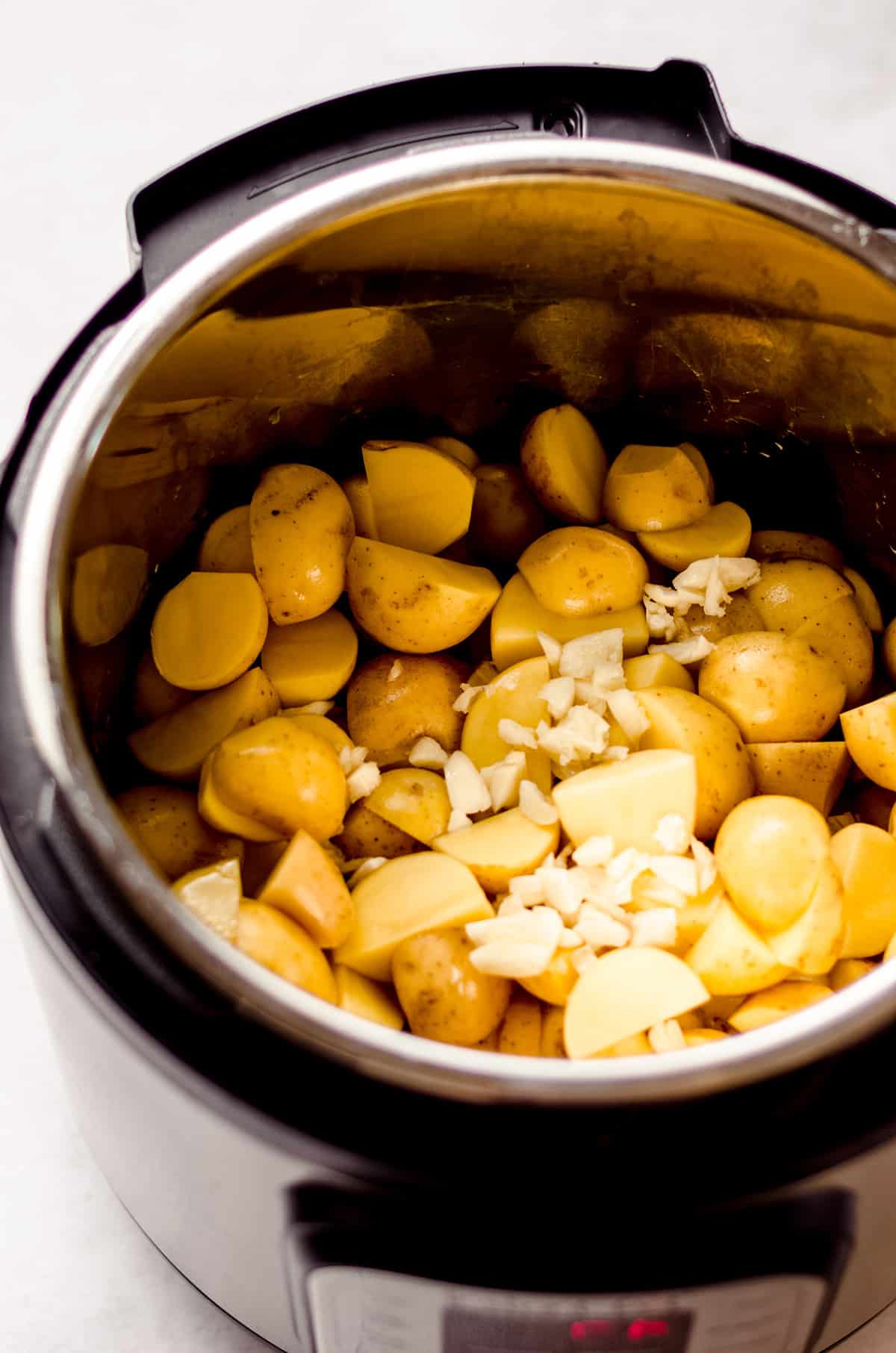 If you're using a larger variety like Russet potatoes, use your best judgment on size. Aim for pieces about an inch long/wide.
COOK IN THE INSTANT POT
The sliced potatoes, garlic, and chicken broth go in first, then you'll set the pot to high pressure cook for 13-14 minutes (15 minutes at higher altitude!).
Once the Instant Pot signals it is finished, you'll (carefully) quick release and then drain some of the chicken broth, if you'd like.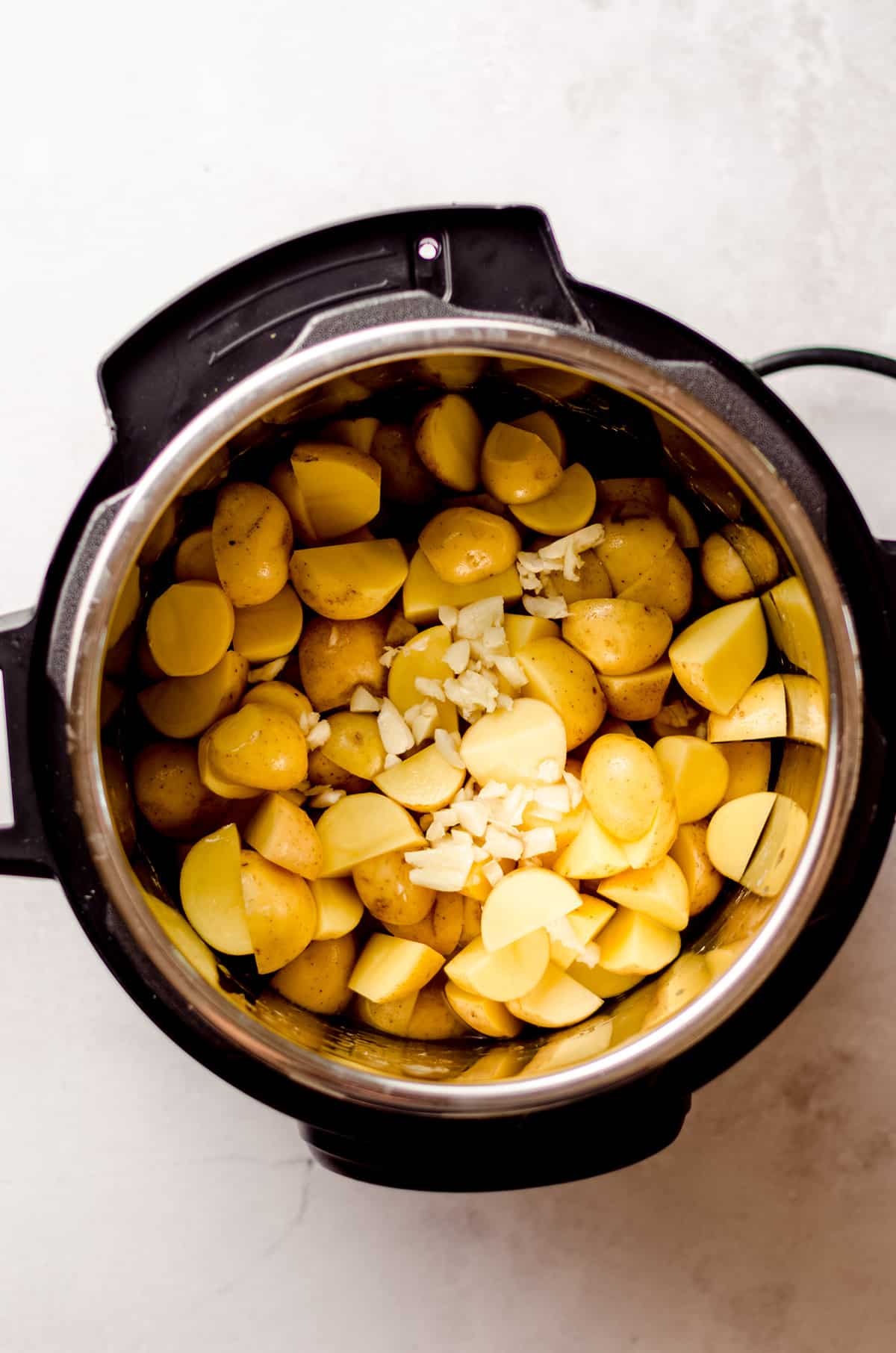 You can also make these Instant Pot garlic mashed potatoes no drain by, well, simply not draining off any of the chicken broth, which is exactly what I did. These mashed potatoes turned out perfect for my preference, so if you're unsure of what kind of texture you're going for, drain some liquid and reserve it– you can always add some back in!
ADD THE MASHING INGREDIENTS
Once the potatoes are cooked, you can mash them along with all of your additional ingredients, adjusting things here and there as needed. Like 'em chunky? Don't mash so much. Like 'em smooth? Mash mash mash. And maybe add more liquid.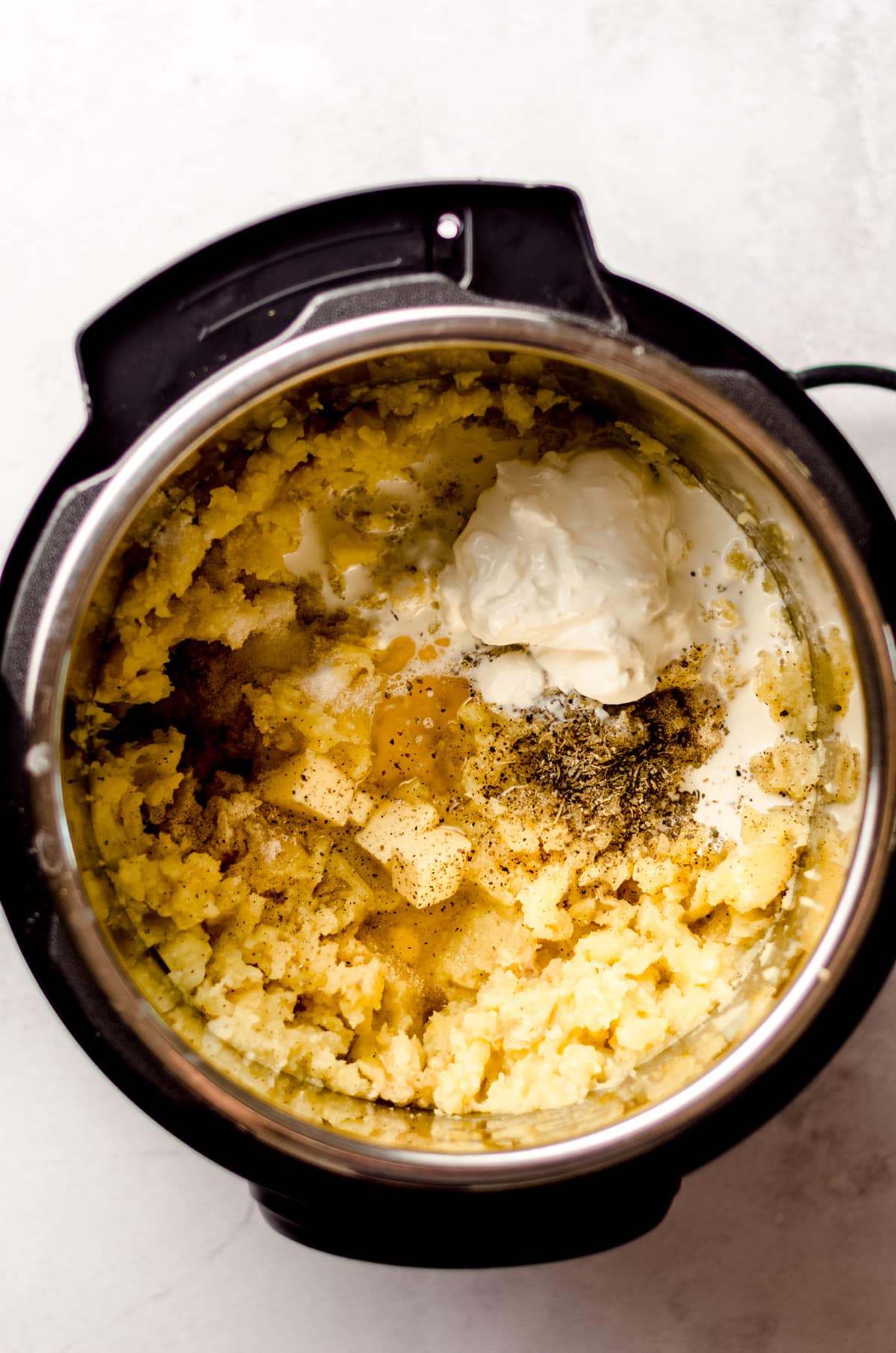 If you're looking for creamy mashed potatoes, this recipe is for you.
If you're looking for easy garlic mashed potatoes with the skin on, this recipe is for you.
If you're looking for chunky mashed potatoes, this recipe is for you.
If you're looking for mashed potatoes without an ounce of skin included, this recipe is for you.
If you like your garlic mashed potatoes with sour cream and cream cheese, this recipe is for you.
But how can all of that be??
Because FOR REAL, this recipe for Instant Pot potatoes is exactly what you need as a base for creating whatever kind of mashed potatoes your potato-loving heart desires.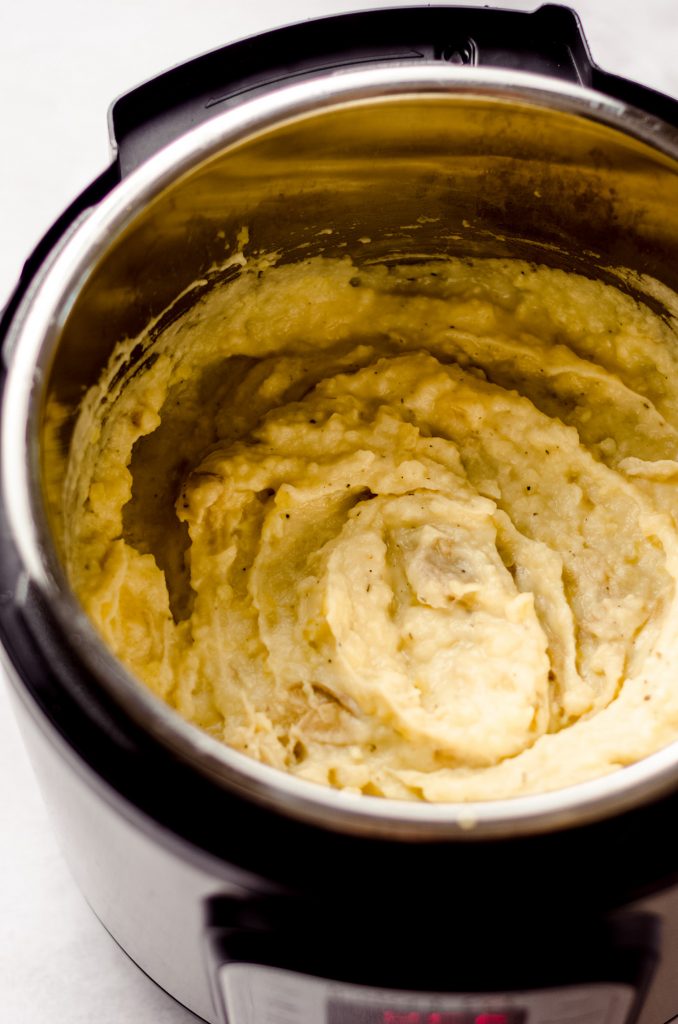 The potatoes (however you prepare them– skins, no skins, or partial skins!) are cooked perfectly, the seasonings are spot on, and the addition of the butter, sour cream, and heavy cream give you the perfect amount of creaminess that comes alongside whatever consistency you'd like to mash your potatoes into.
Remember, you also have all of the wiggle room to choose whatever kind of potatoes you like. I typically prefer Yukon gold or red potatoes for my mashed potatoes, and you can use any and all of the potatoes you like. Just be sure you're using the 3 pounds of potatoes total in the recipe, and you're good to go.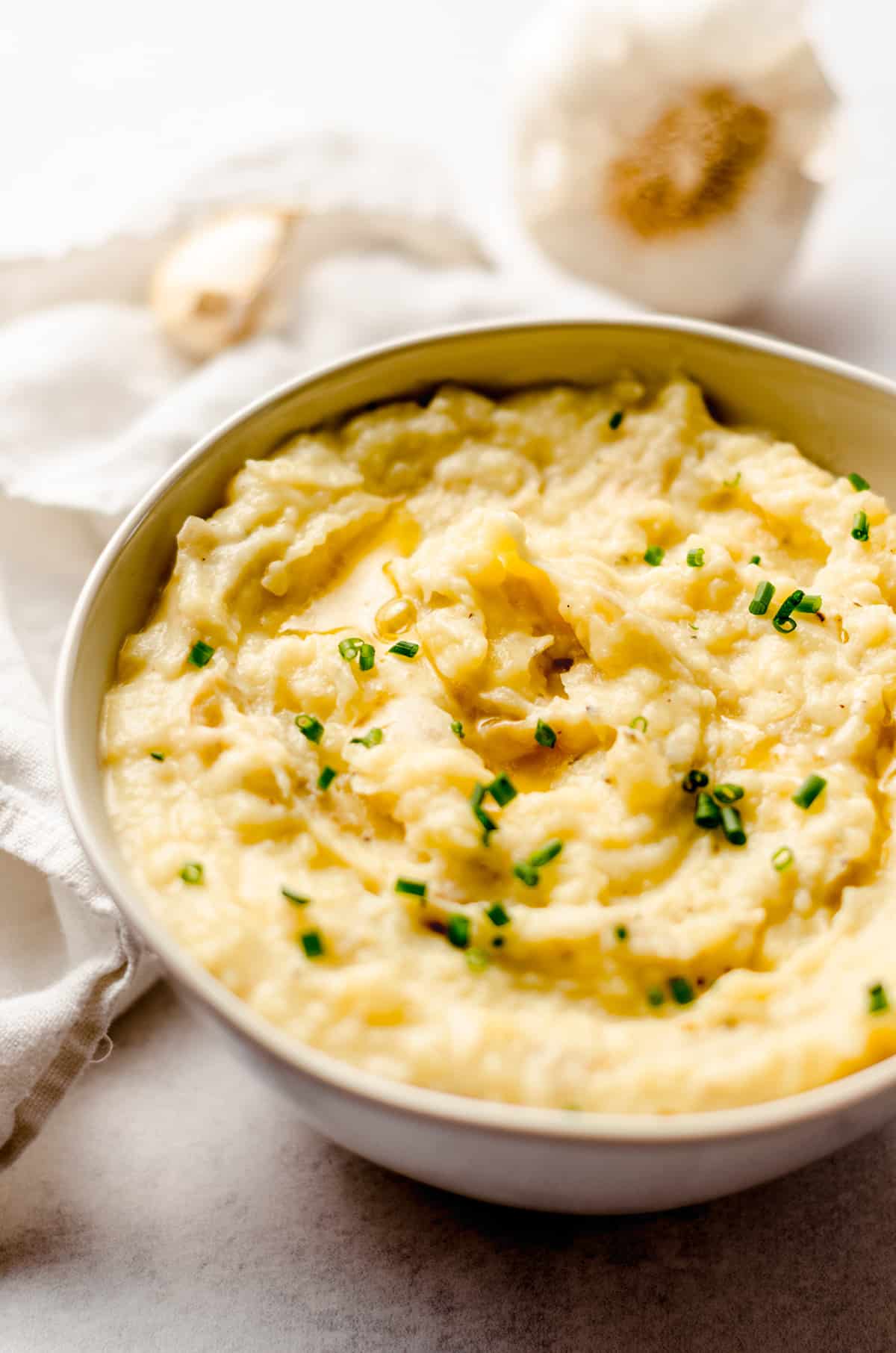 NOT JUST FOR THANKSGIVING
While I did add this garlic mashed potatoes recipe to my collection specifically for Thanksgiving, it also makes a great classic side dish for a weeknight dinner.
I love an easy side dish I can prepare mostly hands-off and this is recipe is now my favorite way to get hot potatoes on the table without turning on the oven (though I do love you, roasted potatoes).
ALTERNATIVE WAYS TO MAKE THESE GARLIC MASHED POTATOES
While you probably found this looking for ways to make these potatoes in the Instant Pot, there are other ways to make them happen!
INSTRUCTIONS FOR THE SLOW COOKER
Increase chicken broth to 2 cups (480mL)
Add potatoes, garlic, and chicken broth to slow cooker pot
Cook on high for 4 to 5 hours
Drain and reserve excess broth
Return potatoes + garlic to the pot
Mash and add mashing ingredients
Leave on "warm" setting to serve
INSTRUCTIONS FOR THE STOVETOP
Add potatoes and garlic to a large pot of water
Bring to simmer and cook for 25 to 40 minutes (until potatoes are fork tender)
Drain potatoes, reserving garlic and some potato water
Add potatoes + garlic to a large bowl
Mash and add mashing ingredients, thinning out with reserved potato water
And now, for some goodies I found perusing Kathleen's blog, because I think she has some really great stuff in her collection like a whole section dedicated to high altitude baking, this no-knead cranberry walnut bread that I was thisclose to making instead of these potatoes, and her family-famous cinnamon rolls (which is another story that had me laughing, because she talks about an almost-spoiled proposal from her husband, and we also had one of those thanks to a freak December flood!).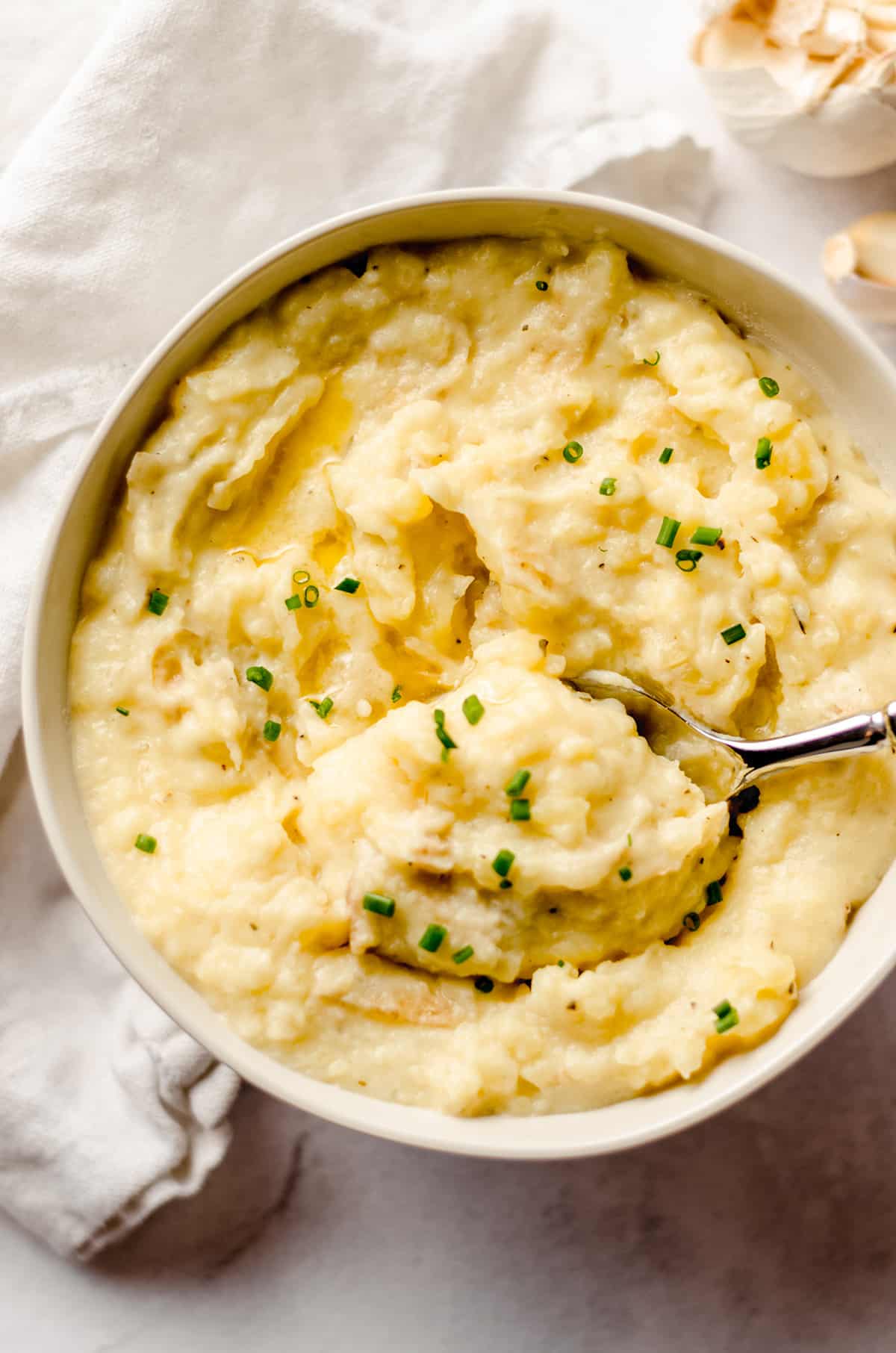 Whatever you get from this page– whether it's the pressure cooker garlic mashed potatoes or something from Kathleen– I hope you enjoy it, devour it, share it with your friends/family, and make some memories in your kitchen like we do, if that's your thing!
Take a look at all of our 2021 Freaky Friday Fall Edition Recipes:
Round out the rest of your Thanksgiving sides!
Traditional bread stuffing, spiced cranberry sauce, easy yeast rolls, pumpkin pie, sweet potato pie, and whipped cream!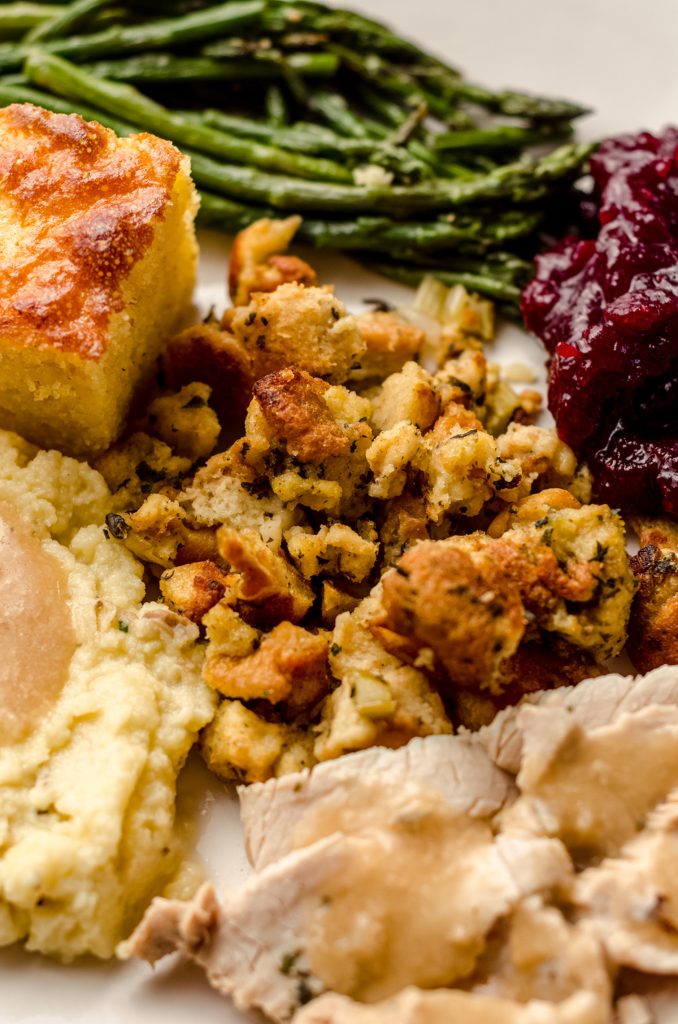 Instant Pot Garlic Mashed Potatoes
Just a few minutes of ingredient prep, then let your Instant Pot do the rest! These garlic mashed potatoes can be made creamy and smooth or textured and chunky. No matter how you like to eat them, you're going to love how simple these mashed potatoes are to make.
Ingredients
MASHED POTATOES
3

pounds

(1360g) potatoes1 washed and quartered2

5

cloves of

garlic

smashed and roughly chopped

1 and ½

cups

(360mL) chicken broth
MASHING INGREDIENTS
¼

cup

(57g) salted butter3

½

cup

(120mL) heavy cream or half-and-half

4

ounces

(113g) sour cream4

1

teaspoon

salt

1

teaspoon

black pepper

1

teaspoon

garlic powder

½

teaspoon

Italian seasoning
chives or green onion

chopped for garnish
Instructions
Add the prepared cut potatoes, garlic, and chicken broth to the InstantPot, then attach the lid.

Place the vent knob to "seal," then cook on manual high pressure for 14 minutes (15 minutes for high altitude).

When the Instant Pot signals it is done, carefully perform a quick release, then remove the lid. You can leave it on the warm setting or turn it off completely, depending on when you are planning to serve the mashed potatoes.

For smoother mashed potatoes, leave all of the broth in the pot. For thicker mashed potatoes, drain ½ cup of broth, reserving the liquid to thin out later, if desired.

Using a potato masher, mash the potatoes to desired consistency. Then stir in remaining "mashing ingredients" until everything is combined. If mashed potatoes are too thick, add a bit more cream or half-and-half (or reserved broth, if you removed some). If too thin, thicken by cooking them on the sauté function until desired consistency. Mashed potatoes stay fresh in the refrigerator, up to 5 days. Mashed potatoes freeze well, up to 3 months. Thaw in the refrigerator, then place in InstantPot on "warm" setting, stirring occasionally, until warmed through. You may need to add a little extra cream or half-and-half.

Make ahead: if you want to prepare these Instant Pot mashed potatoes ahead of the other components of your meal, prepare through step 5, then replace the lid and keep on the "warm" setting until ready to serve. Stir and, if necessary, add more cream or half-and-half before serving. See the above for slow cooker or stovetop preparation.
Notes
Potatoes: I used all Yukon gold potatoes, but you can use any potatoes you like (red, white, Russet, blue/purple, fingerling, etc.).
Preparing potatoes: it is totally up to you whether or not you keep the potato skins on. I like a chunkier texture to my mashed potatoes so always prefer skins to no skins.
Salted butter: if you only have unsalted butter, add ⅛ teaspoon of salt for a total of 1 and ⅛ teaspoon salt.
Sour cream: you may also use full fat plain yogurt, Greek yogurt, cream cheese, or other soft cheese.
Recipe from The Fresh Cooky
Nutrition Disclosure
All nutritional values are approximate and provided to the reader as a courtesy. Changing ingredients and/or quantities will alter the estimated nutritional calculations.
Serving:
1
serving
|
Calories:
217
kcal
|
Carbohydrates:
25
g
|
Protein:
4
g
|
Fat:
12
g
|
Saturated Fat:
7
g
|
Polyunsaturated Fat:
1
g
|
Monounsaturated Fat:
3
g
|
Trans Fat:
0.2
g
|
Cholesterol:
33
mg
|
Sodium:
415
mg
|
Potassium:
614
mg
|
Fiber:
3
g
|
Sugar:
2
g
|
Vitamin A:
394
IU
|
Vitamin C:
27
mg
|
Calcium:
41
mg
|
Iron:
1
mg