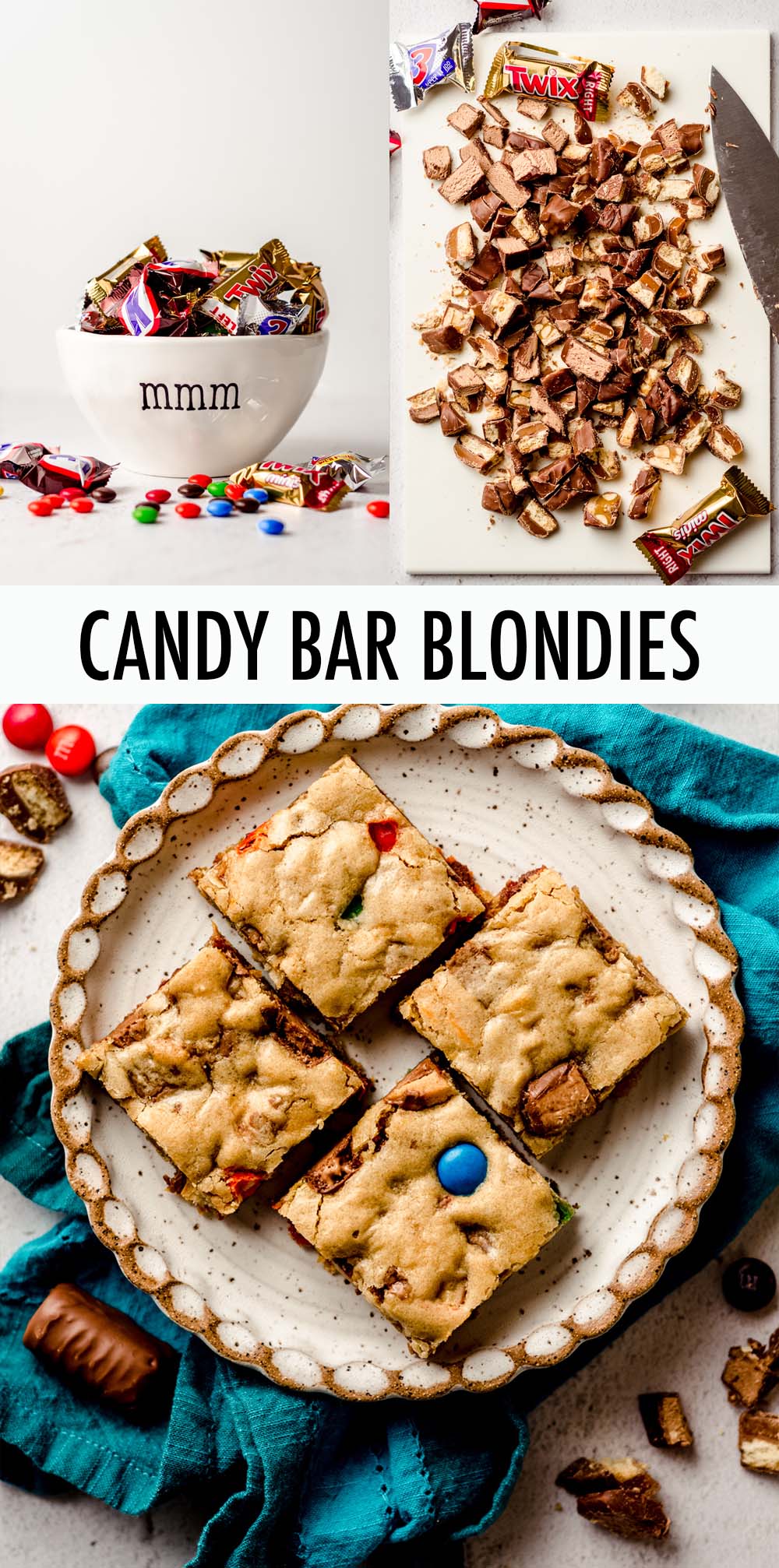 As an Amazon Associate, I earn from qualifying purchases. Read the full disclosure here.
Leftover candy from Halloween or other celebration? Chop it up and throw it into a buttery, chewy blondie!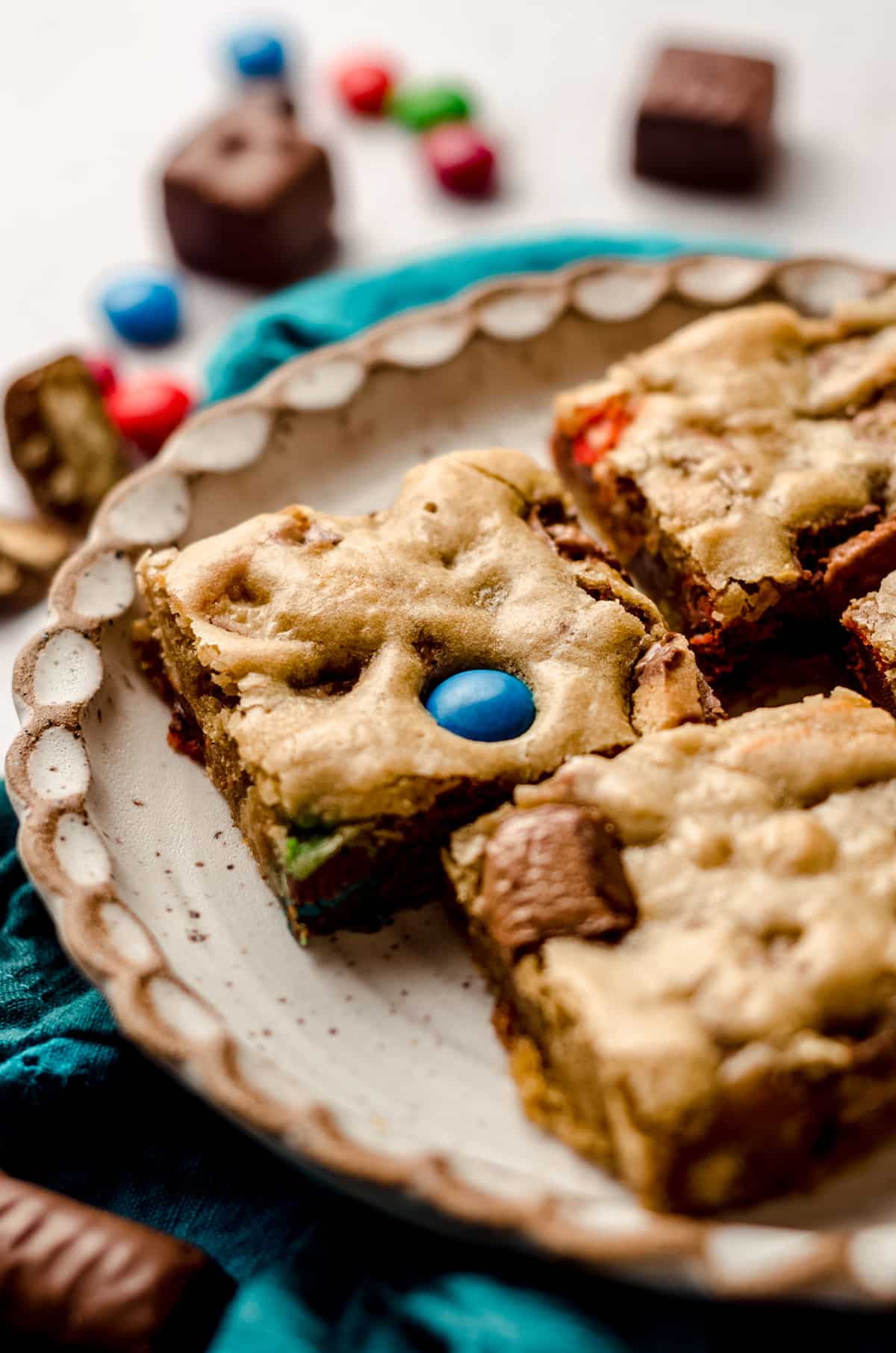 Leftover Halloween Candy Blondies?
Trick-or-Treat Blondies?
Halloween Blondies?
Chocolate Candy Bar Blondies?
Unicorn Blondies?
All-The-Candy-I-Managed-Not-To-Eat Blondies?
What the heck are these things?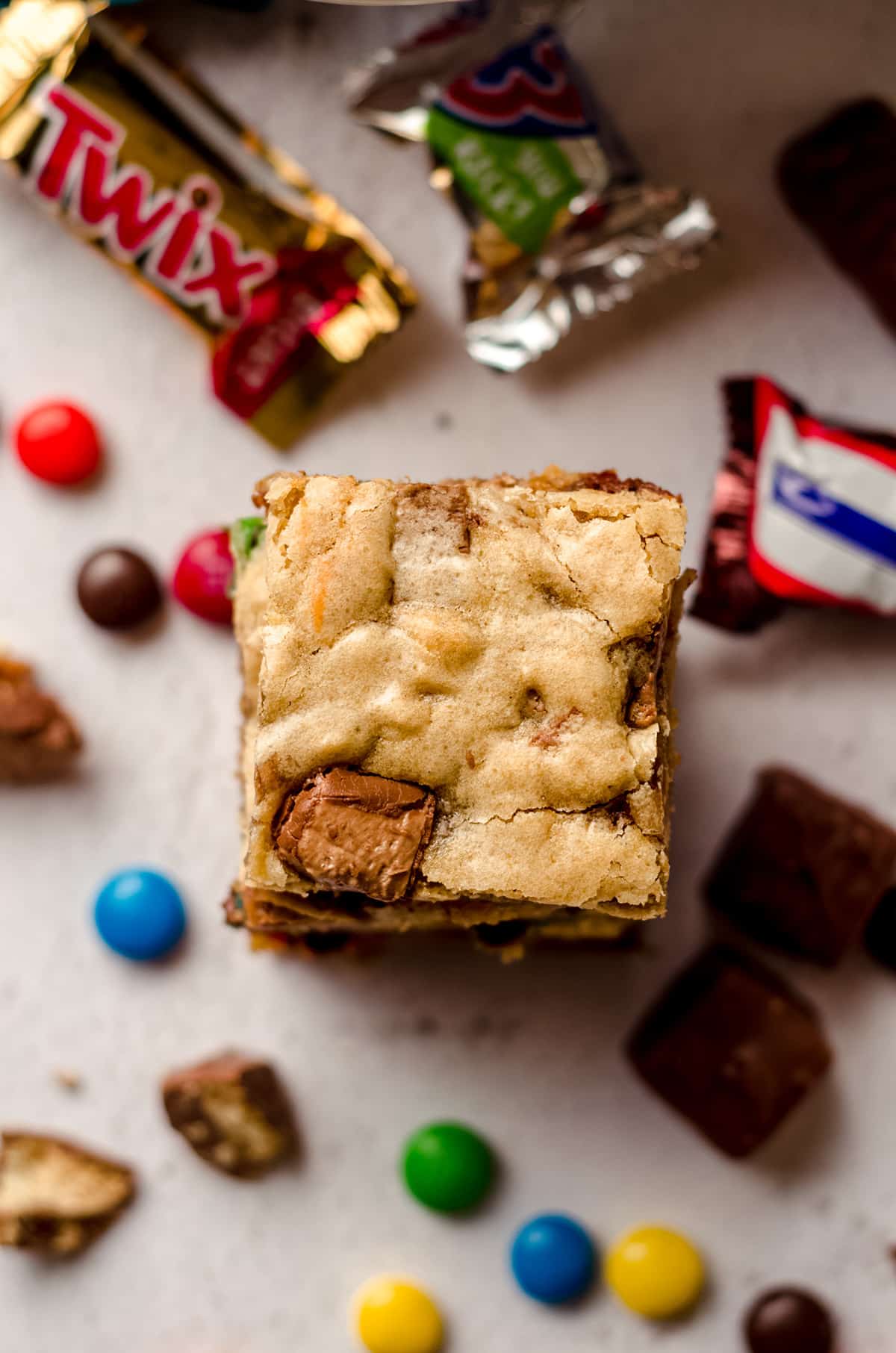 I struggled more with naming these blondie bar recipe than I did actually making them. Granted, they were crazy easy to throw together, but the name of the recipe is typically not hard to come up with… I thought long and hard as I munched on a Milky Way Midnight (my fav!) and decided this recipe should not be restricted to just Halloween.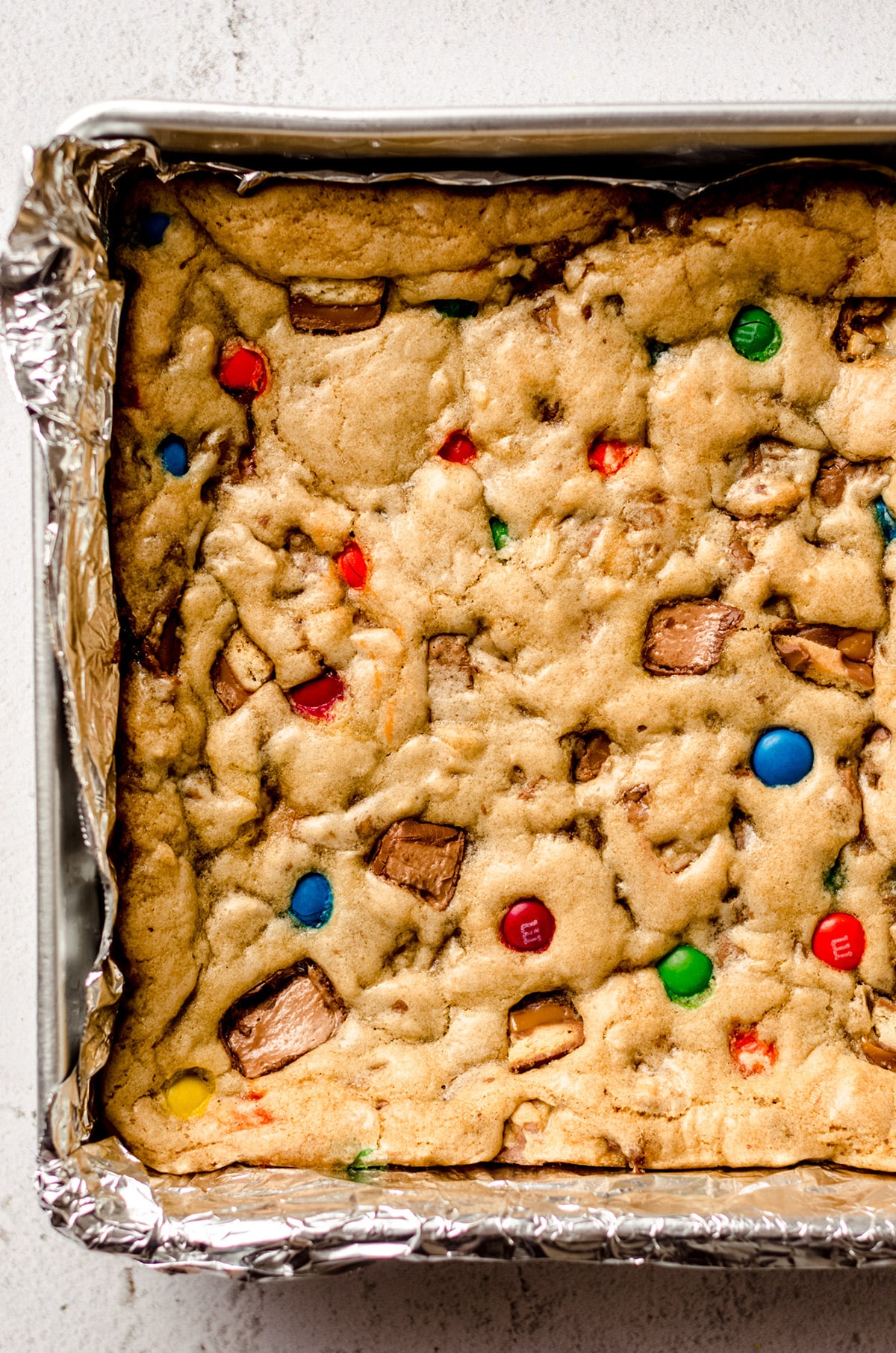 Plenty of other holidays and occasions end up with leftover candy… Easter, Christmas, Hanukkah, maybe a shower of some sort? Heck, weddings, even!
Regardless, after all your trick-or-treaters have gone away, you may be left with something like this staring you in the face…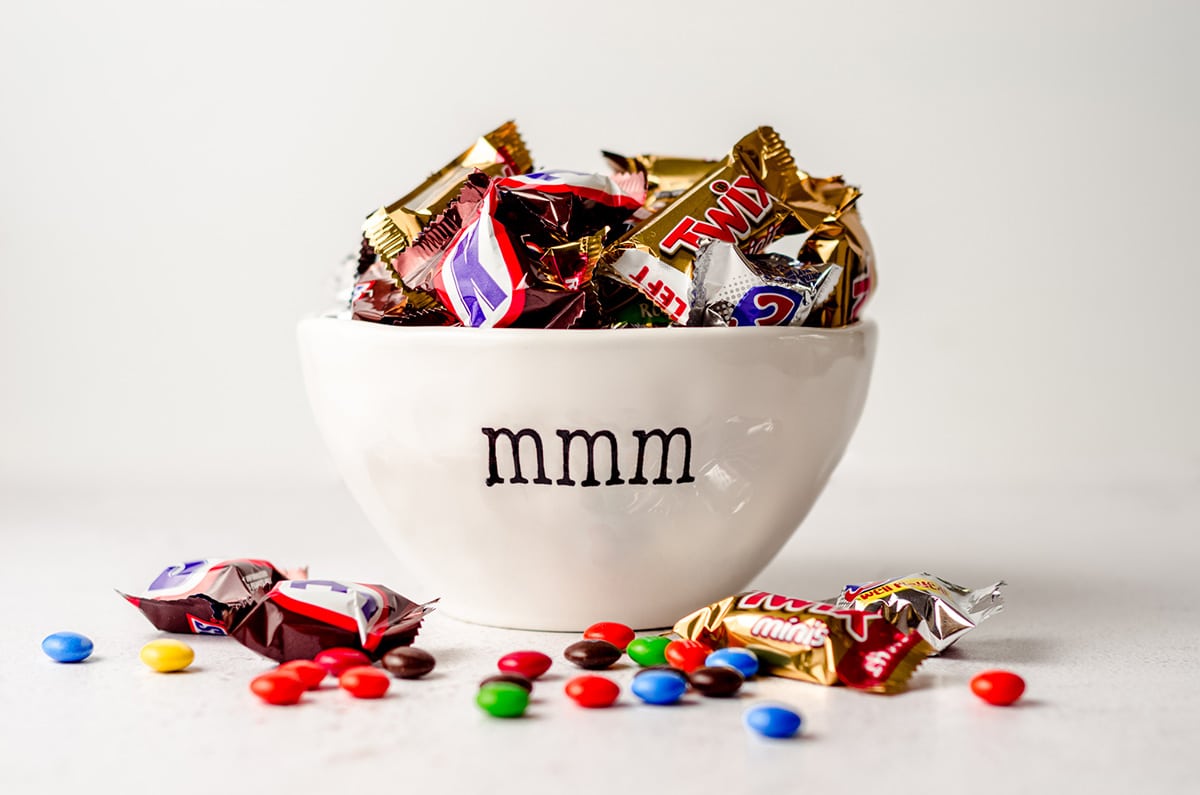 Of course, you could just stuff candy bars into your face until they're coming out of your eyes, but I vote you do something a little more "special" with them and throw them into some buttery, chewy blondies.
WHAT IS A BLONDIE?
So… What exactly is a blondie? I'm so glad you asked, because if you ask me (which you did), I will tell you that I think they're better than brownies. Yep, I said it.
Maybe it's because I'm head-over-heels in love with brown sugar, but I will always choose a blondie over a brownie (not to be confused with what I will always choose over anything ever in the history of ever: chewy oatmeal raisin cookies).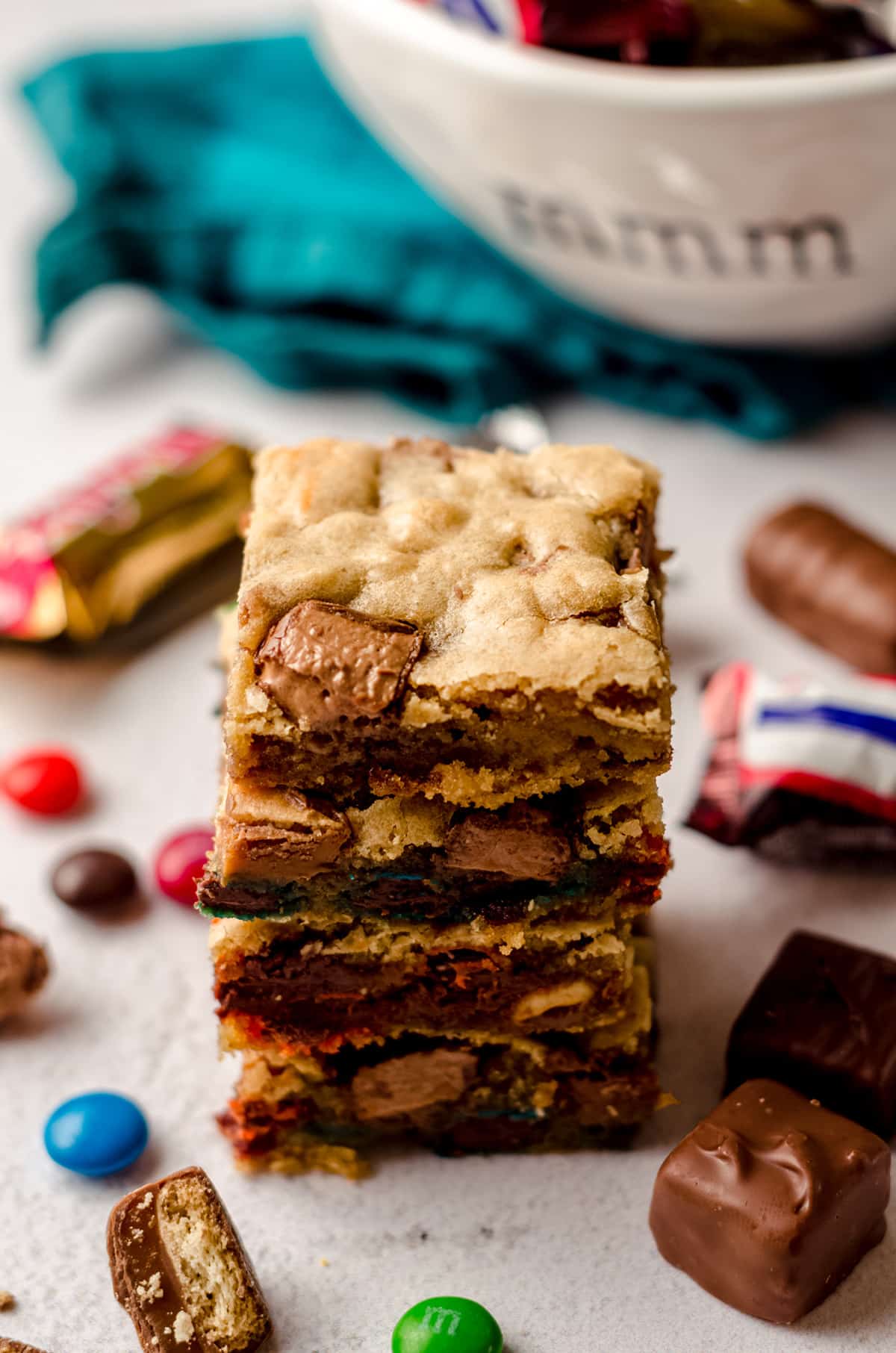 And considering that 2020's monthly recipe was brownies, that should show you just how much I believe in the blondie version of those beloved bar desserts.
And a blondie with chopped up candy bars in it? Now we're talking. Bring on the blonde.
WHAT KIND OF CANDY SHOULD I USE?
You can use any type of candy bar or candies you like. All one kind, a few different kinds, five different kinds (like I did). Over the years, I have loved my candy bar blondies with Milky Way, Milky Way Midnight, 3 Musketeers, Snickers, Twix, and m&ms.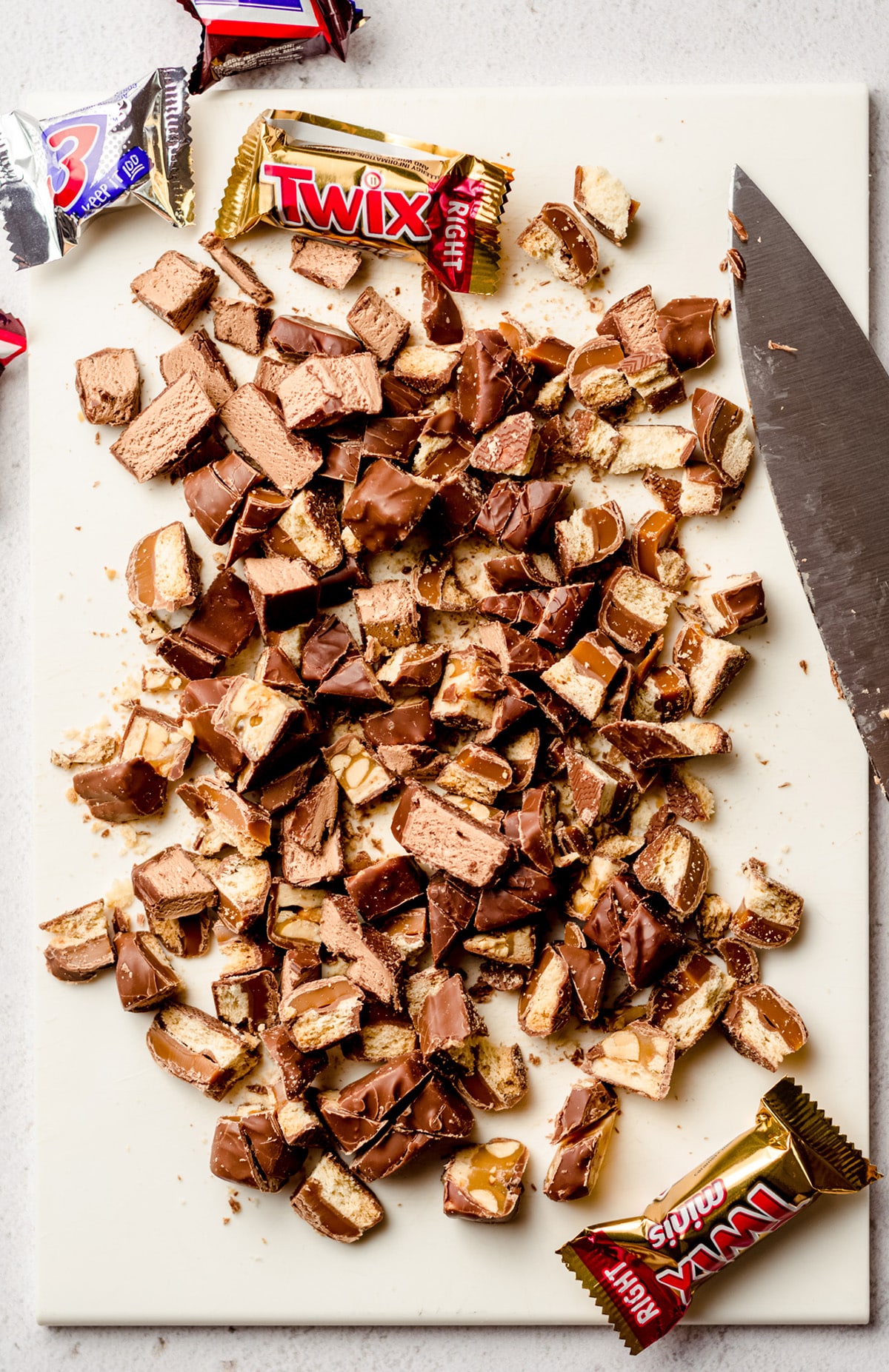 Truly, any kind of candy bars works great. I prefer something with texture (hence all of those candy bars that have a filling), because the fillings get all mixed together and the flavors and different crunches really take these blondies bars to the next level.
These are also be super tasty with a peanut butter variety (think Reese's peanut butter cups, Butterfinger, Baby Ruth, etc.). Also Rolos, KitKats, Pay Days, Heath Bars… Whatever you want to jazz them up with! The options are truly endless.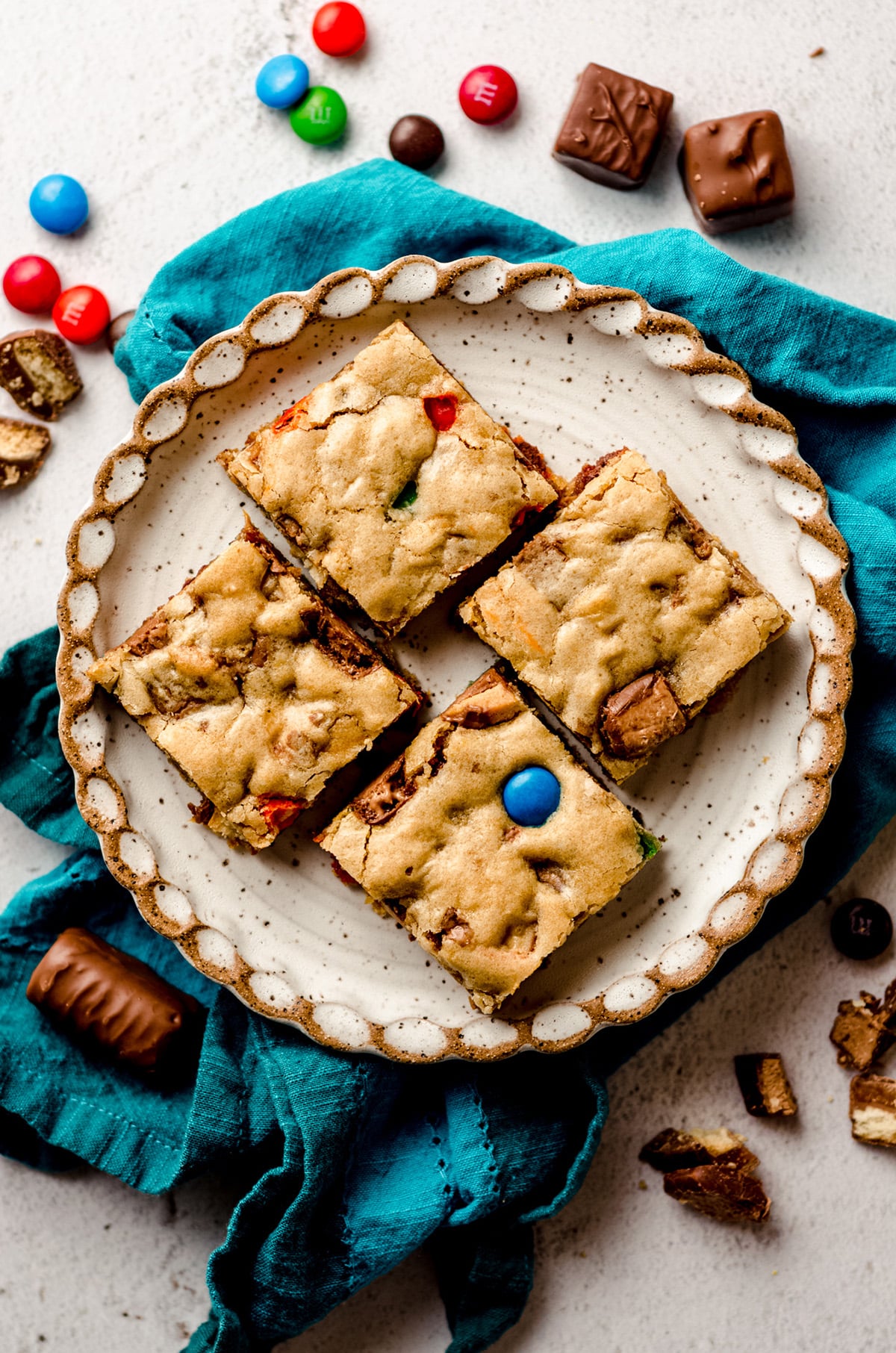 Of course, there's nothing wrong with using just one kind of candy bar and turning these into strictly Snickers blondies, Milky Way blondies, m&m blondies… You get the (yummy) idea.
HOW TO MAKE THE BLONDIES
The base blondie recipe is really quite simple. You don't even need a mixer (yay!) and the longest step is chopping up the candy. Since I typically use mini-bars, I like to chop them into quarters, but feel free to chop them up as much or as little as you want.
Get the blondie batter together, then simply toss in your chopped up candies. Stir it all together and then press it into an 8 inch square baking pan.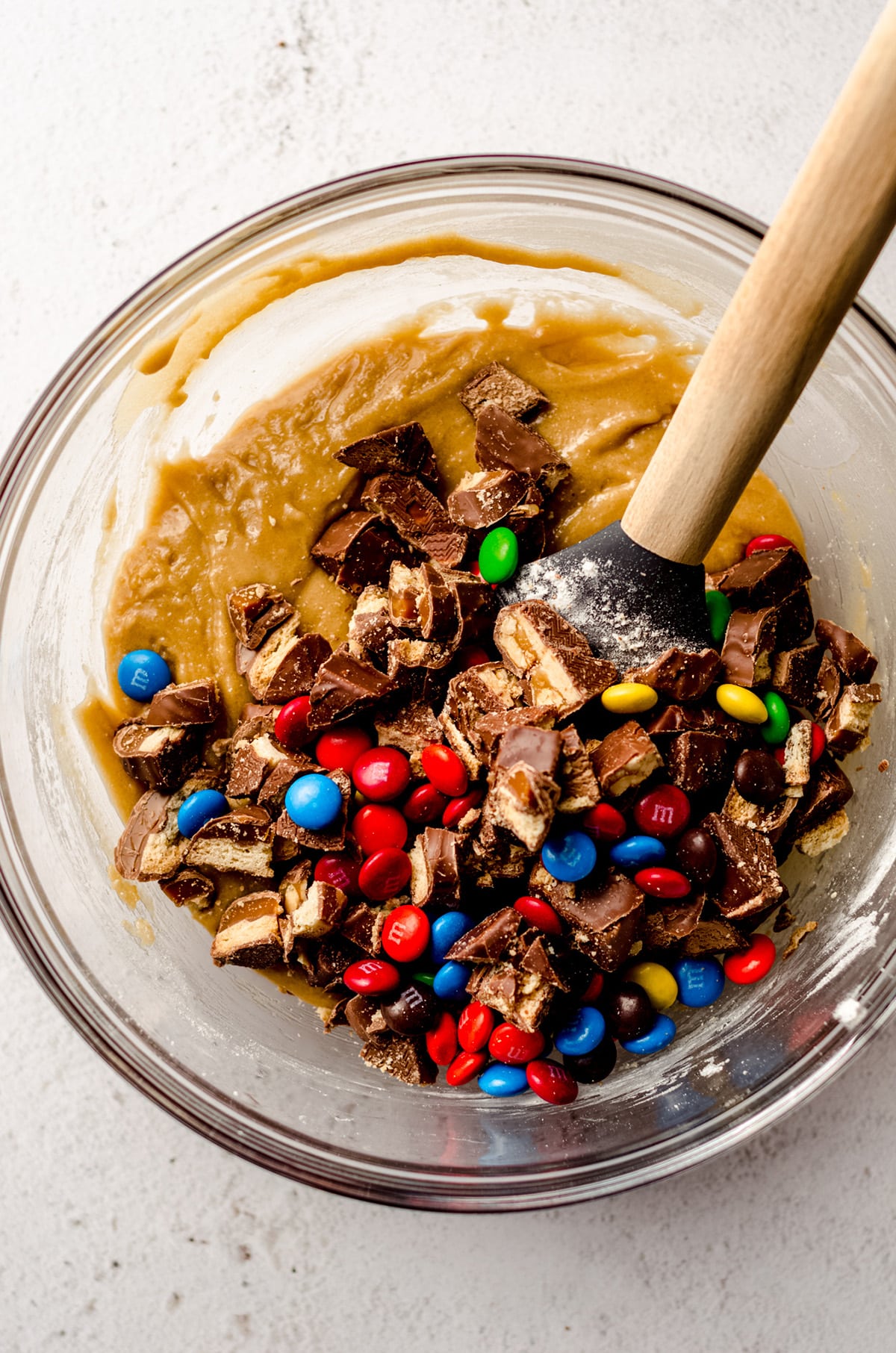 I also like to press some pieces into the top of the blondies for color and so there are more chunks of candy bars to go around.
The blondie batter will bake up around all of the chopped candy bar pieces and make little candy pockets. Those are the best kind of pockets, yes? I wish I had them in my jeans.
And of course, if you aren't staring at a big bowl of leftover candy, there is always the simplicity of chocolate chips or your favorite add-in. This blondie recipe is so versatile and completely customizable!
Chewy, buttery, brown sugary, a little bit caramelized on the edges there may have been a piece of candy sticking out, and most importantly, filled with the best stuff on earth… Seriously, you cannot go wrong with this blondies recipe.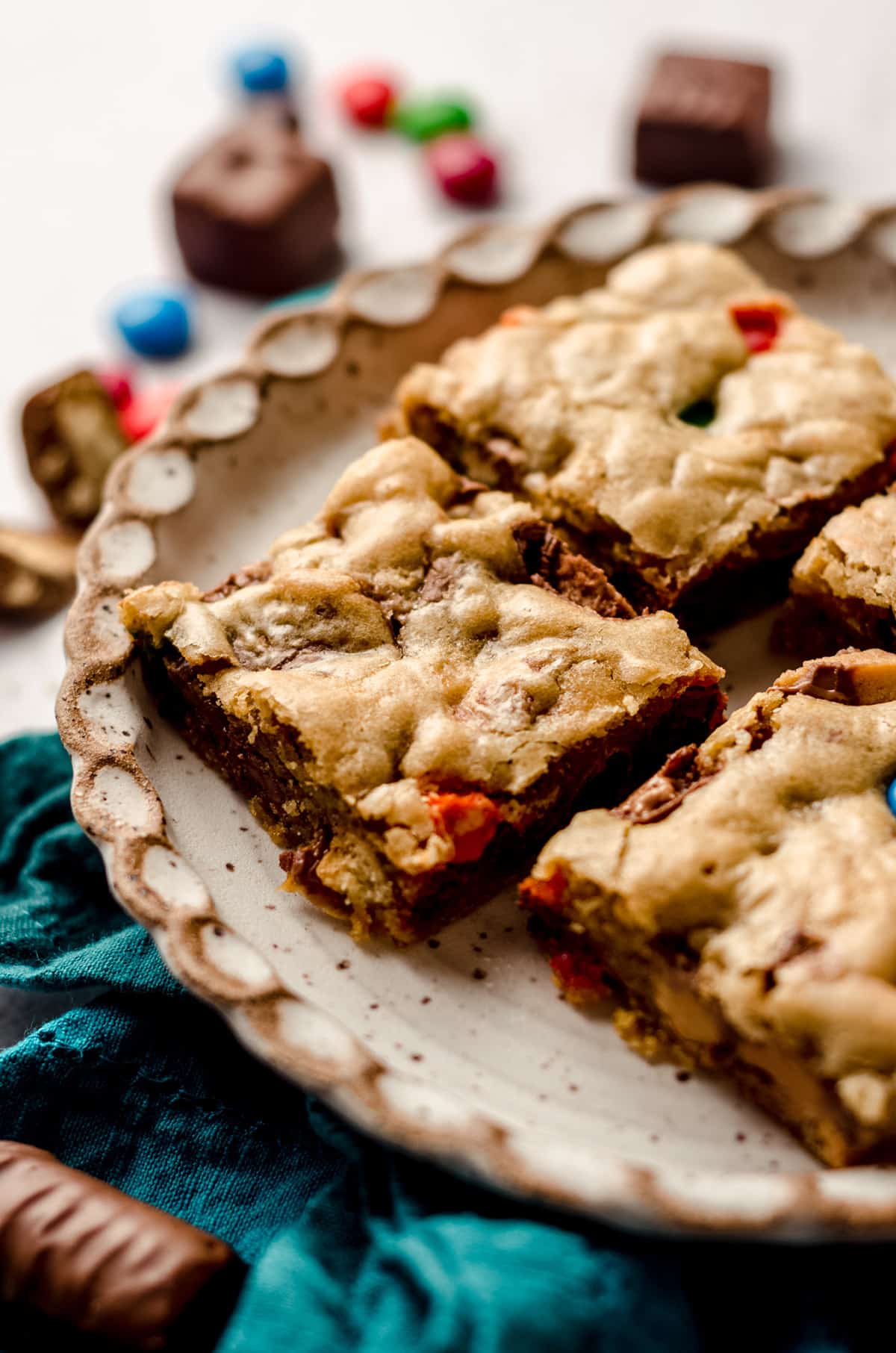 Whip some up! You won't be sorry… And you may just never give your candy away ever again.
Candy Bar Blondies
Leftover candy from Halloween or other celebration? Chop it up and throw it into a buttery, chewy blondie!
Ingredients
1 and ¼

cup

(150g) all-purpose flour be sure to measure properly

¾

teaspoon

baking powder

¼

teaspoon

baking soda

¼

teaspoon

salt

¾

cup

(150g) firmly packed light brown sugar

¼

cup

(57g) unsalted butter

melted

½

Tablespoon

vanilla extract

1

large egg

room temperature

1 and ½ to 2

cups

assorted candy1

chopped
Instructions
Preheat oven to 350ºF (177ºC). Line an 8" square baking pan2 with foil, leaving an overhang over the sides. Spray with non-stick spray. Set aside.

In a small bowl, mix together the flour, baking powder, baking soda, and salt. Set aside.

In a medium bowl, whisk together the melted butter, brown sugar, vanilla, and egg until smooth.

Slowly add the flour mixture to the wet ingredients and stir together until just combined. Fold in chopped candy bars. The batter will be quite thick. Spread batter evenly into prepared baking pan with a spatula (it will look like a very thin layer, but it will puff up substantially during baking).

Bake blondies for 18-20 minutes or until lightly browned on top and a toothpick inserted into the center comes out mostly clean. Allow to cool completely before lifting foil out of pan and cutting into squares. Blondies will stay fresh covered at room temperature for up to 5 days. Blondies freeze well, up to 3 months. Thaw at room temperature.
Notes
Candy: feel free to use any combination of leftover assorted chocolates you like, or use chocolate chips and/or nuts instead.
Baking pan: you can also put these candy bar blondies into an 8″ round baking pan or springform pan and slice it like a cookie cake.
Nutrition Disclosure
All nutritional values are approximate and provided to the reader as a courtesy. Changing ingredients and/or quantities will alter the estimated nutritional calculations.
If you're looking for more candy bar desserts and desserts made with candy bars, check out my collection of 50+ ways to use leftover Halloween candy!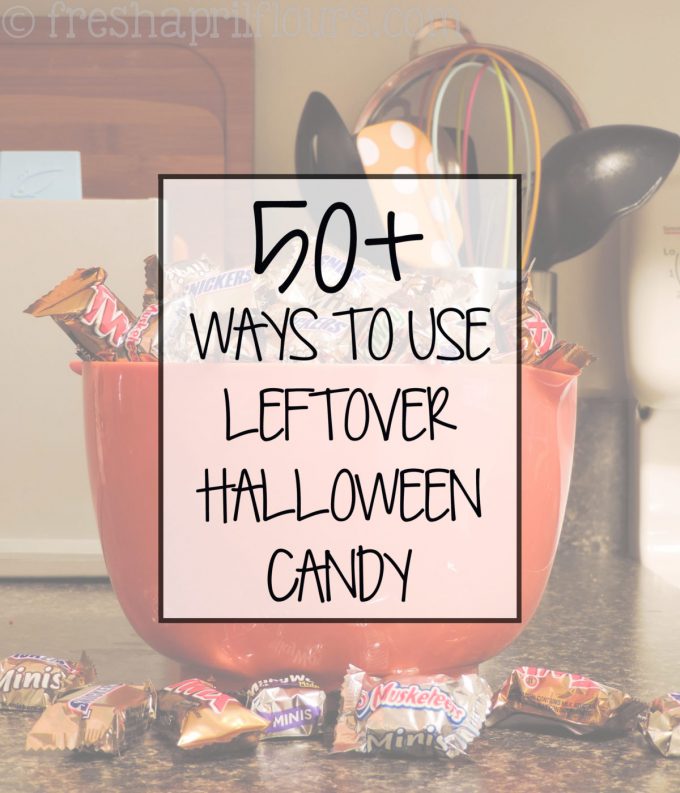 Or try my peanut butter Rolo cookies