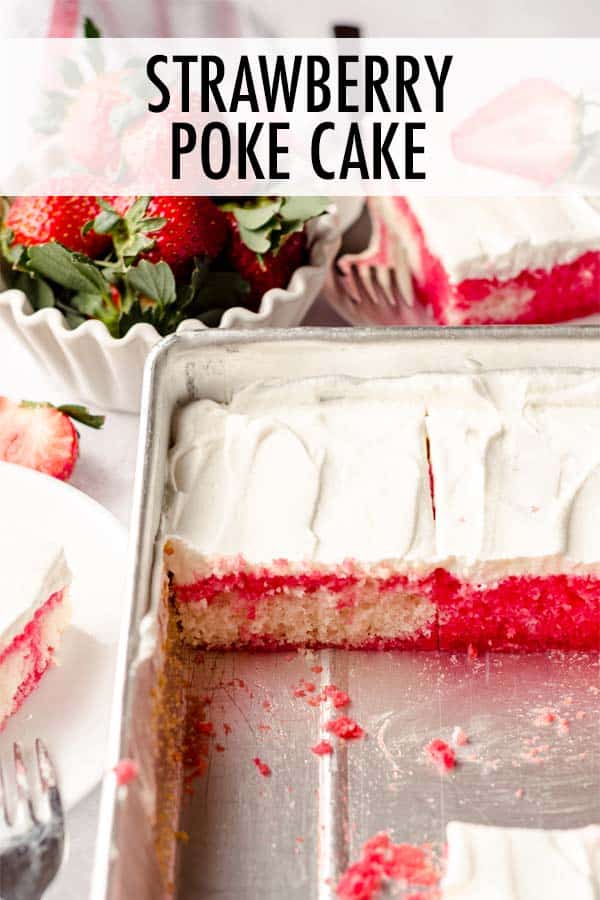 As an Amazon Associate, I earn from qualifying purchases. Read the full disclosure here.
This easy strawberry poke cake features a simple white cake base, flavorful strawberry Jello in every crevice, and light and fluffy whipped cream layered on top. Make this strawberry poke cake even easier by using a box cake mix.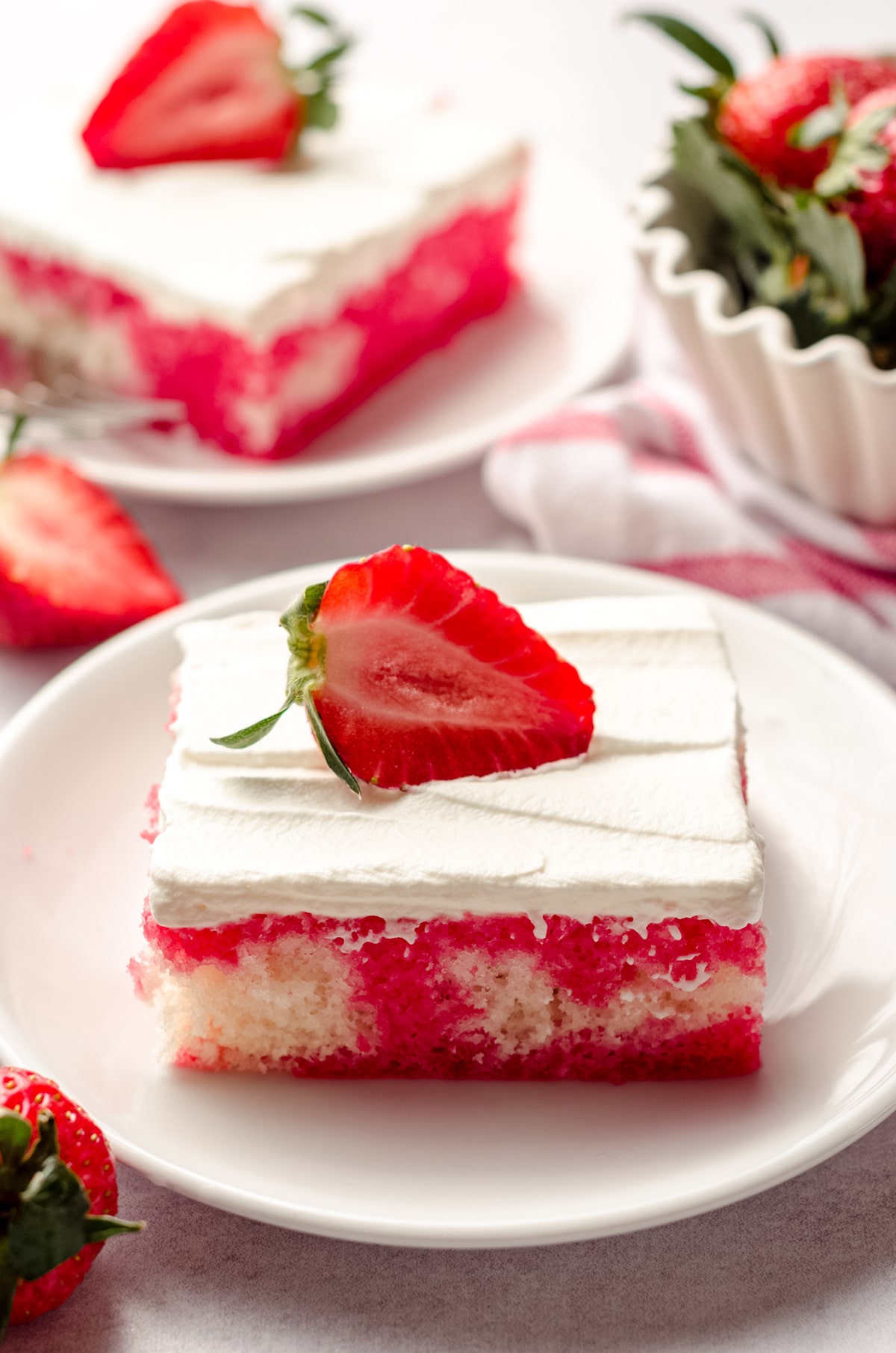 In all my years of baking, you may be surprised to learn that today's recipe is a first on not one, but TWO accounts.
Never have I ever shared a recipe with Jello, and never have I ever shared a poke cake recipe! While this isn't completely shocking, since I'm an avid from scratch baker, I figured it was my duty to bridge the gap between the two worlds of baking and create a beautiful hybrid right here in the middle.
A rich and decadent poke cake, made from scratch with pantry ingredients, and featuring our beloved box of strawberry Jello.
Spoiler alert: it is AMAZING!
And while I can't say I've ever shared a recipe with flavored Jello, I have made a few homemade goodies with unflavored gelatin. Be sure to check out my delightfully wiggly recipes for champagne jello shots and coffee jello parfaits.
Because who can be upset when their dessert jiggles, am I right?
What is Strawberry Poke Cake?
A poke cake is a style of cake that has been liberally poked with the end of a wooden spoon or chopstick, filled in with flavored Jello or pudding, and covered with a dreamy and light topping of whipped cream or (in less delicious cases) Cool Whip.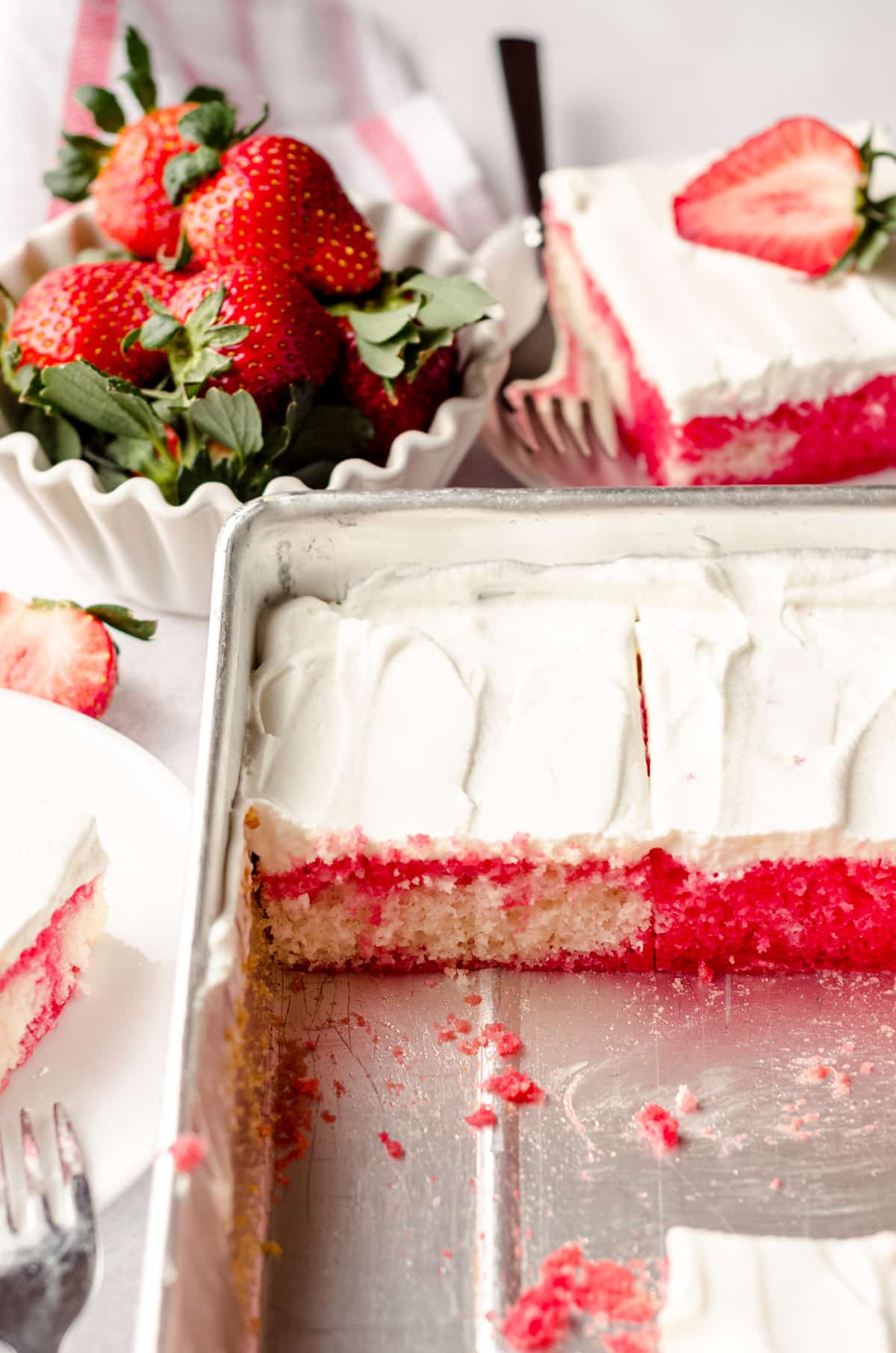 These cakes were most popular around the 1970's, but continue to be popular with home bakers even today!
While box mixes were ultra trendy during the initial reign of poke cakes, why can't we see current day versions (like this strawberry jello poke cake recipe) using from scratch ingredients to kick it up a notch?
I mean, why get it from a box when you can make it easily yourself, right?
While staying true to its strawberry Jello roots, this version uses my homemade white sheet cake recipe as a base, and is topped with my airy homemade whipped cream.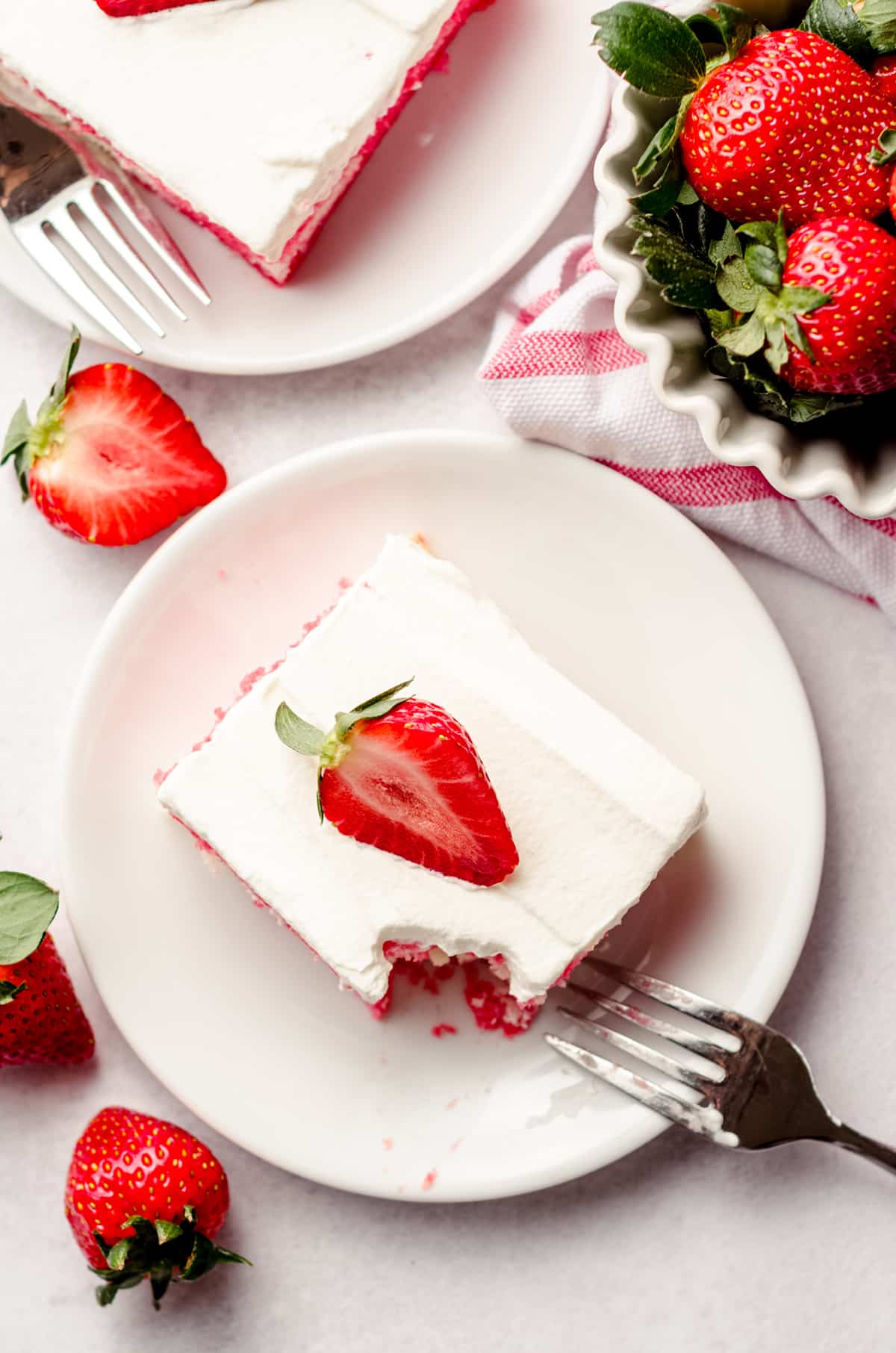 My strawberry poke cake recipe has all of the kitschy fun of the original, but with all the flavor and texture of a freshly baked cake from scratch. I couldn't be more excited to share this easy and fun recipe with you!
Strawberry Jello Poke Cake Ingredients
When it comes to the ingredients for this strawberry poke cake, there can be a lot of variation depending on what kind of cake you plan on using for your base. But other than the variation between homemade cake vs boxed cake, the ingredients are pretty stinking simple!
The three main components of this poke cake are the white cake base, the Jello "poke" layer, and the final layer of heavenly whipped cream. And so, a simple cake makes for a simple ingredient list.
CAKE
I highly (highly) recommend using the simple white sheet cake that is outlined in the recipe, but I promise I won't get on your back too much if you use a box mix.
A box mix is definitely going to be easier, but as you know: homemade always tastes better. Not only does it have that unmistakable "from scratch" taste, but it also has a better texture, stronger crumb, and is an all around heartier cake than anything you could get from a box.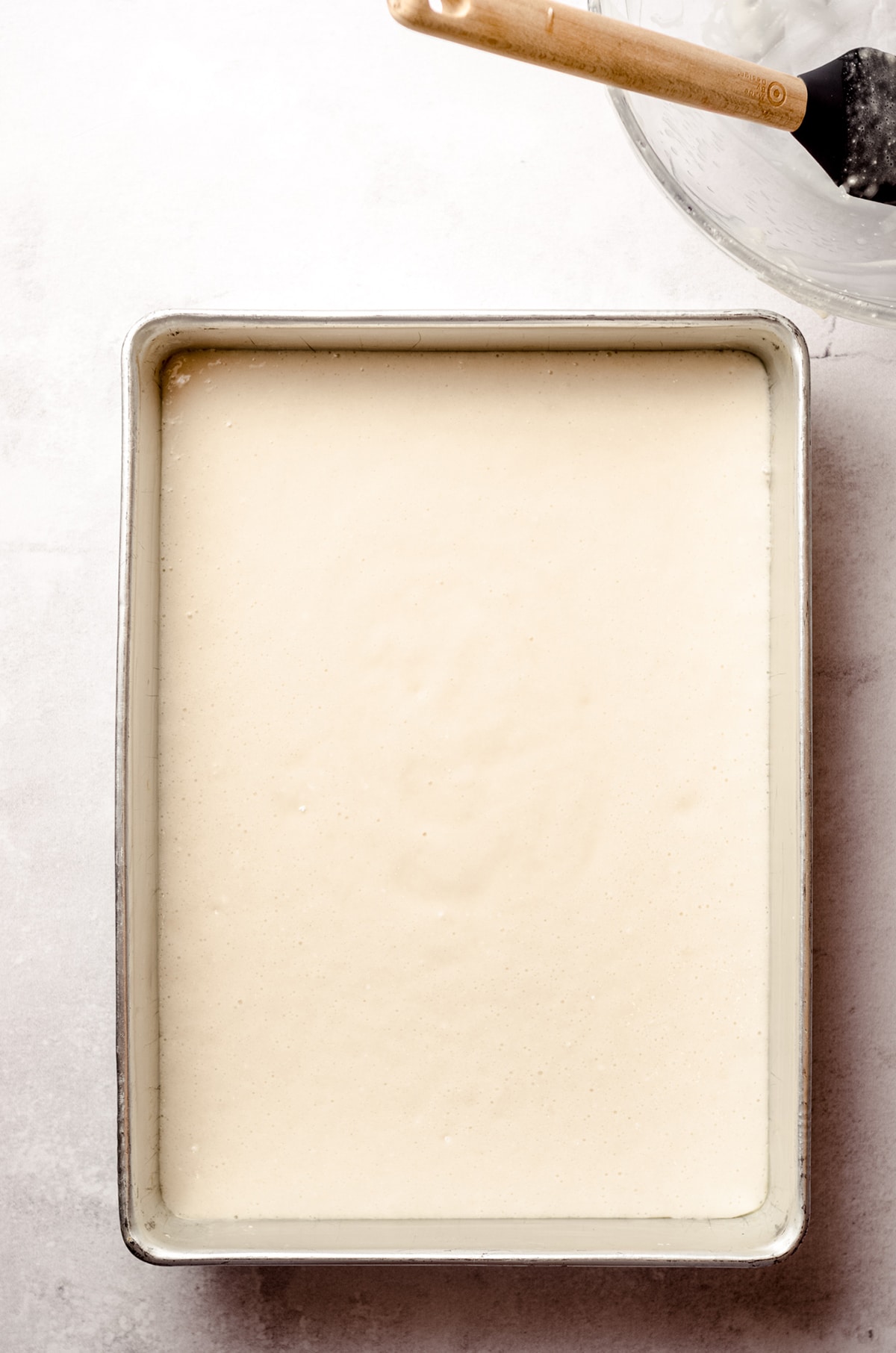 Since we are adding some liquid into the mix, you really want a strong cake to stand up to a vigorous poking from the wooden spoon and the eventual addition of the still-warm Jello mixture. Homemade is always going to be my #1 pick for cakes of this nature (well, any cake really), and so I can't recommend using homemade enough.
That being said, you have more options than just my white sheet cake recipe outlined below or a box mix. You could also use my vanilla bean cupcake recipe, or any white cake recipe you happen to love.
Just do yourself a favor and absolutely DO NOT use a yellow cake, since the yellow from the cake and the pink from the Jello combine to make a brilliant orange hue. While that would be perfectly fine for an orange poke cake, this is in fact a strawberry poke cake.
No one wants to eat an orange colored, strawberry flavored cake. It's just weird!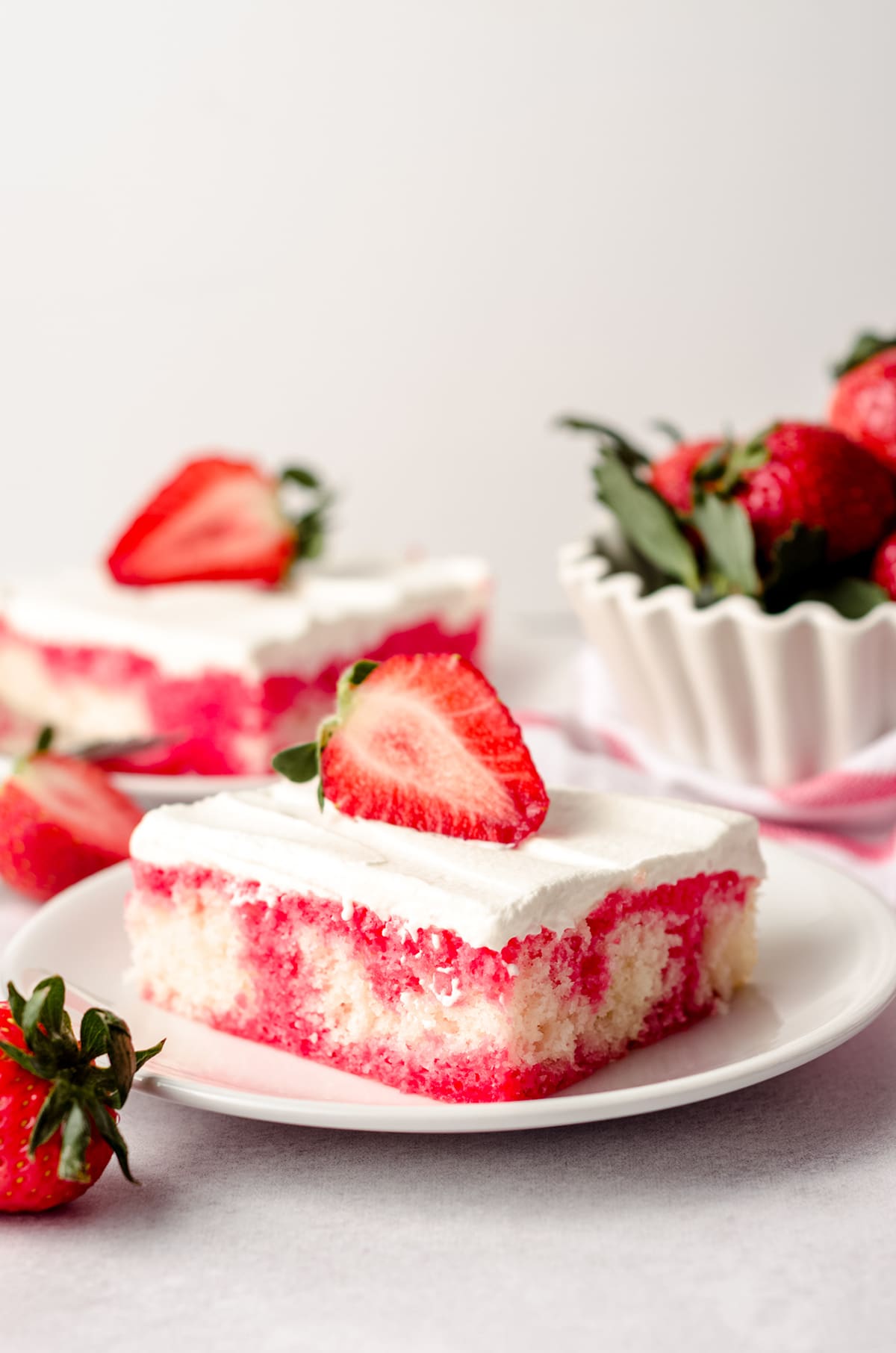 JELLO
The next layer is the Jello layer, and true to its title, it contains just a single box of Jello and some boiling water.
A note worth making is that the instructions for your Jello will call for 2 cups of water (1 boiling and 1 cold), but we are just going to use a single cup of boiling water. This allows the strawberry Jello to set up on the firmer side, meaning it fills in all of the poked holes quite nicely and doesn't oversaturate the baked white cake with too much liquid.
WHIPPED CREAM TOPPING
Since this strawberry poke cake is on the sweet side, it's best to keep the topping of the creamy and just-sweet-enough variety. This calls for a beautiful and silky whipped cream topping!
The whipped cream topping is adapted from the same homemade whipped cream I use in so many of my recipes, including my berry cake, ice cream sheet cake, and banoffee pie.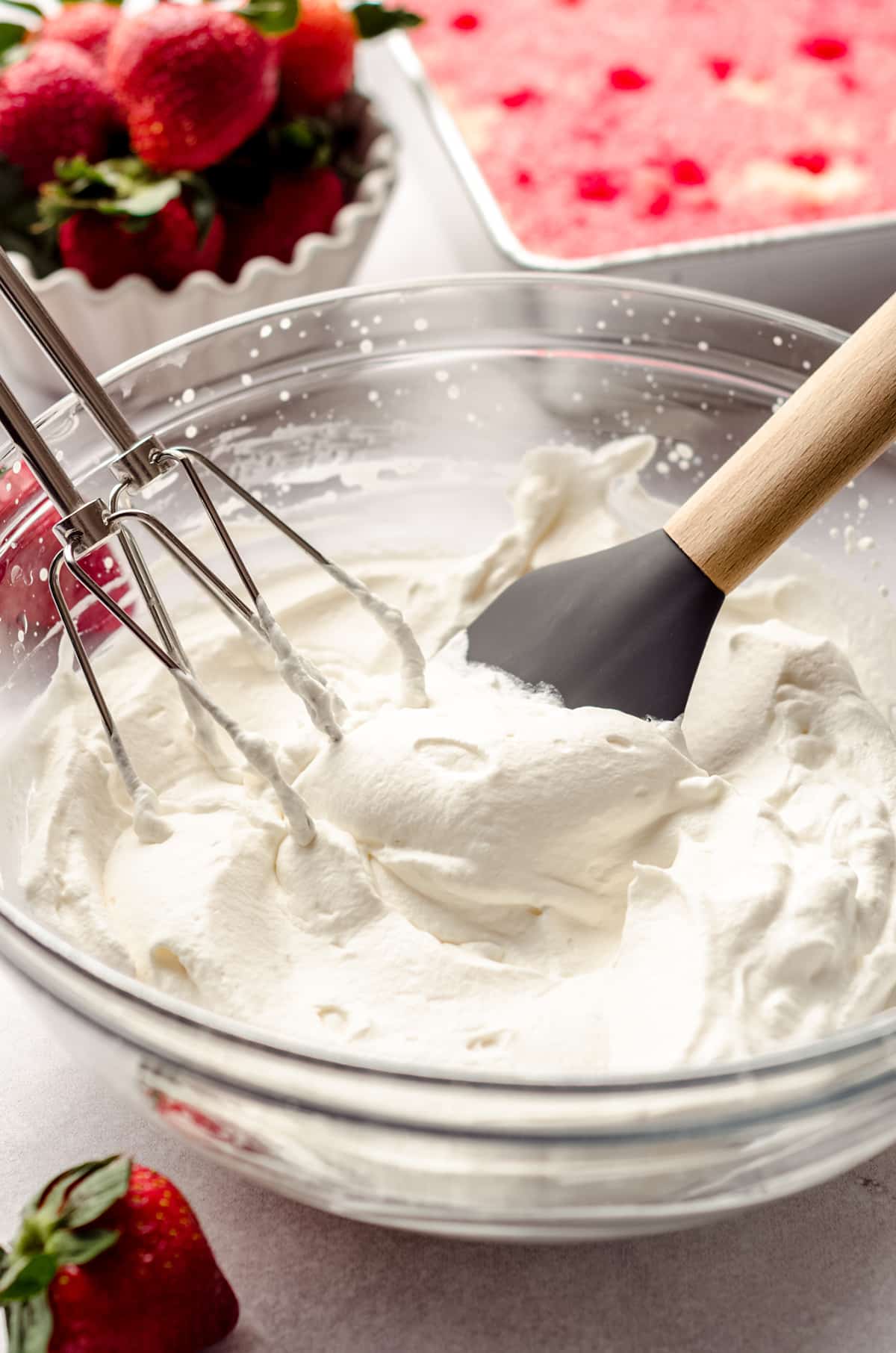 Not only is whipped cream incredibly versatile, but it's TOTALLY easy to make.
While most poke cakes are topped with Cool Whip, I urge you to please make your own! I promise you it's not at all hard, and your cake will be all the more decadent and delicious for it.
Strawberry Jello Cake Recipe Tips and Variations
Theoretically, you can use any flavor of gelatin for this poke cake. Feel free to add some gelatin powder to your fresh whipped topping to create fun flavor combos or to simply add another flavor profile to your poke cake.
If you're a real sweetie pie, you might enjoy a sweeter topping!
See this chocolate layer cake recipe to make strawberry poke cake with buttercream frosting (use half of the recipe).
See this red velvet cupcake recipe to make strawberry poke cake with cream cheese frosting (use the whole recipe).
How to make Strawberry Poke Cake with Jello
STEP 1. Once you have your cake batter mixed up and ready to go, pour it into a cake pan that has been greased and floured OR brushed thoroughly with my homemade cake release.
STEP 2. Bake it in a preheated oven for 32-34 minutes, or until a toothpick comes out clean when inserted into the middle of the cake.
STEP 3. Remove your white cake base from the oven and allow to cool for at least 20 minutes.
POKING HOLES
Once you cake has cooled, you're ready to get started with the fun part: poking holes!
STEP 4. Using the handle end of a wooden spoon, spatula, or anything a little wider than the eraser end of a pencil, poke holes into the cake. Try to space your holes ¼" to ½" apart if you can. The goal is to make sure the Jello mixture will be evenly dispersed throughout, while also making sure the cake doesn't become muddled.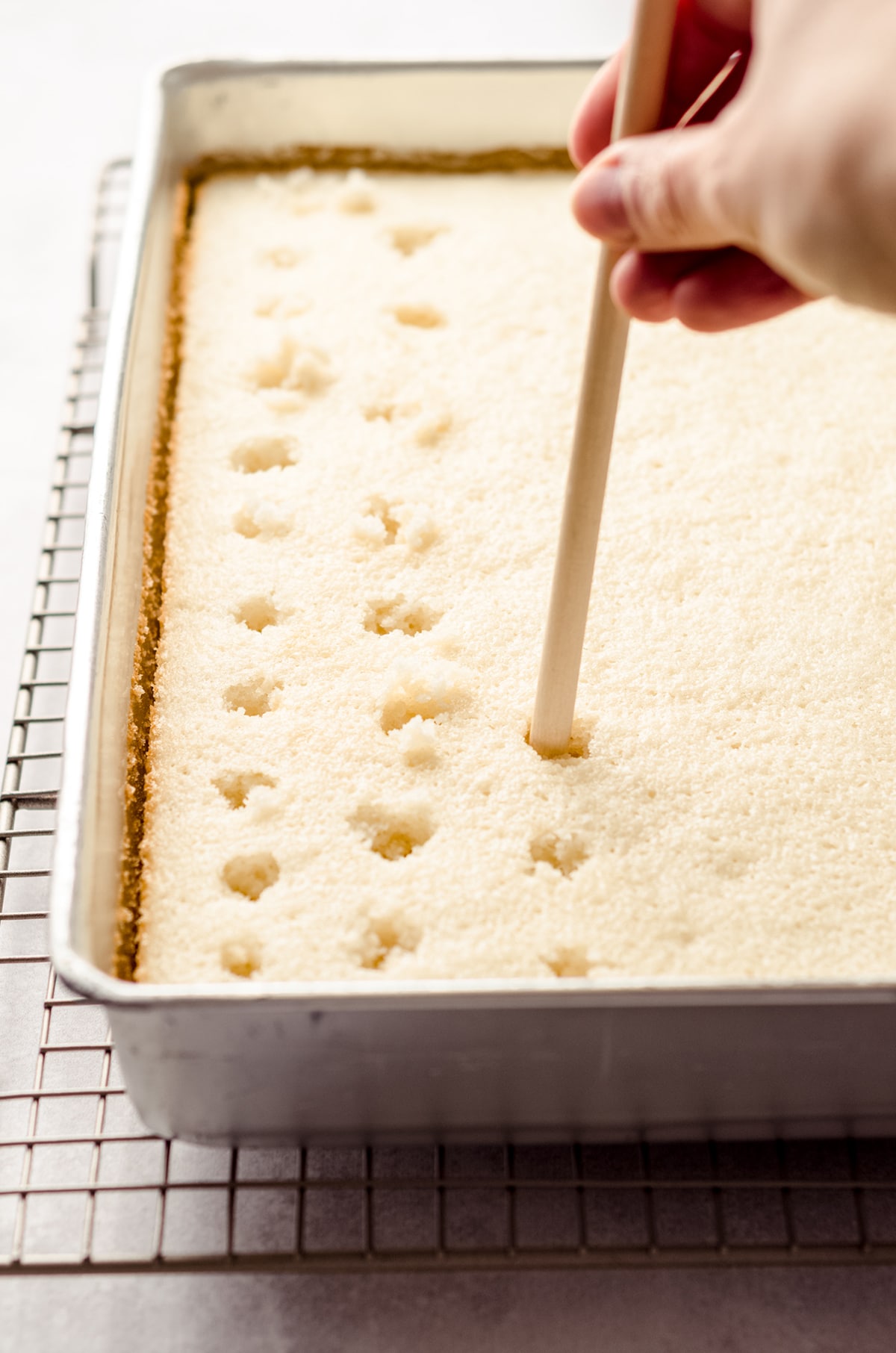 Don't worry about getting your spacing perfect though, or having a particular pattern. All of those holes will be covered by luscious whipped cream at the end, so don't stress out too much if your holes are a little wonky. It will all work out and taste delicious, I promise!
ADDING THE JELLO
STEP 5. Once your cake has been poked, it's ready to move onto the Jello layer. This is what gives this strawberry poke cake its beautiful stripes of pink through each slice, and it's totally fun to do, too!
STEP 6. To get started, add your strawberry Jello powder to a medium sized, heatproof container with a spout. A glass measuring cup works perfectly for this– I recommend using one that holds 2 or more cups to avoid any unnecessary clean up.
STEP 7. Then, add the boiling water to your strawberry Jello and stir well to dissolve the powder completely.
STEP 8. Gently pour the strawberry Jello over the surface of the cake, moving slowly to make sure you don't oversaturate the cake in any one spot.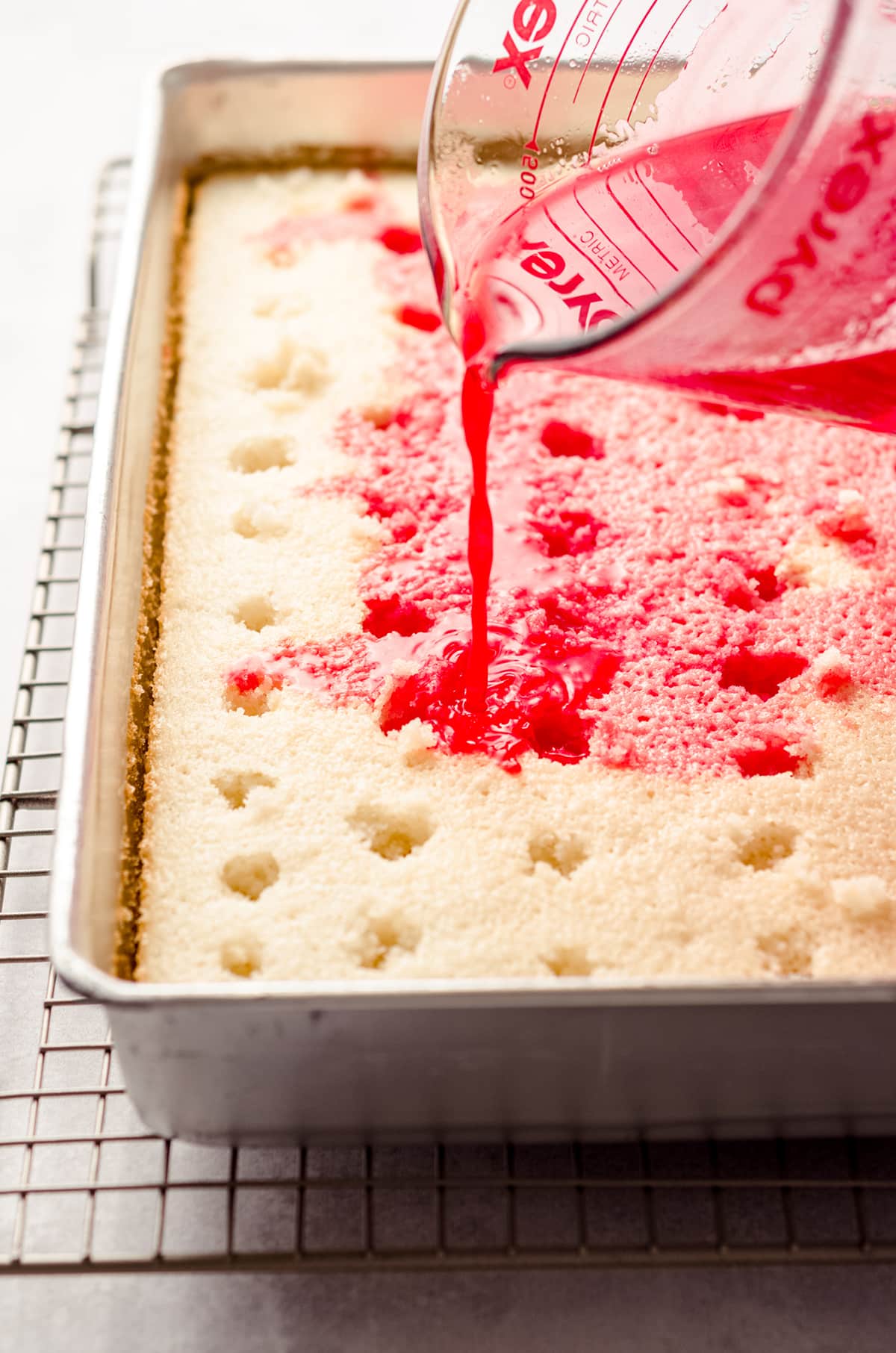 STEP 9. Once all of your Jello has been added to the white cake base, refrigerate for at least 1 hour before moving onto the next step. This will help the Jello set up and prevent it from bleeding into the whipped cream topping.
ADDING THE FRESH WHIPPED CREAM
Once your cake has chilled, it's time to get started on the crowning glory of the best strawberry poke cake ever: the whipped cream topping.
I like to add a bit of powdered sugar to my whipped cream. Not only does it make for a super smooth texture, but it helps stabilize the whipped cream for an extended storage time. Not like you're going to need too lengthy of a time to store this yummy cake, but at least the insurance policy is there if you need it!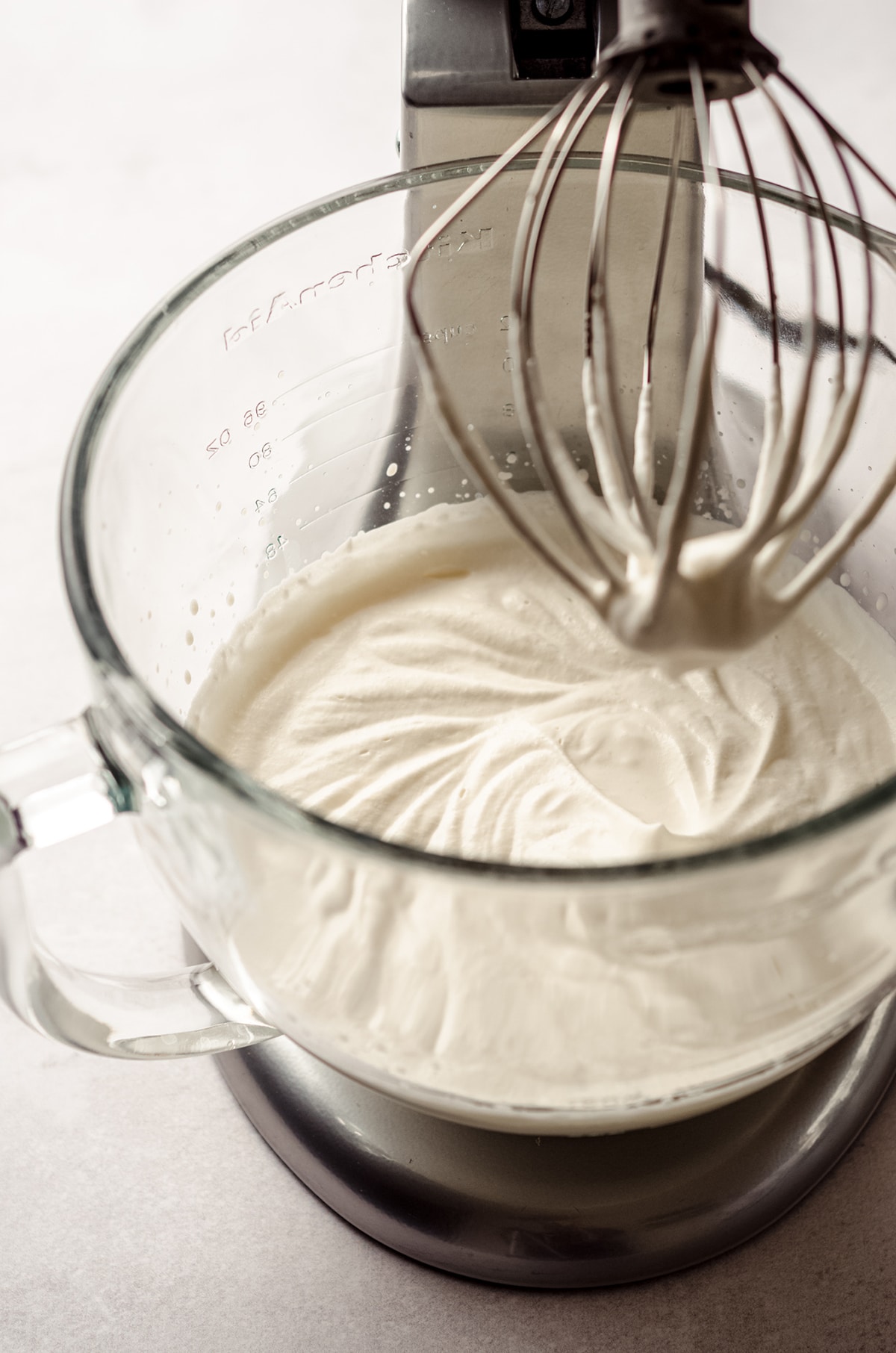 If you've never made whipped cream before, be sure to check out my homemade whipped cream recipe for step-by-step instructions!
STEP 10. Otherwise, combine your heavy cream, sugar (or powdered sugar), and vanilla in a mixer with the whisk attachment. Whip on medium-high speed until medium peaks form, and then turn off the mixer.
STEP 11. Spread the whipped cream evenly over the surface of the chilled Jello poke cake, and then cover tightly and refrigerate for an additional 30 minutes before serving.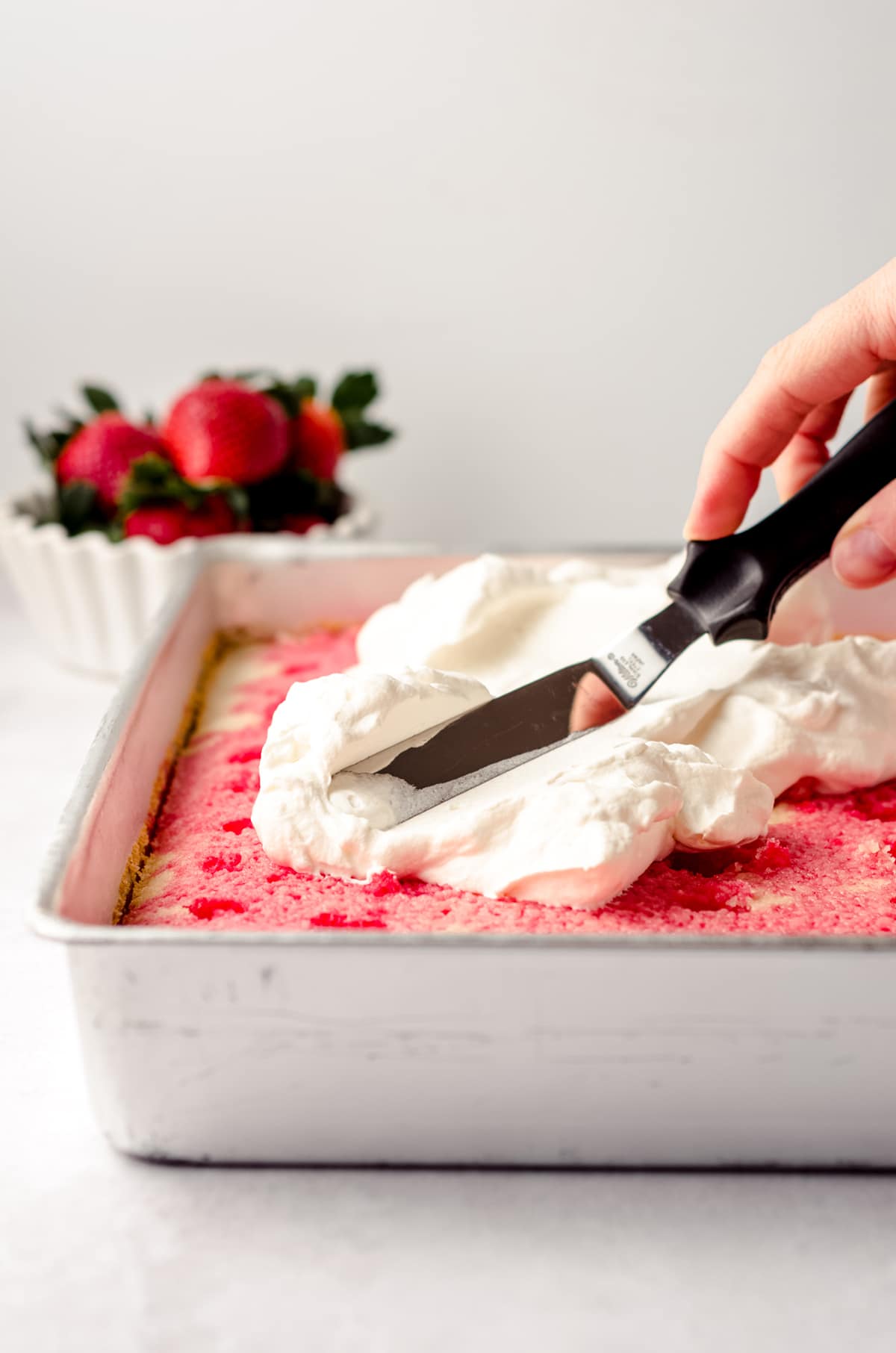 STEP 12. Serve as is, or top your strawberry poke cake with fresh strawberries for a simple, yet beautiful presentation!
Our favorite way to serve up Strawberry Jello Poke Cake
While I love cake + ice cream, poke cake doesn't typically need anything extra. If you're looking for a way to level up your poke cake, consider serving it alongside fresh fruit to complement the cake flavor (in this case, sliced strawberries).
Can You Freeze Strawberry Jello Poke Cake?
While strawberry poke cake has a pretty good storage life when stored inside the fridge, I would not recommend freezing this cake.
Two of the components (Jello and whipped cream) do not lend themselves well to freezing, and often collapse and lose their structure if stored in the freezer. For that reason I think it's best to just keep your cake well covered and stored in the fridge, or share with your neighbors if you just can't seem to eat it all yourself.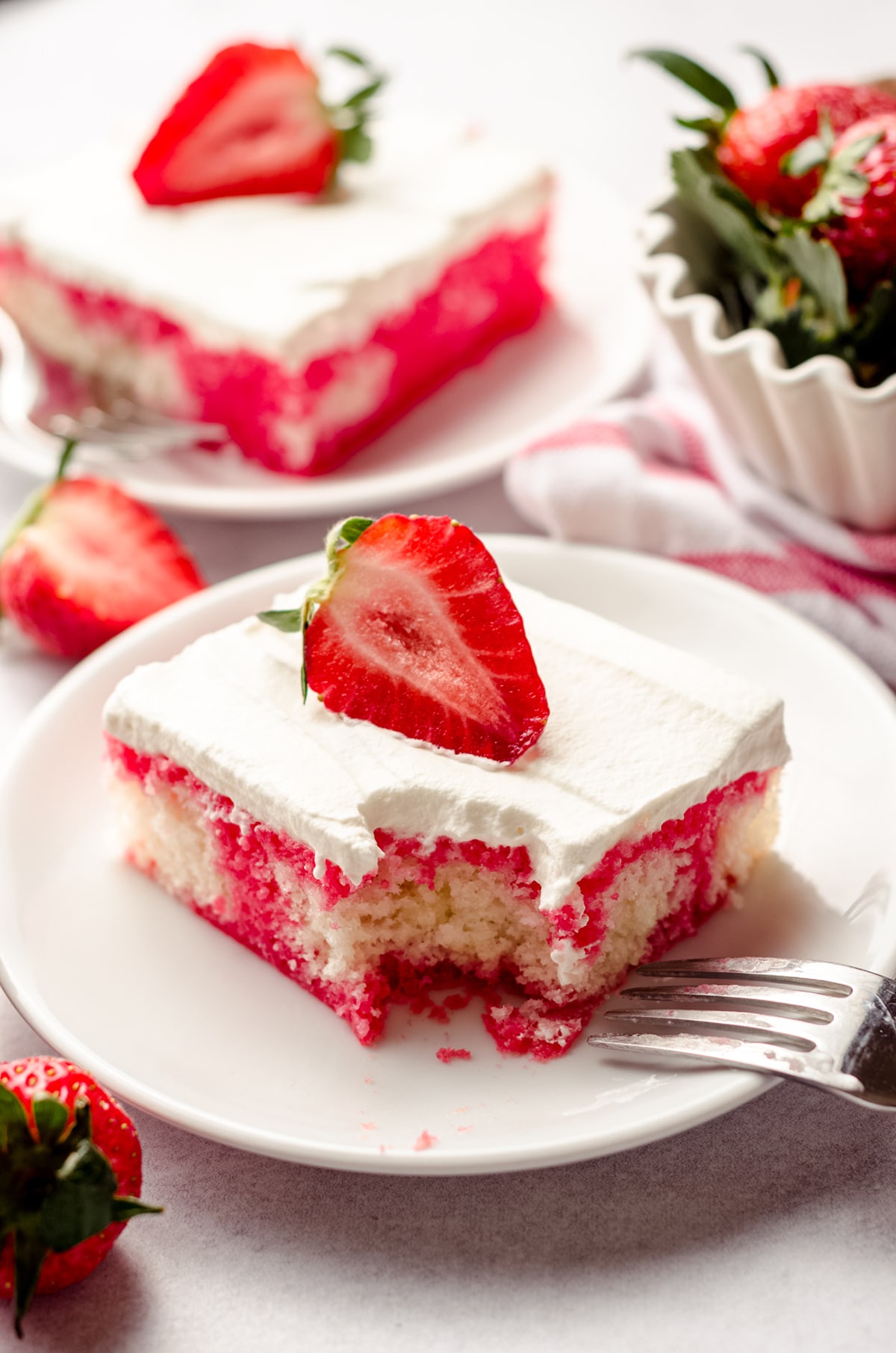 So there you have it! A beautiful, yet easy strawberry poke cake recipe that features a tightly crumbed homemade white cake, jiggly Jello in every crevice, and a silky whipped cream topping. What more could you ask for?
Some more of my favorite strawberry recipes: strawberry lemonade quick bread, strawberry bundt cake, and fresh strawberry cake.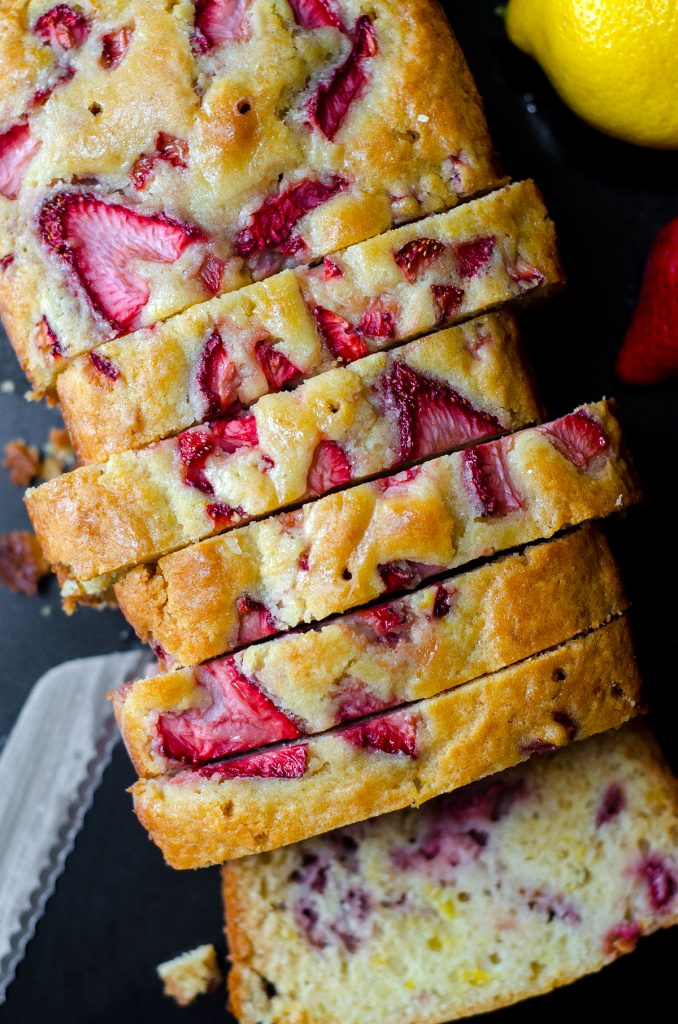 Strawberry Jelly Poke Cake
This easy strawberry poke cake features a simple white cake base, flavorful strawberry Jello in every crevice, and light and fluffy whipped cream layered on top. Make this strawberry poke cake even easier by using a box cake mix.
Ingredients
CAKE*
2

cups

(240g) all-purpose flour be sure to measure properly

2

Tablespoons

(15g) cornstarch

1 and ¾

cups

(350g) granulated sugar

4

teaspoons

baking powder

1

teaspoon

salt

12

Tablespoons

(171g) unsalted butter softened to room temperature1

1

cup

(240mL) heavy cream room temperature1,2

6

large egg whites room temperature1

2 and ½

teaspoons

vanilla extract
JELLO LAYER
1-3 ounce

box

(85g) strawberry gelatin

1

cup

(240mL) boiling water
WHIPPED CREAM TOPPING
1

cup

(240mL) heavy cream

1

Tablespoon

(8g or 13g) sugar3

½

teaspoon

vanilla extract
Instructions
CAKE
Place oven rack on the middle setting and preheat the oven to 350ºF (177ºC). Grease and flour (or use homemade cake release) a 9" x 13" baking pan. Set aside.

In a large bowl with a handheld mixer or the bowl of a stand mixer fitted with the paddle attachment, combine the flour, cornstarch, sugar, baking powder, and salt. Blend ingredients together on low until completely combined, about 1 minute.

Add the room temperature butter and beat mixture on low speed until it resembles sand. Scrape down the sides and bottom of the bowl with a spatula and mix again on low for a few seconds until thoroughly combined.

Combine the heavy cream, egg whites, and vanilla extract in a large container with a spout (like a 2-cup glass measuring cup) and mix gently with a fork until blended. With the mixer speed on medium-low, add half of the milk mixture (about 1 cup) to the crumb mixture and mix until blended. Add the remaining milk mixture to the batter and beat again on medium-low until everything is incorporated.

Turn the mixer off, scrape down the sides and bottom of the bowl with a spatula, and increase mixer speed to medium. Beat the batter for about 30 seconds until batter is smooth.

Pour the batter into the prepared cake pan. Bake cake for about 32-34 minutes or until a toothpick inserted in the center comes out clean and the top is lightly browned. Remove from oven and allow cake to cool for at least 20 minutes.

When the cake has cooled a bit, use the handle of a wooden spoon or spatula (you're looking for something a little larger than the size of an eraser) to poke holes in the cake. They do not have to be perfect or in any particular pattern, but try to space them out about ¼" to ½" between each poke.
JELLO LAYER
Once you have poked holes in your cake, pour the strawberry Jello powder into a medium size container with a spout, like a glass measuring cup.

Add 1 cup of boiling water, then stir the Jello powder and water together until all of the Jello powder is dissolved.

Gently pour the warm Jello evenly over the entire cake poked with holes. Refrigerate the cake for at least 1 hour before topping with whipped cream topping.
WHIPPED CREAM TOPPING
When you are ready to top the poke cake, use a medium size bowl with a handheld mixer or the bowl of a stand mixer fitted with the whisk attachment to make the whipped cream.

Pour the heavy cream, sugar, and vanilla into the bowl. Turn the mixer to medium-high speed and whip until medium peaks form (about 4-5 minutes). For more detailed instructions on this step, see my homemade whipped cream post.

Spread the whipped cream evenly over the top of the cake and refrigerate for about 30 minutes before serving. Top with fresh strawberries, if desired. Cover and store leftover cake in the refrigerator for up to 5 days. I do not recommend freezing this cake.
Notes
Room temperature ingredients: it is imperative to use room temperature ingredients in this recipe. Allow ingredients to sit out at room temperature at least 45 minutes before beginning.
Cream: I strongly encourage using cream in this recipe. It keeps the crumb moist and dense and adds a creaminess to the overall texture of the cake.
Sugar: you can use granulated or powdered sugar here. I have used both and find a slightly smoother whipped cream with powdered. For 1 Tablespoon of sugar, powdered sugar will be 8g and granulated sugar will be 13g.
*For a shortcut, you can use another white cake recipe you like or a box mix. Just make sure you're using a white cake recipe/box so the Jello doesn't turn the cake orange. Disclaimer: I think this cake is better with a homemade scratch cake, as box mixes tend to be very light and fluffy. My white sheet cake recipe above yields a denser crumb that has unbeatable flavor and texture.
Recipe adapted from white sheet cake
Nutrition Disclosure
All nutritional values are approximate and provided to the reader as a courtesy. Changing ingredients and/or quantities will alter the estimated nutritional calculations.
Serving:
1
slice
|
Calories:
471
kcal
|
Carbohydrates:
55
g
|
Protein:
6
g
|
Fat:
26
g
|
Saturated Fat:
16
g
|
Polyunsaturated Fat:
1
g
|
Monounsaturated Fat:
7
g
|
Trans Fat:
0.5
g
|
Cholesterol:
75
mg
|
Sodium:
407
mg
|
Potassium:
91
mg
|
Fiber:
1
g
|
Sugar:
38
g
|
Vitamin A:
933
IU
|
Vitamin C:
0.2
mg
|
Calcium:
113
mg
|
Iron:
1
mg