No Bake Pumpkin Icebox Cake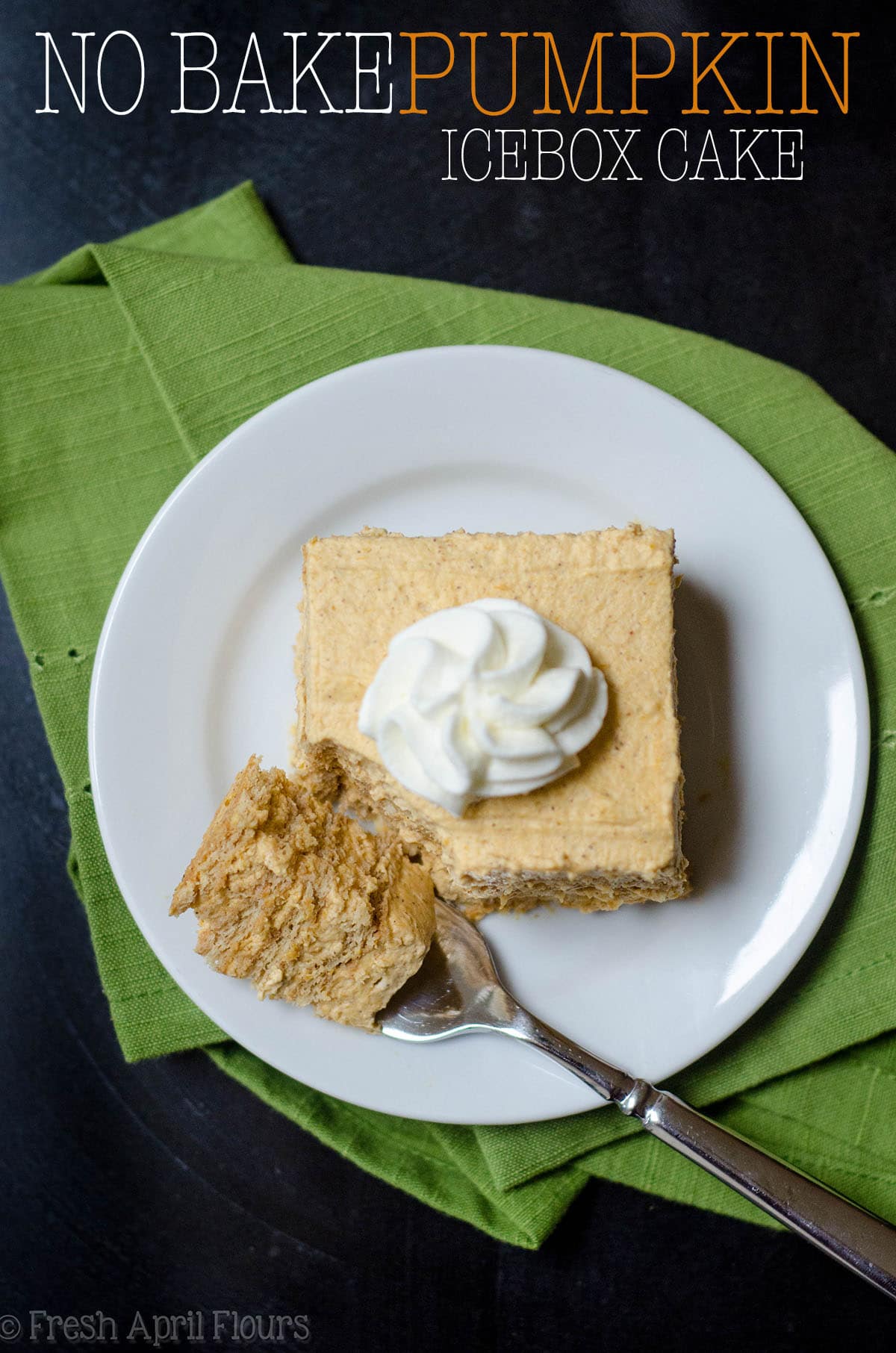 As an Amazon Associate, I earn from qualifying purchases. Read the full disclosure here.
Layers of graham crackers filled with pumpkin whipped cream. An easy no bake treat for your favorite fall gatherings!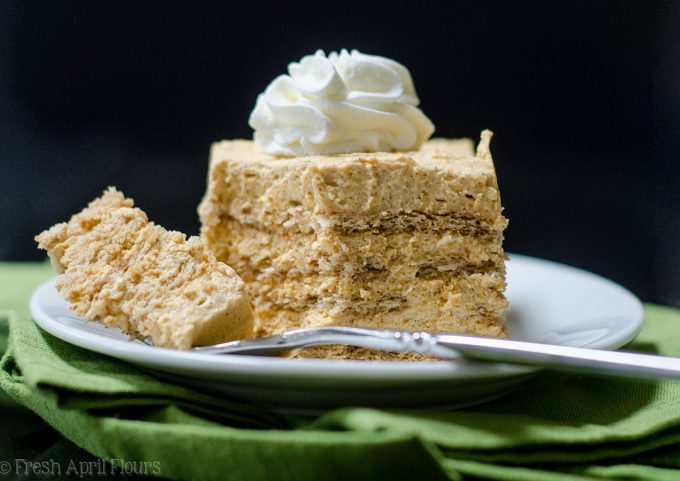 Halfway through October, and I have yet to share a new pumpkin recipe with you (here are all of my pumpkin recipes as a consolation), but I'm happy to say I'M HERE WITH A GREAT ONE, and there's another one coming next week that will also knock your socks Uggs off.
Is it really fall if you don't have a few pumpkin recipes baking up in your kitchen? The answer is no, and although we won't actually be baking today, we'll definitely be working with our beloved pumpkin puree to whip up this no bake pumpkin treat you'll be dying to take to your next fall activity (pumpkin carving, anyone?).
I have, for a long time, been confused by icebox cakes. Are they ice cream? Are they cake? Are they ice cream cake (NO, but this is!)? What's an icebox?
Like many things in life, I didn't quite understand until I experienced it for myself, and now I am firmly in the "I am a huge fan of icebox cakes" camp and I'm not sure I'll ever leave. Especially if pumpkin is involved (#basic).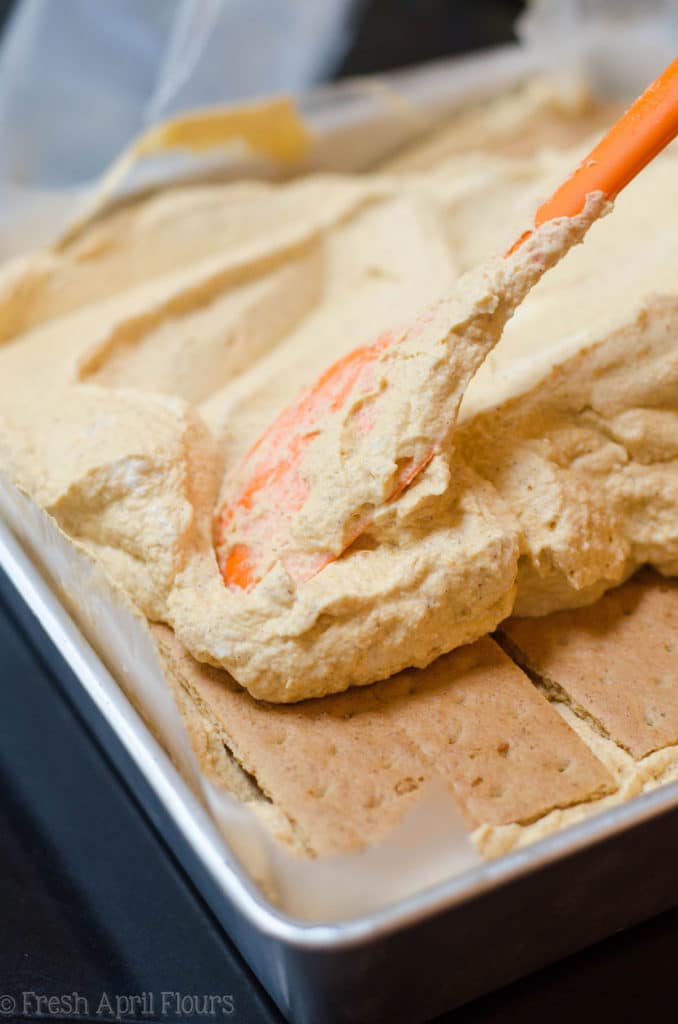 An icebox cake is not exactly a cake, as in there isn't actually cake in it, but it's presented as a cake, usually in a square dish type situation, sliced and served up like a cake.
There are layers, but instead of cake and frosting, there's graham crackers and some sort of filling. In our case, we're layering our graham crackers with a mixture of pumpkin puree + homemade whipped cream and spices, and sweetening the whole thing with just a bit of powdered sugar.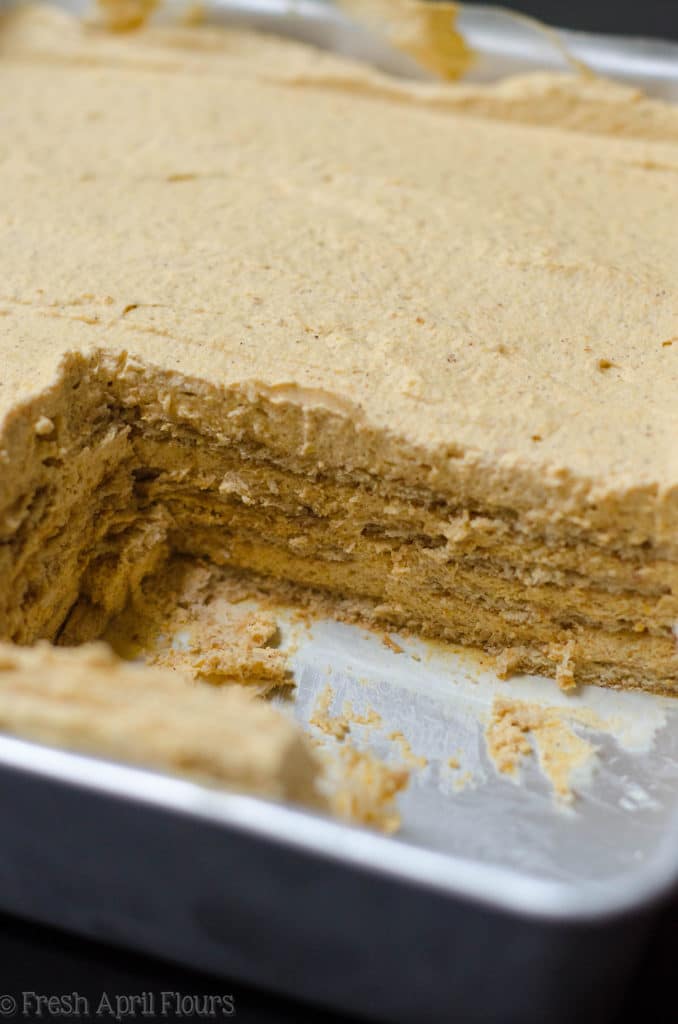 The "icebox" part comes in because this dessert sets up in the fridge for a few hours. The graham crackers soak up moisture from the pumpkin filling and take on a soft texture, similar to cake.
Or at least, that's what I thought.
They're definitely still graham crackers and definitely not cake, but the texture they bring to the whole shebang is a perfect complement to the velvety soft pumpkin fluff that is very much the star of the show here.
This dessert comes together fast. The longest part of the whole thing aside from the 4 hours it has to sit in the fridge is the making of the whipped cream, which takes all of 4 minutes.
I suppose layering the graham crackers and filling takes a bit of time, but I'd be hard pressed to find someone who can make that activity take a whole lot longer than 4 minutes.
Easy peasy, friends. Easy. Peasy.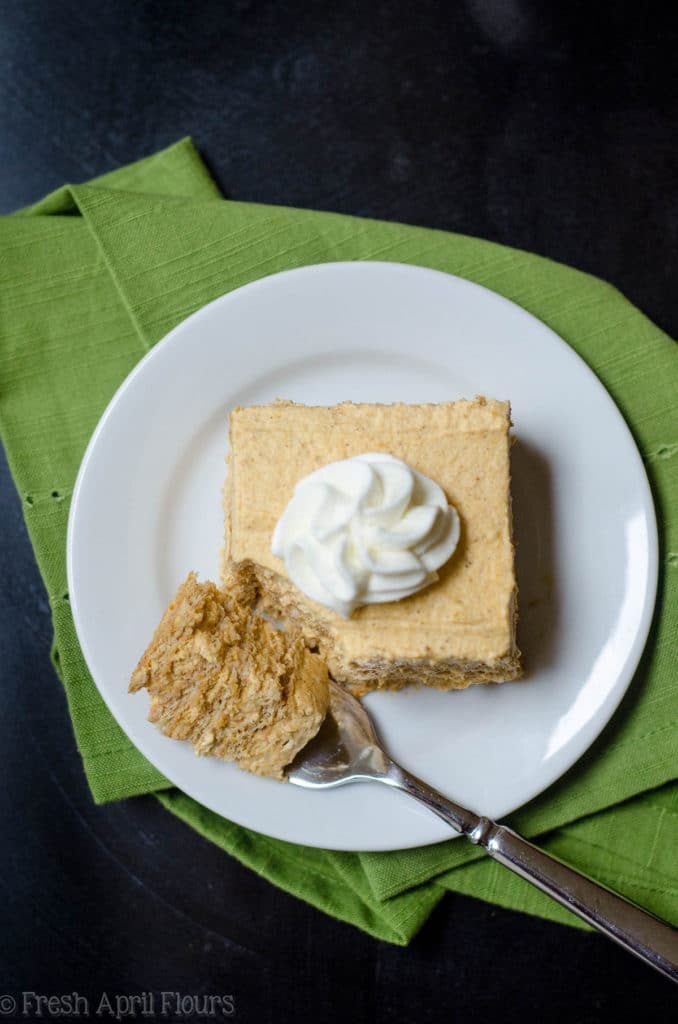 What I loved and what my taste testers loved about this dessert is that it was not overly sweet and the pumpkin flavor really came through. I don't love pumpkin desserts that are essence of pumpkin or that really just contain spices (except, hi, pumpkin Rice Krispies Treats— I love you), and this one, for lack of a better term, takes the cake in the flavor department.
The graham cracker flavor married to that spicy pumpkin is the epitome of a fall dessert, and there's just enough sugar in the whole thing to sweeten the deal and make this one of my favorite pumpkin treats that has come out of my kitchen to date.
My very favorite? My pumpkin fudge. But that one is sweet. Lots of sugar. Not for the faint of pumpkin heart. Definitely for the pumpkin and candy lovers alike.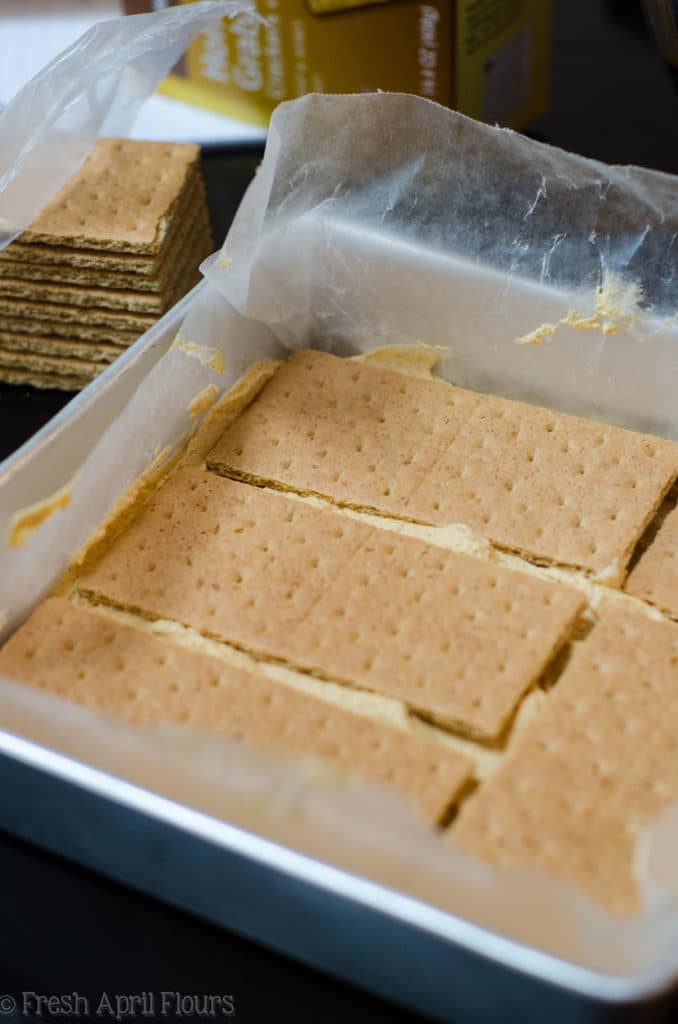 Slice up with an extra dollop of whipped cream, freeze it for a more interesting texture, or flop it into a bowl and eat it like a pumpkin graham mishmash of deliciousness.
However you choose to enjoy this no bake pumpkin icebox cake, I think it's safe to say it deserves a spot in your pumpkin dessert arsenal for 2018 and that you will definitely see more of these icebox cakes around these parts.
HELLO, EASY and HELLO, NO BAKE.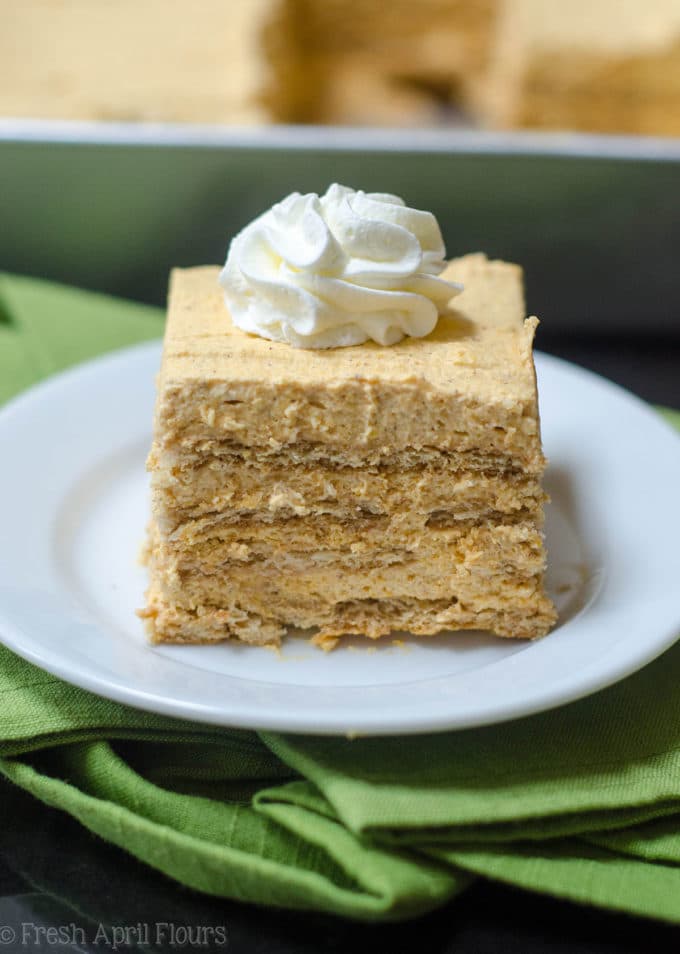 And, officially, HELLOOOOOO, PUMPKIN SEASON. We've missed ya.
No Bake Pumpkin Icebox Cake
Layers of graham crackers filled with pumpkin whipped cream. An easy no bake treat for your favorite fall gatherings!
Ingredients
2

cups

heavy cream

1

cup

powdered sugar

1

teaspoon

vanilla extract

14

oz

pumpkin puree

1 and 1/2

teaspoons

ground cinnamon

1/4

teaspoon

ground nutmeg

1/8

teaspoon

ground cloves

1/8

teaspoon

ground ginger

18

graham cracker rectangles
Instructions
Line an 8" square baking pan or casserole dish with parchment paper, leaving an overhang. Set aside.

In a large bowl with a handheld mixer, or the bowl of a stand mixer fitted with the whisk attachment, beat the heavy cream on high speed until soft peaks form. Add the powdered sugar and vanilla extract and beat again on high speed until stiff peaks form.

Fold in the pumpkin puree, cinnamon, nutmeg, cloves, and ginger with a spatula until everything is incorporated.

Spread a very thin layer on the bottom of the baking pan, on top of the parchment. Place a layer of graham crackers on the bottom of the pan, and then layer with about 1/4 of the pumpkin mixture. Repeat this 3 more times. You will wind up with 4 layers of graham crackers and 4 layers of pumpkin.

Refrigerate cake at least 4 hours, or overnight. You may also freeze, at least 4 hours. Slice and serve with a dollop of whipped cream, if desired. Store leftovers in the refrigerator, covered, up to 4 days.
Nutrition Disclosure
All nutritional values are approximate and provided to the reader as a courtesy. Changing ingredients and/or quantities will alter the estimated nutritional calculations.