As an Amazon Associate I earn from qualifying purchases.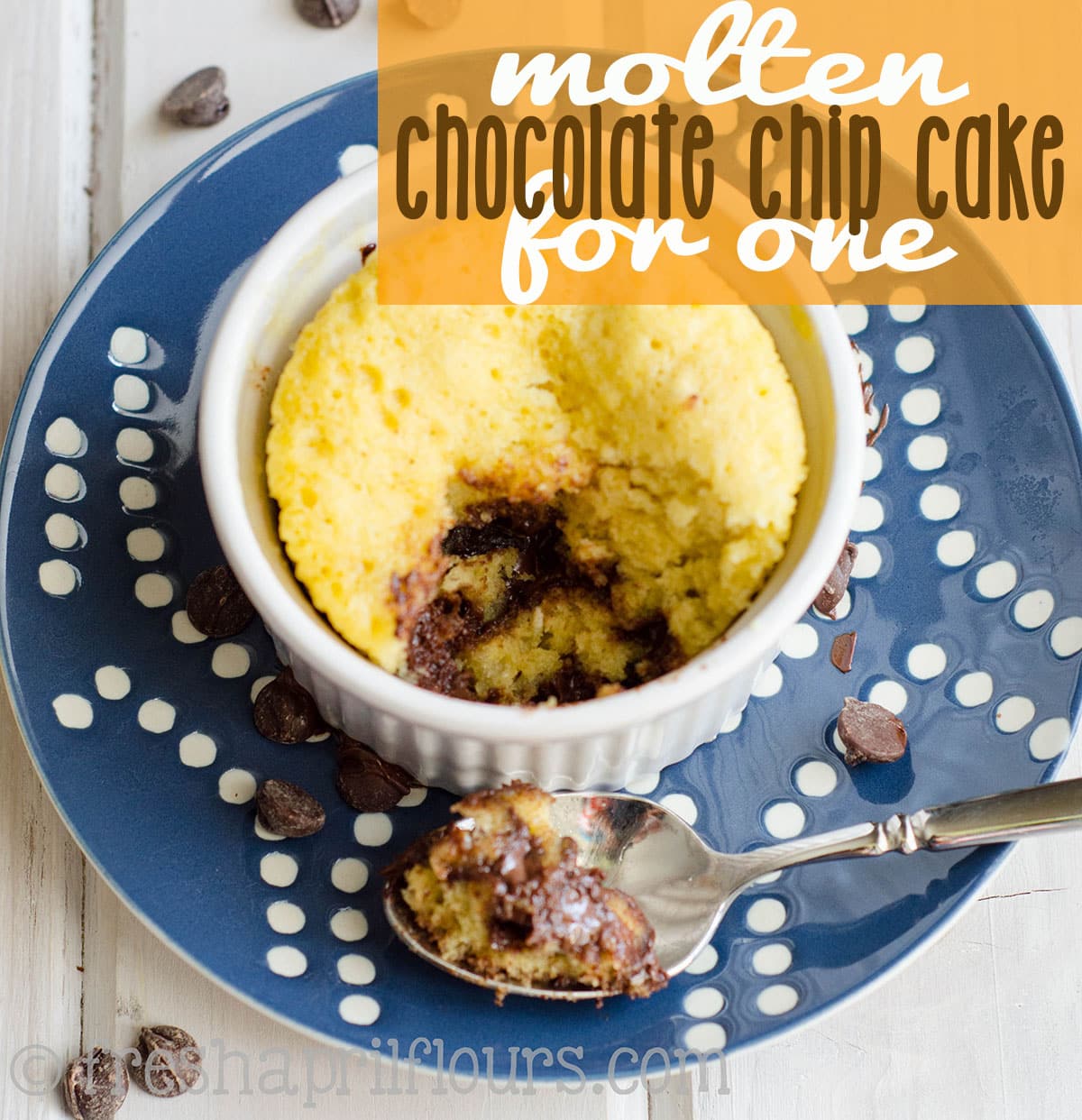 A sweet and salty single serving chocolate chip cake with a molten chocolate center that comes together (thanks to the microwave) in less than 5 minutes.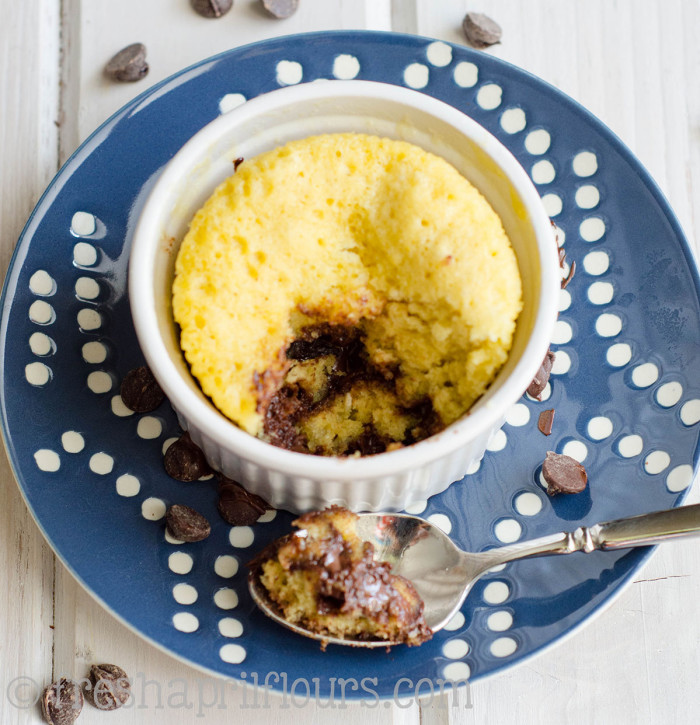 Do you like chocolate chip cookies? Good. Do you like molten desserts? Double good. Because I've combined the two of them. And it was probably one of the best decisions I've ever made (close second to this cake batter dip).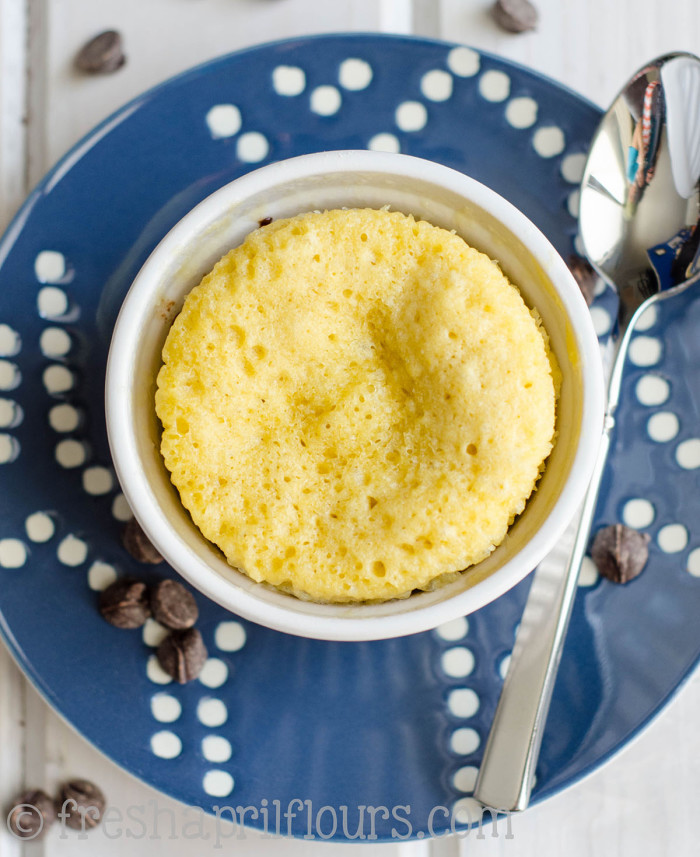 Today is a little bit special. Well, actually, tomorrow is. But it's kind of today if you live where the birthday girl does!
March 24th is my BBF (best bloggy friend) Amy's birthday, but she lives in Australia, so we only share a handful of hours on any given day.
It's confusing sometimes… Especially since her placement on the globe puts her in the dead of summer while we are trudging through snow and bundling up whenever we even think about heading outside.
We are all kinds of opposites, but we still manage to schedule Skype dates and keep in touch thanks to social media.
In fact… Here's my cutie pie husband chatting with Amy for a podcast about gluten! Stay tuned for that one.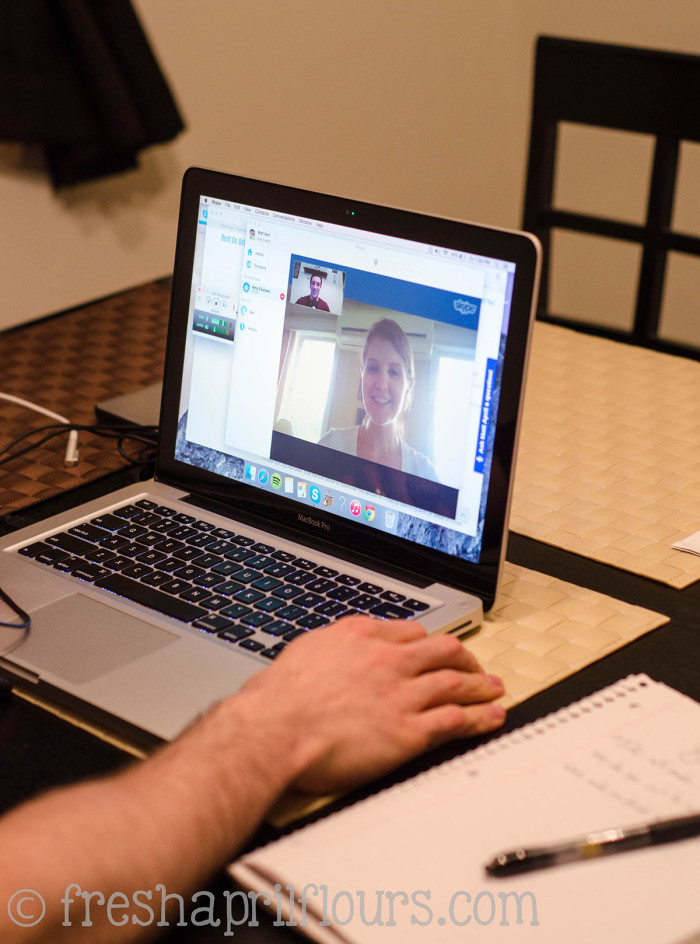 Amy heads a blog called Thoroughly Nourished Life, which is focused on gluten free and vegetarian eating.
It. Is. Awesome.
And I have learned so much from Amy through reading her blog, reading about ingredients, and seeing how easy it is to put together meals and desserts that nourish our bodies and our tastebuds. I wish she lived closer to us for many reasons!
The reason this post and recipe are dedicated to Amy is not only because it's her birthday, but because she LOVES chocolate chip cookies. A whole lot (<– make all of those).
Although this recipe in particular is not gluten free itself, it is a single serving chocolate chip cake with an ooey gooey chocolate center, which is what everyone deserves on their birthday, yes? I'm sure Amy can take one look at this recipe and make it gluten free in a second, so I bet she won't be mad I put flour in the birthday cake I made for her!
This molten chocolate chip cake for one is so easy, you're going to think you did something wrong.
While you will need a handful of ingredients, what you won't need is a whole lot of time. This cake comes together in about 2 minutes, and it only takes 1 minute to "bake" in the microwave.
I put mine in a ramekin, but if you don't have any ramekins, you can certainly use a mug or a small microwave safe bowl.
You can also eat it right out of your ramekin or flip it over onto a plate and enjoy with a scoop of ice cream. Whatever it is you can get your chocolate chip cake into will work perfectly.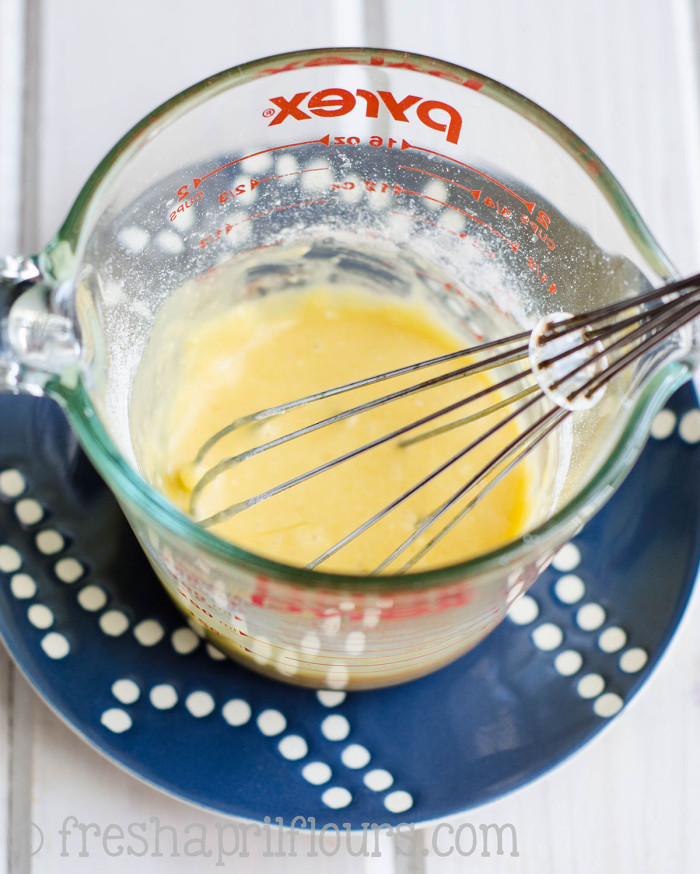 Let's talk about this molten center… It's kind of a pretend molten center, as traditional molten cakes are made by baking cake at a very high temperature, which leaves the center underdone and melty.
Since this chocolate chip cake comes together so quickly and I wanted a chocolate center, I found a shortcut way to produce a molten center: submerging some quality semi-sweet chocolate right down into the center of the batter. It creates the molten lava effect without a super hot oven. Score!

Because this recipe is made for one, you are not required to share at all. But the good news is, if you really do need to make more for a friend or some guests, the conversion is quick.
A sweet-and-slightly-salty chocolate chip cake, filled with gooey, melty chocolate that doesn't require a mixer, an oven, or more than 5 minutes is definitely something you should have in your life.
And if not your life, then someone who loves chocolate chip cookies as much as my dear Aussie Amy does. Although it's no chocolate chip cookie, it sure does get the job done when your craving hits!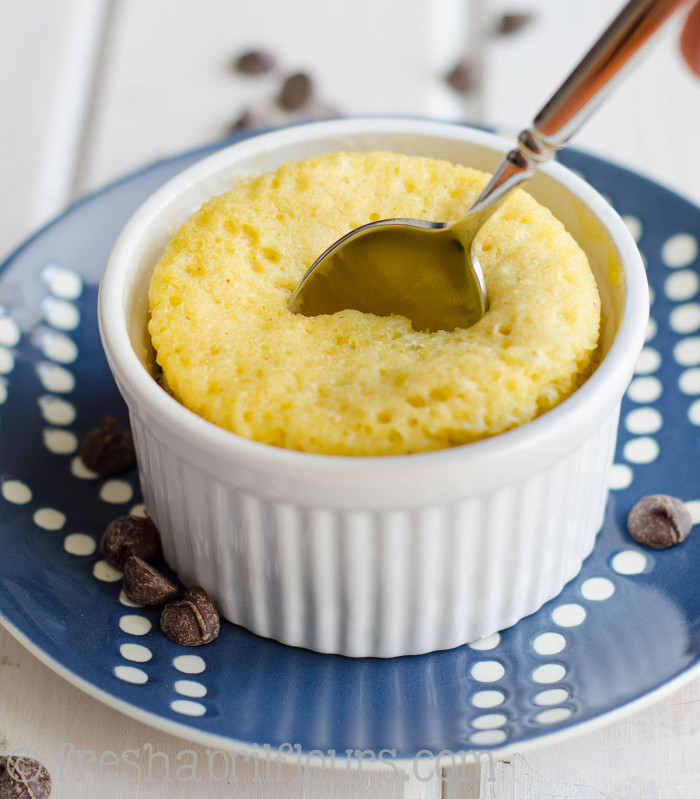 Happy birthday, Amy! Here's to a great year filled with lots of chocolate chips (or chunks, because I know you like 'em better 😉 )! xoxo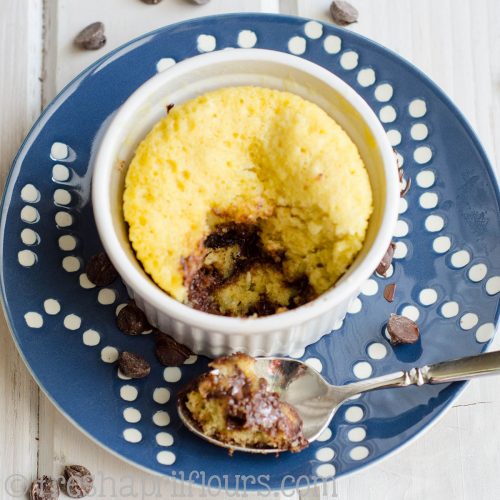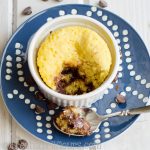 Print Recipe
Molten Chocolate Chip Cake for One
A sweet and salty single serving chocolate chip cake with a molten chocolate center that comes together (thanks to the microwave) in less than 5 minutes.
Ingredients
1

Tablespoon

unsalted butter

1

Tablespoon

brown sugar

1

teaspoon

granulated sugar

1/4

teaspoon

salt

1/4

teaspoon

vanilla extract

1

large egg

3 and 1/2

Tablespoons

all purposeflour

1-2

Tablespoons

semi-sweet chocolate chips

1/2

ounce

square of quality semi-sweet chocolate
Instructions
Spray a ramekin or microwave safe mug or bowl lightly with non-stick spray. Set aside.

In a small bowl or a measuring cup with a spout, melt the butter by placing it in the microwave on high for 30 seconds. Add the brown and granulated sugars, salt, and vanilla and whisk to combine. Add the egg, and whisk again. Add the flour and whisk again until no clumps remain. Add the chocolate chips and whisk to distribute evenly. You may save half of the chocolate chips to sprinkle on top of your batter so they do not sink to the bottom of the ramekin as easily. Pour this mixture into your prepared ramekin.

Using your fingers, submerge your chocolate square into the center of the batter in the ramekin. Use a spoon or spatula to ensure chocolate square is covered completely. Immediately put ramekin in the microwave and heat on high for 1 minute. The batter will puff up significantly, but it will not bubble over. Carefully remove from the microwave and dig in. Cake is best served immediately and is not meant to be made ahead. Eat right out the ramekin/mug/bowl or flip over onto a plate and serve with a scoop of your favorite ice cream.
You could also celebrate with a big ol' chocolate chip cookie cake! With chocolate fuuuuudge frosting! YUM!