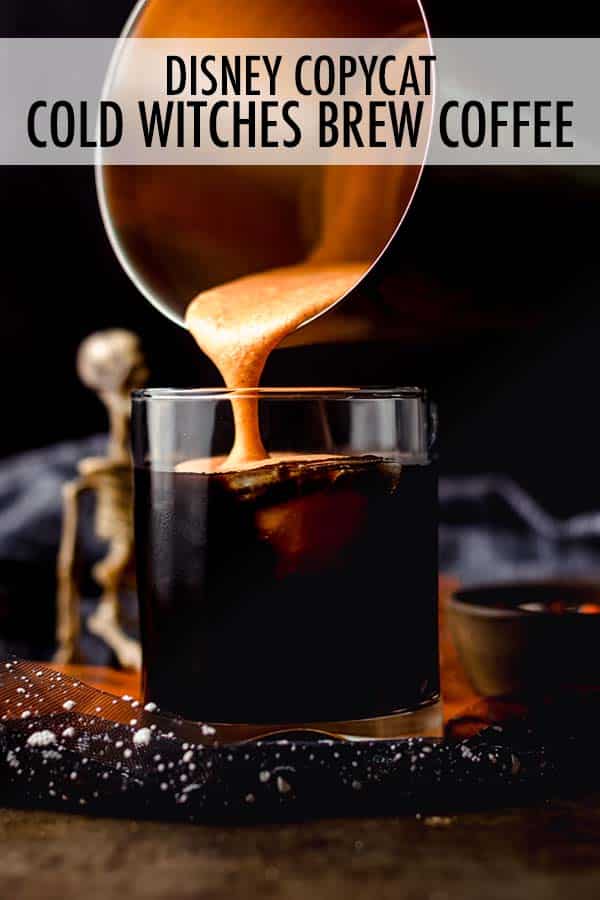 As an Amazon Associate, I earn from qualifying purchases. Read the full disclosure here.
French vanilla cold brew coffee topped with orange-tinted pumpkin spiced cold foam and garnished with Halloween sprinkles, just like the version from Disney World!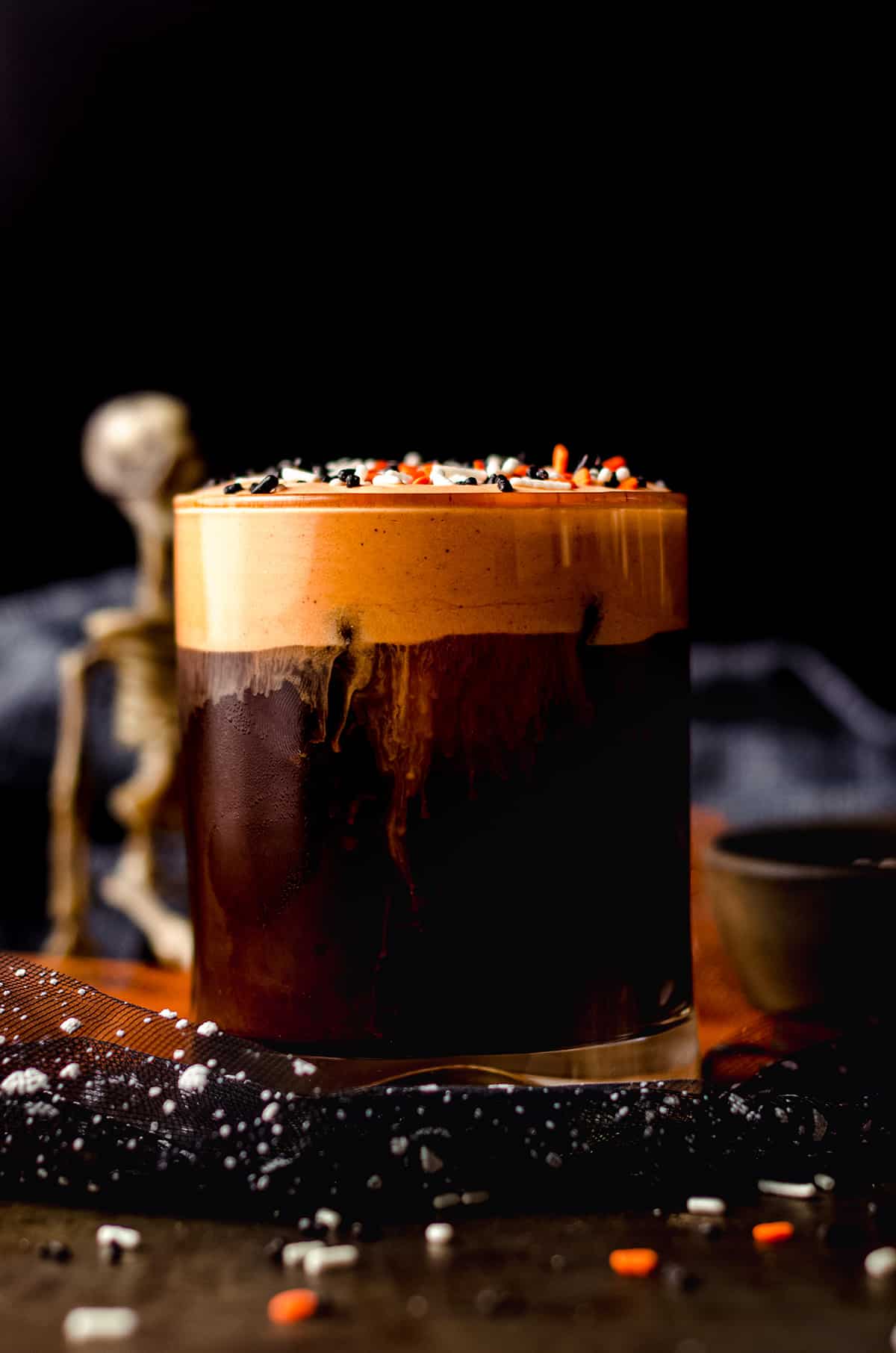 If there is one thing I learned while planning our first trip to Walt Disney World, it's that people love the themed recipes and will do whatever they can to recreate these favorites at home.
Whether it's a Mickey Mouse waffle, Disney Dole Whip, a Monte Cristo sandwich, or Hocus Pocus cupcakes, Disney go-ers love to bring the magic back to their house once they've left the true magic of Disney in Florida.
WHAT IS COLD WITCHES BREW COFFEE?
While planning our trip, I became acutely aware of how excited folks get when Disney releases park menus, and when I saw the 2022 Not-So-Scary Halloween menu, what stuck out to me with googly heart eyes and a drooling mouth was the Cold Witches Brew Coffee.
Disney describes this beverage as "French vanilla cold brew with pumpkin spiced foam topped with Halloween sprinkles."
Say no more, Mickey. I am the woman for the job.
FYI, if you're headed to the park, you can find this tasty beverage at the Cheshire Café in Magic Kingdom.
I have long been a lover of homemade cold brew coffee (and I can tell you all about how to make your own cold brew coffee at home), and when I "retired" from my full time job in 2019, Matt bought me an amazing milk frother so I didn't have to go to the drive thru for my lattes anymore.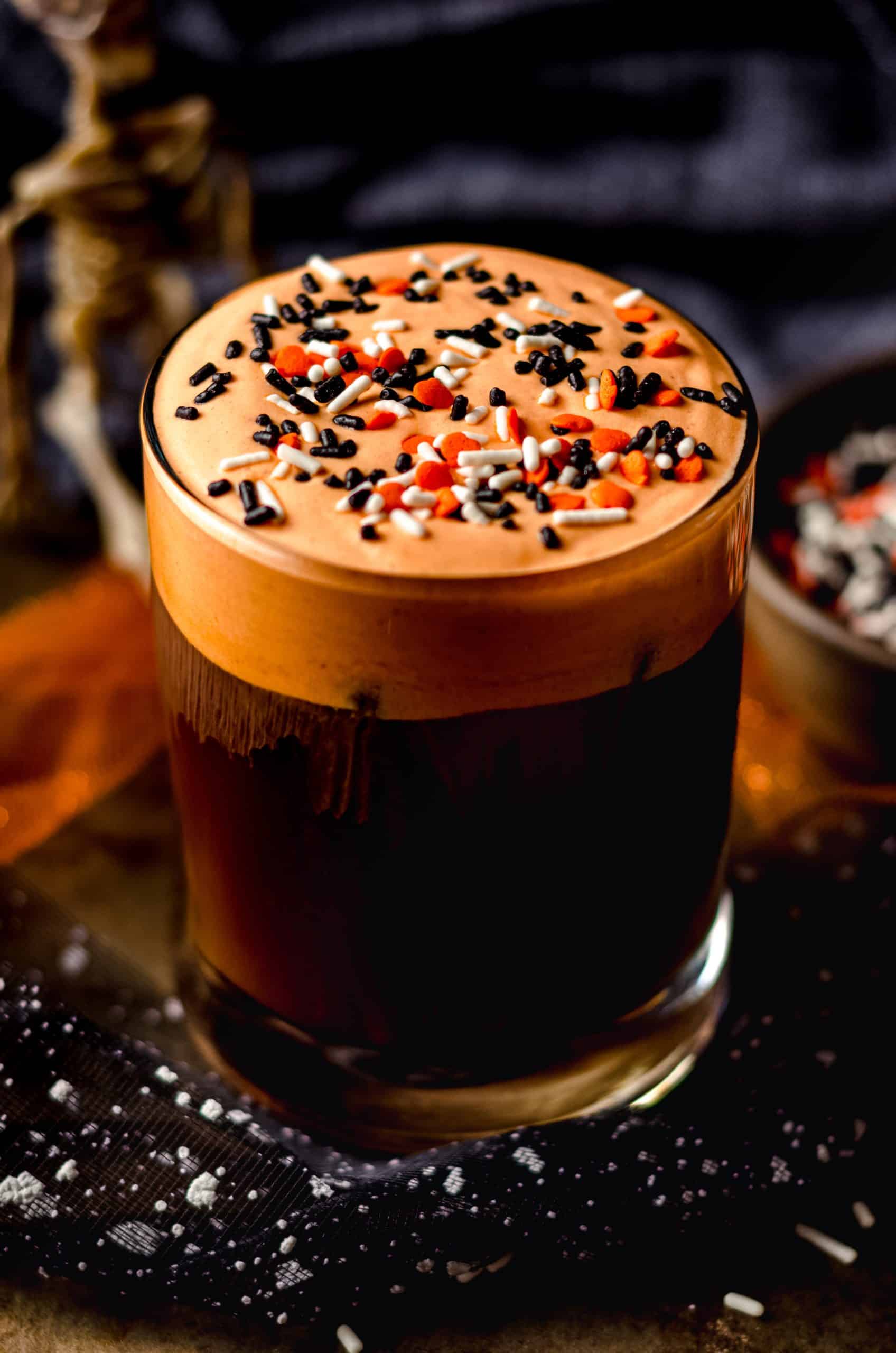 This milk frother is truly amazing because not only does it make perfect hot milk foam, it also makes perfectly fluffy and billowy cold foam, which was a total game changer for me in developing the perfect recipe for my Starbucks copycat pumpkin cream cold foam.
While the pumpkin cold foam recipe that you'll find on that Starbucks copycat recipe is top notch, it's catered toward exactly what Starbucks includes in their recipe: real pumpkin purée.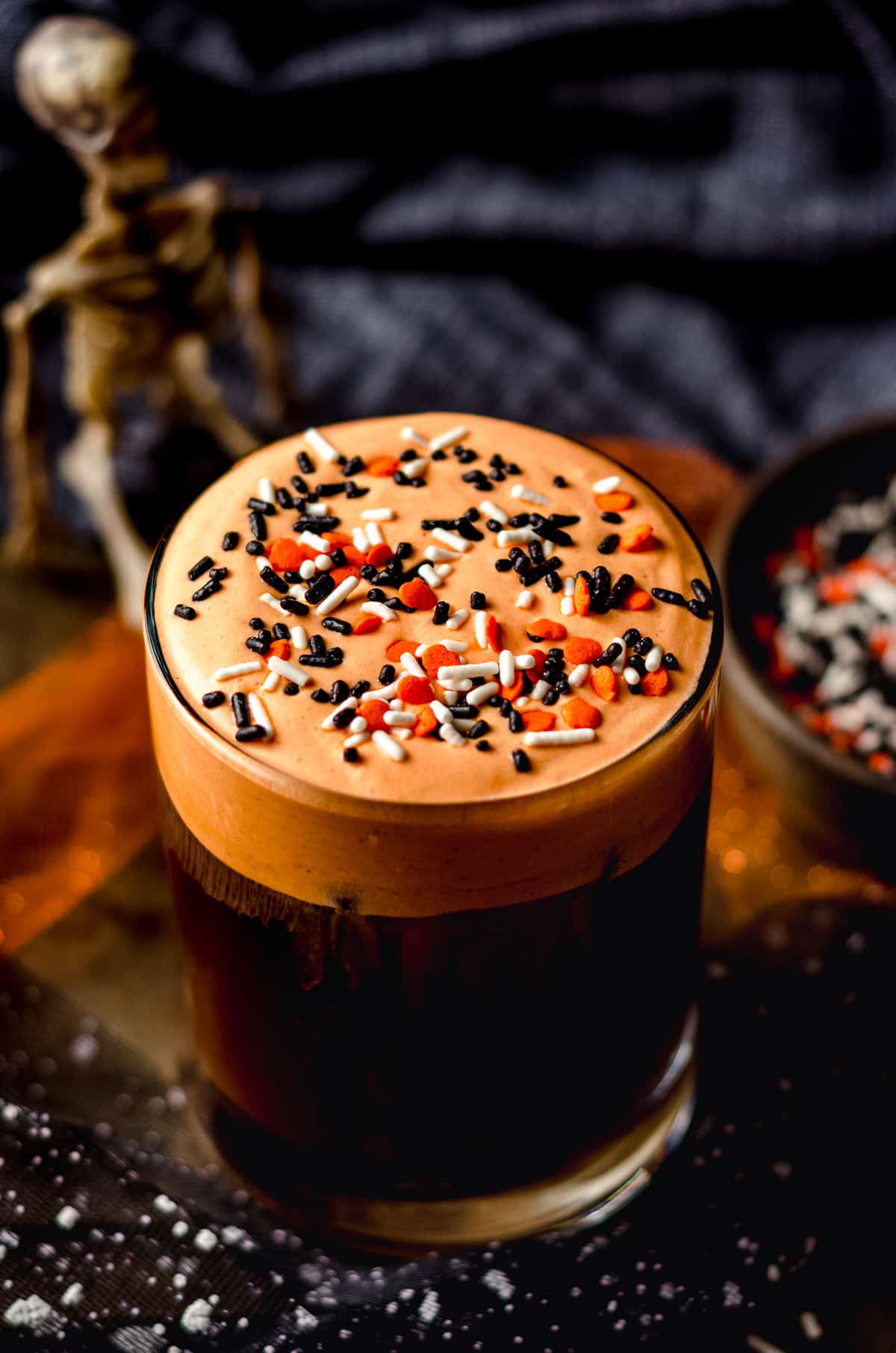 And when I read about and started seeing pictures of Disney's pumpkin spiced cold foam, I knew we were working with a slightly different set of ingredients, plus the spooky factor, which is always my favorite when it comes to garnishing treats.
That said, this cold witches brew coffee is quite similar to my pumpkin cream cold foam recipe, but it's definitely not the same. Head over to that post if you want to try both (a great idea).
INGREDIENTS
There are two components to this copycat Disney World Cold Witches Brew Coffee: the cold brew coffee and the pumpkin spice cold foam.
COLD BREW
If you're like me, you always have homemade cold brew in the fridge. Thanks to my little tutorial, you can make your own cold brew coffee, too.
Just know you will need 24 hours to steep it, so if you're too impatient this time around, you can use pre-made coffee or cold brew concentrate.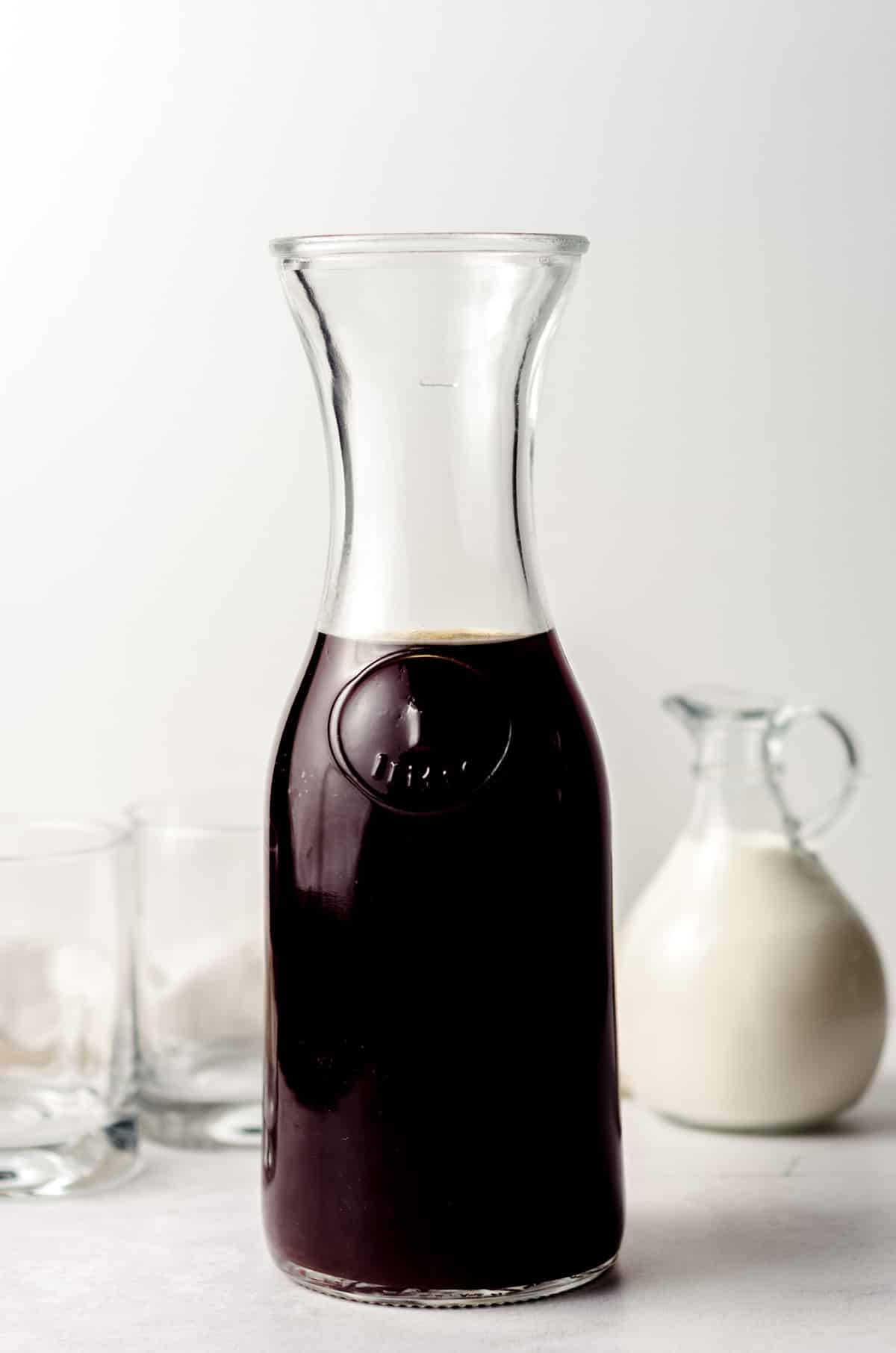 Pre-made cold brew concentrate: you'll want to dilute this to your preference. There is typically some guidance on the packaging that tells you what the best suggestion is, but it's usually a 1:1 ratio. You will need 8 ounces of cold brew coffee for this homemade version.
Ready-to-drink cold brew: this pre-made cold brew will be ready to drink right out of the container. It's already been diluted to a consumable ratio, so unless you typically adjust this kind of cold brew, you should be ok to just pour and go.
Choose your coffee and have it ready to go. It doesn't need to go in a cup or glass just yet, but make sure you know your plan of attack before tackling the pumpkin cold foam.
PUMPKIN SPICE COLD FOAM
In order to make the best pumpkin spiced cold foam, we have to find the best balance between sweetened cream and avoiding a bunch of heavy ingredients that would prevent it from foaming and fluffing up.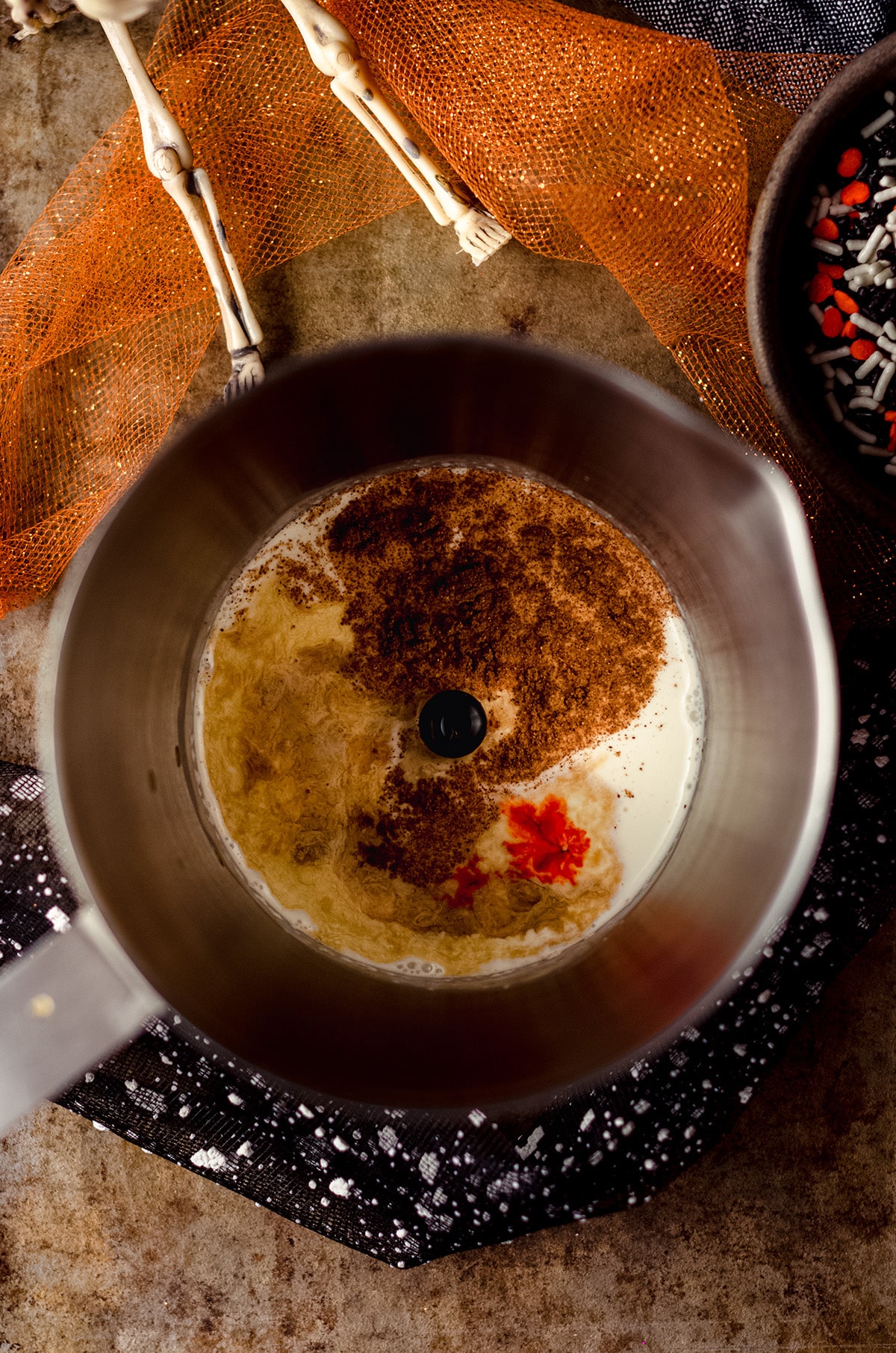 The cold foam consists of 5 (well, 7 if you include the optional orange food coloring and sprinkles!) simple ingredients:
HEAVY WHIPPING CREAM — this will be the bulk of the pumpkin foam. The fat content of the cream will help it get nice and billowy, just like homemade whipped cream.
MILK — any milk will do here. I usually go for whole milk or skim milk because that's what we have on hand. The fat content isn't too important since we have the heavy whipping cream as a base. You can even use almond milk, oat milk, or any milk you prefer. I would just advise to stay away from coconut milk since the taste might not mesh well with the flavors of pumpkin spice.
MAPLE SYRUP — instead of using sweetened condensed milk to get the "sweetened" part done of this pumpkin cold foam, I like to use maple syrup. It keeps the foam nice and light and adds a nice complement to the warm spices in the rest of the drink.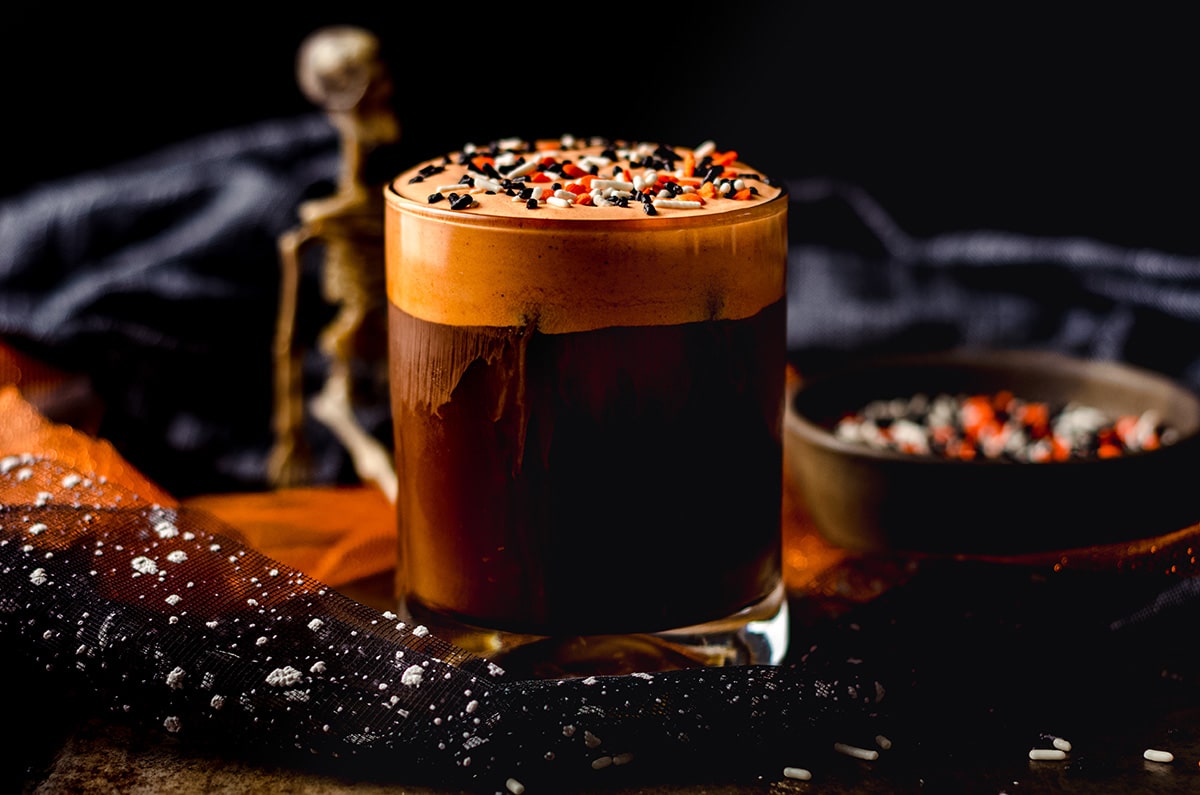 VANILLA PASTE OR VANILLA EXTRACT — because what is a treat without some vanilla extract? This vanilla flavor will round out everything happening in the foam. You can use vanilla extract if you don't have vanilla paste, though I always prefer the look of the cute little specks when I use paste!
PUMPKIN PIE SPICE — and of course, all the flavors in this spice mix make the perfect drink for spooky (and pumpkin!) season.
ORANGE FOOD COLORING — in the interest of a true copycat, you can tint your pumpkin spice foam orange. Not essential, but a fun touch!
SPRINKLES — a touch of Halloween sprinkles on top makes this drink truly authentic, but they're not 100% necessary. You know I love my sprinkles, but if you're not into them, this drink will be wonderfully delicious without them!
HOW TO MAKE COLD WITCHES BREW COFFEE
Before totally assembling and enjoying the homemade version of your Halloween coffee, make sure you've prepared or obtained whatever base of cold brew coffee you're using. I like to prepare the DIY pumpkin spiced foam and then gather my coffee and ice cubes so that my coffee stays nice and chilled.
Don't miss the coffee ice cubes I shared on Instagram. They are a game changer with cold brew/iced coffee!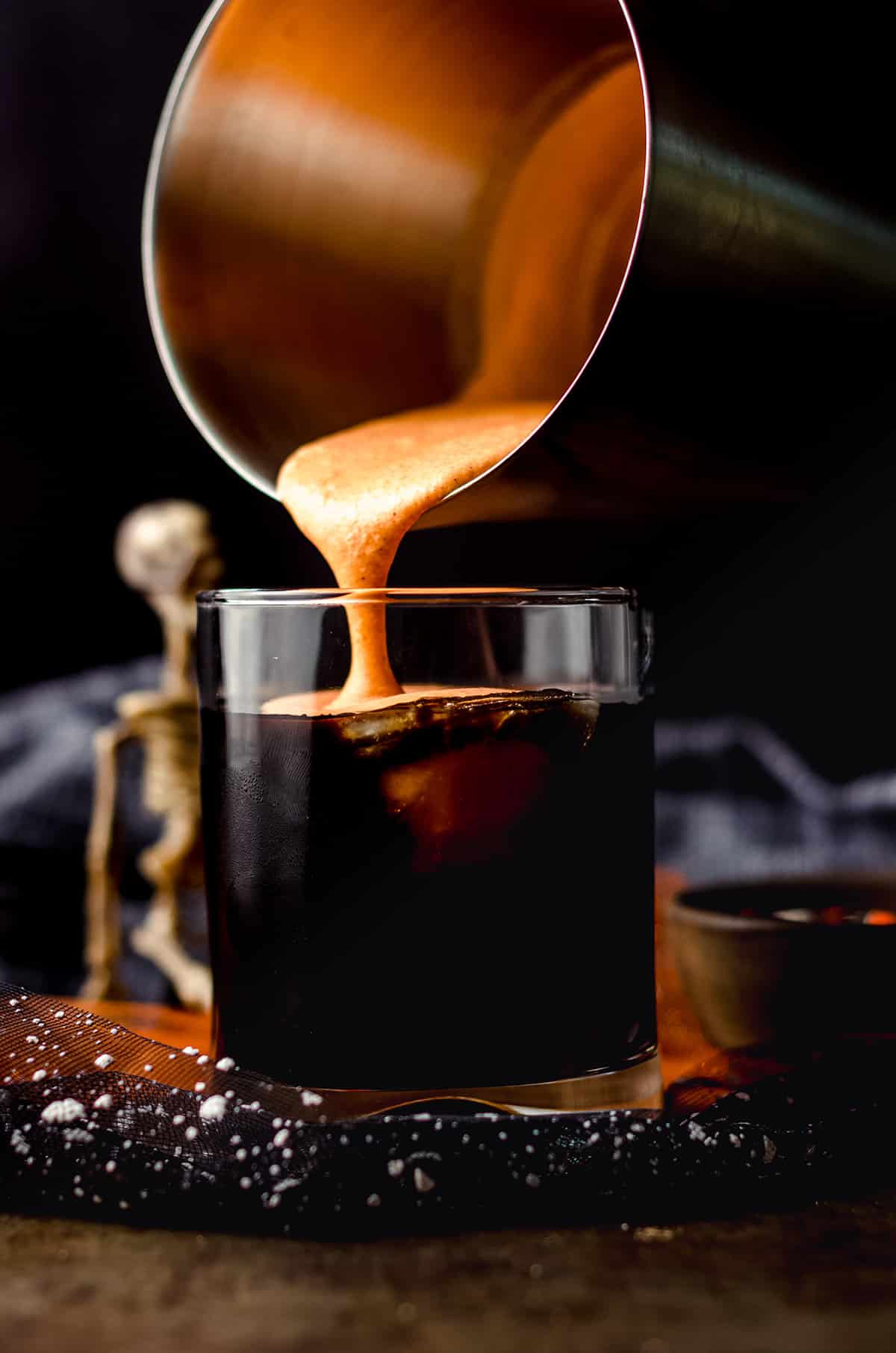 The most involved part of this drink is making the foam. As I mentioned, that fancy electric milk frother we have chills the foam as you make it, which is perfect for cold drinks. This is something to keep in mind if you want your cold foam super chilled.
Alternatively, you can always combine the foam ingredients ahead of time and let it sit in the fridge until you're ready to use it. Just don't froth it until you're ready to serve it.
WHAT IF I DON'T HAVE A MILK FROTHER?
While having a milk frother is really helpful for this pumpkin spice foam recipe, you can absolutely get by without the same fancy frother we have (I know it's not cheap, but we use ours daily so it's worth it for us).
If you'd like a less expensive option, this handheld milk frother also lives on our kitchen counter and gets used nearly as often as the heavy duty one.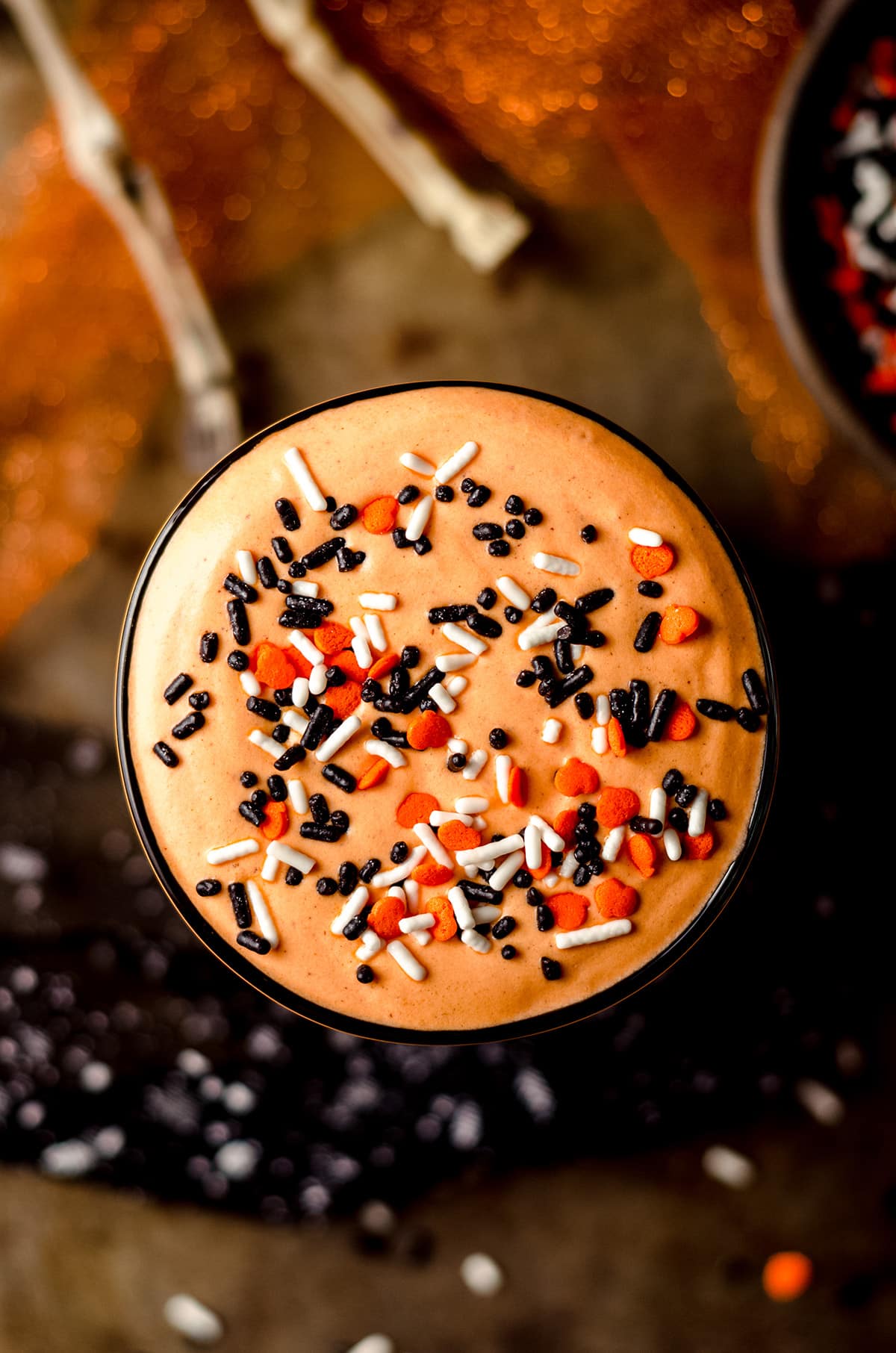 But, alas, you can do all of this with simply a blender. Have one of those fun single-serving blenders? Even better.
Whatever you can find that will whip all of your milk and pumpkin goodness together without you having to break an arm, make it happen. There is no one perfect way!
MAKE THE FOAM
The actual making of the foam is simple. Press the automatic button on your frother or watch for a foamy consistency using another foaming method, and the rest is a matter of getting that coffee into a glass or mug and putting the foam on top.
SUPER EASY.
What I love most about this recipe is that it makes one single solitary serving of pumpkin spice cold foam coffee, just like the way you would get it at Disney World. And the best part? It costs you farrrrrr less to make it at home than it does to take a trip to Disney.
Plus… You can stay in your jammies, which is the ACTUAL best part!
Check out some more Disney copycat recipes from my friends around the interwebs: Hocus Pocus cupcakes, Dole Whip (and a boozy version!), homemade churros, or homemade butterbeer!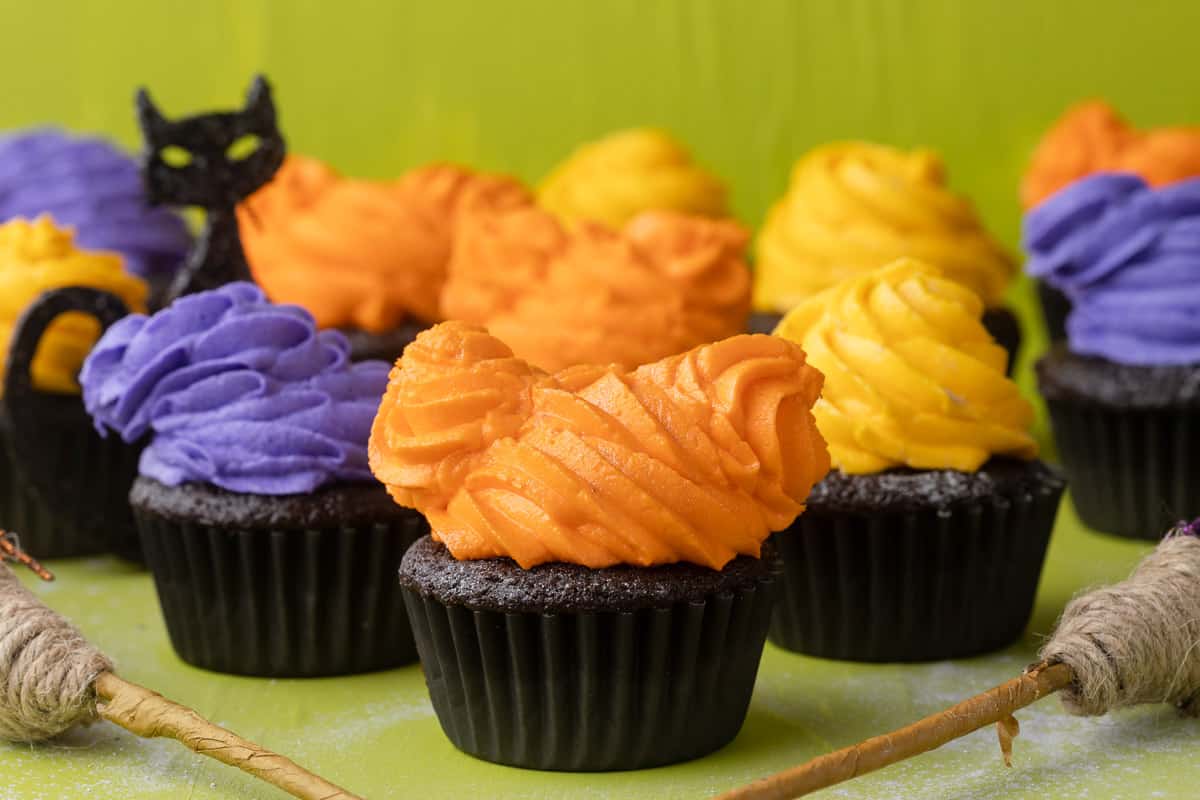 Cold Witches Brew Coffee Recipe
French vanilla cold brew coffee topped with orange-tinted pumpkin spiced cold foam and garnished with Halloween sprinkles, just like the version from Disney World!
Ingredients
COLD BREW
½

cup (120mL)

cold brew coffee concentrate or ready-to-drink cold brew coffee or homemade cold brew coffee

½

cup

(120mL) water

½

Tablespoon

(8 mL) maple syrup

½

teaspoon

vanilla paste or vanilla extract
PUMPKIN SPICE COLD FOAM
2

Tablespoons

(30mL) heavy whipping cream

2

Tablespoons

(30mL) milk

any

½ to 1

Tablespoon

(8-15mL) maple syrup1

½

teaspoon

vanilla extract

⅛

teaspoon

pumpkin pie spice
orange gel food coloring

optional

Halloween sprinkles

optional
Instructions
COLD BREW
If you are interested in making your own cold brew, see instructions for how to do that in my How To Cold Brew Coffee tutorial. Please be aware you need 24 hours to brew it.

If you want to start with pre-made cold brew concentrate, dilute it to your preference. You will want 1 cup (8 ounces) total.

If you want to start with ready-to-drink cold brew, you will want to start with 1 cup (8 ounces) of that.
PUMPKIN SPICE COLD FOAM
Whisk together the heavy cream, milk, maple syrup, vanilla extract, pumpkin pie spice, and orange food coloring. Cover and chill2 until ready to use.

Right before you make your pumpkin spice cold foam, prepare a large mug or cup with your cold brew coffee. Add the maple syrup and vanilla and stir. Add ice, if desired.

Add the pumpkin spice cold foam mixture to the frother or blender, then whip until billowy. Pour pumpkin cold foam over prepared coffee, then sprinkle with Halloween sprinkles, if desired. Pumpkin spice cold foam does not hold up well in the refrigerator, though it doesn't change the flavor or safety of consumption. Store leftovers covered, and re-whip or whisk as needed.
Notes
Maple syrup: this is based on your sweetness preference.
Chill the cold foam ingredients: if you use a milk frother that chills the foam for you, this step is unnecessary. If your frother does not chill for you, it will only take about 20-25 minutes for your cold foam ingredients to be chilled.
Inspired by Walt Disney World
Nutrition Disclosure
All nutritional values are approximate and provided to the reader as a courtesy. Changing ingredients and/or quantities will alter the estimated nutritional calculations.
Serving:
1
cup
|
Calories:
188
kcal
|
Carbohydrates:
16
g
|
Protein:
2
g
|
Fat:
12
g
|
Saturated Fat:
7
g
|
Polyunsaturated Fat:
1
g
|
Monounsaturated Fat:
3
g
|
Cholesterol:
38
mg
|
Sodium:
30
mg
|
Potassium:
184
mg
|
Fiber:
0.04
g
|
Sugar:
15
g
|
Vitamin A:
490
IU
|
Vitamin C:
0.2
mg
|
Calcium:
87
mg
|
Iron:
0.1
mg