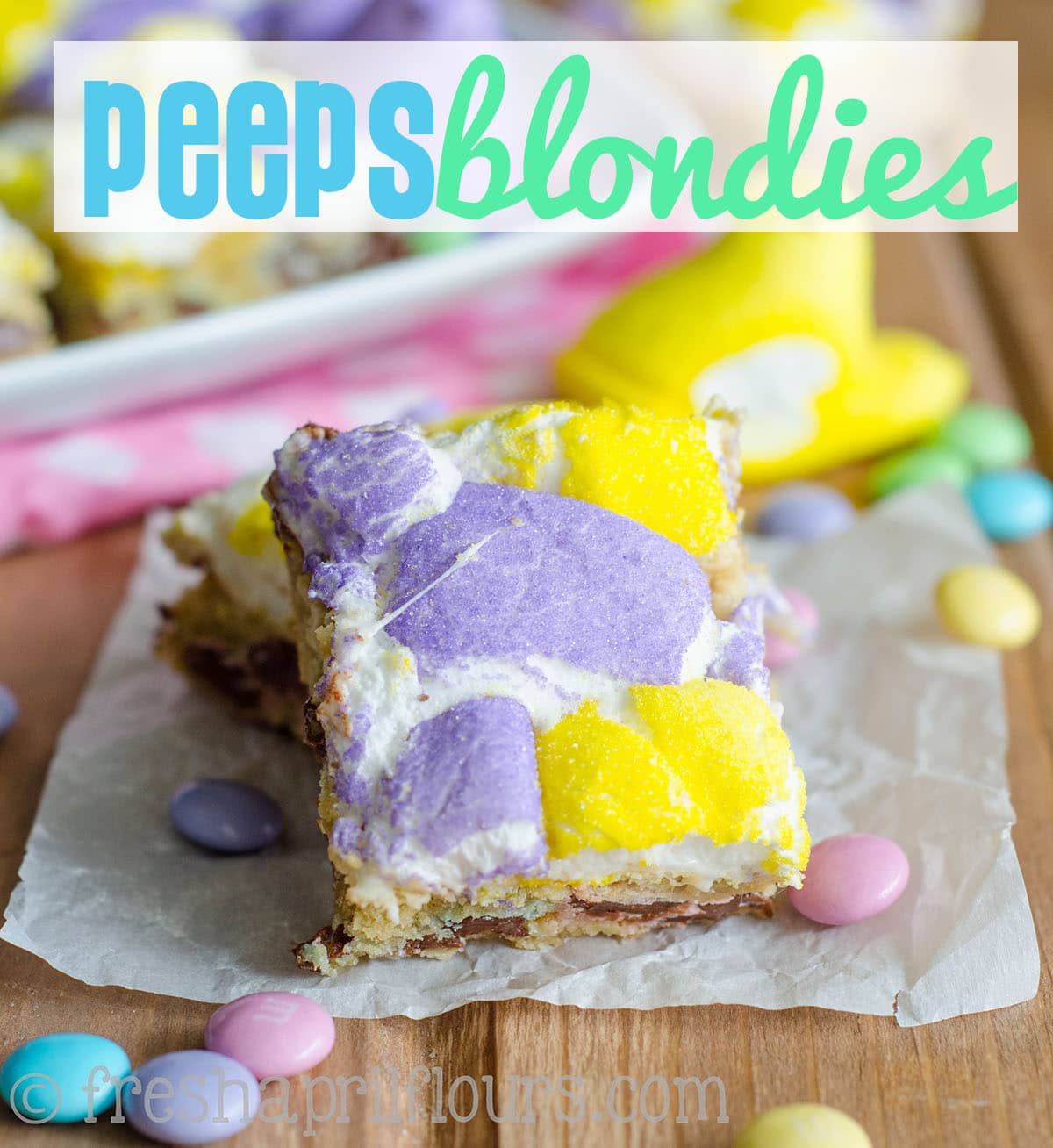 As an Amazon Associate, I earn from qualifying purchases. Read the full disclosure here.
Buttery, chewy blondies filled with milk chocolate m&m's and topped with gooey, melted Peeps. Perfect for Easter!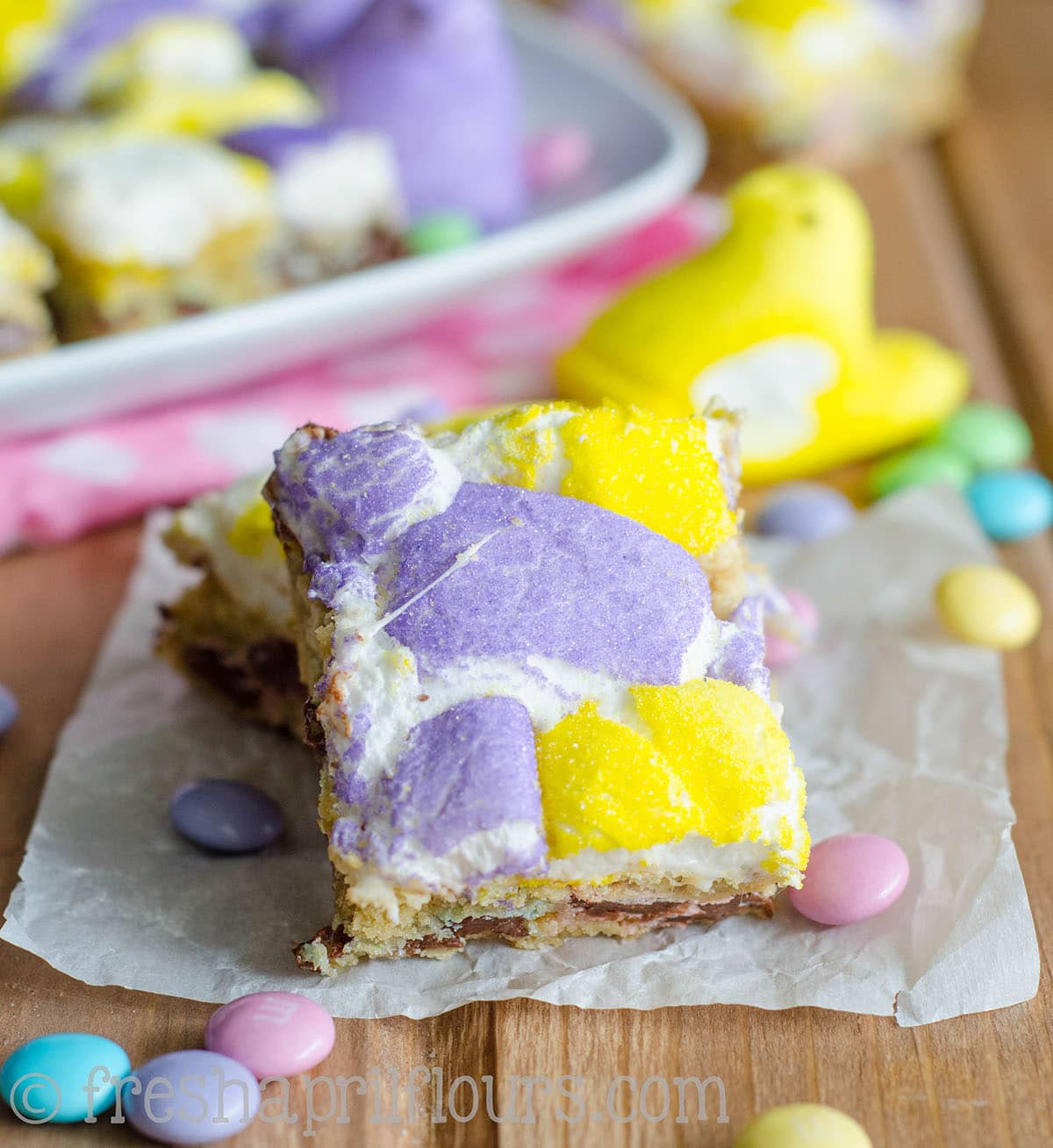 What's your take on Peeps? Are you a lover or a hater? Personally, I enjoy a good Peep around Easter, but one or two and I'm good. Why have they become available year round?
That bothers me.
Peeps = Easter. Not summer or fall or winter.
Also, when I went to buy these Peeps, I saw there are a bajillion different flavors of them now. Sour apple, blue raspberry, birthday cake… Not to mention the colors… OHHH, the colors. Too many to choose from! I mean, come on, Peeps. Let's calm down a bit.
For this recipe, you'll only need 12 normal, regular Peeps in whatever color (or colors) you prefer. Lucky for you, Peeps come in boxes of 10, so you'll need 2 boxes, and you'll have 8 leftover for that microwave trick that is so fun.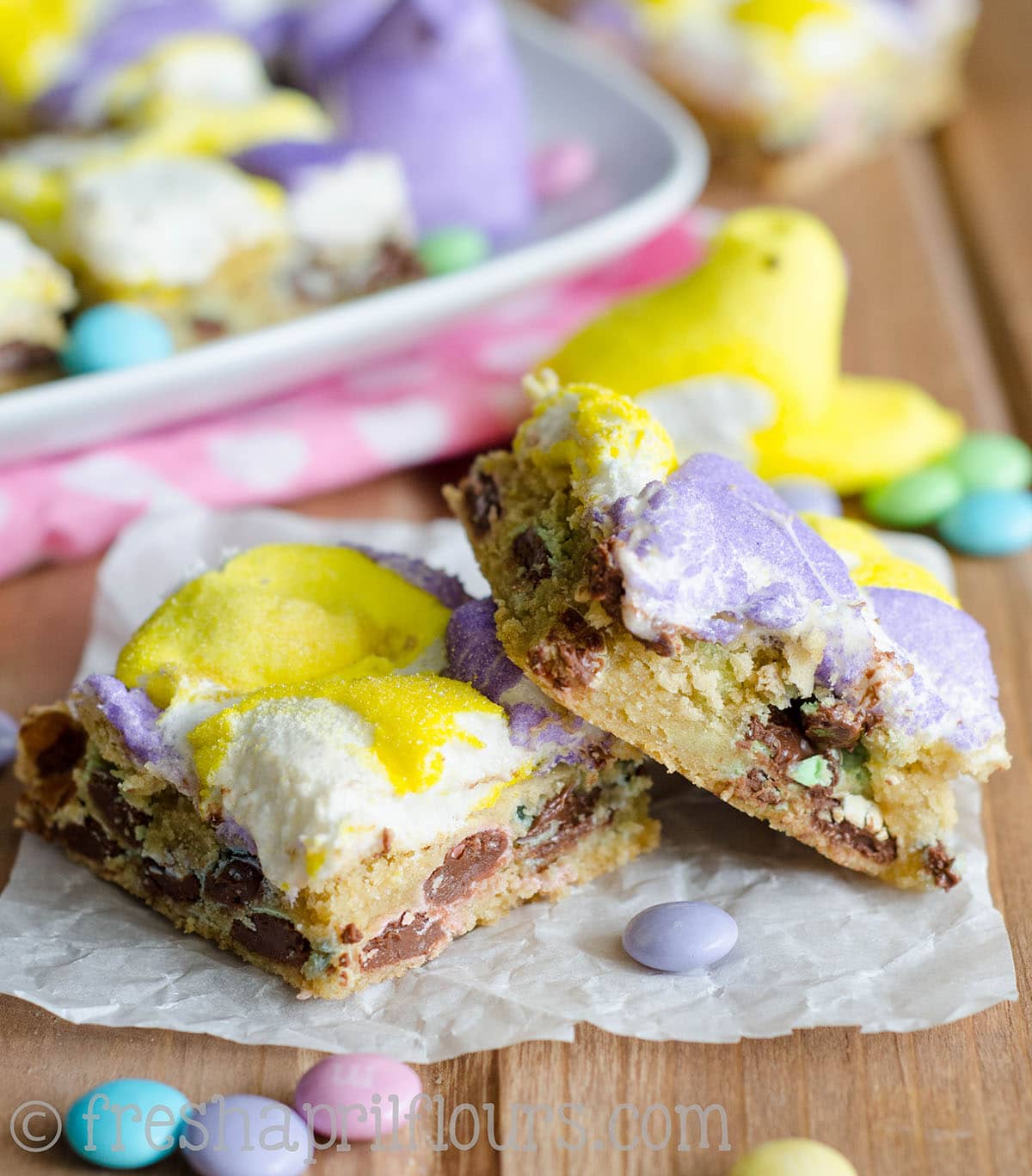 Ok, let's get down to business. I was racking my brain to come up with an Easter specific dessert, because let's face it– pastel colors are just so darn pretty to look at, and all the cold weather we've gotten here in Southeastern PA is just making my eyes hurt with white and brown slush landscapes everyday.
I needed something bright and cheery in my kitchen, and holy moly, did these blondies do the trick.
I made blondies back around Halloween with all of our leftover trick-or-treat candy, so I figured why not throw some Easter candy into the mix? And then I had this wonderful idea to involve some Peeps, but my blondie batter is pretty thick and I wasn't sure how chopped up Peeps would fair getting stirred around in the batter.
I also didn't want them to roast or burn, so I found a solution that worked perfectly.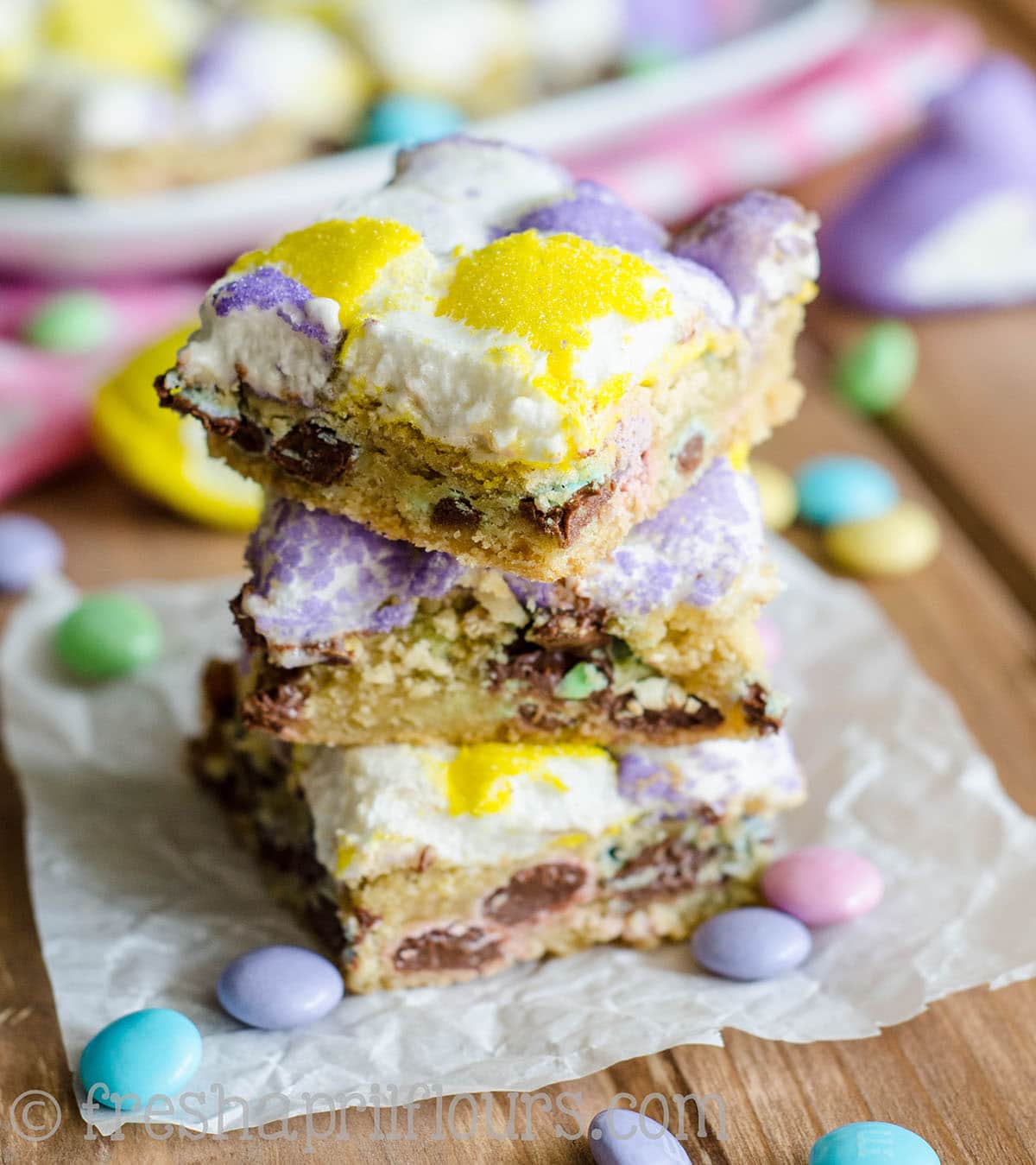 I threw together my blondie base, baked it almost the whole way, removed the pan from the oven, topped the blondies with chopped Peeps, and baked the pan for another 5 minutes.
The result?
A perfectly chewy blondie base with melty, ooey-gooey marshmallow on top of every bite. It was an Easter miracle.
Blondies are super easy to put together. You don't need a mixer (woohoo!) and the butter you'll use is melted, so you don't need a whole lot of planning ahead.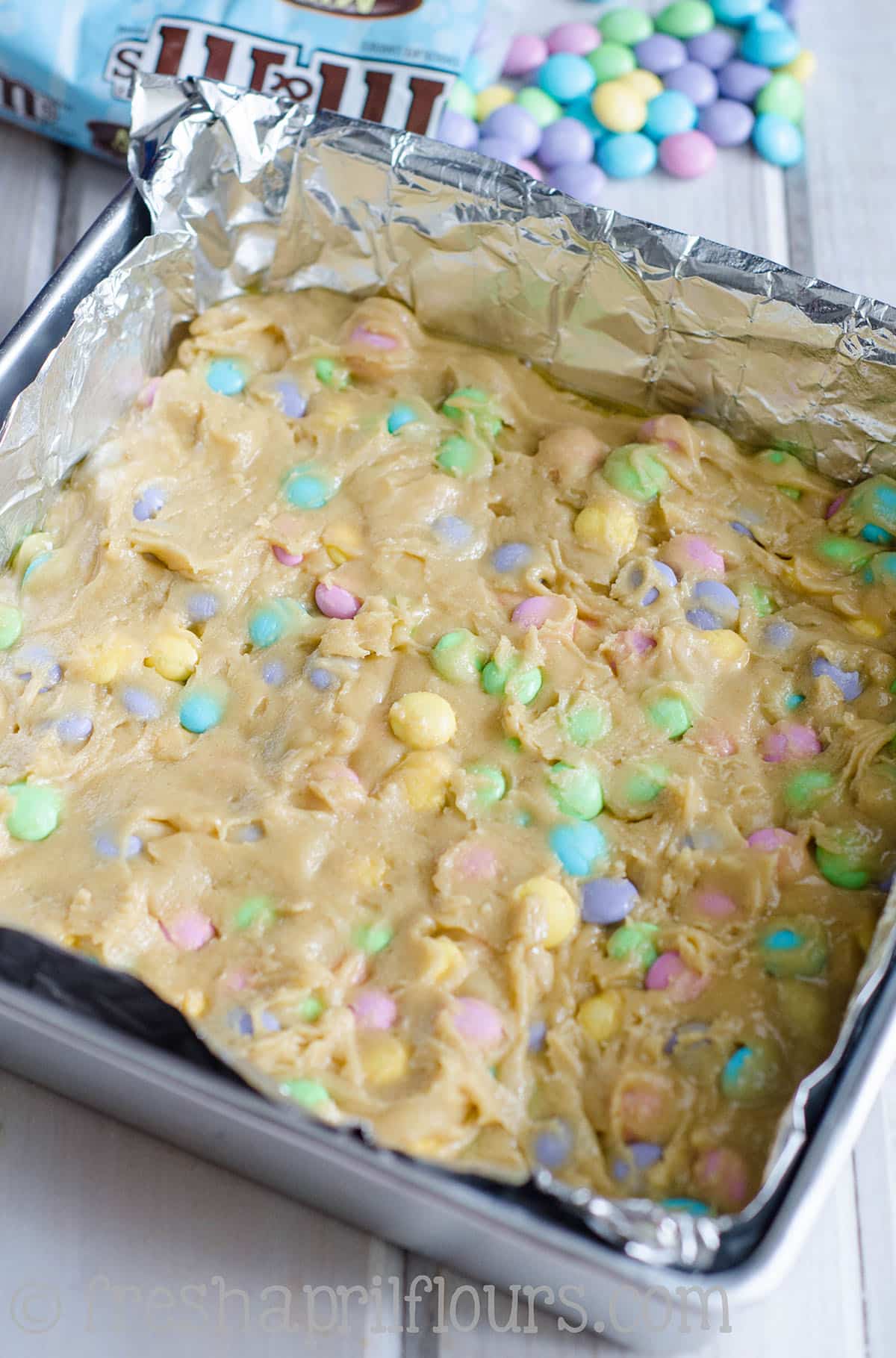 While your blondies are baking, get to chopping those Peeps. I found kitchen shears to be the easiest option. You can also use a very sharp knife, or just rip them apart with your hands.
However you break them up, I found 3-4 pieces per Peep was sufficient.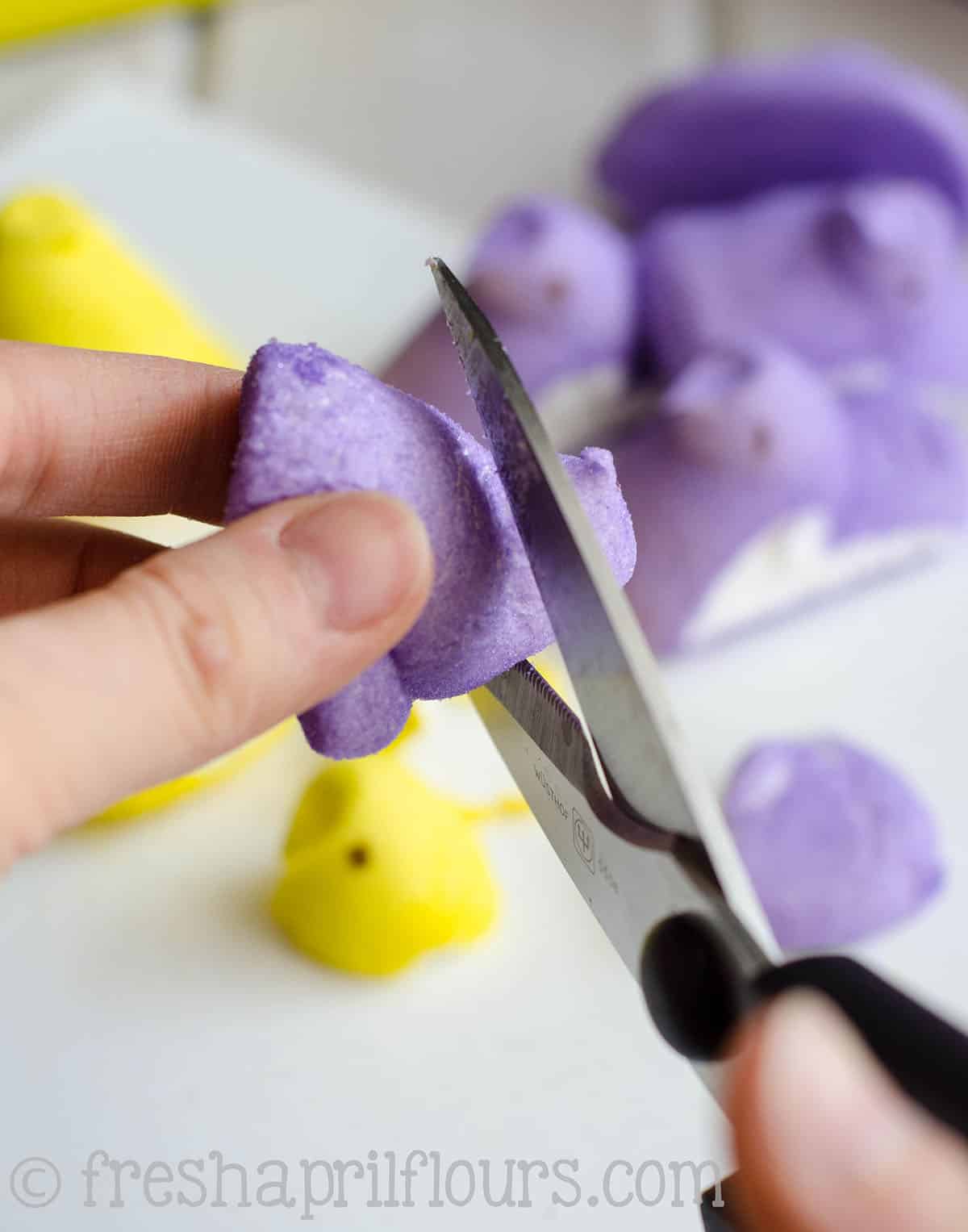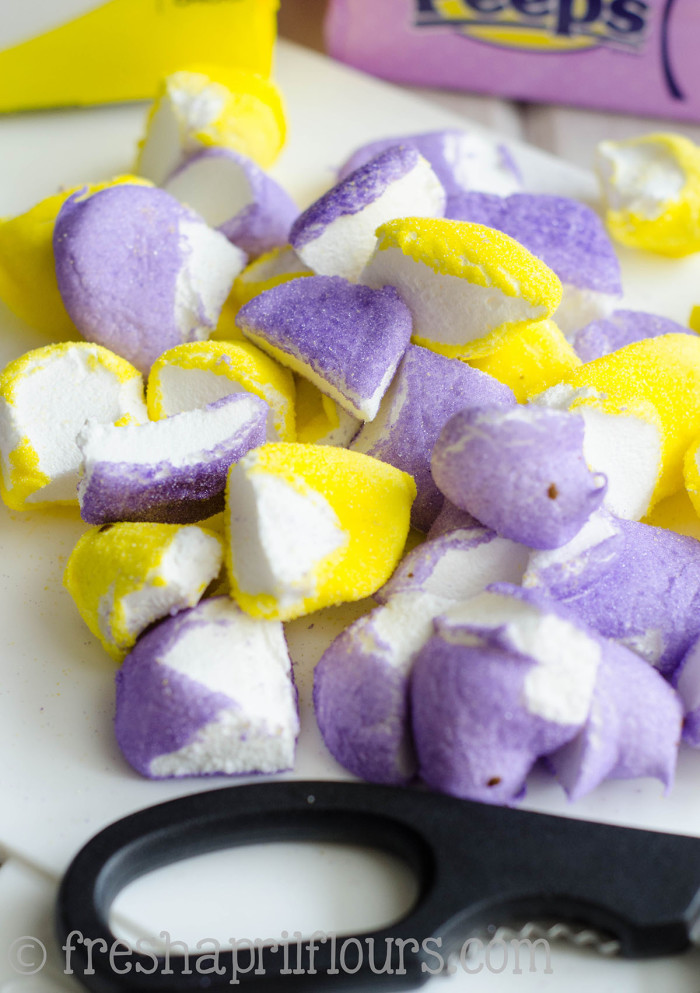 One of my IG followers hashtagged this photo ↑↑↑ #restinpeeps. Hysterical. It really is a Peeps cemetery. #sorrynotsorrypeeps
You'll really want to be careful to watch the blondies when they're finishing up in the oven. If you keep them in a second too long, they'll start to roast. If you want to roast your Peeps, be my guest. But then we're getting into that brown slushy landscape I was talking about.
Pretty pastels, please.
After the pan comes out of the oven, give each Peep a poke with your finger or knife to deflate it and kind of spread all of the deflated pieces together so they cover the whole top of the blondies. This step is totally optional if you prefer piece-y Peeps.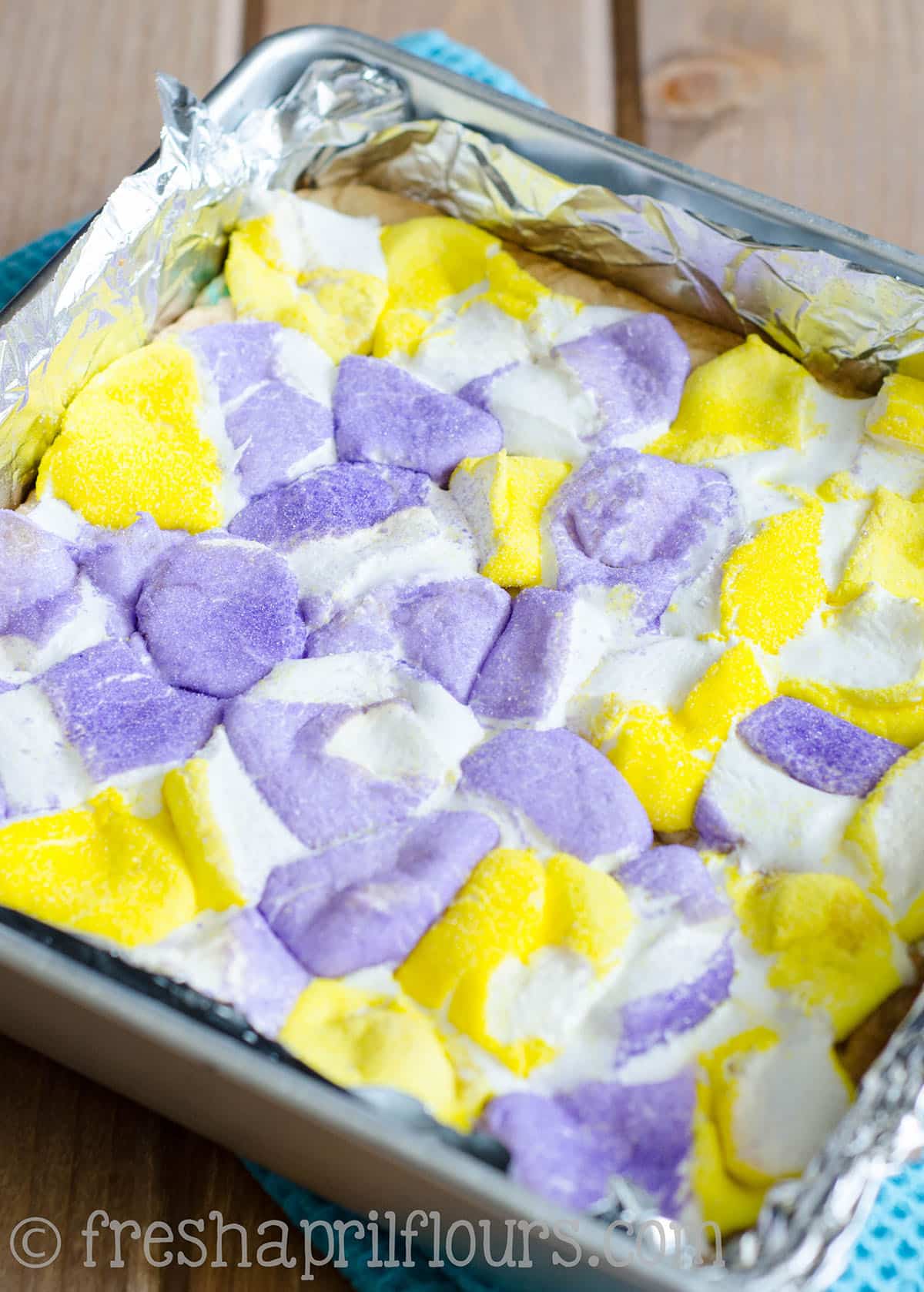 How many times do you think I can type the word Peeps?
The most difficult step involved with these blondies was slicing them into bars. You'll want to wait until the bars are completely cool, because even slightly warm marshmallow will be way too sticky to cut through. I found that wetting my very sharp knife every 2 to 3 slices was sufficient in keeping the cuts smooth.
I also suggest slicing with a downward motion, but pulling the knife out of the bars toward the side, as opposed to lifting the knife up out of the cut.
Lifting = pulling off Peeps. No good.
Guys… These blondies are really good. I think that the chocolate and marshmallow balance each other out nicely, and I'm glad I decided to include the m&m's. It's almost like an Easter s'mores blondie (very much like these chewy s'mores cookie bars) and that sounds like a really great addition to your holiday celebration.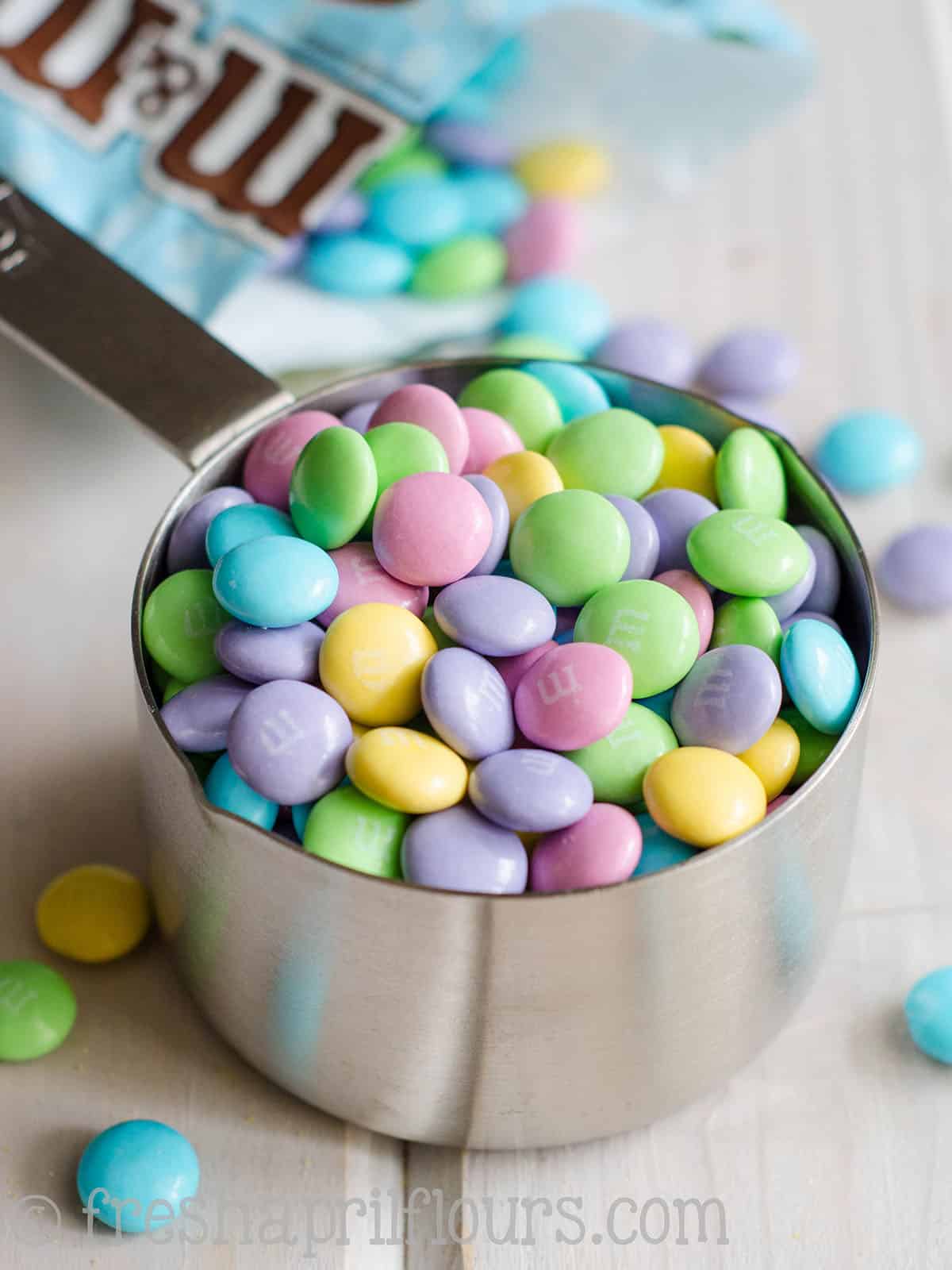 Chewy, buttery, gooey… All the best things about dessert rolled into one.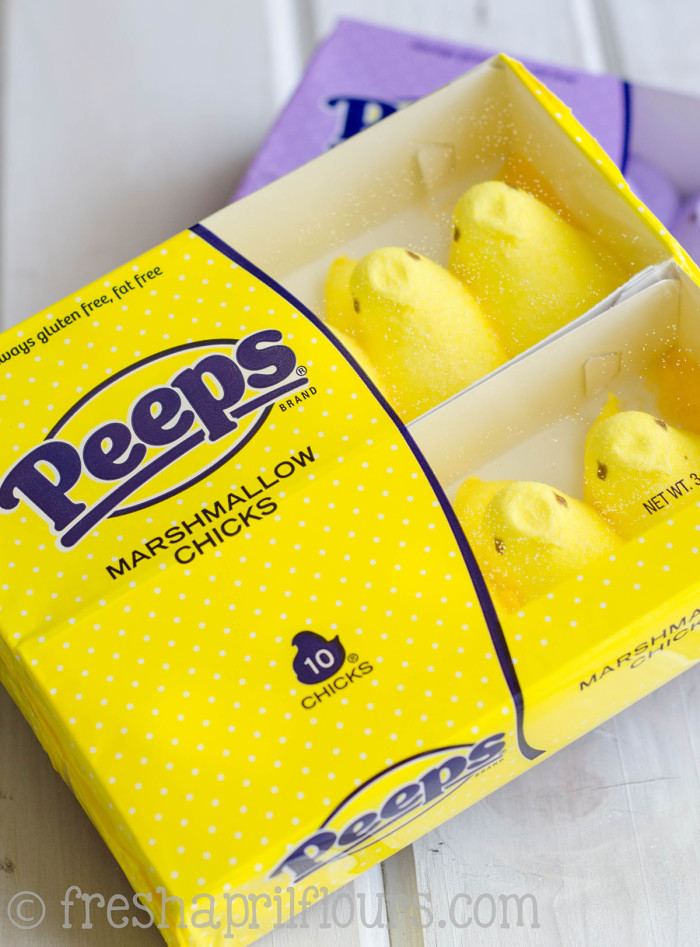 Peep peep!
More Easter recipes for your Easter spread: homemade chocolate covered Easter eggs, no bake Cadbury Egg pie, overnight French toast casserole, and Italian anise bread.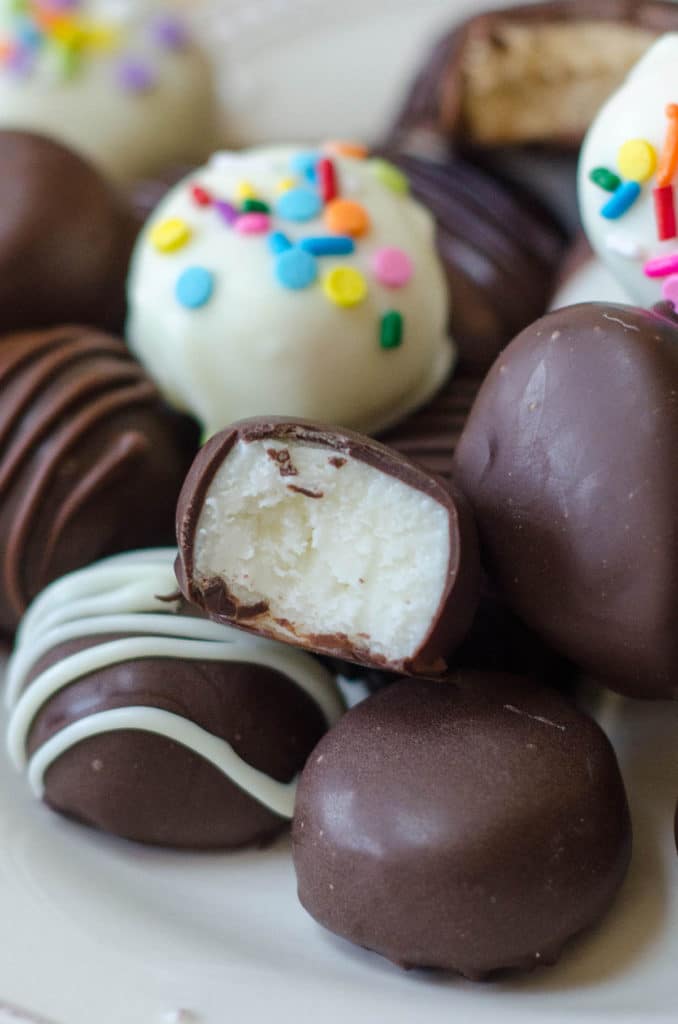 Peeps Blondies
Buttery, chewy blondies filled with milk chocolate m&m's and topped with gooey, melted Peeps. Perfect for Easter!
Ingredients
1 and 1/4

cup

all-purpose flour

be sure to measure properly

¾

teaspoon

baking powder

¼

teaspoon

baking soda

¼

teaspoon

salt

¾

cup

light brown sugar

lightly packed

4

Tablespoons

unsalted butter

melted

½

Tablespoon

vanilla extract

1

egg

1

cup

pastel m&m's

12

marshmallow Peeps

any colors, chopped/cut into 3-4 pieces each
Instructions
Preheat oven to 350ºF. Line an 8″ baking pan with foil, leaving an overhang over the sides. Spray with non-stick spray. Set aside.

In a small bowl, mix together flour, baking powder, baking soda, and salt. Set aside. In a medium bowl, whisk together the melted butter, brown sugar, vanilla, and egg until smooth.

Slowly add flour mixture and stir together until just combined. Fold in m&m's. The batter will be quite thick, but this is ok. Spread evenly into baking pan with a spatula. The layer of batter will look very thin, but it will puff up substantially during baking.

Bake blondies for 15 minutes. While the blondies are baking, chop or cut the Peeps. After the 15 minutes, remove the pan from the oven and, working quickly, spread the Peeps evenly over the surface of the blondies. Bake an additional 5 minutes, watching the Peeps closely so as not to burn them. Allow to cool completely before lifting foil out of pan and cutting into squares. Using a sharp knife that has been dampened with water will help in cutting through the marshmallow layer. Pull knife out from the sides when you cut as opposed to lifting the knife out of the cut. Blondies will stay fresh covered at room temperature for up to 5 days.
Nutrition Disclosure
All nutritional values are approximate and provided to the reader as a courtesy. Changing ingredients and/or quantities will alter the estimated nutritional calculations.