Biscoff (Cookie Butter) Puppy Chow

As an Amazon Associate, I earn from qualifying purchases. Read the full disclosure here.
An easy recipe for puppy chow made with Biscoff cookie spread.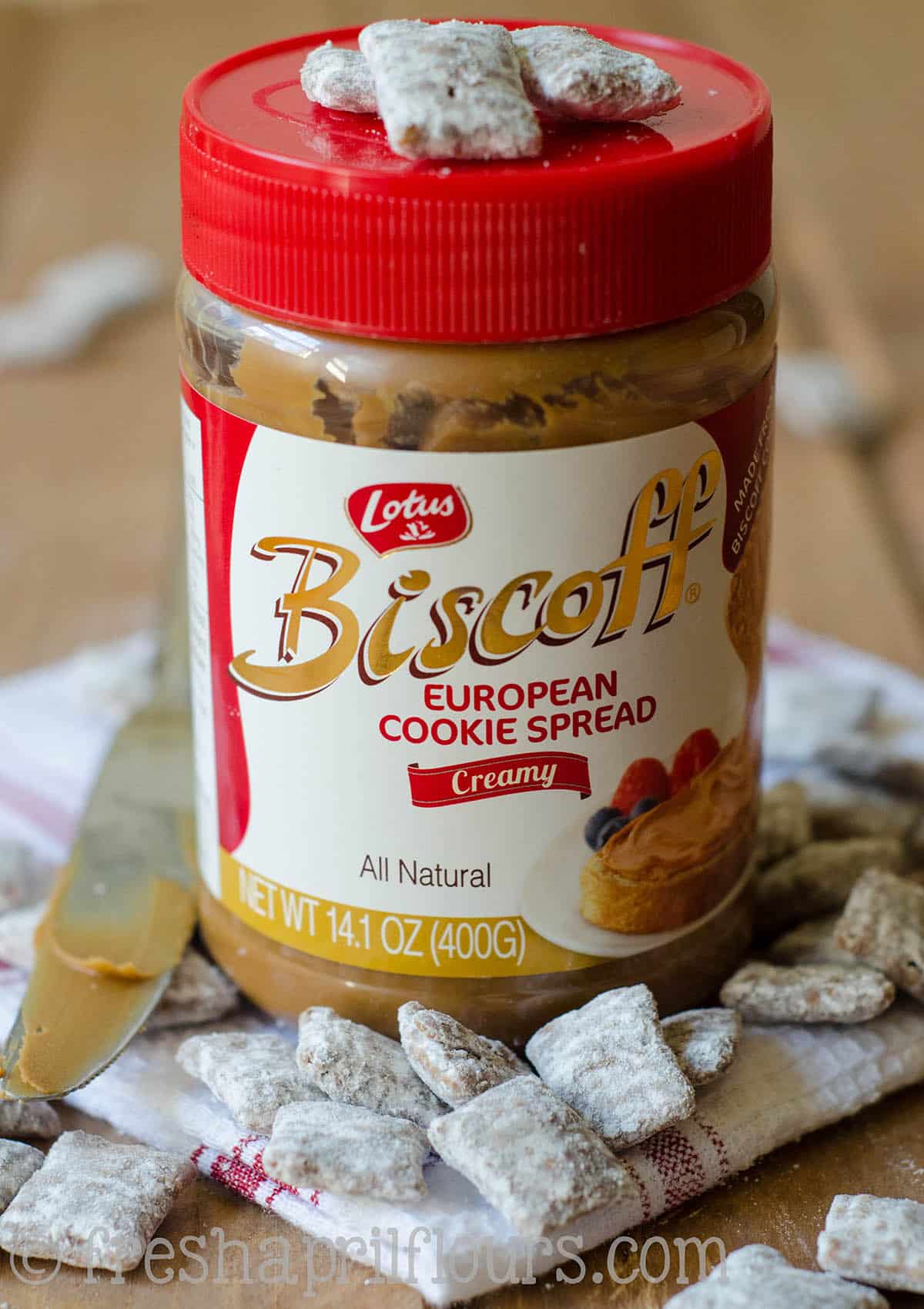 Are you tired of hearing about it from me yet? Well, get used to it, because I have been deemed the Puppy Chow Queen by many, and I'm not stopping there. Prepare yourself for many a puppy chow in the FAF future.
Today is June 1st, which means that my cookbook is on sale in several places! You can now find my book on Amazon, Barnes & Noble, and my publisher's, Halo Publishing International, websites. The very best place to buy it, though, is my sprinkle shop's website, because I handle those orders directly.
This means you will likely receive your book in the mail faster AND I will be able to personally sign the book for you. Pretty sweet, right?!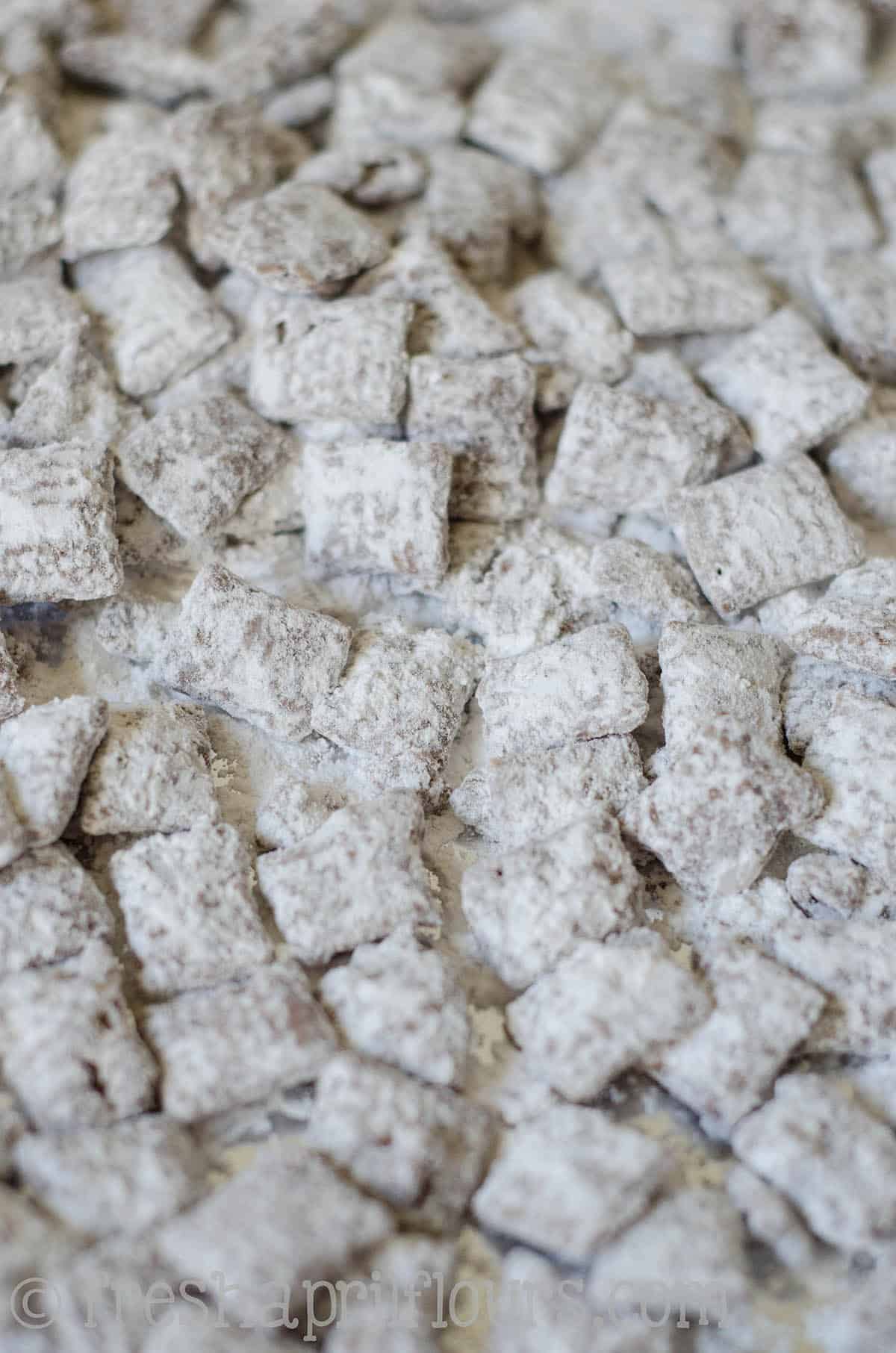 In order to celebrate this day a little bit more, I decided to bring you yet another puppy chow recipe (as if these various puppy chow recipes weren't enough and the 22 in my book somehow can't completely satisfy your puppy chow chompers), but this is no ordinary puppy chow recipe…
This is puppy chow made with BISCOFF.
Are you familiar with Biscoff? It goes by many names. "Cookie butter" is its general name, but Trader Joe's calls theirs Speculoos.
This stuff is dangerously good. I'm talking right up there with peanut butter as far as spoon-it-right-out-of-the-jar, spread-it-on-everything, eat-it-in-your-sleep good.
It is made from crushed up Biscoff cookies (made by a company called Lotus) which are a European cookie that remind me of a cross between graham crackers and shortbread cookies. The spread is smooth and creamy (although it comes in "crunchy" as well) and pairs very nicely with crackers, fruit, bread, and chocolate.
It is mighty sweet, though, so I try to limit myself in cookie butter consumption and only use it as an ingredient so as to refrain from shoving it directly into my face the way I do peanut butter.
Just like all of the puppy chows I have brought to you, this snack comes together in a snap. While Biscoff is the main ingredient coating the Chex cereal, I wasn't sure it was going to harden quite right to create the exterior puppy chow needs to give you that extra crunch.
So I added just a touch of semi-sweet chocolate, and the results were fantastic.
A quick shake in some powdered sugar, and you'll realize why I love puppy chow so much.
Easiest.snack.evereverever.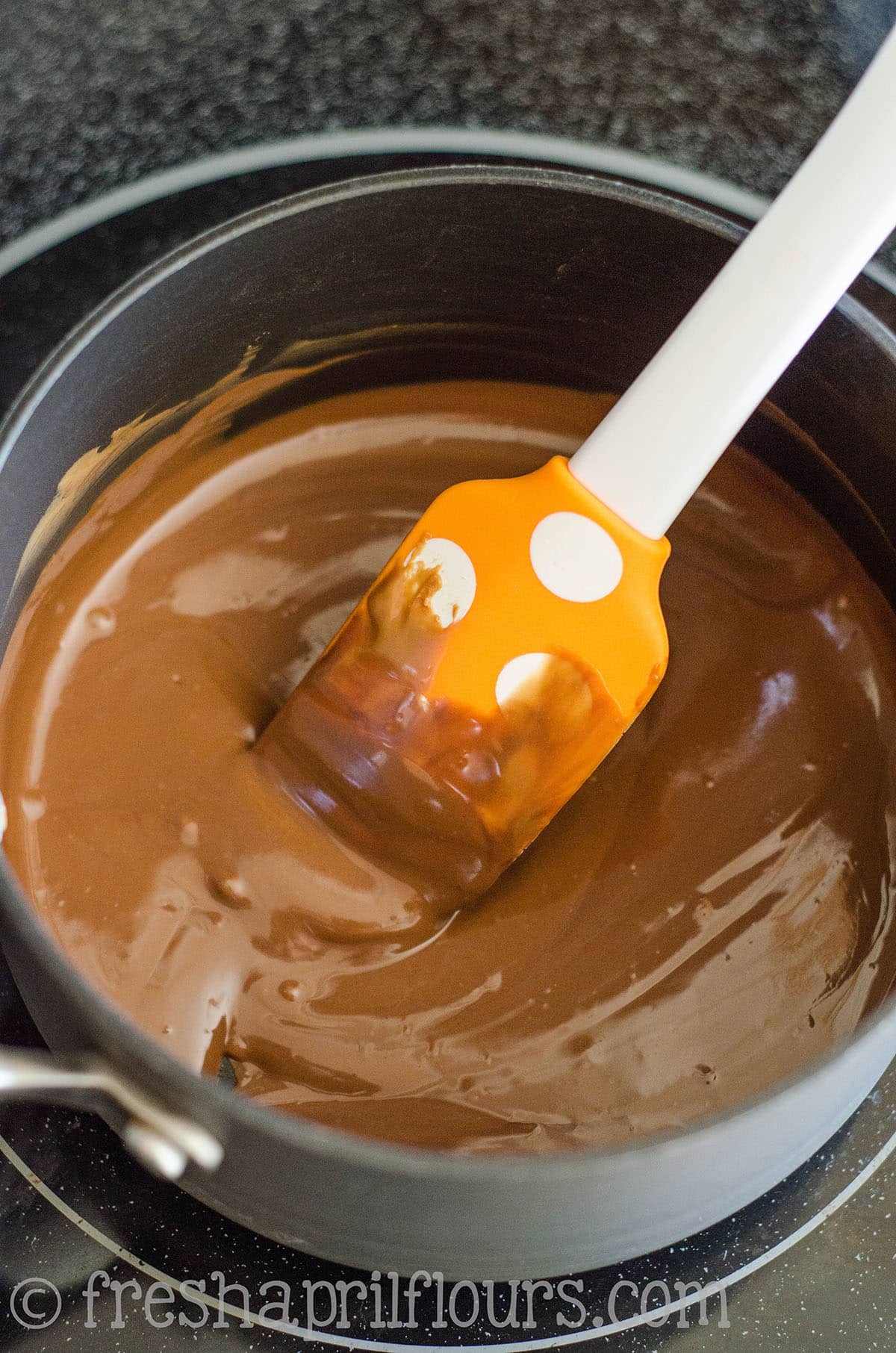 In less than 10 minutes, you will have yourself a puppy chow flavor that is unlike any you've had before, especially if you're new to the spreadable cookie world. Seriously… If "spreadable cookie" isn't enough to make you want to try Biscoff, I'm not sure what it will take!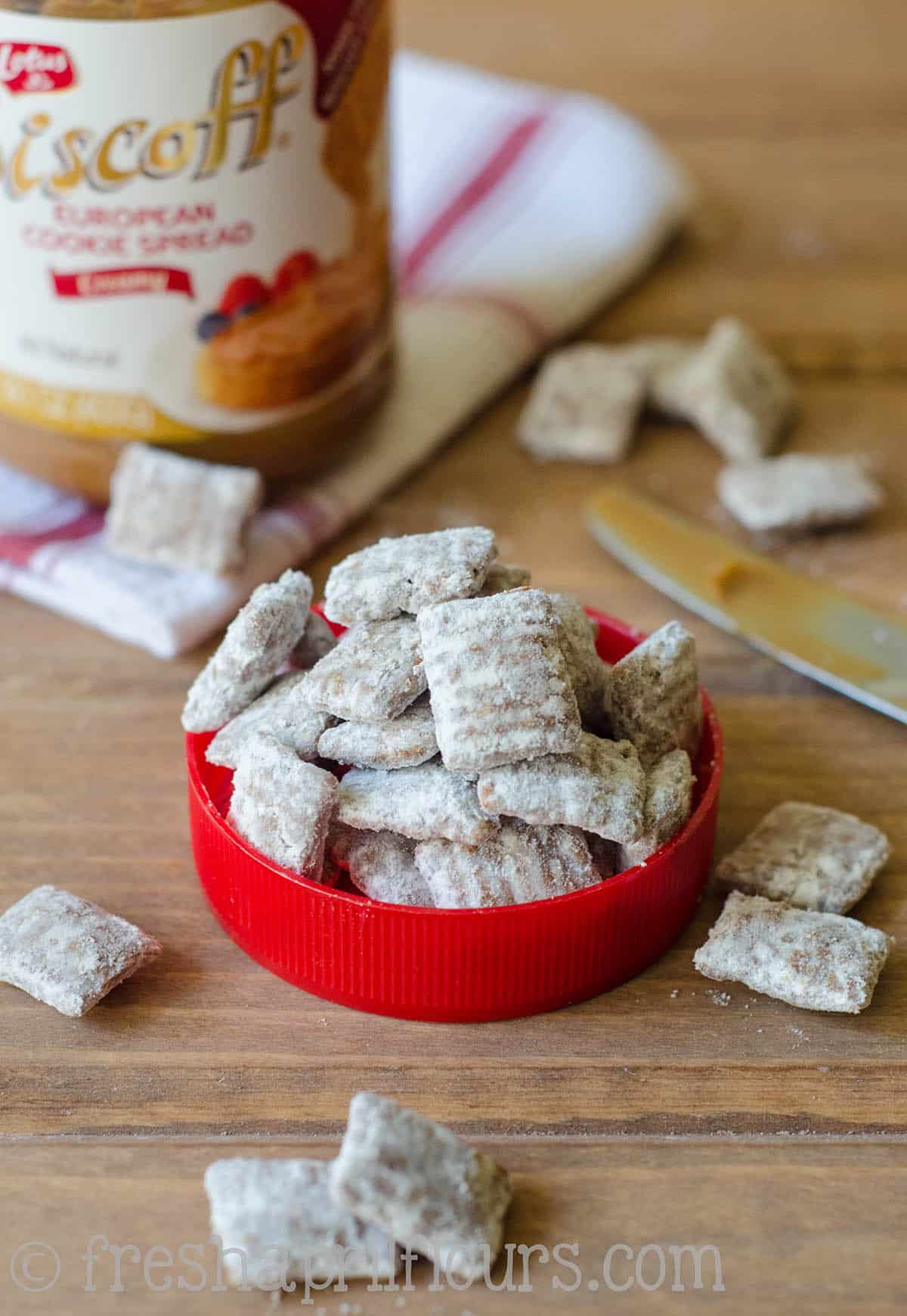 With that I say happy June 1st! Hooray for everyone having access to The Chow Down!
More puppy chow recipes: pumpkin spice puppy chow, brownie batter puppy chow, red velvet puppy chow, and cake batter puppy chow.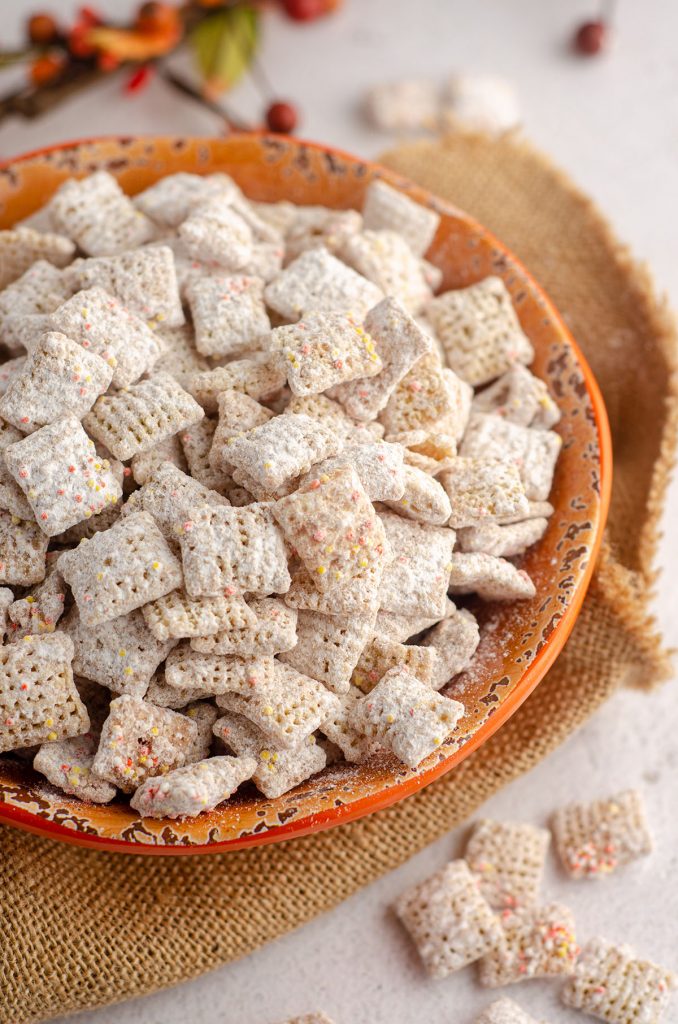 Biscoff (Cookie Butter) Puppy Chow
An easy recipe for puppy chow made with Biscoff cookie spread.
Ingredients
4 and 1/2

cups

Rice Chex® cereal

1/2

cup

Biscoff® cookie spread

(or any other cookie spread)

2

ounces

semi-sweet chocolate

1

cup

powdered sugar
Instructions
Pour the cereal into a large bowl and set aside.

In a medium saucepan over low heat, melt the Biscoff® and chocolate, stirring constantly until completely melted. Remove from heat.

Immediately pour melted mixture over cereal and stir gently to coat.

Pour cereal into a large zip-top bag or large container with a tight-fitting lid and add the powdered sugar. Shake until everything is coated. Spread onto baking sheet lined with foil or parchment and allow to cool. Discard excess powder. Store in an airtight container at room temperature up to one week.
Nutrition Disclosure
All nutritional values are approximate and provided to the reader as a courtesy. Changing ingredients and/or quantities will alter the estimated nutritional calculations.
.