Homemade White Chocolate Peanut Butter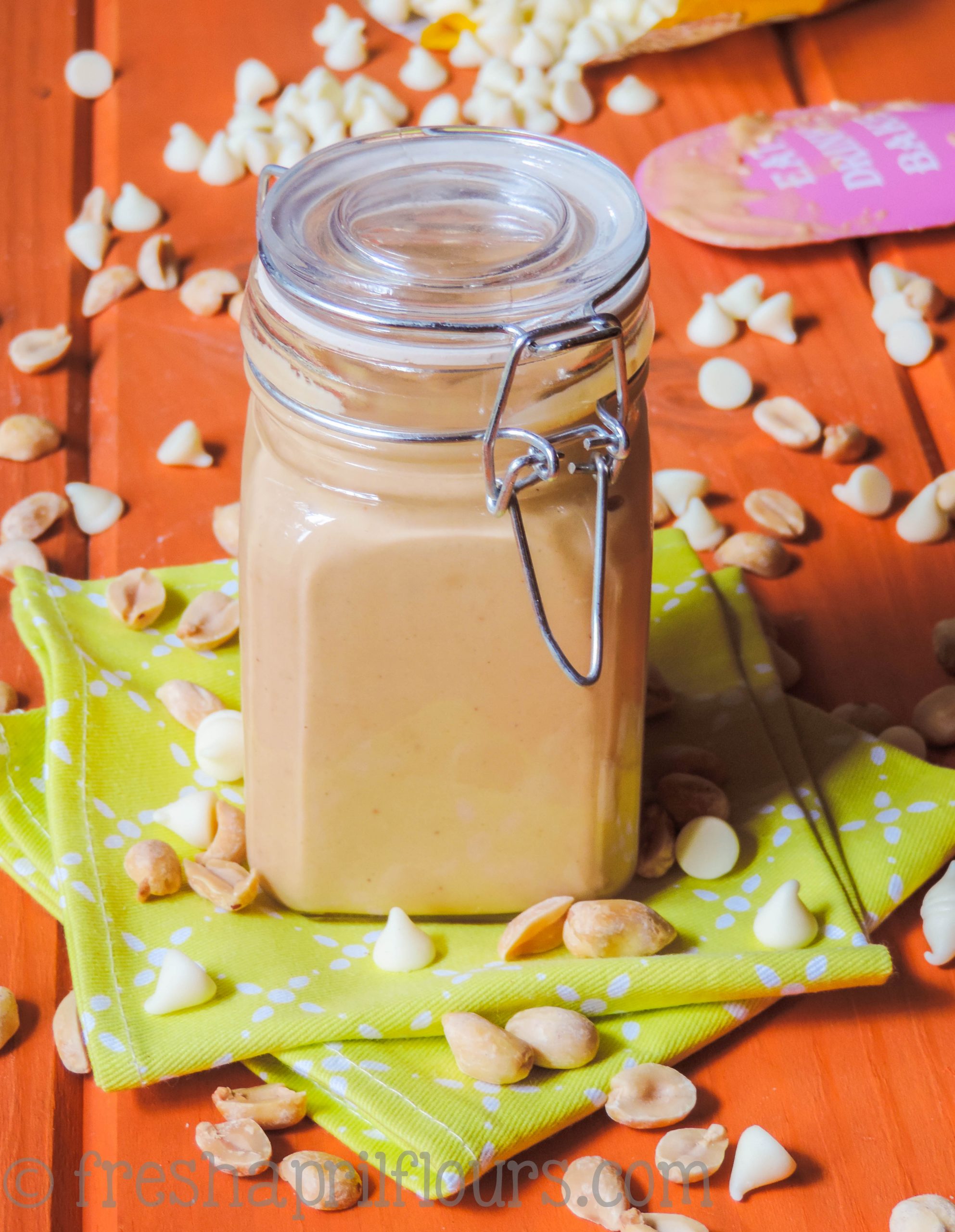 As an Amazon Associate, I earn from qualifying purchases. Read the full disclosure here.
This ultra smooth and super creamy peanut butter is naturally salty and lightly sweetened with velvety white chocolate.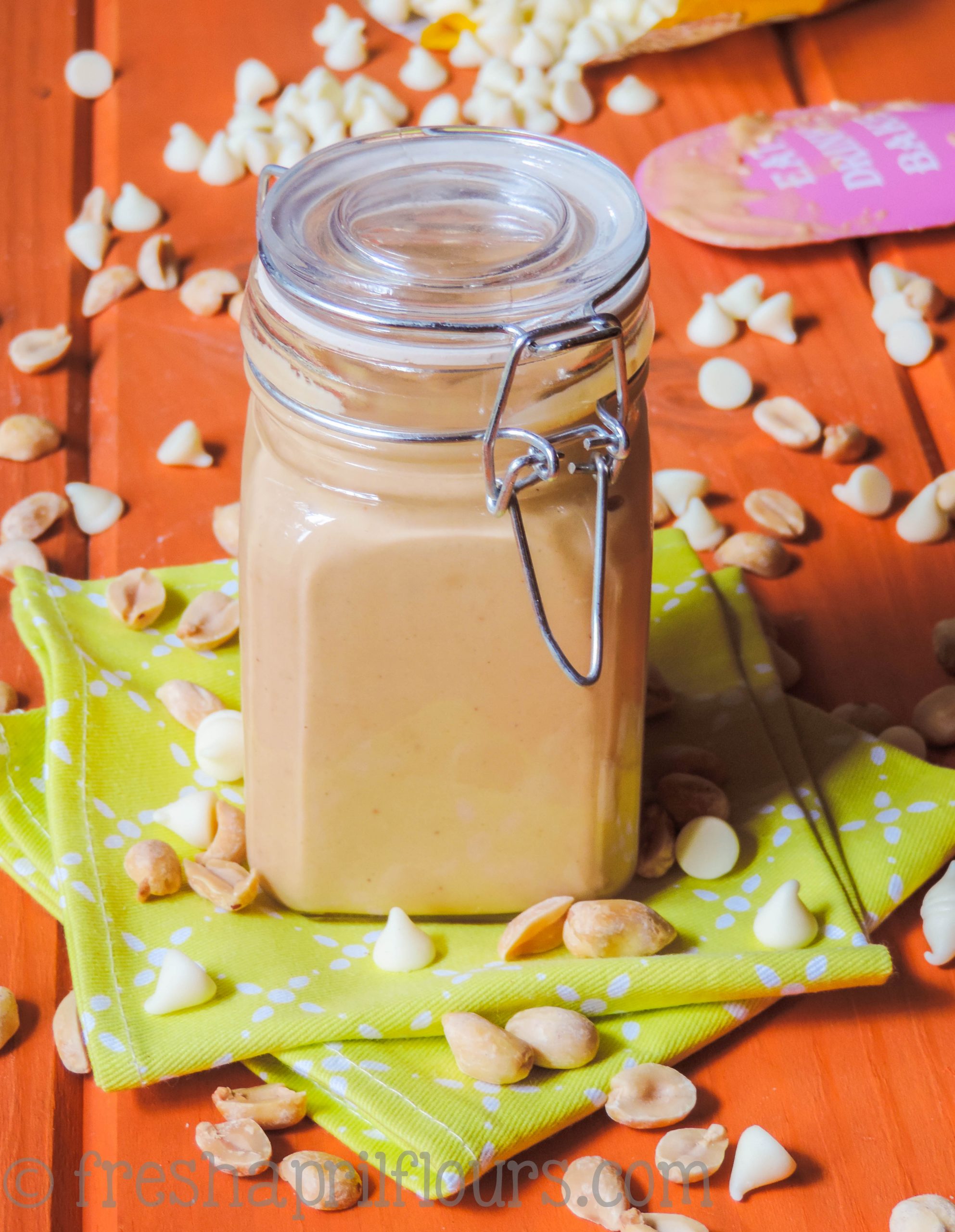 We've talked about homemade nut butter before, and you all LOVED it. For those of you who made my homemade almond butter, you know how simple this "recipe" is.
Food processor + nuts + a few minutes = nutty, creamy goodness.
This recipe is no different! So come along with me as we enter the sweet and salty world of white chocolate peanut butter.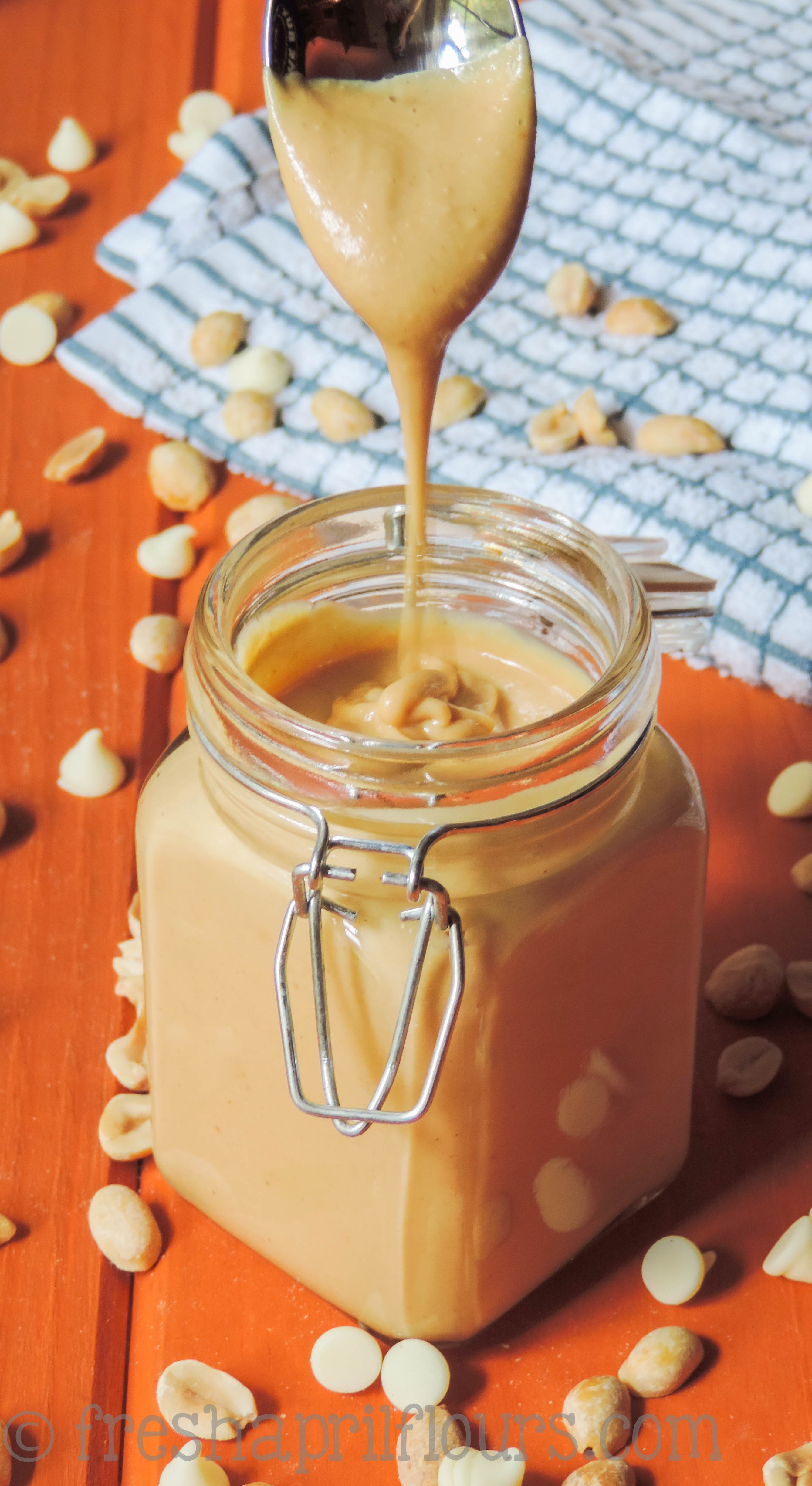 This all started when I tried a spoonful of Saratoga peanut butter and absolutely fell in pb love. I'm not usually one to go for white chocolate, but somebody I adore is a huge fan, and he's the one who forced me to try it.
And by forced, I mean suggested. It didn't take too much convincing, because peanut butter > all things. The white chocolate was just a side note.
Let me just tell you… This is one of the best peanut butters I have ever tasted, and this is coming from someone who has tried several of the creative flavors that Saratoga makes (yes, more recipes to come– just you wait!) and who lives in a house that has at least 5 jars of peanut butter in the pantry at any given time.
For this peanut butter, I used dry roasted, unsalted peanuts, but you're welcome to use whatever kind you like. If you're going with unsalted peanuts, just don't add any salt.
In my personal opinion, dry roasted peanuts would be the best to use here, as the ones that are already oily might produce a nut butter that is too runny. And that's no fun for anyone.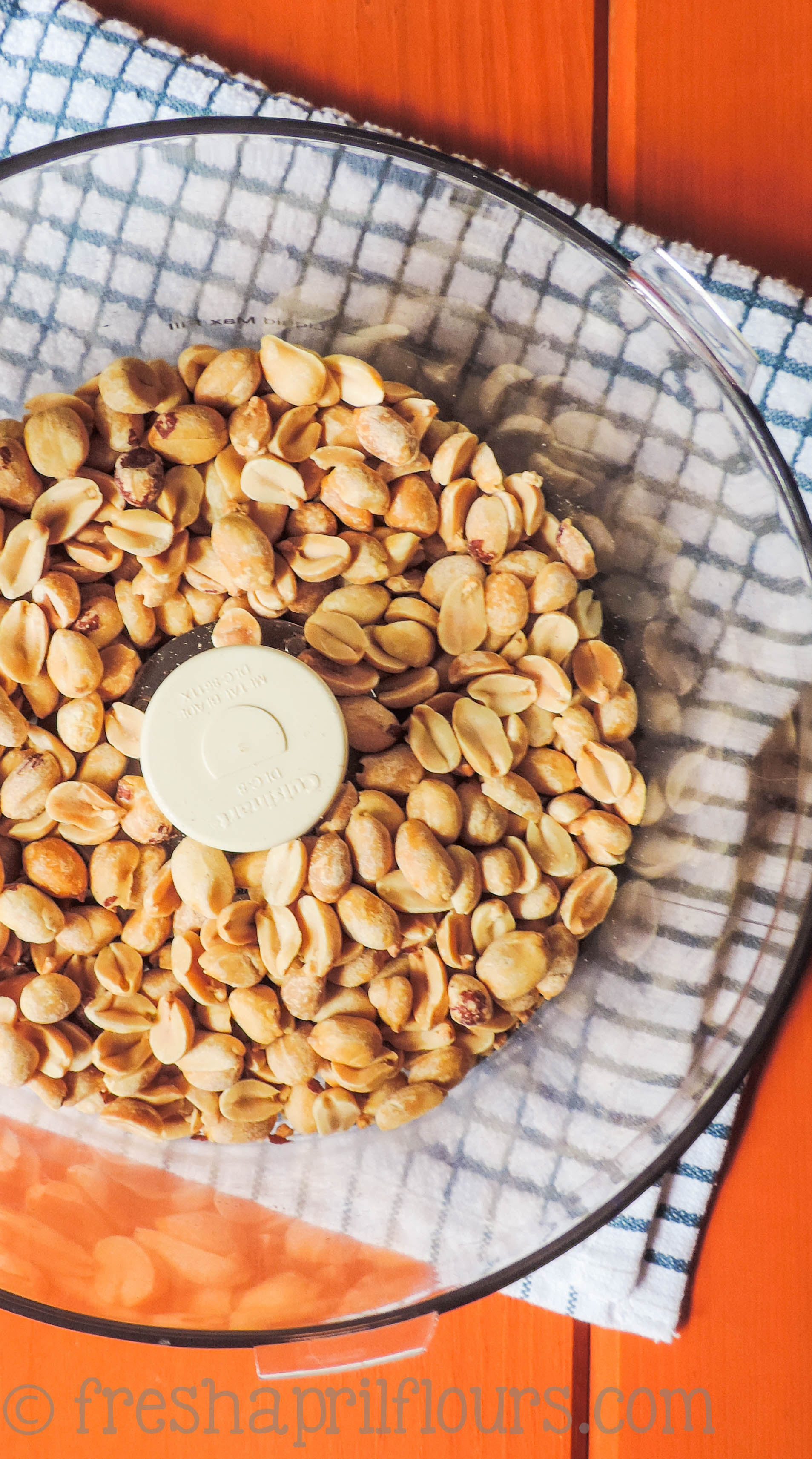 As with my homemade honey roasted almond butter, the sweetness factor will depend on your tastebuds. I used 1/2 cup of white chocolate chips for my 8 ounces of peanuts, and it's the perfect amount of sweetness.
If you're unsure, start with 1/4 cup, taste, and go from there. Who can argue with taste-testing? Especially when it involves peanut butter and chocolate!
Once you have your peanuts in the food processor, the time it takes for them to go from nuts to butter is about 2-3 minutes. Seriously. Super fast. And since they're moving at lightning speed in that thing, they'll get nice and toasty, so the white chocolate chips will melt!
If for some reason you're unsure that your chips will melt, go ahead and melt them a bit before adding to the butter.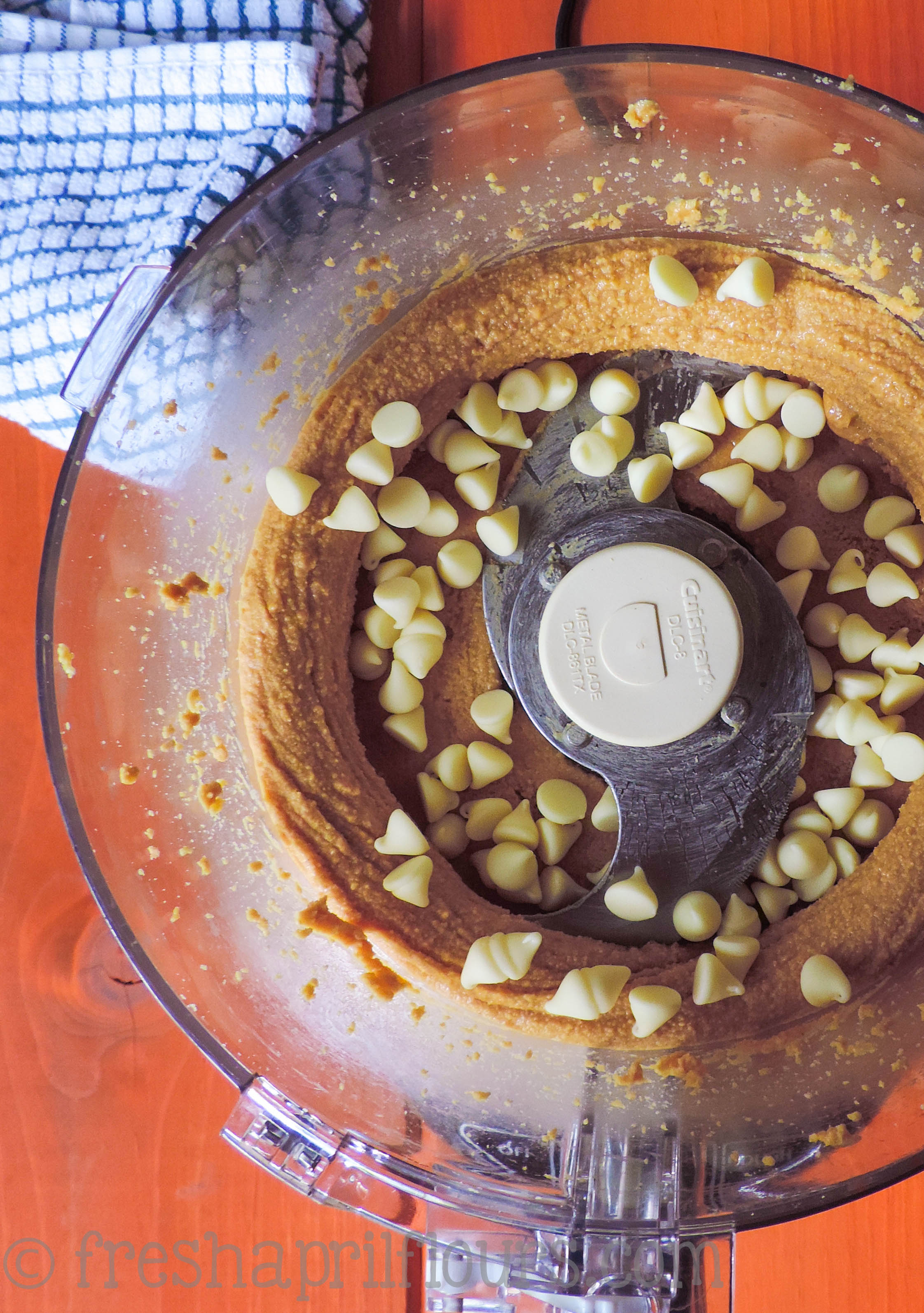 This white chocolate peanut butter is ultra smooth, the perfect combination of salty and sweet, and makes a great addition to any snack you already use peanut butter regularly.
If it weren't for the fact that we gave up ice cream for the entire year of 2014, I would be slathering this stuff all over a big bowl of vanilla.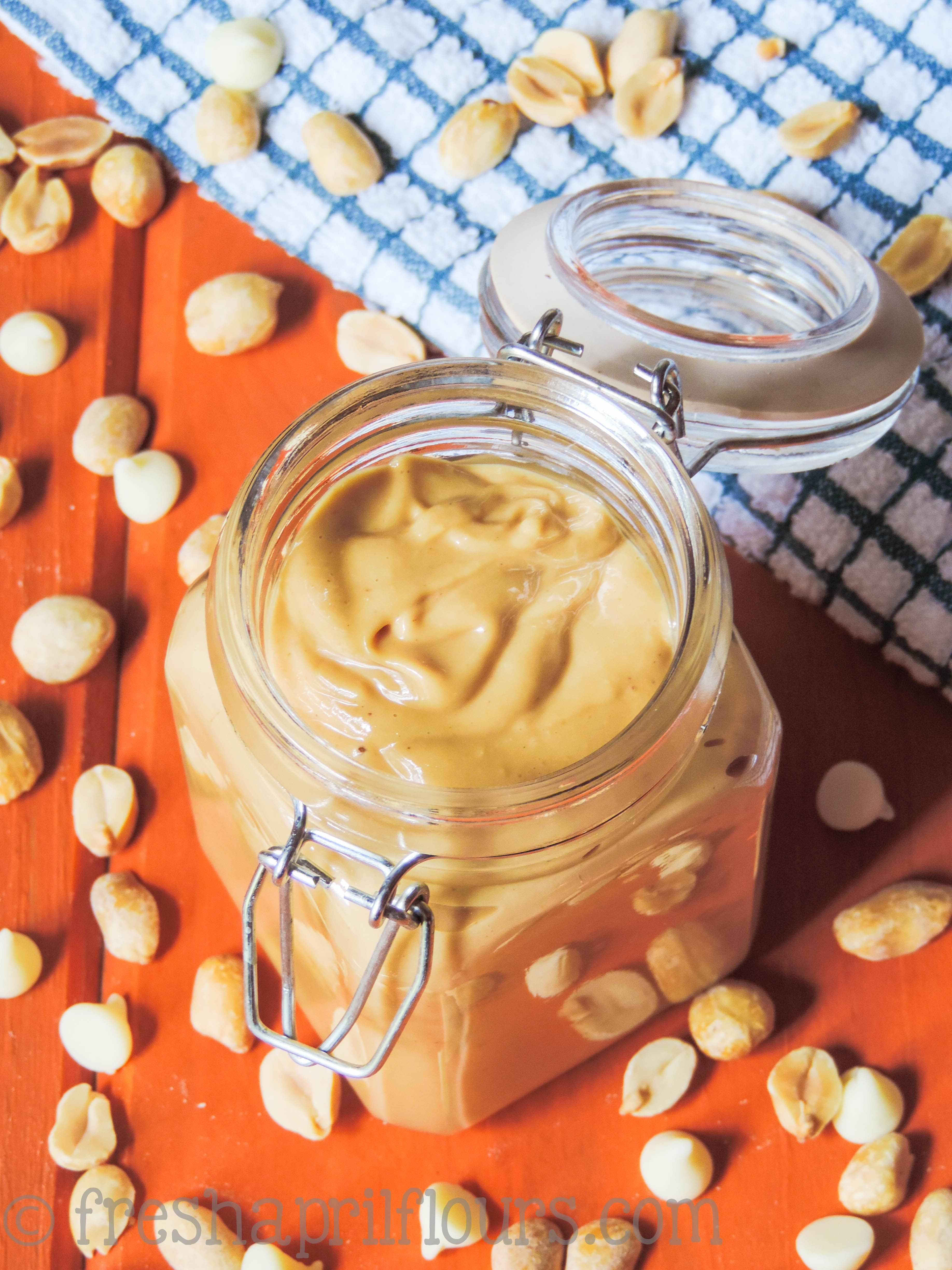 Ok, just kidding. It would be a small bowl. With the ratio of white chocolate peanut butter to ice cream being ridiculously favored in the nutty direction.
Want to make some more homemade nut butter? Try any of these next: homemade almond butter, cinnamon raisin peanut butter, or salted honey cashew peanut butter.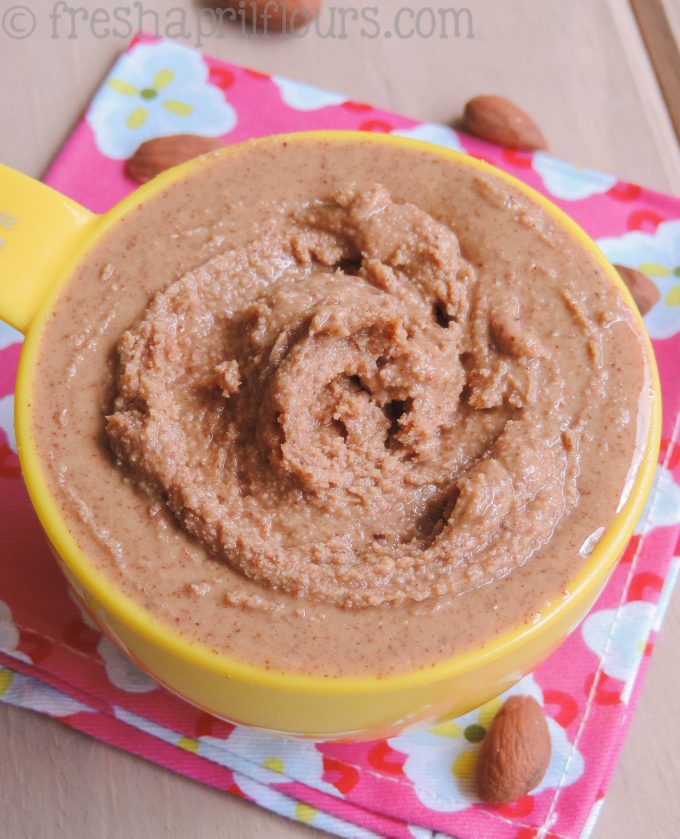 Homemade White Chocolate Peanut Butter
This ultra smooth and super creamy peanut butter is naturally salty and lightly sweetened with velvety white chocolate.
Ingredients
8

ounces

peanuts

I used dry roasted, unsalted

1/4

teaspoon

salt

1/2

cup

white chocolate chips
Instructions
Pour peanuts and salt into food processor. Process until the nuts go from coarse to smooth. Stop and scrape down the sides.

Add white chocolate chips (they do not have to be melted, but you may melt them if you prefer) and continue to process until peanut butter reaches a velvety smooth consistency and white chocolate chips are completely broken down. Store in an airtight container.
Nutrition Disclosure
All nutritional values are approximate and provided to the reader as a courtesy. Changing ingredients and/or quantities will alter the estimated nutritional calculations.