Salted Honey Cashew Peanut Butter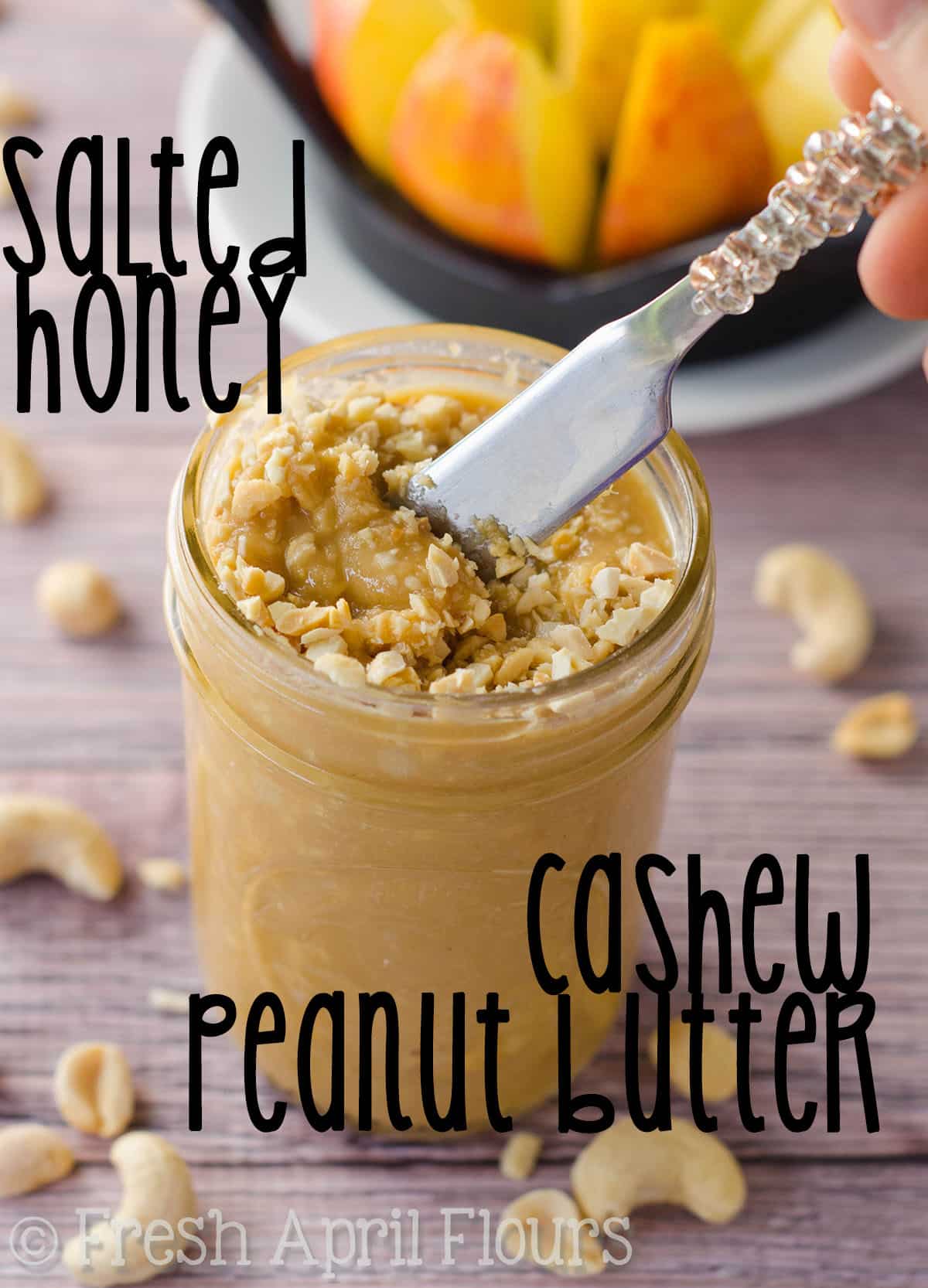 As an Amazon Associate, I earn from qualifying purchases. Read the full disclosure here.
Sweet & salty, naturally buttery homemade spread. You're just 4 ingredients and a few minutes away from enjoying your new favorite homemade nut butter!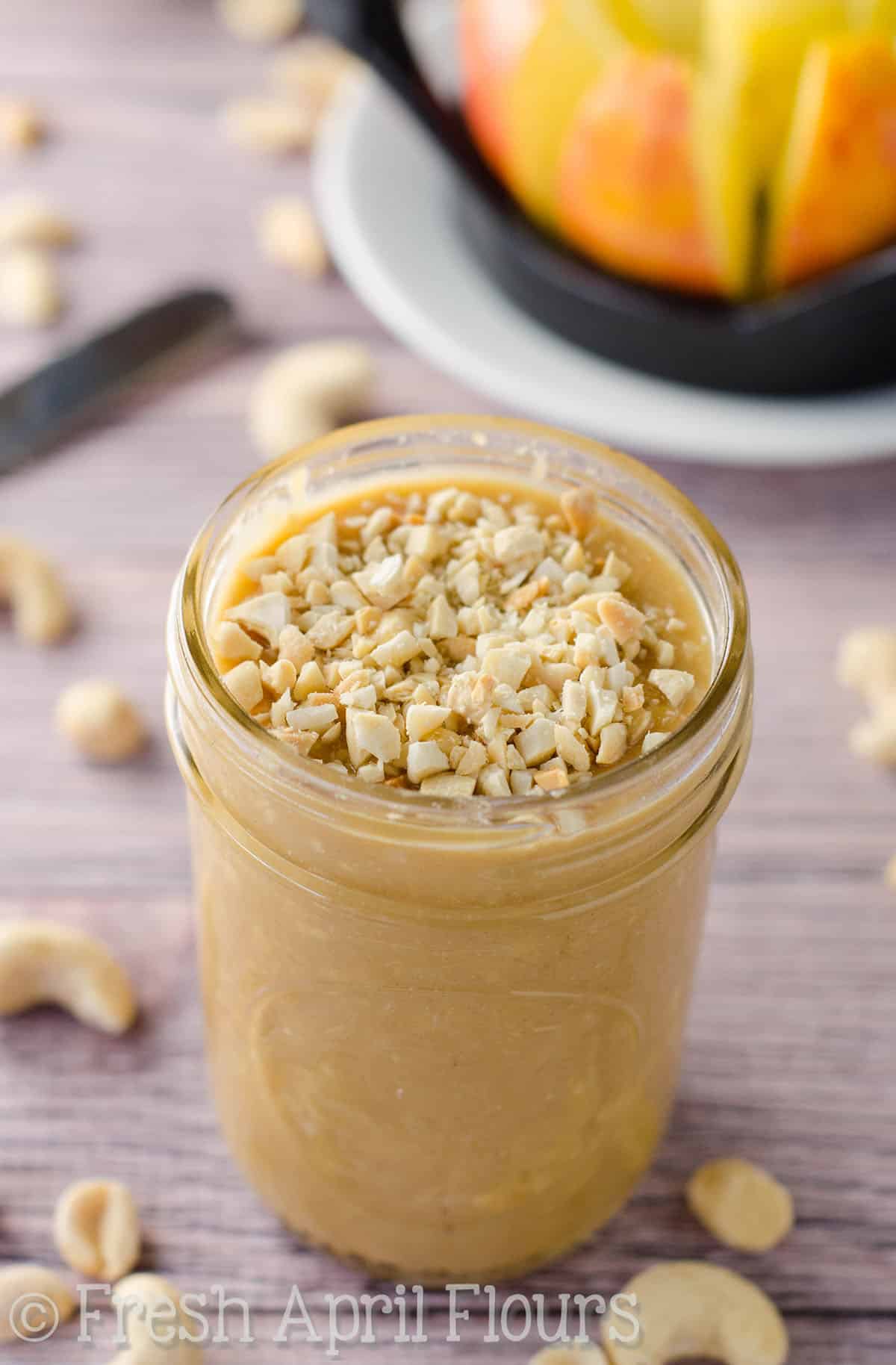 Apparently, I'm all about the salted treats right now. Did you see my salted caramel stuffed snickerdoodles from a couple days ago? Yeah, salty-sweet is the theme of this week.
I was feeling it was time for another homemade nut butter, and then I got a Snapchat from my husband of a nut butter he'd found that listed cashews, peanuts, and honey as the ingredients and asked if I would make it.
I'm not kidding when I say we have homemade and store bought nut butters in our cabinets at all times. Of the 3 shelves in our snack cabinet, almost an entire one is filled with nuts, nut butters, and rice cakes (to spread all of that goodness on, duh).
I don't normally need a reason to make a new nut butter, so any time anyone throws that suggestion at me, I'm usually on it pretty quickly (here's where you make some suggestions for nut butter flavors you'd like to see!).
I grabbed some of the dry roasted, unsalted peanuts and raw cashews in our stash, my big jar of honey, and I got to work.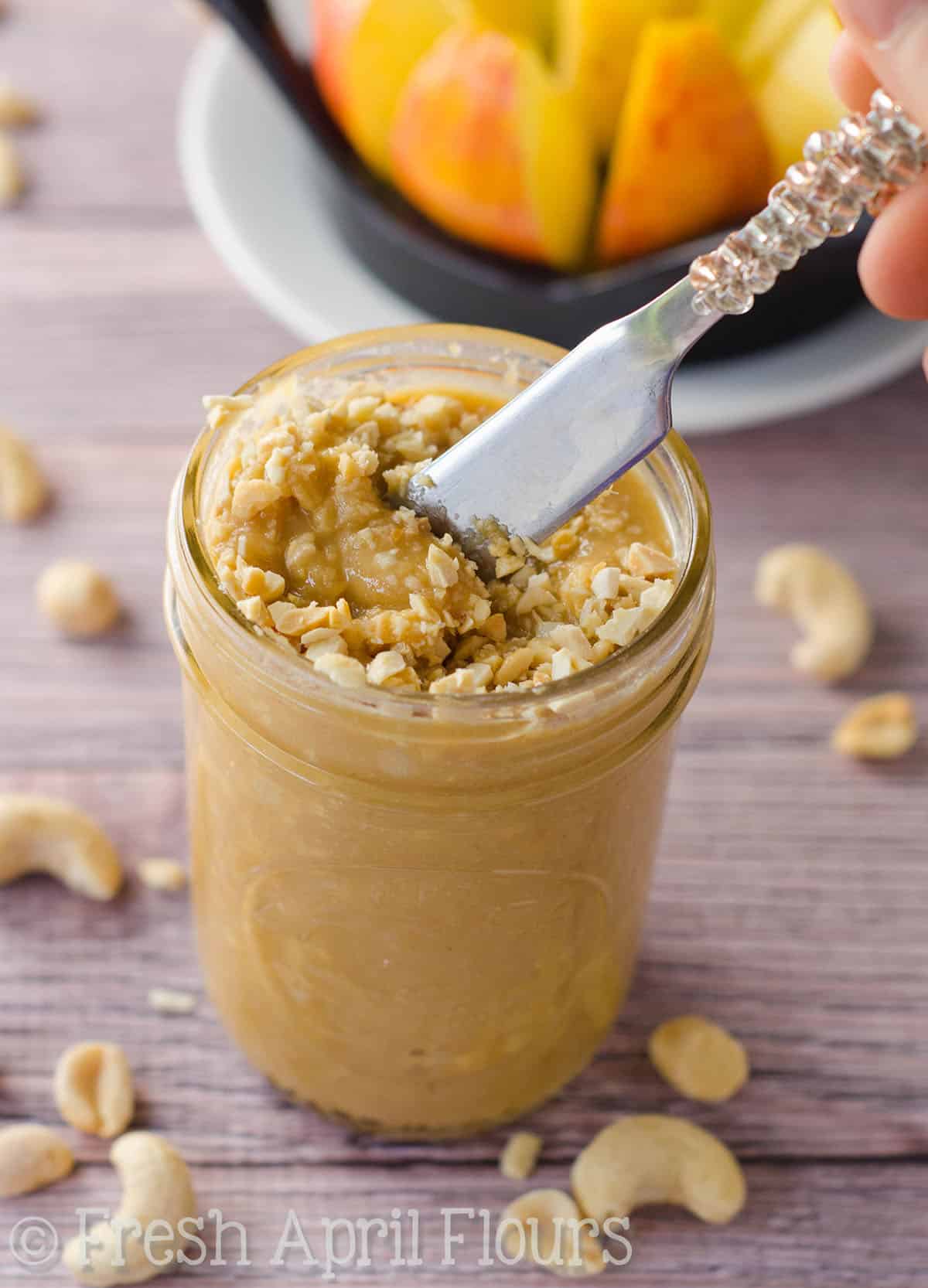 The time it takes to turn these nuts + honey into nut butter is not that long at all. It took my food processor about 12 minutes to get to the consistency I was looking for, but if I've learned anything about making nut butters at home and hearing feedback from my readers, it's that not all food processors and nuts are created equal. I
've found that raw nuts take much longer to process than roasted, so this "12 minutes" is just a guide.
Don't sweat it if it takes you a longer or even shorter amount of time to achieve the perfect consistency. The more you make nut butters at home, the more comfortable you'll be with visual cues (this post about homemade honey roasted almond butter has a nice little collage of visual cues that all homemade nut butters go through).
After I had achieved cashew peanut butter bliss, I tasted it and decided it needed some things. First of all, it was very sweet, thanks to the honey. This was totally fine, but it needed some balance. So I threw in some sea salt.
BEST DECISION EVER.
We love sea salt around here (and currently, are a little obsessed with Himalayan pink salt!), and find that the saltiness it brings to foods is more prominent and the teeny bit of texture it adds is always a welcome surprise.
Just make sure you use sea salt or another flaky salt for this nut butter. Regular table salt is too salty (since the granules are smaller) and will make this salted honey cashew peanut butter a salty mess. You definitely don't want that. Grab the sea salt or any other salt with big flakes (like kosher).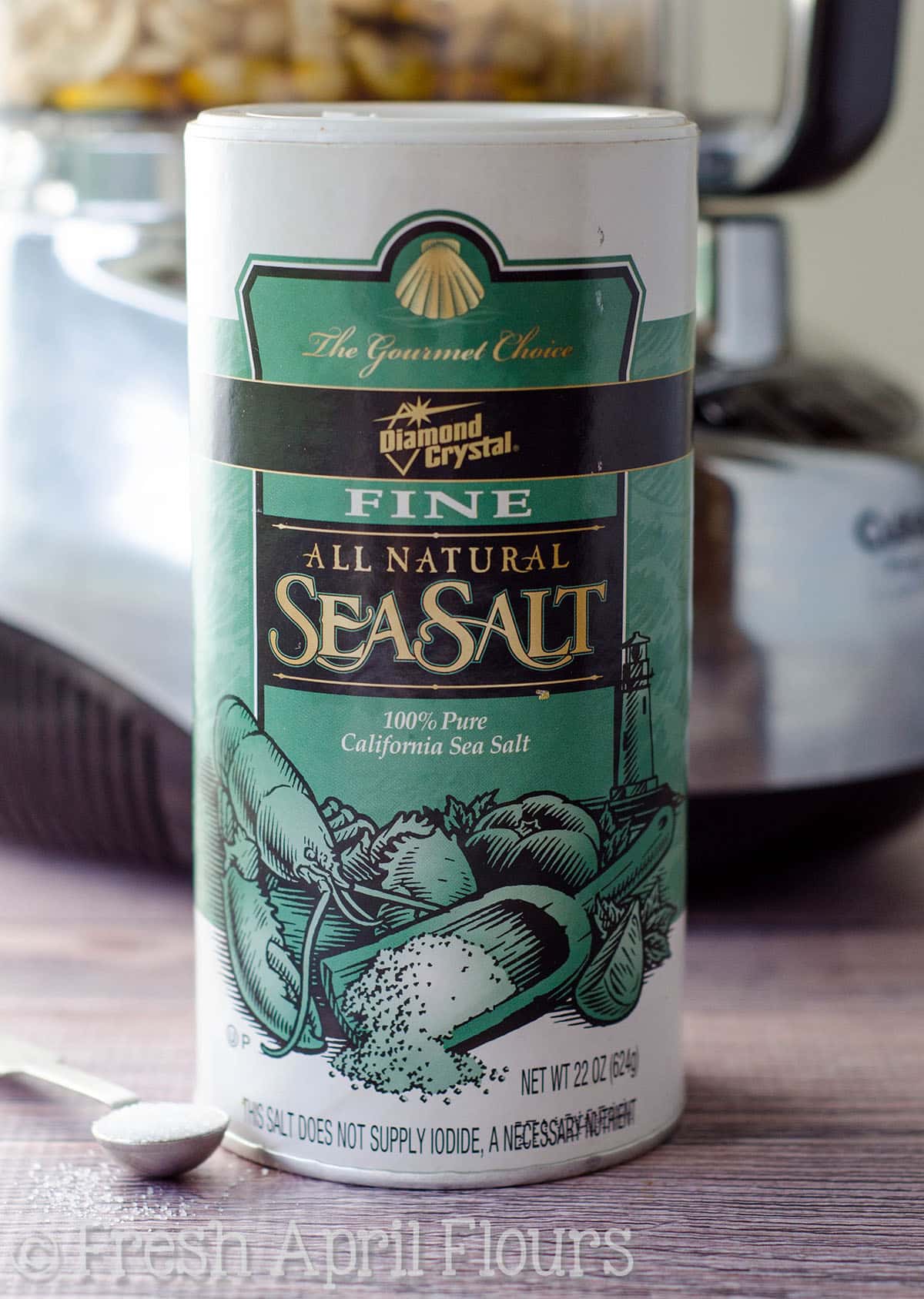 I added 1/4 teaspoon, tasted, added another 1/4 teaspoon, and decided that was the perfect amount. You may certainly add salt to your liking. Plus, that means you get to taste test, and any recipe that encourages sampling before the final product is ready to share is a win in my book!
After the nut butter base was said and done, I added some extra finely chopped cashews and peanuts, because I am a chunk lover, after all. This is completely optional.
We've enjoyed this homemade nut butter on rice cakes, apples, carrots (YES, try it), bananas, spoons, fingers, and crackers. While it certainly goes well on most things you'd normally put peanut butter on, I preferred it on saltier things simply because of the sweetness.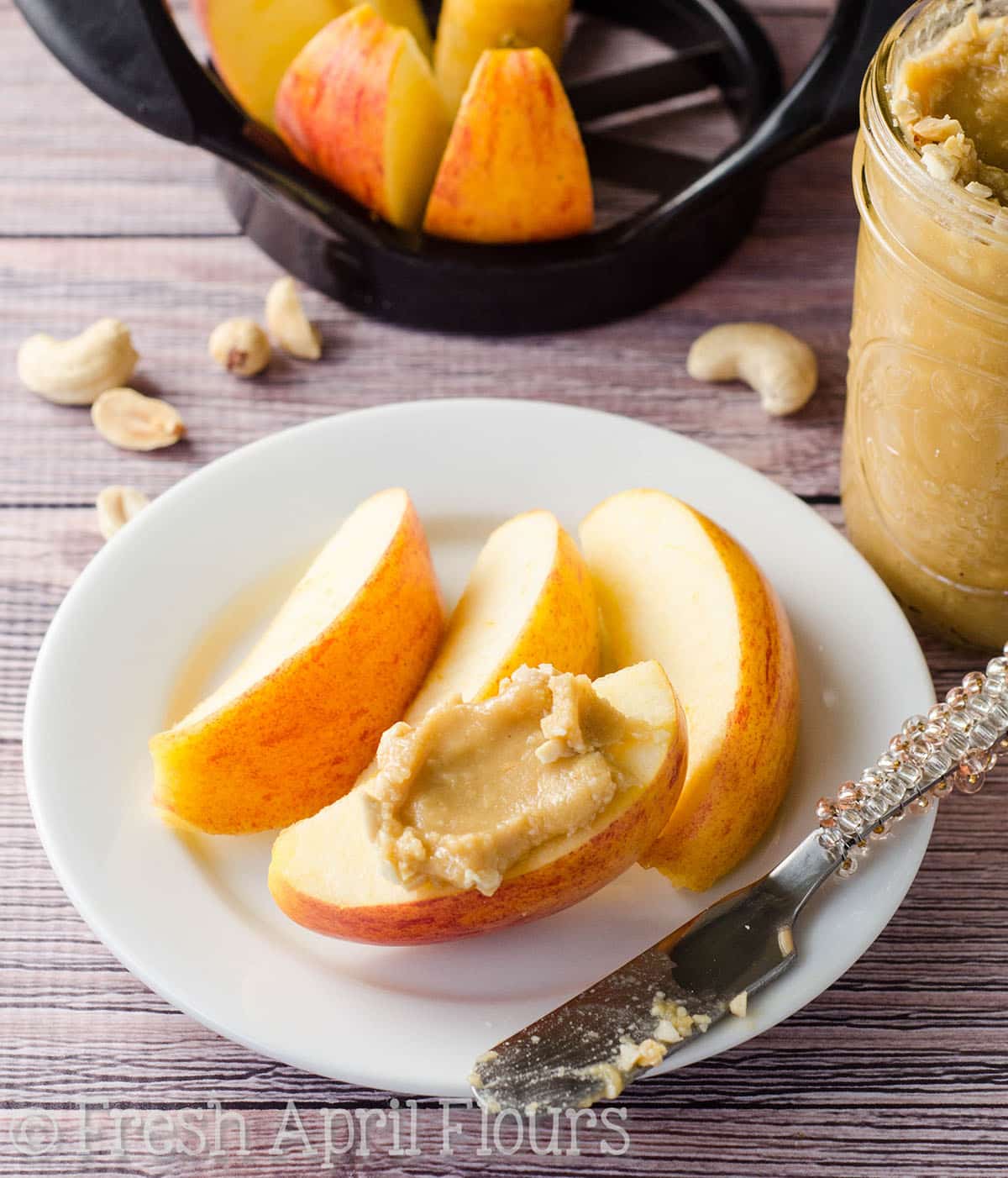 What I love most about this nut butter is the cashews which bring an amazingly buttery texture and taste to every ounce of this spread. Their richness adds the perfect complement to the sweetness of the honey, and the salt + peanuts balance everything out, making one fineeeee spread.
Plus, the added chunks! Love!
This is truly my new favorite homemade nut butter! I'm urging you to make it and spread the love on all things snacky.
More homemade nut butters: cinnamon raisin peanut butter, white chocolate peanut butter, and honey almond butter.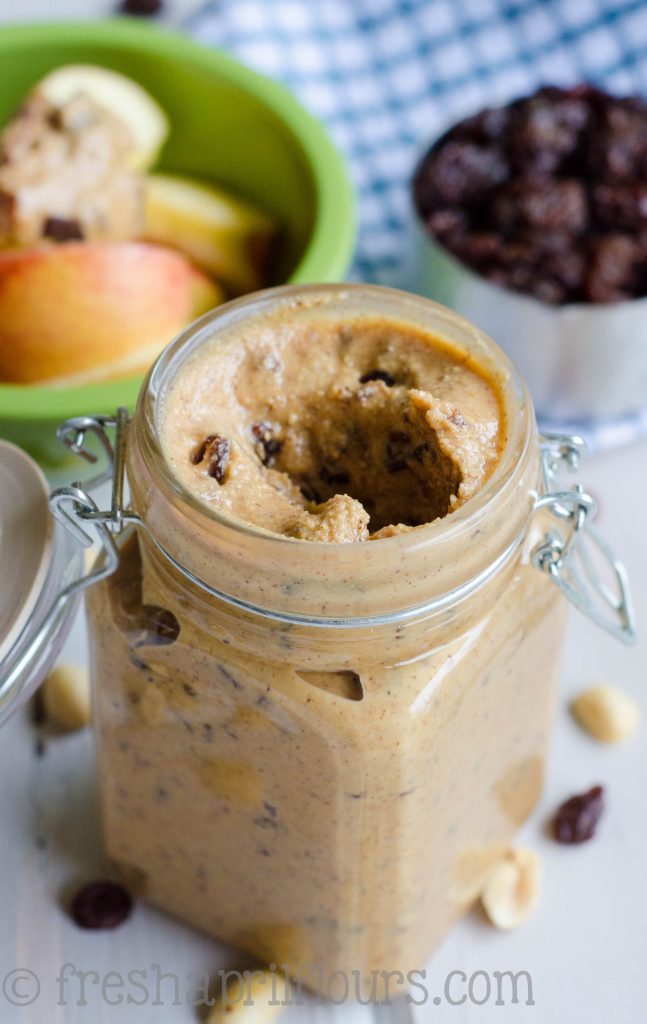 Salted Honey Cashew Peanut Butter
Sweet & salty, naturally buttery homemade spread. You're just 4 ingredients and a few minutes away from enjoying your new favorite homemade nut butter!
Ingredients
4 and 1/2

ounces

unsalted dry roasted peanuts

approximately 1 cup + 2 Tablepoons, divided*

5

ounces

raw cashews

approximately 1 and 1/4 cups, divided*

3

Tablespoons

honey

1/2

teaspoon

sea salt or other flaky salt
Instructions
Place 4 ounces of the peanuts (approximately 1 cup), 4 ounces of the cashews (approximately 1 cup), and the honey in a food processor. Process until the nuts go from coarse, to fine, to crumbly, to a ball. Stop and scrape down the sides between stages as necessary. Continue to process until the nut butter reaches the consistency you like.

Taste the nut butter and add 1/4 teaspoon of salt. Blend and taste again. Add another 1/4 teaspoon of salt, if you find it necessary. Blend again, taste a second time, and add more salt if needed.

Finely chop the remaining 1/2 ounce (approximately 2 Tablespoons) of peanuts and 1 ounce (approximately 1/4 cup) of cashews. Stir into smooth nut butter, reserving some for sprinkling on top for presentation, if desired. Store in a covered container at room temperature.
Notes
*You may use roasted nuts. You may also use salted, in which case, do not add extra sea salt until you have tasted the nut butter.
Nutrition Disclosure
All nutritional values are approximate and provided to the reader as a courtesy. Changing ingredients and/or quantities will alter the estimated nutritional calculations.