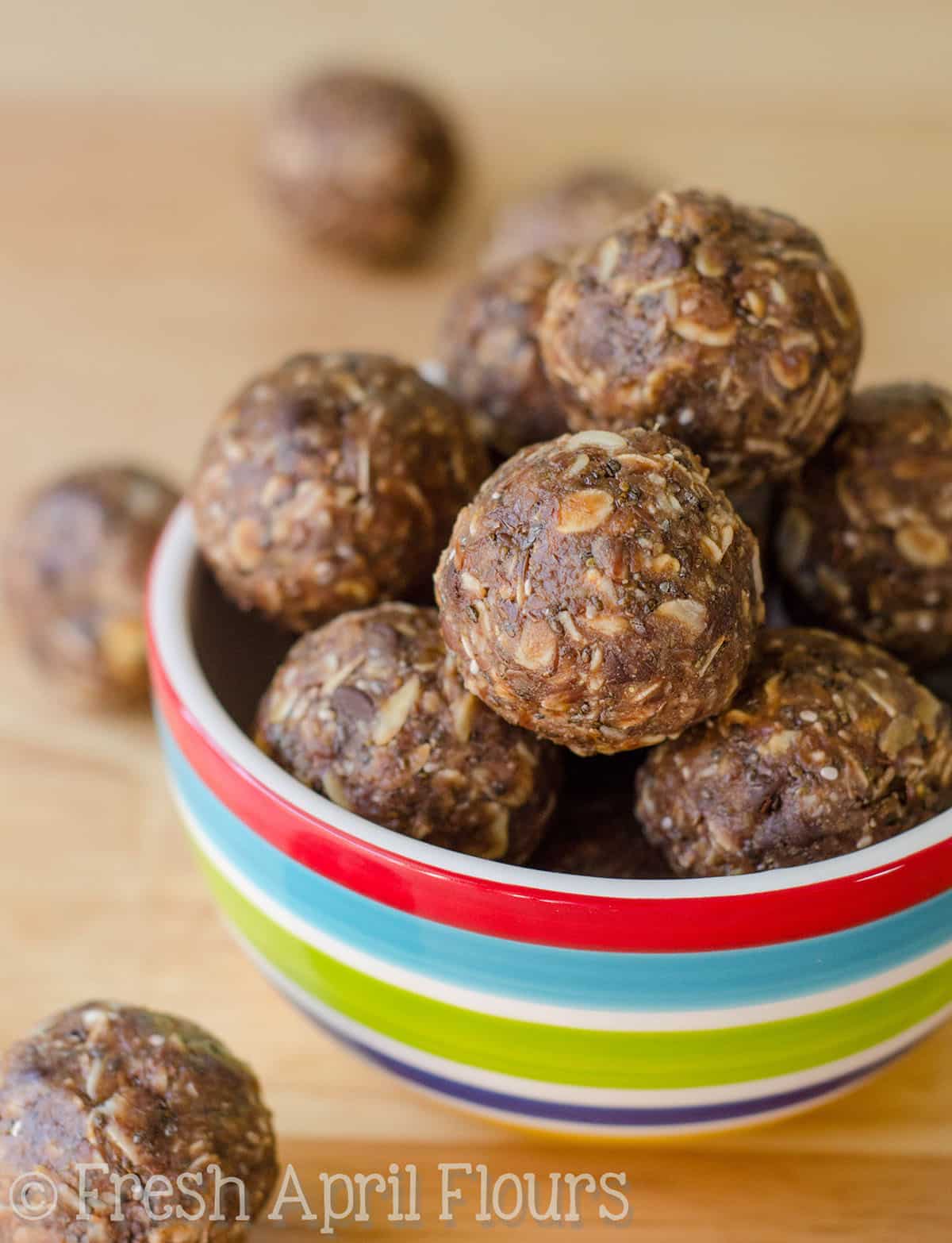 As an Amazon Associate, I earn from qualifying purchases. Read the full disclosure here.
Chocolate chip oatmeal bites loaded with your preferred nut or seed butter, flaxseed, and chia seeds for easy snacking on the go or sticking in lunch boxes.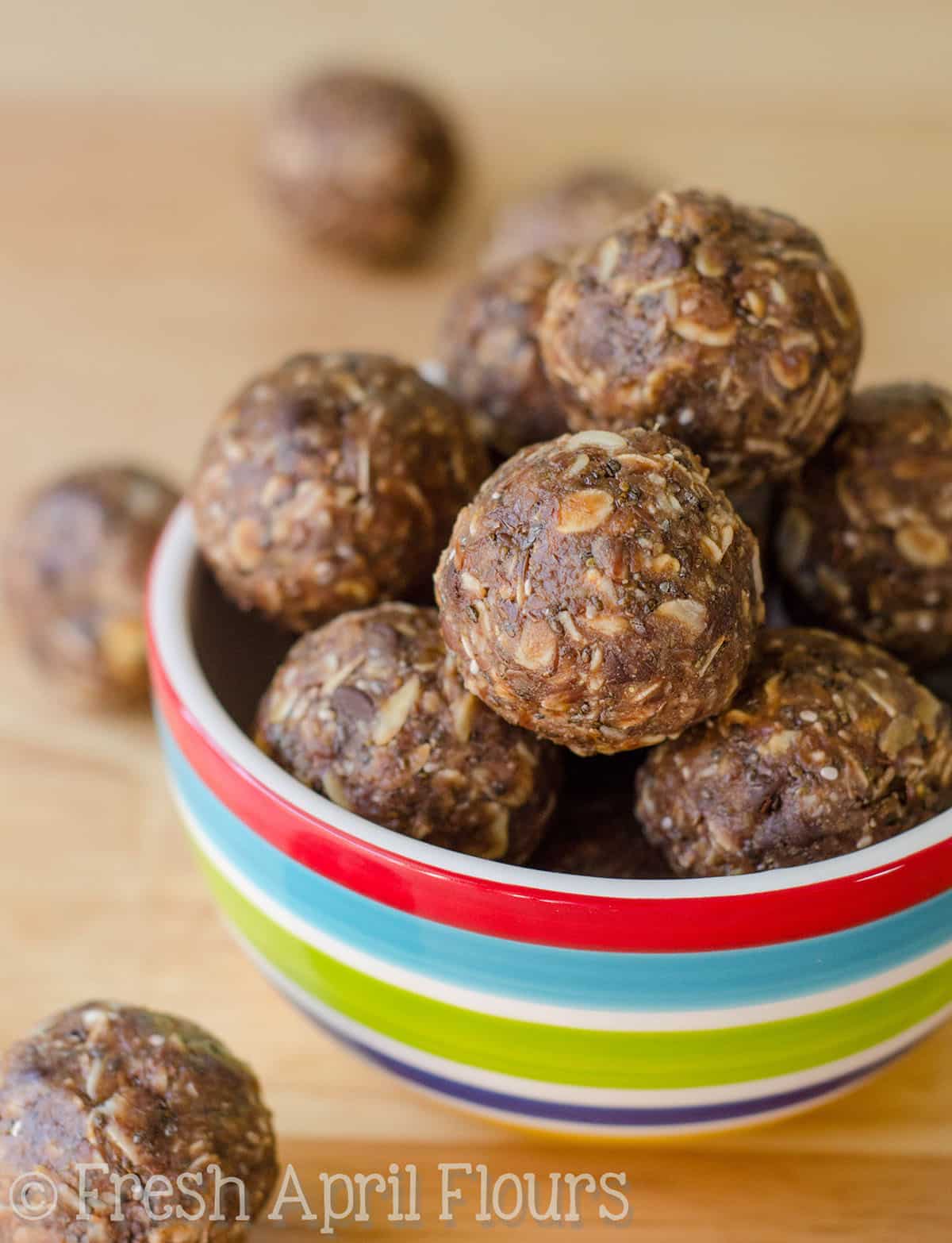 Last week on Matt's podcast, I shared a bit about how I stay healthy and fit and how I can possibly manage to be seemingly surrounded by goodies and not eat all of them. If you haven't listened to the episode, check it out!
And never mind our weird married couple interaction. This was essentially a regular conversation we had while a microphone sat in front of us in our living room. On a Saturday night (#ourweirdlife).
Another way I (we) manage to to combat eating every single goodie that comes out of my kitchen is to fill our cabinets with healthy snacks and healthiER versions of our favorite indulgences.
A few weeks ago, Matt actually showed me this product he had discovered on IG called BuffBake. BuffBake is a company run by two women (hi, Ashley and Brittany!) that produces all-natural, high protein, yummy-flavored nut butters. They have both peanut and almond butters, both of which are boosted with whey protein and "enhanced" with chia and flax seeds.
Matt found them among his fitness world and thought I would take some interest in them as well because, hellooooo, you know I love my homemade nut butters!
We wanted to try some of BuffBake's products, but were also interested in working with BuffBake in some way for either of our blogs. A few emails later, Ashley and Brittany sent me a jar and some sample packs of their dreamy almond and peanut butters.
We have since purchased 2 more jars (coffee bean and red velvet <– OMG FAV).
I wanted to use some BuffBake in a creative way, but also in a recipe we would actually keep around, that could work as content for both of our blogs, and that would showcase BuffBake's tasty and nutritious nut butters!
Also, remember this? Yeah. Oat city over here at the April digs.
If you don't have BuffBake (more on how you can get some in a minute), that's totally ok! Use any natural (as in the kind without added oils or sugar) nut butter you have, keeping in mind the protein content won't be as high.
If you'd like, you can always add some whey protein to your mixture to make up for the protein added to BuffBake. Or… Don't add any protein! Whatever. "These would be your [bites]."
But… I highly suggest getting some BuffBake. COOKIE ALMOND BUTTER, GUYS.
I put these energy bites together using wholesome, good-for-you ingredients (plus some chocolate chips, but mini, so… Healthy?!). While I loveeee me some dessert, I stand firmly behind moderation and that dessert is a sometimes food. These energy bites fit the bill for both!
While each bite is jam packed with nutrient-rich ingredients (nuts, whey protein from the BuffBake, flax seeds, chia seeds), they absolutely do not taste like cardboard. I repeat– this blog will never guide you in the cardboard direction. Healthy + appetizing = necessary.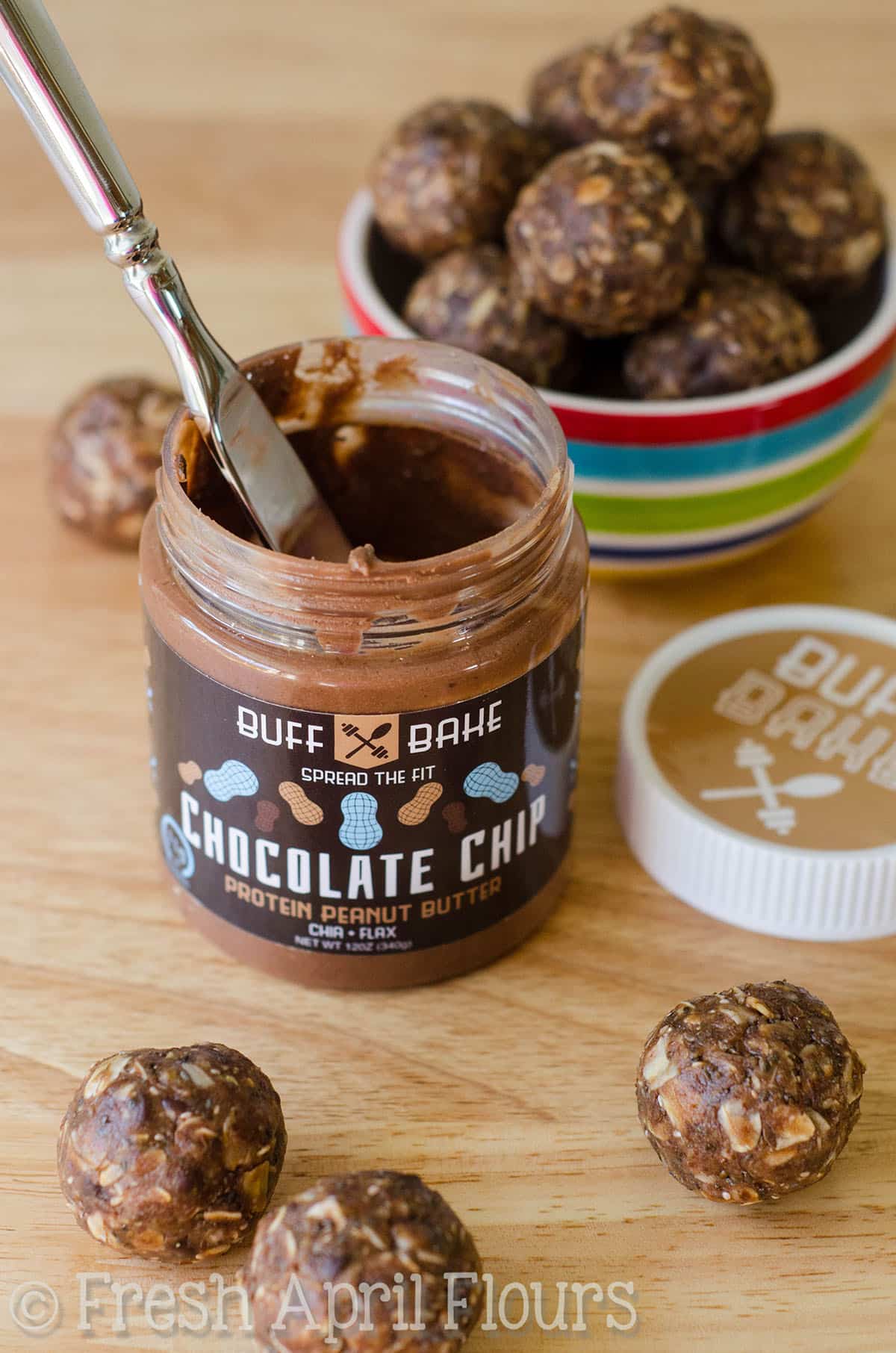 The only sweetener I added to these energy bites is honey. No sugar, no artificial sweetener, just wholesome, natural sweetness. You can feel good about that right?
You should feel FABULOUS about this, because these tasty little treats will be your new favorite purse snack! Guys… Do guys read my blog (?)… I'm sorry you don't have a purse to put your bites in.
But if you're married or have a lady friend or a companion who carries some sort of bag or fanny pack or extra large pockets… You NEED THESE IN IT.
I don't typically share the nutritional information for my recipes, but just so you know…
140 calories
6g fat
16g carbs (8g sugar, 3g fiber)
5g protein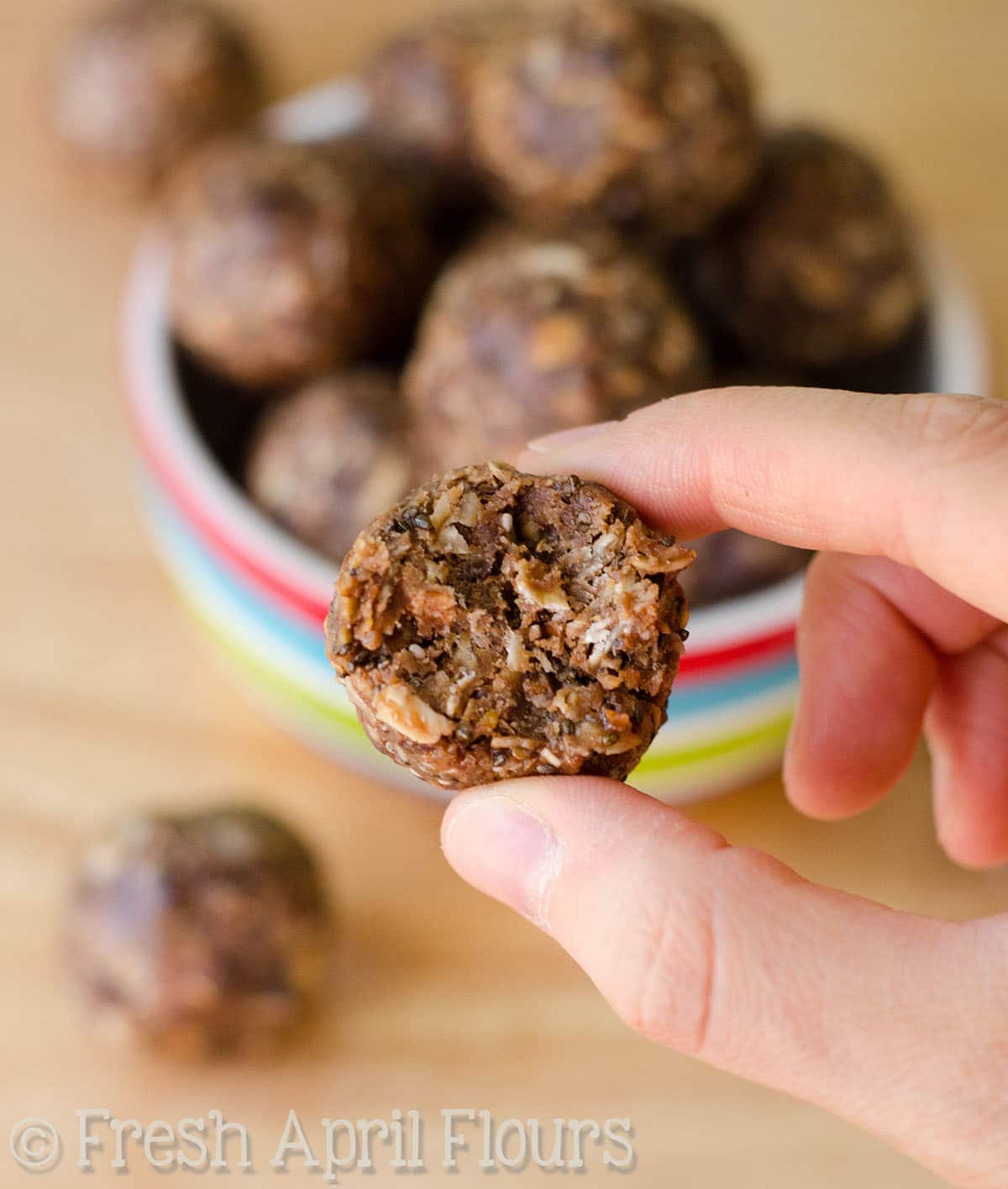 And now, the best part of all of this… BuffBake wants YOU to try some of their peanut and almond butters at a discount! Just use the code freshaprilflours at checkout to receive 10% off of your order! SWEET, right?!
Whether you choose to purchase some BuffBake or not, these chocolate chip energy bites are the perfect addition to your on-the-go snacking arsenal, a treat in your lunch box, or simply a dessert or snack you can feel better about!
Customize them with your favorite flavorings, change up the nut butter, roll them in cocoa powder… However you choose to enjoy them, I think you'll find them easy, convenient, and best of all– nutritious.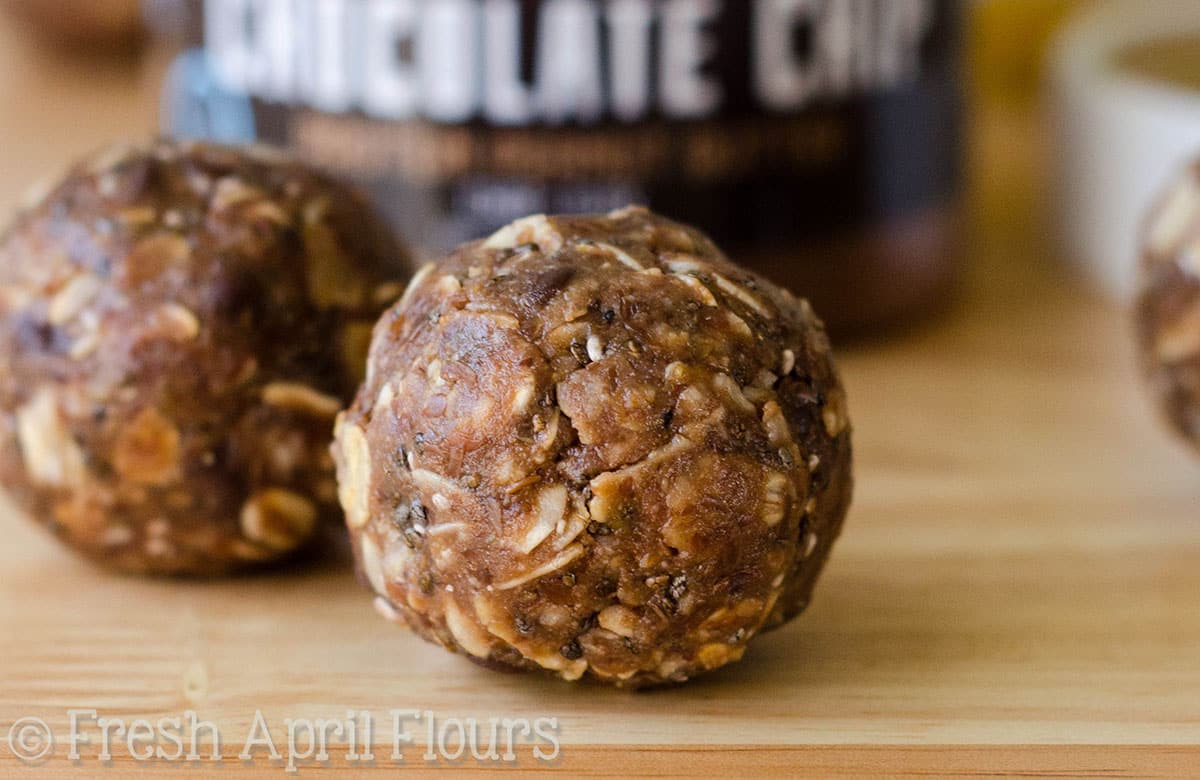 (and cute!!)
More recipes featuring oats and chocolate chips: oatmeal chocolate chip walnut cookies, oatmeal monster cookies, funfetti white chocolate chip oatmeal cookies, and white chocolate cranberry oatmeal cookies.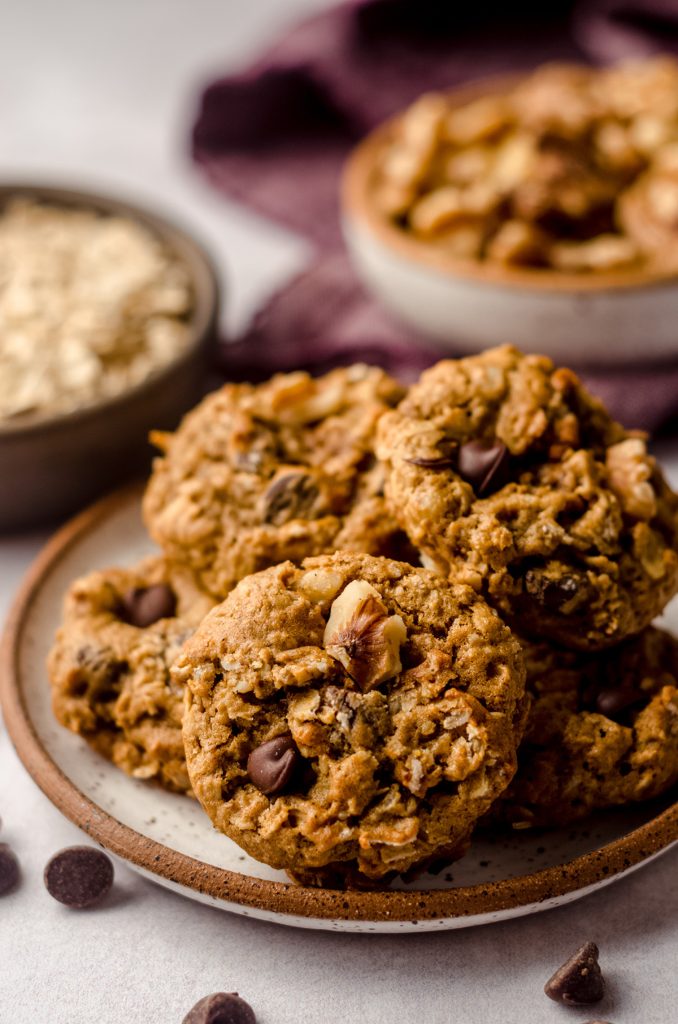 Chocolate Chip Oat Bites
Chocolate chip oatmeal bites loaded with your preferred nut or seed butter, flaxseed, and chia seeds for easy snacking on the go or sticking in lunch boxes.
Ingredients
1 and ⅓

cup

old fashioned oats

½

cup

preferred nut or seed butter*

½

cup

ground flaxseed

¼

cup

mini chocolate chips

⅓

cup

honey

2

Tablespoons

chia seeds

¼

teaspoon

salt

1

teaspoon

vanilla extract
Instructions
Line a small baking sheet or plate with parchment, foil, or a silicone baking mat. Set aside.

In a medium size bowl, combine all of the ingredients and chill in the refrigerator at least 45 minutes and up to 2 days.

Using a cookie scoop, roll into 1" balls and place on prepared baking sheet or plate (I used a kitchen scale and weighed each ball as 1.0 ounce). Refrigerate until set (approximately 15 minutes). Bites can be stored in the refrigerator in an airtight container up to 2 weeks.
Notes
*You may use plain natural (as in only peanuts, no sugar or oils added) peanut butter instead. Add a scoop of whey protein to keep protein content up.
Nutrition Disclosure
All nutritional values are approximate and provided to the reader as a courtesy. Changing ingredients and/or quantities will alter the estimated nutritional calculations.