As an Amazon Associate I earn from qualifying purchases.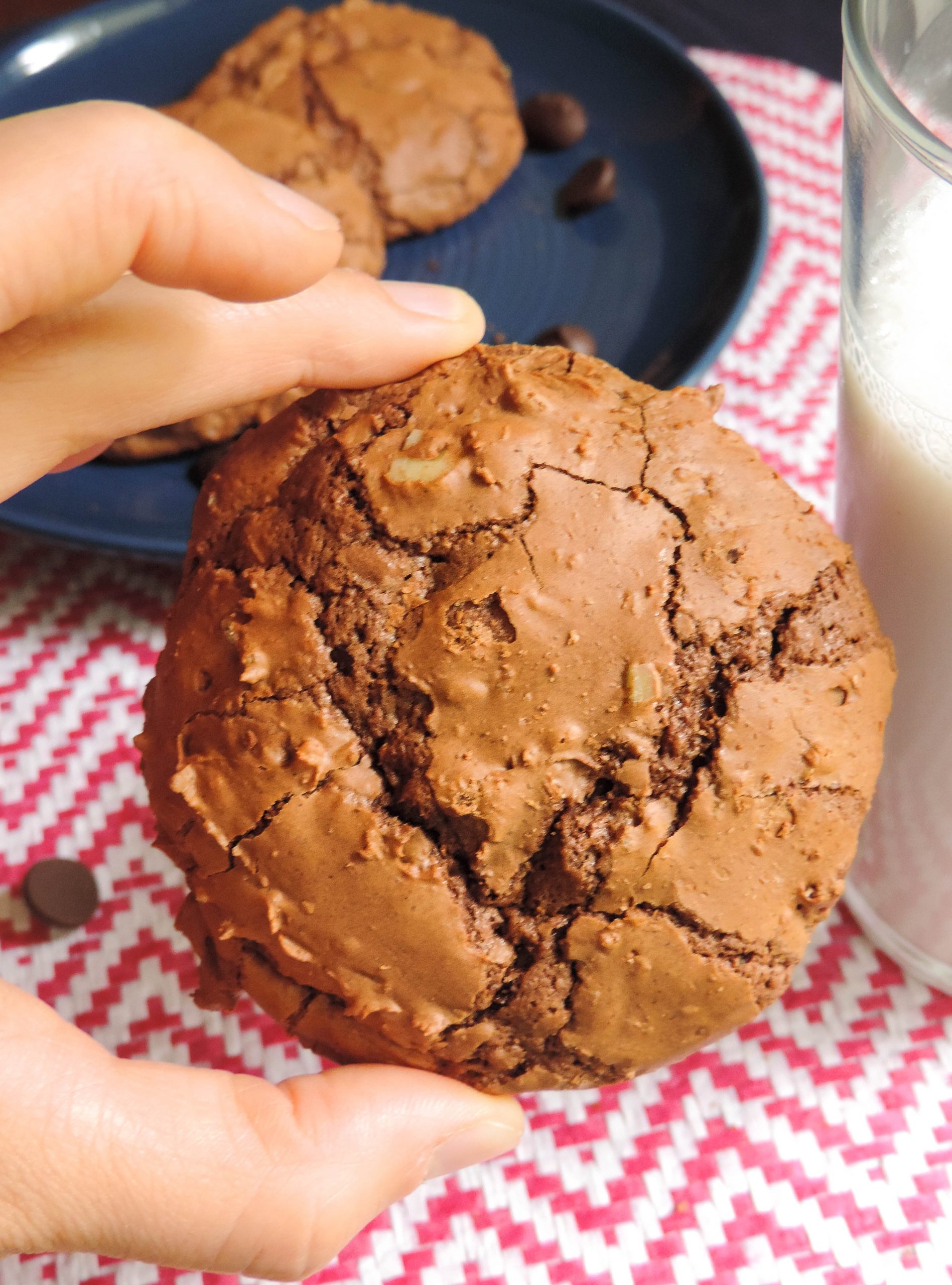 Gooey in the center like a brownie, crisp on the outside like a cookie– this brownie cookie is the best of both worlds!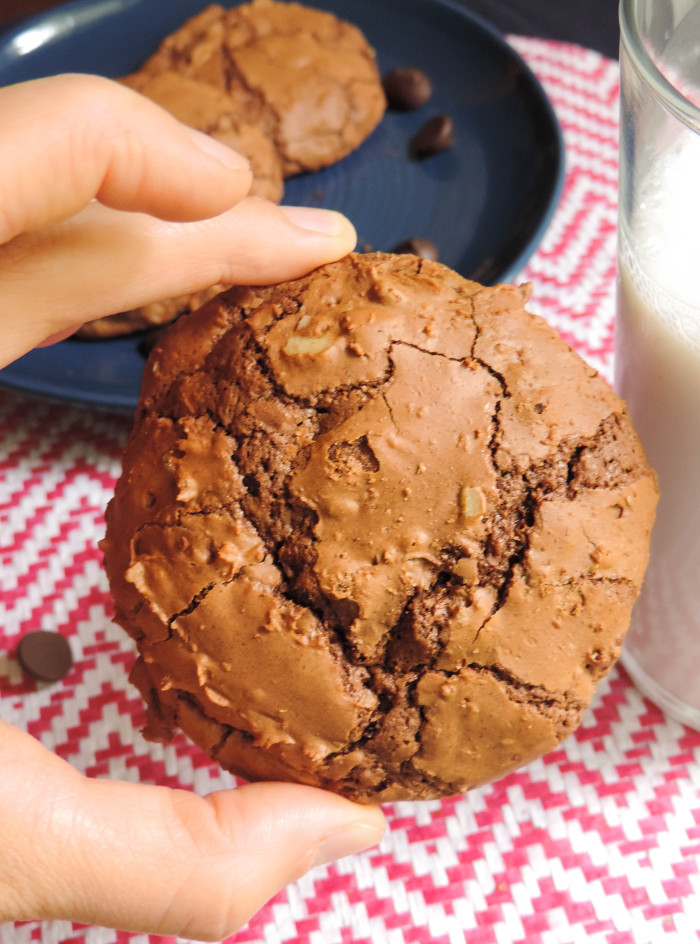 Sometimes when you try to replicate a recipe and have nothing to start with except your memory… You don't end up with what you wanted. And other times, what you do end up with actually turns out to be a great result anyway.
That's what this recipe is: the end result of my first attempt to replicate a very specific treat we had while we were on our western road trip.
When we visited Venice Beach for the day on our stop in Los Angeles, we wanted to eat as much really good food as we could. Since we had so much luck asking a local where to get the best key lime pie when we were in Key West a few years ago, we thought that would be the best route again.
We found ourselves eating our way down Abbott-Kinney Avenue, a slightly "hipstery" street with not only lots of trendy shopping but tons of bakeries, coffee shops, and restaurants… There was no shortage of food!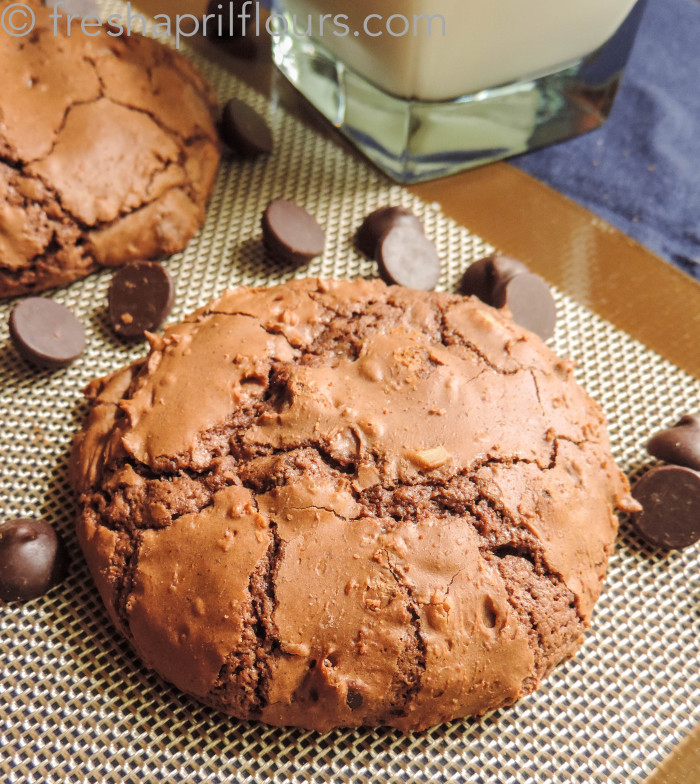 As I was stuffing my face with a pretzel roll while walking from one bakery to the next destination, our noses couldn't believe the amazing smells coming out of the eatery next door. The overwhelming smell of meat pulled us in immediately, and we found ourselves staring at a menu full of gorgeous, hearty sandwiches bursting with fresh meats and cheeses.
It all looked so incredible, but once I spotted the treats on the counter, I knew where I was headed.
We purchased 2 cookies: one super crunchy, nearly flat, buttery chocolate chip cookie and then this very intriguing brownie cookie. The girl at the register must have thought us slightly strange to leave a sandwich place with 2 cookies, but we mostly just said "we're from Pennsylvania" and I'm sure she thought we were Amish.
The first bite of each of those cookies was heavenly. The brownie cookie was just like biting into a big chocolate cookie, but it was soft and fudgy like a brownie, complete with the signature crackly top.
It was so good I told Matt to take a picture of it so I could remember I wanted to recreate it when we got home. I have since lost the picture. WOMP WOMP.
The funny thing about coming home and beginning to develop this recipe is that I couldn't believe we didn't even write down the name of the place we stopped. Thankfully, Matt had taken a picture of the stamp on the pastry bag, and after a little deciphering of the phone number, Google, and a physical search of the street by my LA-resident friend from high school Shaina (hi, Shaina!), we discovered the name of the place was Gjelina Take Away.
Although this recipe isn't 100% there yet, it's darn close, and I'm pretty proud of myself for getting on the right track without completely ending up elbow deep in cookies. I was a little bummed and actually thought about not even sharing the recipe, but then I realized it still produces a really great cookie, so why not??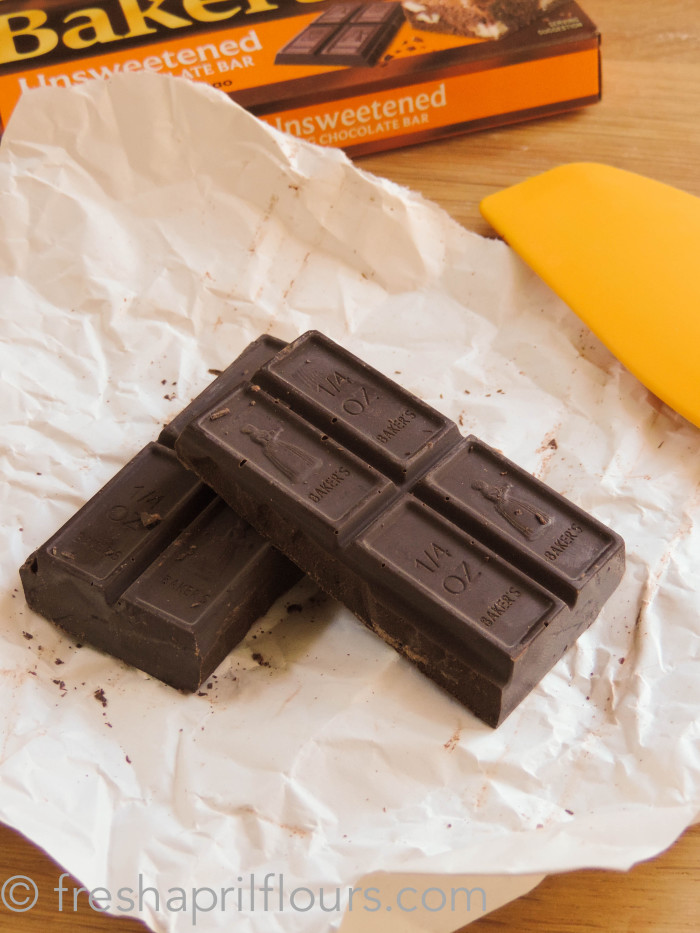 You're going to start with melting some unsweetened chocolate, butter, and semi-sweet chocolate chips. This is typically the start of brownie batter, so we're definitely off to a chocolately start!
It's a very straightforward recipe, but you must must must make sure your melted chocolate mixture is room temperature before adding it to the egg and flour base.
If you're pressed for time, you can always throw the melted chocolate in the fridge or freezer to help it cool faster, but do not put it in while it's still hot or even remotely warm. Your batter will not be sturdy enough to form into balls.
You want the texture of the dough to be like any other cookie dough you've used before. And when in doubt, chill the whole bowl of batter before you start just to be safe.
You also want to be sure you don't scald the chocolate. When you're melting your unsweetened chocolate, butter, and semi-sweet chips, it's imperative you keep the mixture moving. You don't want burned chocolate– trust me!
This cookie is for all you cakey brownie lovers out there. It's also for you end lovers (ME! ME!) because having a brownie in cookie form means one huge edge surrounding a moist, dense, oh-so-chocolatey center. The tops are even crackly just like a brownie, so biting into it is an experience in itself!
I made large cookies (batter scooped with an ice cream scoop) and small cookies (with a 1 ounce cookie scoop).
Just make sure, just like brownies, that you don't over bake these puppies. To keep the center moist and slightly fudgy, you'll want to bake them (my oven was 12 minutes on the small ones and 14 minutes on the large ones for this texture) and then let them cool on the baking sheet for about 2 minutes.
If you prefer your brownies cakey, bake them for the full 14 minutes or 16 minutes respectively, no need to let them cool.
PEOPLE: This. Cookie. Rocks.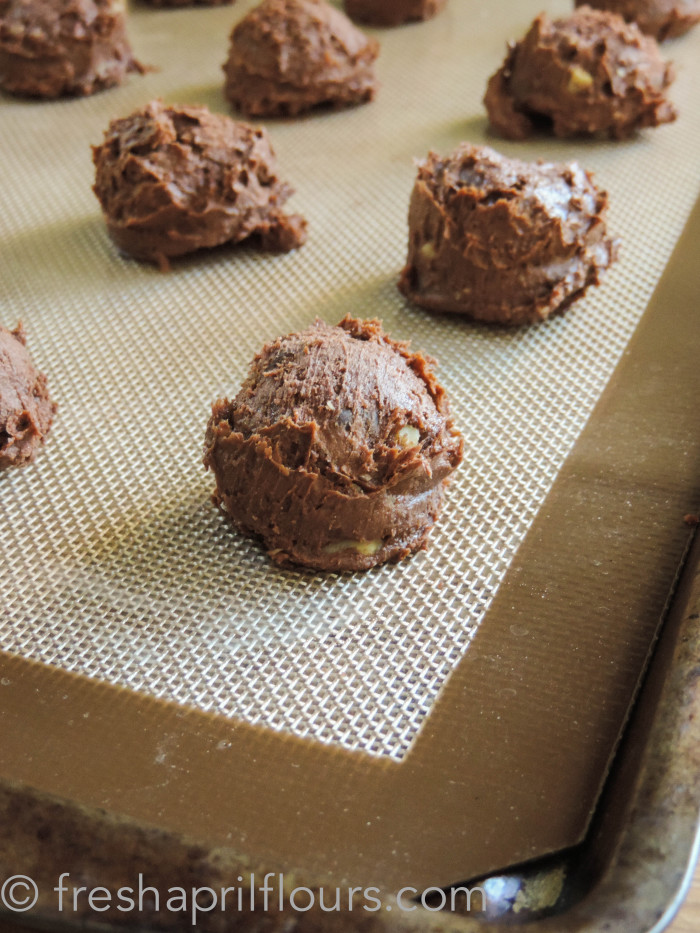 Chocolate on chocolate on chocolate. There is no shortage of it in this recipe, and I am certain you're going to enjoy having your brownie in cookie form.
Besides, sometimes in life you're faced with the dilemma of "do I make cookies or brownies?" Now, you don't have to decide… You're welcome.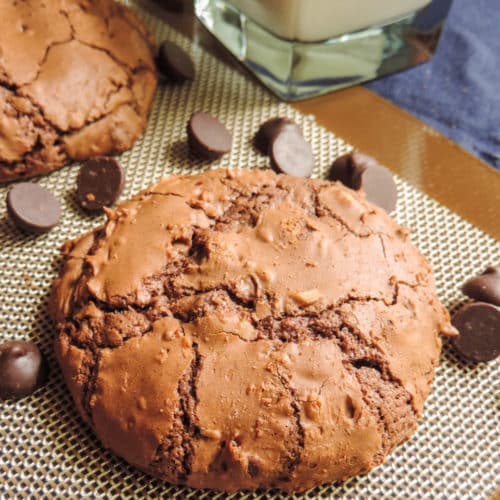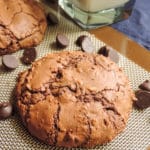 Print Recipe
Brownie Cookies
Gooey in the center like a brownie, crisp on the outside like a cookie-- this brownie cookie is the best of both worlds!
Servings:
1
dozen cookies
Ingredients
4

Tablespoons

unsalted butter

2

ounces

unsweetened baking chocolate

chopped

16

ounces

semi-sweet chocolate chips

divided

1 and 1/2

cups

all-purpose flour

1/2

teaspoon

baking powder

1/2

teaspoon

salt

4

large eggs

room temperature

3/4

cup

granulated sugar

3/4

cup

light brown sugar

packed

1

teaspoon

vanilla extract

1/2

cup

chopped walnuts

optional
Instructions
In a large saucepan over low heat, melt the butter, chopped unsweetened baking chocolate, and 1 and 1/2 cups of the semi-sweet chocolate chips. Stir constantly until mixture has melted completely. Allow to cool to room temperature (about 30 minutes).

Preheat the oven to 350ºF. Line 2 large baking sheets with parchment paper or silicone baking mats. Set aside.

Combine flour, baking powder, and salt in a small bowl. Set aside.

In the bowl of a stand mixer fitted with the paddle attachment, or in a large bowl with a hand mixer, beat the eggs, both sugars, and vanilla at medium speed until combined. Gradually add dry ingredients to egg mixture, beating well and scraping down sides of bowl as necessary. Add cooled chocolate mixture and beat well.

With a spatula, scrape down sides of bowl to be sure batter is completely combined. Stir in remaining semi-sweet chocolate chips and chopped walnuts, if using. If batter is not firm enough to scoop, stick in refrigerator for a few minutes.

With a 1-ounce cookie scoop (for small cookies) or an ice cream scoop (for large cookies), form dough into balls and place on baking sheet. Put 12 small or 6 large balls on each baking sheet. For fudgy cookies, bake small cookies for 12 minutes and large cookies for 14 minutes, and allow to cool on baking sheets for 2 minutes. For cakey cookies, bake for 14 and 16 minutes respectively, no need to cool on baking sheets. With a spatula, transfer cookies to a wire cooling rack. Cookies will stay fresh in an airtight container at room temperature for 7 days. Cookies freeze well, up to 3 months.