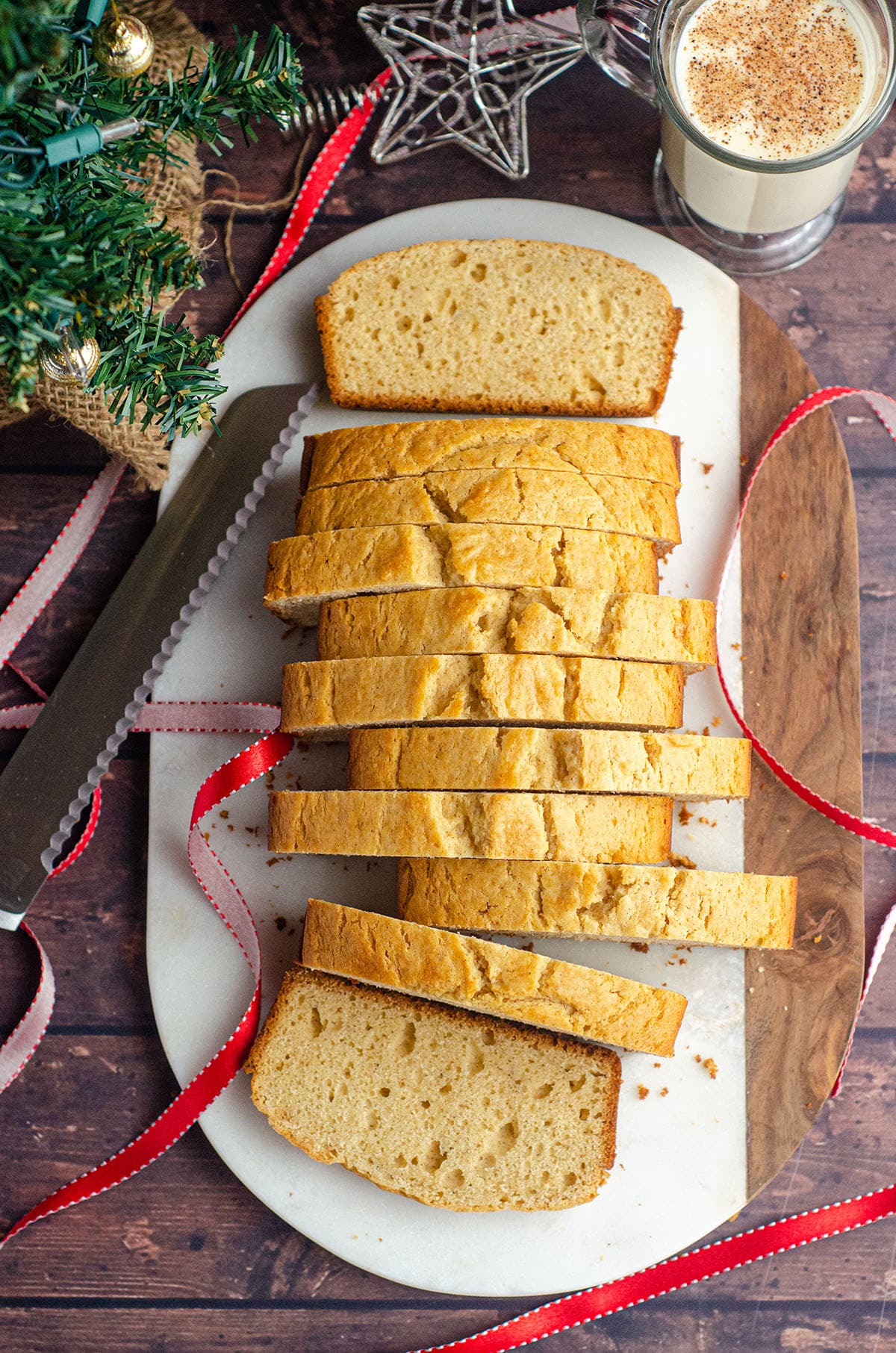 As an Amazon Associate, I earn from qualifying purchases. Read the full disclosure here.
A spiced bread made with actual eggnog for maximum flavor and moisture.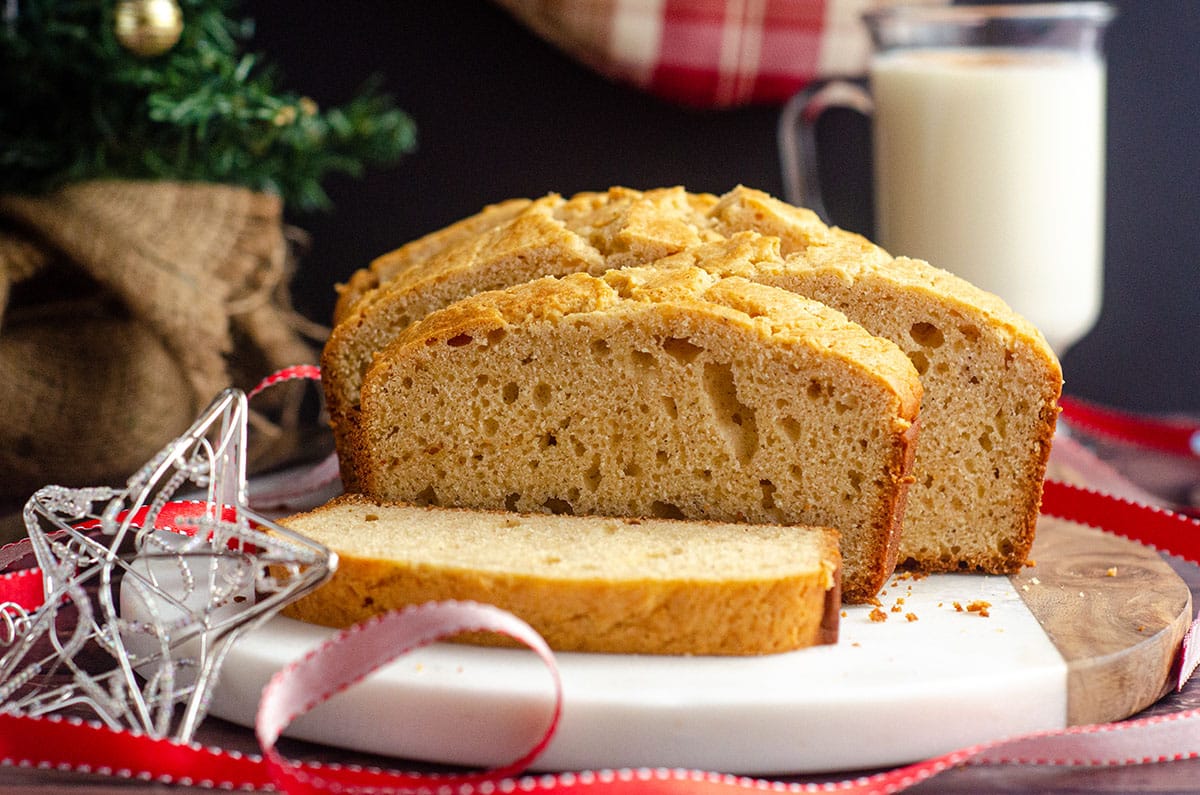 Are you an eggnog yayer or nayer? If you're here, I'm going to guess you're at least a partial yayer, but if you're a total nayer, thanks for at least getting yourself here!
Maybe you're a partial nayer. Is it the texture? Probably. When I asked everyone in my Fresh April Flours Baking Community Facebook group, I got an emphatic mostly "nay," but when asked if those folks would change their mind with a quick bread that tastes like eggnog, I got a few to say they'd like it or at least try it!
That's an eggnog win.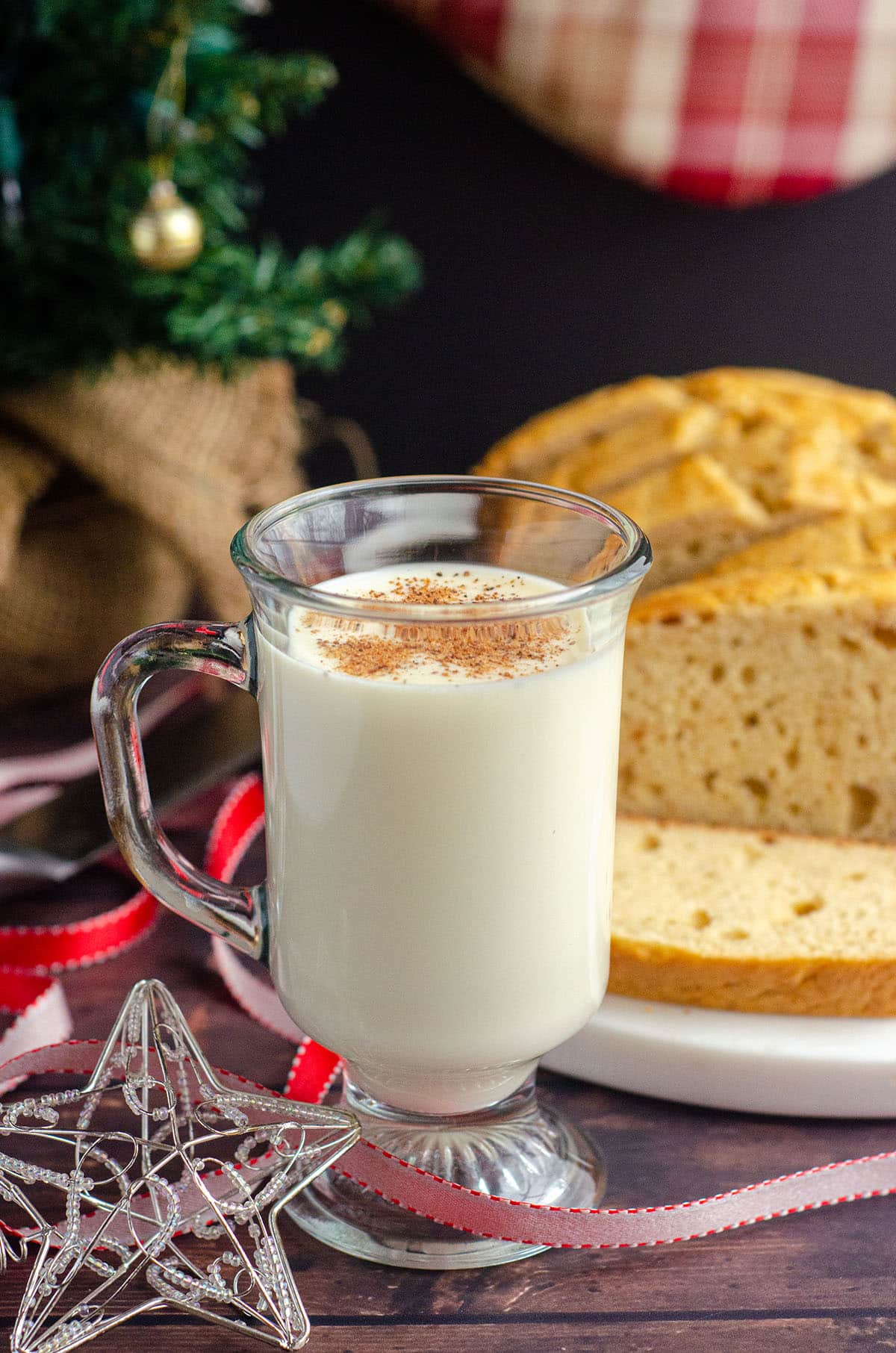 Personally, I'm a huge fan. As soon as it gets into the grocery stores (on, like, November 1st), I'm into it. I'll usually buy a carton, make a recipe (see these eggnog chocolate chunk cookies from many years ago or this eggnog dip from last year), and then drink the rest as an evening snack.
The flavor? Oh man, I am THERE FOR IT. The texture is definitely something I had to acquire a tolerance for, but that mostly came with age. When I tried it at my parents' holiday party as a kid/preteen, I was definitely repulsed.
Thirty-something Lynn is V into it.
I wanted to get one more quick bread into our Bread of The Month series before we dive into the baking extravaganza that we're about to embark on next month (December will have one last yeast bread!), so eggnog seemed like the perfect segue.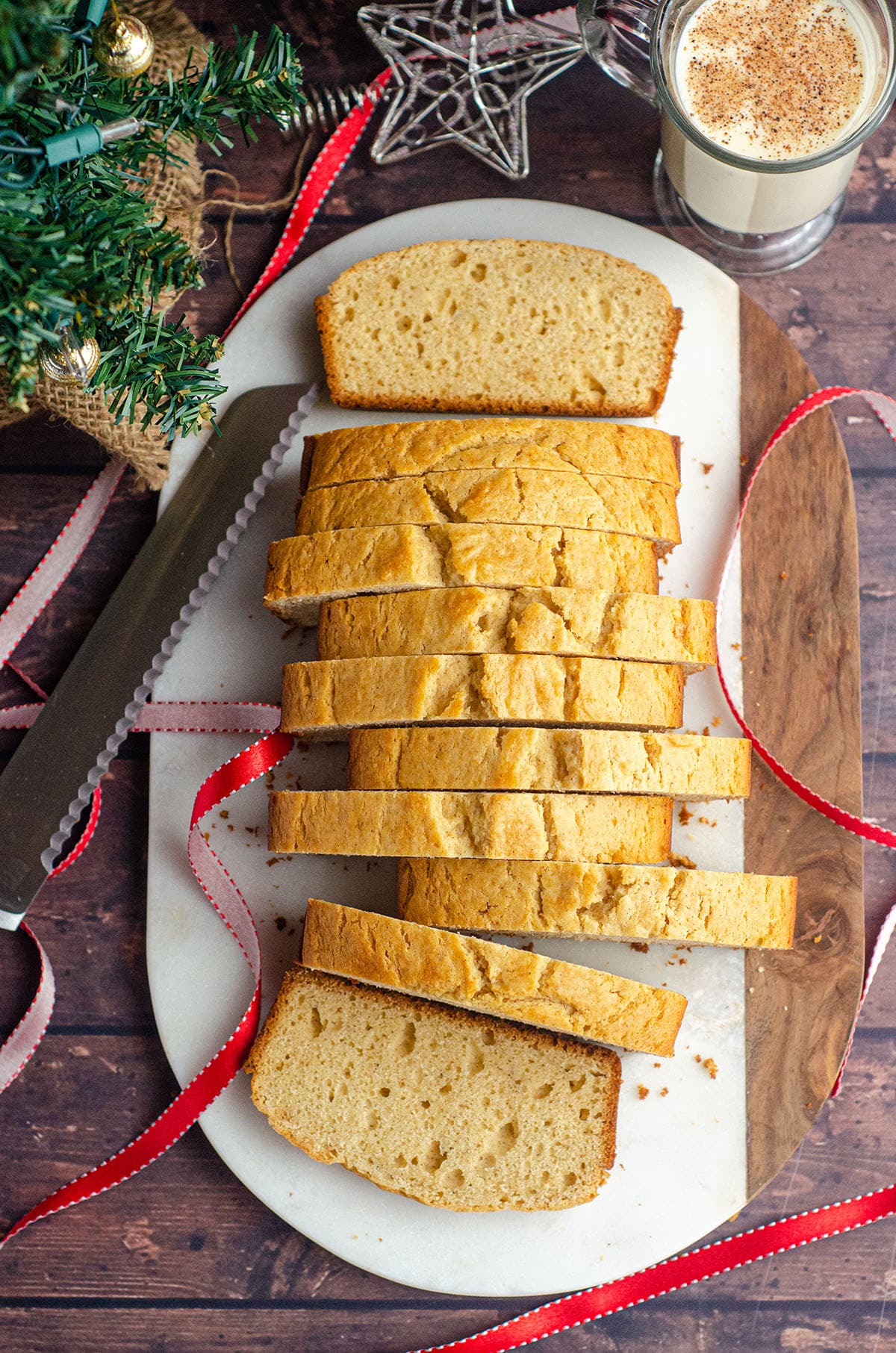 I've also brought back a video to this recipe featuring our now almost 3.5yo. I mentioned back in March that I wanted to share a bit more about life updates and what it's like baking with a toddler, so one day last week I decided to set up my camera and let the magic happen.
I mentioned in that post that my goal for 2019 was to teach him how to crack an egg. He's almost completely independently there! He still needs a bit of help, and I still fish out pieces of shell often (that's why we always crack eggs into a separate bowl!!), but he's so proud, I'm so proud, and he's learning major life skills. Total win.
I also wanted to share this video because I am not the all-white-kitchen-in-beautiful-lighting-while-baking-with-my-kids kind of blogger. I can't EVEN with those pictures. This is real life what it's like to bake with a toddler who wants to do everything himself, make a huge mess, and by default, slow things down.
But! This is an incredibly rewarding thing I get to do, calling blogging my job, so my days can now be a little slower and I'm happy to let him help when he can.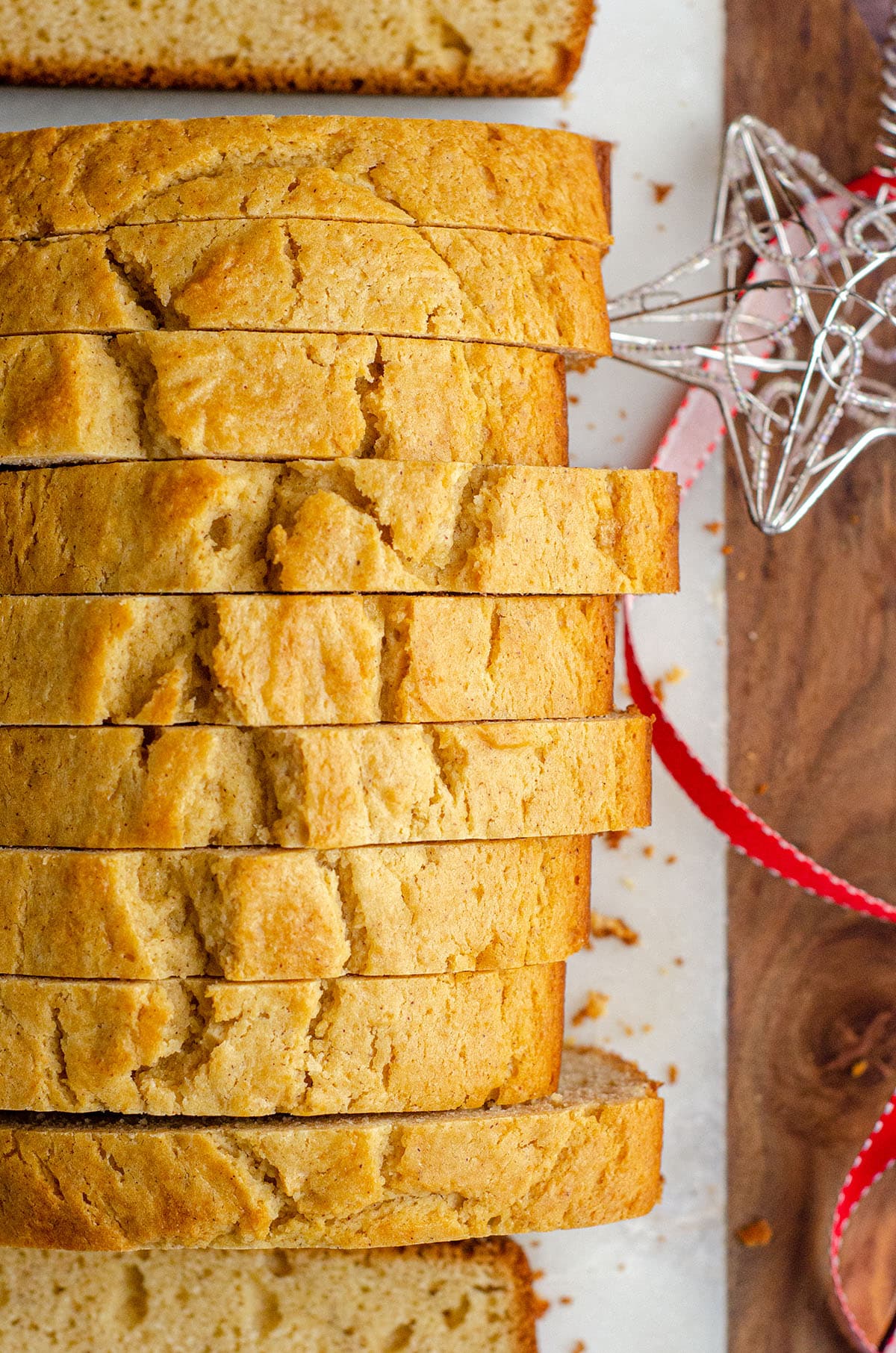 I chose this quick bread because, as you can see in the video, things get a little messy and crazy. One of these days I will hand the measuring cup over to him to do it all on his own, but we're not there yet.
This whole raw video was 20 minutes long. Matt magically shortened it to 4. It will probably only take you 10-15 minutes to make this eggnog quick bread yourself (heyyyy, quick bread! That's why we like ya!), but add in a toddler and prepare for 10 additional minutes.
Nothing snazzy in this recipe, and nothing weird unless you consider eggnog weird. But you're here, so you must have known that already and are ok with this strange ingredient getting all up in your holiday bread.
We LOVED this bread, and I was pleasantly surprised at the flavor. It was not hit-you-in-the-face eggnog, but rather a spiced bread with a dense and heavy crumb that gave me notes of eggnog in every bite. I didn't want a goopy, eggy bread, and that's exactly what I was able to stay away from.
This is a total holiday must-make, and if you enjoy eggnog, I think you'll like having this recipe in your back pocket. It's a great way to use up extra eggnog or just make something a little different for your holiday dessert spread.
And it's not overly sweet, which means you can totally wash it down with a glass of eggnog.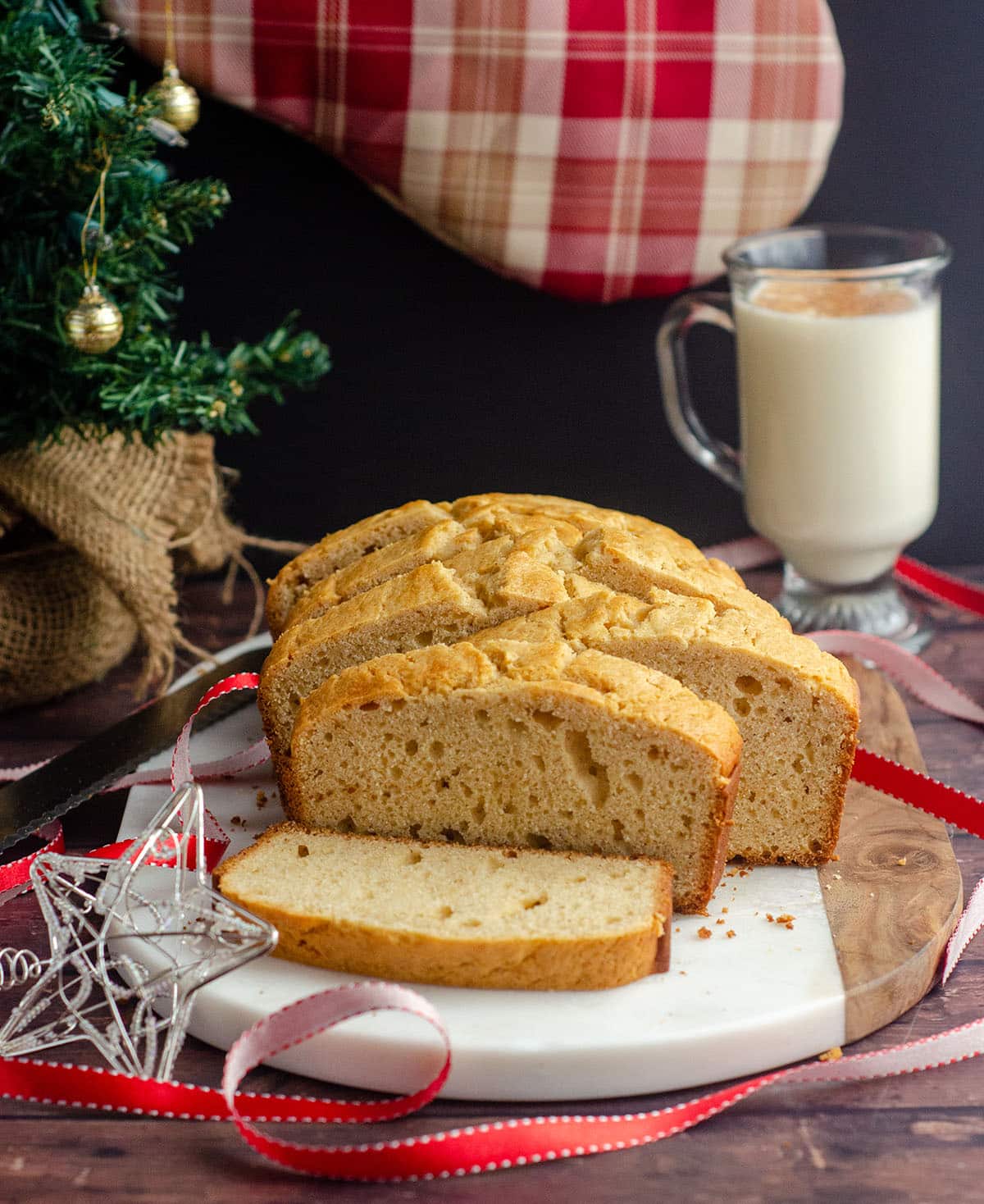 Too much?
Nahhh. Bring on the nog, I say. The more the merrier!
Eggnog Quick Bread
A spiced bread made with actual eggnog for maximum flavor and moisture.
Ingredients
2 and ¼

cup

(270g) all-purpose flour be sure to measure properly

2

teaspoons

baking powder

½

teaspoon

salt

½

teaspoon

ground cinnamon

¼

teaspoon

ground nutmeg

¾

cup

(150g) firmly packed light brown sugar

½

cup

(113g) unsalted butter

softened to room temperature

2

large eggs room temperature1

1

cup

(240mL) eggnog room temperature1

2

teaspoons

vanilla extract
Instructions
Preheat the oven to 350ºF (177ºC). Spray a loaf pan with nonstick spray. Set aside.

In a medium size bowl, whisk together the flour, baking powder, salt, cinnamon, and nutmeg. Set aside.

In a large bowl with a handheld mixer or the bowl of a stand mixer fitted with the paddle attachment, cream the brown sugar and butter on medium-high speed until light and fluffy, about 2-3 minutes. Add the eggs one at a time, beating until each is incorporated.

Turn the mixer speed down to medium-low and slowly pour in the eggnog. Add the vanilla, and continue to beat until everything is incorporated.

While continuing to beat the mixture on medium-low speed, add in the dry ingredients, stopping when everything is mostly combined. Do not overmix.

Pour the batter into the prepared loaf pan. Bake bread for 40-45 minutes, or until a toothpick inserted in the center comes out mostly clean. Allow to cool completely before serving. Store leftovers at room temperature up to 4 days, or in the refrigerator up to 1 week. Loaf freezes well, up to 3 months. Thaw in refrigerator or at room temperature overnight.
Notes
Room temperature ingredients: it is imperative to use room temperature ingredients when working with room temperature butter. Batter blends together much more uniformly when everything is the same temperature.
Nutrition Disclosure
All nutritional values are approximate and provided to the reader as a courtesy. Changing ingredients and/or quantities will alter the estimated nutritional calculations.
Serving:
1
slice
|
Calories:
227
kcal
|
Carbohydrates:
32
g
|
Protein:
4
g
|
Fat:
10
g
|
Saturated Fat:
6
g
|
Polyunsaturated Fat:
1
g
|
Monounsaturated Fat:
3
g
|
Trans Fat:
0.3
g
|
Cholesterol:
60
mg
|
Sodium:
194
mg
|
Potassium:
67
mg
|
Fiber:
2
g
|
Sugar:
16
g
|
Vitamin A:
320
IU
|
Vitamin C:
0.3
mg
|
Calcium:
101
mg
|
Iron:
1
mg