As an Amazon Associate I earn from qualifying purchases.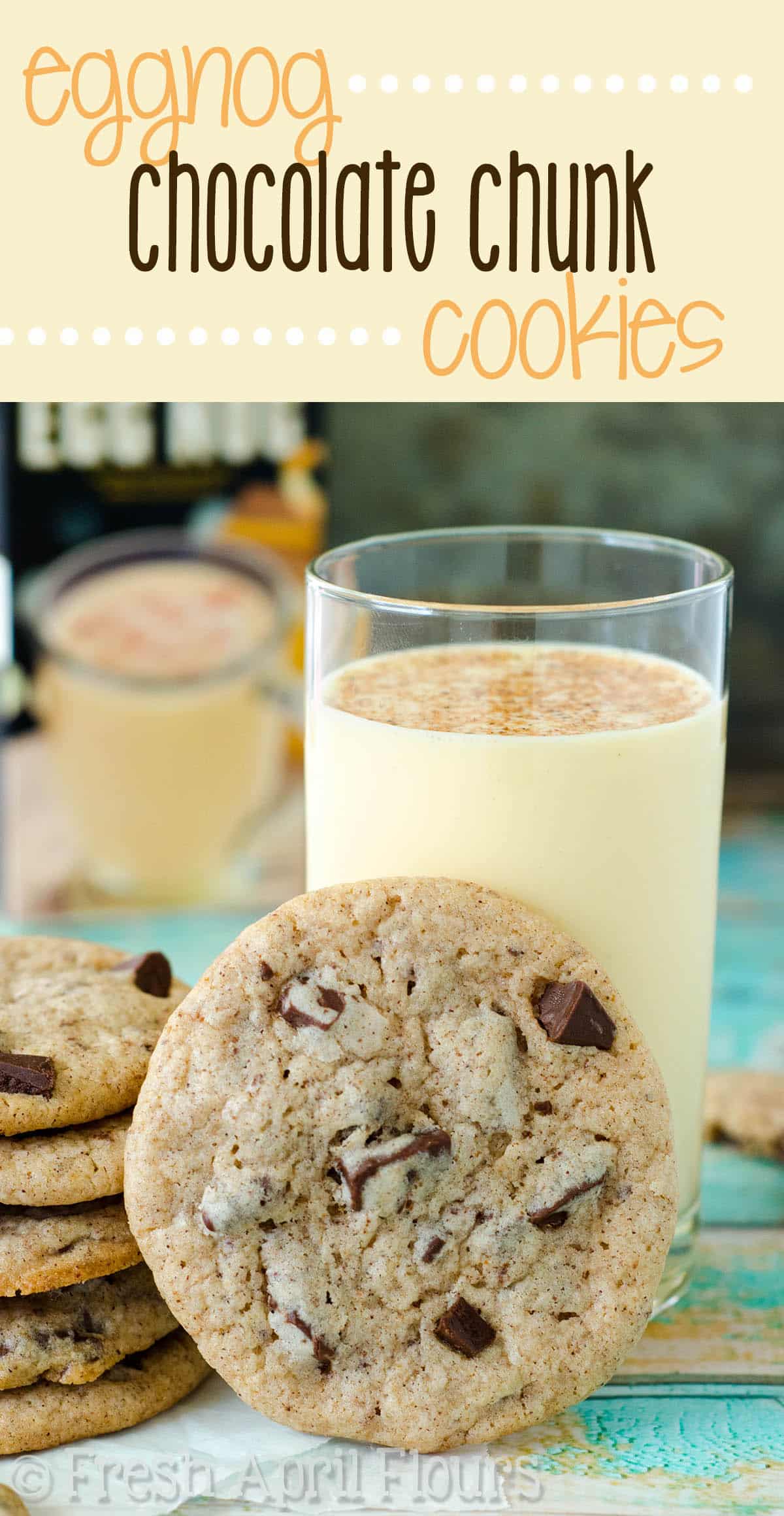 Tender cookies with crunchy edges spiced with cinnamon, nutmeg, and actual eggnog. Chocolate chunks add the perfect complement to the spice!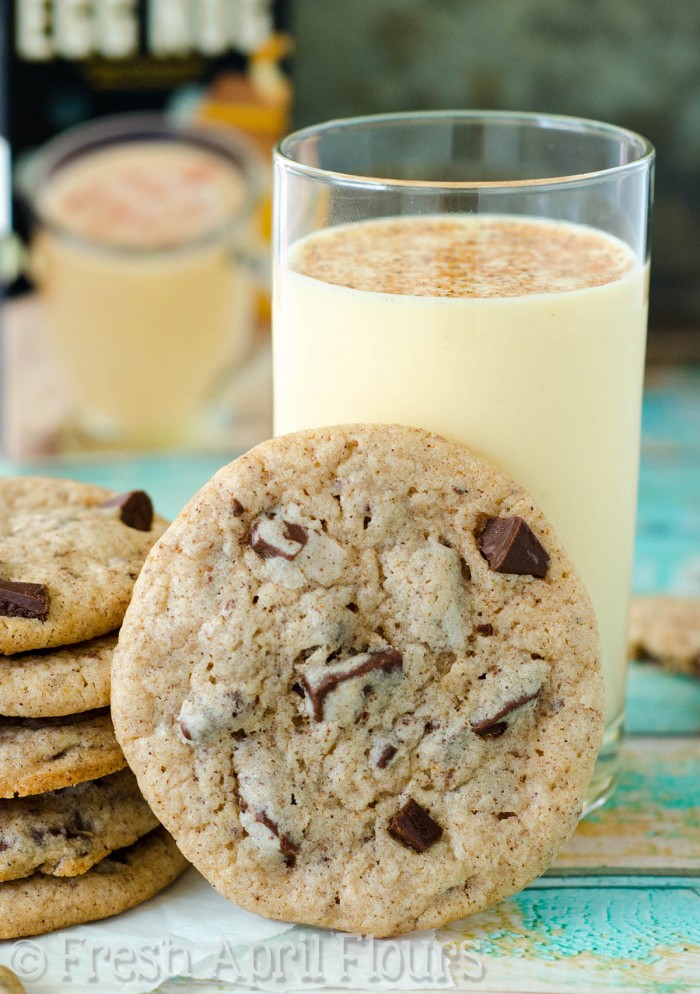 Welcome to the 6th day of the 12 Days of Christmas Cookies! Are you having a blasty blast? I know I am!
Sharing nothing but cookies with you has been sweet. And snappy. And the cherry on top has been that a lot of the cookies I'm sharing with you can go beyond the holiday season.
Although Christmas is usually all about the cookies, there really is no bad time at all for a cookie. Don't you agree? Of course you do. You all love my cookie recipes (especially this oatmeal raisin one — and I love ya right back for it)!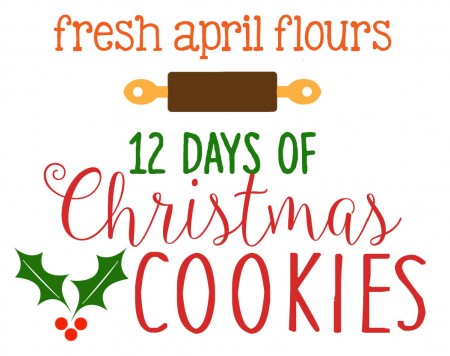 This cookie. Ohhhhh, but this cookie. This cookie is special for Christmas time.
Although, if you're smart like my MIL and have eggnog on hand all year round because you freeze it so you can make out-of-this-world French toast whenever you want to, then… Have at these eggnog chocolate chunk cookies whenever you feel like it.
Personally, I like to save the eggnog for December. It tastes like Christmas in a glass and I can basically hear bells jingling and Santa "HO HO HO"ing when I drink it. Yeah. Listen carefully next time you sit down with a glass.
I discovered this recipe from my girl Brown Eyed Baker a few years ago and made them for the cookie exchange my work girlfriends and I do annually. They were very good, but I thought they were missing deep eggnog flavor.
I like my tastes super flavorful, not "hmm, is it there?"
Don't get me wrong, Michele did a wonderful job with this recipe– I just wanted a bit more pizzaz! I added some extra spices to kick it up a notch.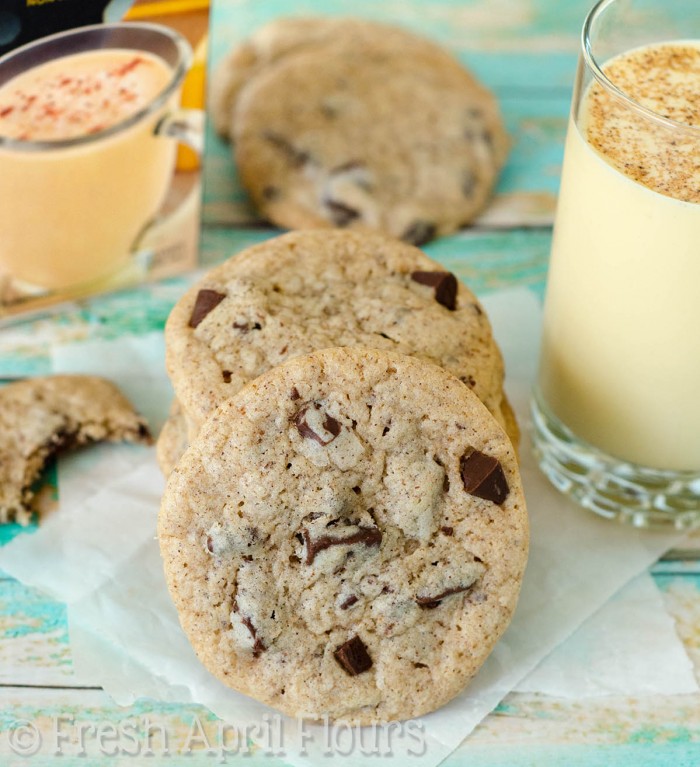 Speaking of, this cookie might look pretty plain and boring but let me tell you, it is nothing short of amazing. Don't let its not-so-interesting look and flatter appearance deter you– these cookies are absolutely packed with cinnamon and nutmeg flavor.
And the chocolate chunks add the perfect complement to all that spice. Semi-sweet and creamy chocolate + bitter cinnamon + fragrant nutmeg = the perfect combination for the sweetness of the cookie's base. Unsuspecting food is usually the best kind.
And of course, these cookies wouldn't truly be eggnog cookies without actual eggnog, so there is plenty of that to go around here. I have used traditional, spiced, and vanilla. All are supremely tasty, so use whatever you can find or whatever you prefer.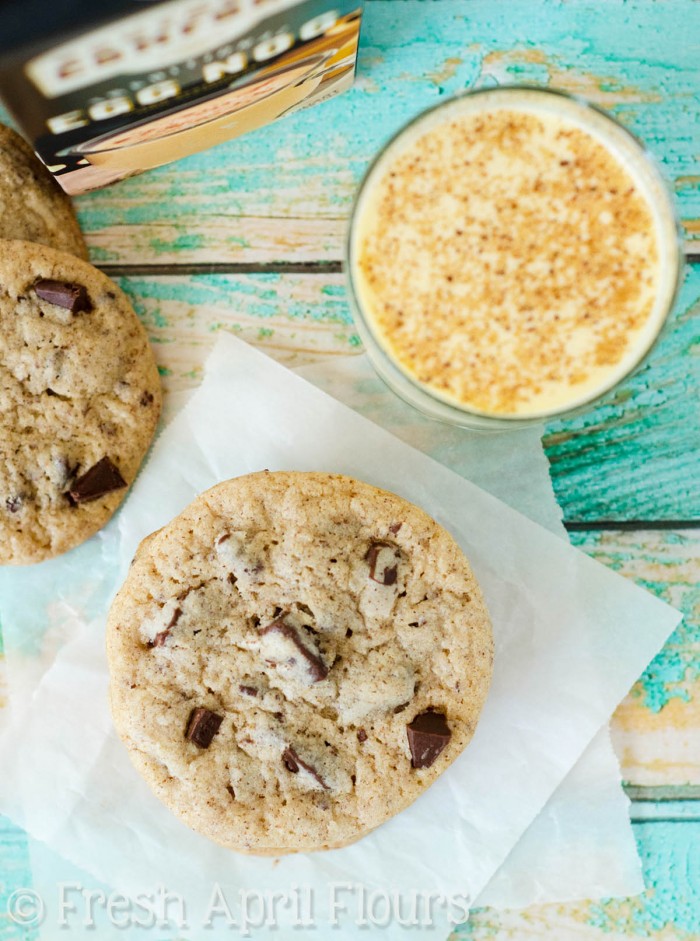 What I really love about this cookie is its uncomplicated nature.
One bowl for the butter, sugar, eggnog, egg yolk, and vanilla extract, and another for the flour, leavener, salt, and spices. Throw it all together, add in those chocolate chunks, and chill, only for about 30 minutes. Then, roll them into balls, and bake them for 20 minutes.
Easy peasy.
These cookies will spread quite a bit. Nothing puffy and fluffy here. But even as a hearty cookie lover, I am absolutely head-over-heels in love with the texture of these cookies.
They are crispy on the edges, and since the cookies are so flat, the edges just absolutely melt in your mouth. The centers of the cookies are super soft and dense, jam packed with tons of flavor.
Meanwhile, there is a bit of chocolate mixed into every bite, so there are all kinds of flavors going on that meld so well together– it is really hard to eat just one of these guys!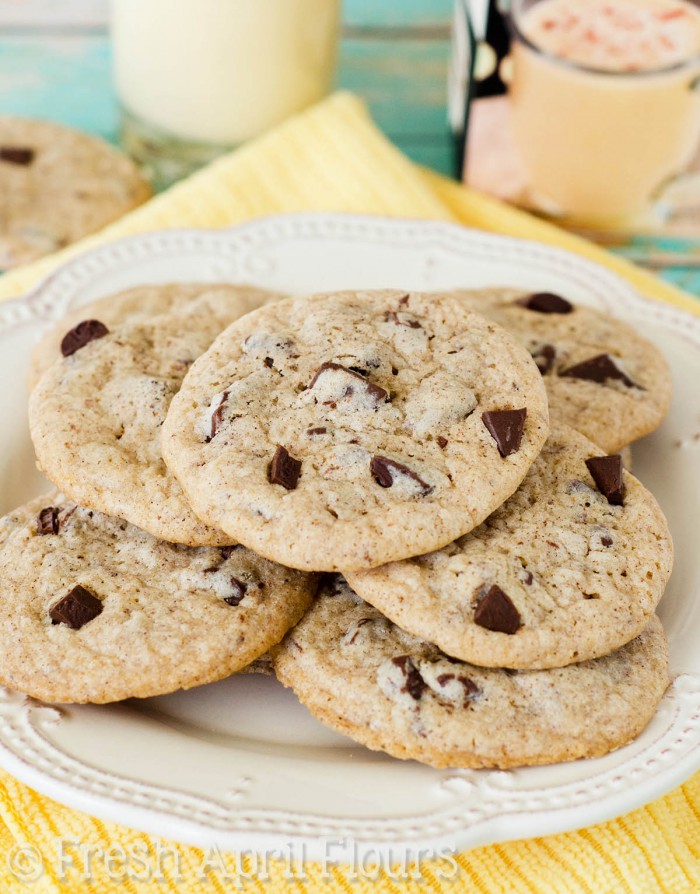 Oh, and just a tip– I like to coarsely chop my semi-sweet chunks so that there are small bits of "shavings" throughout each cookie.
You may certainly use chips if you can't find chunks, or you can just leave the chunks whole, but I like to find those teeny little melty pockets of chocolate in my slightly warm cookies that I can't wait to let completely cool. Yes. Irresistible, I tell ya.
If you don't like eggnog because of its texture, I get it. Actually, I don't. Because I personally loveeee eggnog, but I know that texture can be an issue for some folks.
That said, if you like the taste and flavors that make up eggnog, this cookie is the perfect way to enjoy the seasonal flavor without getting mouth full of thick, eggy milk. Now that I type that, it sounds really gross.
But hey… Edible beverages are kind of my thing.
Give these eggnog chocolate chunk cookies a try, and I think they might be your new favorite Christmas cookie! I'm betting Santa would probably like them a lot too.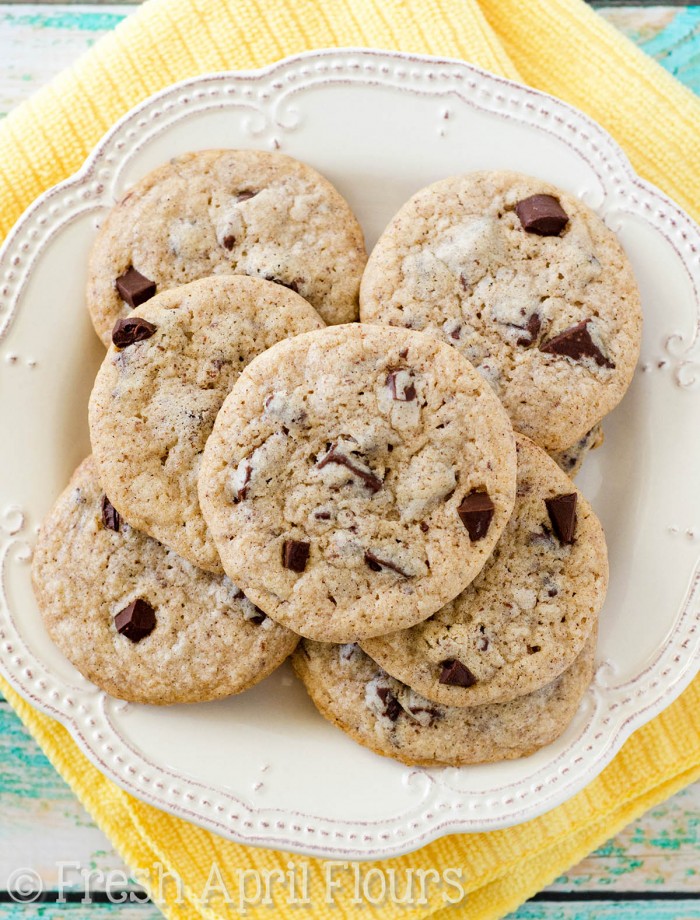 And, if you're feeling daring… Maybe try a little rum in there instead of vanilla extract? Or use spiked eggnog? No judgment here. In fact, if you do try them with a little somethinsomethin in there… Can I come try??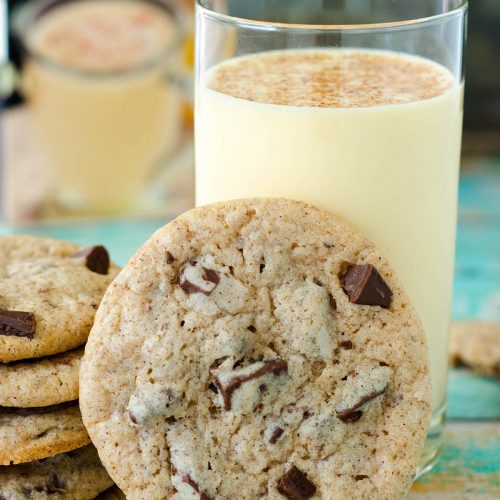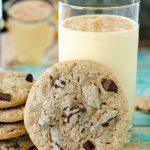 Print Recipe
Eggnog Chocolate Chunk Cookies
Tender cookies with crunchy edges spiced with cinnamon, nutmeg, and actual eggnog. Chocolate chunks add the perfect complement to the spice!
Ingredients
1

cup

+ 2 tablespoons all-purpose flour

1

teaspoon

ground cinnamon

1/2

teaspoon

ground nutmeg

½

teaspoon

baking powder

¼

teaspoon

salt

6

tablespoons

unsalted butter

softened to room temperature

½

cup

+ 2 tablespoons granulated sugar

¼

cup

eggnog

1

egg yolk

½

teaspoon

vanilla extract

½

cup

dark chocolate chunks

coarsely chopped
Instructions
In a small bowl, whisk together the flour, cinnamon, nutmeg, baking powder and salt. Set aside.

In a large bowl with a handheld mixer or the bowl of a stand mixer fitted with the paddle attachment, beat the butter and sugar on medium speed until light and fluffy, approximately 3 minutes. Add the eggnog, egg yolk and vanilla extract, and beat again on medium speed until completely combined Scrape down the sides and bottom of bowl with a spatula. Reduce the mixer speed to low, add the dry ingredients, and beat until just combined. Fold in chocolate chunks. Chill dough in the refrigerator for at least 30 minutes and up to 2 days.

When you are ready to bake the cookies, preheat the oven to 300ºF. Line a baking sheet with parchment paper or a silicone baking mat and set aside.

Using a cookie scoop or a Tablespoon measure, roll dough into approximately 1" balls and place them on the prepared baking sheets, spacing them at least 2" apart. Cookies will spread significantly. I usually bake 4 rows of 2 dough balls. Bake cookies 20 minutes, or until the edges are set. The middle of the cookies will still look underdone. Allow cookies to cool on the baking sheet for 2 minutes before transferring to a wire rack to cool completely. Cookies stay fresh stored in an airtight container at room temperature up to 1 week. Cookies freeze well, up to 2 months. Frozen cookie dough balls freeze well, up to 2 months. Bake frozen and add 1-2 minutes to baking time.
More eggnog recipes!