Banana Peanut Butter Egg White Smoothie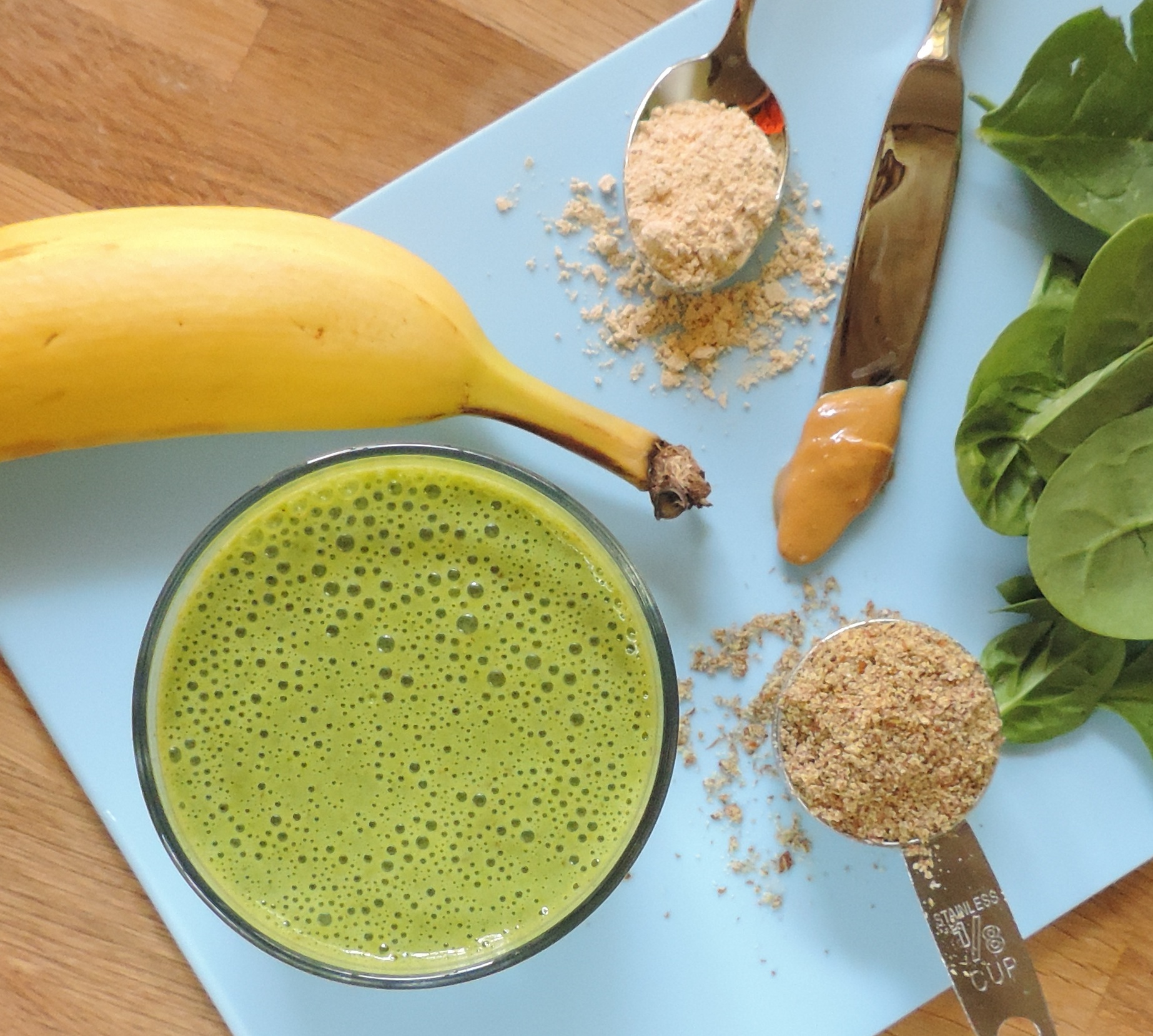 As an Amazon Associate, I earn from qualifying purchases. Read the full disclosure here.
This nutritious and filling blend of banana, peanut butter, pasteurized egg whites, milk, and a few other pantry ingredients is a great way to start your day. It also makes a tasty alternative to a sweet treat.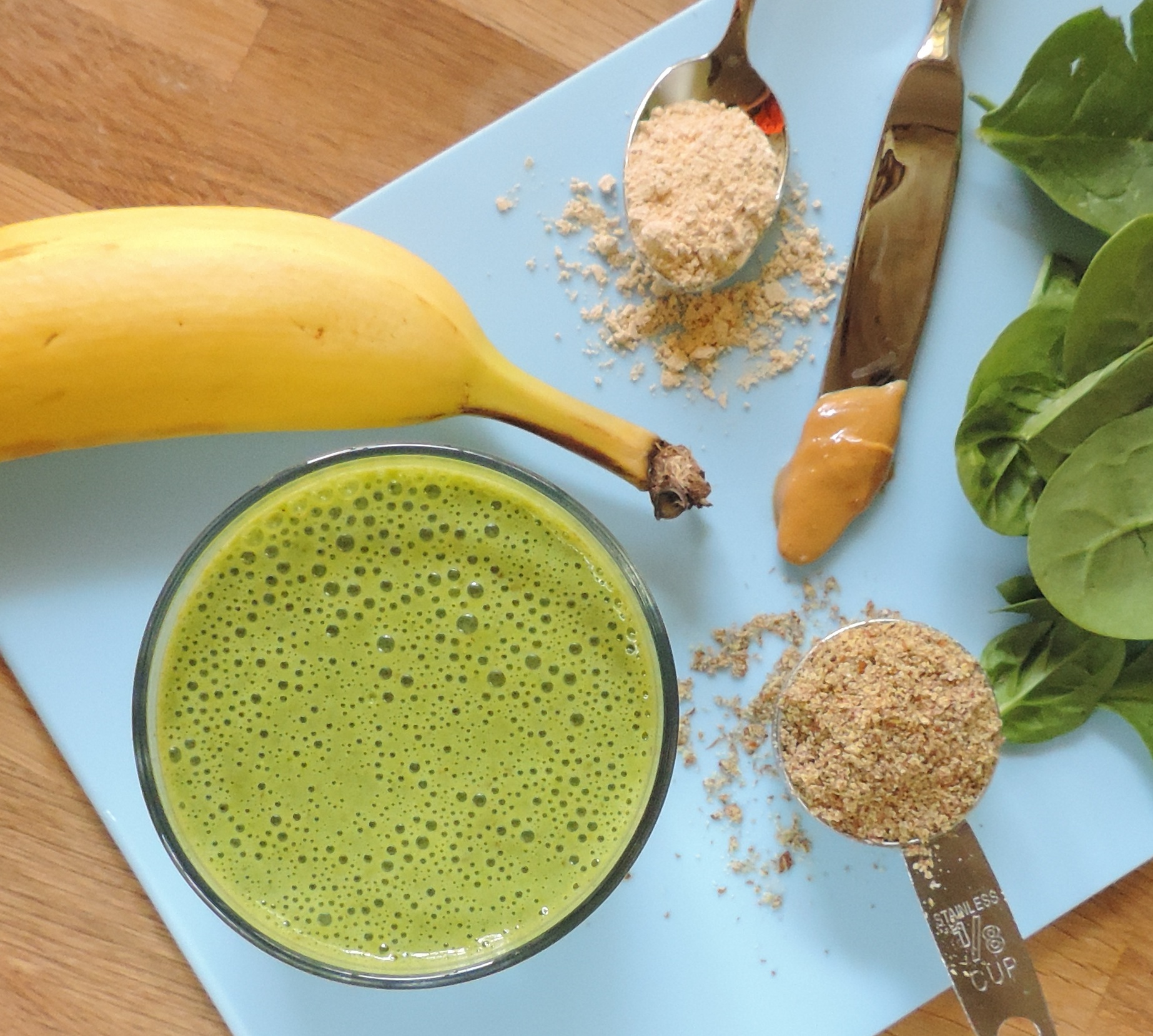 If there is an "it" food that bas been hanging around for many years, it's smoothies.
Smoothie this, smoothie that. Turn your meal into a smoothie! Turn your fruits and vegetables into a tasty treat! Smoothie bowls even made an entrance and it's hard to turn those down, too.
This is all well and good, except that the longer we run a privately owned gym, the more we realized many folks don't know where to start.
It turns out, most people want to use smoothies for easy breakfasts, post-workouts, or even as a snack. And the mistake people often make is loading smoothies up with empty calories (lots of fruit and not a lot of protein), which leaves them still feeling hungry.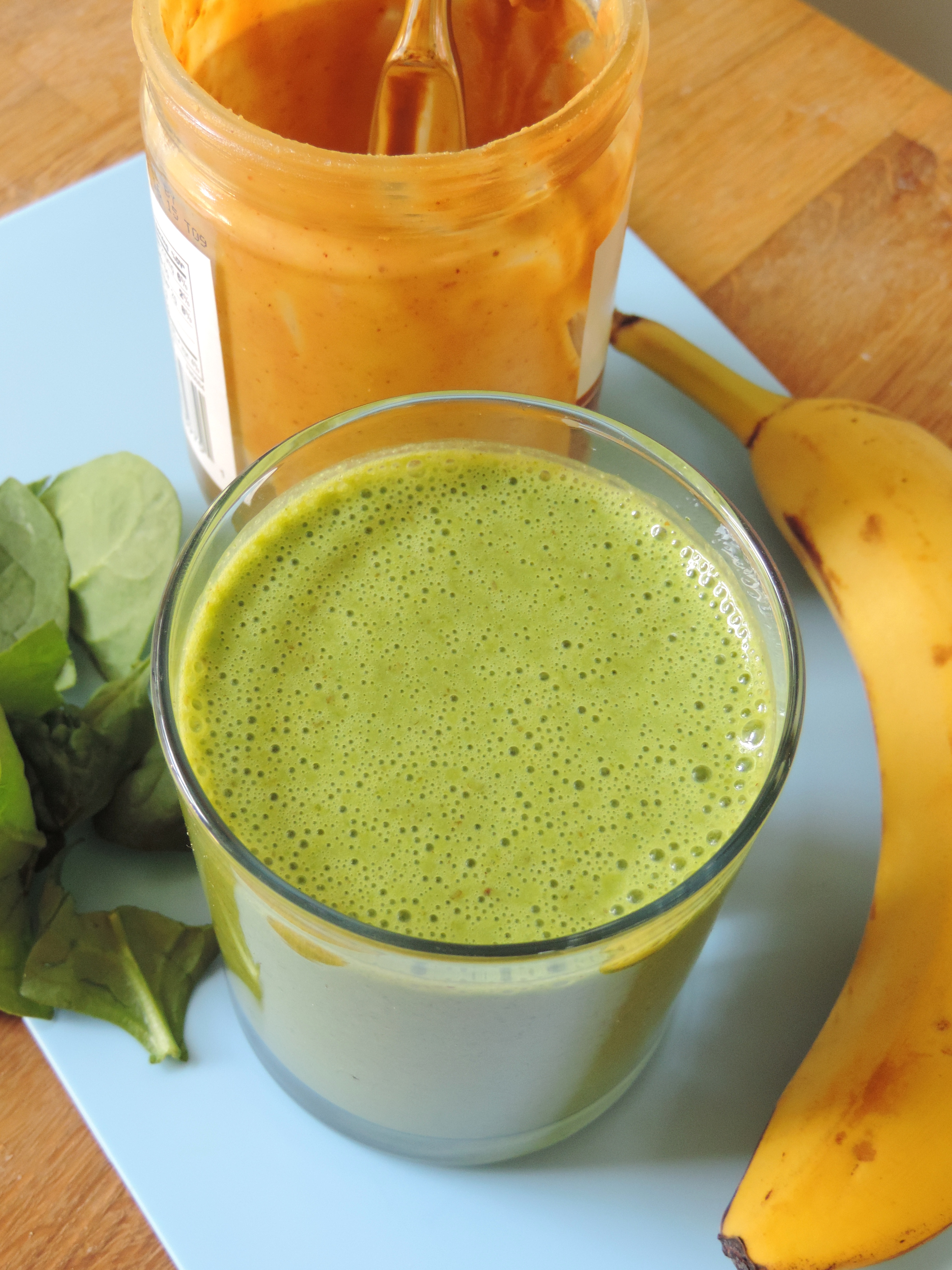 Smoothies and protein shakes are also great because they're portable (they travel easily to your desk while you're WFH or in the car if you drive to work), they're easy on the belly, and liquid absorbs much more quickly into your body than solid food does, so it's certainly some quick nutrition.
While I personally do not count calories or track macros, another benefit to smoothies is that you can stay on track with these things if that's what your goals are.
My post on properly measuring your ingredients is where I talk about a kitchen scale the most, but in reality, I use my kitchen scale all the time in baking.
I am a big stickler on weighing ingredients for accurate results, and it's also great for making smoothies so you can actually know how much is going into your egg white smoothie.
Not just that, but many people get overwhelmed with the plethora of things to choose from that they end up throwing a whole bunch of things together that alone, taste great, but when blended, taste like crap.
A kitchen scale, or even just a set of measuring spoons/cups, will make it easier to get the right combination of flavors to insure deliciousness in this egg white banana smoothie.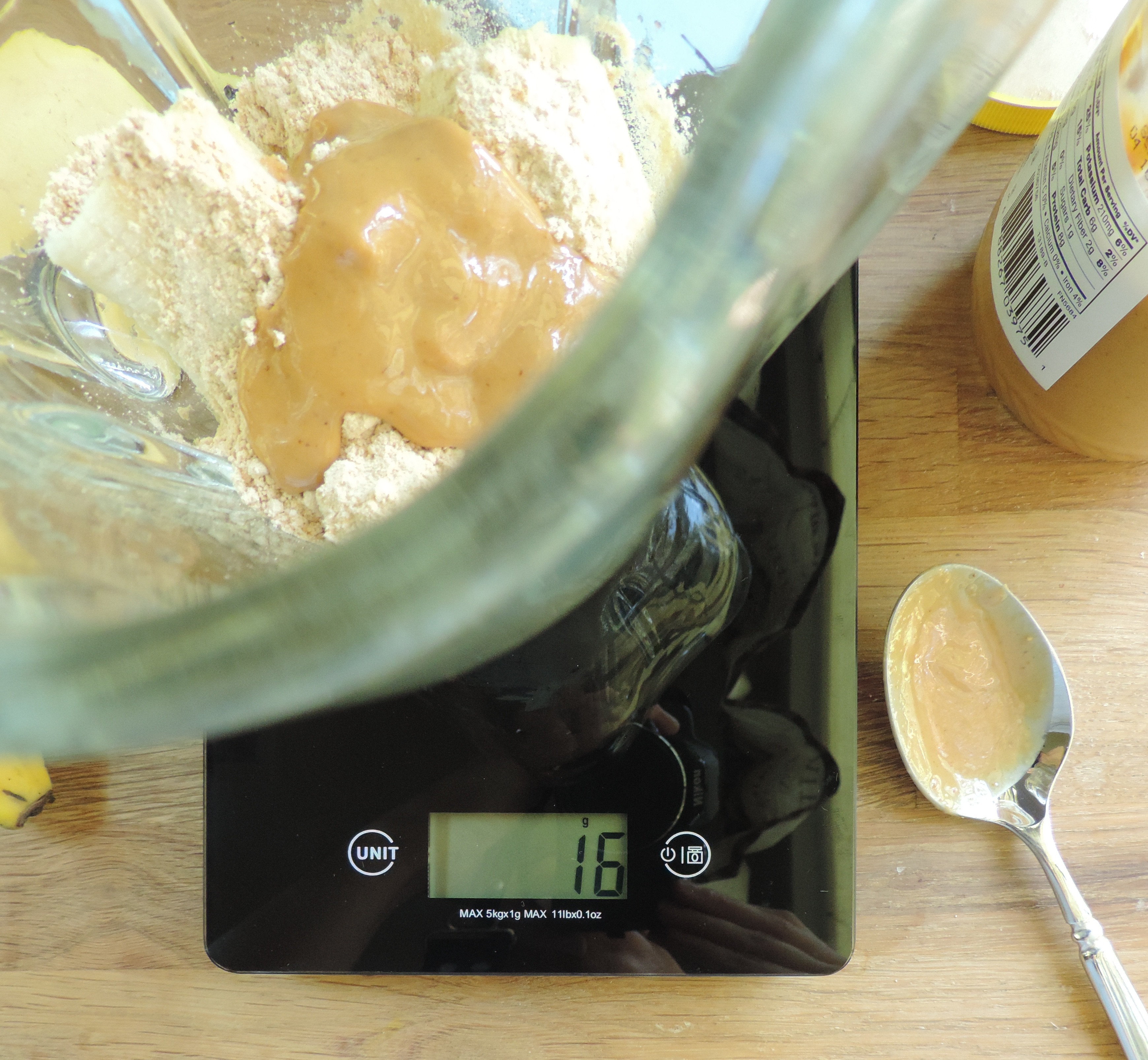 Personally, I put my blender on my kitchen scale and tare it between each ingredient to be sure I'm staying on track and not just making a giant conglomeration that won't taste so great.
INGREDIENTS
I've talked quite a bit about smoothies here, and rest assured I have tried my fair share of smoothie recipes. This one is, hands down, my very favorite and one that I've been using as my go-to for literally over a decade.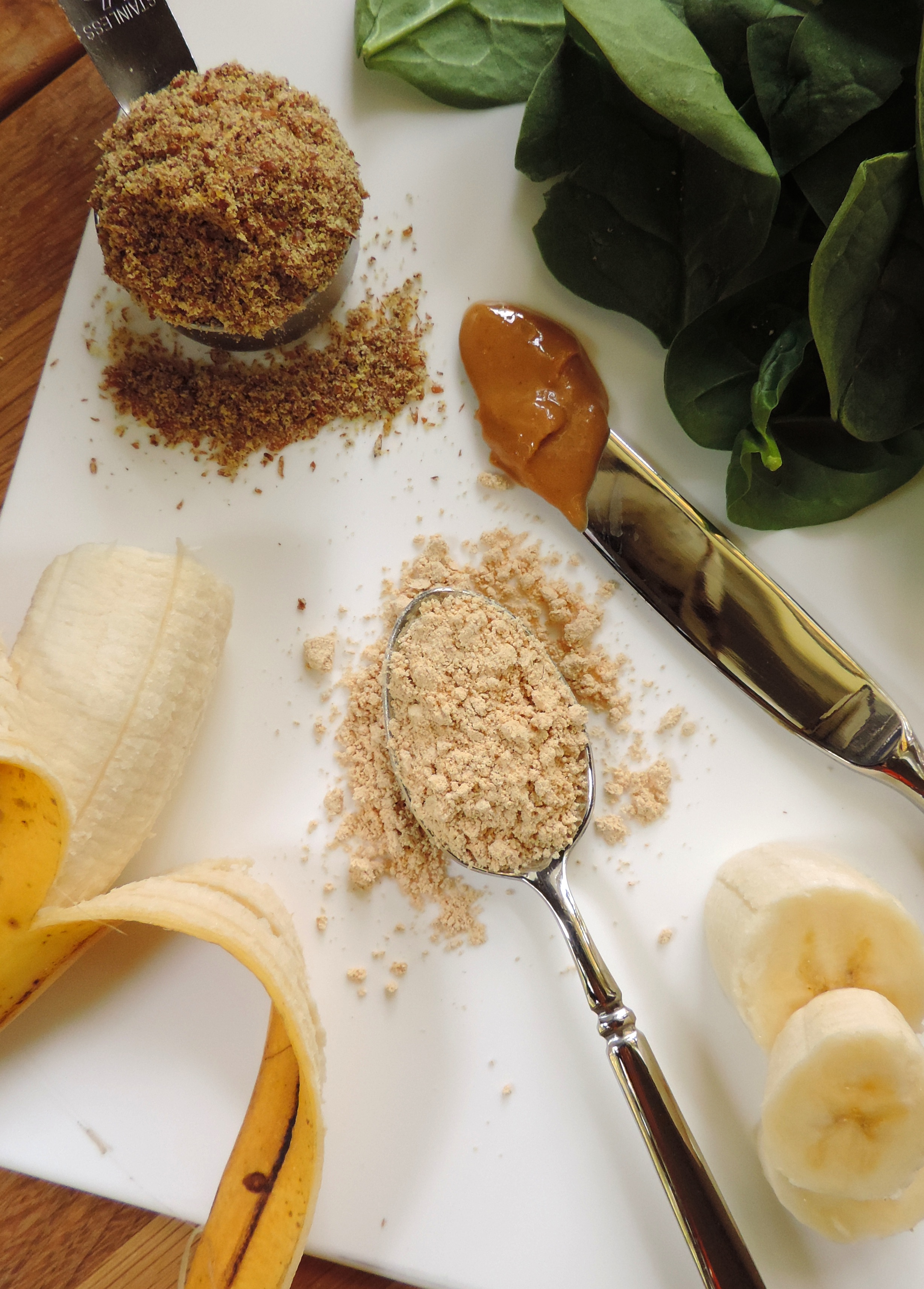 My main ingredients are:
•a banana
•natural peanut butter or almond butter
•pasteurized liquid egg whites
•ground flaxseed
•milk
•peanut butter powder
•spinach
•a protein powder
Now, I do have some important notes on these ingredients.
Pasteurized egg whites, which are safe to eat without cooking them, come in a carton. They add protein to a smoothie while also making it frothy and fluffy. You can find them with the eggs in the grocery store.
Peanut butter powder normally comes in a jar but can often be found in a vacuum pack. Peanut butter powder is great because it gives more of a peanut butter taste without adding as much fat or nearly as many calories, if this is something that matters to you.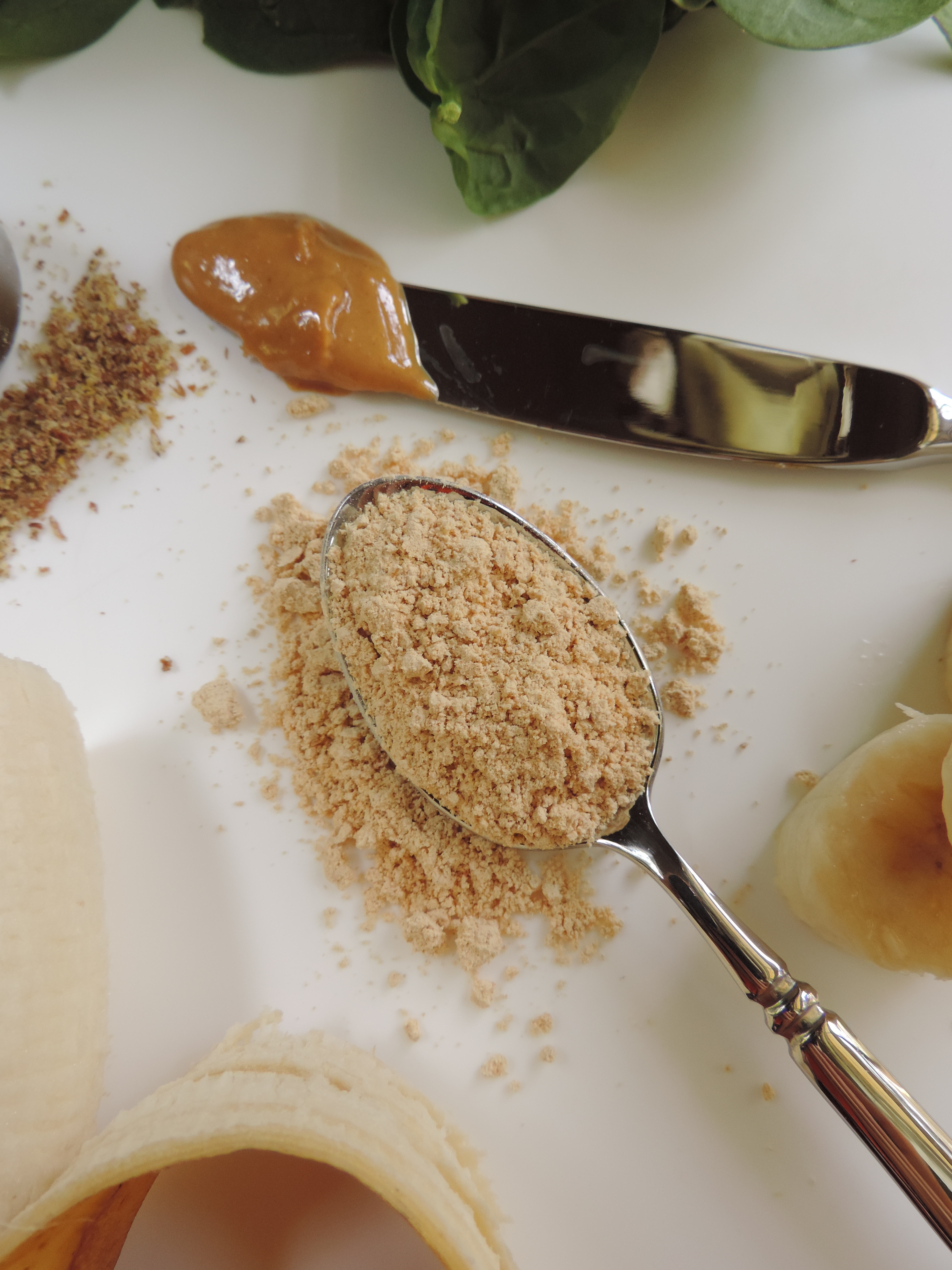 If that doesn't matter to you, you can skip the peanut butter powder completely and just opt for 2 additional Tablespoons of peanut butter or almond butter.
As far as protein powder goes, we like to use Vega protein powder. This is just our preference, and we like it because it has a simple ingredient list. Use whatever you like, and whatever flavor you prefer.
I've made this liquid egg white protein shake with chocolate and vanilla protein powder, and while I prefer the vanilla, both are totally delish!
BLEND UNTIL COMPLETELY SMOOTH
We have a strong blender, so I just throw all of these ingredients in and blend everything all at once. I usually let it blend for about 2 minutes, just to make sure everything is blended well. There's not a whole lot worse than getting chunks of spinach in your sips.
The flaxseed also has a tendency to have a strange mouthfeel when it's in a liquid. It's best to blend it as well as possible!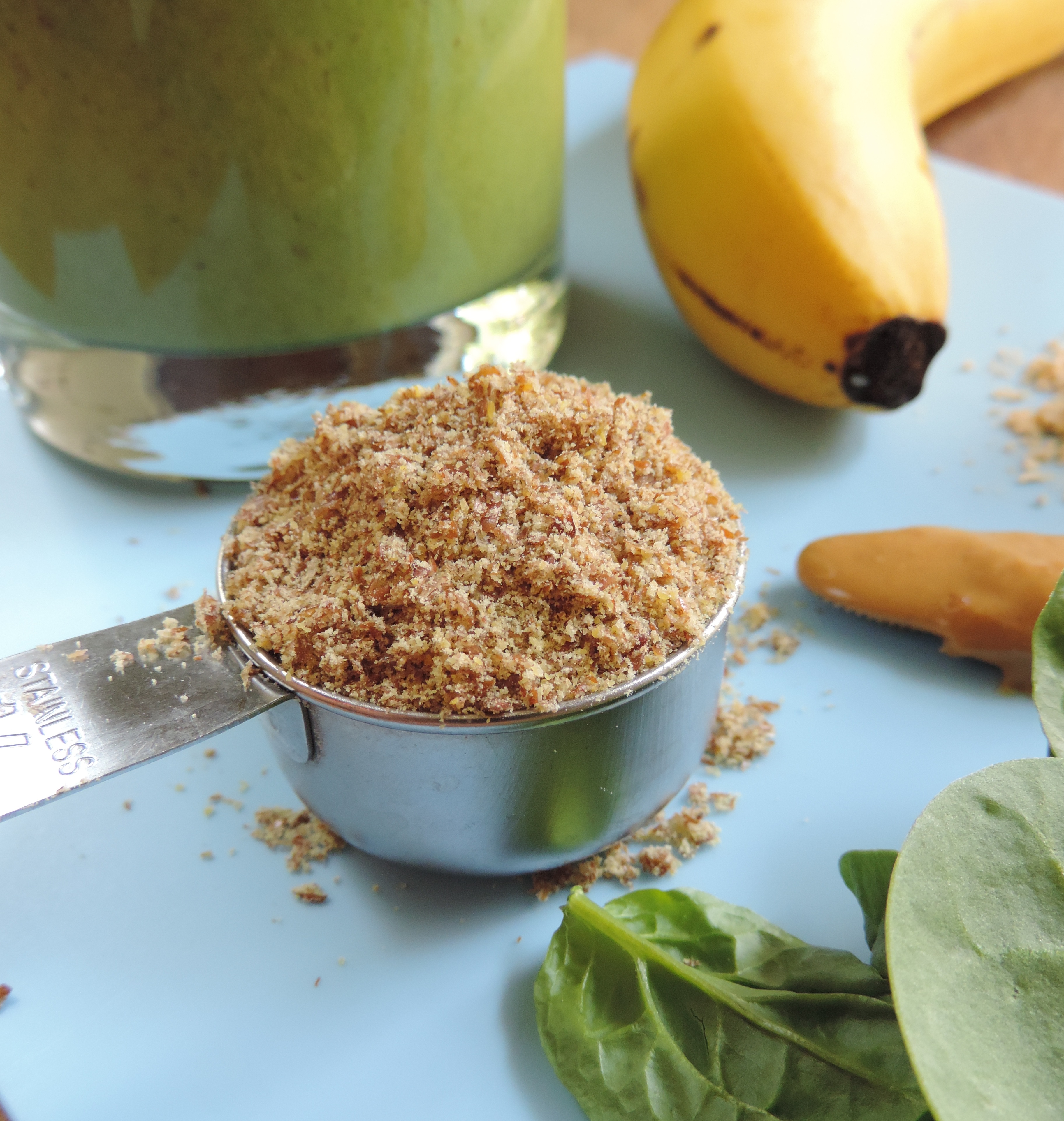 What I love about this egg white smoothie recipe is that it tastes just like a milkshake. Seriously. Not a joke.
That's mostly due in part to the sweetened protein powder, but without it, it's still absolutely delicious. It's kind of like eating dessert for breakfast, and can anyone really argue with that?
This recipe is also, as written, gluten free! And if you have any issues with dairy or peanuts, you can make adjustments to the ingredient list as needed so it fits your life.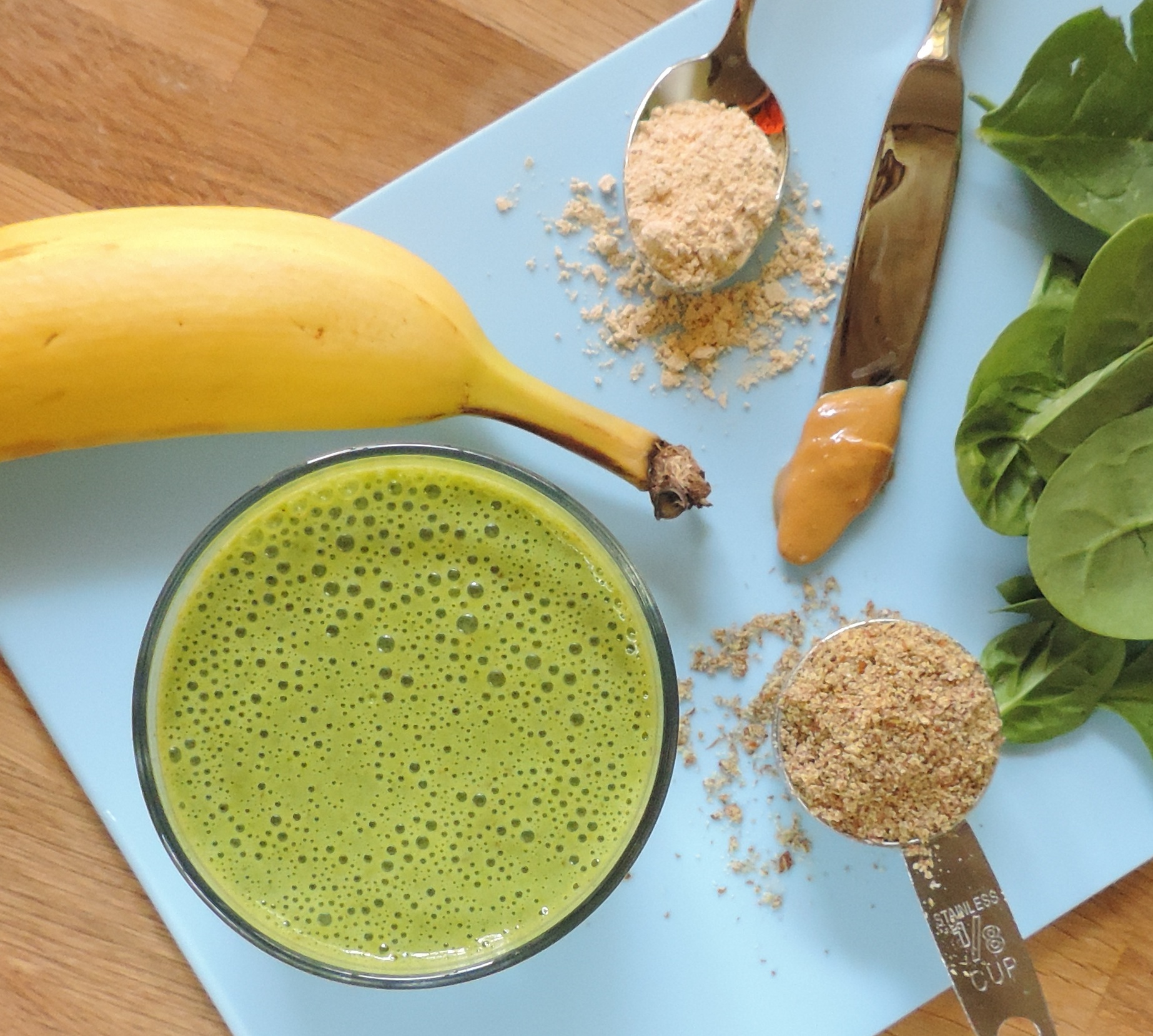 This egg white shake is also a fairly hardy breakfast, and it can fill me for 3-4 hours, even after a leg day workout.
I hope you'll find this makes the whole smoothie thing easier to understand! Now, get to blending!
Check out more of my favorite smoothie recipes (and know you can add egg whites to any of these to amp up the protein content): pumpkin pie smoothie, apple pie smoothie, lightened up Shamrock Shake, or my chocolate peanut butter smoothie bowl.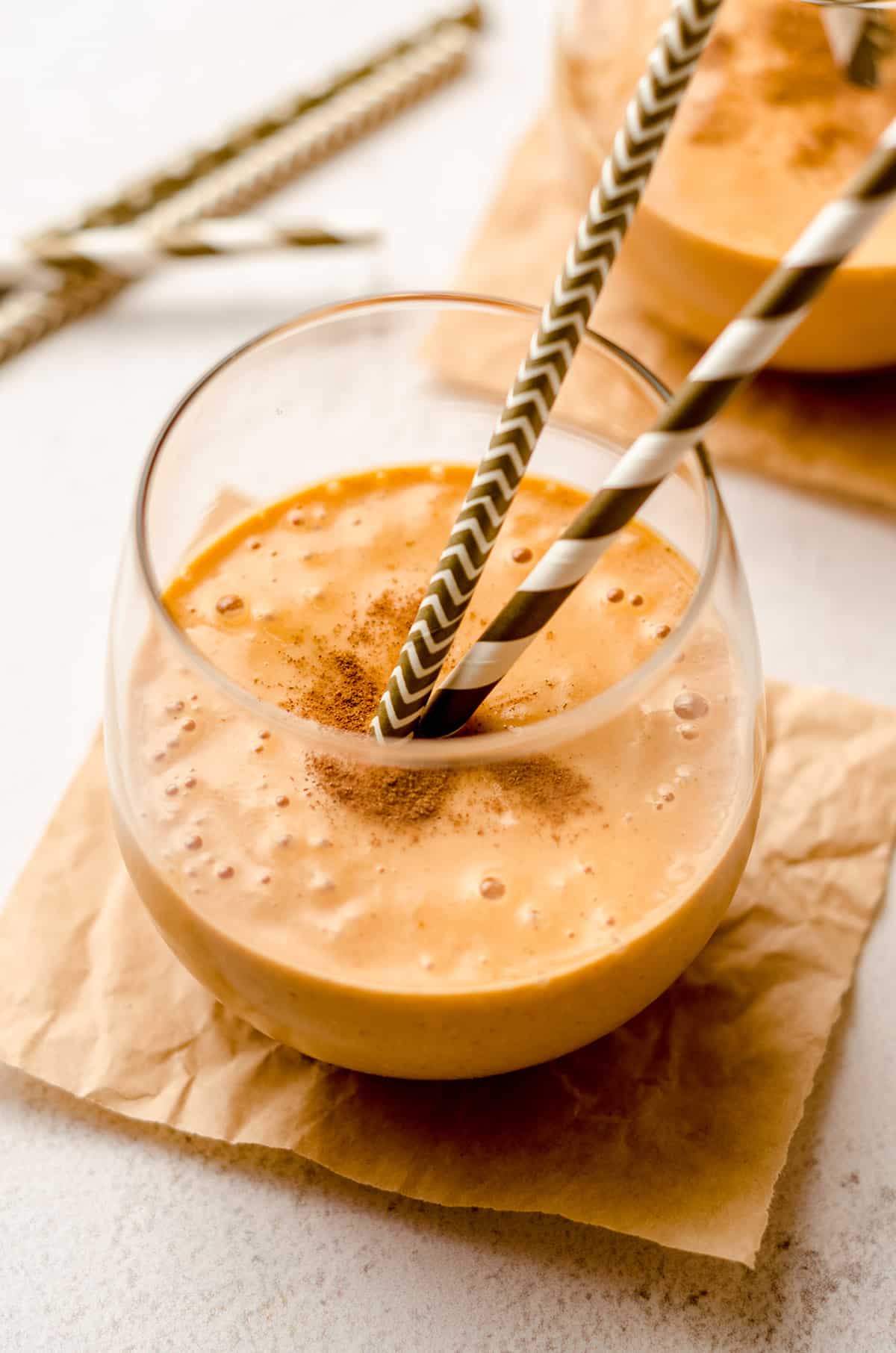 Banana Peanut Butter Egg White Smoothie
This nutritious and filling blend of banana, peanut butter, pasteurized egg whites, milk, and a few other pantry ingredients is a great way to start your day. It also makes a tasty alternative to a sweet treat.
Ingredients
1

medium banana

1

Tablespoon

(16g) natural peanut butter or natural almond butter

3

Tablespoons

(46g) pasteurized liquid egg whites

1

Tablespoon

(7g) ground flaxseed

1

cup

(240mL) milk1

2

Tablespoons

(13g) peanut butter powder2

1

heaping handful of spinach

about 1 and ½ cups

1

scoop

vanilla or chocolate protein powder3
Instructions
Combine all ingredients in a blender.

Blend everything on high until smooth. Serve immediately. Leftovers will last in the fridge a few hours but will start to separate.
Notes
Milk: I prefer unsweetened almond milk, but you can use any kind of milk you prefer.
Peanut butter powder: I usually use this to keep the fat content low. If you don't care about this or don't want to purchase an extra ingredient, feel free to use 3 Tablespoons of your preferred nut butter.
Protein powder: we use Vega protein powder in our house, but you can use any kind of protein powder you prefer.
Nutrition Disclosure
All nutritional values are approximate and provided to the reader as a courtesy. Changing ingredients and/or quantities will alter the estimated nutritional calculations.
Serving:
1
smoothie
|
Calories:
575
kcal
|
Carbohydrates:
52
g
|
Protein:
49
g
|
Fat:
24
g
|
Saturated Fat:
6
g
|
Polyunsaturated Fat:
5
g
|
Monounsaturated Fat:
7
g
|
Cholesterol:
79
mg
|
Sodium:
311
mg
|
Potassium:
1133
mg
|
Fiber:
9
g
|
Sugar:
30
g
|
Vitamin A:
695
IU
|
Vitamin C:
11
mg
|
Calcium:
491
mg
|
Iron:
3
mg