As an Amazon Associate, I earn from qualifying purchases. Read the full disclosure here.
Loaded with corned beef, sauerkraut, Thousand Island dressing, and plenty of cheese, this dip will be your new favorite way to enjoy the classic sandwich– in dippable form!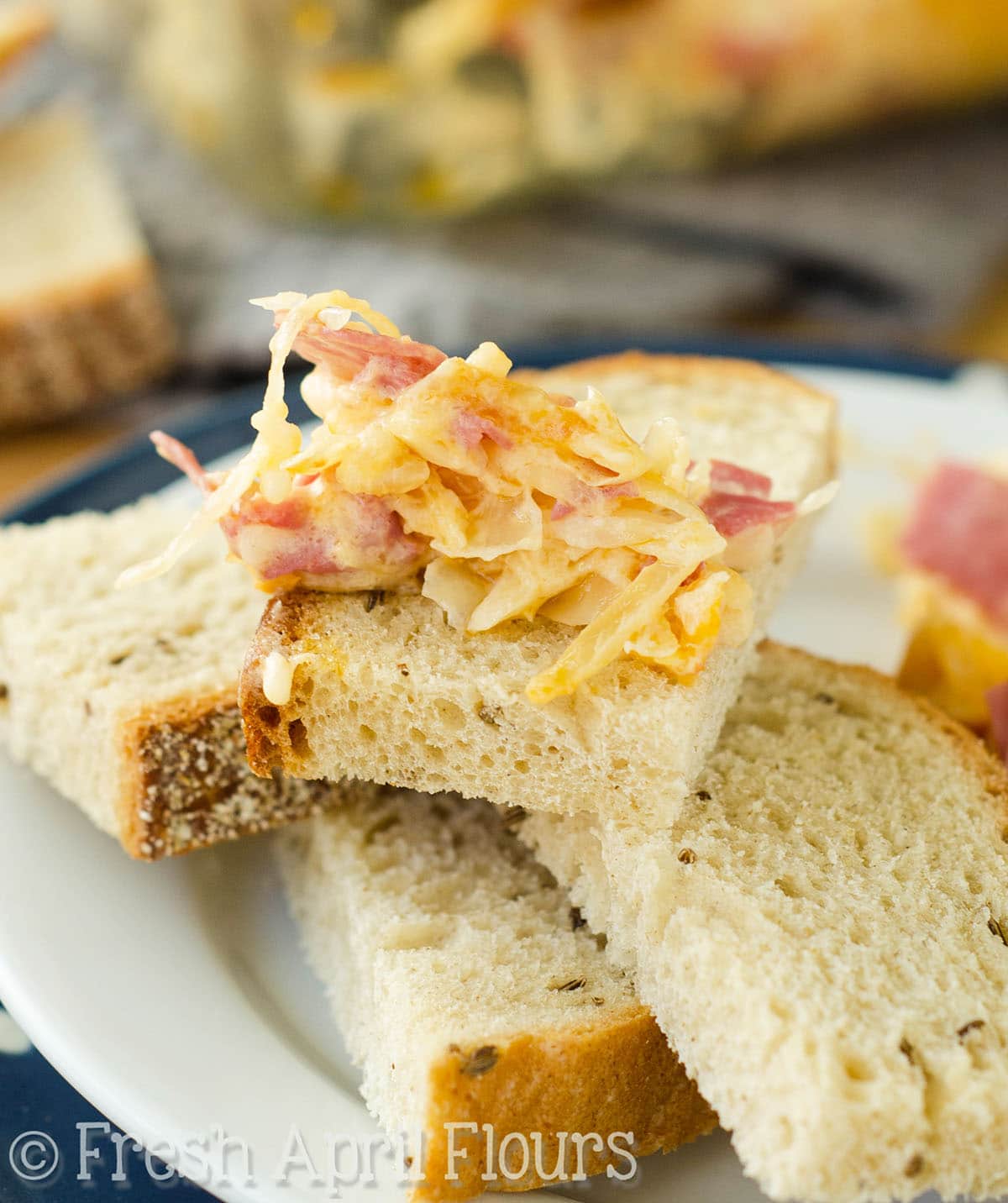 It's hard to pick my favorite part of a Reuben sandwich.
Oh, who am I kidding? It's definitely the 'kraut.
Yep, that's me. The totally weird girl who likes to eat sauerkraut like it's a vegetable, whose father-in-law brings her a bowl of 'kraut when he brings his lunch truck to her work, and whose mother-in-law puts a can of good ol' fashioned fermented cabbage in her stocking at Christmas.
This is all true information. I can't make this stuff up.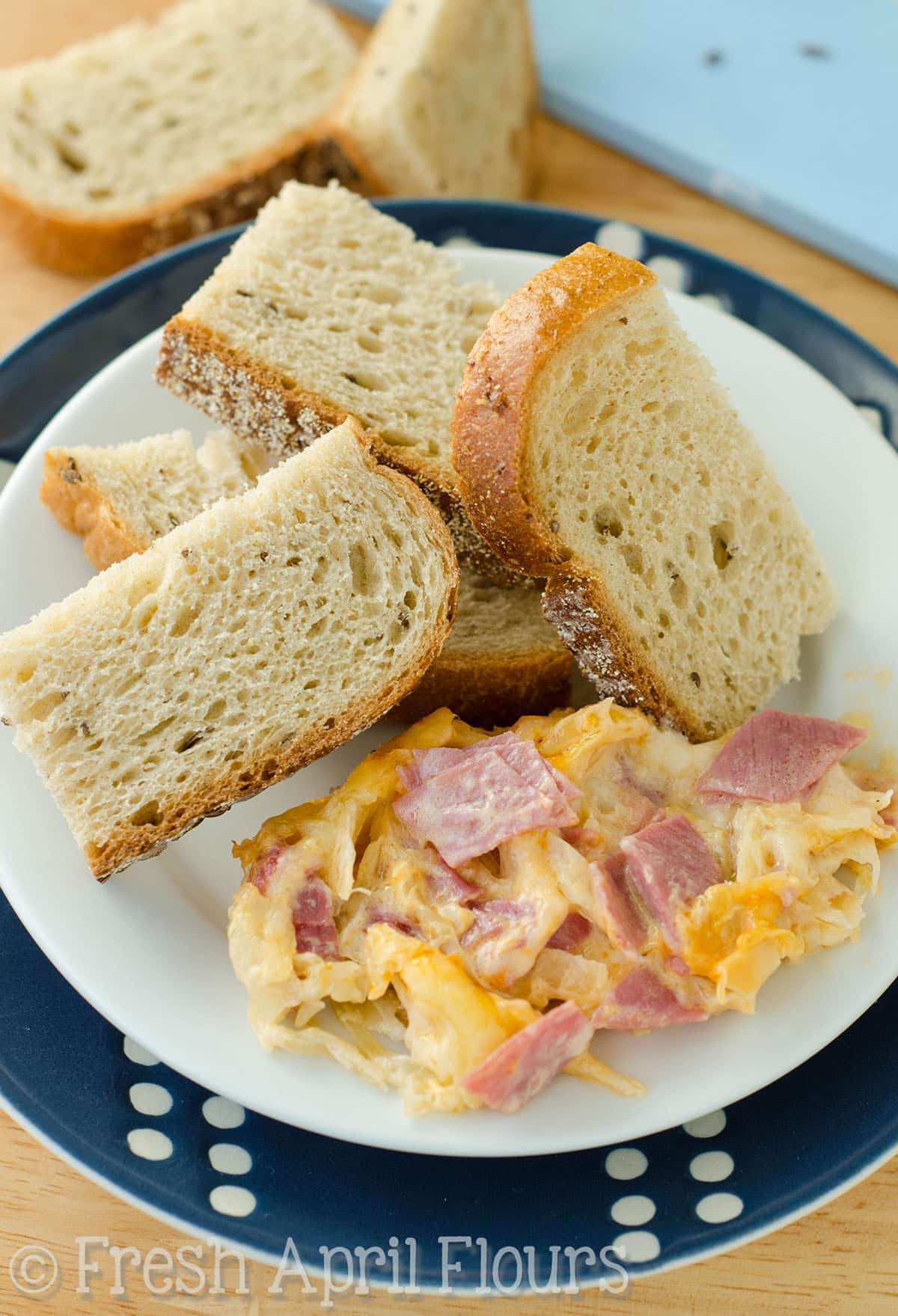 Ladies and gents: I am a sauerkraut fanatic. Therefore, anything containing sauerkraut is a-ok in my book. Like Reubens. Ohhhh, Reubens. I will order a Reuben at a sandwich shop 9 times out of 10.
There is something about the combination of vinegary, tart 'kraut, melty Swiss cheese, drippy Thousand Island dressing, and hearty, meaty corned beef, ALLLL squished between delicately spiced rye bread that just makes me weak in the knees.
Please tell me I'm not the only freak in the world who gets this excited over a sandwich?!
Yikes.
Umm, pause. Just look at all that cheeeeeese!
↓↓↓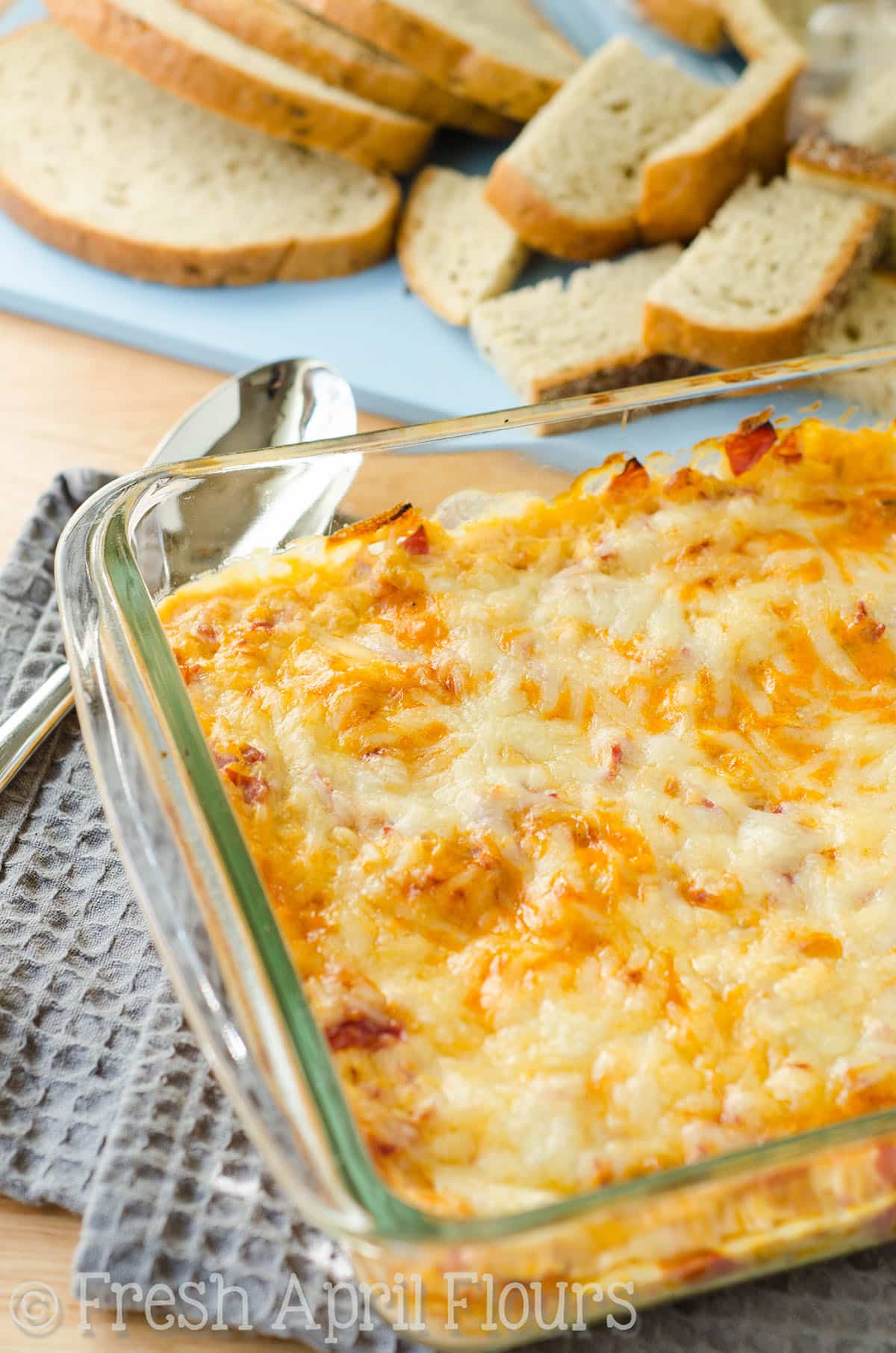 Because sauerkraut alone didn't seem like it would fit too well into my blog recipes, I wanted a creative way to incorporate said glorious food into #lynnsfavs.
I had been eyeing up "Reuben dip??" on my "things to make for the blog" list that only ever seems to get longer, so I decided to throw it together before I headed off to Wildwood, NJ for a bachelorette party.
Any bachelorette party should be fully equipped with snacks, right? Bonus points for dips, because, HELLOOOOO, dips are the best kind of snack on the planet.
I baked this Reuben dip at home on Friday night and took it with me to Wildwood early Saturday morning. I kid you not when I say this dip was gone before we even got onto the beach at noon.
Aaaaand it was met with rave reviews.
In hindsight, I probably should have doubled the recipe, which would have been super simple because this dip takes 5 minutes to put together and only needs about 20 minutes in the oven.
That's it. You don't even need a mixer or any kind of equipment or even more than one bowl.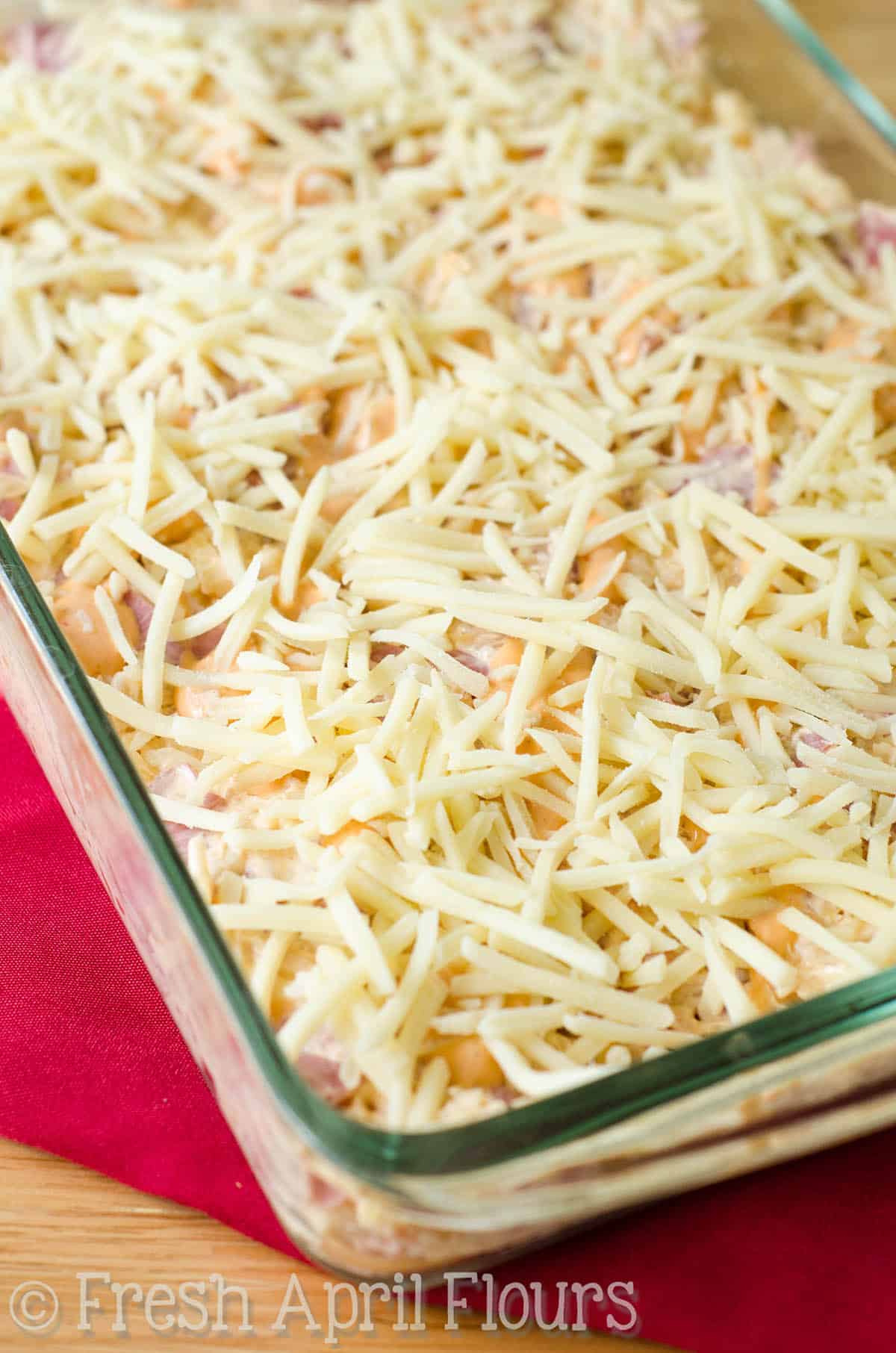 That's my kinda recipe.
Dip with sliced up rye bread, white bread, wheat bread, no bread, pretzels, tortilla chips, DORITOS (<– yes, that happened)… Whatever chewy or crunchy vehicle you can find to help you consume this ultra cheesy, ultra 'krauty (what?), ultra tasty deconstructed sandwich is definitely an approved vehicle.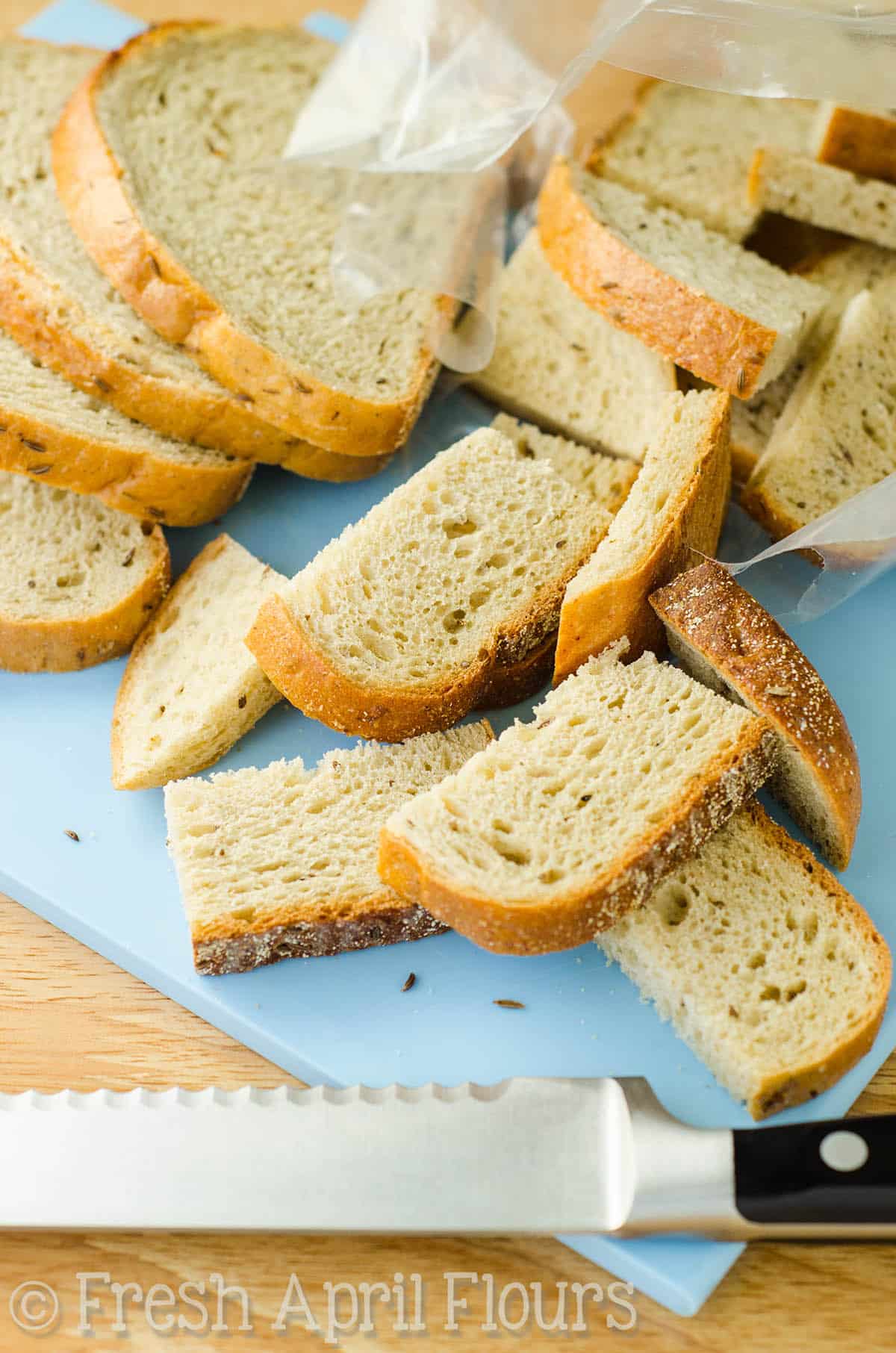 And yes, football season will absolutely be made better by adding this Reuben dip to your dip repertoire. You have a football snack repertoire, right?! If you don't, start right now!
Say ahhh…
More of my favorite dips for your dipping enjoyment: quesadilla sauce, jalapeño cream cheese dip, and Philly cheesesteak dip.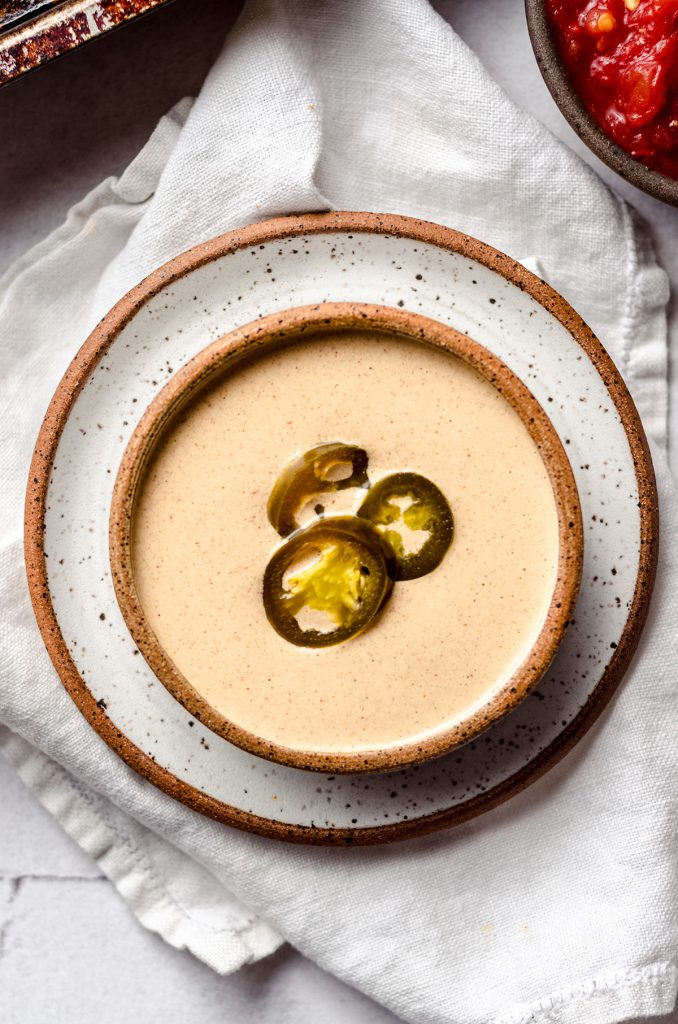 Easy Reuben Dip
Loaded with corned beef, sauerkraut, Thousand Island dressing, and plenty of cheese, this dip will be your new favorite way to enjoy the classic sandwich– in dippable form!
Ingredients
4

ounces

cream cheese

softened to room temperature

6

Tablespoons

thousand island or Russian dressing

plus more for topping

1-14.5

oz

can sauerkraut

drained

8

ounces

corned beef

chopped

8

ounces

shredded Swiss cheese

divided

rye bread

sliced for dipping
Instructions
Preheat the oven to 400ºF.

In a large bowl, combine the cream cheese and Thousand Island dressing until smooth and creamy. Stir in the drained sauerkraut, chopped corned beef, and half (approximately 1 cup) of the shredded Swiss cheese until thoroughly combined.

Pour mixture into a casserole dish (I used 7″ x 11″, and I don't recommend larger than 9″ x 13″ for a single batch), drizzle with a little more Thousand Island dressing (if desired) and sprinkle remaining cheese evenly on top of everything. Bake 15-20 minutes or until cheese starts to bubble. Remove from oven and allow to cool about 10 minutes before serving. Dip may also be served cold. Leftovers can be kept in the refrigerator, covered, up to 3 days. Make ahead: to reheat dip, bake for 10-15 minutes at 300ºF or until heated the whole way through.
Nutrition Disclosure
All nutritional values are approximate and provided to the reader as a courtesy. Changing ingredients and/or quantities will alter the estimated nutritional calculations.