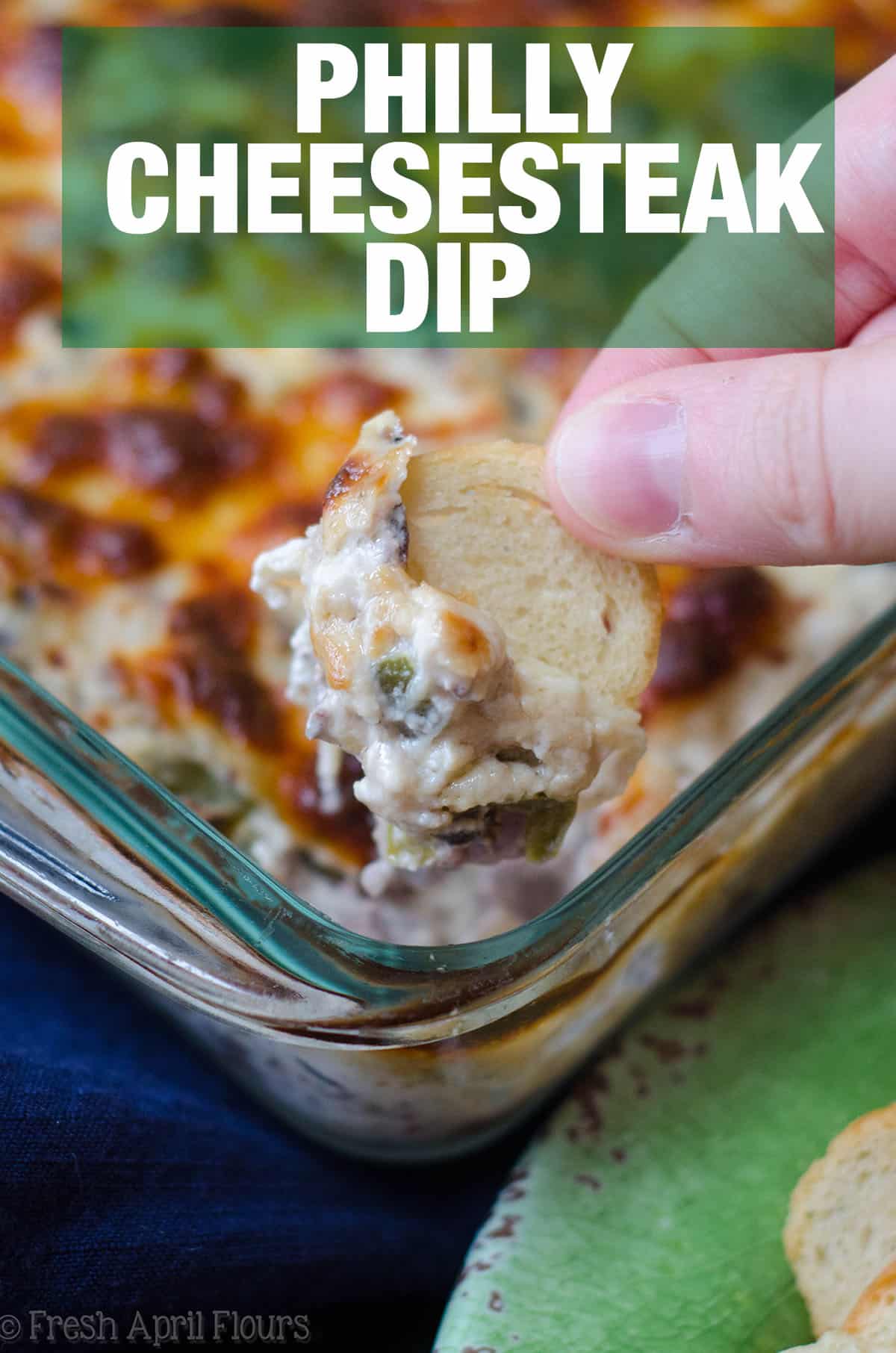 As an Amazon Associate, I earn from qualifying purchases. Read the full disclosure here.
Creamy dip filled with flavorful onions, green pepper, mushrooms, and roast beef, topped with a crispy layer of provolone cheese.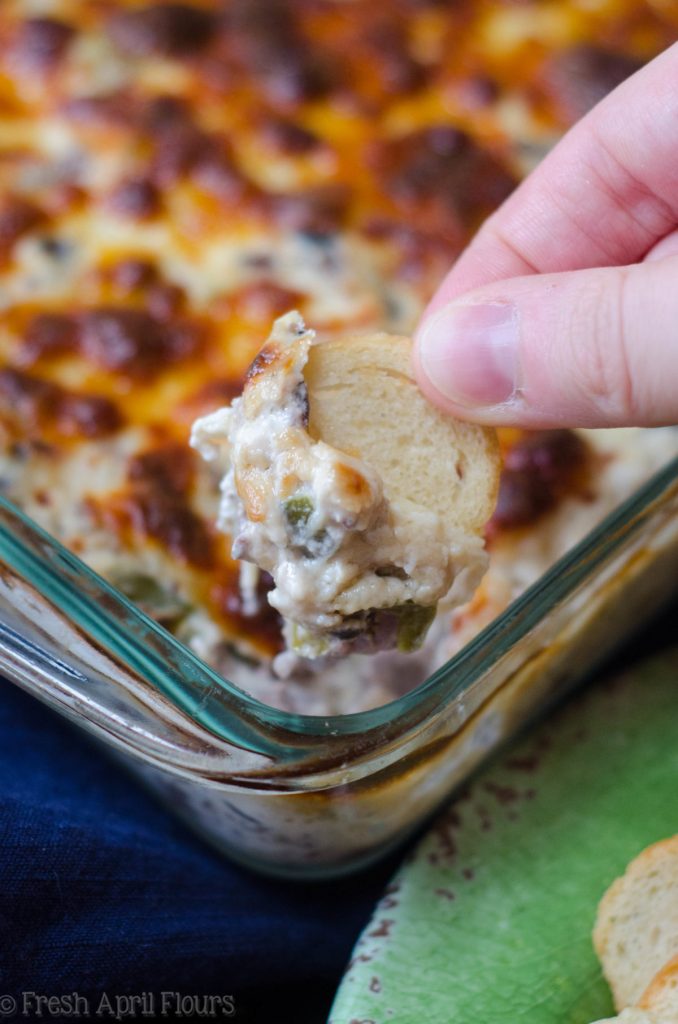 If you're not fresh up on your Philly cheesesteak ordering etiquette or knowledge, now is the time to familiarize yourself with the rules.
No, we aren't making any authentic Philly cheesesteaks around these parts today, but we are dipping into the creamiest deconstructed sandwich situation you've ever tried. Get your bagel chips and bread cubes ready, friends!
Dip #7 of our collection brings us to the City of Brotherly Love. Right down the road from where we actually live (about 30 minutes outside of the city), the land of cheesesteak sandwiches exists.
You haven't visited Philly if you haven't tried a cheesesteak.
Or a roast pork sandwich from DiNic's.
Or pretty much anything you can get your hands on in Reading Terminal Market.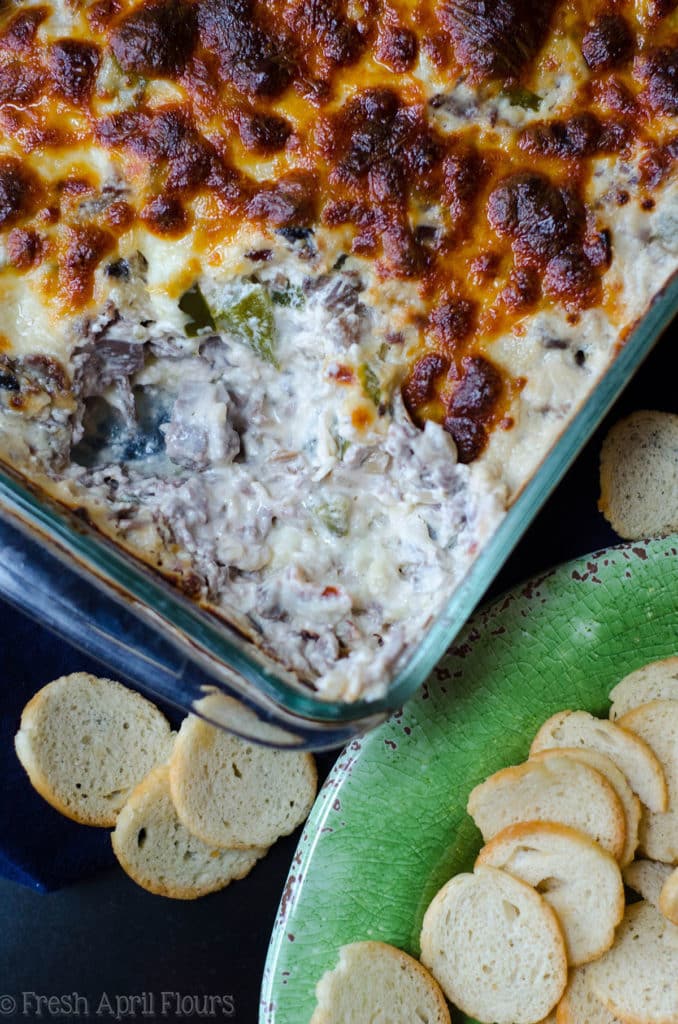 Ok, I'm getting ahead of myself.
Today it's all about the cheesesteak. Beef, onions, peppers, mushrooms, and cheese. That's all you need. And that's all this dip needs to be a star at your next holiday spread. All the sandwich flavor without all the sandwich. More room for dessert, yes??
This Philly cheesesteak dip starts with a ton of cream cheese. As in a pound of it. But don't worry– to that we're adding a whole onion, a whole bell pepper, mushrooms, and a pound of beef.
Oh, and more cheese. Provolone, of course.
Because authentic CheezWiz was not happening in my kitchen. That belongs in the same place as Cool Whip (in the trash).
While there are lots of components to this dip, once you've cooked your veggies, it's just a matter of putting everything together and spreading it into a casserole. And then, of course, dumping more cheese on top of the whole shebang because most dips are just all about the cheese.
It's a glorious dip world, y'all.
The whole dish is done after about 20-25 minutes, but if you're feeling jazzy, a few more minutes under the broiler will give the top layer some crispness, perfect for breaking into with your dippables and scooping up into your mouth.
Yum.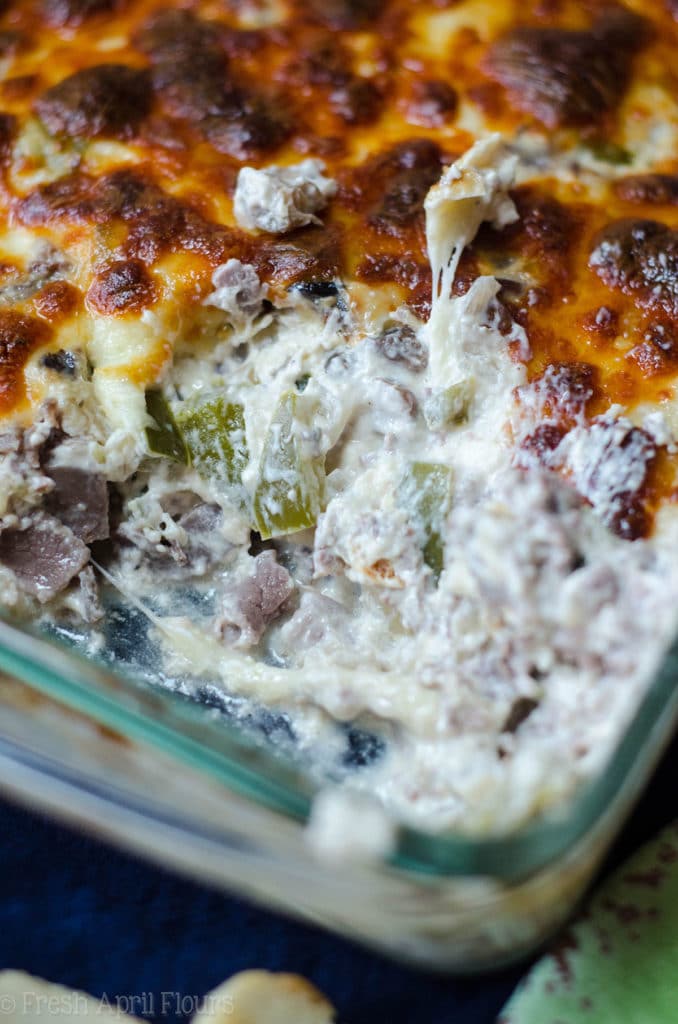 This dip is one of those that the flavor just gets better over time. We ate it right away when I photographed it, but we had some the next day at lunch and it was even better.
The veggie combination of onions, peppers, and mushrooms is jam packed full of flavor. If you're not a fan of mushrooms, I promise you won't even notice they're in there. The texture melts away into a sea of cream cheese and of course that beef lends all the chew you could possibly want on your crunchy dipper.
SO much texture, SO much flavor, and all ready in under an hour (we're including chopping veggies and also cooling time so as not to consume still-bubbling cheese).
If you're in the market for a creative dip that can serve as an app or even as part of the main show, this is it! Because while we do love ourselves some sweet dips, the savory ones can sometimes take us by surprise and bring us back for juuuuuust another taste.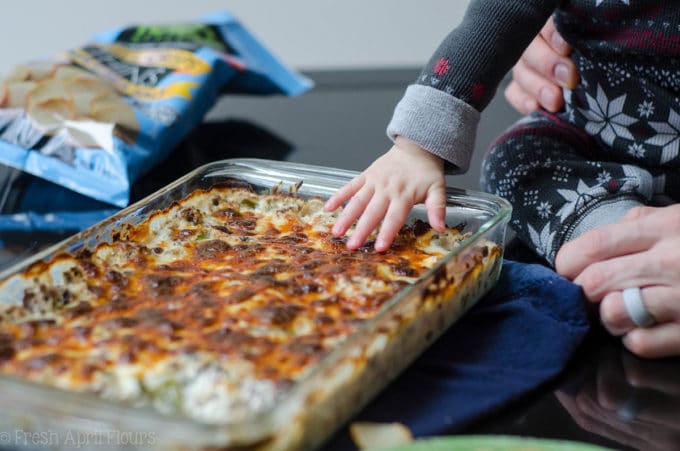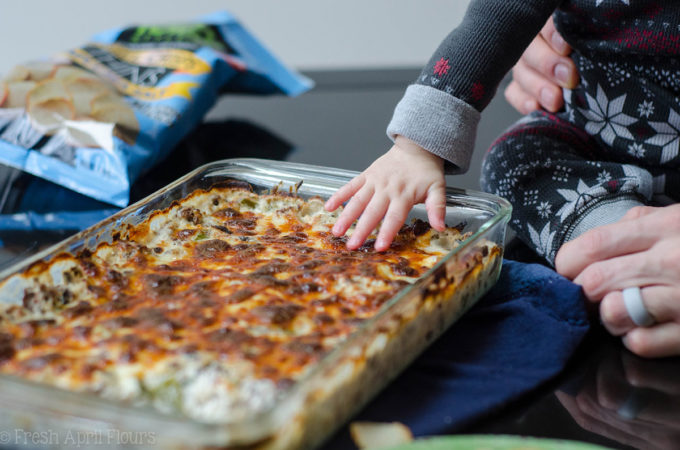 PS also infant approved! (Actually approved, he scarfed it down!)
Philly Cheesesteak Dip
Creamy dip filled with flavorful onions, green pepper, mushrooms, and roast beef, topped with a crispy layer of provolone cheese.
Ingredients
1

Tablespoon

olive oil

1

white or yellow onion

chopped

1

green bell pepper

chopped

4

ounces

mushrooms

chopped

1/2

teaspoon

garlic powder

1/4

teaspoon

salt

1/4

teaspoon

black pepper

2-8

ounce

blocks of cream cheese

softened to room temperature

12 to 16

ounces

roast beef

you can also use leftover steak or any other kind of steak you prefer, chopped

8

ounces

provolone cheese

shredded or cut into small pieces, divided
Instructions
Place a rack in the oven in the middle position. Preheat the oven to 400ºF.

Add the olive oil to a large skillet with heat over medium-high heat. Add onion, bell pepper, and mushrooms and cook while stirring frequently until tender (approximately 6-8 minutes). Add the garlic powder, salt, and pepper and stir to coat. Remove from heat and set aside.

In a large bowl, stir together the cream cheese, beef, and half of the provolone cheese. Add the cooked veggies and stir again until everything is combined.

Pour the dip into a 9"x13" or 7"x11" casserole dish and spread out evenly with a spoon or spatula. Sprinkle the rest of the provolone cheese evenly on top of the dip. Bake the dip for 20-25 minutes or until cheese bubbles. Switch the oven to broil for an additional 3-5 minutes to crispen up the cheese on top. Allow to cool for 15 minutes before serving. Store leftovers covered in the refrigerator up to 5 days.
Nutrition Disclosure
All nutritional values are approximate and provided to the reader as a courtesy. Changing ingredients and/or quantities will alter the estimated nutritional calculations.