As an Amazon Associate, I earn from qualifying purchases. Read the full disclosure here.
These dense and fudgy from-scratch brownies are made with melted chocolate and without cocoa powder for a perfectly crackly top– ditch the box forever!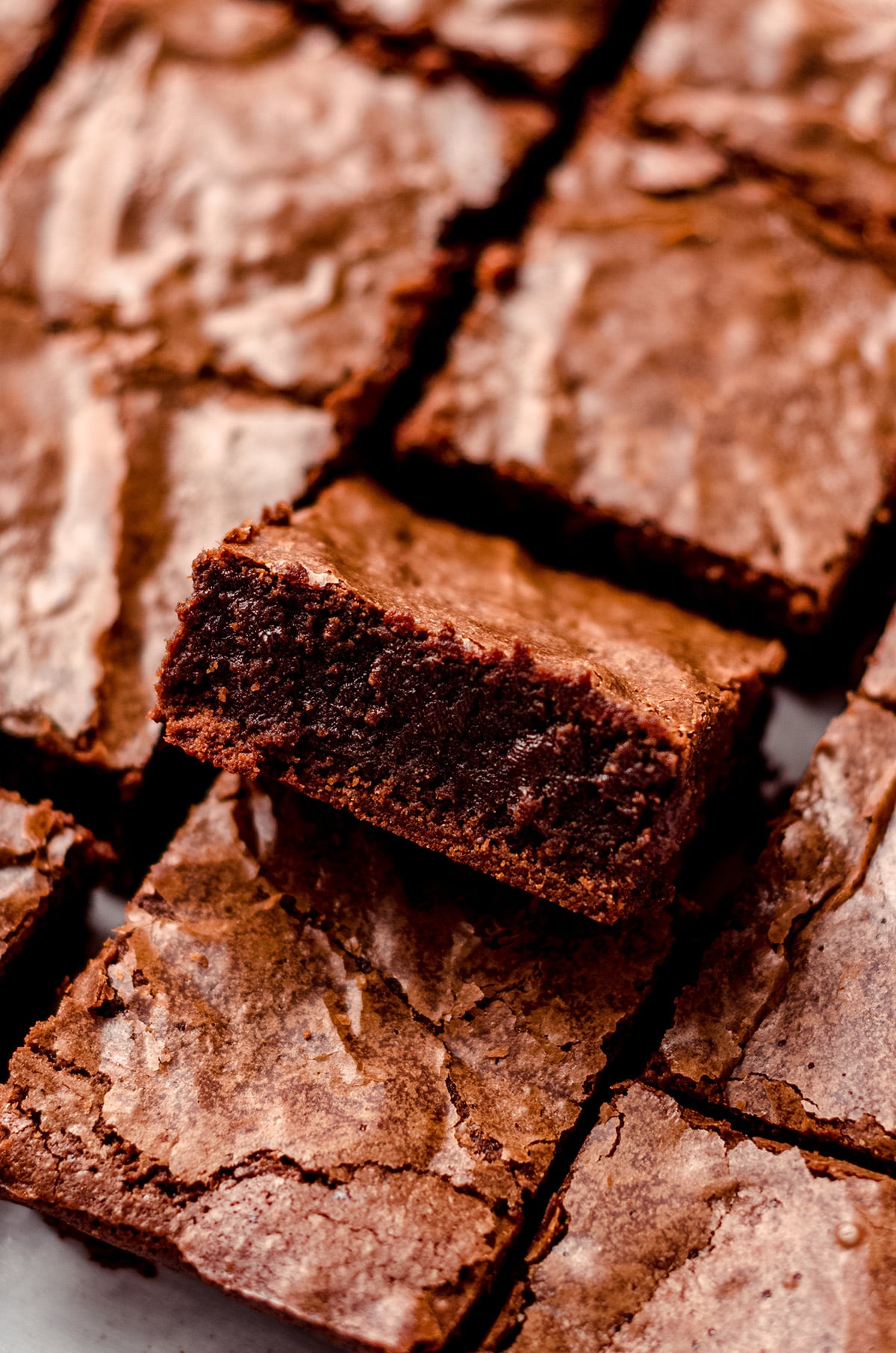 It has been a very long time that I've been making brownies from scratch. In fact, even before I had a recipe site, I was making brownies from scratch, even though I was making a lot of other things from a box.
By way of something, I discovered long ago that the best brownies come from using ingredients I just about always have on hand, only a little bit more work than box brownies, and I haven't grabbed a boxed brownie mix from the shelf in longer than I can remember.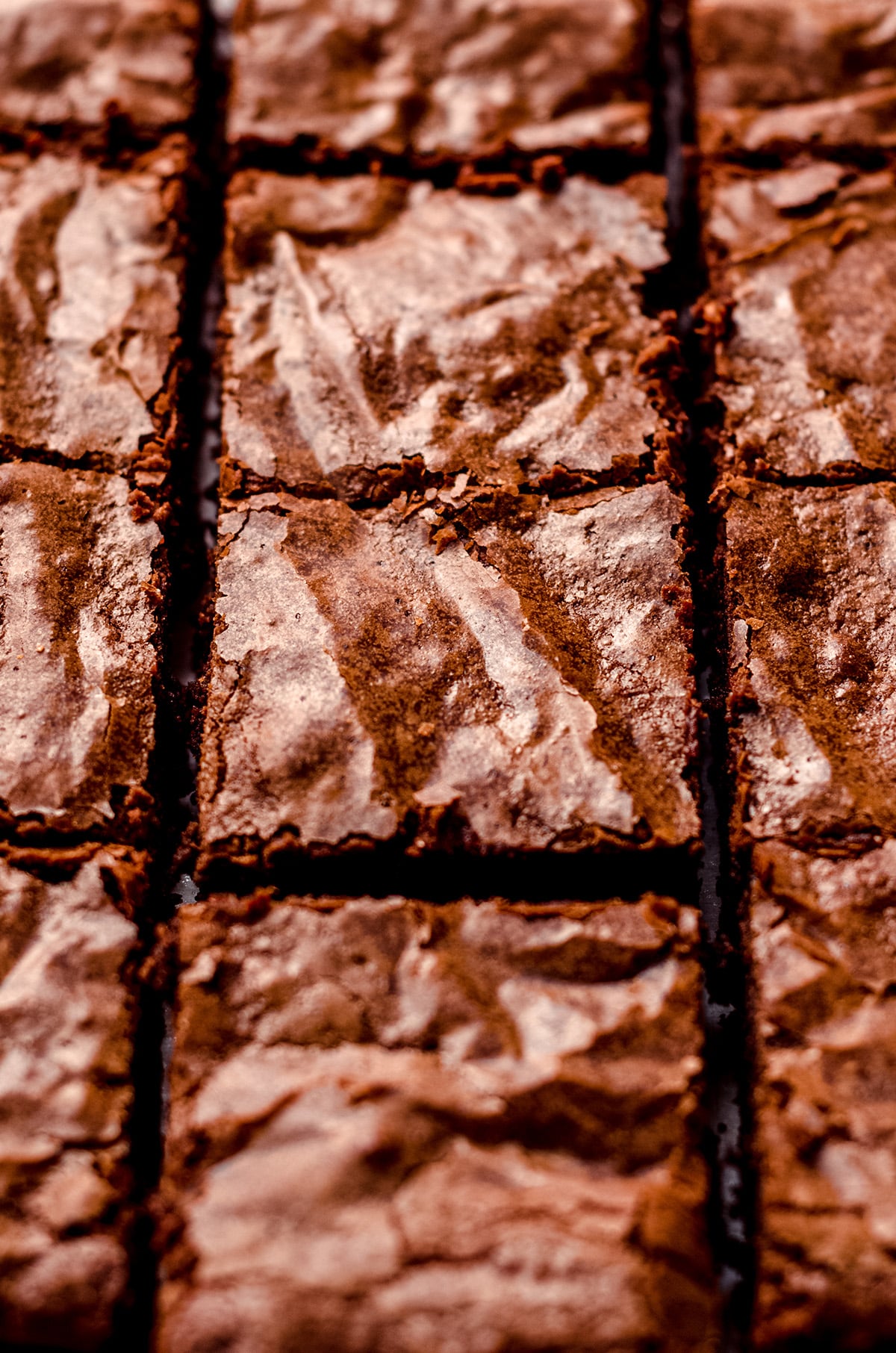 It's funny, I encourage you all over my website to make things from scratch. In fact, I LOVE teaching you how to bake things from scratch, but I do understand that making things like cake and yeast bread from scratch, while always worth it, does take a significant amount of time and planning ahead.
These perfect fudgy brownies? Not really too much more time, and I mean that honestly.
While there is a bit of wait time once you melt your butter and chocolate before moving on with the rest of the easy brownie recipe, I promise once you finish your first batch of scratch brownies, you'll ditch those boxed mixes forever.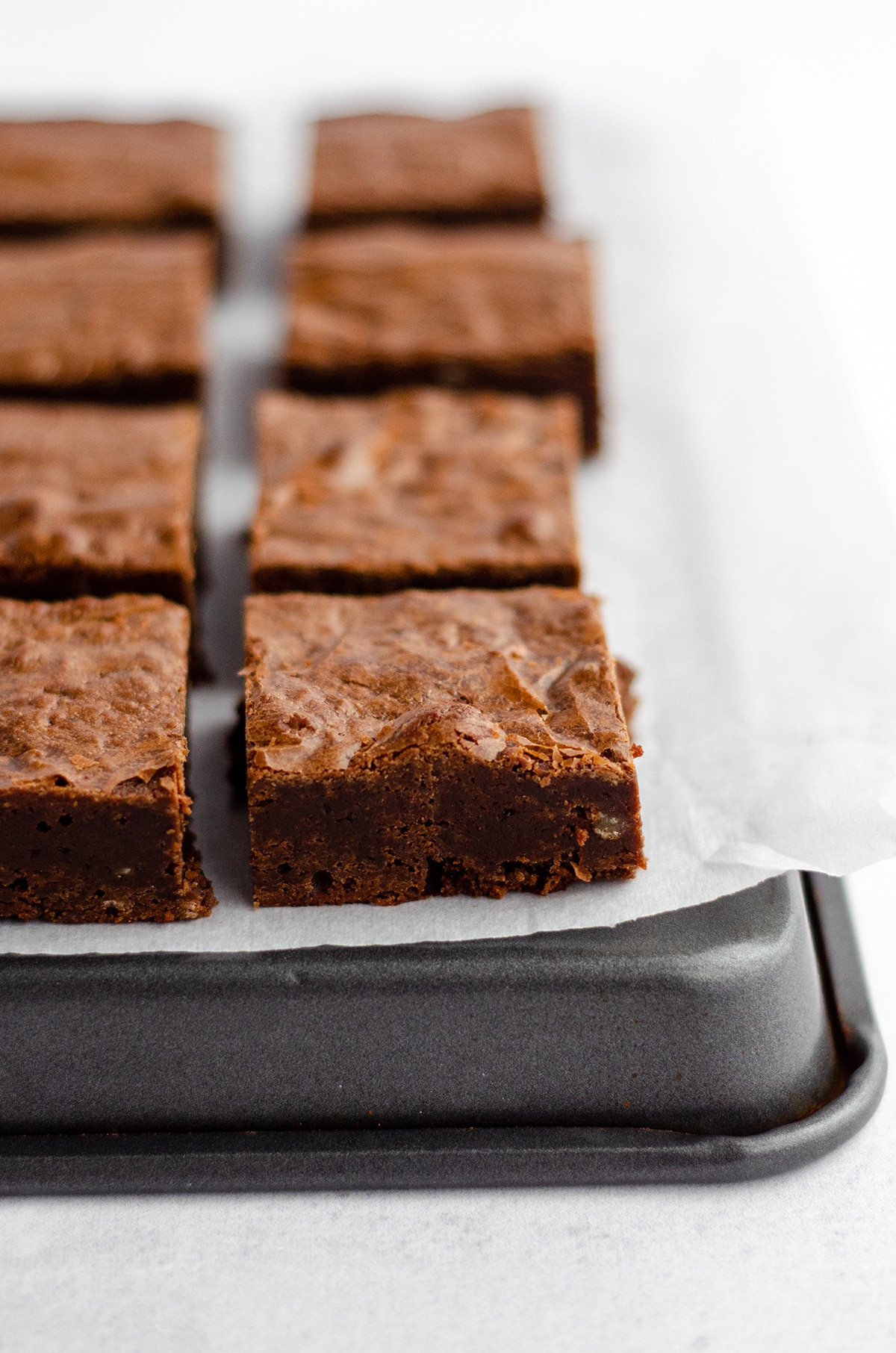 I'm getting ahead of myself.
Let's talk about the ingredients you'll need for my favorite brownie recipe so you understand the science behind the whats and whys.
INGREDIENTS
The list of ingredients for these fudgy chocolate brownies is simple and this recipe is seriously the only brownie recipe I use. In fact, out of the 20+ brownie recipes on my site (and that collection is always growing!), all of those brownies start with this exact recipe. All of them. Cool, huh?
For these brownies, you'll need:
UNSALTED BUTTER— this is the main fat source we'll use for these brownies. While box mix brownies typically call for oil, which definitely equals moist brownies, I prefer the flavor that butter brings to the brownies, adding more depth of flavor to the brownies.
SEMI-SWEET CHOCOLATE— we'll get all of the chocolate flavor for these chewy brownies from melted chocolate. We'll use semi-sweet (as opposed to unsweetened or dark chocolate or even milk chocolate) for its moisture content. Do not use unsweetened, dark, or milk chocolate in this brownie batter. I have tested this brownie recipe and believe me, it matters.
BROWN SUGAR— I love using brown sugar to sweeten baked goods, since it's full of deep molasses flavor and extra moisture. Remember how I said the chocolate matters because of the moisture content? The sugar matters for the same reason.
GRANULATED SUGAR— we'll use just a touch of granulated sugar alongside the brown sugar. The granulated sugar is part of the key to that crackly top. As it melts, it combines with the whites of the eggs (coming next!) to form a very thin layer of meringue, which makes that beautifully shiny top that cracks upon slicing.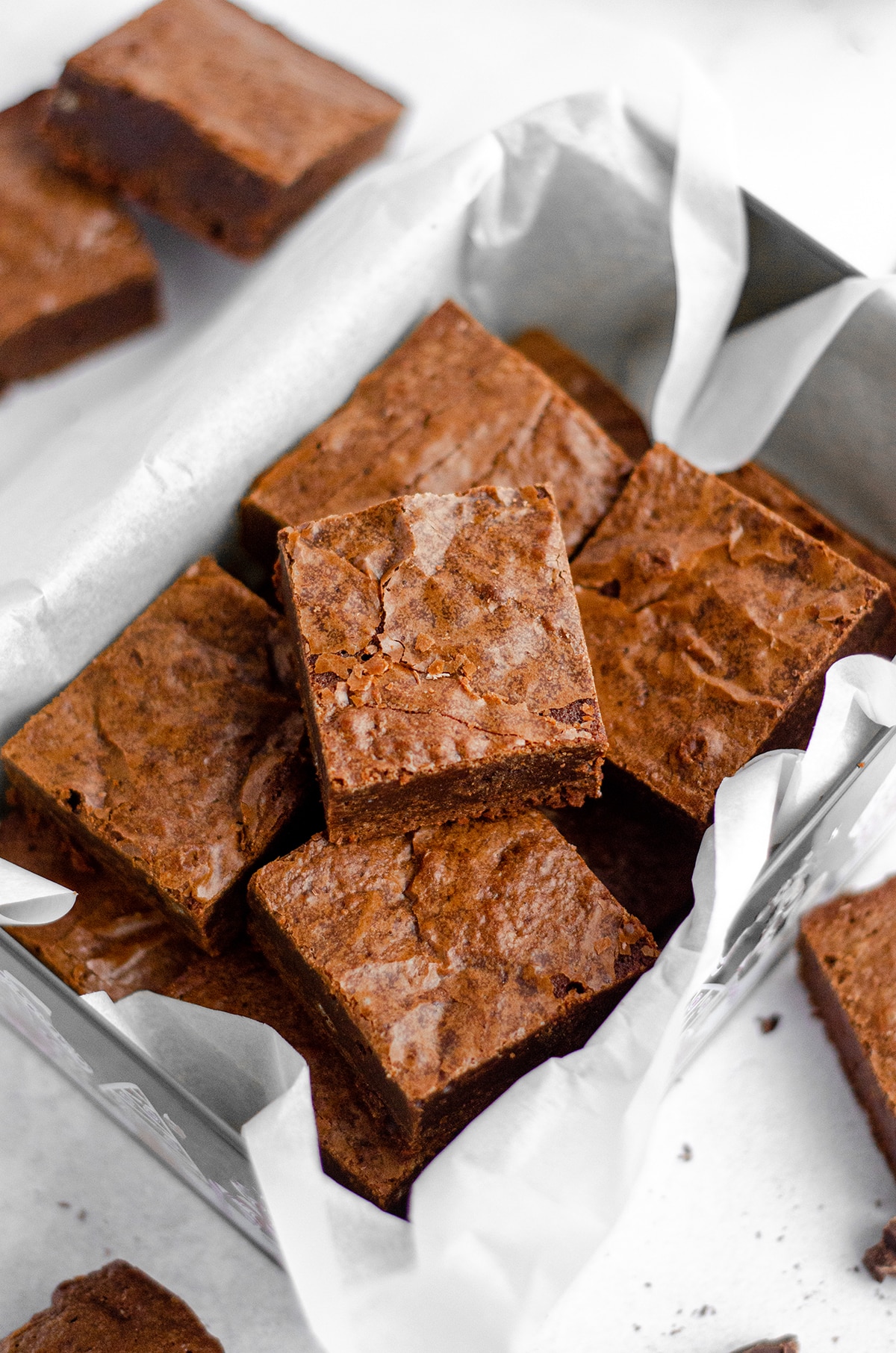 EGGS— aside from being a binder for the wet ingredients, the eggs are part of the journey to the ultimate fudgy brownies. By loading up with eggs, we're avoiding dry brownies while also adding more fat which means more of a fudgy texture.
VANILLA EXTRACT— it goes without saying that we need some vanilla to round out the overall flavor of the pan of brownies. Don't leave it out, ever!
ALL-PURPOSE FLOUR— we're adding just a touch of flour here. It's crucial to be sure you're only adding ¾ cup of flour (90g) in order to keep the brownies dense and fudgy. If you add too much flour, you risk winding up with a cake-like brownie without the crinkly top. Since we're using the perfect amount of flour in these perfect brownies, we don't need any unsweetened cocoa powder. So leave it in the pantry and don't even look at it!
SALT— last but not least, a little salt does wonders for balancing the sweetness of the chocolate.
HOW TO MAKE THE BEST HOMEMADE BROWNIES
The method for these easy homemade brownies is simple, but will require you to build in some waiting for cooling before finishing the brownie batter.
To start, melt butter and chopped chocolate in a saucepan over low heat. This is the first step to the melted sugar crystals that will help make the tops nice and flaky.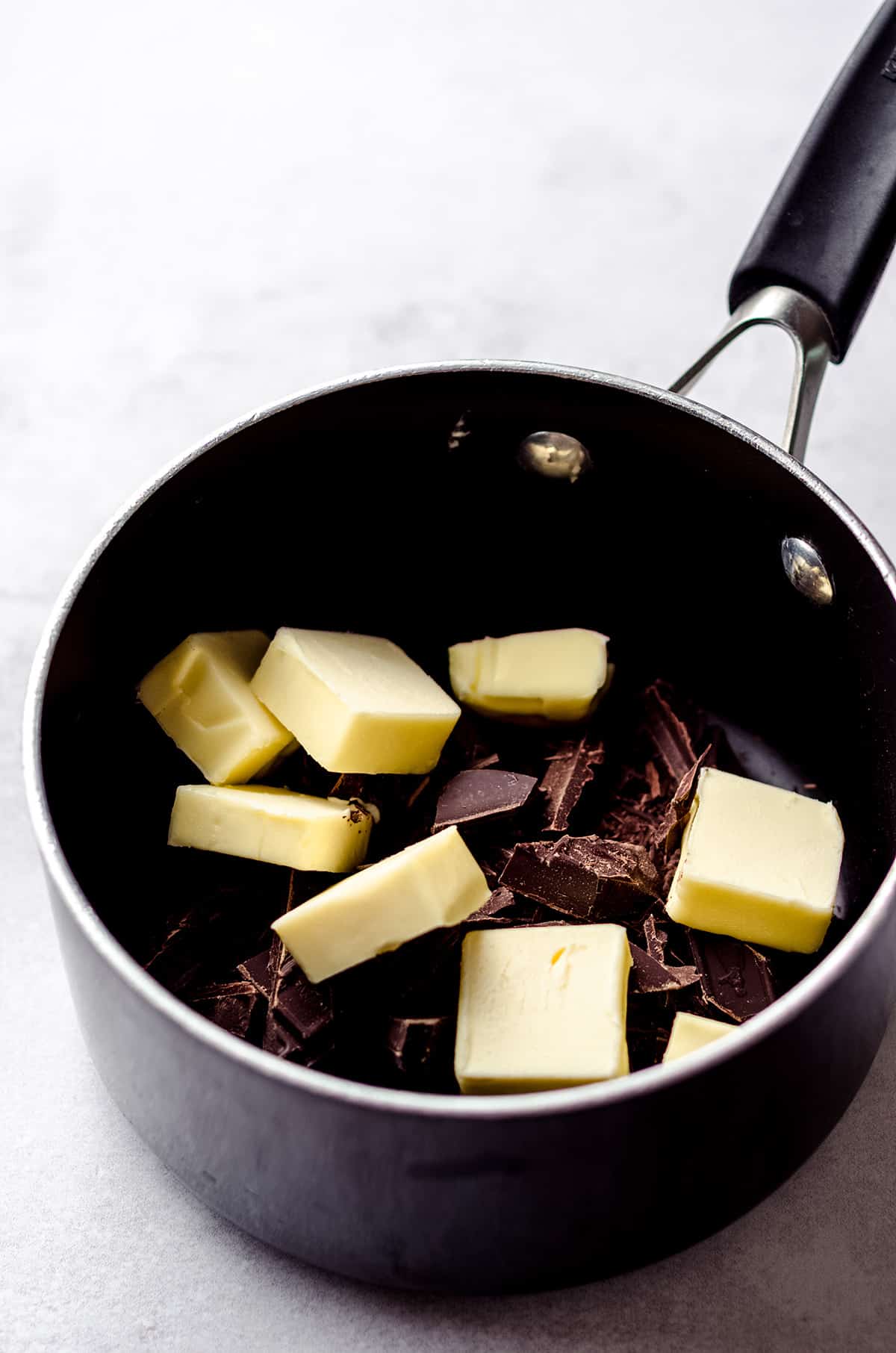 Once that's melted, allow it to cool for about 10 minutes. Allowing it to cool is crucial to making sure we don't cook the egg mixture.
But by not allowing it to cool completely, we can use the retained heat to help dissolve the brown and granulated sugars that will combine with the egg whites to make that meringue we talked about to achieve the crinkly tops.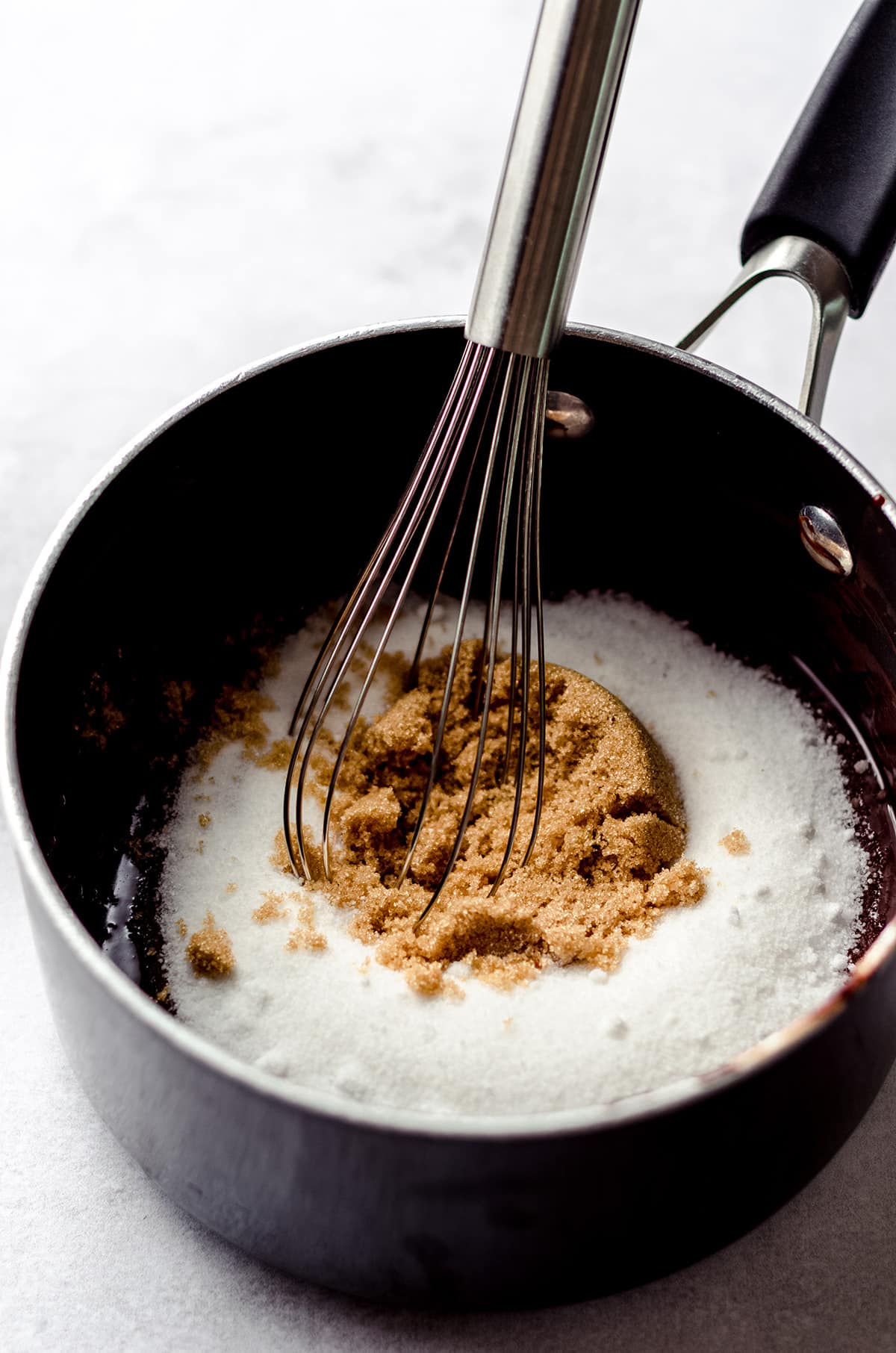 After the sugar and eggs are all whisked in and the mixture is smooth, you'll gently whisk in the flour. Don't over-mix this batter to avoid tough brownies. Gluten works the same in brownie batter the same way it does cake batter, even if there's only a little bit of it in the batter.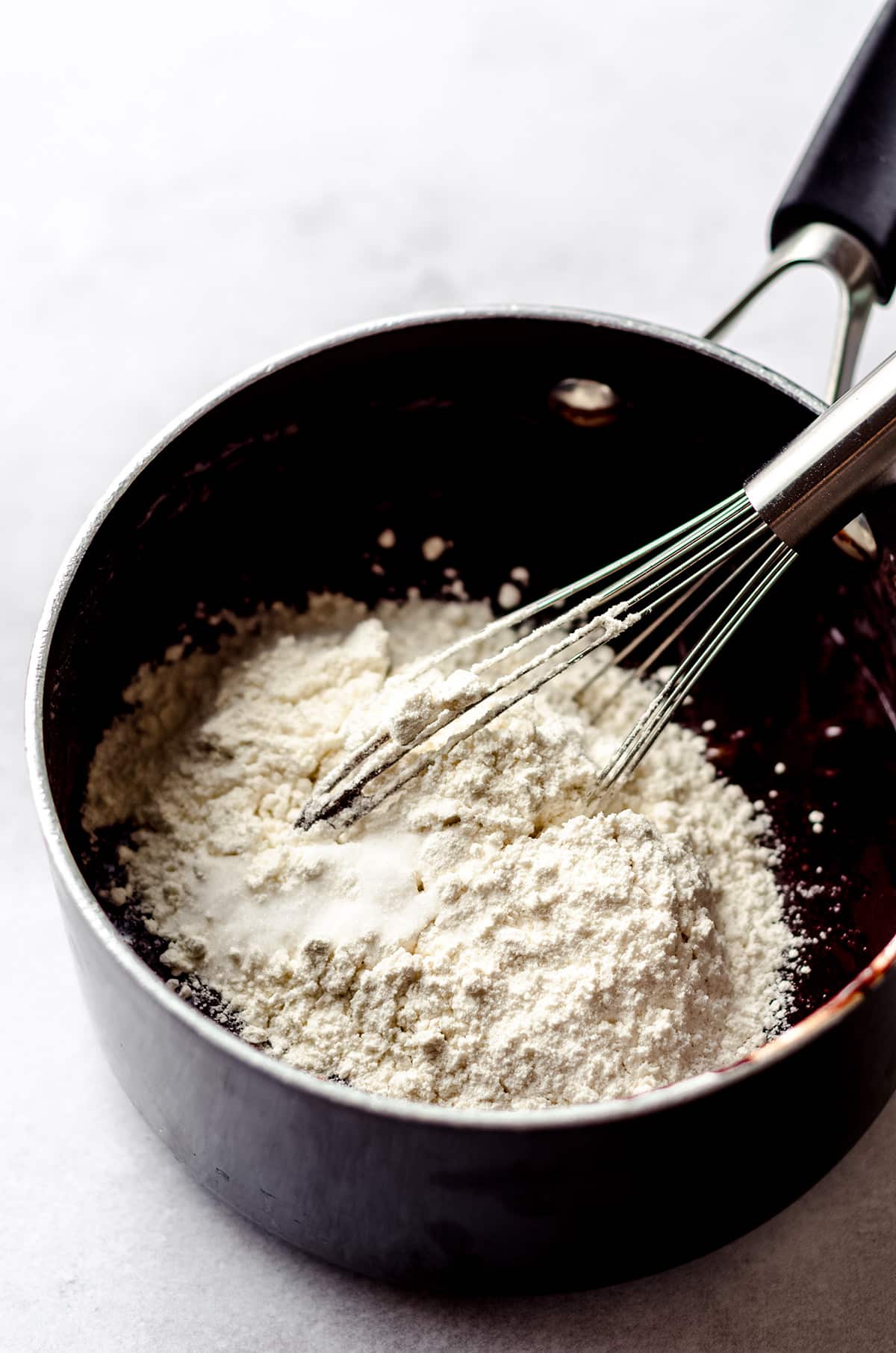 Once there are no more flour streaks, pour the brownie batter into a prepared square baking pan.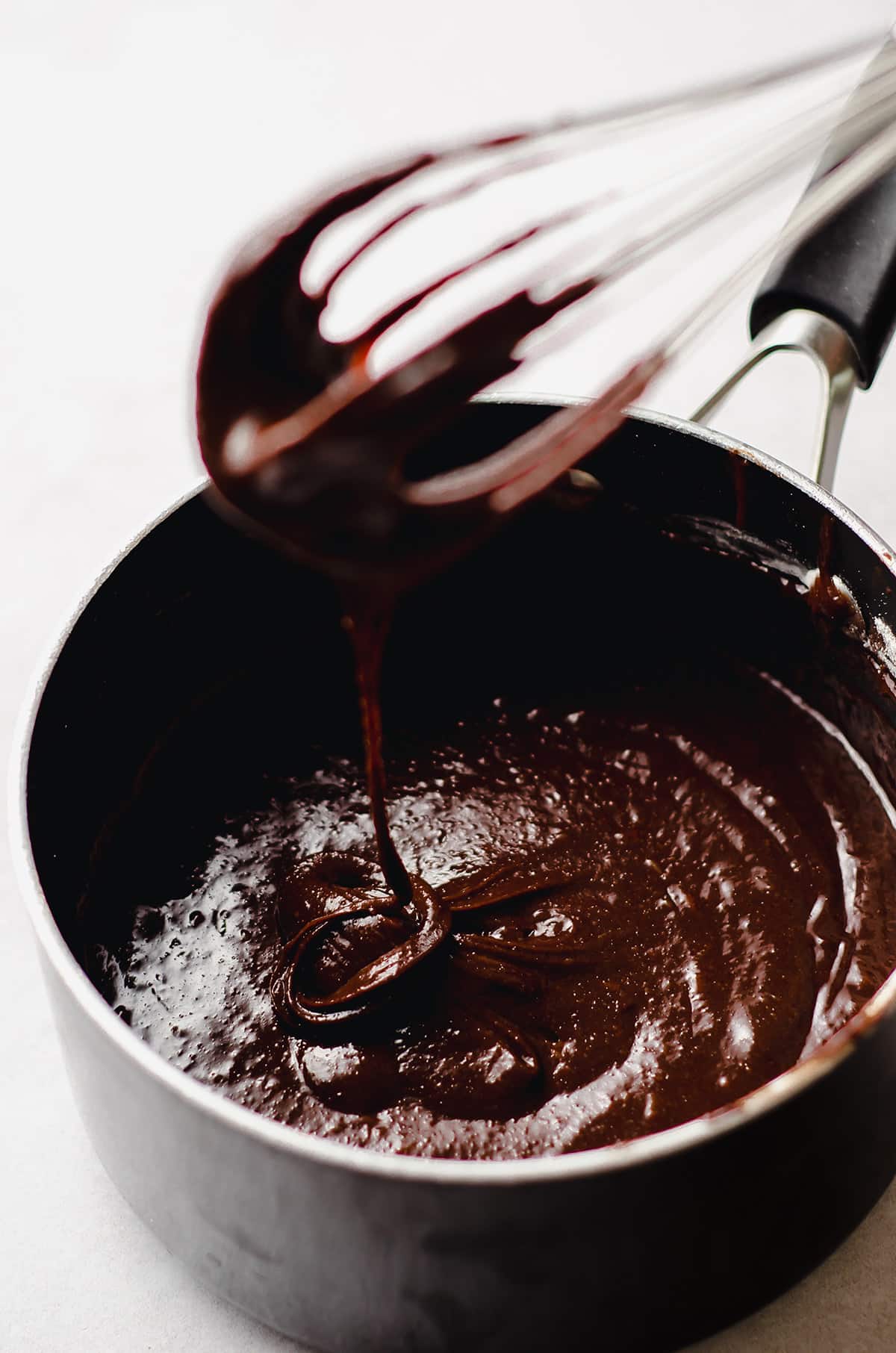 USE A METAL PAN
Another key to a good brownie with chewy edges is using a metal pan vs a glass pan. Glass tends to bake things faster, so you won't wind up with the same gooey brownies using a glass pan.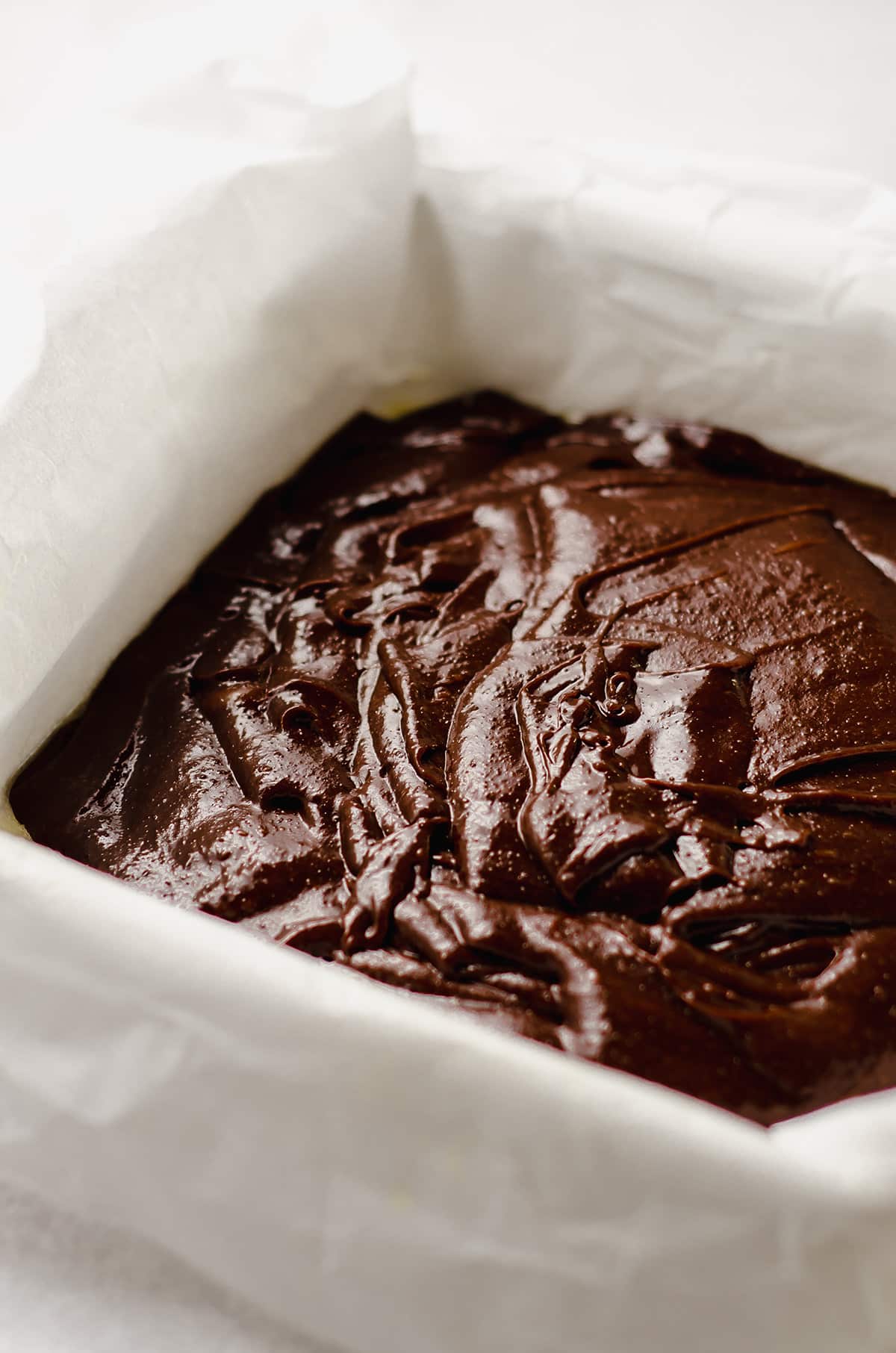 If all you have is glass, reduce the oven temperature by 25º and bake for the same amount of time.
BAKE THE BROWNIES
You'll bake these brownies for 25-30 minutes, stopping exactly at 25 minutes to test the center of the pan. You're looking for moist crumbs on the tester, because the brownies will continue to bake a bit once removed from the oven and we don't want to overbake them.
WHY THIS IS THE BEST HOMEMADE BROWNIE RECIPE
Over the years, I have had so many readers tell me that this recipe was the first one they've ever tried from scratch and they are now believers.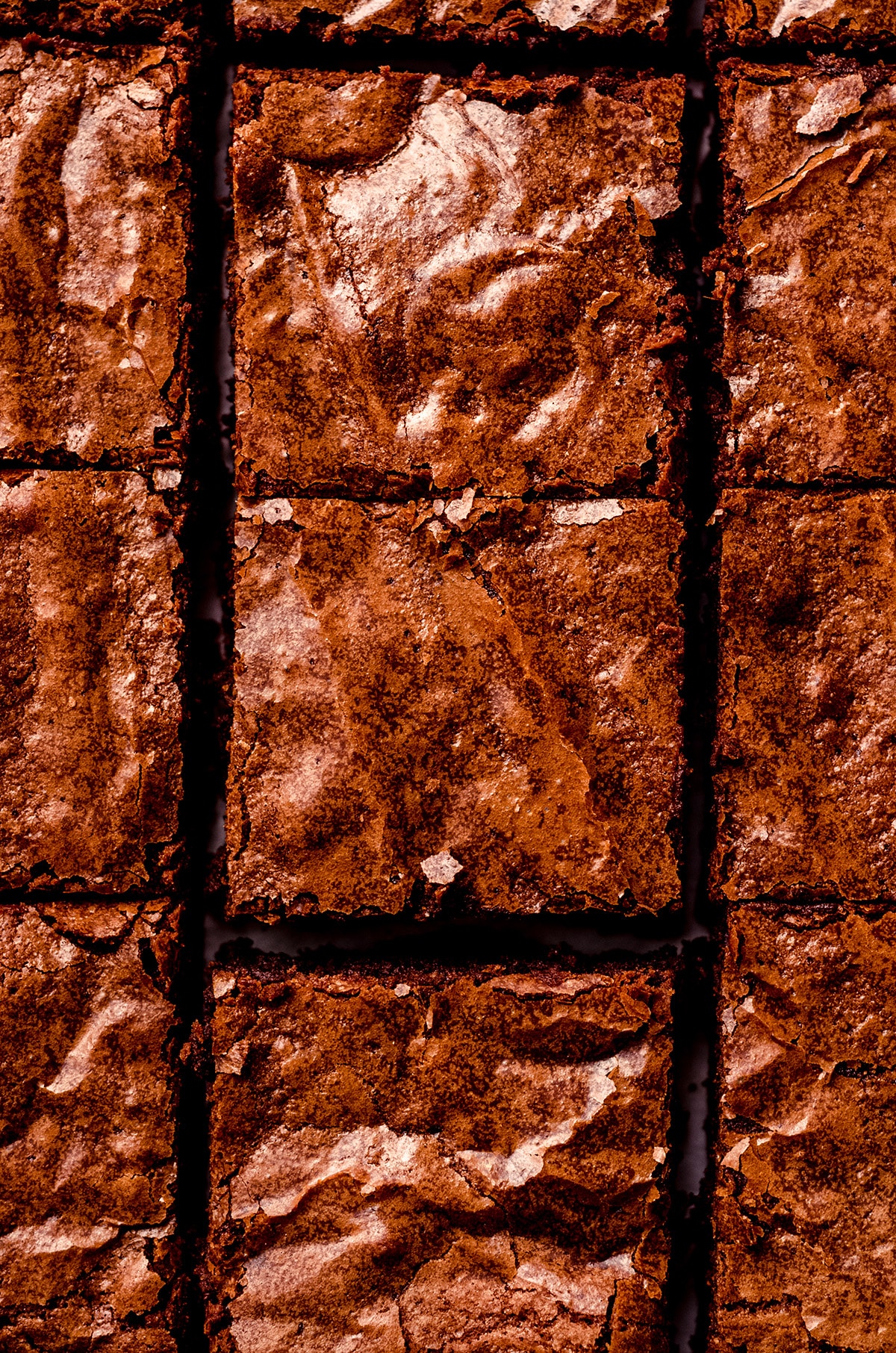 In fact, true story, I had someone tell me they follow me only to look at my mouth-watering pictures because they don't bake much at all, but they have made these brownies and said it's the best brownie recipe they've ever had.
Relatedly, and in conclusion/one last chance to convince you the same… I am here to shout from the rooftops that scratch brownies are my only way. Like, ONLY ONLY WAY.
And I will never stop telling everyone I meet who doesn't agree that scratch brownies are so much easier than you think they are and they really are so super delicious.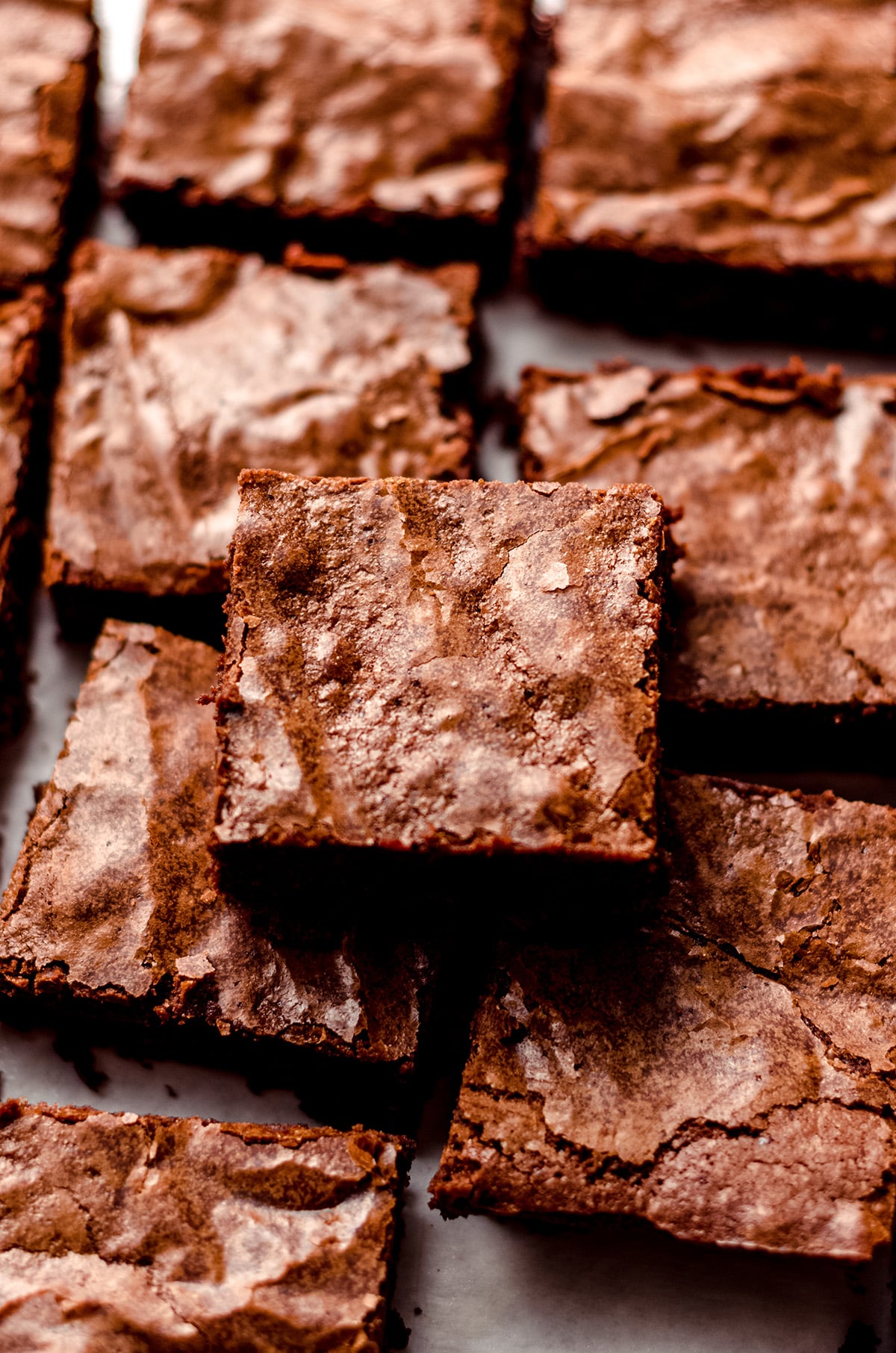 Many years ago, actually in the post for my Peppermint Pattie brownies, I suggested that I get something about "scratch brownies are better" engraved in my headstone, and I'm sticking by that one.
"Lynn April: wife, mother, baker, sprinkle enthusiast. SCRATCH BROWNIES ARE BETTER."
I think it has a nice ring to it.
In fact, when I took some of my chocolate chip cheesecake swirl brownies to a party, someone said "I've never had brownies that taste better as you chew them."
I MEAN. If that isn't the best compliment?!
So, please… Give this fudgy brownie recipe a try. I know you won't be disappointed, and I know I have a pretty good chance of making you want "SCRATCH BROWNIES ARE BETTER" on your headstone too.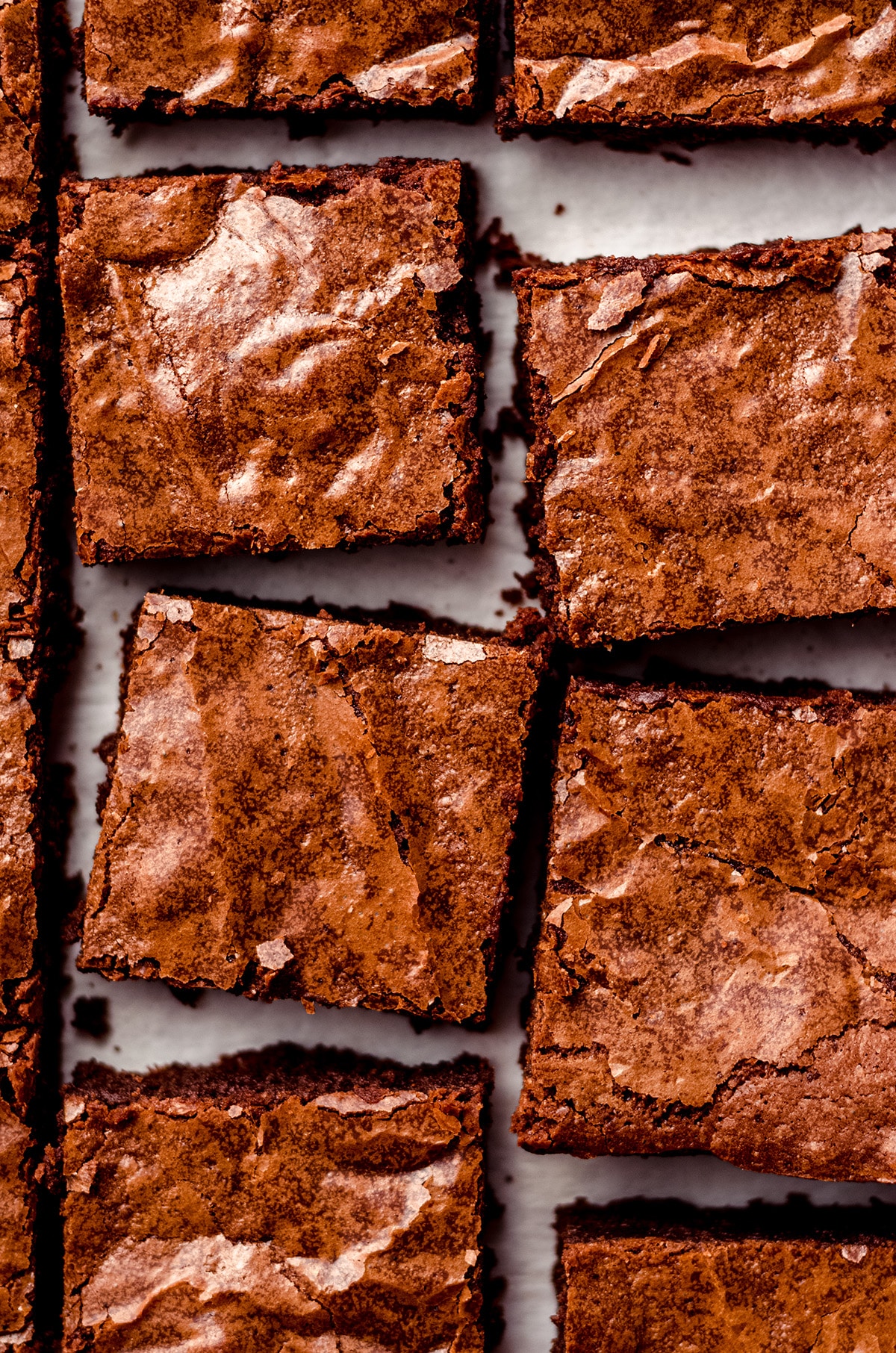 Too much? Maybe. But maybe not, either.
Here are a few of my other recipes of brownies made with this exact same base. Enjoy my cherry brownies, funfetti brownies, cookie dough brownies, and fudgy Nutella brownies.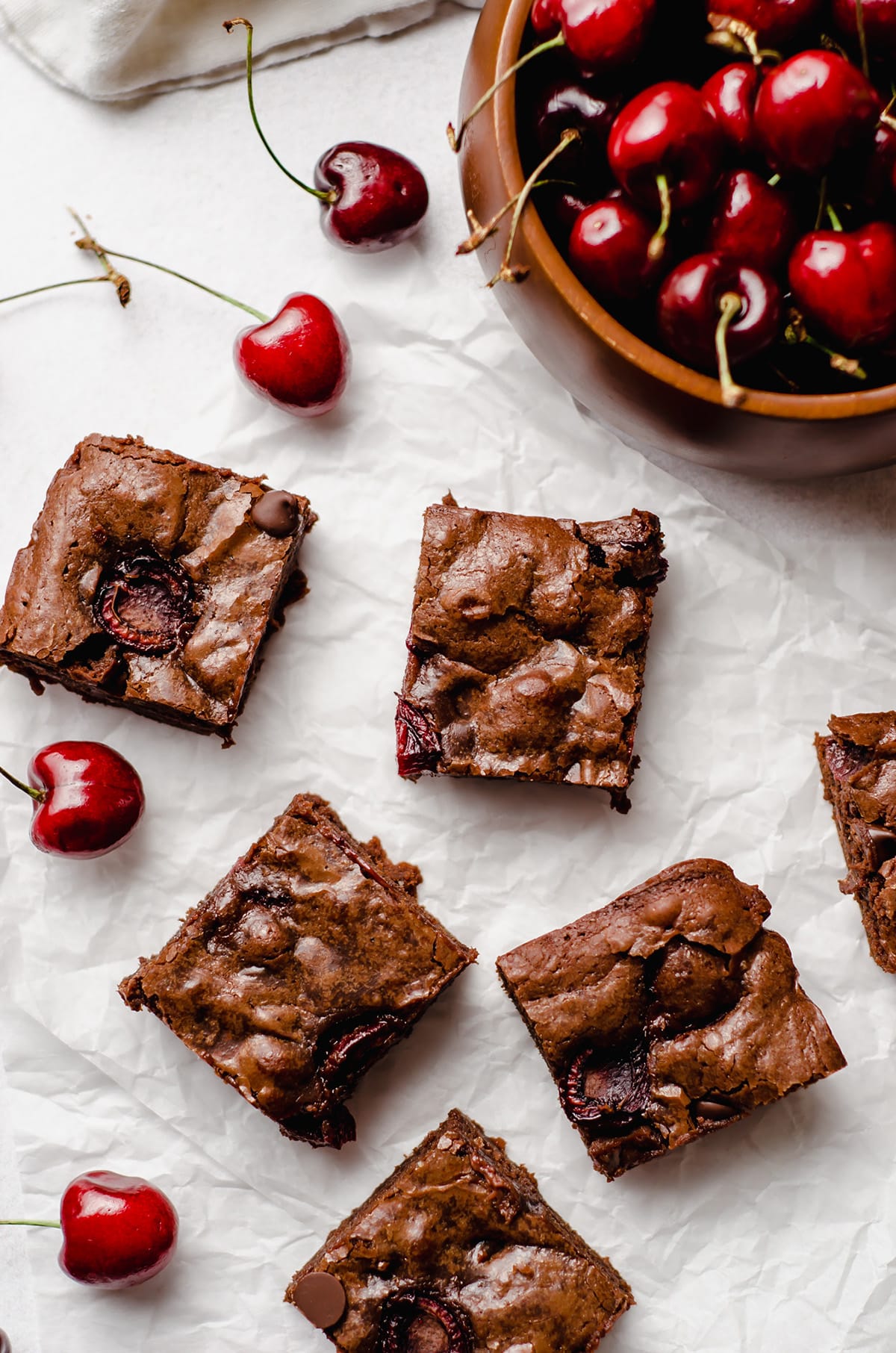 Homemade Fudgy Brownies
These dense and fudgy from-scratch brownies are made with melted chocolate and without cocoa powder for a perfectly crackly top– ditch the box forever!
Ingredients
½

cup

(113g) unsalted butter

cut into 6-8 slices

8

ounces

(227g) semi-sweet chocolate

coarsely chopped

¾

cup

(150g) firmly packed brown sugar

¼

cup

(50g) granulated sugar

3

large eggs room temperature preferred1

1

teaspoon

vanilla extract

¾

cup

(90g) all-purpose flour be sure to measure properly

¼

teaspoon

salt
Instructions
Preheat the oven to 350ºF (177ºC). Line an 8" or 9" square metal baking pan2 with foil and spray with nonstick spray. Set aside.

In a medium saucepan over low heat, melt the butter and chopped chocolate, stirring frequently until completely smooth. Allow to cool for about 10 minutes.

Whisk sugar into slightly cooled chocolate mixture until combined. Add the eggs one at a time, whisking after each addition until smooth. Whisk in the vanilla. Add the flour and salt and stir gently until completely combined.

Pour the batter into the prepared pan. Bake brownies for 25-30 minutes or until a toothpick inserted in the center comes out with moist crumbs. Allow brownies to cool completely before cutting into squares.

When you are ready to cut the brownies, remove the brownies by lifting the foil overhang straight up. Peel back remaining foil and place brownie block onto a large cutting board. Store leftover brownies at room temperature up to 1 week. Brownies freeze well, up to 3 months. Thaw in refrigerator overnight.
Notes
Room temperature eggs: these incorporate into batter much more easily than cold eggs, although this is not absolutely necessary.
Metal pan: if all you have is a glass pan, reduce oven temperature by 25º and bake for the same amount of time.
Nutrition Disclosure
All nutritional values are approximate and provided to the reader as a courtesy. Changing ingredients and/or quantities will alter the estimated nutritional calculations.
Serving:
1
brownie
|
Calories:
218
kcal
|
Carbohydrates:
25
g
|
Protein:
3
g
|
Fat:
12
g
|
Saturated Fat:
7
g
|
Polyunsaturated Fat:
1
g
|
Monounsaturated Fat:
3
g
|
Trans Fat:
0.2
g
|
Cholesterol:
47
mg
|
Sodium:
53
mg
|
Potassium:
114
mg
|
Fiber:
1
g
|
Sugar:
18
g
|
Vitamin A:
229
IU
|
Calcium:
25
mg
|
Iron:
1
mg