Milk Bar's Compost Cookies®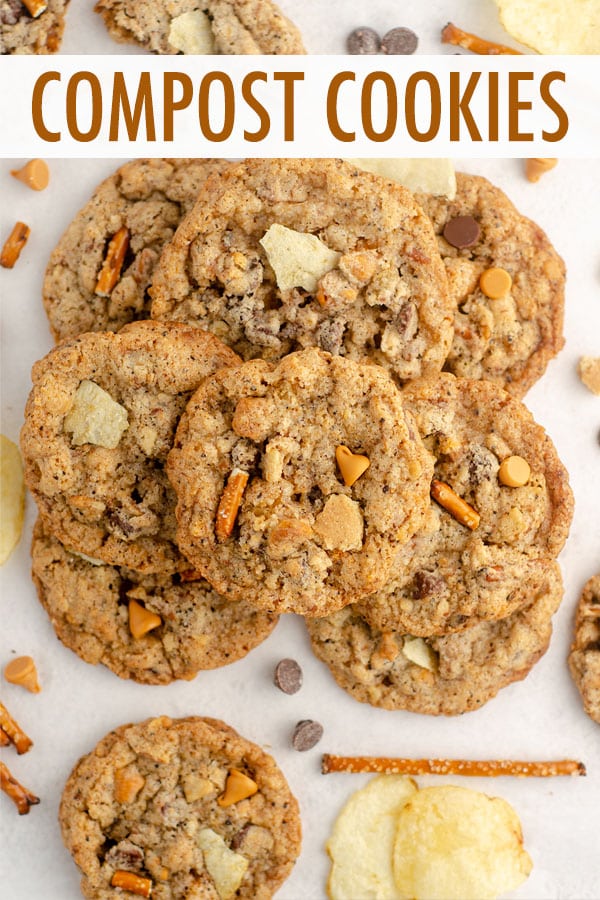 As an Amazon Associate, I earn from qualifying purchases. Read the full disclosure here.
Crispy, buttery cookies filled with butterscotch and chocolate chips, graham crackers, oats, coffee grounds, pretzels, and potato chips. The perfect cookie for indecisive dessert lovers!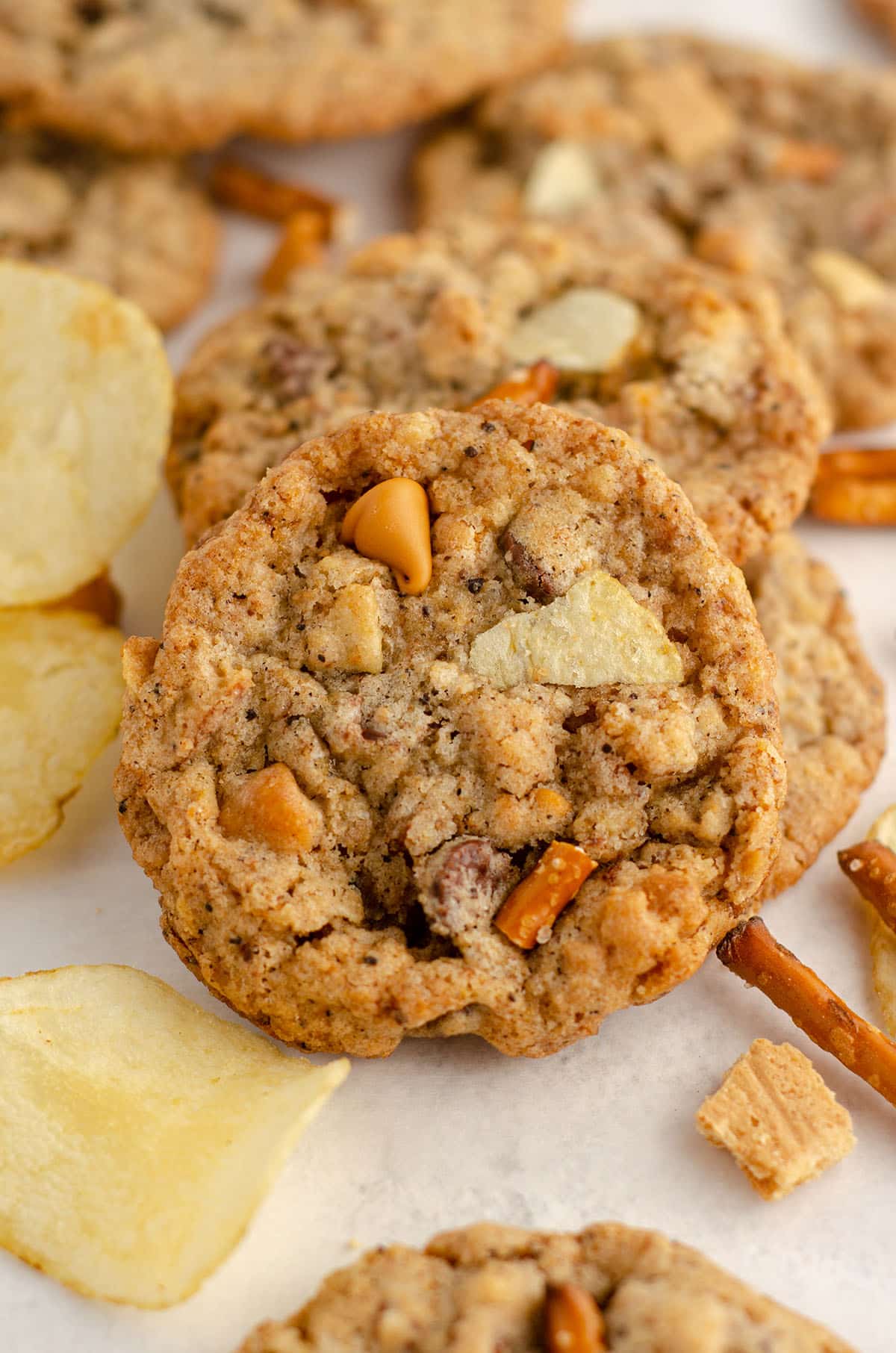 Welcome to the 3rd installment of my cookie party! This is a cookie recipe I've had living here on FAF for manyyyy years, but it's gotten so popular that I needed to give it some major updates!
Now… Don't get me wrong, I am a cheerleader for all of the cookies I've ever brought you so far EVER and also in this extravagant cookie parade, but these cookies…
Ohhh, these cookies. They hold a place near and dear to my heart. And Matt's. And Alison Brie's (there's more to that).
Let's back up to a several years ago: in December 2012, Matt decided he was going to give up sweets until our wedding in June 2013. Now, this was a huge feat. HUGE.
Matt loves sweets, like, a lot. This man, with all of his muscles and intense focus in the gym can get completely undone in a matter of moments if you place cookies/candy/ice cream/gelato/chocolate/sugar in general in front of him.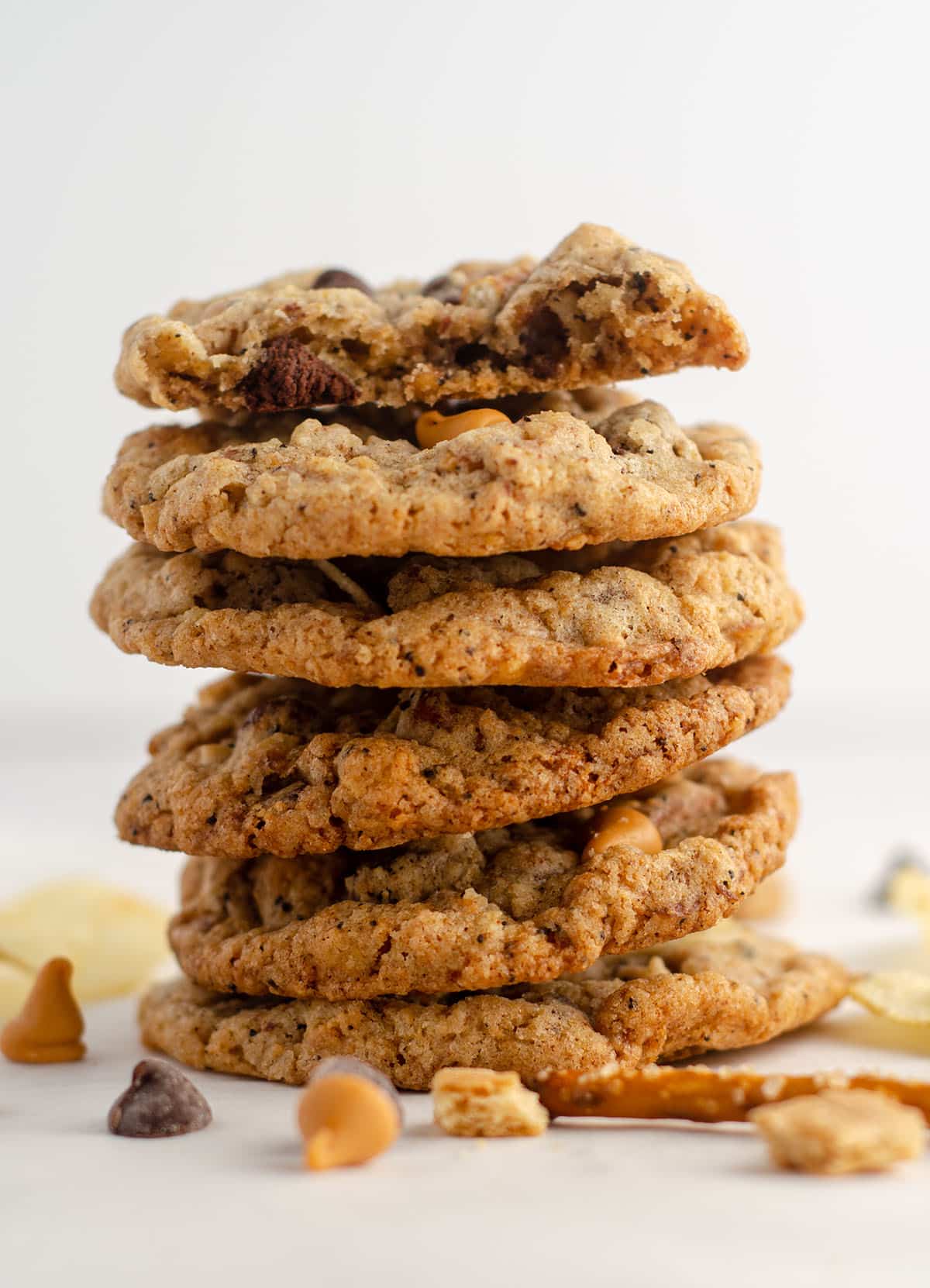 It's scary.
I didn't think he could do it, but he did, and at our wedding (in June 2013), I think he ate 6 cupcakes, not to mention the 5 EACH that we ate the day after our wedding. Oopsies. BUT THEY WERE SO GOOD (thanks, Sarah! ♥ )!!
Anyway, so for New Year's Eve that year, I told Matt I would make him any sweet he wanted so he could have one last hoorah.
Another fun fact about Matt: he is super indecisive, in that he will take for-ev-errrrrr to make a decision, especially when it comes to food.
Often times, he just picks one of everything, if he's able to. When we go out to eat or order in, we always splitzies.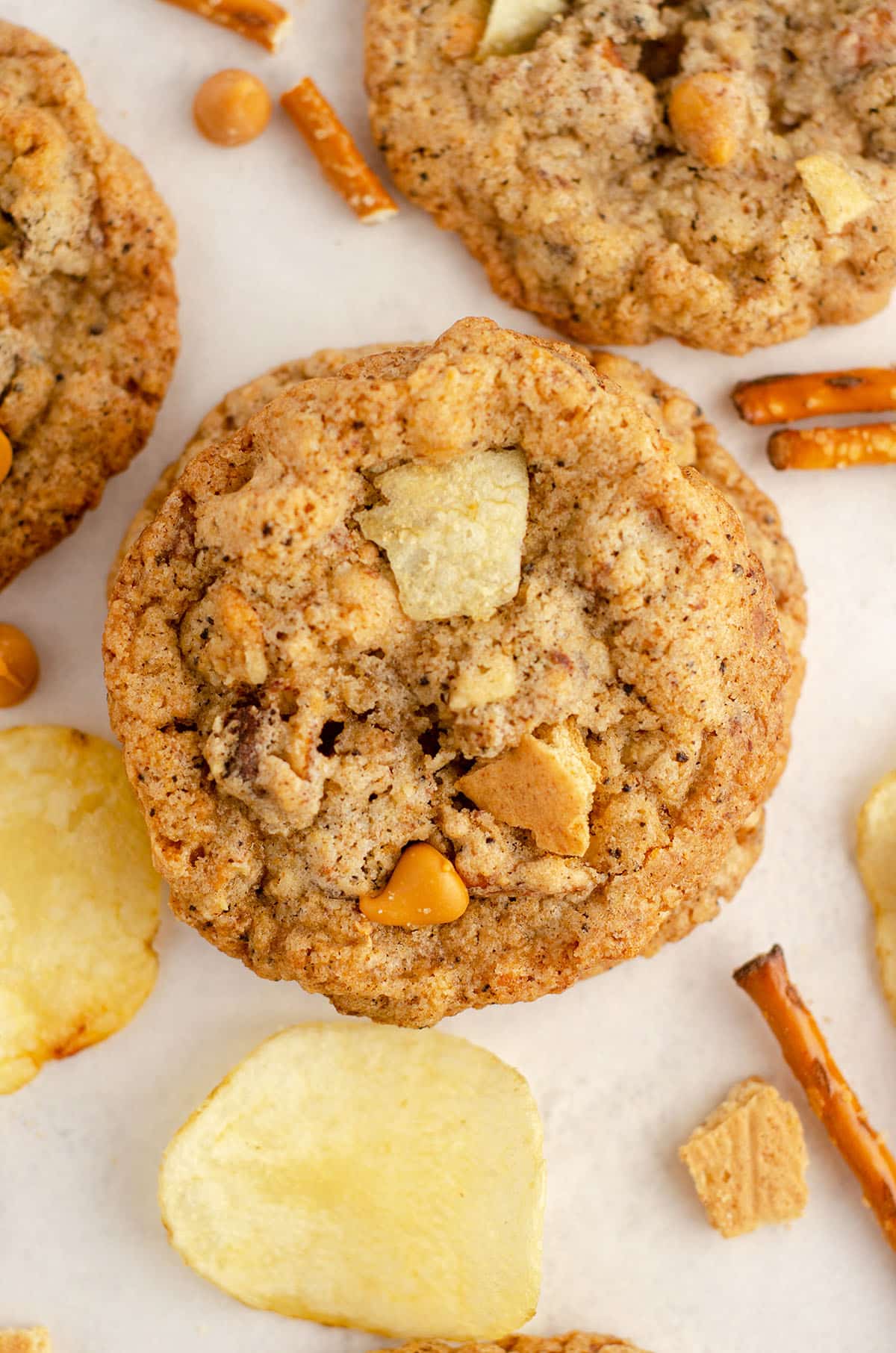 So you can imagine my surprise when he knew exactly what he wanted me to make him that day.
He asked me if I remembered "those cookies" we had seen on the Food Network, and despite what sounds like a super vague description, I knew exactly what he was talking about.
Momofuku is a restaurant in NYC that calls itself a "noodle bar," specializing in Asian cuisine like ramen and kimchi. It. Sounds. Fabulous. It has several "extensions" of itself, and the Milk Bar bakery is one of them, specializing in amazingly innovative and interesting desserts.
Their compost cookie®, created by chef/owner Chrisina Tosi, was featured on the Food Network, and upon hearing what was in it, Matt and I knew we needed to try a batch at some point in our dessert future.
I happen to have a wonderful friend (hey, Brit!) who visited Milk Bar one summer and oh so graciously brought me back a compost cookie® so we could try it. Uhhhhhmazing. But NYC is far from here.
Huge WOMP WOMP.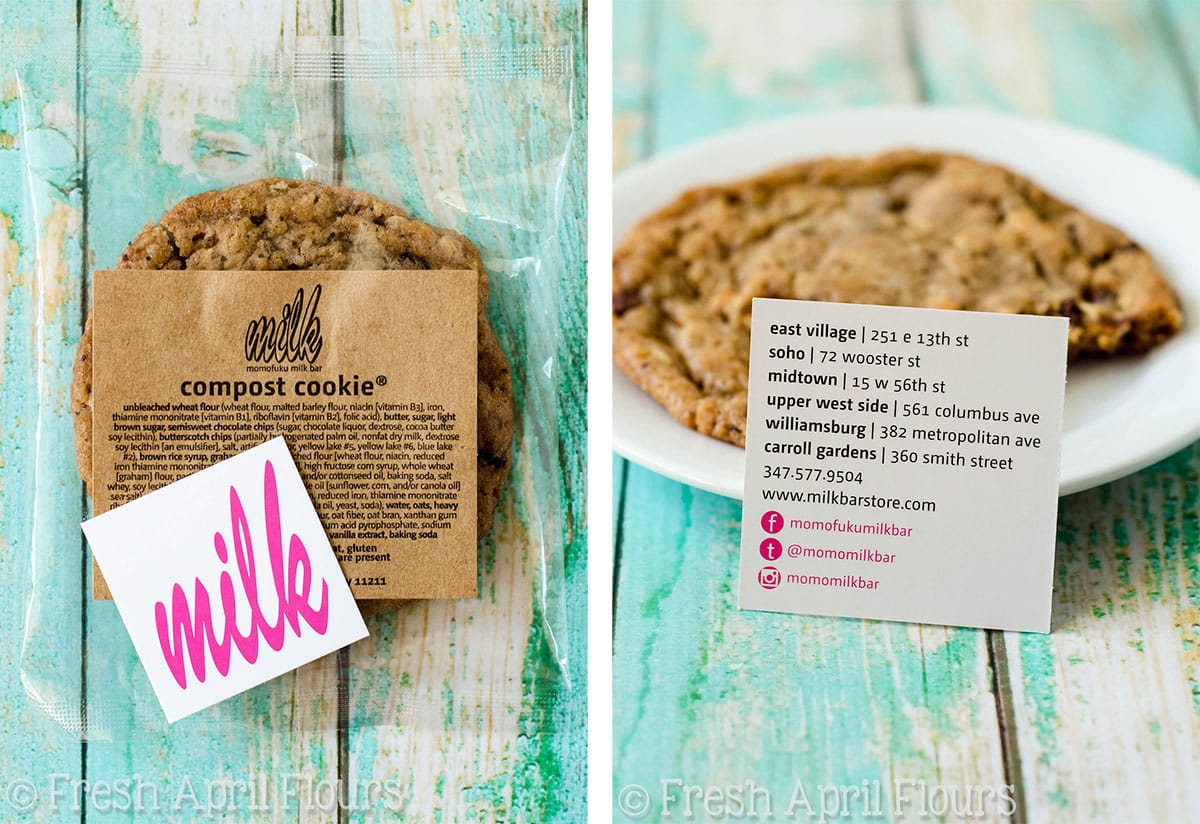 BUT, lucky for me (and YOU), Milk Bar shares their compost cookie recipe right on their website! Score! A little adapting and BAM! we had incredible, wondrously tasty cookies in no time and we've made them approximately a bajillion times since.
Now, you may be wondering at this point why they're called compost cookies.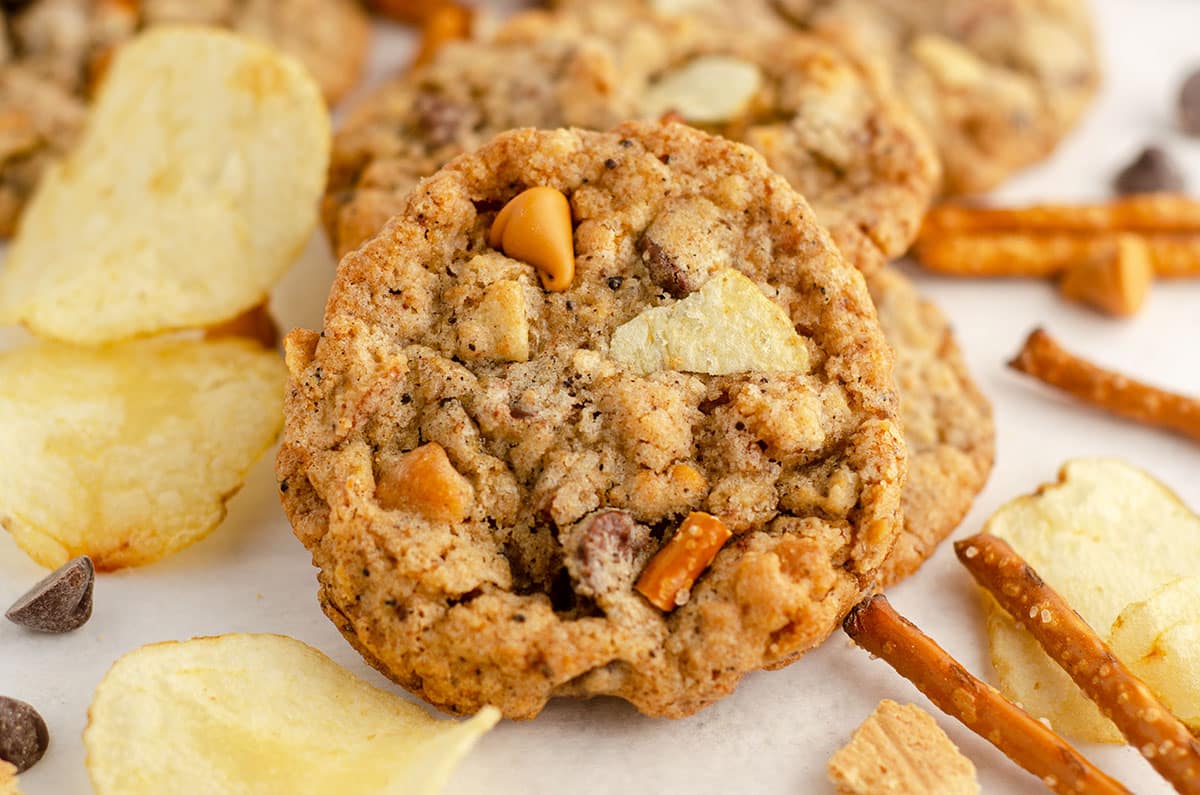 Don't worry– they aren't full of anything gross, they're simply a hodgepodge of several ingredients that come together so wonderfully that you'll wonder why you never ate all of them together in a handful before making these cookies.
Some of the things you'll find in these cookies:
•chocolate chips
•butterscotch chips
•graham crackers
•oats
•coffee grounds (eek!! MY FAV PART!)
•potato chips
•pretzels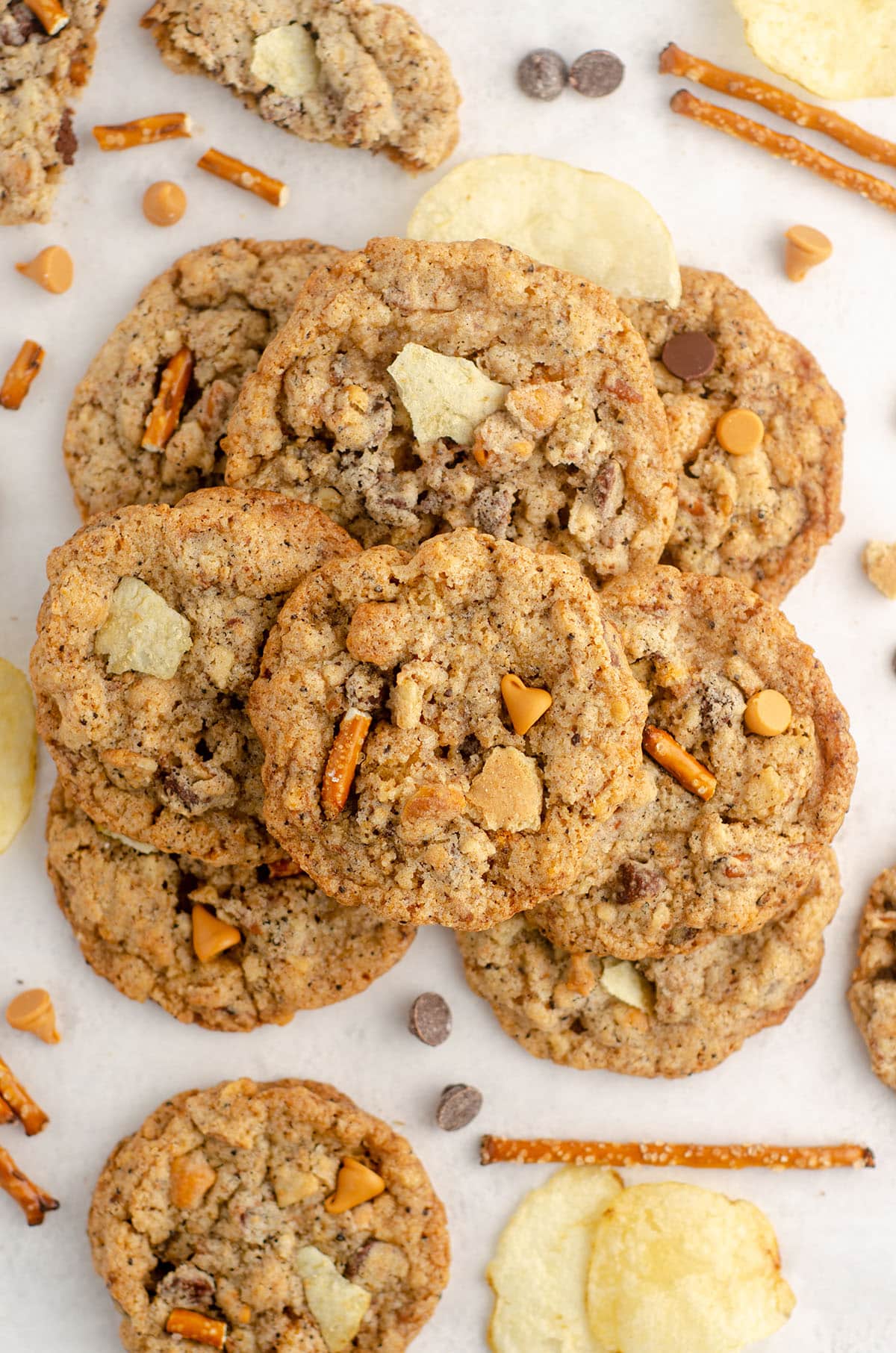 Compost cookies? Garbage cookies? Kitchen sink cookies?
Whatever you want to call these cookies, they're AMAZE-BALLS (and I don't say that word often, or ever, if I can help it) because they have ALL THE FLAVORS.
Chocolate + salty + sweet + oaty + grahamy + coffeey. I'm getting delirious.
I better get to sharing this recipe with you before I talk type too much.
The great thing about this cookie recipe is it is, like all of my favorite cookies, super easy. There is a bit of chilling time, but it's only an hour, and you can totally handle that!
The only weird part? You're actually going to roll the dough into balls and then chill them, and you also must use parchment paper as opposed to silicone baking mats.
Making these cookies over the years and hearing from readers, I know that some compost cookies spread too much. Combat this with my roll then chill + parchment tricks.
Roll the dough and then chill it
Because the dough has so many bits and chunks in it, rolling them before the dough is hard is much easier. And less painful. Have you ever been injured rolling cookie dough?
Food blogger life. It's tough.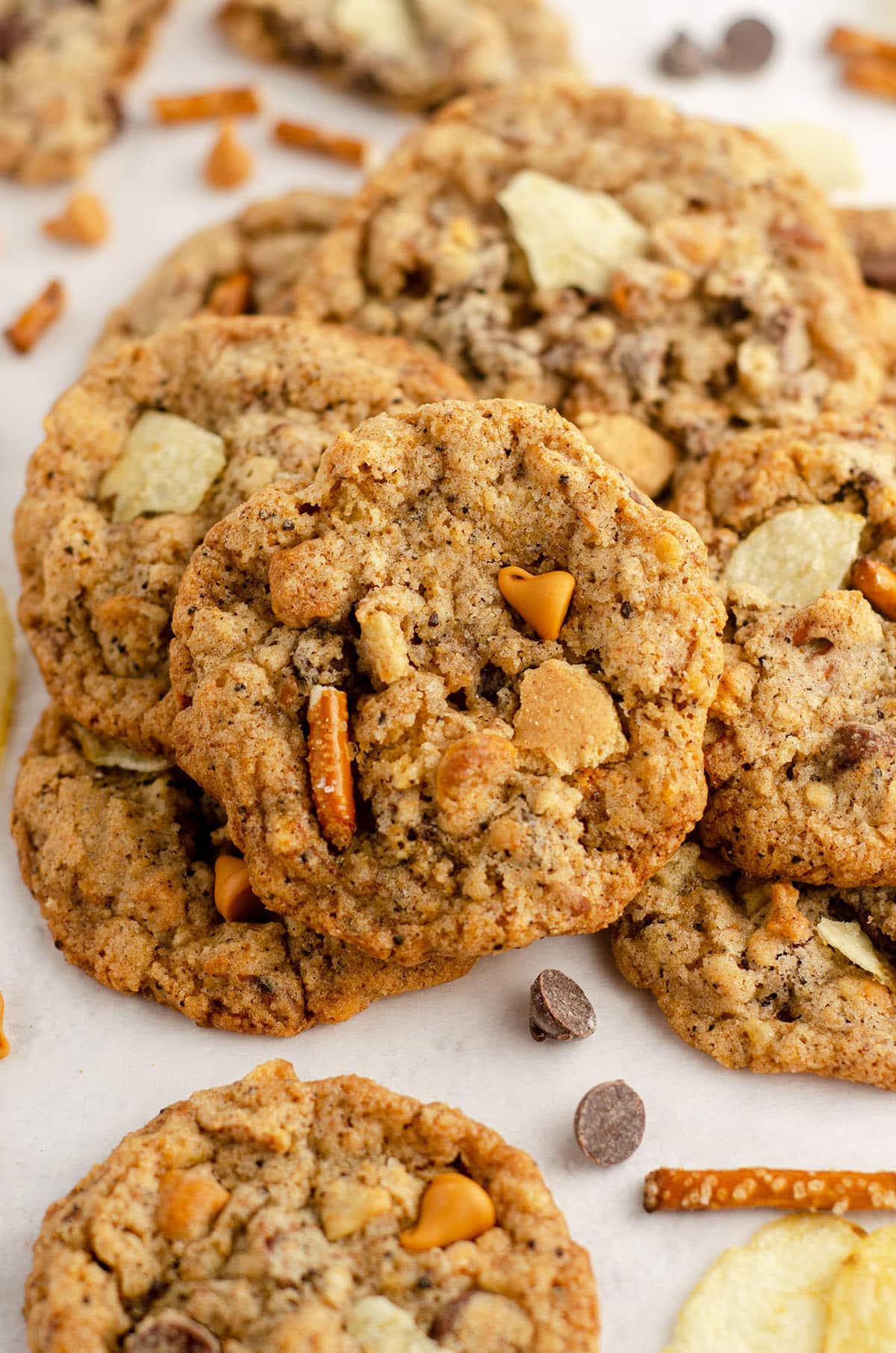 Don't love all of the ingredients? That's totally ok. Leave some out, or replace some with other treats! I give some suggestions at the bottom of the recipe.
I think you'll agree these cookies are a great addition to the 12 Days of Christmas Cookies spectacle. They are crispy, crunchy, salty, sweet, and everything you love about dessert. Best of all… They go wonderfully with a tall glass of milk or steamy cup of coffee or tea!
Oh, and re: Alison Brie… This past summer, during the pandemic, I discovered thousands of people viewing this recipe at one time on a random weeknight.
It turns out Alison had found the recipe for my cookies, made them, and then shared them on her Instagram. I was so grateful for her for that, so they are now lovingly called "Alison Brie compost cookies" in our house.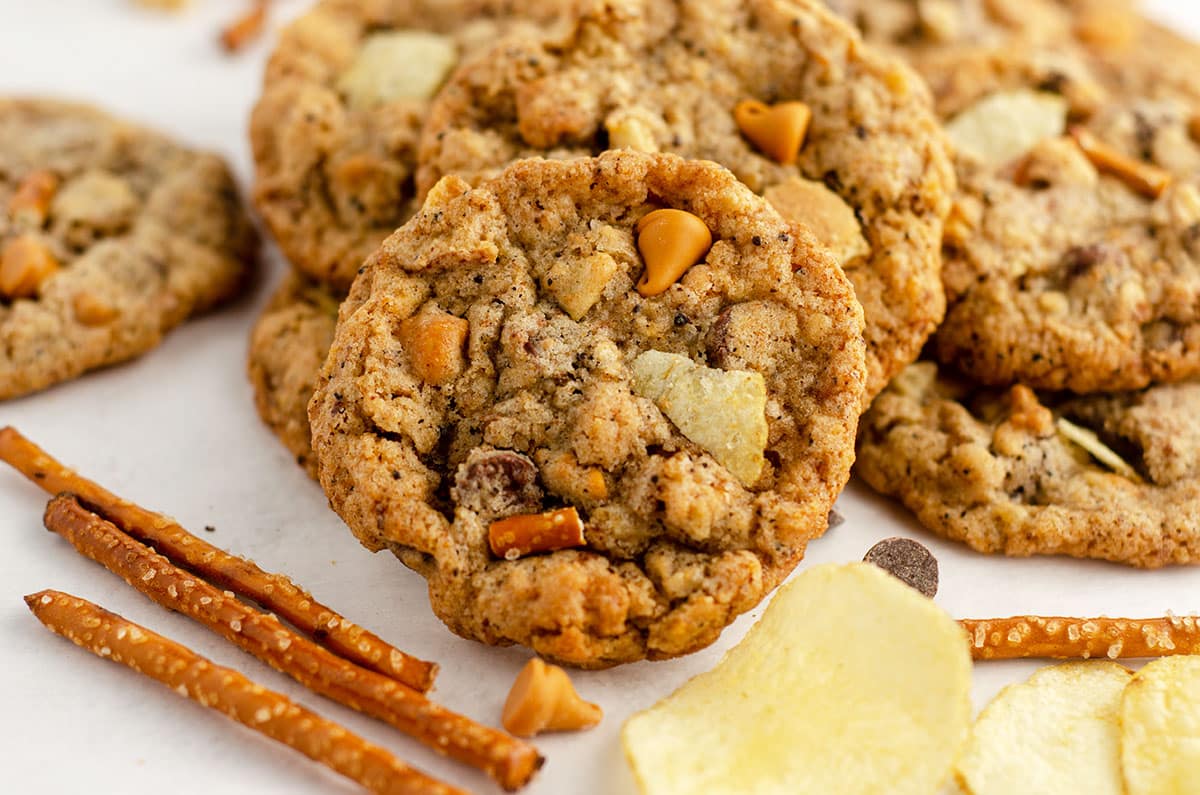 She also prompted us to watch Community (we were already giant fans of GLOW), and that's now the second time I've referenced sitcoms in the 12 Days of Christmas Cookies this year.
I DIGRESS.
A simple and tasty yet complicated and confusing cookie all rolled into one (they're like 7 layer bars , but in cookie form!). These easy compost cookies are the bomb. I promise to stop using ridiculous phrases if you promise to try them for yourself to understand.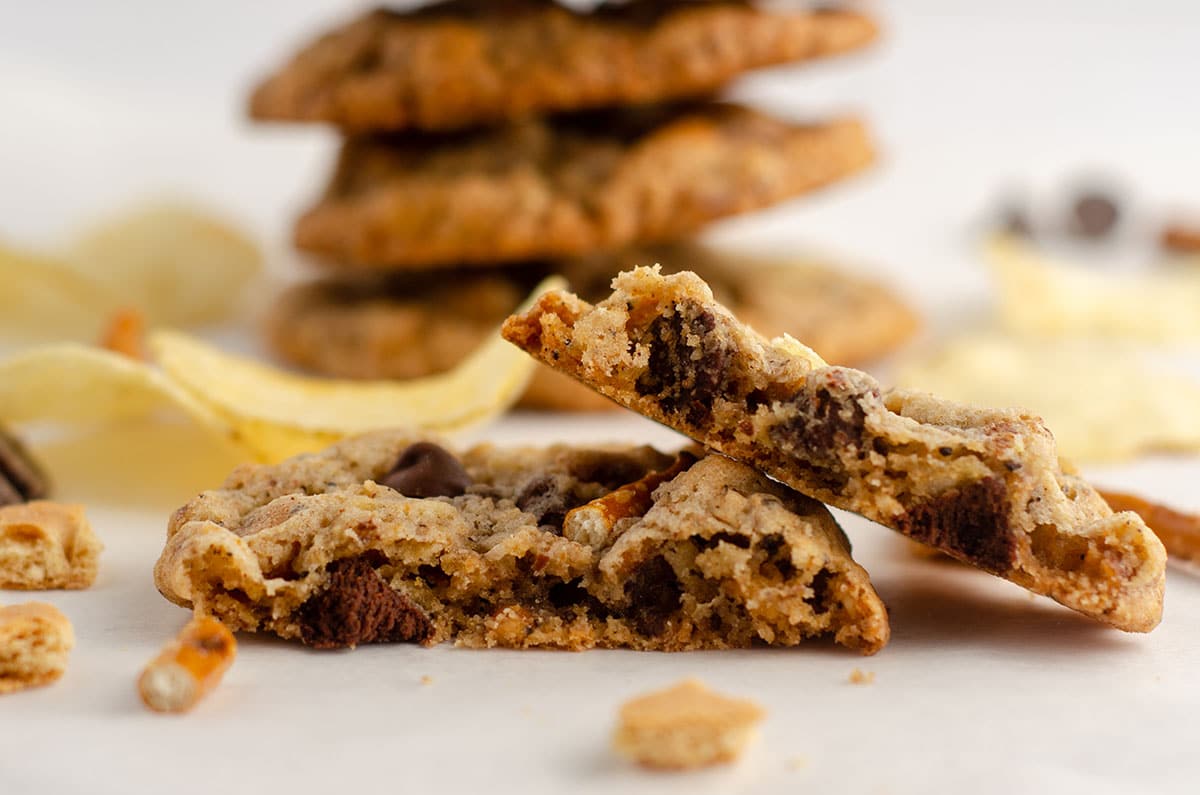 Just invite me over to help taste test, please? I simply can't get enough of them!!
More Favorites from Fresh April Flours
Milk Bar's Compost Cookies®
Crispy, buttery cookies filled with butterscotch and chocolate chips, graham crackers, oats, coffee grounds, pretzels, and potato chips. The perfect cookie for indecisive dessert lovers!
Servings:
2
dozen cookies
Ingredients
1 and ⅓

cups

(160g) all-purpose flour be sure to measure properly

½

teaspoon

baking powder

¼

teaspoon

baking soda

1

teaspoon

salt

1

cup

(40g) coarsely crushed potato chips

1

cup

(80g) coarsely crushed pretzels

I prefer sticks or minis

4

graham cracker rectangles

coarsely crushed (approximately 1 cup)

½

cup

(85g) semi-sweet chocolate chips

½

cup

(85g) butterscotch chips

⅓

cup

(27g) quick or rolled oats

1

Tablespoon

(5g) coffee grounds

not instant coffee

1

cup

(226g) unsalted butter

softened to room temperature

1

cup

(200g) granulated sugar

⅔

cup

(132) firmly packed brown sugar

1

large egg

room temperature

½

teaspoon

vanilla extract
Instructions
In a medium size bowl, whisk together flour, baking powder, baking soda, and salt. Set aside.

In another medium size bowl, toss together the crushed potato chips, crushed pretzels, crushed graham crackers, chocolate chips, butterscotch chips, oats, and coffee grounds.

In a large bowl with a handheld mixer or the bowl of a stand mixer fitted with the paddle attachment, cream to gather the butter and sugars on medium speed until light and fluffy (approximately 3 minutes). Add the egg and vanilla extract, and beat again on medium speed until completely combined, scraping down the sides and bottom of the bowl as necessary.

Reduce mixer speed to low and add the flour mixture, mixing until the dough just comes together. Do not over mix the dough.

With the mixer still on low speed, add the bowl of mix-ins, only for about 10 seconds, being careful not to over mix the dough or break too many of the chips or pretzels. Continue mixing with a spatula, stirring carefully until everything is thoroughly combined.

Using a cookie scoop (I use this #50 cookie scoop for all of my standard size cookies), roll the dough into balls. You can also combine two cookie dough balls to make large cookies. Place them on a couple large plates. Chill in the refrigerator at least 1 hour and up to 3 days (if chilling longer than a few hours, cover with plastic wrap).

When you are ready to bake the cookies, preheat the oven to 375°F (191ºC). Line two large baking sheets with parchment paper (not silicone baking mats)*, and place chilled dough balls on them (no more than 8 small or 6 large dough balls on a sheet at a time). Bake small cookies for 12-13 and large cookies for 15-16 minutes until cookies just begin to brown on the edges. The centers will look under-baked. Allow the cookies to cool on the baking sheet for 3 minutes before transferring to a wire rack to cool completely. Cookies stay fresh in an airtight container at room temperature up to 5 days. Cookies freeze well– up to 2 months.
Notes
Other ingredients to consider adding: peanut butter chips, cinnamon chips, white chocolate chips, crushed Oreos, Chex cereal, raisins, chopped candy bars, Rice Krispies, Ritz crackers, Goldfish crackers, or tortilla chips (to name a few)! If using mini chips of any kind, reduce amount to

¼

cup.
*I find that this particular cookie recipe does not like silicone baking mats. I'm not sure why, but I advise against using one for these cookies. The cookies will spread much more and thus bake faster. If you decide to use one, bake at your own risk!
Adapted from Momofuku Milk Bar
Nutrition Disclosure
All nutritional values are approximate and provided to the reader as a courtesy. Changing ingredients and/or quantities will alter the estimated nutritional calculations.